Pune has a unique distinction of being known as the Oxford of the East. It is also the Cultural Capital of Maharashtra and the birth place of Sarvajanik (Public) Ganeshotsav celebrations.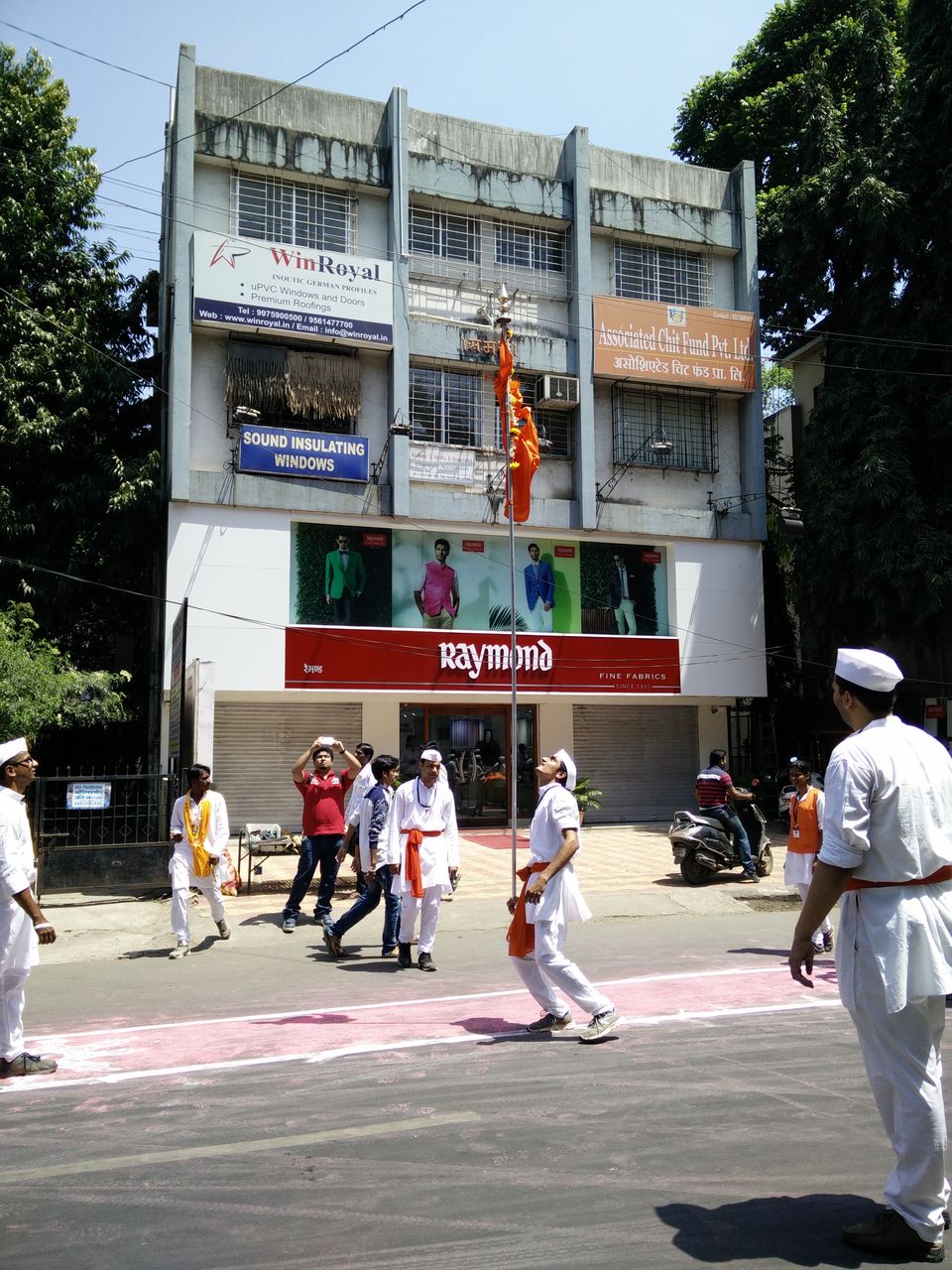 Historic references tell us that Ganeshotsav has been celebrated since the era of the great Maratha ruler Chatrapati Shivaji Maharaj. In Pune, during the reigns of the Peshwas, Ganeshotsav was considered an annual festival and was started at the historic Shaniwar Wada. However, the festival gained popularity when Indian freedom fighter and social reformer, Lokmanya Bal Gangadhar Tilak, revived the celebrations of Ganeshotsav by extending it till Anant Chaturdashi in 1893. He turned it into a large-scale public event in hopes to unite Indians in their freedom struggle against the British Raj. Through this festival large number of people came together, and it also became a source of political awakening and instilled social reforms against the British government.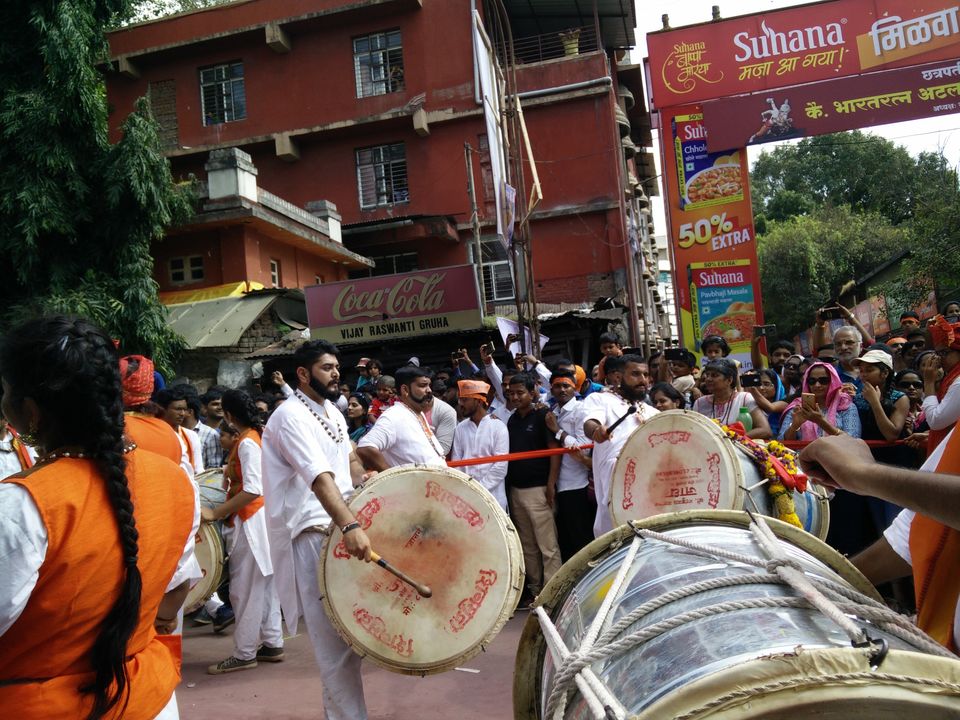 There are some special Ganesh Mandals in Pune which lead the festivities. They are also known as Manache Paach Ganpati (Five most honoured Ganesh Idols) within the city.
1) Kasba Ganapati:
Located in Kasba Peth area, Kasba Ganpati is the most honoured Sarvajanik Ganpati in Pune. It is also known as the Gramdaivat of Pune. It is believed that the Ganesh Idol was found near the house of Vinayak Thakar, which was close to Chhatrapati Shivaji's mother's home. The temple was built by Shivaji Maharaj and this mother Jijabai Bhosale in the year 1639, and named it Kasba Ganpati. Every year, the welcoming rituals of Lord Ganesh begin with a new idol placed in a silver palkhi (palanquin) and carried by the devotees, on their shoulders. The immersion process on Anant Chaturdashi is also led by Kasba Ganpati.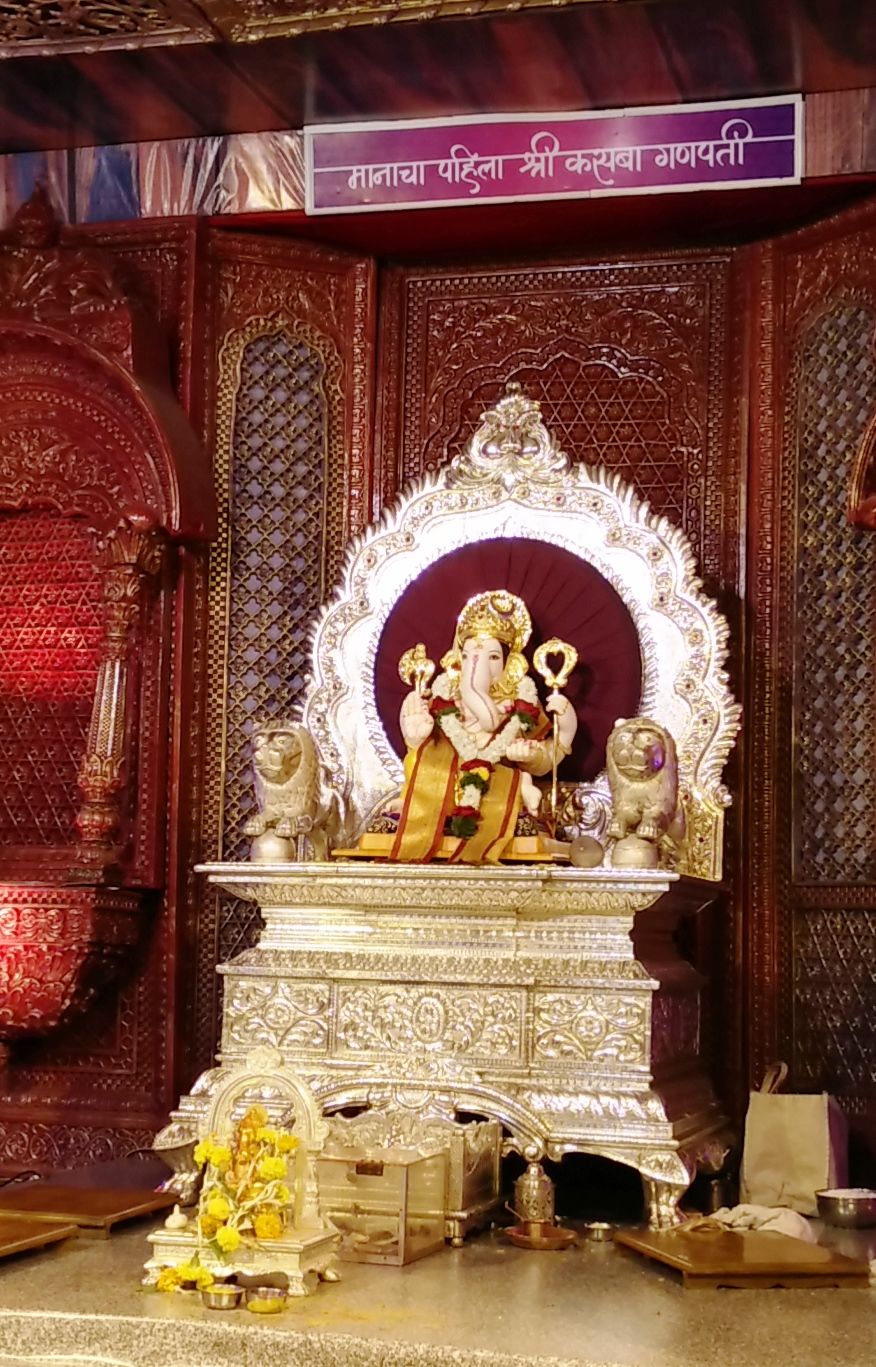 2) Tambdi Jogeshwari:
This is the second most honoured Ganpati of Pune. The Tambdi Jogeshwari temple of Goddess Durga was built by Trimbak Bendre in 1545 AD. In 1636, Chhatrapati Shivaji and his mother ploughed the land in front of the temple and marked the new beginning of Pune.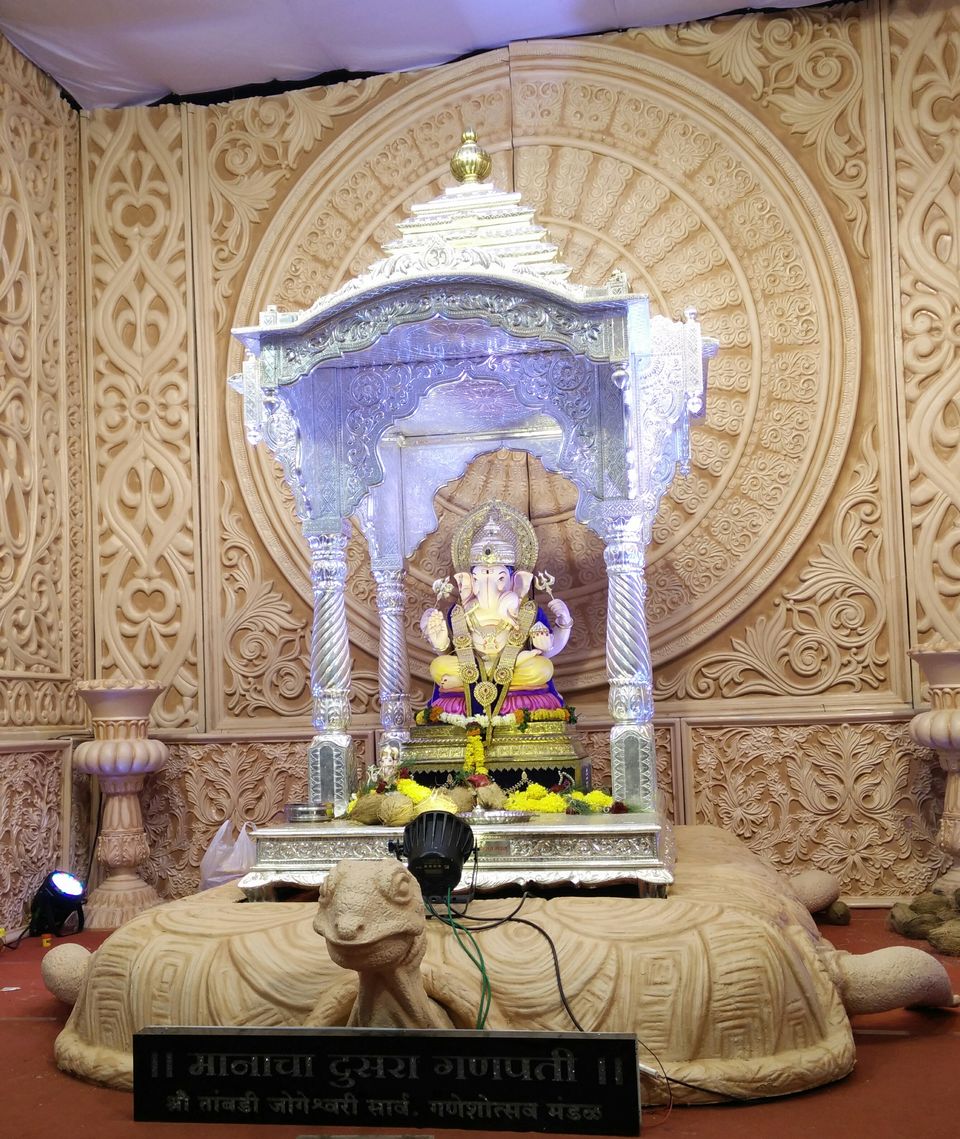 3) Guruji Talim:
In the year 1887 the Ganpati of Guruji Talim was established by a Hindu and a Muslim family of Bhiku Shinde and Ustaad Nalban. This is the third most honoured Ganpati of Pune. This Ganeshotsav symbolises the Hindu-Muslim unity of Pune. It is believed that this mandal was established even before Tilak started the sarvajanik Ganeshotsav.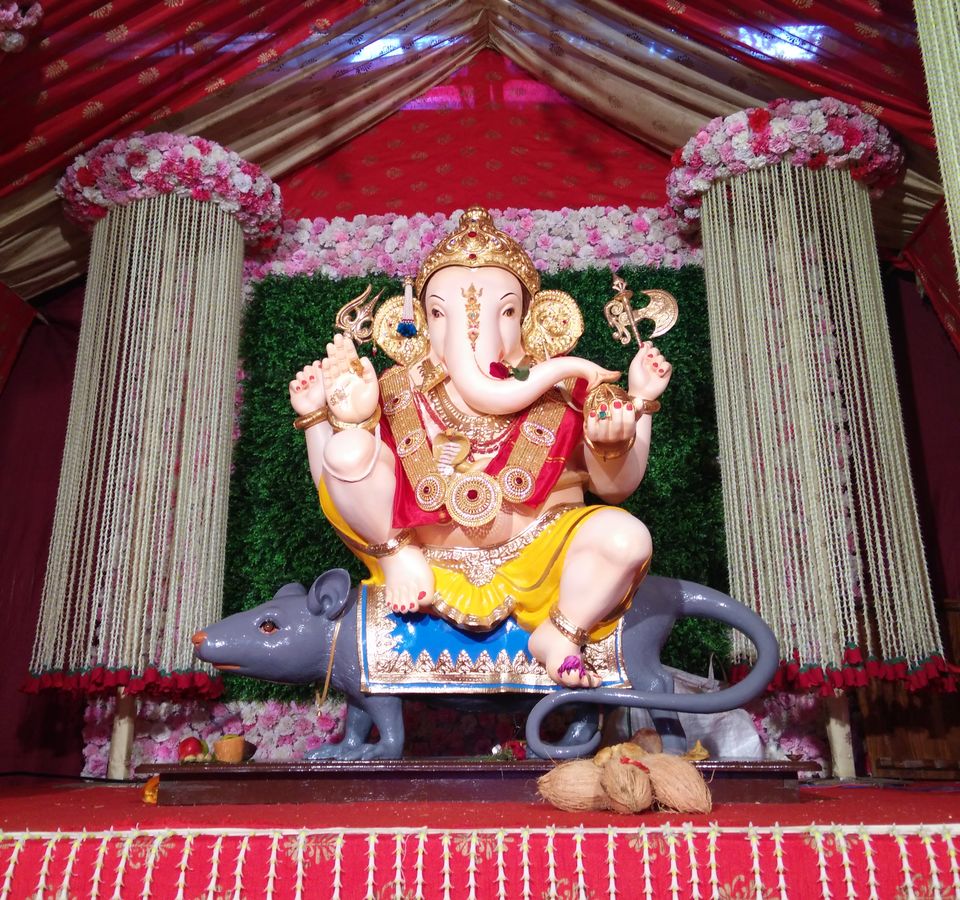 4) Tulshibaug:
Around 15 feet high, the idol of Lord Ganesh sits right in the middle of the famous Tulshibaug market of Pune. This is the first sarvajanik Ganeshotsav to make a fibreglass idol of Ganpati, and every year a new 15-feet tall idol is created. The sarvajanik Ganeshotsav celebrations were started here by Sardar Krishnaji Kashinath in 1893. This is the fourth most honoured Ganpati of Pune.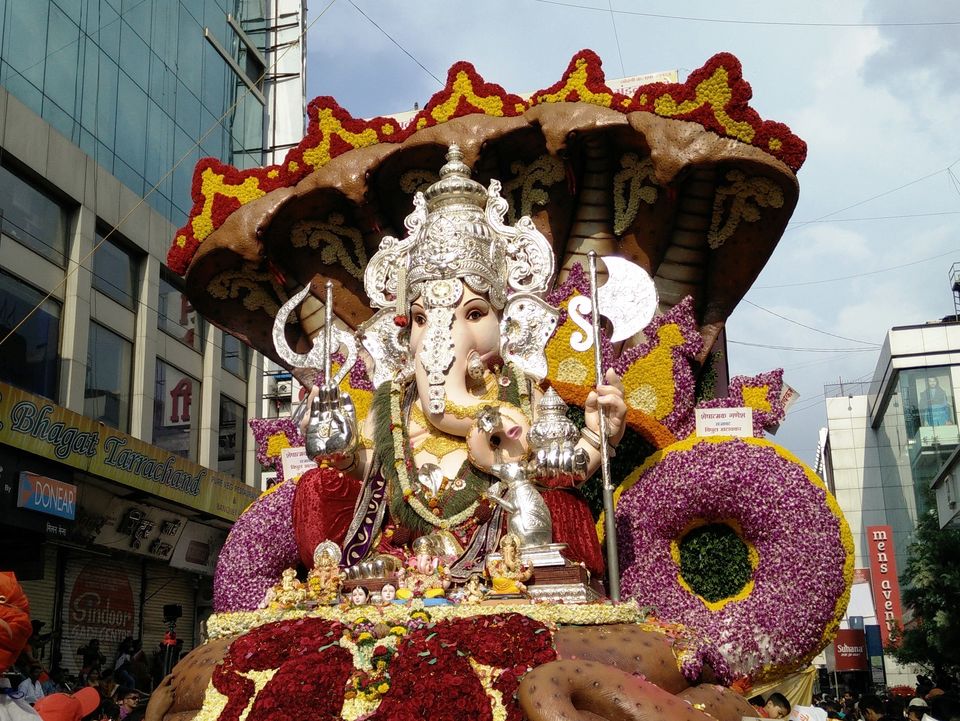 5) Kesari Wada Ganpati:
The Kesari Wada is considered as fifth most respected Ganesh Mandal of the city. Since its inception in 1893, the Kesari Trust's Ganesh festival used to be organised at Vinchurkar Wada off Kumthekar Road which was the residence of Tilak. In 1905, the venue of the festival was shifted to Gaikwad Wada, presently known as the Kesari Wada.
Shreemant Dagdusheth Halwai:
If you come to Pune during the celebration of Ganesh Chaturthi, your Pune darshan will be incomplete unless you visit and get the blessings of the most popular Dagdusheth Ganesh. Shreemant Dagdusheth Halwai Ganpati have their own rich and heart touching story.
Dagdusheth Halwai, who was a famous sweet trader and lost his son during the outbreak of plague. Dagdusheth Halwai and his wife were very depressed. During these tough times, Guruji Shri Madhavnath Maharaj advised him to make two idols, one of Lord Datta Maharaj and another of Lord Ganesha, and asked him to worship them and to take care of the idols like he would take care of his son. It was way back in 1893 when Lokmanya Bal Gangadhar Tilak introduced the public celebration of Ganesh festival, and Dagdusheth Halwai came forward and started the festival.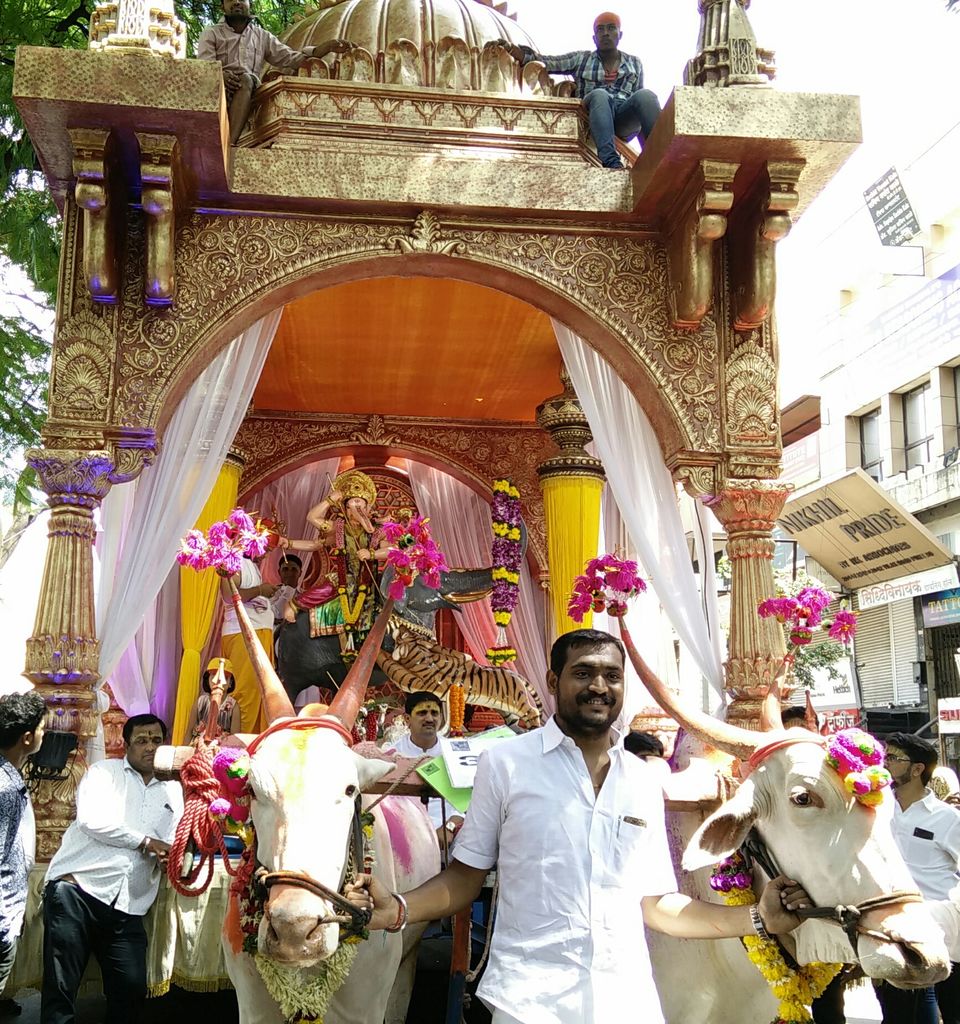 The tradition of celebrating Sarvajanik Ganeshotsav has been followed for more than 125 years since its inception. Every year the immersion procession begins with the above five Sarvajanik Ganpati leading the way. Each Ganesh Mandal in the procession is accompanied by multiple Dhol Pathaks (groups) with spirited youth playing and dancing their way to the Ghats where the idols are immersed after performing poojas with teary eyes chanting - Ganpati Bappa Moraya Pudhchya.. Varshi Lavkar Ya (Lord Ganesha Bless Us.. Come Soon next year).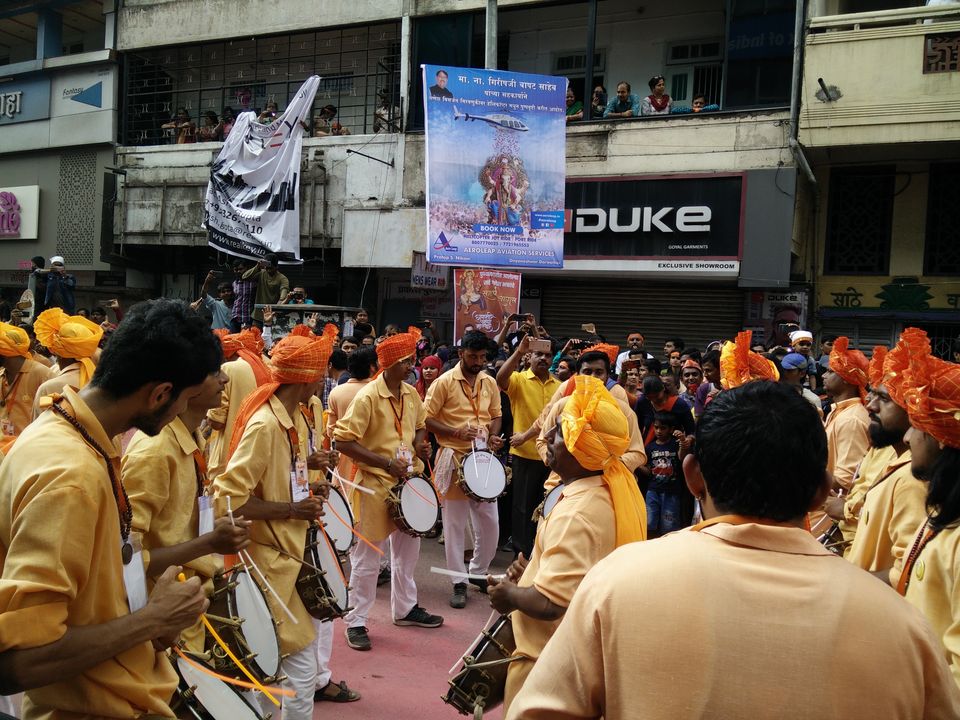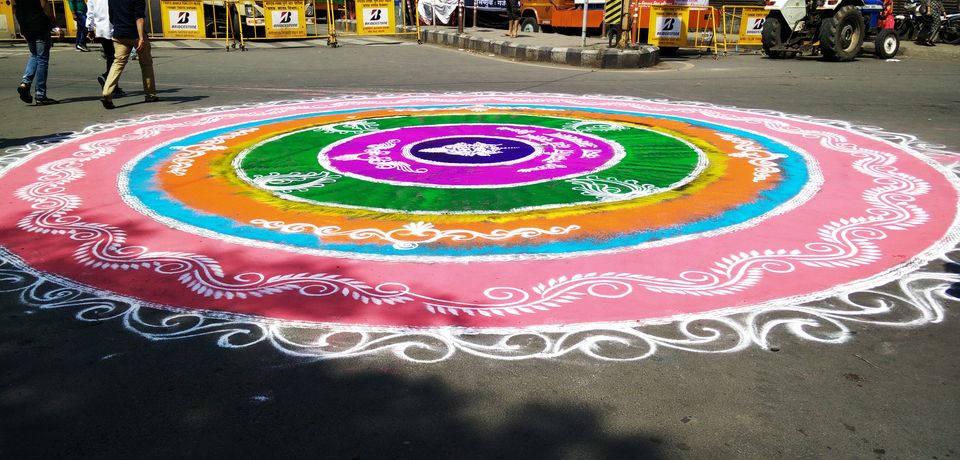 There is a huge craze amongst the youth, especially college students about the Dhol Tasha Pathaks today, who are eager to learn and come up with new beats and compete against each other through pathaks.
Today, Pune boasts of 170 pathaks and 22,000 participants between the age group of seven year and 85 years, each coming from different walks of life.
In addition to the Dhol and tashas, you will also witness enticing performances by Lezhim and Jhanj pathaks (groups). A few Ganpati Mandals have groups exhibiting the traditional games and arts like - Fugadi, Dandpatta, Mallakhamb, etc. You will also get glimpses of Maharashtrian culture and history. Thousands of enthusiastic Punekars turn up every year and flock the streets of Pune to bid a grand farewell to their beloved Ganesha. As many as 3000+ Sarvajanik Ganesh Idols were immersed last year in the immersion procession that lasted for more than 24 hours with the count increasing every year.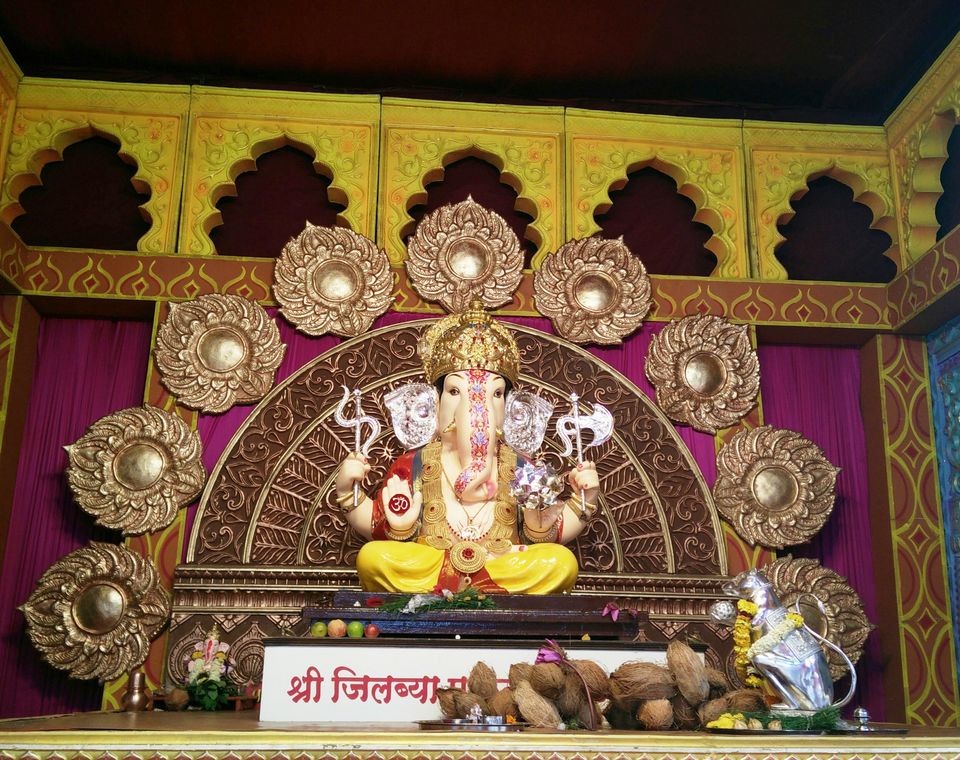 Here are some enthralling images of Ganesh Idols and attractive decorations from last years immersion procession. Hoping you too would be fascinated to experience it this year!