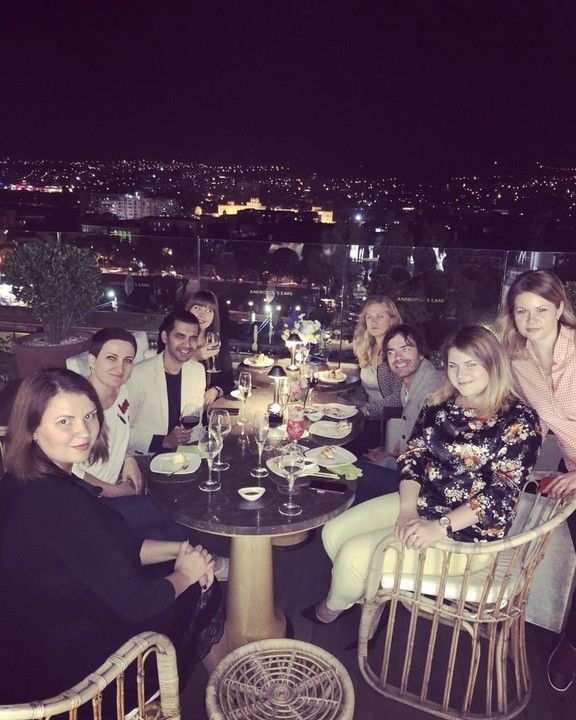 As I got invited to Georgia to attend MMP forum, I decided to write a short note on the country & its people.
17th November 2018, I landed in Georgia (Tbilisi Airport) with full excitement. My excitement soon turn into a disappointment as I got interrogated at Airport. Having all the relevant documents, I still had to face that. Luckily I had invitation letter from BTL agency which worked in my favor, as I had taken E visa.(The one who was the organizing forum to bring different nationalities to Georgia) Also the BTL team made calls to Airport authority informing my arrival. After 1 hour of all the questioner, I finally got a stamp on my Passport. So if you ever plan your visit to Georgia do make sure to get visa stamped from Georgian Embassy in Delhi.
As I stepped out to the airport, I get to witness lush green landscape covered mountains and that is good enough for me to smile again. After check in to hotel, we depart for our first City "Borjomi". On our way we stopped at "Bread House" restaurant which is famous for its local cuisine. There can not be a better restaurant to experience Georgian meal at first day of your tour.
Borjomi is a resort town in central Georgia with the population of 10000 people. In India we can find more people on metro station at one go :). well Borjomi known for its mineral waters, with springs in Borjomi Central Park. Defined by its striking exterior, the Romanov Palace contains ornate furniture and a billiards room. Nearby, trails wind through the vast wilderness of Borjomi-Kharagauli National Park. In the park, the centuries-old Mtsvane Monastery (Green Monastery) is made of green-tinged stones. We witness some of the finest wine tasting at Borjomi
After my 2 days luxurious stay in Crown Plaza (One of the best 5 star hotel I witnessed stunning background, great hospitality & amazing food) we head towards the capital of Georgia Tbilisi
Tbilisi as being the capital the state stands for its reputation with rich history, small cozy cafes, great restaurants. Its cobblestoned old town reflects a long, complicated history, with periods under Persian and Russian rule. Its diverse architecture encompasses Eastern Orthodox churches, ornate art nouveau buildings and Soviet Modernist structures. Looming over it all are Narikala, a reconstructed 4th-century fortress, and Kartlis Deda, an iconic statue of the "Mother of Georgia. The city has river flowing call "Kura" which make every part of the city photogenic.
Apart from the above one would like to experience the night life of Tbilisi they must visit Old town in city. Filled with great bars & some amazing club. The best part of all the places as Indian you do not find them expensive to your pocket.
Tbilisi is known for its thermal baths, a bit like Budapest the city sits on sulphuric water and thermal springsThe Bath District of the city that holds the sulphuric water is called Abanotubani (located underneath Narikala fortress) and is quickly identifiable 2 ways- firstly the eggy smell which comes from the sulphur and secondly the dome shapes where that baths are housed. One has to do a booking a day in advance to experience the bath.
Apart from Tbilisi & Borjomi, Georgia is also bless with cities like Kakheti & Batumi which known for their landscape & beaches. Georgia a country at the intersection of Europe and Asia, is a former Soviet republic that's home to Caucasus Mountain villages and Black Sea beaches.
The misconception about war zone country and being difficult in roaming around all are false. Georgia is welcoming, hospitable, warm and beautiful. Until you experience you will not feel it. Thank you Georgia, you are amazing.
The entire trip was organized by BTL agency who are specialized in Caucasus region. As they say "People do business with People they know" .