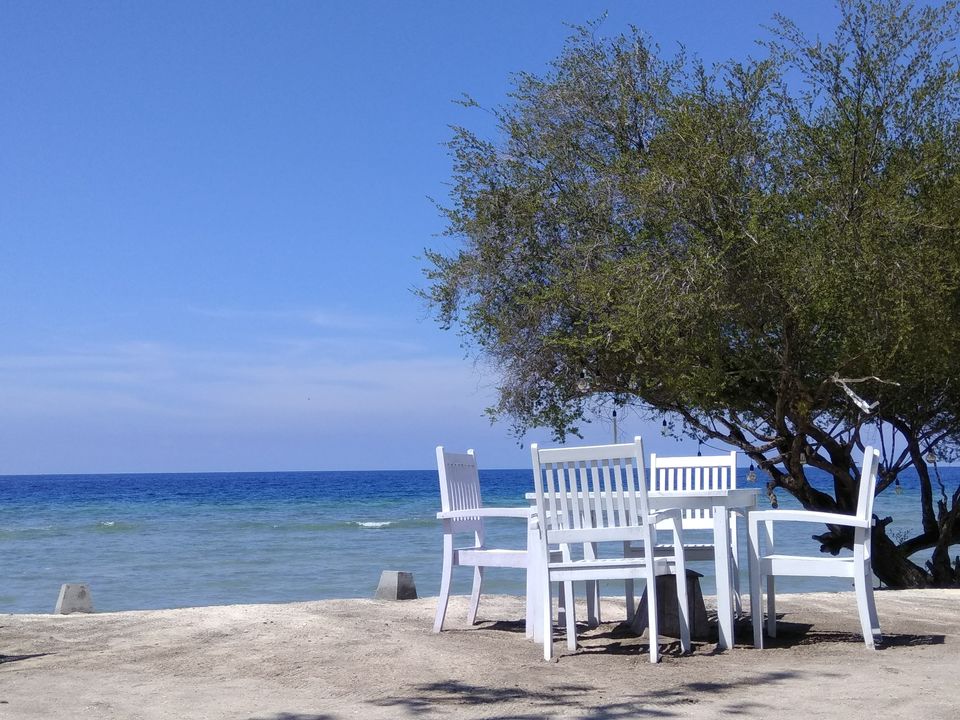 Around 1.5 hours away from Bali , a part of Lombok, are a group of these beautiful islands - Gili Air , Gili Meno , Gili Trawangan !!
The relaxed and laid-back culture of these islands after partying hard in Kuta, Bali is definitely something one must experience. To satisfy your adrenaline rush, these islands offer you amazing snorkeling & scuba diving too.
I happened to be in Gili Trawangan , affectionately known as Gili T to celebrate the first day of the year 2018 and what a beautiful start it was !!
How to get there
These islands are 1.5 hours away from Bali and there are numerous fast speed boat companies that will take you to Gili. I booked a return on Marina Srikandi which costed around IDR 500000 (Rs 2300 approximately). These fast boat operators provide pickup/drop from the hotel in Bali. You can also check with your hotel in Bali as they might have tie-ups with one of these companies and they will take care of your bookings for the fast boat. Booking in advance is recommended to avoid disappointments due to boats fully booked or having to wait for the next one, after reaching the harbor. Usually these ferries operate from morning 9 a.m until afternoon. So plan your departure from Bali accordingly.
Gili Trawangan - Hotel Ombak Sunset
On reaching Gili T, the first thing you'd see is how laid-back a place it is ! There are no motor bikes, only horse carts and bicycles. I booked a horse cart,IDR 100000 (Rs 450 approximately) to take me to the hotel and on the way to hotel which was like a 15 min ride , had the best margherita ever from Little Italy cafe, 2 mins away from the harbor. So if you hungry on reaching Gili T , you know where to go!
Gili means small island in Sasak - the language of Lombok, and yes it is small !! The island is just around 6 kms circumference , so you can walk around from one end to the other of in like 90 mins or grab a cycle and just go! There are cycles on rent , prices starting from IDR 100000(Rs 450 approximately) per day. You need to haggle a bit and you sure will get a good deal. More the number of days you rent the cycle for , lesser the price. The island people are very welcoming , kind and they all love bollywood and SRK !! The thing I loved about the island the most ;)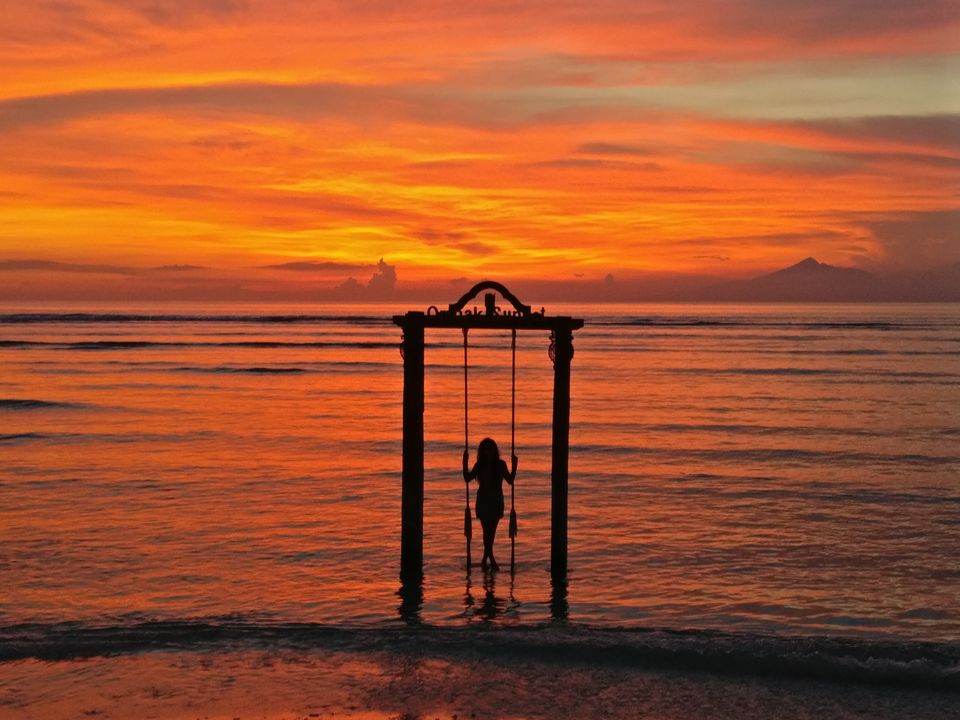 When I booked this hotel I was hoping to witness a beautiful sunset and it was more than what I had expected. It was surreal !! One of the mesmerizing sunsets ever!!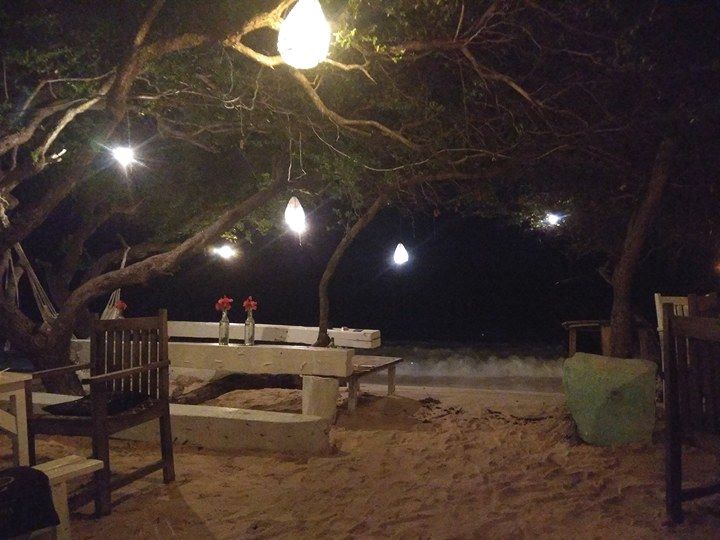 White sands , listening to soft music , bonfire , relaxing sound of waves hitting the shores , swing in a hammock , beautifully lit trees, breeze , heavenly food and some wine! If this tempts you, then casa vintage beach is the place you have to visit while in Gili T. You just cannot miss this one!
Gili Divers - Scuba diving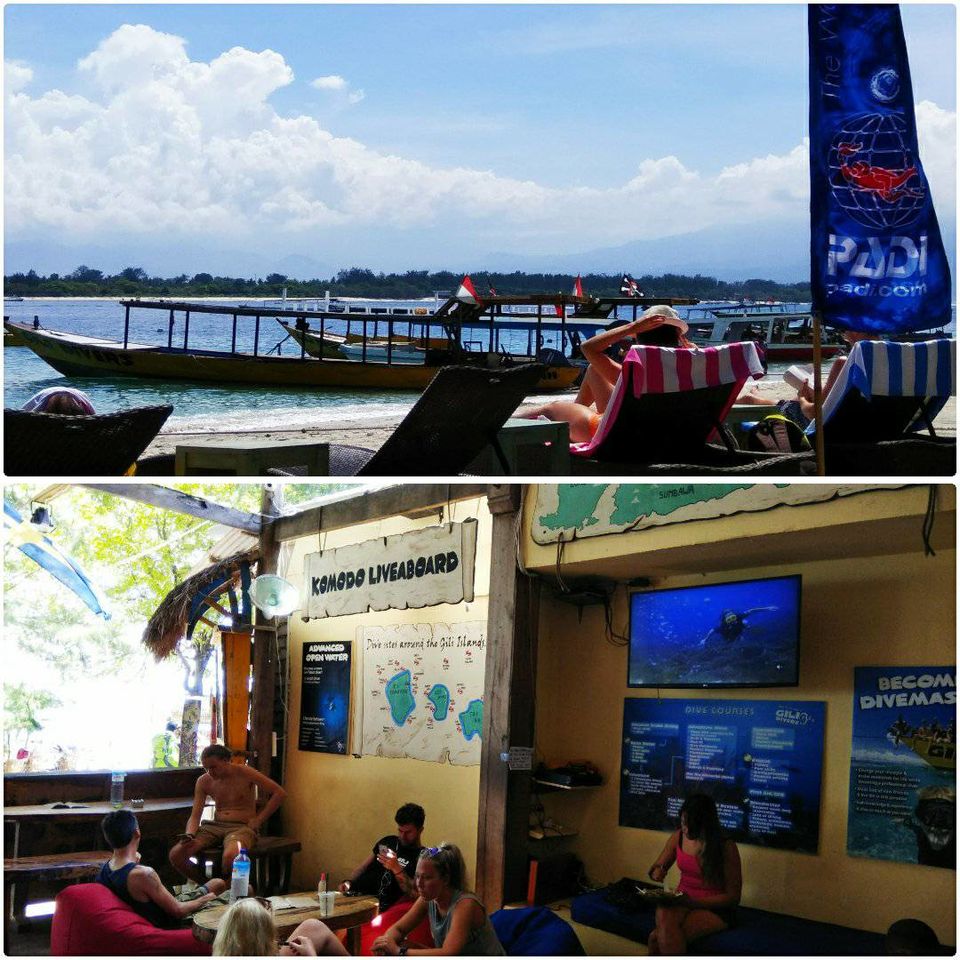 There are many beachfront hotels offering fun diving and also all levels of PADI and SSI dive courses from Open Water Diver to Divemaster training. After checking out a few places, this place ,Gili divers is what caught my attention because of its energetic , enthusiastic vibes and very friendly yet highly professional staff . I did my first dive with Jill and what an amazing experience it was !!
From the training session in the pool to getting ready for the dive to the panic for the first few secs of the jump to watching the beautiful corals , turtles , fishes etc to coming back to the the water surface , floating and finally breathing!! It is an experience of a lifetime and especially in the Gilis , they are full of turtles.
The cost for fun dive is IDR 900000 (Rs 4500 approximately) and is almost the same at all dive centers in the island.
Its been a month and half now that I am back and I can still feel that love , the freshness , the serenity this island had to offer!