Before I start, I will declare now that I am far from being a fitness fanatic, I am however, an expert at making excuses as to why I can't keep fit, whether that be not having the time, not having the money, being too tired... the list is endless! Anyway, being it a New Year I've started thinking about all the little bad habits I can change, and have finally quit the excuses and have got back into exercising. And you know what, I'm feeling fantastic about it!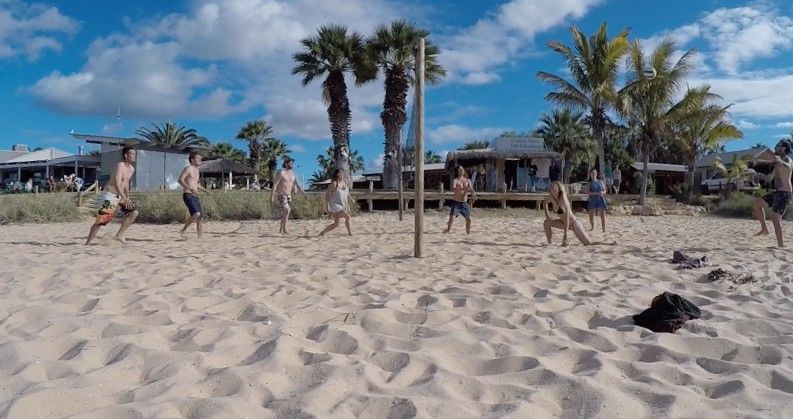 My favourite exercises are Aerial Hoop and Pole Fitness - not an easily transportable hobby and so that is where I gave up. The prices for these classes are extremely high in Australia, or just non-existent in the Outback, so if you have a hobby like me, or you just want some ideas of how to exercise for free (which doesn't include running) check out the list below.
1. Hula-Hopping
These days you can buy extremely portable Hula-hoops that break down into small pieces and fit nicely into your backpack! I find this great fun and it never really feels like I'm exercising. Once you've got the basics down, head to over to YouTube for some awesome tutorials on how you can impress your travel buddies with fancy tricks! Best of all you can literally do this anywhere!
2. Weight Bag (Sand Bag)
I was recently travelling with a girl who bought a weight bag. My immediate reaction was that she was crazy - there's no way I want to be adding extra weight to my backpack! Turns out she had the type that you fill up yourself with sand when you want to use it and empty again before you move on. Personally I think it's a great idea and definitely a convenient way to weight train on the go!
3. Free gym trials
If you're a gym goer this is perfect for you! The majority of gyms offer a free trial of some sort, whether that be for a day, a week or a session with a personal trainer, they all have an offer or a discount on! Sign up to these, make the most out of all the gyms you can, and chances are you'll meet some locals in there who will tell you all about the hidden gems of their town or city!
4. Play in the park
Yes I mean the kids park but they have some great equipment, which is excellent for exercising! From monkey bars, to swings and climbing apparatus, you'll be sure to increase your strength and coordination in no time! More recently, I've noticed a big increase in the adults 'playground' too - the outdoor gyms that usually offer a cross trainer, stepper and weight facilities, so keep an eye out for these too!
5. Beach Volleyball
Finally a good fun game of Volleyball! Most travellers do not have a shortage of beaches near by, and they quite often have volleyball nets (if not draw a line in the sand). Just grab a ball, call up your mates and head down to the beach for a game - most likely you were planning to go to the beach anyway!
Good thing is as a traveler, you'll always be on the move and keeping fairly active, but if you want a real difference just give one of these a go a few times a week and I'm sure you'll be feeling great about it too!
If you have any other suggestions of keeping fit for free I'd love to hear them! Thanks for reading!
Gnome x
This post was originally published on Gnome On The Globe.