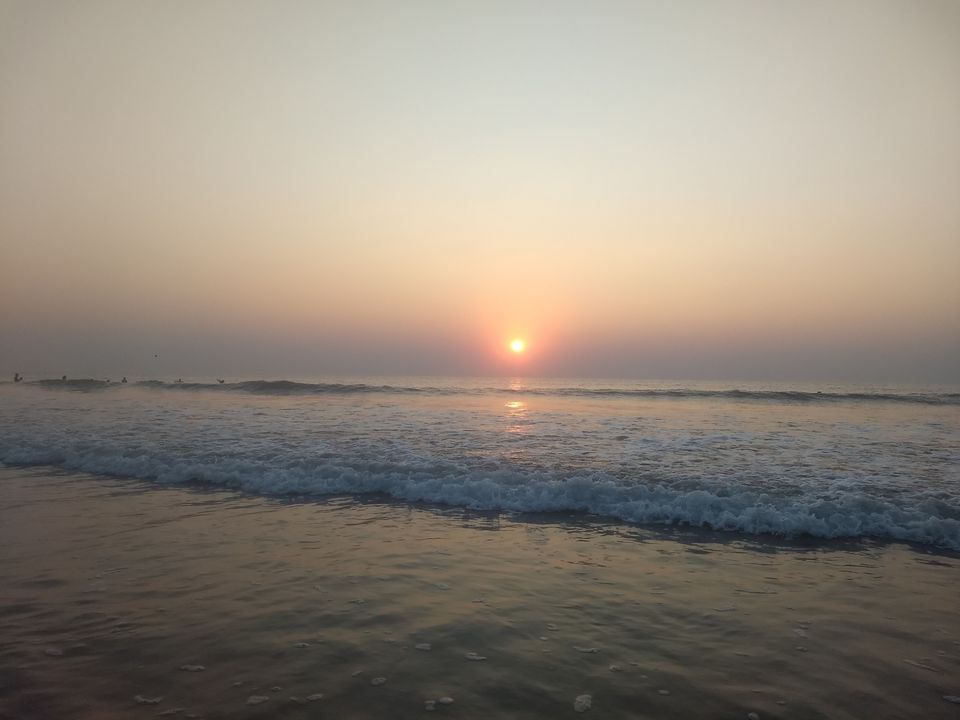 It all started on one fine Sunday evening when all thoughts about long weekends in 2017 were penned down in a diary of mine.
Goa was always on my mind for January's last weekend as one of my friend had already agreed. That itinerary​ was simple as snow; beaches and parties.
There were some emergencies at his place, just a week before departure and the plan stood cancelled. I had to make a choice of going alone or simply wasting those days being at home.
Being a biking enthusiast I decided to go on a solo trip to Goa on my motorcycle. I did all the last minute shopping, booked my hostel at Vagator and had completed my packing at around 10 on 25th of January.
To confirm the location of hostel, I checked into AirBnb and I came to know that my booking was cancelled with no specific reason. I had to book another hostel​ and post booking  I went to sleep.
I woke up at 2:30 in the morning of 26th January, geared myself, mounted the luggage and saddle on by Motorcycle and left from home around 3. I planned to cross Pimpri-Chinchwad which is around 150 KM from Andheri and have my first break at 200 KM. I found a nice food joint at Kapurhol (70 KM before Satara) where I had pauva, vadapauv and two cups of tea. I felt fresh and started again at 8. The weather was wonderful and I decided to have my next stop after Kolhapur (200 KM from Kapurhol).
The roads were great and I could consistently cruise at 100-120 KM/hr on this strech. I reached Kolhapur at 10:45, had couple of glasses of Nimboo Pani and some biscuits as I wasn't that hungry. I gave some break to my bike as I was cruising at high speeds for long time. I met a group of travellers who were from Pune and going Gokarna. We had a long chat and exchanged our numbers and agreed to meet at Gokarana if I found travelling solo in Goa to be boring.
I left from there and decided to directly stop at Goa. My hostel was now at Anjuna instead of Vagator due to the cancellation issue. Anjuna was around 200 KM from Kolhapur and I left at 12 in the noon, crossed Maharashtra Border and entered Karnataka by 30 odd minutes. There's a detour for Amboli - Goa from Nippani in Karnataka. The route is Kolhapur (Maharashtra) - Nippani (Karnataka) - Amboli (Maharashtra) - Bardez (Goa), so you cross three states in a span of 2 hours !!
Amboli Ghat is the one of the most scenic place on the way to Goa (only if you go by Mumbai Banglore Highway detour Nippani) though it can't replace the actual charm of Mumbai Goa Highway i.e. NH 66.
Amboli to Sawantwadi is a beautiful strech with dense forest on both sides and around 20 KM of hilly roads. I reached Goa around 3 and checked in my hostel Cirrus. I was allotted an untidy hut in which I was supposed to stay. I quickly dismounted my saddle and luggage, went for a quick bath, wore my beach wear and went off to Ozran.
Ozran is one of the most beautiful beach in Goa and with a picturesque sunset. I played volleyball for sometime, went for swim, had a walk and I was bored.
Thinking of what to do next, I went back to hostel, changed my clothes and went to explore Goa on road. I turned on my GPS and went towards to Dudhsagar. It was around 75 KM from my place. I left at 8:30 in the night and reached Kulem at 11:00. I went through to some beautiful farms through nice single lane roads for most of part with minimum traffic. The peace of riding motorcycle in such a place is hard to describe.
At Kulem I was strictly denied by localites to go on till Dudhsagar as it's unsafe and presence of wild animals adds on to the danger. I gathered some courage and went on in spite of their denial till around 5 KMs. It was dense and dark as hell and I made a sensible to return back. I reached hostel by 3:30 and went off to sleep.
I woke up around 11, had my bath in open bathroom (yes it was open from top and doors were made of jute) with no shower and chilled water.
Left around 12 for South Goa through Panjim - Colva - Carmona - Quedem - Palolem - Polem. The route was extremely scenic with a strech of around 110 KMs from my hostel. I went through tall coconut trees and farm spread over acres on both sides of the road to reach Polem. I reached Polem at 3:30 post noon had after a long struggle I found a place to have vegetarian food. I thought of leaving for Gokarna but couldn't gather the courage as I wanted to be back at my hostel by night. I started back and by the time I reached Panjim, I realized visiting Divar Island (on road to Old Goa) would be great. Divar is a river island on Mandori River. I had to take ferry from St Pedro Terminal for Divar but accidentally I took a ferry from Ribandar Ferry Terminal for Charao Island. I wasn't aware about it before I boarded the ferry where I came across a guy who guided me and advised to visit Dr. Salim Ali Bird Sanctuary on Charao Island. I'm not an avid bird watcher or a photographer but somehow watching those beautiful creatures gave me peace and satisfaction. Saw almost 8-10 types of birds in a span of hour including some migrant birds. I wasn't fortunate to see crocodiles though its common to spot them around at Charoa. I was advised to spot sunset near Jesus statue which was breathtaking. I boarded the last ferry with my Motorcycle and went back to Panjim and then to my hostel. It was an exhausting yet a beautiful day at Goa though I wasn't fortunate to visit Divar, watching birds made my day.
I started early in the morning at around 8. It was extremely windy and to have a bath in those jute doors was not possible. I decided to go through another forest Mhadei Sanctuary. The sanctuary shares it's border with Karnataka and Maharashtra. I started from my place and reached Mapusa where I had breakfast and then left for Mhadei. Later, I came to know from some localites that general public were not allowed to visit Mhadei this I had to look up for other options. I found swapnagandha resort at Chorla Ghat to be the perfect place. I visited the place, learned few things of bio diversity in the western ghats and saw some mezmerizing views. I made my way back to Anjuna and reached by hostel by 8:30 in the evening. I hade my food, packed my bags and went to sleep.
I left for Mumbai around 8 in the morning, had my breakfast on the way and then lunch. Today being the last day of this streched weekend, Satara Pune Road was extremely crowded. I went through somehow and then Pune Mumbai through Old Mumbai Pune Highway. I reached home around 9 PM, dismounted my luggage, removed my gears myself and realized how wonderful solo travelling can be.
P.S. I just have 5-6 photos of Goa 😂