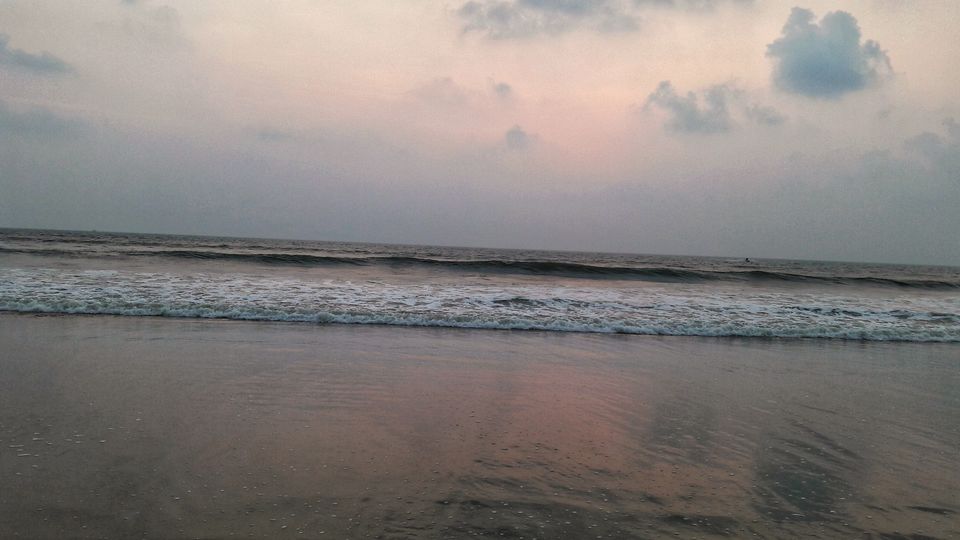 Goa is universally known as the land of beaches, casinos, seafood and booze. But for a vegetarian teetotaler like me, Vitamin "Sea" was the sole reason for my second visit to Goa.
We had visited Goa in the month of May last year. Although we had our share of beaches then, I was still a bit disheartened and felt that the tour was incomplete. The reason being that we could not take the Dolphin safari then because we were told that the water sports and the Dolphin safari activity takes place only between October and March. So the moment, we decided about this trip, we knew we could (and had to) complete the unfinished task. In addition to the Dolphin Safari, I wanted to experience the thrill of parasailing too (which I was quite apprehensive of).
Our Stay
We stayed at a resort next to Betalbatim beach (part of South Goa), which was just about 7 minutes drive from the Colva beach. Betalbatim is very clean and scenic as well as serene, with very few couples around. While walking on the beach, we could see crabs crawling into the sand holes, star fish & even small fishes being washed ashore, the breeze swaying the trees lined on the beach as if someone had carefully planted them on a single line, the sound of the waves crashing on the shores and so on. Experiencing such magic stuff of nature is a welcome change and a rarity for people who live in the concrete cities.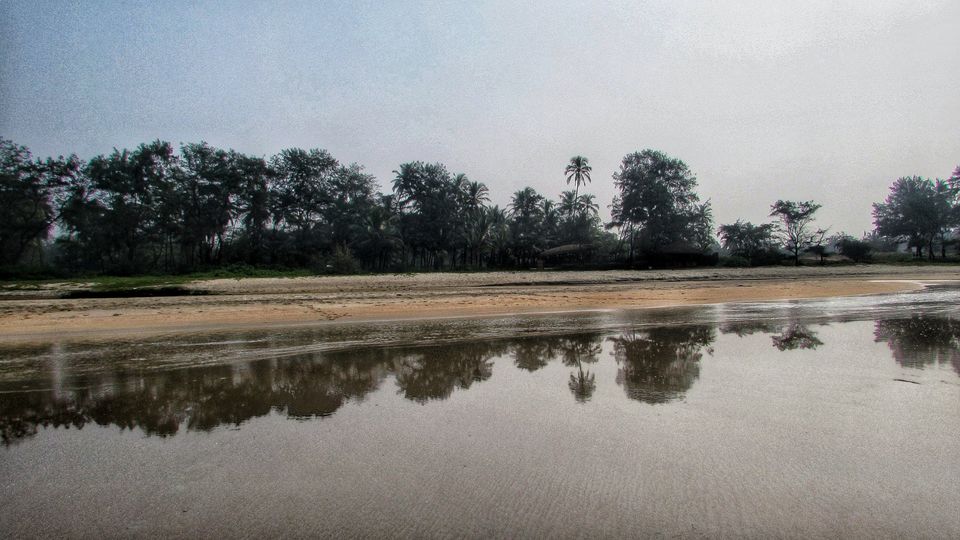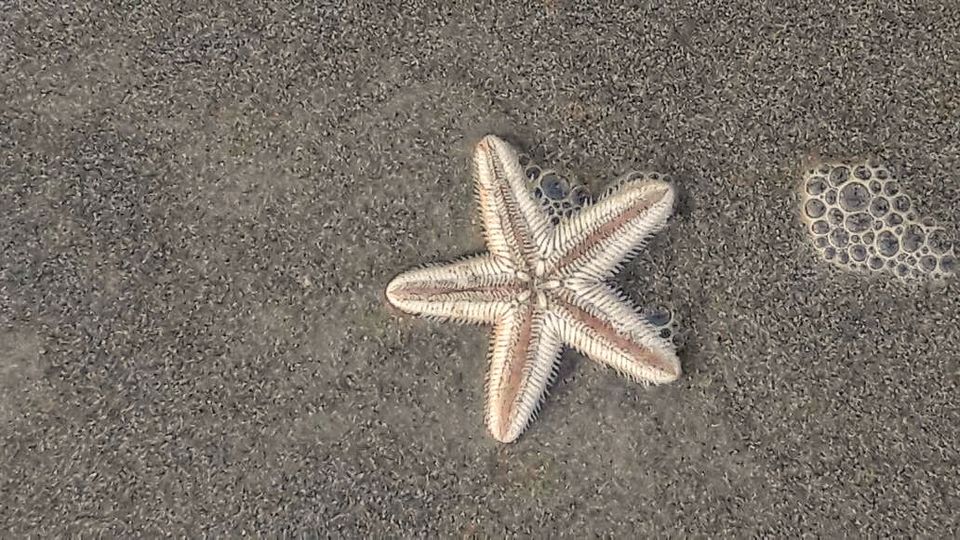 The much awaited Dolphin tour
We had been told that Colva beach had Water sports activity and we decided to check that out first rather than traveling 35-40 minutes to North Goa. Colva beach was fairly crowded as compared to Betalbatim beach. The moment we entered the beach, there were ushers inquiring if we were interested in Water Sports Activities. We engaged one and within the next 10 minutes, along with another family of 6 people, we got into a speed boat, for our dolphin safari. The guide did start with a caveat that Dolphin sighting is usually a matter of chance and if we could sight them, we would be lucky. But he said he would take us to the spot where they are generally spotted. So there we were in the deep-sea, hoping to catch a glimpse of those beautiful marine creatures.
For me, the much hyped dolphin safari was a blink & miss opportunity. We could barely see them. Before we would realize that probably there's a dolphin, it would disappear back into the water. Thankfully, our guide was patient with our requests, so we were able to spend some time on the speed boat and get some glimpses of the dolphin. But still not long enough to capture them in our camera, as they would appear for just about a few seconds and dive back into the ocean.
The charges for the boat ride were Rs. 300 per person for a good 20-30 minutes ride onto the sea. So whether dolphins are spotted or not, it is still a joyful ride to take on. Not much noise, except for the whirl of the speed boat engine and an occasional plane flying above, cool water splashing on us as the boat sped across the water; definitely a pleasing experience.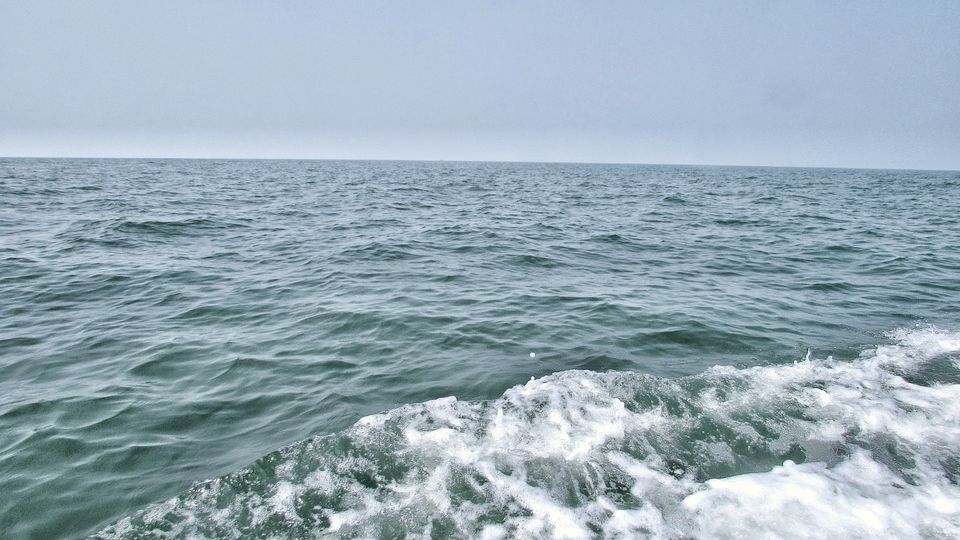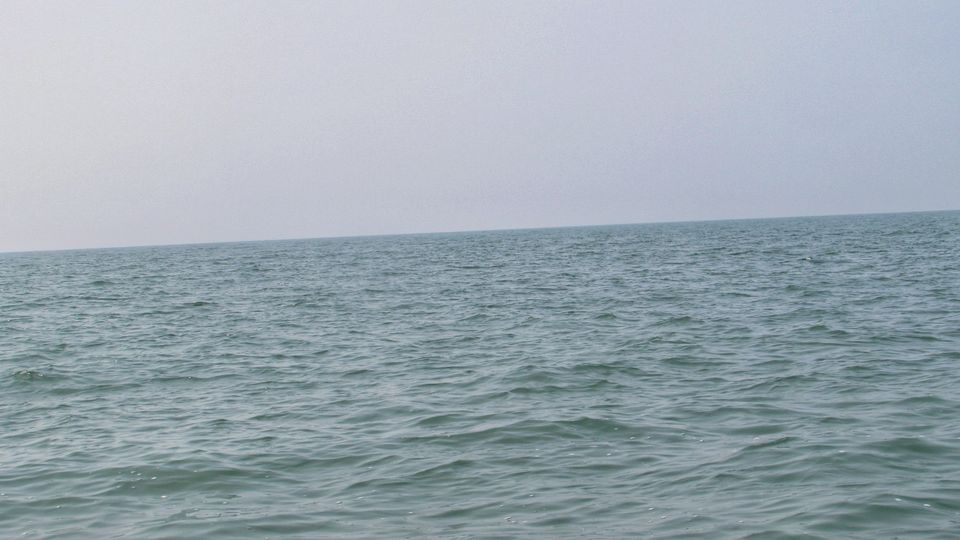 My tryst with Parasailing
With the Dolphin tour ticked off my to do list, it was time for the next big activity; Parasailing. I opted for the beach parasailing wherein I would take flight from the beach and would land on the beach itself. While my family apprehensively looked on, I got strapped up, all excited to take off. An observation that I would like to add here is that the people who provide these activities are the local folk, who probably have learnt the sports activities on their own and are not really professionals. I guess they took it for granted that I had done my research on Parasailing (which I hadn't done fully) and so didn't feel the need to tell me what I should expect when I was up there. They charge Rs. 1000 per person for a 10 minute session.
So here we were (there was this guy behind me, who accompanied me on the flight), being lifted up in the air, by a speed boat to which our parachute was attached. I generally tend to feel nauseatic and claustrophobic while traveling by air or through winding roads. As is always the case with me, while getting lifted up in the air, I had a sick feeling in the pit of my stomach. For a moment, I regretted the flight and wished it would end soon. But within no time, the adrenaline rushed within and I changed my thoughts and told myself that while I was up there, I might as well enjoy the aerial view. Although it was not an unassumingly high altitude, yet I was way above the ground and it sure is an unusual feeling when you are a couple of hundred feet high in the air, to be able to see things from the top and I absolutely enjoyed the experience. I could see the aerial view of the expanse of the sea and on the land I could see the city. I am sure that my family would have been tensed on the ground, as to how I was taking the experience. The landing was smooth and once down, I decided that my next trip to Goa will definitely have Parasailing again on my list of things to do (despite the motion sickness problem).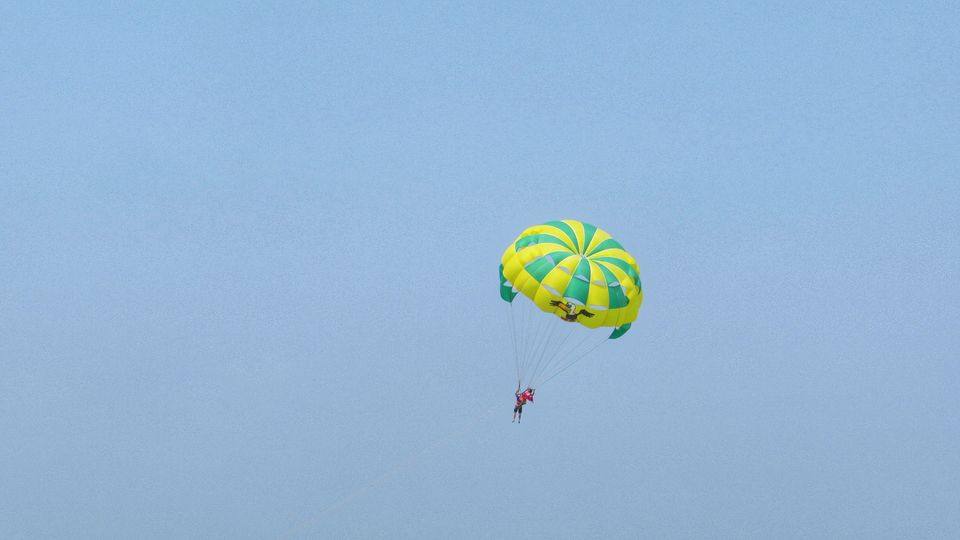 Just a note of caution; I don't know if this happens to all those who undertake Parasailing or was it just me. But as soon as I got off, my back was stiff and painful. This lasted for just around 30 minutes or so and then I was perfectly fine.
What's more?
Also, those who prefer more adventure, they can choose to do Parasailing from the water. A speed boat takes you further away into the sea and you are lifted from a boat & you land back on the boat. Or you take off from the beach and land on the water. There were other adventure activities like Jet skiing, Banana Boat ride, Windsurfing etc. But we were done with our fill of adventure & we had made enough wonderful memories in our trip this time.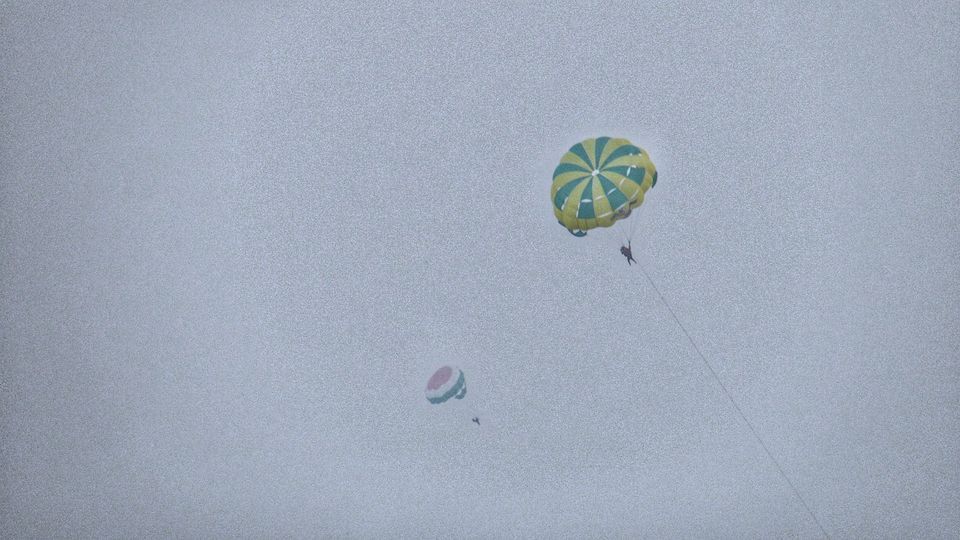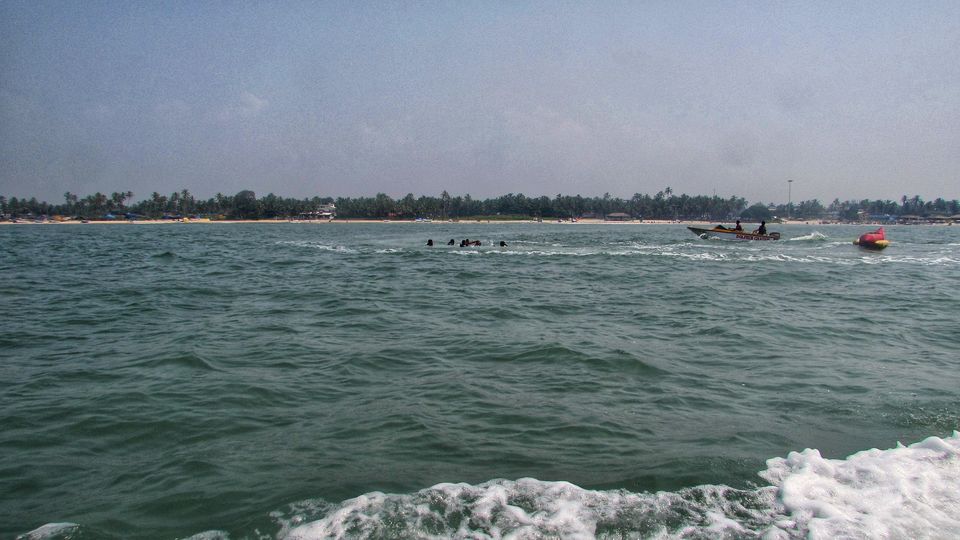 Apparently, there are other beaches like Sinquerim, Candolim, Coco, Calangute & Baga, where you can go for the Dolphin tour as well as water sports activities.
Better luck next time
After our return to Mumbai, we learnt that Palolem beach is one of the best beaches for Dolphin sighting, because you can be assured of seeing some of these beauties here and that too, to your heart's content.
It looks like another visit to Goa, may not be a bad idea after all. There can never be an overdose of Vitamin Sea; Parasailing and the Dolphins are of course the icing on the cake.