The fascinating Indian state of Uttar Pradesh boasts a long and colourful history reflected in its delectable cuisine. Of the many culinary influences that have shaped the food of the state, perhaps the most famous are the cooking techniques and experimental recipes favoured by the opulent Mughals, the maharajas who nursed a predilection for all things rich, decadent and creative. However, the cuisine of Uttar Pradesh was more affected by the influence of the Nawabs, the rulers initially appointed by the Mughals, who took culinary creativity to new heights of innovation. As a result, Uttar Pradesh offers an extensive menu of dishes that run in a similar vein to the heavily spiced fare of the Punjab and the deep flavours of Kashmir. Just as in these states, the cuisine of Uttar Pradesh embraces meats in a variety of forms. However, vegetarians certainly won't feel excluded, thanks to the list of vegetable-based options that have been a firm part of the culture of Uttar Pradesh for centuries.
Vegetarian classics of Uttar Pradesh
We all crave a little comfort food at times and in the state of Uttar Pradesh, it is Arharki Dal which offers a warm hug in a bowl. An everyday dish of the state, packed full of protein and nutrients, it is well-known for being easy to make as well as delicious. Lentils provide the bulk of the dish whilst tomatoes, ginger, onions, garlic, green chillies and cilantro are also integral to the recipe. Spices such as cumin, turmeric and red chilli add a fragrant exoticism to the dish – just the aroma to provide some comfort on a cold winter night.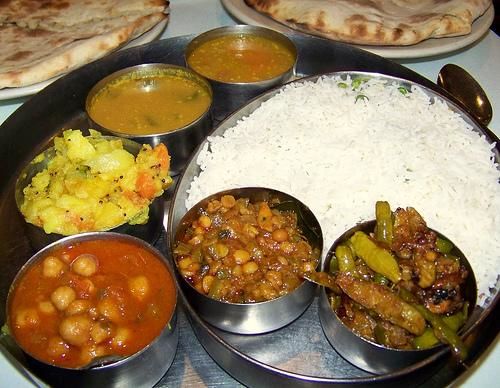 A unique vegetarian option in Uttar Pradesh is BhindikaSalan, a tasty recipe based on the popular 'bhindi' vegetable, an ingredient otherwise known as 'okra' or 'ladies fingers'. This flavoursome dish involves frying the bhindi in hot oil and addinh it into a curry created from tamarind pulp, tomatoes and plenty of chopped red and green chillies. This fiery flavour is livened up further with cumin and mustard seeds, killing the concept that vegetarian food ever has to be bland.
Another popular vegetarian curry said to have been developed in Uttar Pradesh, is the heartyAlloRasedar, a dish based around chunky potatoes, spiced to perfection and mixed with other vegetables.
Wholesome potatoes are a key ingredient in a number of filling vegetarian dishes, as is rice, one of the staple ingredients of India as a whole. The specialty dish AllahbadkiTeh
ri is a rice-based recipe combining a selection of seasonal and locally produced vegetables which could include cauliflower, green beans, potatoes or carrots with fluffy basmati rice and a smattering of mouth-watering spices.
The famous 'brinjal' or aubergine is also a popular vegetarian ingredient in Uttar Pradesh. Known for its soft yet firm flesh, aubergines make an excellent addition to a curry. Additionally, they can be stuffed with a mixture of onions, cloves, sugar, citrus juice, chilli and spices – these vegetables make the perfect vehicle to showcase a range of tasty Indian flavours.
Indian cuisine is one of the most vegetarian friendly cuisines in the world. See for yourself with a visit to one of London's best Indian fine dining restaurants.