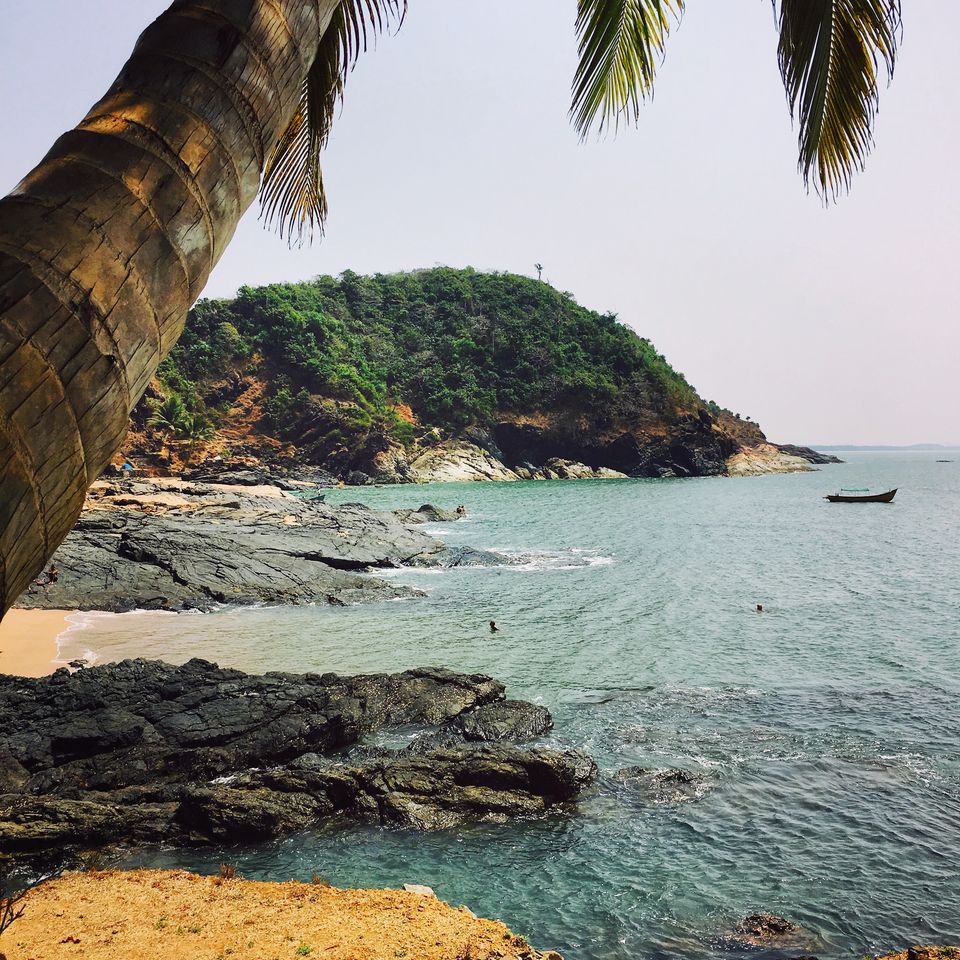 This was the most unforgettable trip of my life." I said, as I took 2 minutes extra while limping my way up to my friend's duplex house. (If you're so rich, might as well get an escalator) My friend stared at me with astonishment and asked me for the 5th time now whether my nascent wound was still hurting and I told her for the 5th time, I'm fine.
The above conversation took place after I returned from my trip to Gokarna. If I had to put a definition to Gokarna, here's how it would look like,
Gokarna
/Gok:ar:nah/
Goa finally decided to give up on the materialism and live a good life. It's now called Gokarna.
Okay, I promise no more comparisons. Gokarna is the most beautiful irony you will ever come across. One part of this town is touted as a pilgrimage for Hindus and the other part of this town is what a beach bag packer's sweet dream is made of. If I could go back in time and thank somebody, I would thank the person who discovered these beautiful and quiet beaches nestled in Karnataka. Focusing on the details here, Gokarna comprises of 5 main beaches. Gokarna beach – The one that is frequented by pilgrims, Kudle beach – one of the main tourist beaches in town, Om Beach – The more laid-back beach with cafes serving the most comforting meals from across the globe. As you move forward and trek towards the remaining two beaches, namely, Half-Moon beach and Paradise beach, the population keeps getting scarce. These two beaches will make you want to check your phone to confirm that the location you're in, is India.
Those Goa trips which died in the course of planning on Whatsapp groups still haunt us right? Well Gokarna had a different fate. A few articles here and there about this less-explored beach and I was convinced that Gokarna would be my next mini-getaway. As a cherry on the top, the estimated trip cost even complied with my budgetary sentiments.
I went on this trip along with two of my guy friends. Yes, I committed the sin of disrupting an all-boys backpacking trip.
'Gokarna wale utron' yelled the bus supervisor at 6.40 AM in the morning. I was already up as soon as the sun rose. My friends still sleeping as if they've had the most comforting sleep of their lives. A hit on their shoulders was their wake up call for the day. We boarded a local bus from the bus depot and post that you either walk it up to OM beach or hire an auto. As enervated as we were, my friend who was not a Gokarna virgin managed to convince us that the 6km long walk with heavy bag packs was worth it. After a long yet interesting walk comprising few encounters with langoors (wild monkeys) and a very interesting pole dance by the boys on a random pole. The view of the magnificent sea with blue water glittering under the 10 AM sun and the smell of sand and I knew I was home. Throwing in a few facts here – The beach gets its name from the 'Om' symbol that is formed by the shore.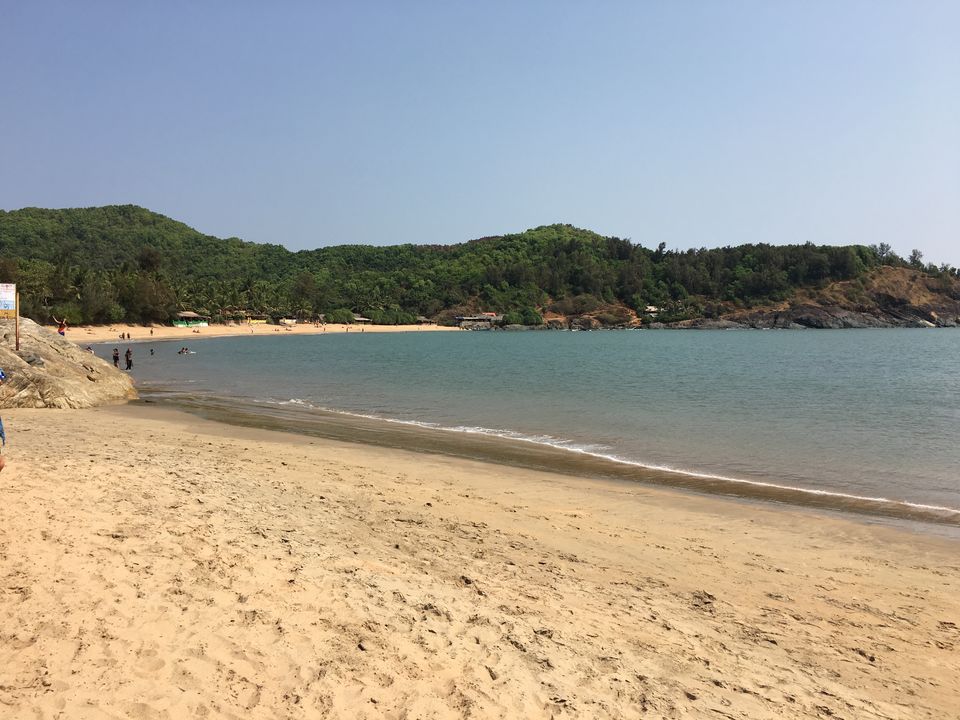 Yes, the café is as welcoming as it sounds. We checked into this café with a mere cost of 1500 per room. The rooms had a very vintage vibe to it. One huge bed with a mosquito net on the top and walls were merely bricks through which sunlight crept in. After freshening up we proceeded to have breakfast. Nutella pancakes with bananas, cheese and mushroom toast, a heart bowl of muesli & yogurt and honey-ginger-lemon warm water was on our breakfast menu. It's almost blasphemous to not have a meal at Namaste Café when you go to Gokarna.
A quick dip in the beach, a competitive game with the Frisbee and a lunch of chicken schnitzel and tomato olive pasta later our lassitude relapses. After a good nap we take a nice walk on the beach. Here is what the vibe and view is like – A group of Israeli's chilling by the beach and one of them hula-looping, a well-built man (we named him terminator) has now completed the 11th round of running with stopping just once. Another group of individuals from some foreign land playing baseball. There was one thing constant in all those foreign faces, they all seemed to be at peace.
There's this tried and tested theory I have, 'There hasn't be a sadness that cannot be cured by the sound of waves.' You can go and experiment and tell me how right or wrong I am.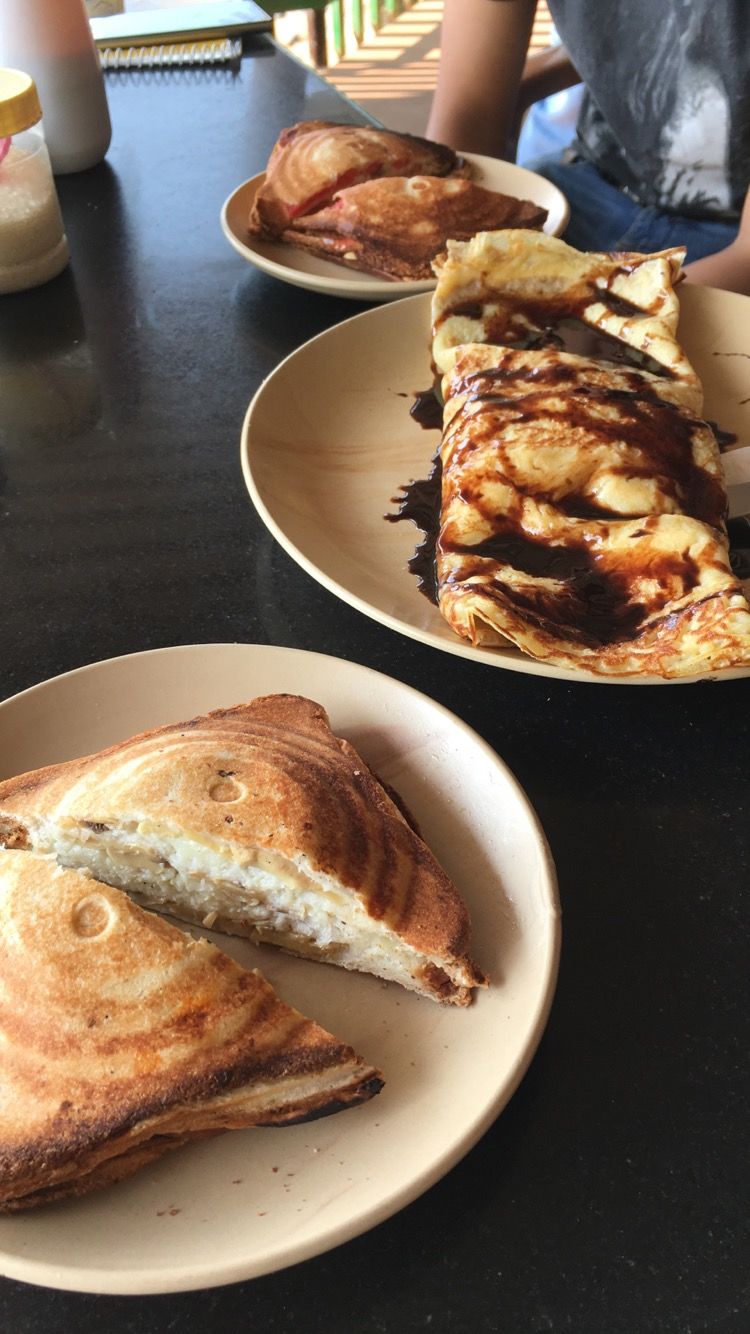 Day 2 and we're all well-rested. We safely bathed in a mosquito repellent lotion the previous night before sleeping to avoid any interruptions to the sweet dreams that were to follow. After another wholesome breakfast of some eggs and coffee, we're all set with our bag packs filled with the essentials – first aid, torch, and an extra pair of clothes, water, sunscreen and some munchies. The only thing I forgot to pack was common sense since I made the vacuous decision of wearing slippers. – We'll get to this story a little later.
After following our intuition and with the help of a few locals, we made it to the Half Moon Beach. The journey through a forest and thorny bushes was really exciting with a few falls here and there. Half Moon Beach. What kept us going was the anticipation of what was to come. It was here that we met Miko who'd come to India from Greece for a 6 month long bag packing trip along with his girlfriend. He however came alone on this trek. Back there in Greece, they embrace the 'to each-his-own' policy really well. We then took a short break before heading to Paradise beach.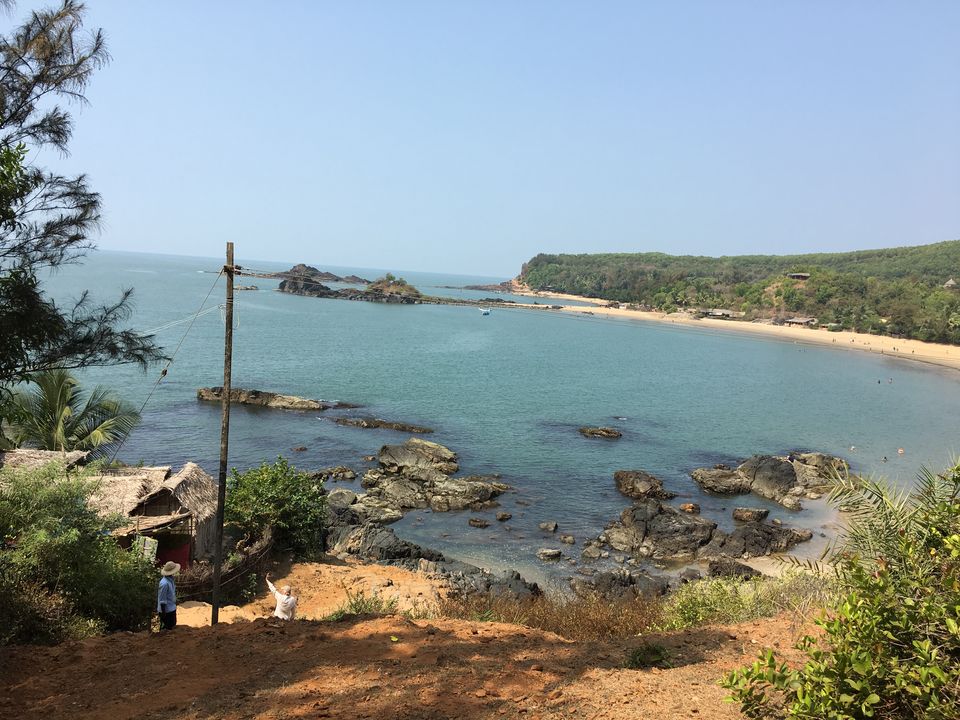 Well, if they say, leave the best thing for the end, we wholeheartedly complied with it. Huge rocks and uneven patches is what the path to Paradise is made of. You know what they say, to experience paradise, one does have to cross the difficult path. Couldn't be truer. We stopped a couple of times as we were in awe of the view and of course we could not shut the camera on the phone. (We needed this for our Instagram)
Once you get here, you will take a while to believe that you're not dreaming. You can almost count the people on the tip of your fingers here. A hipster's haven, you could call this one! We spend a good 2 hours on this beach playing beach games before heading back.
So, this is when I realized I made a terrible mistake with the choice of my footwear. On our way back, I happened to trip really bad and fall off a rock. My friends did come to my rescue but there was very little that could've been done as damage control. I realized that if I let the pain settle, I wouldn't be able to walk. Walking slowly, rather limping I made my way back. Somehow the beautiful view more than made up for the pain that was to follow.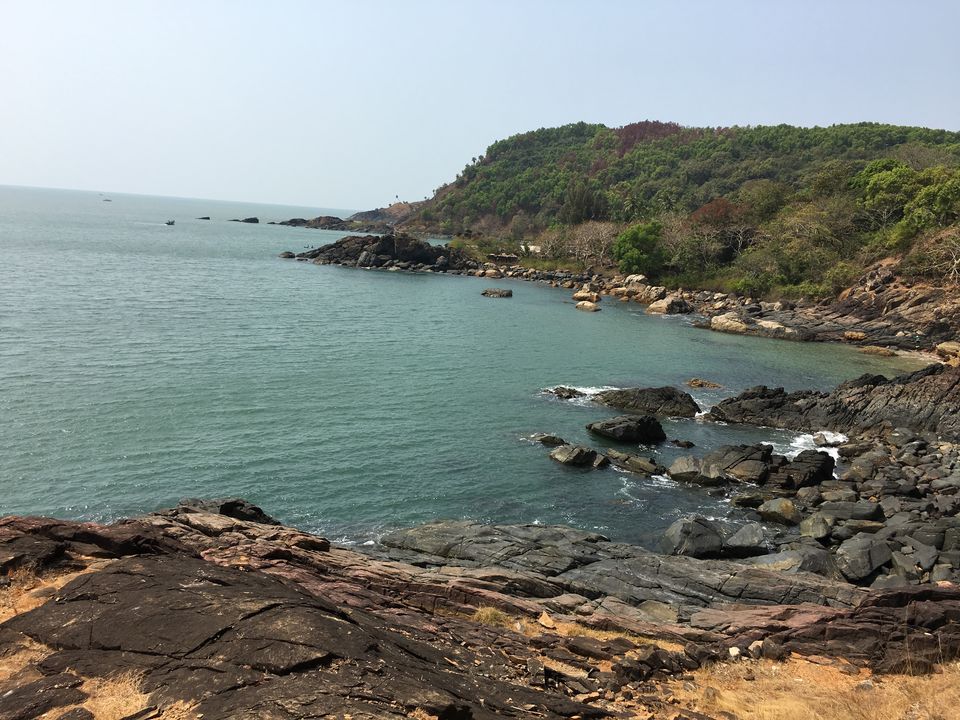 Next morning, I decided to alleviate my pain further by having a solo breakfast with a view. The beach facing seat at Namaste café is a tricky one to capture. I woke up an hour early to get there. Moreover it was 14th February and I decided to spend it with two of the most precious things in my life; breakfast food and beaches.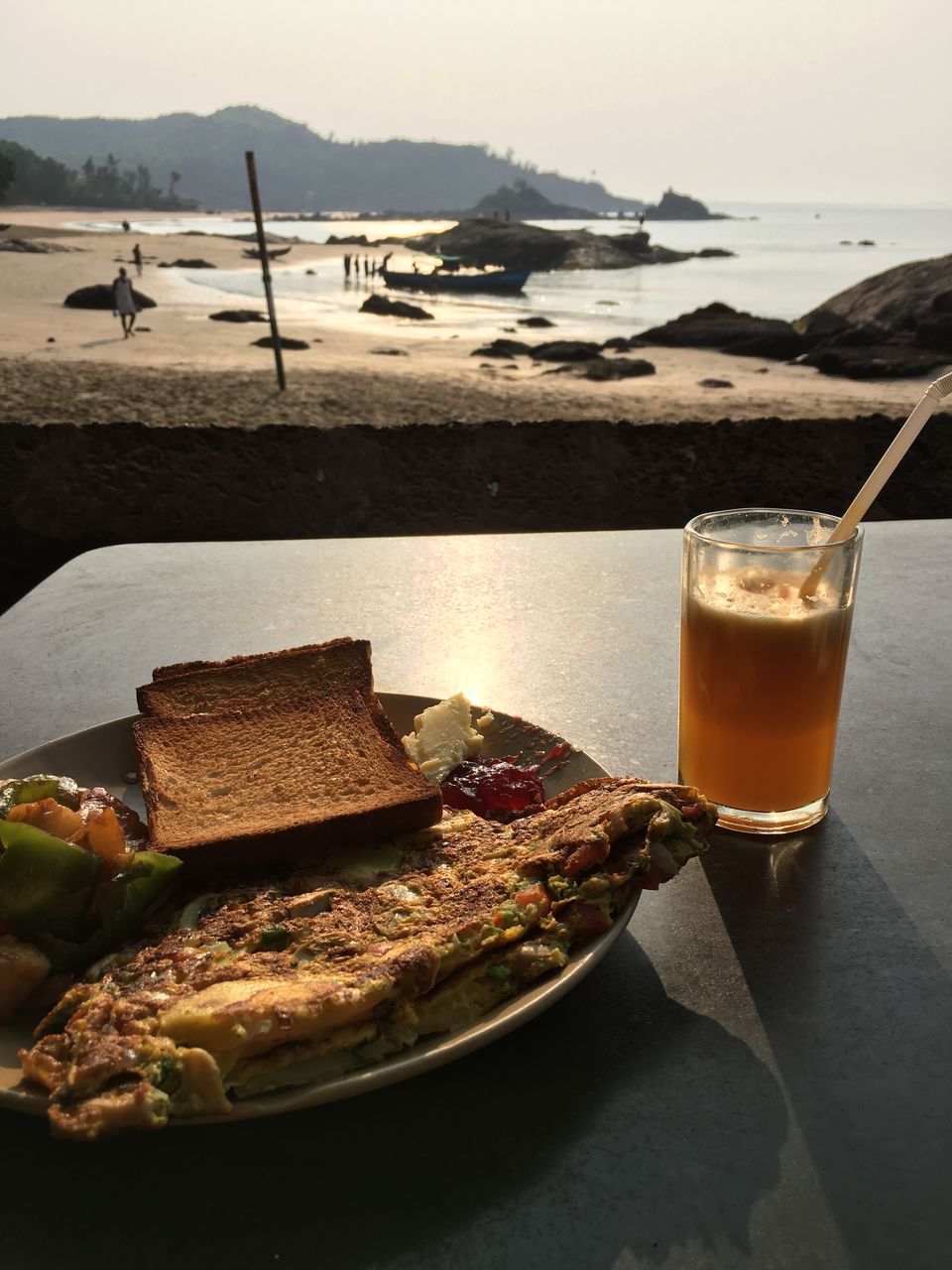 Even though my foot was bruised, my hopes weren't. After the boys were done with their breakfast we headed towards the main village and decided to explore the not-so-hipster side of the town. We visited the Mahableshvar temple and a representative volunteered to explain us the rich history behind this village. Following the Dravidian style of architecture (Yes, facts time again), this temple was built by Mayurasharma of the Kadamba dynasty. Post that we had a quick stroll through the busy streets of this village which had a row of shops on either side selling clothes, ornaments. A shop we entered in sold 'bongs' made with different materials and that's when I realized, the whole town has a Rastafarian soul.
We were back to OM beach and shifted our accommodation to an Israeli camp. The vibe here was something I'd never experienced before. That evening we made two new friends, Freddy Boutros and David Nourallah – both from Lebanon. We shared stories from our respective hometowns over some Banoffee Pie – Gokarna edition!
David introduced us to a new card game called 'Bullshit' and as the night proceeded, he revealed that he composed music and shared his music with us.
If that doesn't fit in the definition of a good life, I don't know what does.
*Enter dramatic notes*Even though my foot was not quite at ease, a new discomfort took over me as I packed my bags for my journey back home. Here's what I took back from Gokarna – 2 New friends, A list of good reads suggested by Freddy, the realization that solitude is addictive and heaps of inspiration.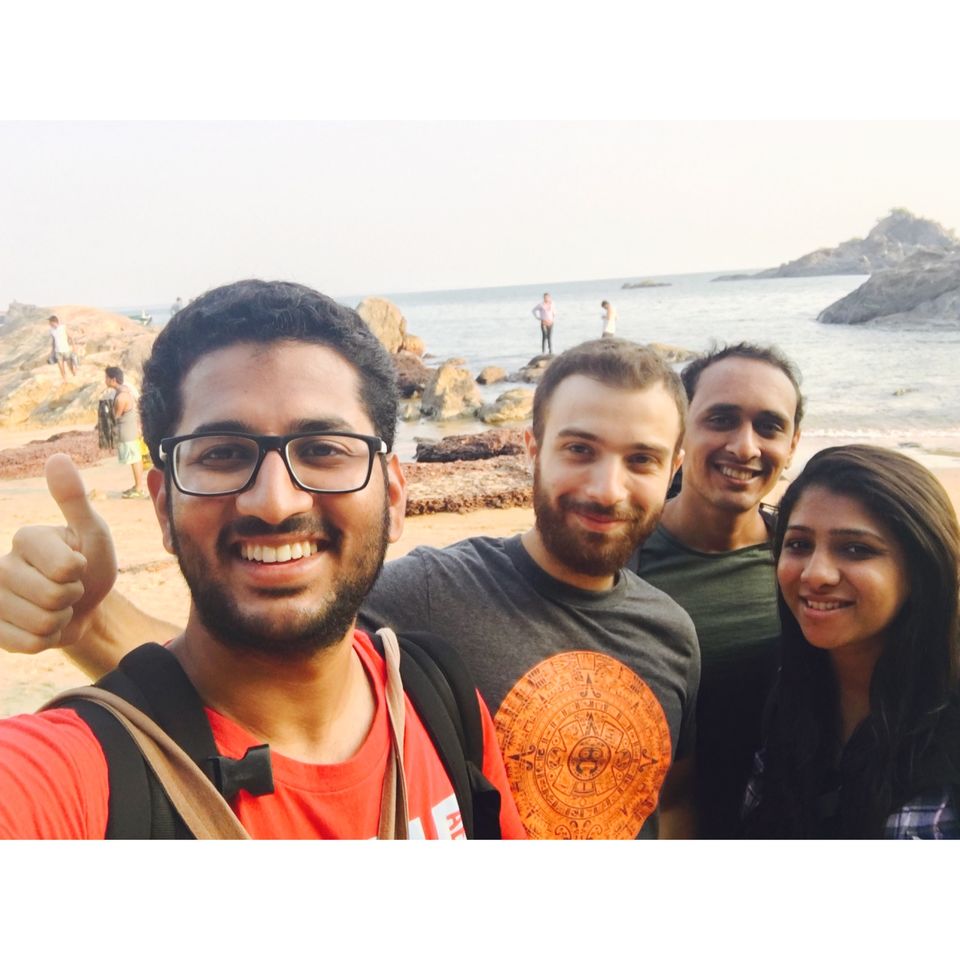 Travel Trips for the Bag Packer's Soul
- While going to Gokarna, be open to experiences and pack your stereotypes and prejudices and throw them far far away in the ocean.
- There aren't many ATM's unless you go in the main village, so make sure you carry enough cash.
- Always remember – you're not going for a luxury trip.
- This isn't only a vacation for you, but also your phone. Take it from a social media addict – After Day 2 you won't even care where your phone is.
- You don't have to worry about food – Gokarna spoils you for choices, but you may not find any alcohol around apart from beer, so carry your own