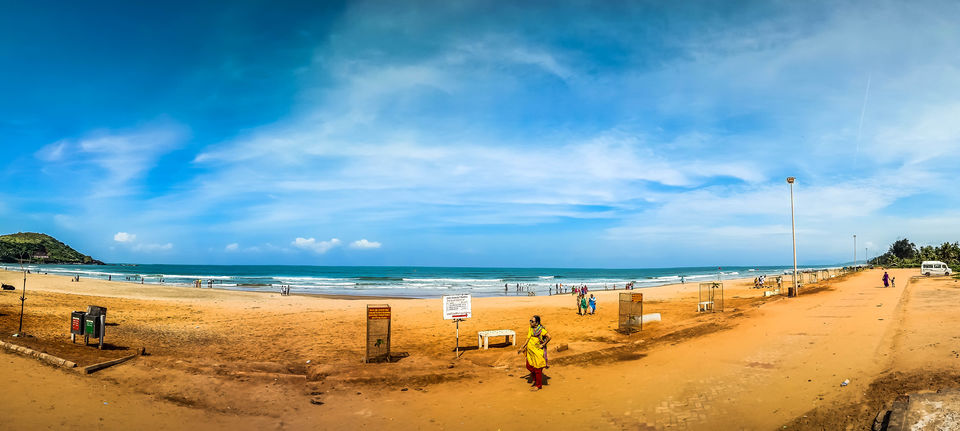 I always take this as a challenge to organize my trip with as low budget as I can but at the same time i don't compromise with anything. This was my birthday when we decided to travel to Gokarna. It is roughly around 450 Km's from Mysore(the place where I started my journey from). I'll share how I managed entire journey to Gokarna, Murdeshwar and Yana caves in just around 3k including everything.
Left Mysore at around 8 P.M. We stopped at one dhaba (yes, a dhaba in Karnataka) to have our dinner. Eating at dhabas is always a wonderful experience since you get the tastiest food at unbelievable price. After having dinner I started my wonderful playlist which acted as a lullaby for everyone. There were few landscapes on the way which were so beautiful in the moonlight that I can't even describe them
The road to Gokarna from Mysore passes through Kodagu district which unfortunately had dealt with heavy landslides recently. So we were quite slow in our journey. Our first stop was Murdeshwar temple, world's second tallest Shiva statue. It was around 06:00 when I woke up to this view
It was a luck that we reached Murdeshwar at sunrise. As there were no ques in the morning so it was a pleasant visit. Murdeshwar temple is covered by the Arabian sea f three sides. This was my first beach experience as I never visited any beach before. The beaches were very clean. Here are some of the images of Murdeshwar.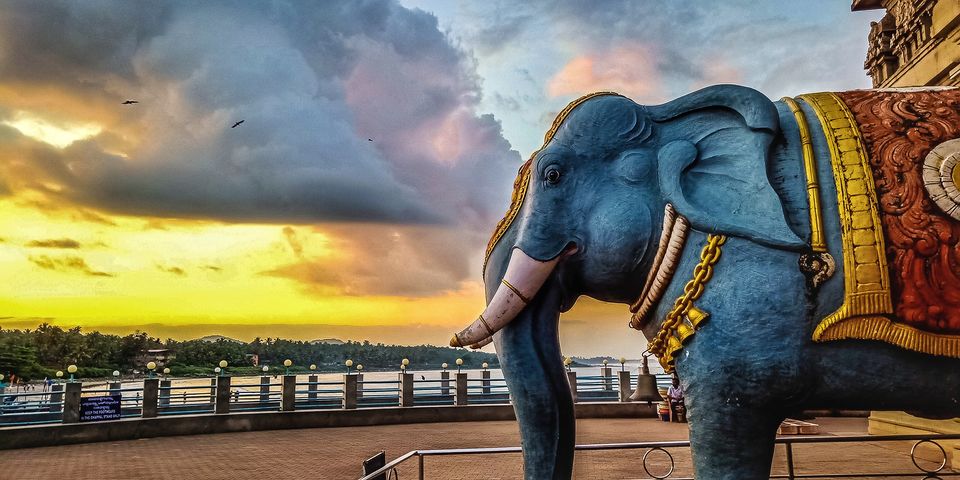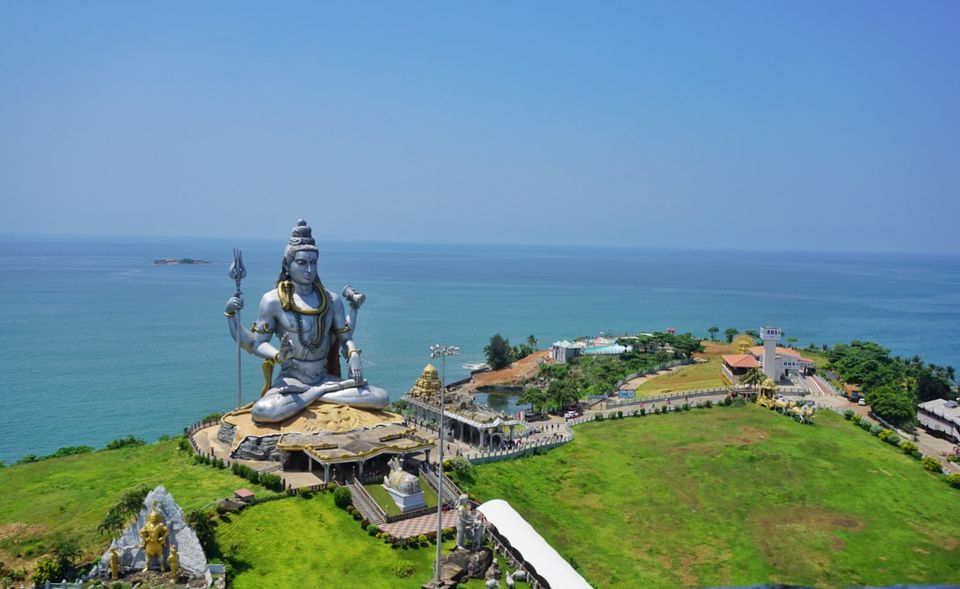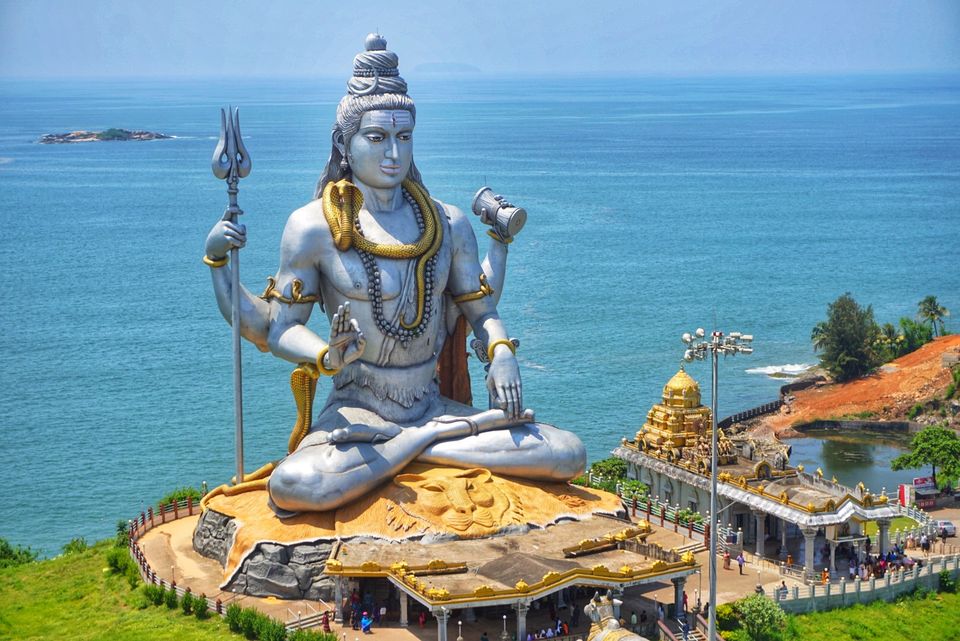 Now, our destination was just 80 Km far apart. I prepared a list of beaches which we'll be covering in Gokarna. Gokarna is a wonderful destination as it gives you all in one pleasures - Beaches, Mountains and Trekking. You can reach from one beach to another by either trekking or using a ferry. Some beaches have road connectivity as well but not all of them. As I love trekking so I decided to trek and cover every beach. While the driver was cleaning the traveler we had some banana pakodas as breakfast. The first beach we visited was Gokarna beach. It is the main beach and is famous among pilgrims. It is believed that only after a dip in the beach one can enter the holy temple worshiping Lord Shiva.
Gokarna Beach
Kudle Beach
You can't start the trek from Gokarna beach as this is not connected to other beaches. So we went to Kudle beach (my favorite beach). I did my home work before starting the trip so I knew the best beach shacks are present at Kudle beach. You'll have to make few steps downstairs from the point where your vehicle will be parked. Make sure to carry all your belongings with you as you'll be staying at Kudle (if you're following this blog). As we reached here, we first went in the search to find a cheaper stay. You can't find cheap stay online. We were 9 males and we just needed a place to put our bags because we knew we would be spending all of our time doing trek or staying at beach. So we managed to get two options for us - 500rs/room (allowed 4 in 1 room) and 1k/room(allowed 4 in 1 room). We took the expensive one because it had some basic facilities which weren't there in the cheaper one. There were three beds in each room. We put our bags there and started. And I did my first ever dive in sea. It was amazing experience for me as I was doing it for the first time. We started our trek from here. Now I'll share the names of beaches as they arrive next. Here's some of the images of Kudle beach
Om Beach
It is shaped like the Om symbol. You'll find many good food places here. Namaste Cafe is a place here which is quite famous. It offers some really good food. Its quite expensive but worth a try.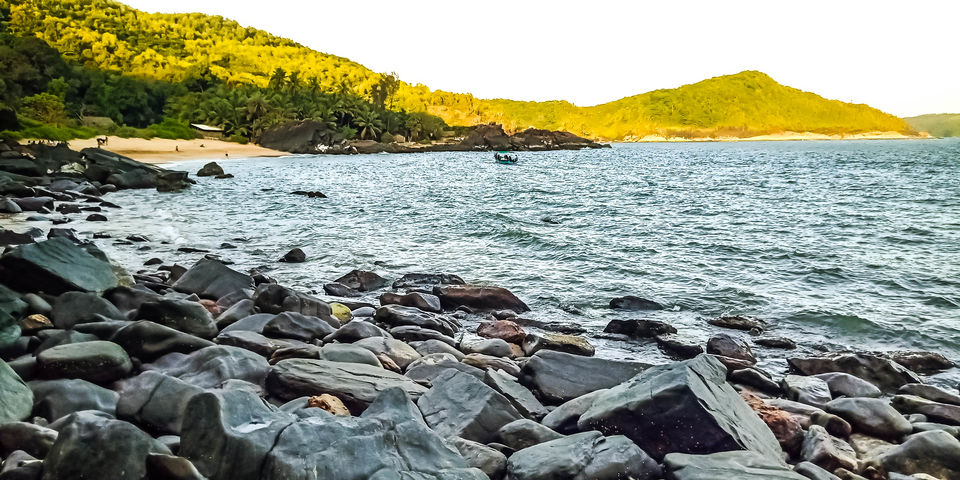 Belekan Beach
We were at paradise beach and we asked for directions to the road as we can't go further from there. Luckily, someone told us the way but we were stranded. While moving forward, we found a girl's group and they were stranded as well. It was complete forest like area and sun had already set. We were using the flashlights of our phone. We weren't sure if we're gonna find a way out or not. Suddenly our excitement turned into fear. As we didn't have food supplies, there was no network. But deep down I knew we are on the correct path, it's just that the path is quite long (I looked at the google map before starting the trip). After walking for a while we heard some honks of the vehicle. Never thought i would be so delighted to hear a honk. It was dark when we reached Belekan beach. We called our driver to pick us up from here.
I would suggest you to take your camps with you if your're experienced and stay at paradise beach. There will be no one there just few enthusiasts like you but it will be totally worth it. But your're new to camping/trekking you should avoid this option.
One more tip, you should start trekking a bit earlier so that you don't have to face what we did :p
If you're travelling where there is low moon light or no moonlight then don't miss going to Nirvana beach as you could see phytoplanktons there. We couldn't see because it was nearly full moon night.
After our driver arrived we left for Kudle beach where we had our shacks booked. We had our dinner in the Gokarna town. We spend our night at the beach. We managed to ignite a bonfire there and spend the night on the beach itself because it was more pleasing than staying inside the rooms. :)
Road to Yana Caves
We took our time to wake up, had some breakfast and we're all ready to move to next destination which is Yana caves. I don't have very appealing picture of this place but this is a must visit place. First of all you'll fall in love with the journey to reach here. It is situated at some height. This place has an interesting history and geography. You can read about this in details at wikipedia.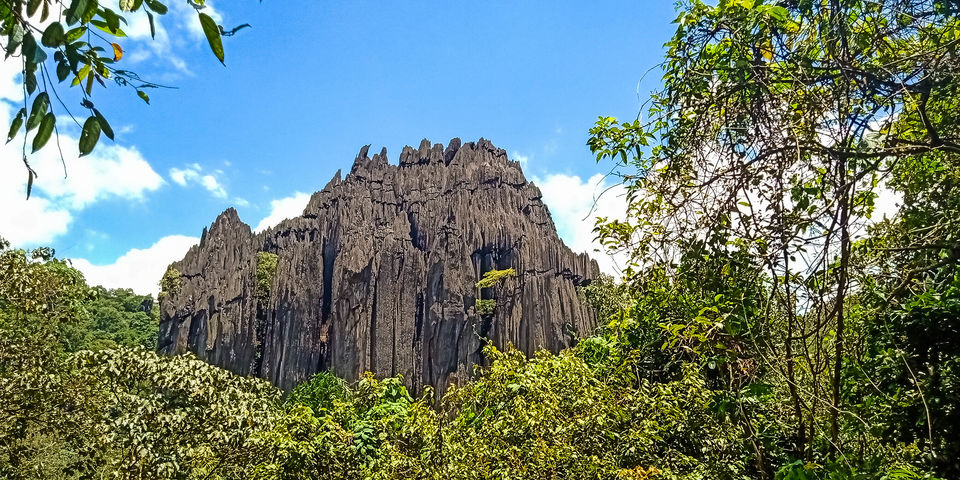 We missed our sunset in Gokarna because we were stranded so now we had two options either to visit Jog falls or stop at Udupi to see sunset. We made some calls to know if there is enough water at jog falls or not. Jog falls wasn't good at that time so we hurried and started our return journey while stopping at Upudi. And this was one hell of a ride because we passed narrow bridges, narrow lanes to reach the nearest beach, Kaup beach. We finally managed to see the wonderful sunset.
We had our dinner in Udupi and thus completed our short but adventurous journey by covering Gokarna, Yana, Udupi. We were at our location Infosys, Mysore at 5 AM. So all it took is a weekend.
How I managed trip in such a low amount ?
Travel in groups so that expense can be divided. A major portion of a trip is travel charge, food and stay. Book a cheap traveler. Order food in group and split the bill. Book stays online, usually online booking is cheaper with go ibibo but in this case I had to book offline. So it all depends upon the place your're visiting. Always try to plan your trip before going because this enables you to manage expense and at the same time you'll know what you shouldn't miss.
Complete slideshow of Gokarna images
*All photos were captured by mobile (Realme 1)*
*Follow my Insta @swarnveer to see more amazing trips and help with the crowdfunding if possible for insta one x*
*I'll add some trek videos to this blog soon.*