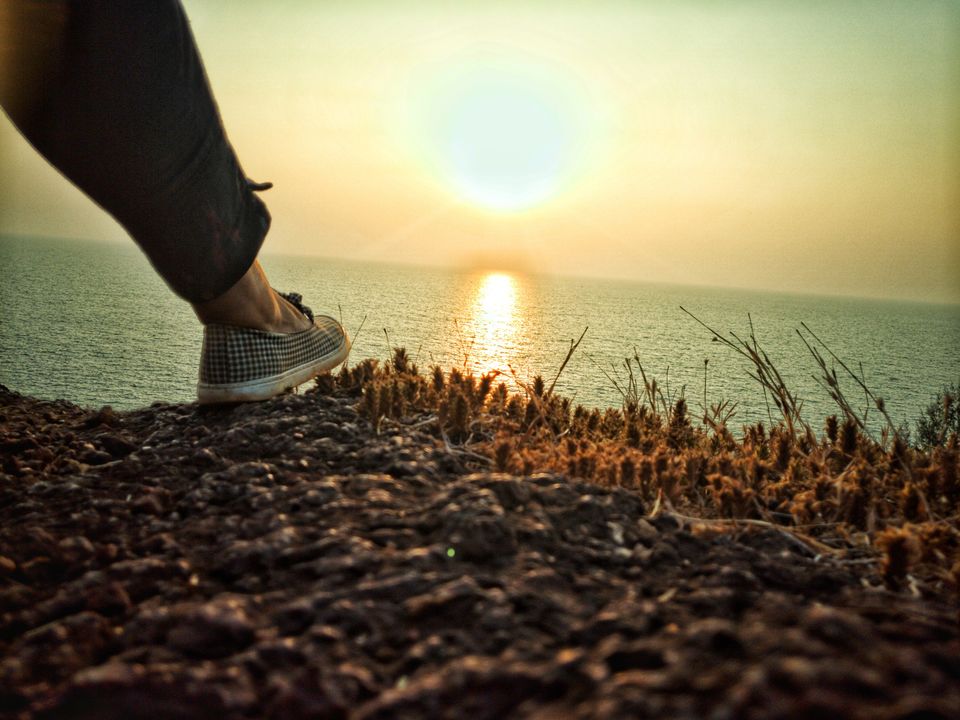 "I had tasted blood and I wanted more", after my first solo trip was a success, I couldn't wait for another one of those. On the auspicious occasion of my birthday, I decided to venture on another adventure with myself.  After browsing through dozens of locations, I finalised Gokarna, since the idea of a relaxed vacation, just lying on the beach, reading and listening to music alone sounded like the perfect way to ring in my birthday.
It was fate which was working all along and I'm glad I landed up where I did, stayed where I did and met the people that I did. The trip turned out to be a great trip and my birthday the best. A recommendation about Zostel, made me take the plunge by booking a hostel for my stay in Gokarna.  In the days leading to my trip, my hostel stay and the thought of sharing the room with 5 strangers was giving me downright anxiety.
I started my journey from Pune by bus and reached Gokarna at 6.30 am. After reaching the Gokarna Cross bus stop, there were a lot of rickshaw and cab drivers who were continuously talking to all of us. I caught hold of the first person I saw in front of me and asked her if she would be interested in sharing an auto.  They were a couple and they agreed.
Over chai the guy told me that Zostel was the best place in Gokarna to stay for a solo traveller. I wasn't yet sold on the idea as I had paid only ₹200 for the booking and could easily find another place. But I decided to just reach Zostel and then make a decision. We got an auto rickshaw to take us for ₹300. Once we reached there and made our way towards the common room, nobody in the world could convince me to not stay at Zostel. The view of the beach was mesmerizing, I could hear the waves washing onto the shore and I was spellbound.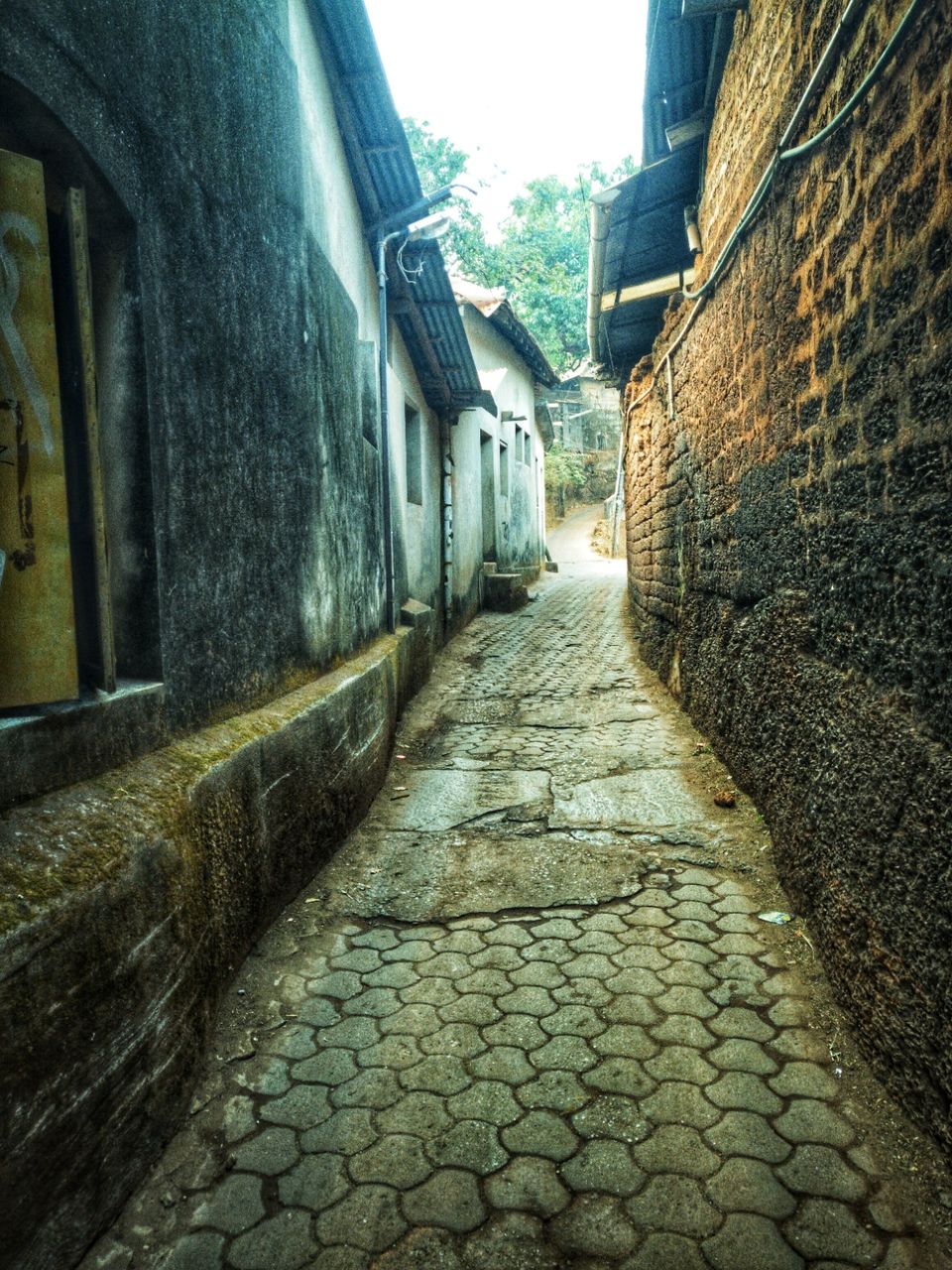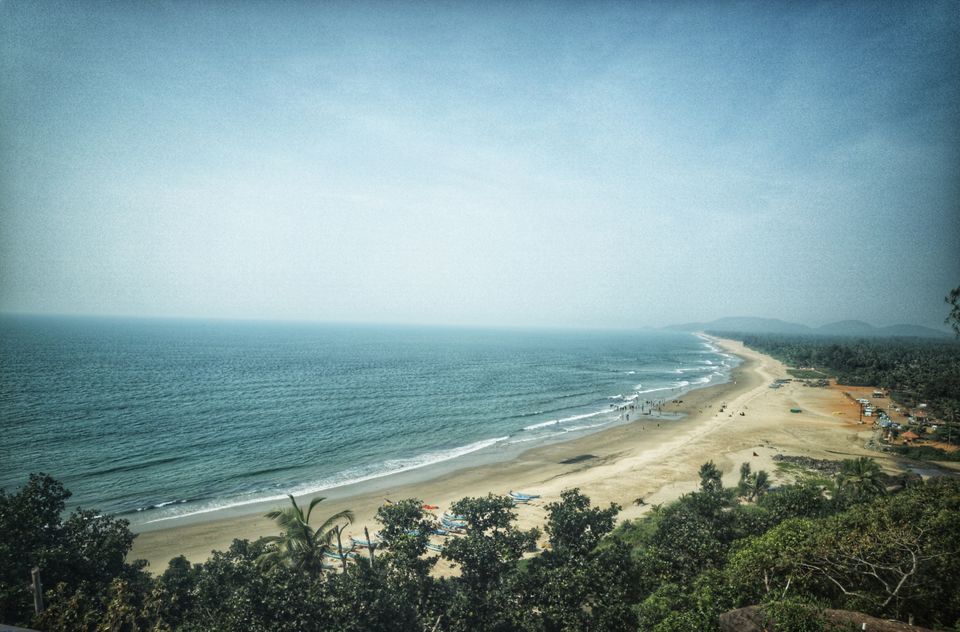 Zostel is located on a cliff overlooking the Gokarna beach and the dorms on the ground floor and the common room on the first floor have a great view. After spending some time there I decided to make my way to the beach. Since I'm bad with directions and recognising roads, I asked the Zostel guy to show me the way to the beach and he did. But I completely disregarded his directions and completely relied on my failed sense of directions which took me to the market instead. The market hadn't opened yet so I came back by that same road trying to find my way to Kudle beach. I asked a few people on the way and after much walking I found the entrance to the beach. It was a small and muddy route made out of steps which led me to the beach. There were many shacks there and I decided to have my breakfast, but before that, I just found some shade and sat in the sand to have a look at the majestic blue sea that was in front of me. The Kudle beach is a long, beautiful and a clean beach.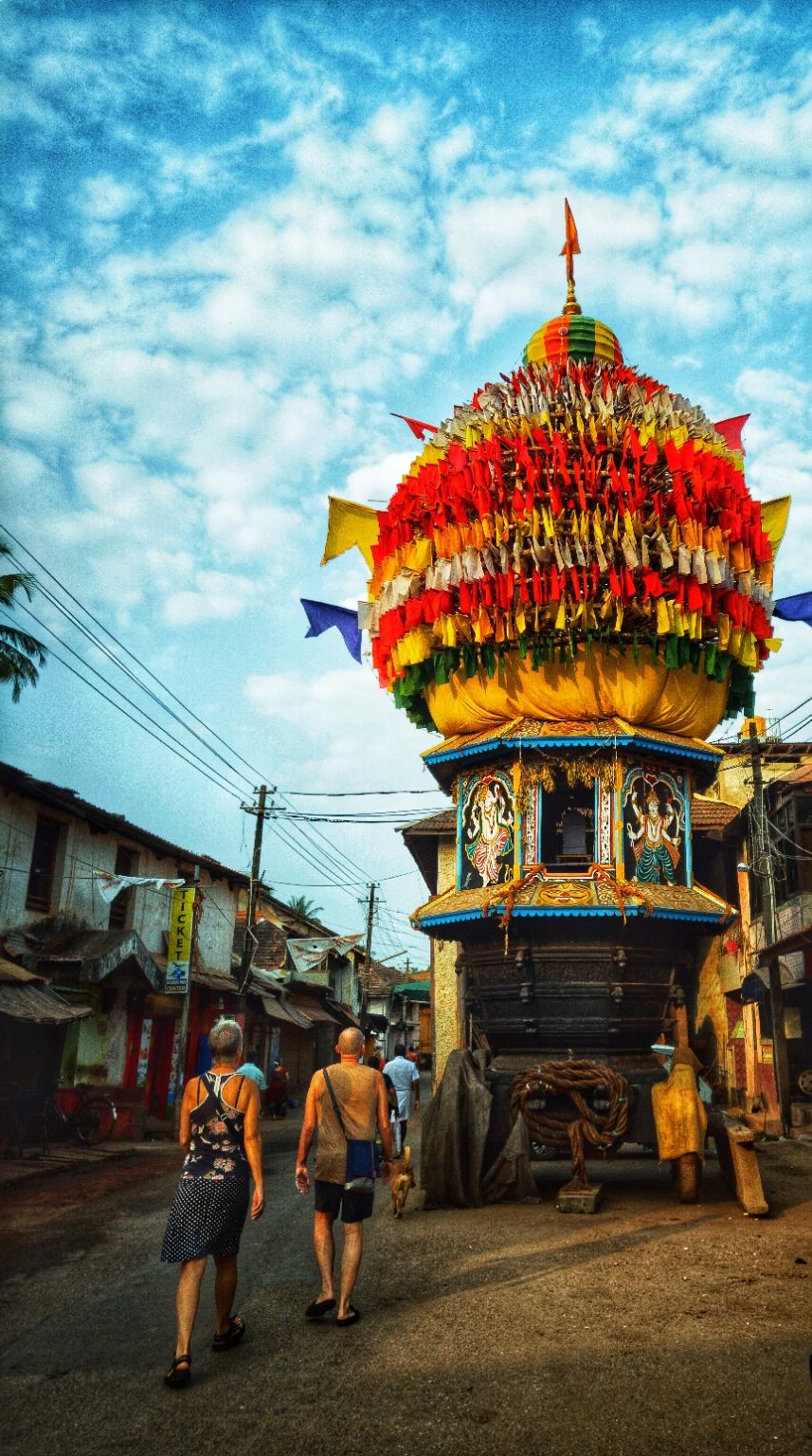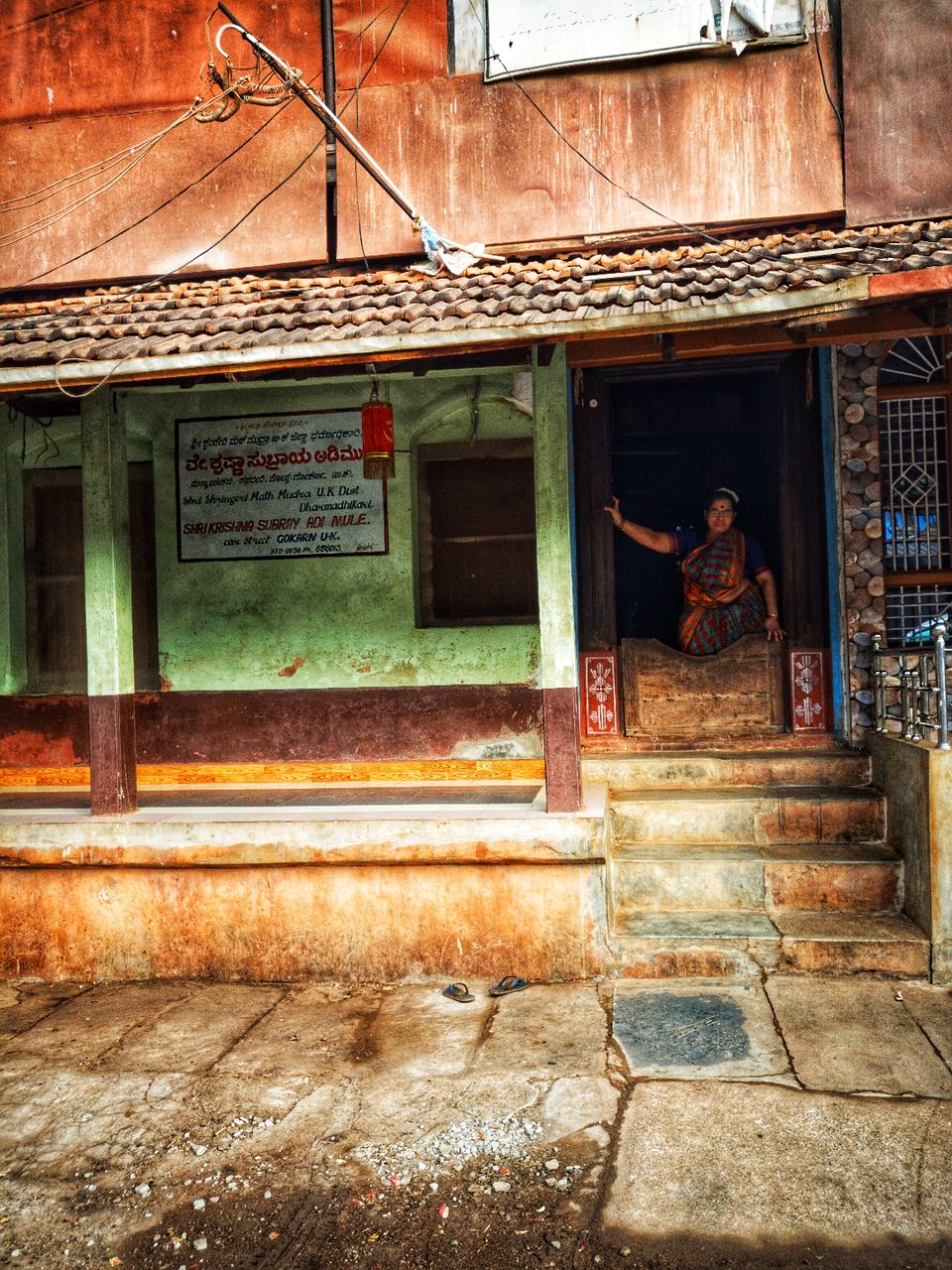 After spending my time on the beach, having breakfast, walking along the shoreline, dipping my feet in the water, it was time to head back for my check in.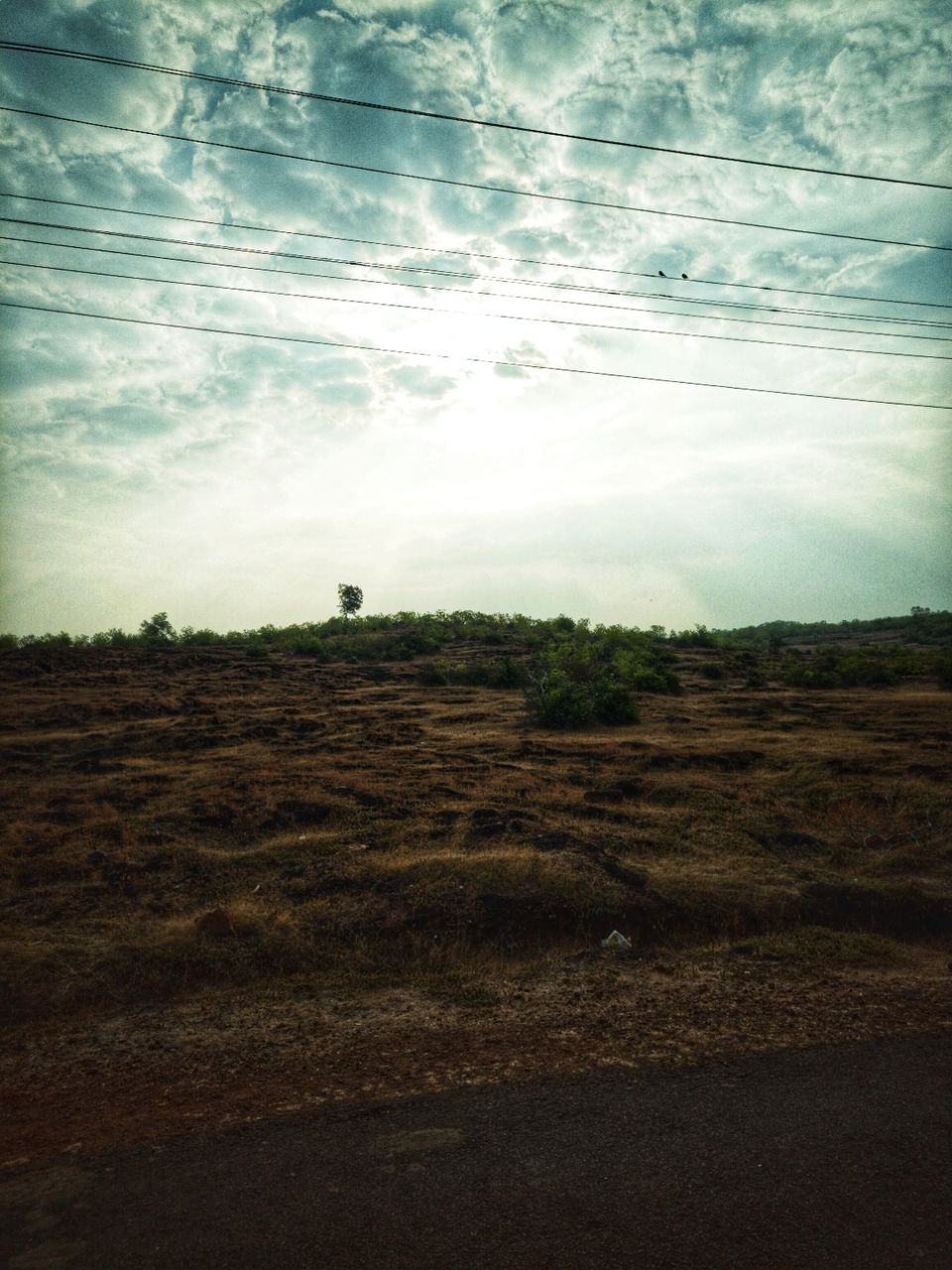 Once I was checked in, I signed up for a trek organised by Zostel. Another thing great about Zostel, is that they organise activities for their patrons regularly. Once I made my way to my dorm, I met 3 girls who were part of a larger group and 2 other girls who walked in later who were travelling solo too. I got talking to the 2 girls and got to know they were coming for the trek. One of the girls was from Bangalore and the other one was from Mumbai. The three of us quickly formed a group without intending to. There was an implied understanding that we were going to stick together. But my understanding of solo travel was a bit different. I was going to only trek with them as a part of the larger group and then do my own thing in the coming days.
At 2.15 pm, we were ready to start the trek; it was us 6 girls from the same dorm, 2 guys and 2 volunteers cum guides. We headed towards the trekking point of the Half-moon beach by rickshaw and started the trek. Now this trek was towards and through the various beaches and hence the footwear was a bit of a paradox. Some of us decided to wear trek friendly footwear and suffer at the beach while some others decided to wear beach friendly footwear and suffer on the trek.
The trek was easy but as someone wise has said, 'The efficiency of the group is equal to the least productive person' and so it was. We first made our way to the Half-moon beach, it was relatively small and I was even wearing trekking full length clothes, which completely eliminated the possibility of me in the water. The Girl-from-Bangalore and me later joined the guys in playing with the Frisbee and displayed extraordinary failure at it and any athletic abilities in general.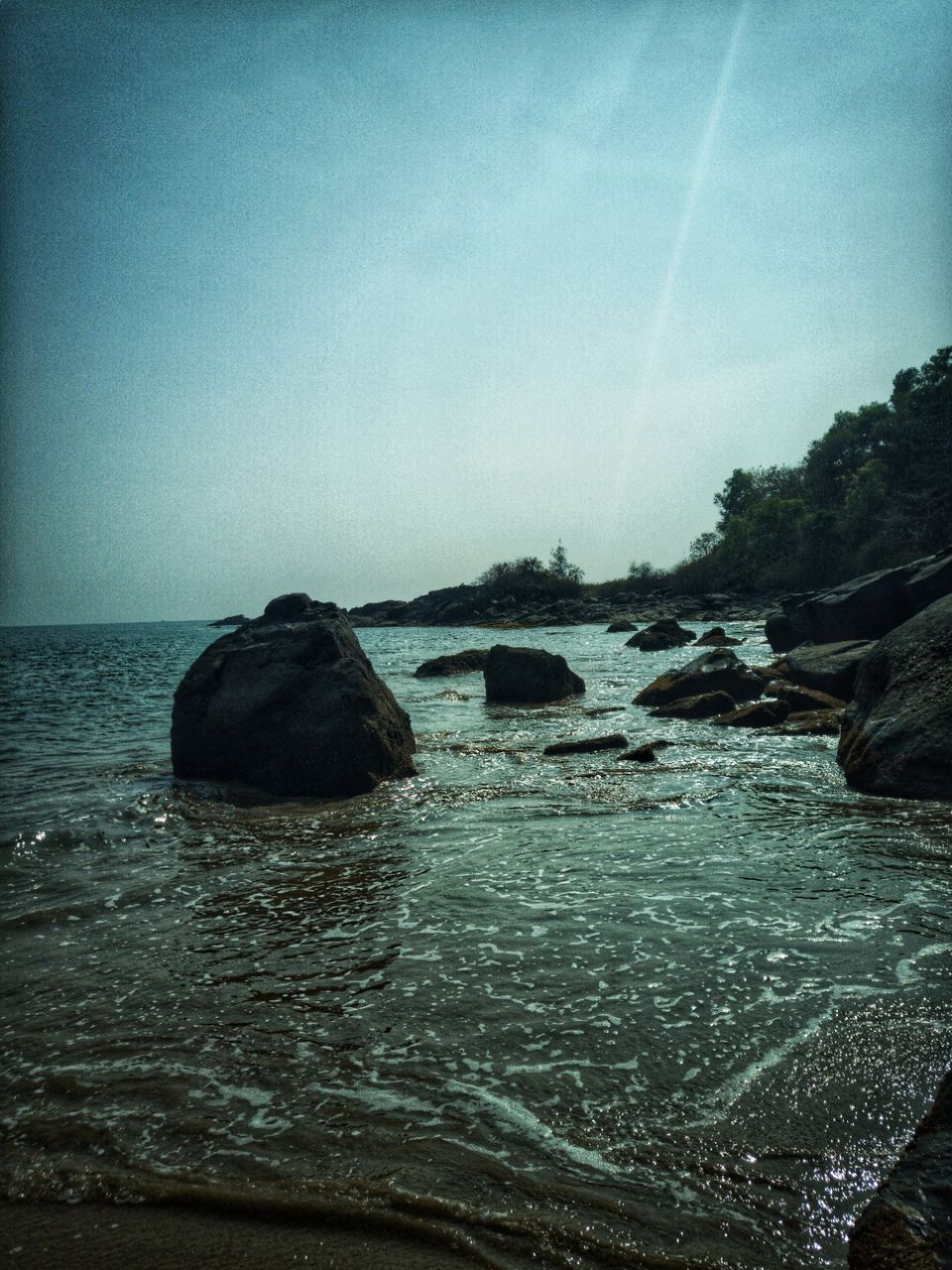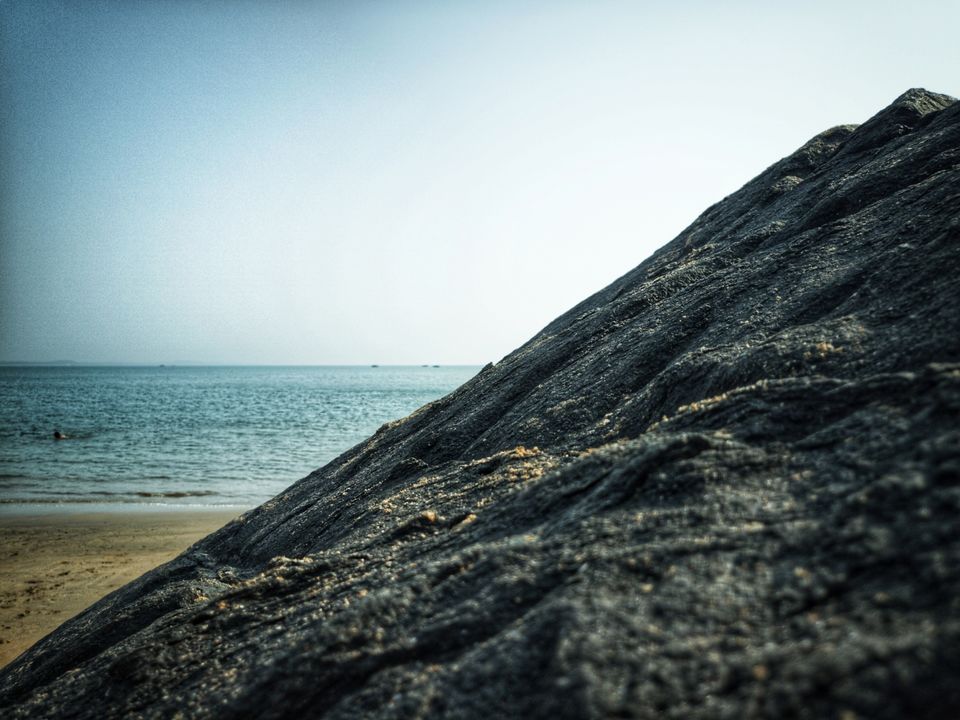 We then had a small snack and made our way to Om beach. This trail was shorter but on the edge of a beautiful cliff overlooking the sea.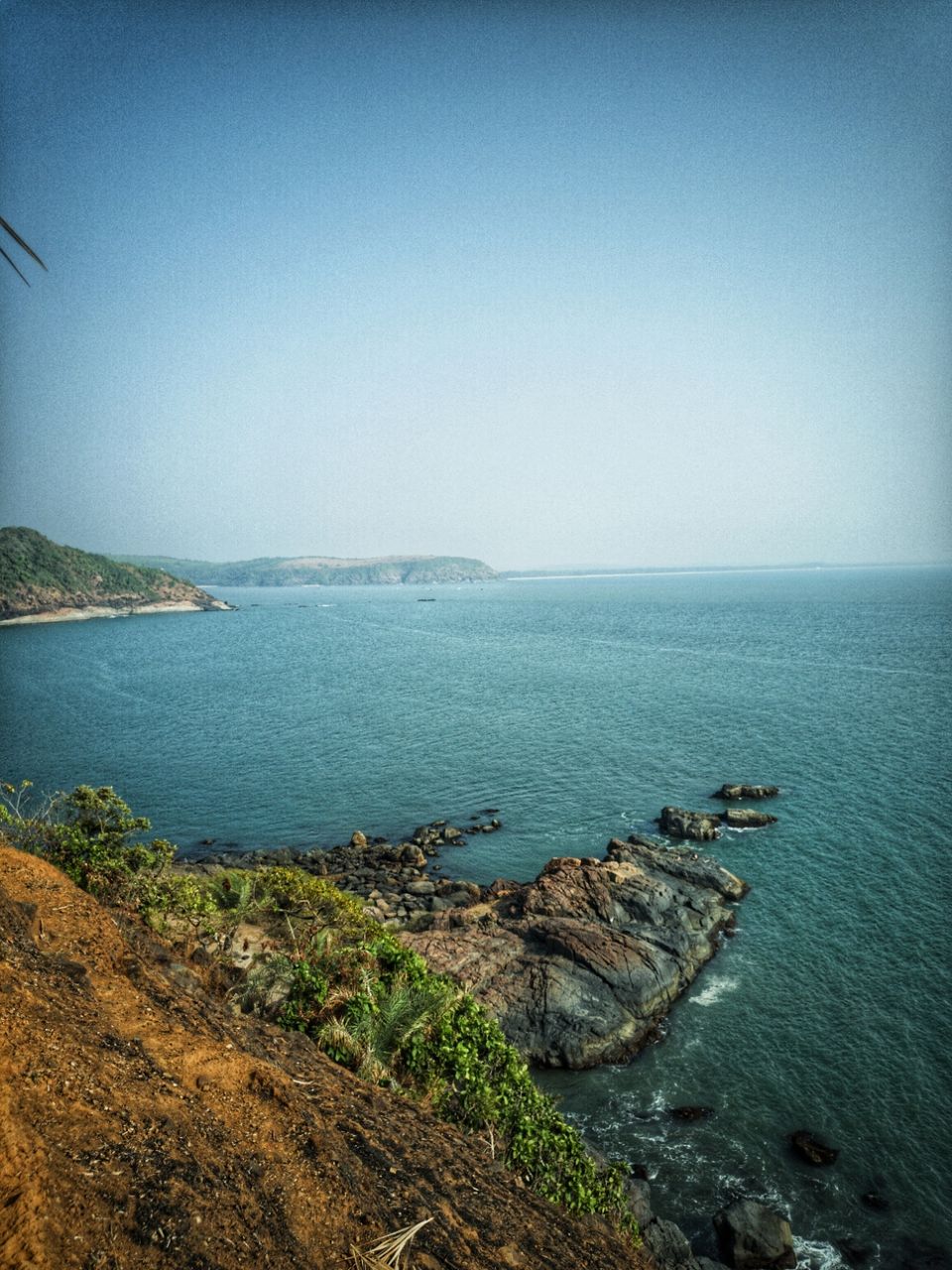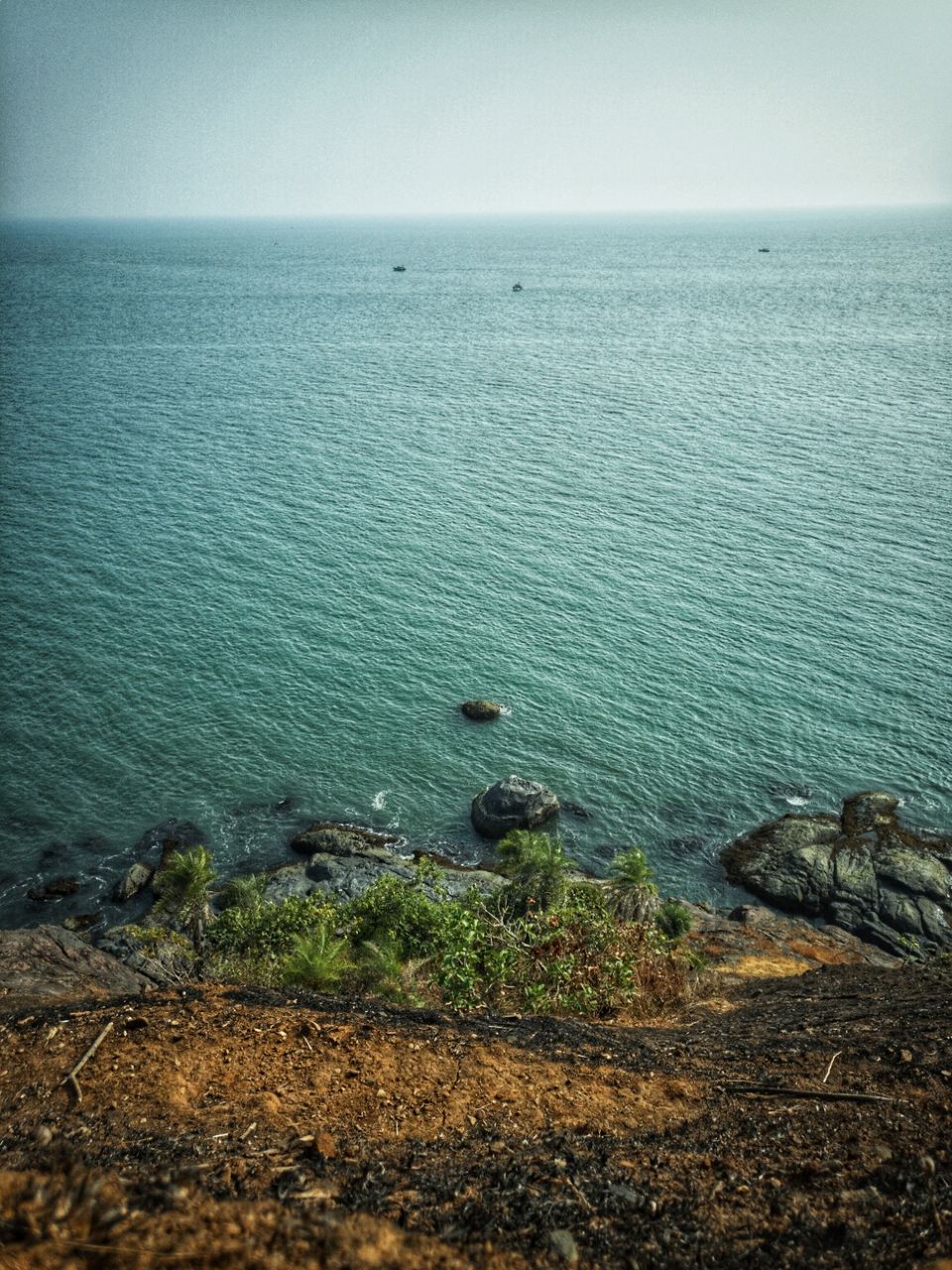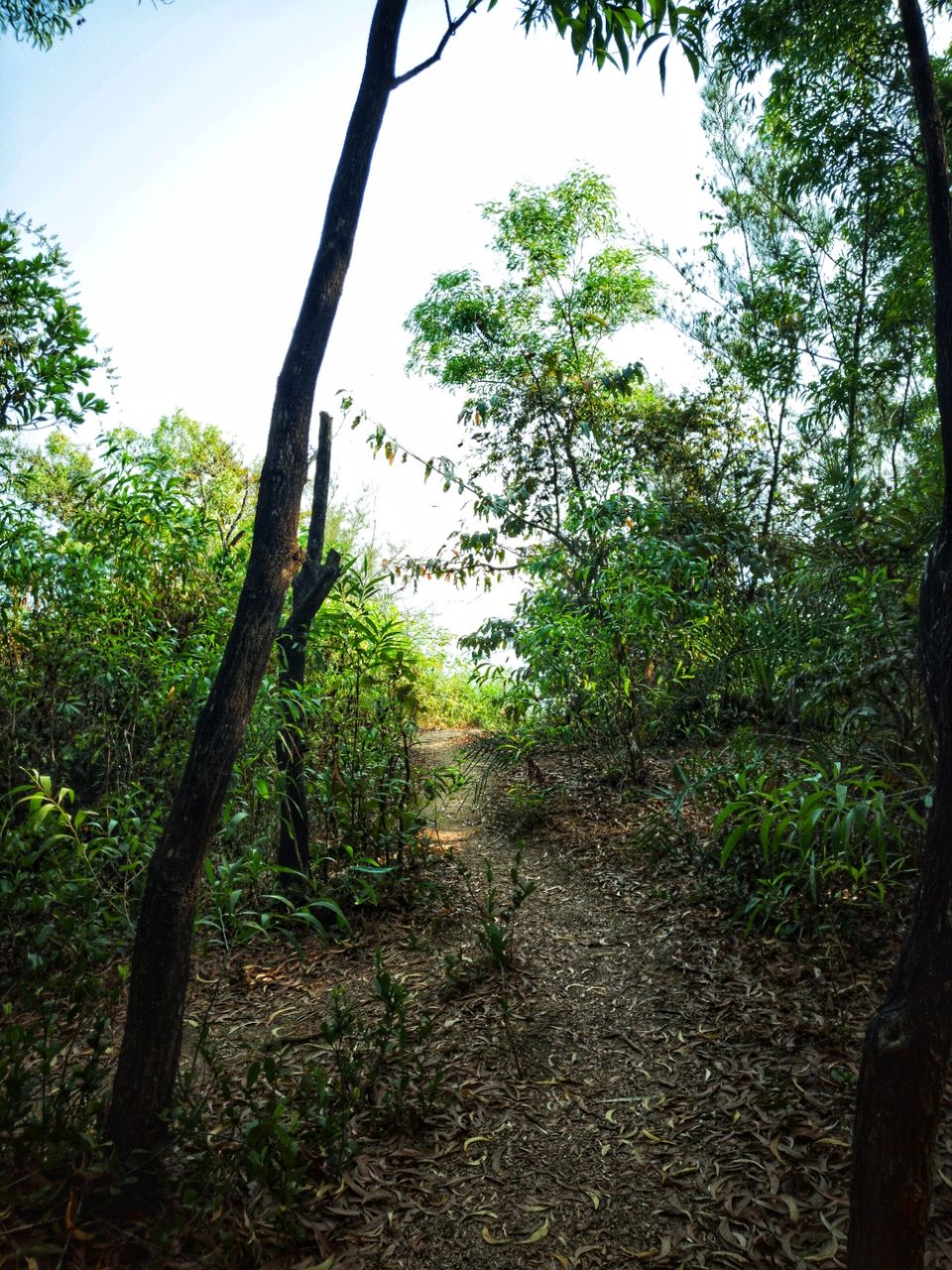 Once we were at Om beach, we quickly just passed it without making a stop. It was shaped like an Om and was a little rocky but I also found it a bit over-crowded. We later made our way towards Kudle beach. The trail from Om beach to Kudle beach was just steps, but it was a little tiring because of the sun. We decided not to wait at Kudle beach either and instead went to Shiva cave before we ended our tour at the sunset point. The Shiva cave was a small walk from Kudle beach and once we reached there I realized the entrance to the cave was quite small and it was stirring all the claustrophobia in me. Once inside, there were two Sadu babas along with 2 foreigners enjoying Shiva's 'Prasad'. It was quite dark inside with a peculiar smell which wasn't the 'Prasad'. Once the Sadu saw us, he got very angry but he wasn't speaking in any language but just grunts and actions. With his face and body painted with some white substance and his clothes limited to a loin cloth and turban, he made for a very scary image in that dark cave. We understood that he was very upset that we had worn our footwear inside the temple cave. Suddenly he got up and with what seemed like a trident in the dark, he sprang up from his seat and raced towards us and we had a very small cave entrance to run out of, my claustrophobia reaching to level 100, we all made our way out of the cave with him chasing us out with which we later realized in the light, wasn't a trident or a weapon but a stick. He again shouted at us for the footwear, but we were done with the Shiva cave. The volunteers told us that the cave was never inhabited by anyone, but the Sadu may have recently made himself the owner-cum-priest-cum-guard of that abandoned cave. I couldn't imagine what I would have done if I had visited that cave alone. Note to self – any confined place having any Indian God's name in its location, never enter it wearing your footwear. We later made our way to the sunset point, a cliff near Kudle beach. The view of this place was so serene that no amount of pictures could do justice to what I felt while standing on that cliff overlooking the sea. That's why I kept coming back here in the coming days too. We found a nice rock to sit on and enjoyed the sunset while sharing our stories with each other.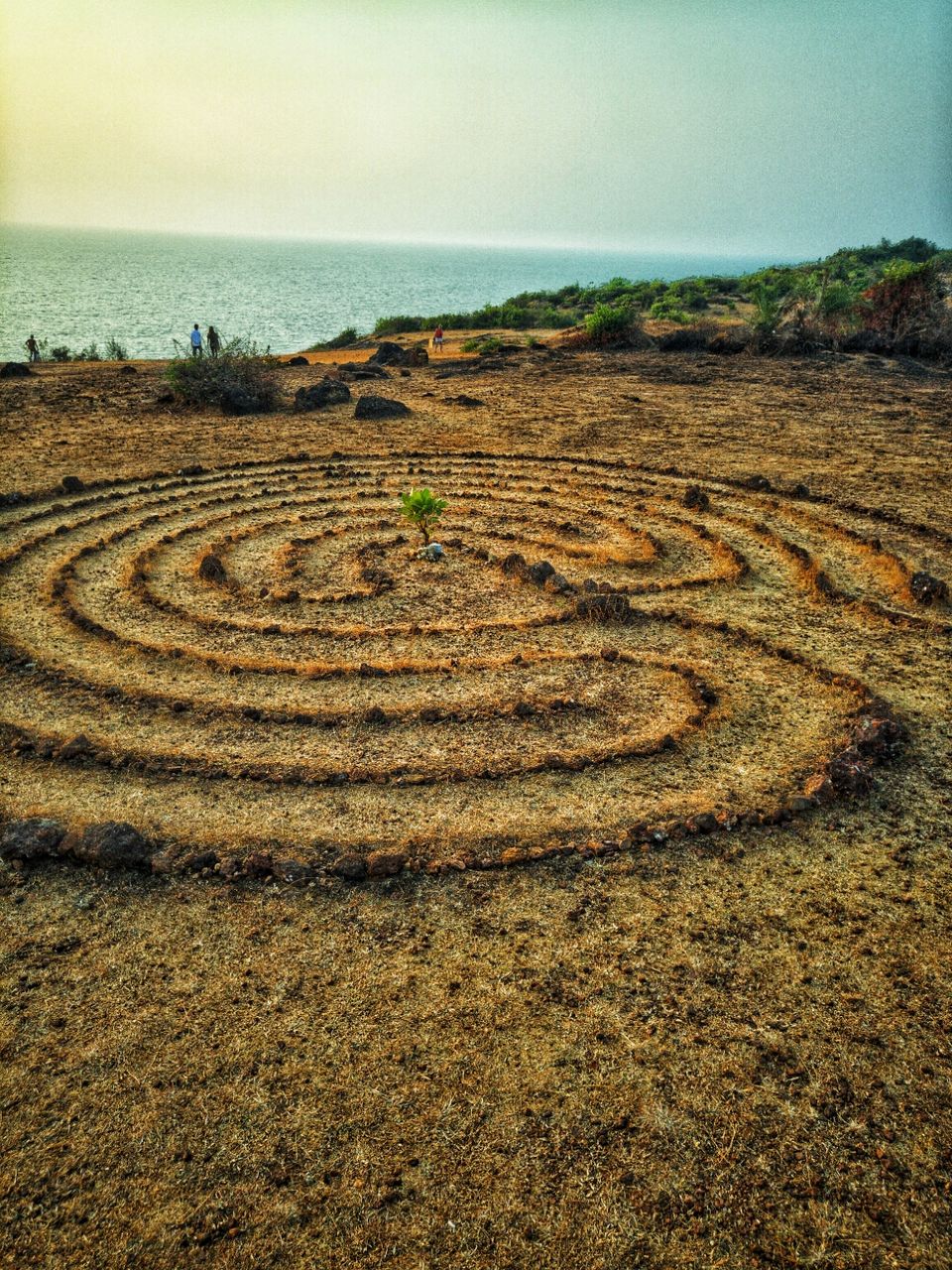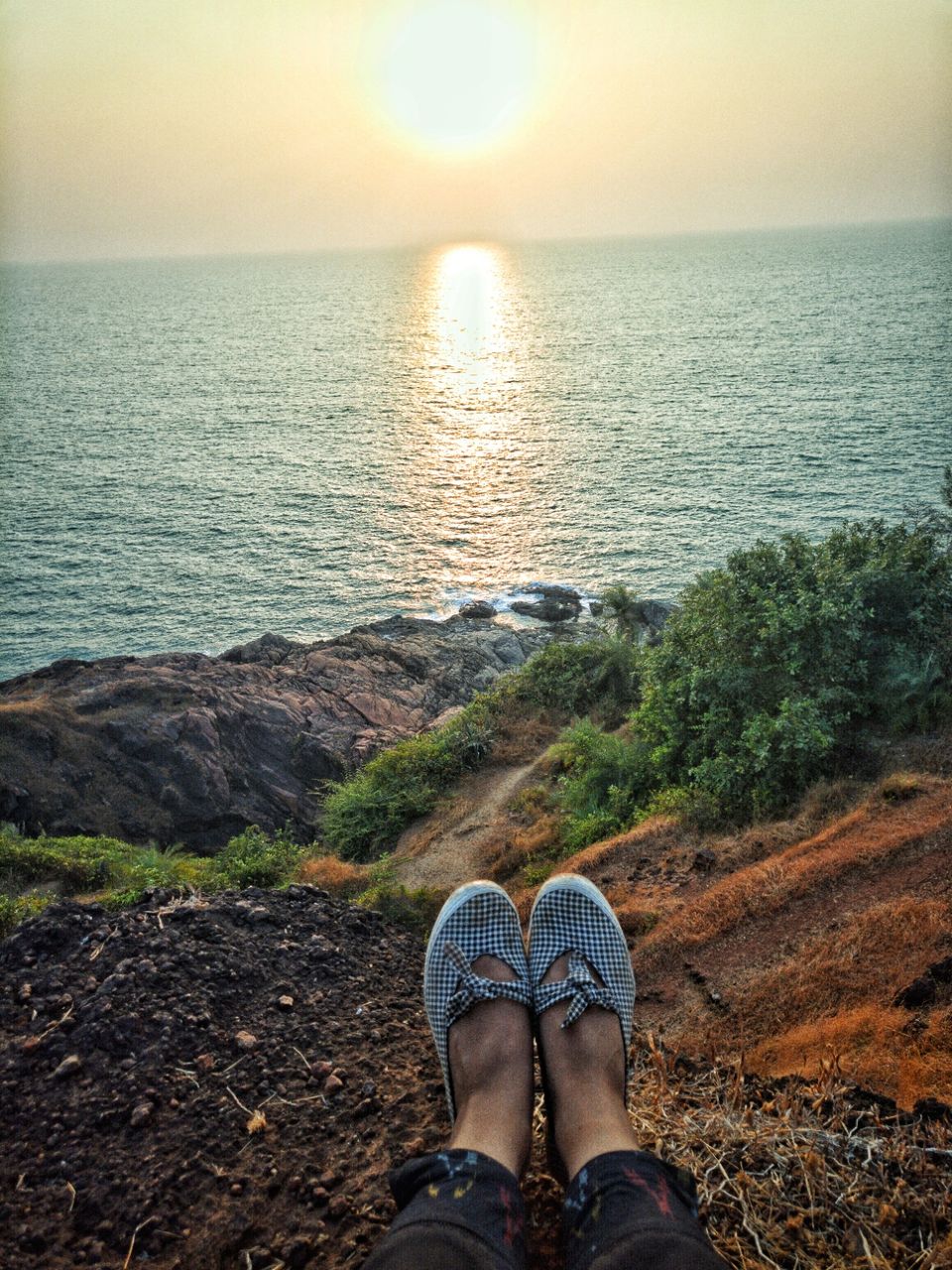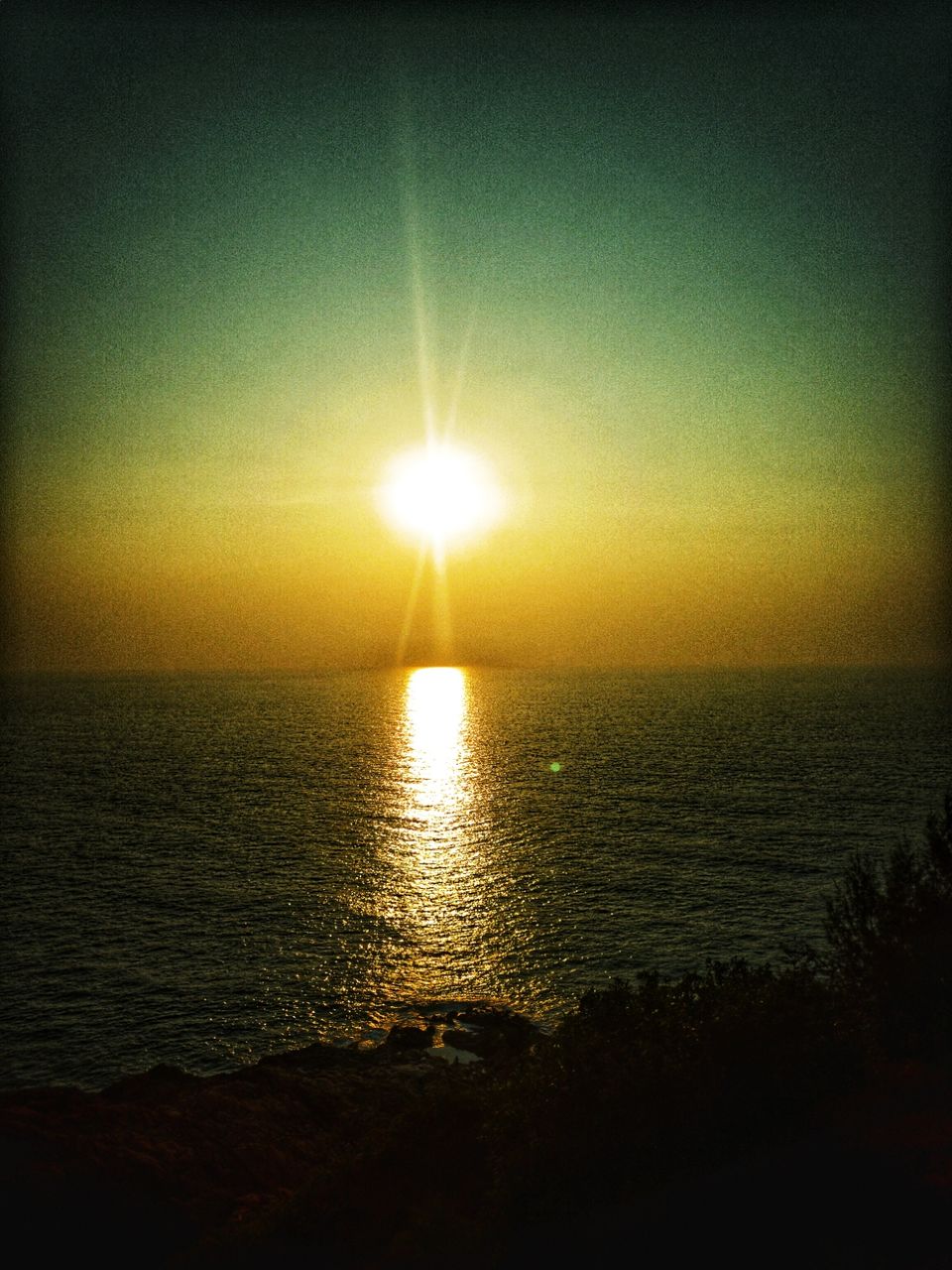 Once we were back to Zostel after our day full of adventures, we three girls were now not part of an implied group but an explicit one. But our day of adventures wasn't over yet. Girl-from-Mumbai suggested that we have dinner at this nice restaurant offering local food which she had had her breakfast that morning. So we made our way to Prema Restaurant near the Gokarna beach. We took the normal road through the Mahableshwar and the Mahaganapati Temple. After dinner, we made our way to the Gokarna beach. It was pleasant and I always wanted to visit a beach at night. Now with these girls it was possible and the beach had some people around so we felt safe.
This is when the Girl-from-Mumbai told us that there was another road which led to Zostel through the beach. We made our way in the dark through the long beach. We were seeing a lot of crabs and with the fear of getting bitten; we kept hopping, all the way till we reached the other end of the beach.
Once there, Girl-from-Mumbai couldn't locate the way.  But I being the master of getting lost and finding my way, was quite confident. The confidence also came by way of a pepper spray and a pair of scissors I was carrying in my bag pocket. We asked one of the restaurants, the way to Zostel and he pointed at a stairway through the hill and into the dark jungle. We weren't sure, but again we couldn't imagine taking the long route back through the beach and onto the long road. We saw some light on top of the hill and assumed it to be Zostel, but then the guy who pointed the way seemed to be the owner of a very shady place. In spite of this, we made our way into the jungle. Girl-from-Mumbai who was earlier very tired was now running to find her way, since she considered it her responsibility to get us safely to Zostel. I was trying to keep up with her, all right with the fact that even if we lost our way, we could always come back and go by the longer route and even if we encountered some hooligans or wild animals, I was confident to fight them off with my pair of scissors and pepper spray. The Girl-from-Bangalore behind me was very scared to walk in the jungle in complete darkness too, but before we could let any of our fears take over us, we reached Zostel.
Once there, we all just sat outside the dorm room, absorbing what had just happened and laughed it off, before making our way to our dorm. We were almost going to sleep when there was a moment of epiphany where we realized that even though we were tired as hell, we couldn't let our day end so soon. So the Girl-from-Mumbai offered her whiskey bottle and we made our way to the high rise hut overlooking the beach. The Girl-from-Bangalore and I weren't in the mood for Whiskey, so we instead ordered some beer from Mantra Cafe. What followed was a relaxed evening, just 3 strangers united by fate and misadventure, enjoying their poison on a cool, dark night, sharing stories and talking shit.
We had found out from the Zostel guy that there weren't any sunrise points in Gokarna, so we all decided to sleep in late and have a late breakfast before we ventured out for the day. But the morning person that I am, I got up at 5.30 am and refused to accept the fact that there weren't any sunrise points in Gokarna. I Googled for a while and found that Om beach was the only place where a sunrise would be mildly enjoyable. Om beach was quite far for me to go without a vehicle or a bicycle, so I decided to go to the sunset point for the morning view instead. Once I saw some light, I made my way in my pajamas towards the Kudle beach road. I had a rough idea as to where I was supposed to go and which hill I was supposed to climb. I found my way to the hill top and reached the cliff just as the sun rose from behind me. It was a beautiful and calm morning and there was no one there except a family staying in a tent far away. There are no words to describe the beauty of that cliff, it was in every way the most Instagram-worthy place and yet no picture could do justice to what I was experiencing. I just sat there for a good half an hour before I came back to Zostel and woke the girls up.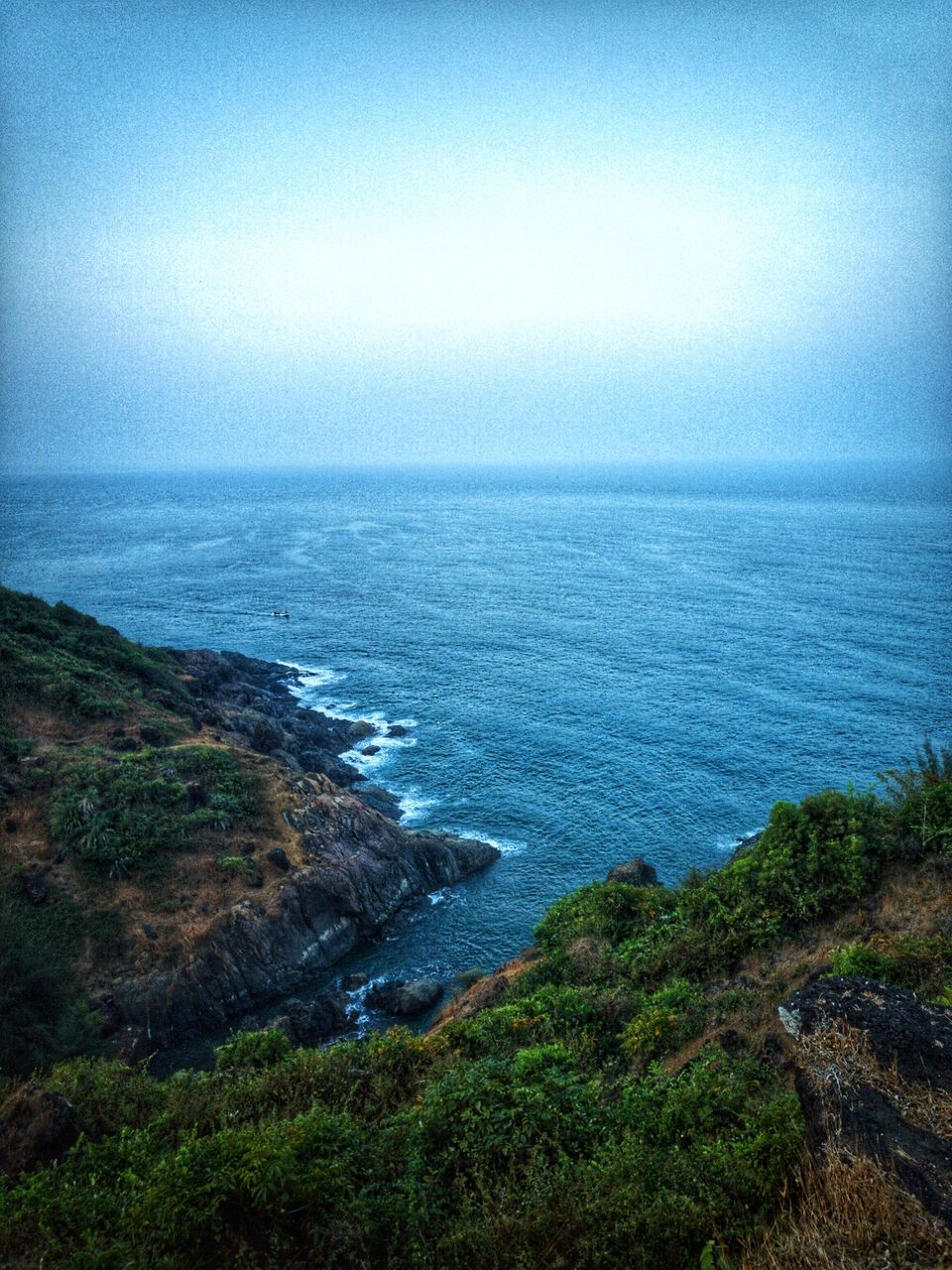 We decided to have a south Indian breakfast at Prema Restaurant and make our way to Paradise beach which was a secluded beach, a lagoon as some blogs mentioned and only reachable by way of a ferry or a trek through a rocky and a difficult trail from Half-moon beach. The ferry boat service was not functional but that wasn't going to stop us.
We asked the Zostel guy, where should we be asking the rickshaw person to take us if we wanted to trek to Paradise beach. The Zostel guy recommended that we take another trek route to Paradise, since it would be an easier trek. So he told us to download an app 'Maps.me' which would have an offline trek trail to Paradise beach. We hired a rickshaw to take us to Belakan beach for ₹350 and once there, we were ready. The route was easy among the trees, but we would have definitely got lost if it wasn't for the offline map trail. Girl-from-Bangalore was really good at navigating the route and after a good half an hour, we finally reached Paradise beach. Once there, it didn't feel like a lagoon but a commercialised family picnic spot. Even though the way to reach here was not very easy, and the ferry boats were not in service, there were tea-breakfast-bhel-burji seller, two coconut water sellers, two groups of people, noisily enjoying themselves while playing in the water and a group of foreigners who had made themselves at home.
We then decided to just take a walk on the other side and see what else the beach had to offer. There was huge rock beyond which was a small little shore and it made for our own small private beach in itself, away from all the people and we had finally found our secluded lagoon.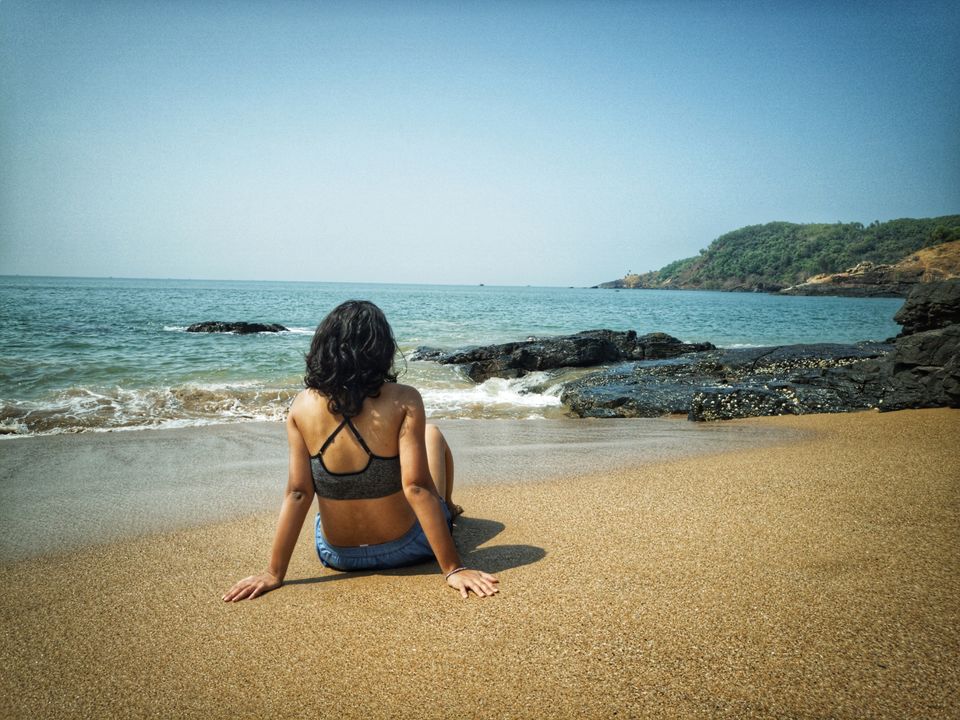 At around 12 pm, we bid adieu to our private beach and made our way towards Belakan beach. We did not refer any maps this time and found our way on our own. After this we made our way to Om beach and went to the famous Namaste Café for some relaxed lunch and beer. We met the couple I had shared my rickshaw with on the first day. They joined us and we had a jolly time sharing our stories over beer and good food.
We spent the remainder of our day just lying in the sand at Kudle, looking at the vast beach, reading and listening to our music in the company of cows and dogs.  It was a relaxed and peaceful afternoon and we then made our way to the same serene sunset point. We ended our day by having dinner at Mantra Café, the food was good and we again spent the later part of our evening on the high rise hut overlooking the beach. It was again a day well spent.
I was celebrating my birthday the next day and the two girls did not know about it. They went to sleep soon enough and I decided to get hold of one of the hammocks, over-looking the beach and spent my birthday eve staring at the night sky, full of stars with  the sound of the waves washing onto the shore. It was the most amazing way I rang in my birthday this year.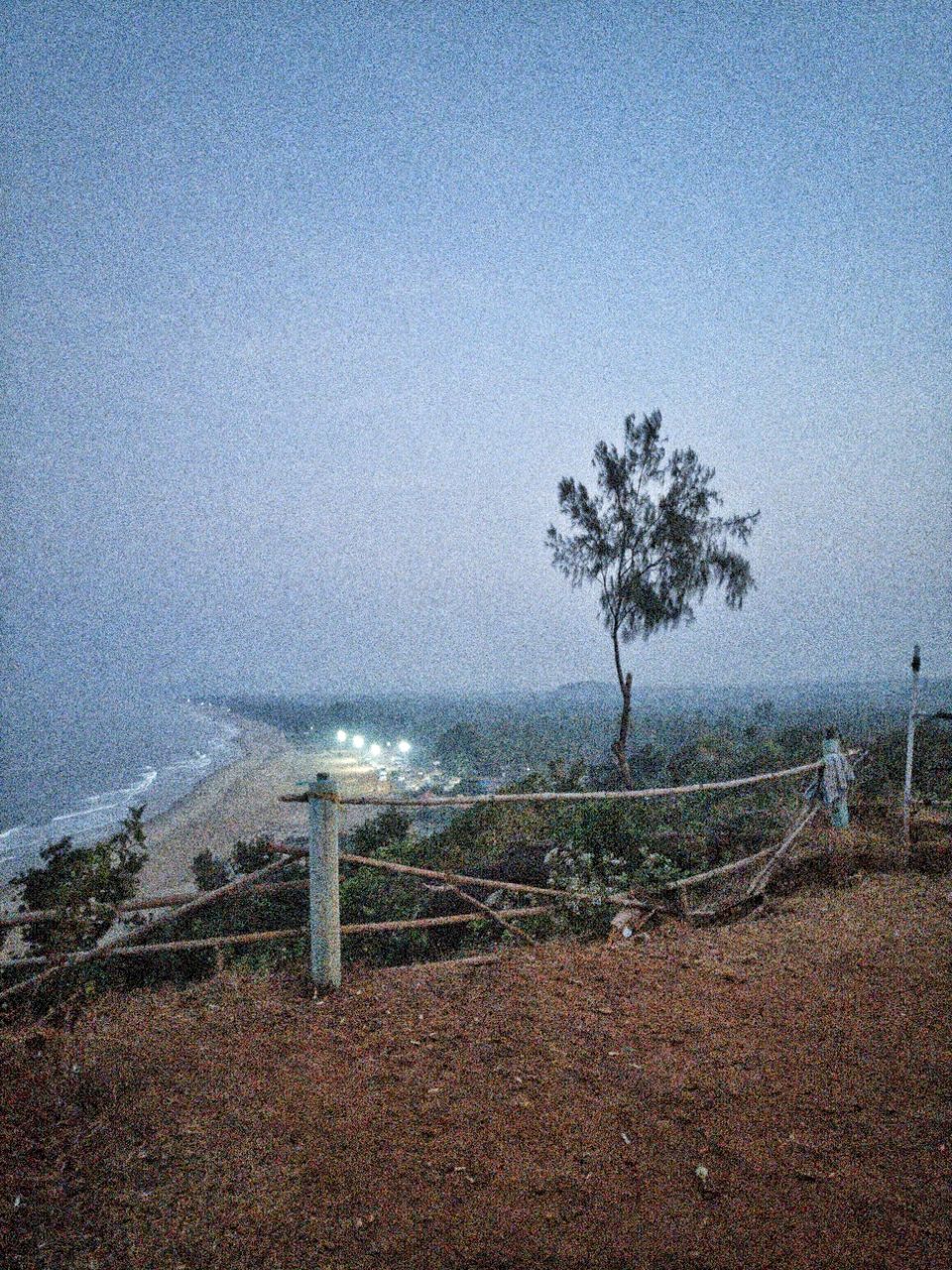 Next day I woke up at 6.30 am and made my way again to the sunset cliff point. There was absolutely no one there on that day and I had an amazing time just breathing in the air and the soaking in the serenity of that place. There were boats, big and small at a distance faraway. The dawn gave a beautiful blue tint to the whole scenery and there was no end to the sea.
After some time there came a girl, she smiled at me and asked me if there was a way down the cliff near the water. Now on my numerous trips to this place I had seen a few people go down the cliff near the water, but I was warned by the Zostel volunteers, that it's not easy and it's better to go there with a local or who knows the place. So I dared not to, and that's the warning I gave to that girl as well. She smiled at me and told me she was a seasoned trekker and could find her way. So I decided to join her. I followed her and she did indeed know how to find her way. She told me that it was all about finding the good rocks and one would always find a way. Together we made our way to the rocky area at the bottom and sat there. I was grateful that I found this girl and she had helped me come to this place, it was something I wanted to do but not by compromising on my safety. After spending some time on the rocks near the water, I decided it was time for me to leave. I needed to have breakfast, pack and check out by 10 am.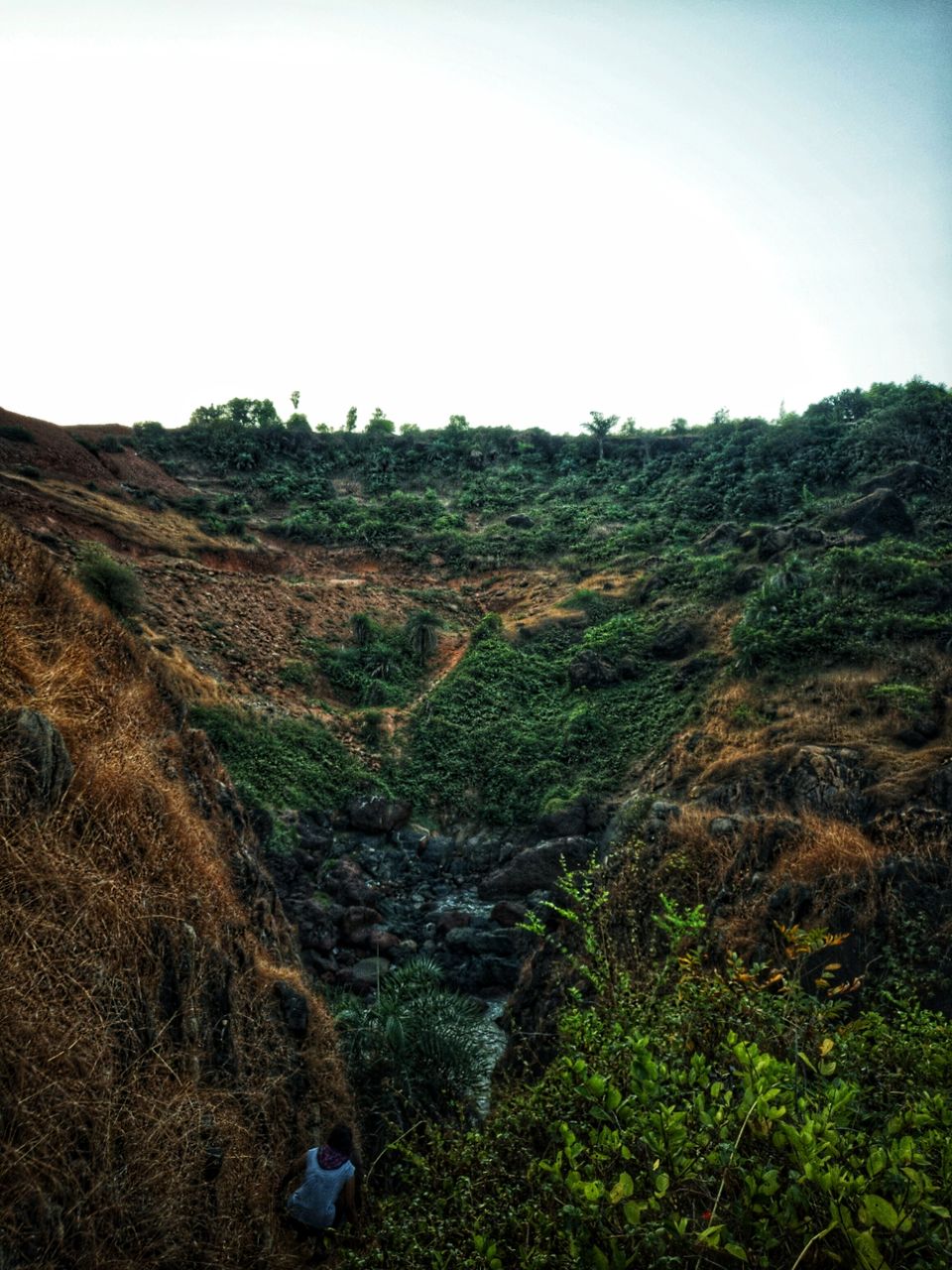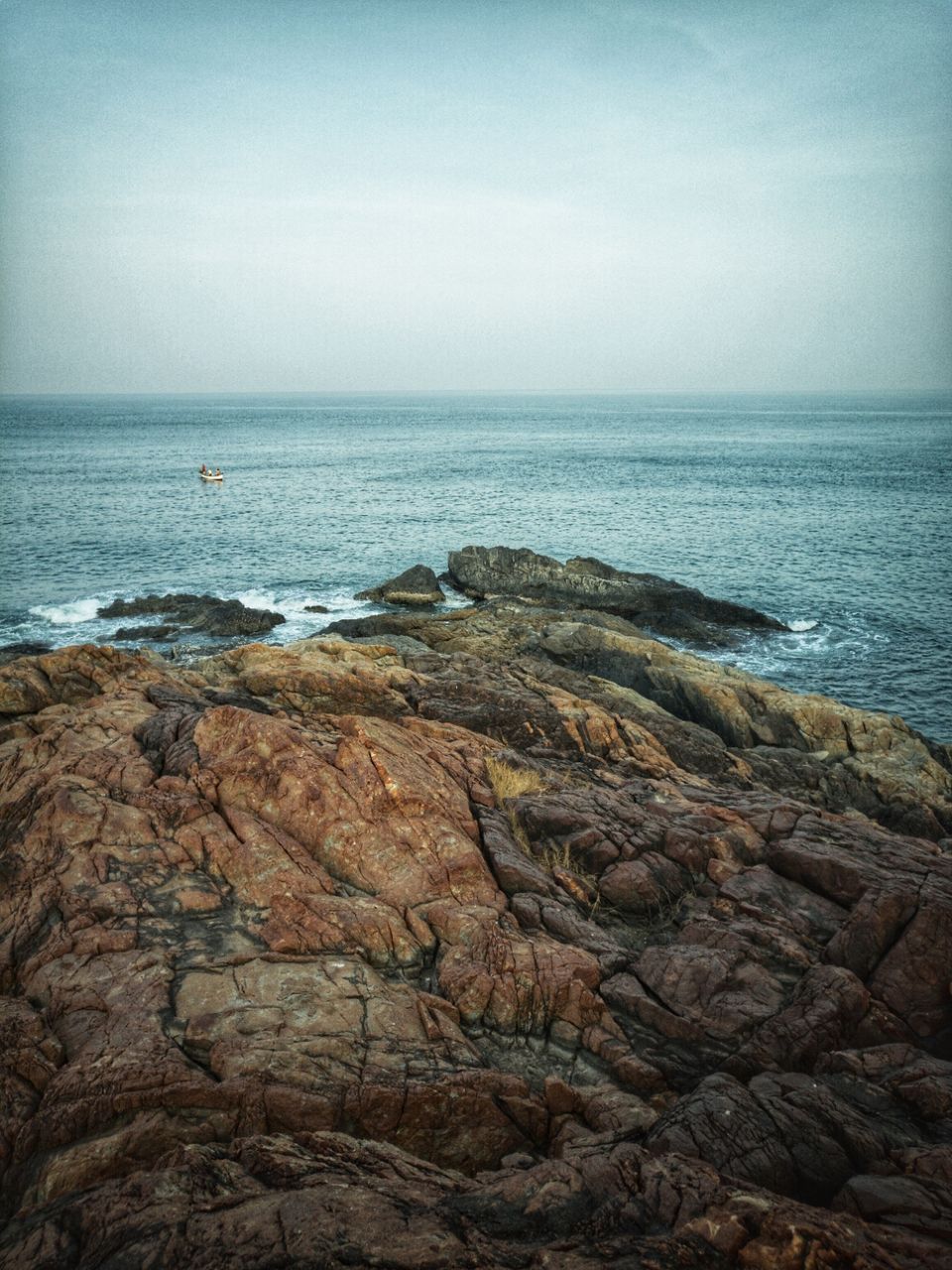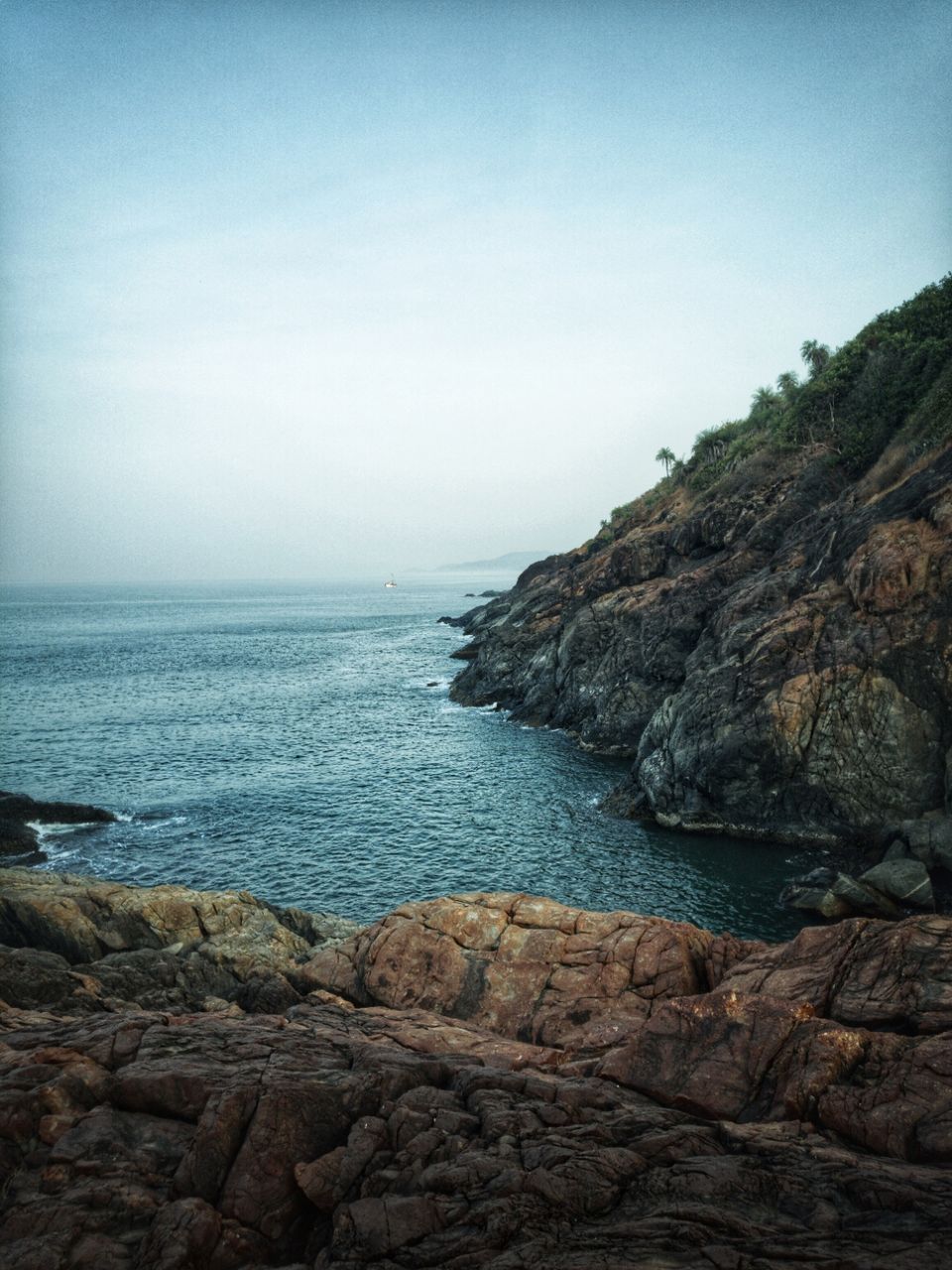 After I got back, I packed and headed to Prema Restaurant for my share of Idlis. After check out, we spent the remainder of the day again just lying on the beach, reading, listening to our favourite music and soaking in the mesmerizing view of Kudle beach. We had lunch at now safely to be termed as our go to restuarant, Prema and then had a relaxed afternoon, again at Zostel overlooking the beach.
When it was time to say goodbye, I told the girls it was my birthday and that they had made my 3 days in Gokarna so special without even realizing that they had. A birthday on my own is maybe what I had wanted for myself, but a birthday in their company had made it even better, there were no cakes, no parties, no special treatment, but a well spent vacation is all I could ask for this year.
Once I reached back home, I had sore muscles, a sprained shoulder and a tanned body, but a mind full of memories and a heart full of joy.