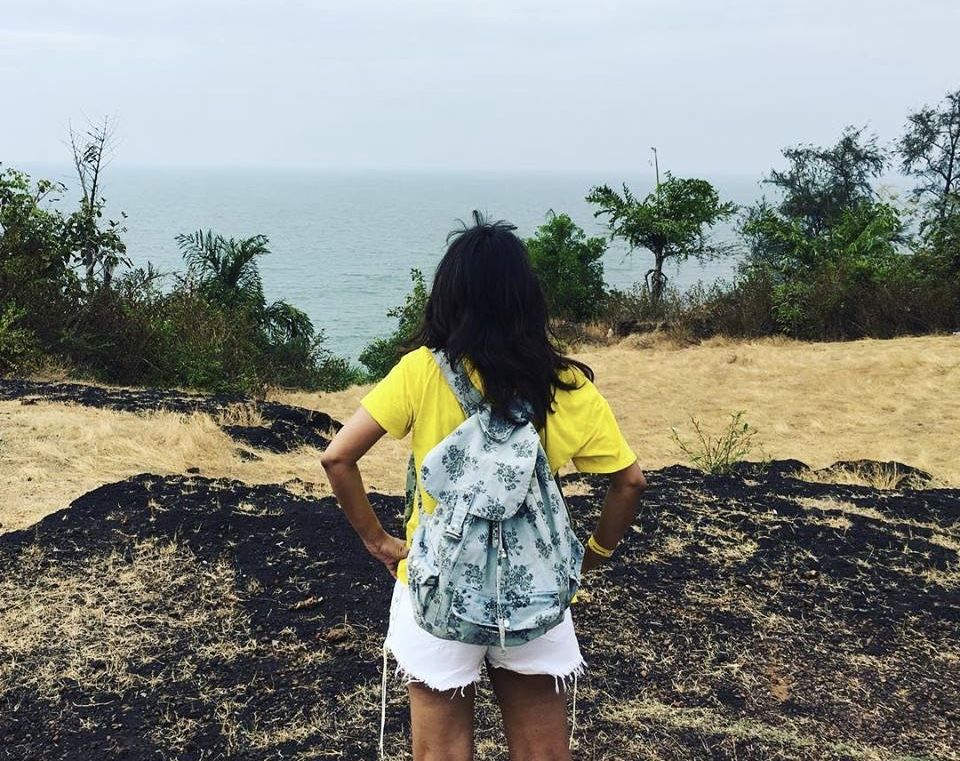 Those of you who know me would also know that I have been talking a lot about this place since I got back few months ago. It has stung on me for many good reasons and its quite easy to crave for the heavenly vibe Gokarna has in this crazy busy world.
It all started when I was looking at visiting a completely new place where I know no-one and no-one knows me. This is something that I have promised myself to do atleast two times a year. Might sound wierd but works great for me. There wasn't much available on the internet as to what I would do there so I didn't really have any pre-conceived notions when I reached Gokarna. I am a budget traveller so I took a train to reach Gokarna and booked myself in a hostel. The railway station itself transformed me into the 'minimalist' me and I hired an auto rickshaw to take me to my hostel.
The whole town of Gokarna is on a hill and the sea is right below, so you can imagine the breathtaking views one would get. Zostel Gokarna gives one such amazing view overlooking the sea. This is where I stayed. I wouldn't say that it's the best place to stay at Gokarna, but its all worth given the hostel vibe and the beautiful Mantra Cafe which is the most urban thing in Gokarna.
Then there is Paradise beach which is one of the most beautiful piece of land around here. Imagine yourself at a sea shore where the only light is that of phytoplanktons and the moon and stars above you. The only sound you hear is that of the waves. The only bed you have is that of the sand beneath you. This is why they call it Paradise beach. Ssshhhh! I want it to remain a secret though but do yourself a favour and spend sometime during late night at Paradise beach and its gonna change a part of you forever.
The beauty of Gokarna lies in its natural "Raw-ness". There are no roads or vehicle movements approaching the sea so every visit to the sea is a small trek downhill which makes the visit even more worthy. And the sea is magical, especially for a person like me who swears by the sound of waves. Beaches are not crowded and you don't have to give money in exchange of the peace you get by being around the mystical sea. Spend an afternoon sleeping in a hammock under a tree on the beach. And then wake up and treat yourself with fresh food and a nice book to read. This place is very open in true sense and kicks you up with its natural beauty. There is absolutely nothing to do here apart from being yourself.
It gives a high as if there is weed in the air.
It transforms you because you are able to connect with self like nowhere else.
Its hippie because everyone is their own self here.
It slows you down because it makes you realize that life is not a race where we have to run after things.
It's the true happiness that really matters. Not everything in life is worth chasing. So lets learn to slow down and find out what makes us truely happy and Gokarna is one such place where one can do so with such ease because thats what the vibe does to you. It gets into your soul and you get the strength to face your fears. It makes you realize who you truely are and makes you happy.
Thats what it did to me. And ever since I got back, I have wanted to be back there to spend another night at Paradise beach, eat that Kudle cake, get high with the substance in the air. So don't be surprised if you get to know that I am back in the wilderness of Gokarna :)