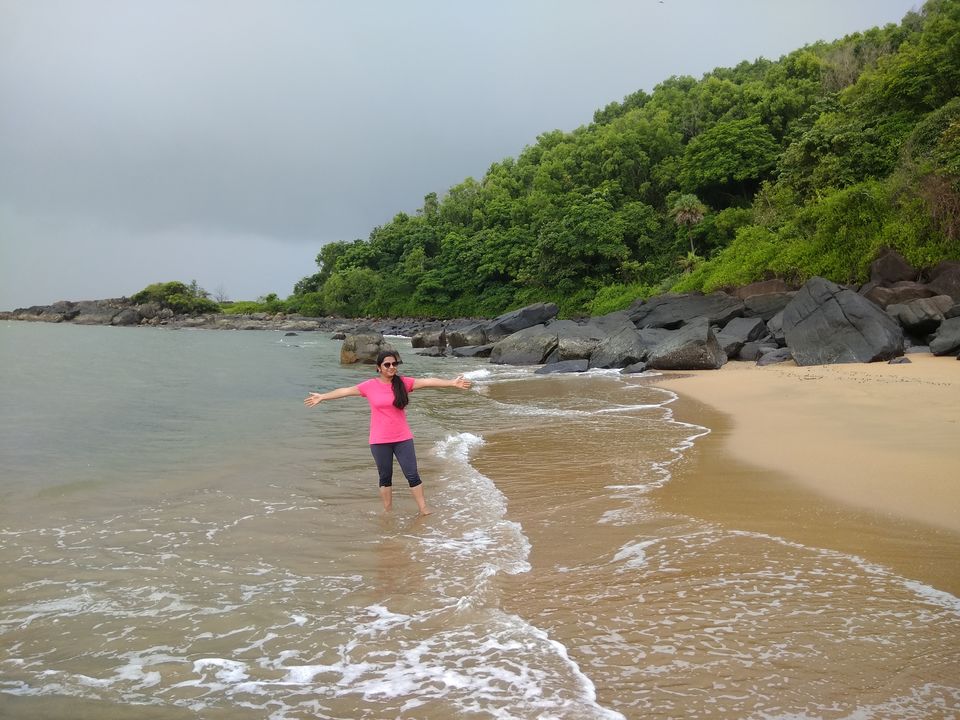 Some say beach is not the place you visit during monsoon. But then that's perfect time for me. First, the shorelines would be significantly more serene and beautiful with minimal crowd. Second, with less or no water activities to do I could spend more time just feeling the vast sea in-front of me. Next, hotels and resort prices would be cheaper than the season time prices, perfect for a budgeted trip :)
So like any other weekend escapes we were all set for the destination. Seven of old school buddies with two of them very keen to drive the car we planned to go by a self-drive car(Innova Crysta) hired from Avis
Started the journey at 10.30pm and very smoothly we reached our destination, Zostel, by 6 am in the next day morning. You can trust Google Maps for the route from Bangalore to Gokarna.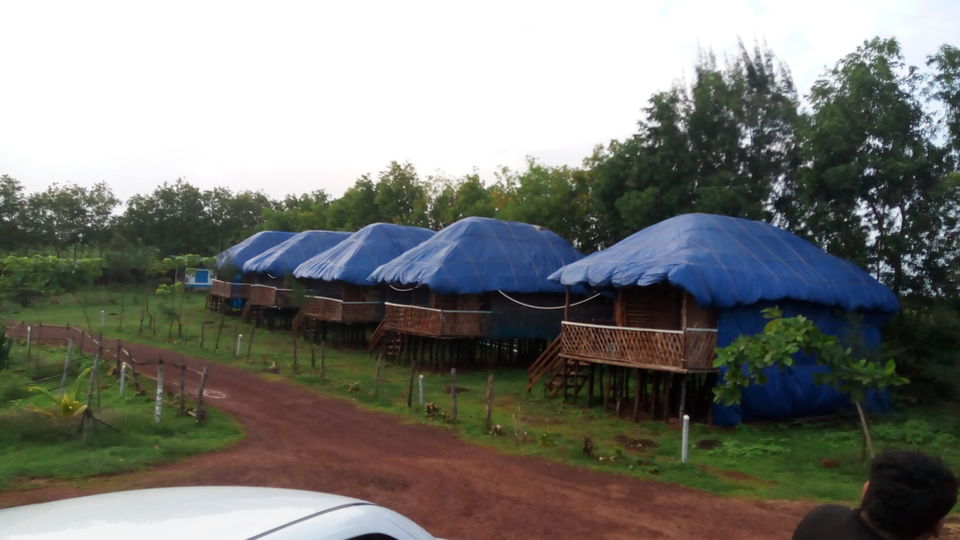 We booked bed in dorms of Zostel though they have private cottages as well. The dorms were well maintained and cozy for the travelers. Since Zostel follow strict check-in and check-out timings and we reached well ahead of the check-in time so thought of spending some time in the common room, get freshen up and then hit the beaches. For breakfast we went to the nearest market- Pai Hotel was the only option we could find. Food was not great but the service was fast.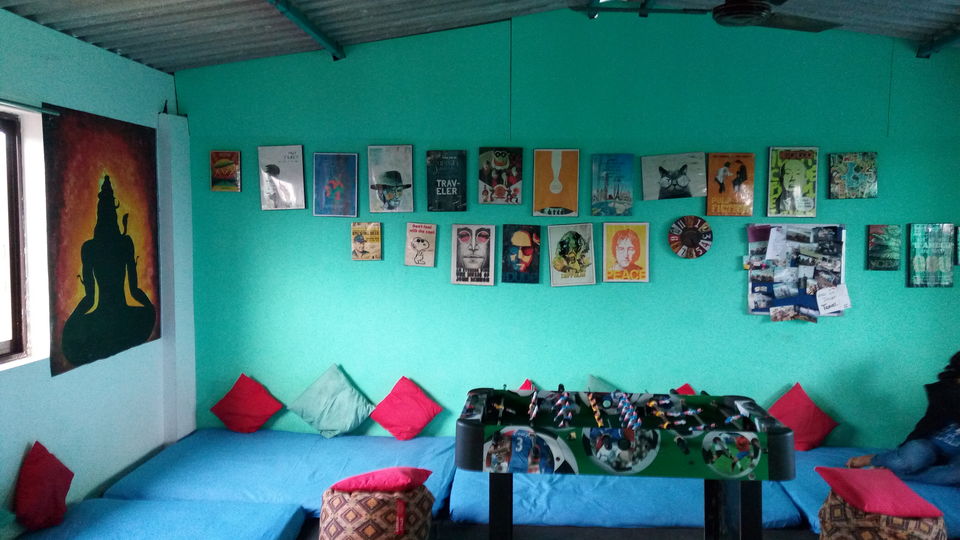 The most impressive thing about Zostel is the sea-view from the top. A perfect place to sit and relax, away from the hustle-bustle work life.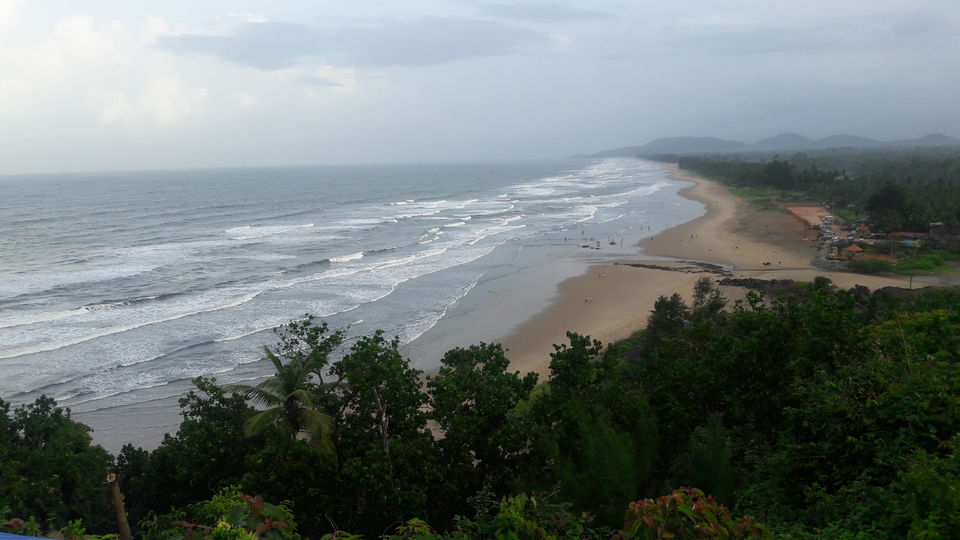 Gokarna Beach is scenic with rocky mountains and Western Ghats on one side and Arabian Sea on the other. It is well known for a number of beaches. So the journey to visit all the beaches around began and Kudle beach topped the list.
As per locals, Gokarna Beach is the most happening beach in peak season since there are many resorts here. The beach was a bit untidy with monsoon water draining from the city. We could still find a place to spend some quality time.
Five minutes drive from Kudle beach is Om Beach, named so since its shape resembles the auspicious ॐ Om symbol.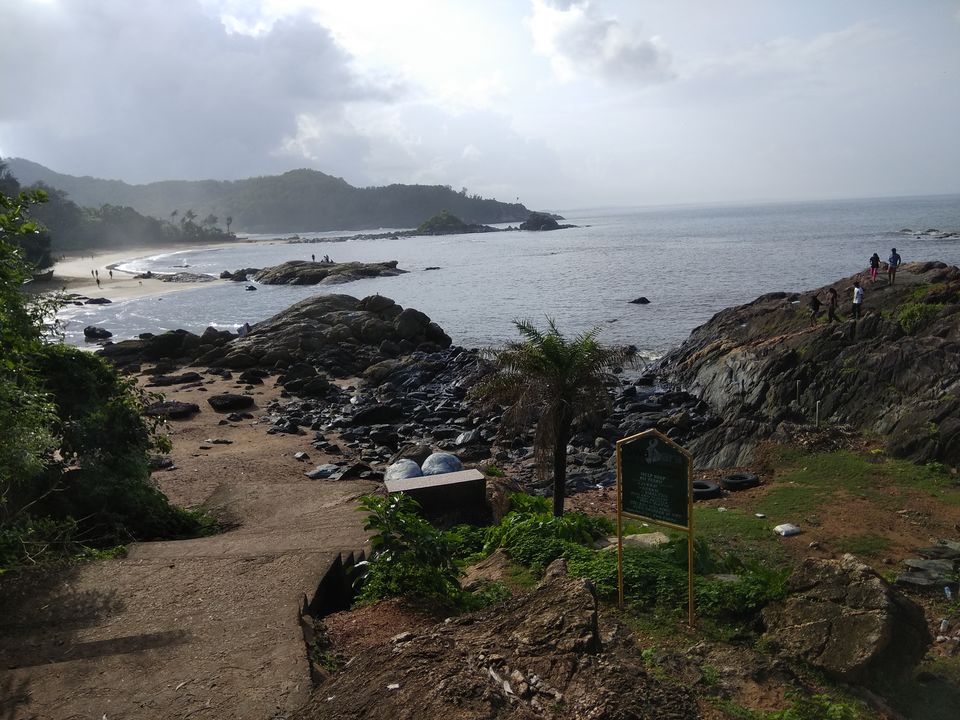 This beach was quite rocky. It has got eateries like Namaste Cafe here. You can spend a good amount of time here. During other seasons this beach provide ferry services to other beaches which cannot be reached by any other means.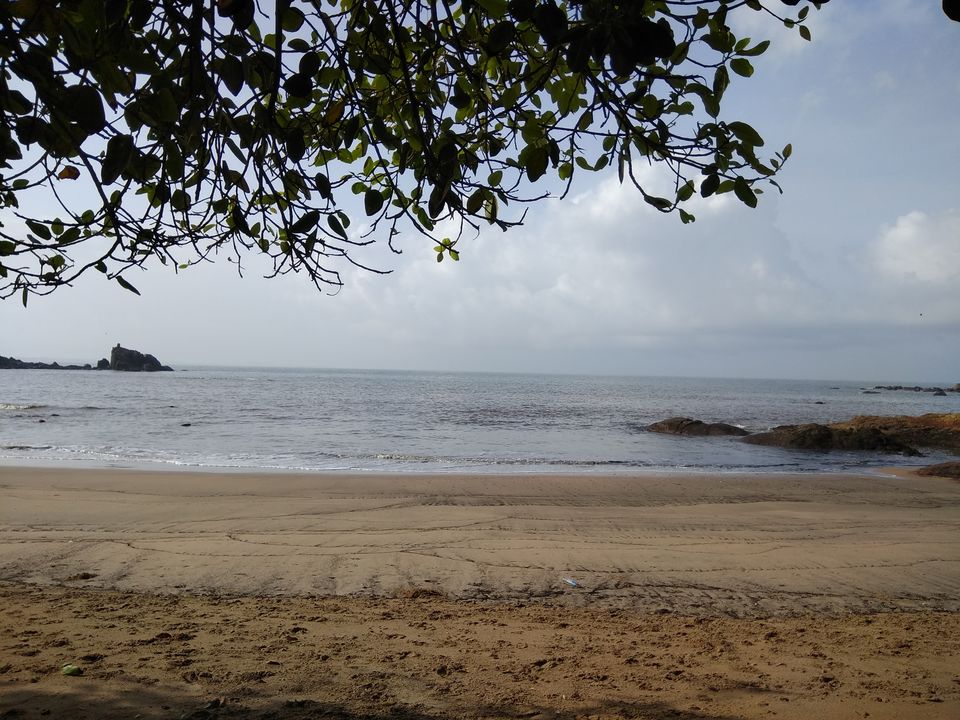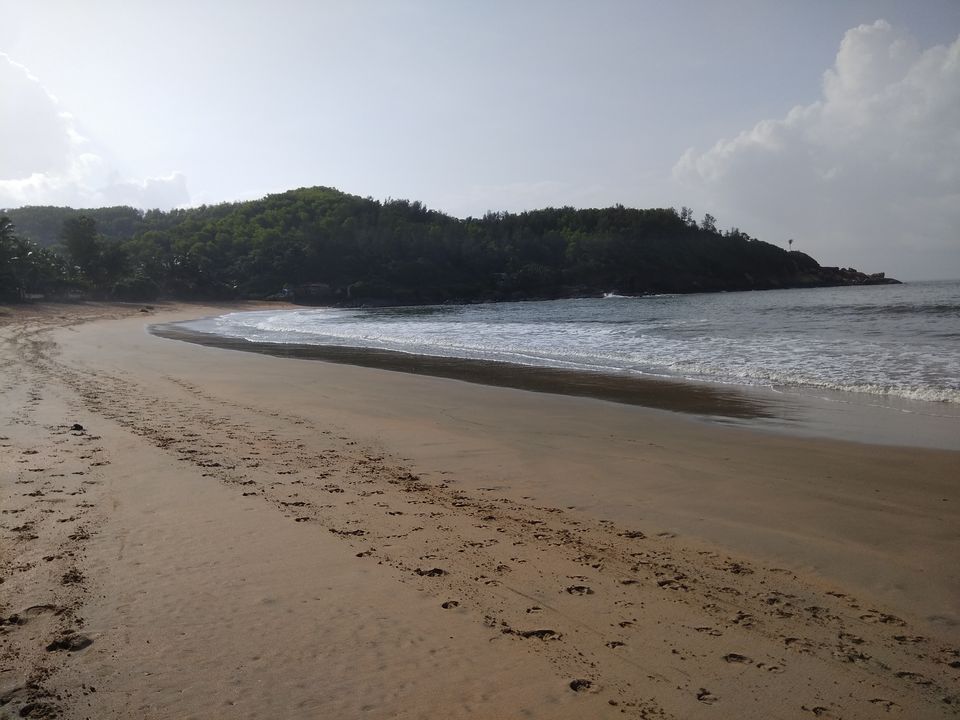 The beach nearest to Zostel but the last to visit was Gokarna beach. This was where we spend the most of our time. Had snacks in the local chats stalls and just enjoyed the sun-set.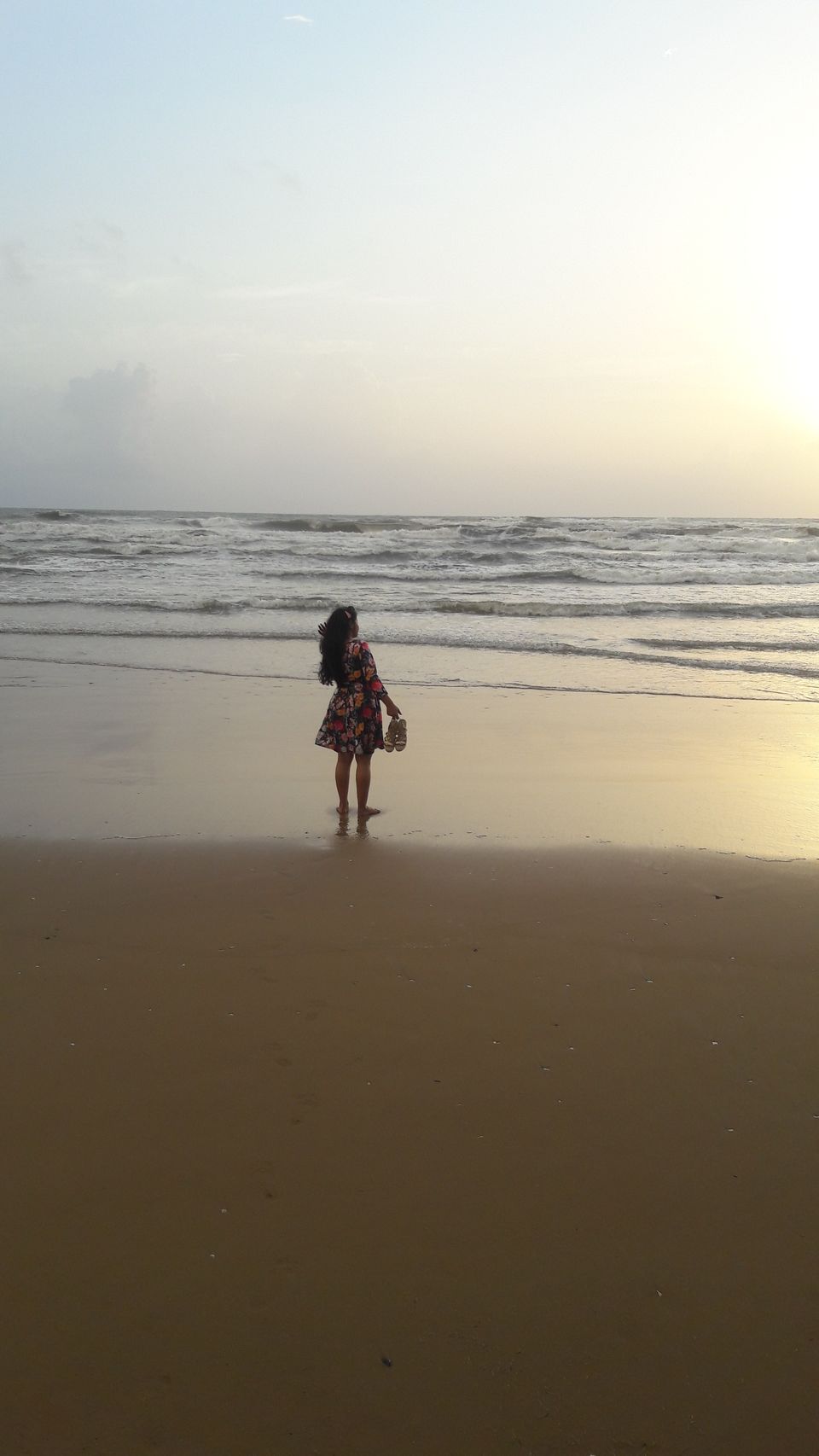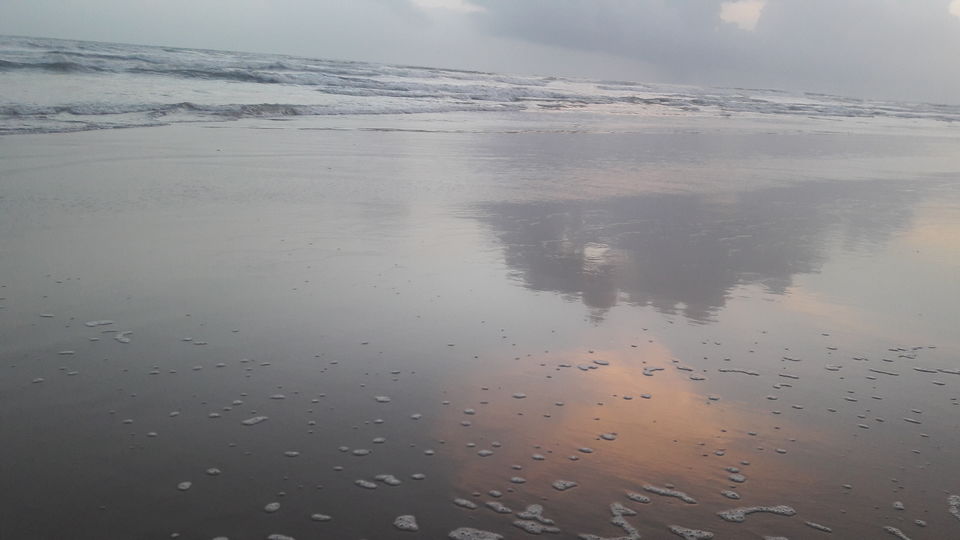 After a couple of hours it started raining. This was when we had to leave for the room.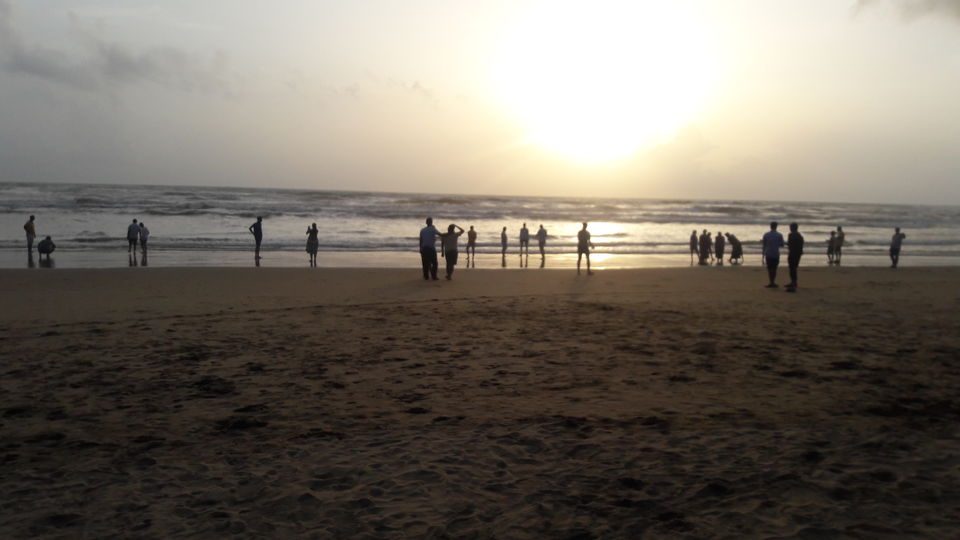 There are two other beaches which could not be reached directly by road. Way to reach there is either ferry or trekking from Om beach. Since the first was not available in monsoon so we decided to trek to those beaches the next morning.
For dinner we went to the most recommended place, Namaste cafe. To our surprise that place was well crowded and this being off-season we could just imagine how this place might be packed during rust time of the year. The food was just okay and service was pretty slow.
For trekking we had to again go to Om Beach, without spending much time on the beach we directly headed to the small hill which was the only way to Half-moon beach for us. There was no particular path alongside the sea, we just followed our instincts also three dogs. They were with us all along the way and we felt as they came just to show us the way and drop us back safely to the place from where we started the ascend to hill.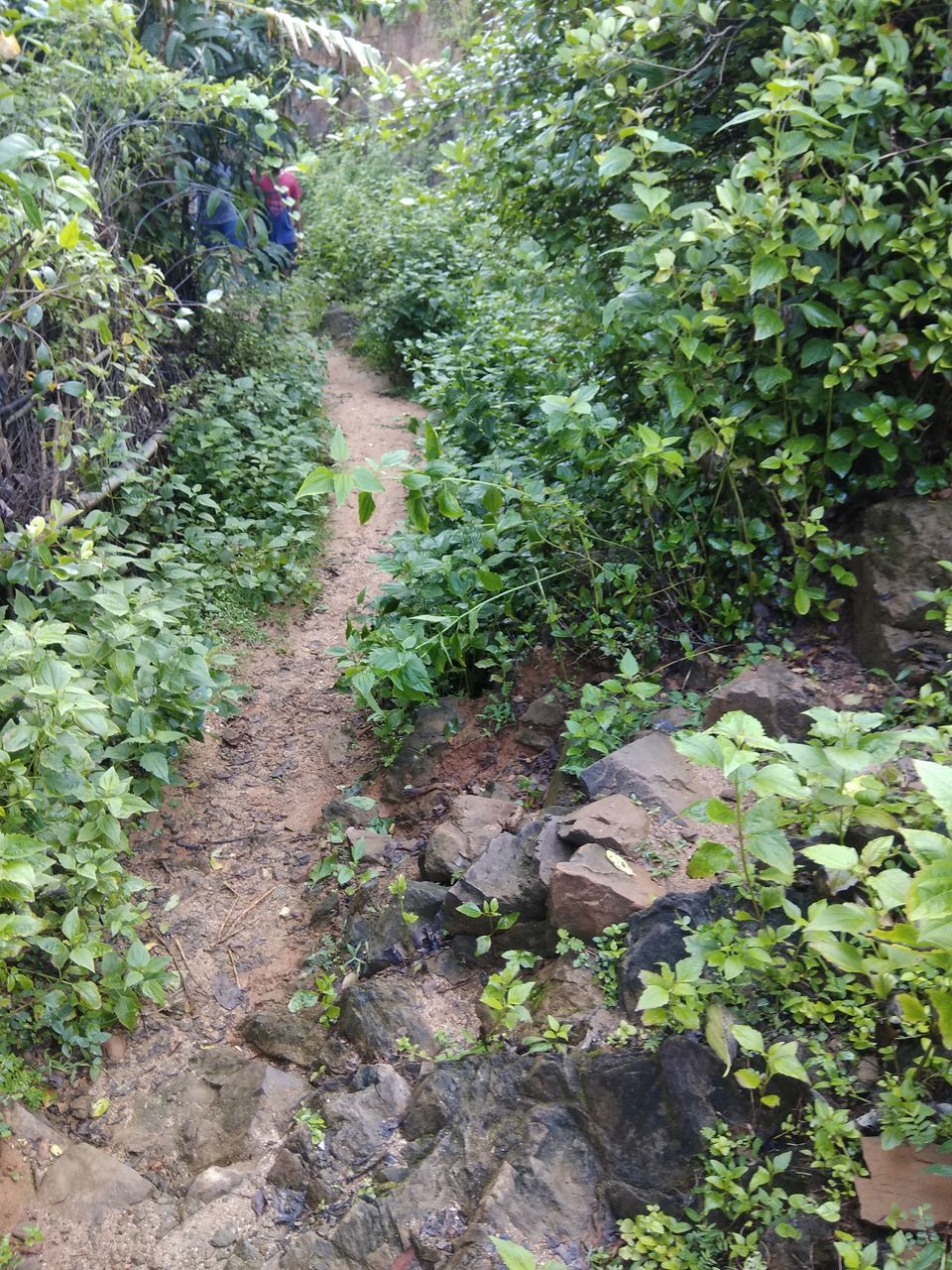 The trek is not tough, just follow the shoreline. Ideally the correct path would take only 20min from Om beach. But took a wrong one while going so took around 45 minutes. You could see various land forms in this trek may it be rocky hill, dense forest or slippery grassland.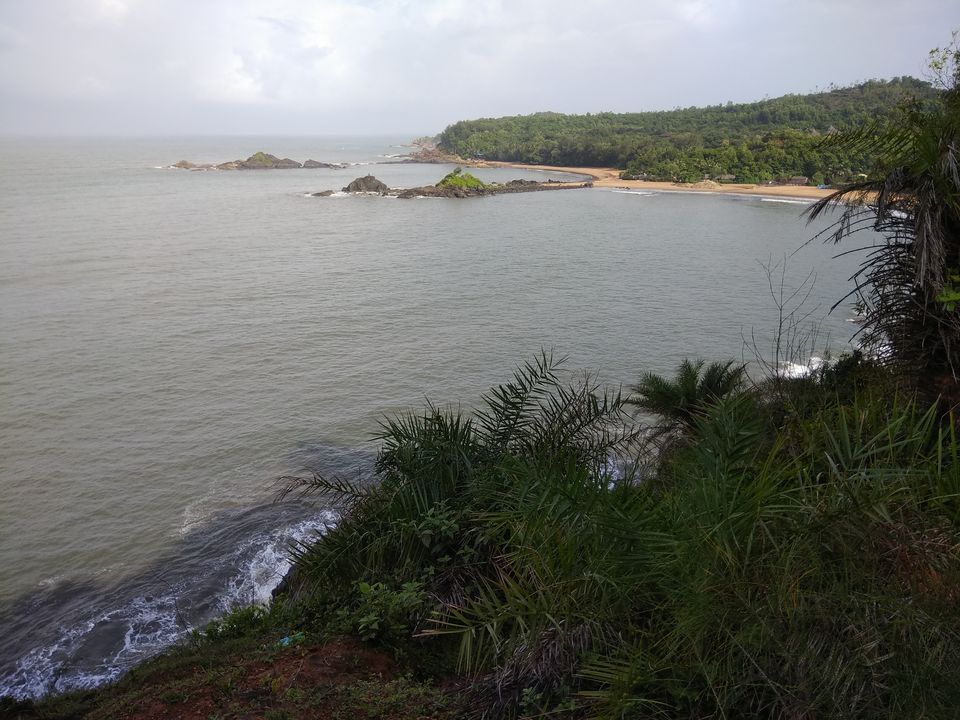 It was so satisfying to see the same Om beach from quite a height.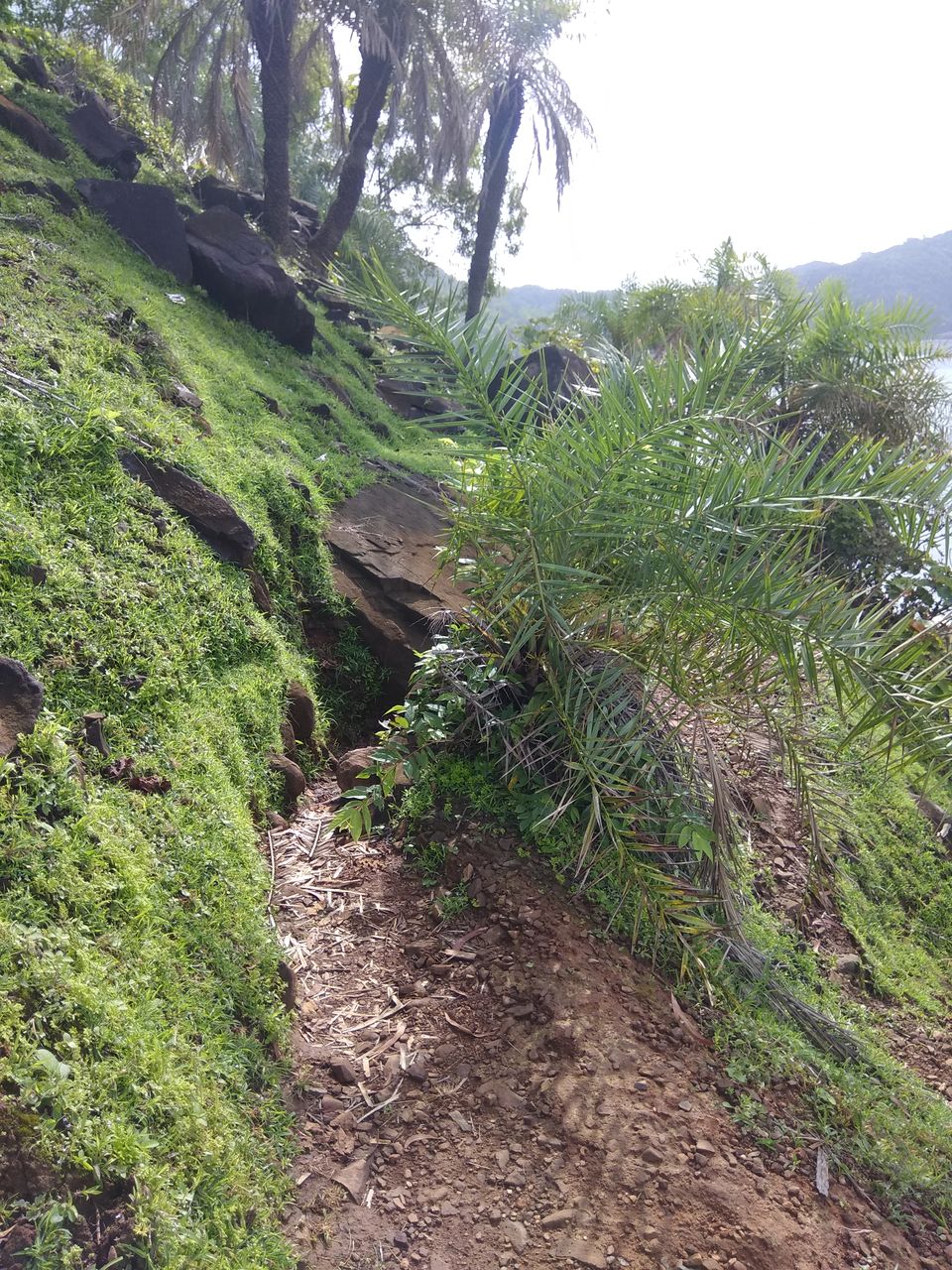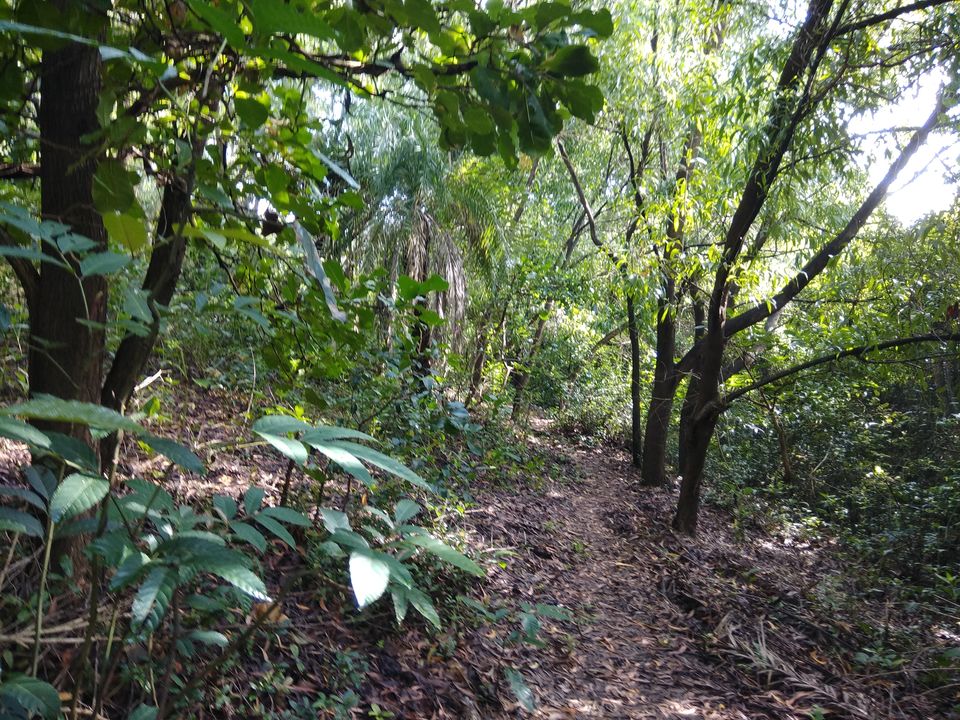 After a while we had the first glimpse of the next sea-shore and this brought a sense of happiness as well as relief.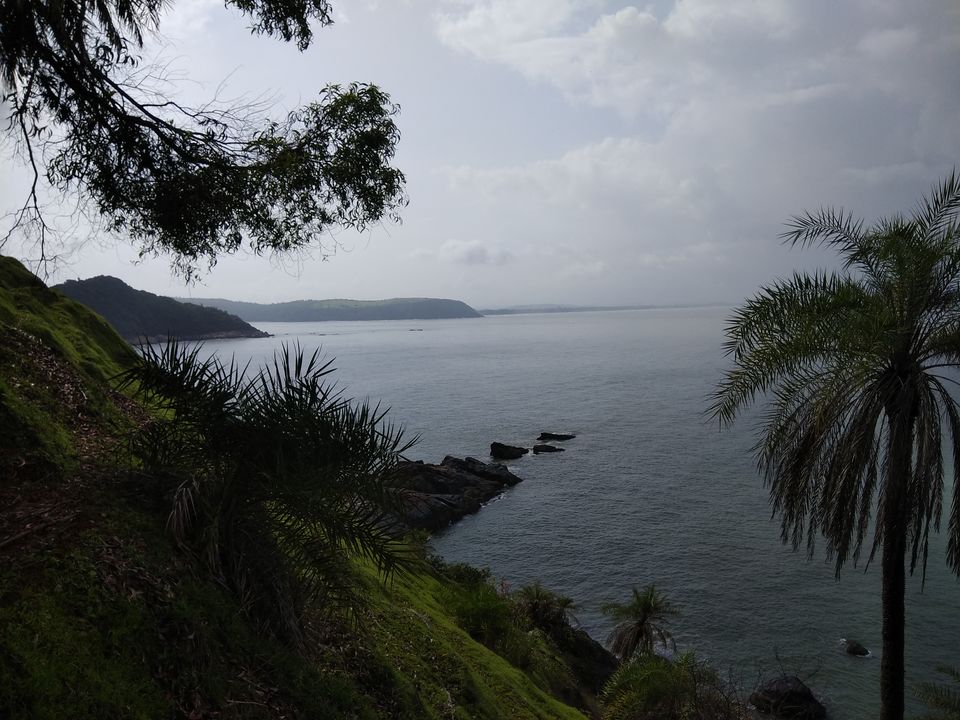 After 10 minutes of descend we reached the Half-moon beach. It was so delightful and tranquil. No one else apart from us on the beach. Soon it started raining as well. That moment reminded me some lines while a studied as a child Water, Water Everywhere.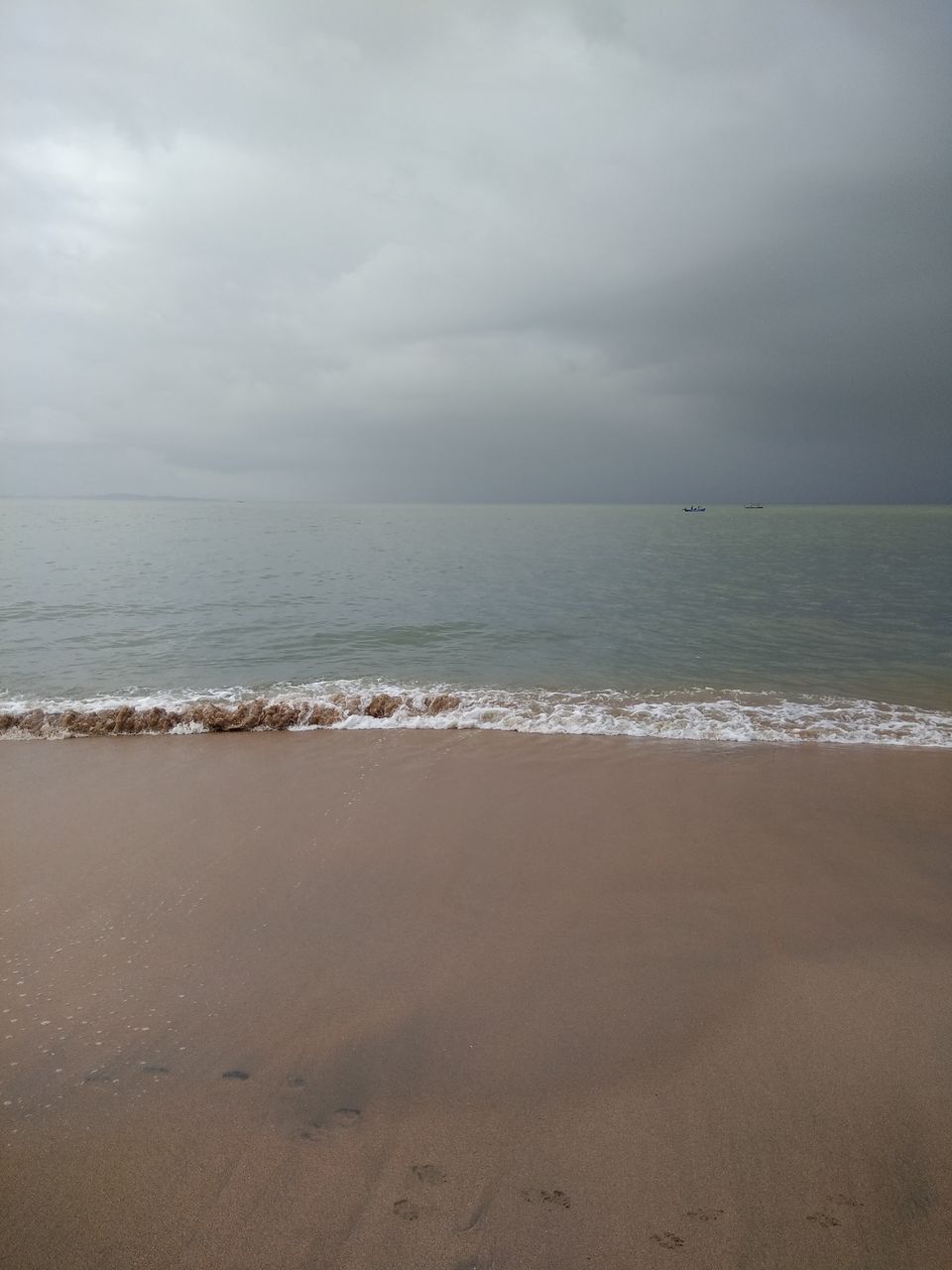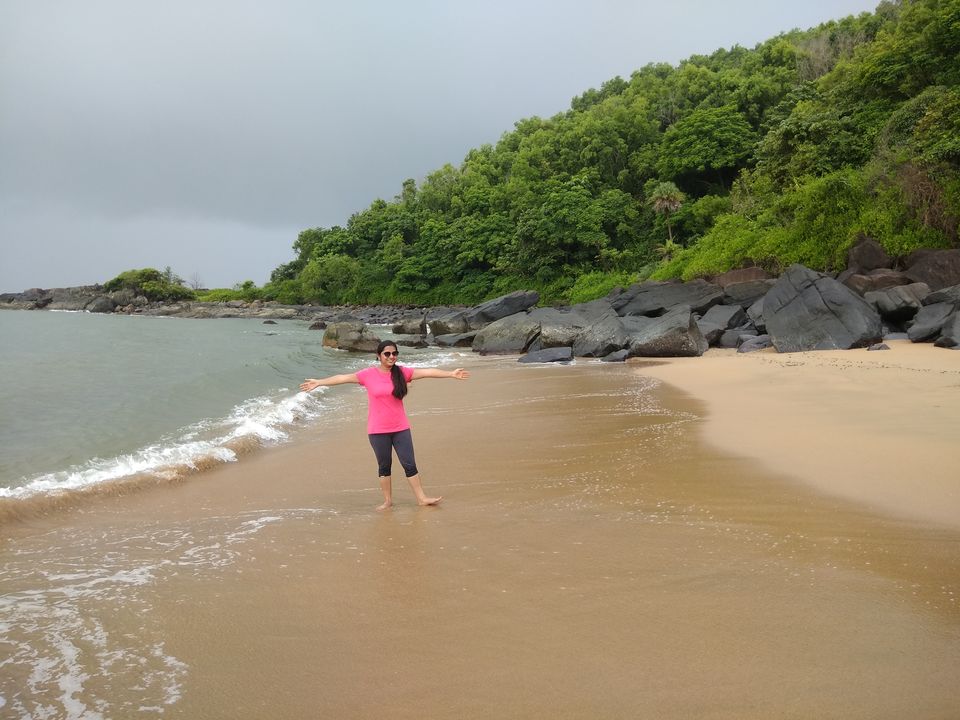 Paradise beach was again 30 minutes trek from Half-moon beach but due to lack of time we could not go there. But we had a splendid time here in this beach. The waves are very high here so going much into water is not advisable.
We reached back to Om beach in 20 minutes since we now got on the right path, had breakfast in Namaste cafe and then headed back to Zostel.
After check-out we paid visit to the Mahabaleshwar temple very close to Zostel just 10 min by walk. This temple has rich historical and mythological importance you can check out here
It took around 1 hour for darshan since the queue was long. Then we started our journey back to Bangalore.