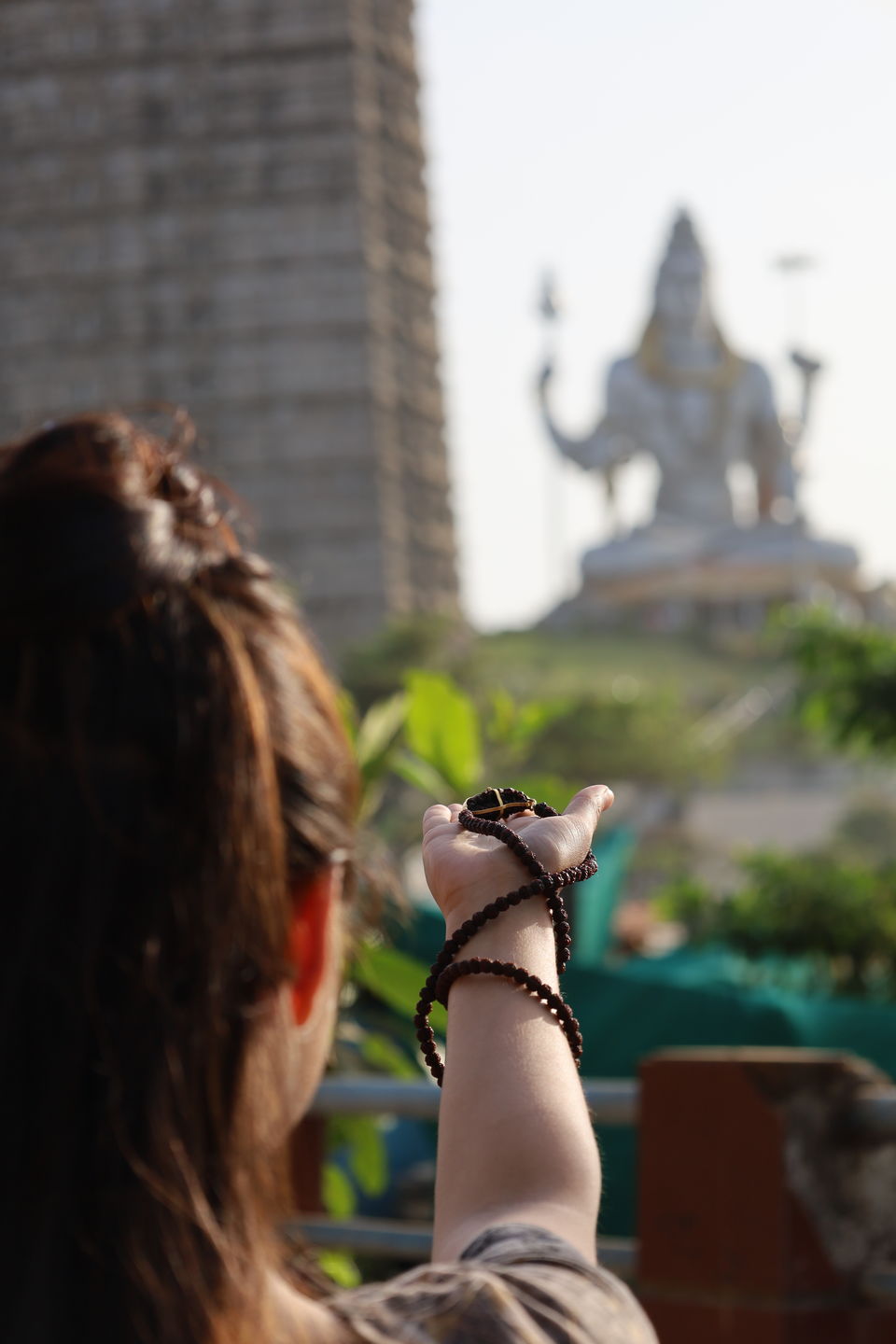 ''Congratulation on your promotion didibhai''
''Thank you so much!''
''Lets celebrate it with a trip what say?''
1st April 2021
Our maroon Honda WRV zoomed through NH 48 as I immersed myself in the nocturnal beauty of the city at night. I checked my watch, 10 PM. We were 5 people which included Me, Kalpajjwal (brother), Sayan Da, Saroni di & Pablo. Bhai was gunning at about 100 kmph as we had to cover almost 500 Km by morning to reach Gokarna.
At about 12, we stopped by a highway dhaba to have tea as Bhai & Sayan da had to drive the whole night. A Tea break actually ended up into ful fledged meal as we had ghee soaked roti Tadka (Dhaba speciality) making it obvious that two foodies are there in the group. The road to Gokarna includes both hills and plaines which made it more interesting! We made a pit stop at about 6 in the morning waking up to a hill curve road where there was no hint of petrol pump or a washroom for next few kilometres, we ladies ended up peeing behind trees in the jungle. The weather was cool and the soothing morning breeze made me drowzy and so did our fellow driver Sayan da leading to a small accident as we hit the barricade on the side. But experienced as he is somehow saved us from a big hit. So the start of the trip was pretty happening over all.
2nd April
Gokarna
Namaste Cafe is one of the oldest and most popular property of Gokarna which Sayan da got us at a pretty reasonable rate. So we checked in to our cottages, changed to our swimwear and ran down to sea beach. Namaste cafe is located exactly on the famous OM beach of Gokarna. Because of long weekend it was pretty crowded. A good swim in scorching heat made us took enough vitamin D and a few layer of sun tan.
The Cafeteria or restaurant of Namaste Cafe truly has one of the best views and food undoubtedly. We started with boom super strong with tandoori prawn & a whole pomfret fry and continued the seafood meal for lunch while enjoying the wide ocean view. We took a much needed nap and woke up to a breath taking view of the sunset. Bhai and Sayan Da both were carrying their professional cameras, so a big photo session was a must.
There were a series of rocks at a little distance from the shore, we decided to click a few pics on the rocks.
''Ah! I got a cut in right toe!''
''What! Yeah it is bleeding too!''
''We have to rush him to hospital for Stitches!''
In a stony beach or in a mountain river it is always advisable to be careful of the sharp stones underwater. So while saving my floating slippers from the wave my brother was injured now.
We normally have negative thoughts about Government hospitals. But the local government hospital of Gokarna was pretty good at ambience and service both. Patched and fine we returned within an hour.
Seafood pizza & Margarita pizza were ordered for dinner & the handmade thin crust local pizza was way too delicious to compare the ones we enjoy at branded counters in cities. With some soft drinks in the hand & good music we cherished the night at sea beach sitting on the rock stones and talking about life. The sound of waves always makes me feel meditative and wonder about myself.
3rd April
As an exception I chose to wake up early in the morning. With chirping of birds, cold breeze and essence of morning flowers I walked down to sea beach and set myself at the top of a huge rock of OM beach making my view clear through the wide ocean and rising sun. 7 AM, 8 AM I felt like I could sit there for eternity but then crowd started gathering and my stomach was growling for some food so I went on to have our breakfast. A pancake with Spanish omelette and fruit salad satisfied our morning hunger pretty well.
Gokarna to Murudeshwara
Murudeshwara is famous for the world's second tallest Shiva statue which lies on the coast of Arabian Sea. The distance between Gokhana to Murudeshwara is about 80 kms and it goes via NH 66. We started from Gokarna at about 1 PM, we stopped midway by a roadside food stall as the smell of chicken roast from the food joint didn't permit us to drive any further, Courtesy foodie Pablo! After having some super delicious chicken leg pieces and paratha we reached Murudeswara at about 3:30. Instead of entering to temple we drove inside to the roads by RNS Golf resorts and what an amazing sea shore it was. A wide clear sand beach with a distant view of the shiva statue above the sea. Surprisingly there was no one in the beach except us making it more comfortable and peaceful. We had lots of Fun, playing, flying kite, dancing, photoshoot, some romance of Sayan da & Saroni di, posing on Honda's sunroof or simply sitting by the ocean we had it all.
''Time for some instagram?''
''Like?''
''Some clicks with Shiva the lord!''
The location of the temple and the sun setting down the back of shiva statue gives a heavenly appearance to it and we were there right on time. When owner of KS lenscapes, Kalpajjwal and Sayan Chatterjee is with you it is obvious to get some wonderful shots clicked. It feels like Settling sun giving life to the colossal statue and in the process awakening the dancer in me alive. An almost empty beach allowed me the privacy to make my feet tune to the same.
"Jokhon porbe na mor payer chinho ei baat e….."
Who else can make my mood for the night other then Rabindranath. Sitting on the Cottage verendah I was wondering about life just a year back while the country was under lockdown and could simply thank god for letting me out again and explore such beauties of nature.
Next day
Plucking some raw cashew nut we start our day long drive back to Bangalore through the hills and plaines of Karnataka.
"Jokhon porbe na mor payer chinho ei baat e….."