Gokyo Lakes Trek provides an exceptional opportunities to witness substantial Himalayan ranges; which is more than 8000 meters including Mount Everest, Mount Cho Oyu, Lhotse, Makalu and many more. The highest glacier Ngozumpa glacier lies in the Himalaya. We can also visit the Sagarmatha National park to view the protected floras and faunas. Most importantly, we will see the sights Gokyo valley has a collection of stoned houses and meadows on the shore of a great lake, Dudh Pokhari.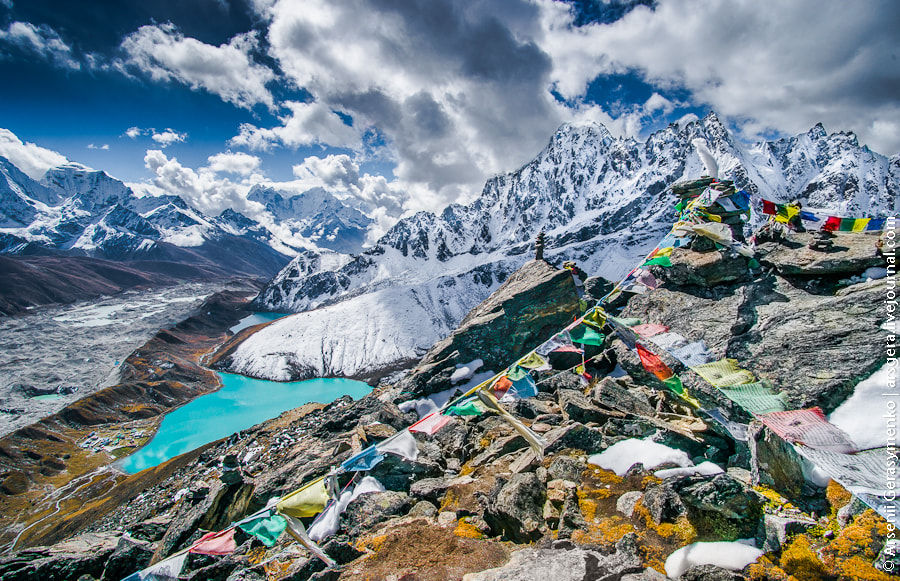 To begin this Gokyo Lakes Trek from Lukla Airport, walk down to the Dudh Koshi River. From here we will stick with the major track to Namche Bazaar, a prosperous village situated in a huge secluded bowl-shaped region; you will have a marvelous experience. And the remarkable sight of the Khumbu mountains like Ama Dablam ( 6856m), Thamserku (6608m) as well as immense vistas of Everest will spellbind you. As we reach, Machherma the awe-inspiring vistas of Cho Oyu, Kantega and Thamserku will captivate you. We will also walk on the messy, risky moraines of Ngozumpa Glacier – the main glacier in Nepal. We will be enchanted by varied scenery of the Gokyo Valley including the series of beautiful Gokyo lake. We will get to observe the first lake Longpongo situated at the height of 4690m. Subsequently, the second lake, Taboche Tsho totally enthralled us with its shiny turquoise blue water alluring in the sun. In series, third lake comes into the sight. We will also notice that the Gokyo village set by the third lake and Cho-Oyu peak as a backdrop provide a wonderful sight here.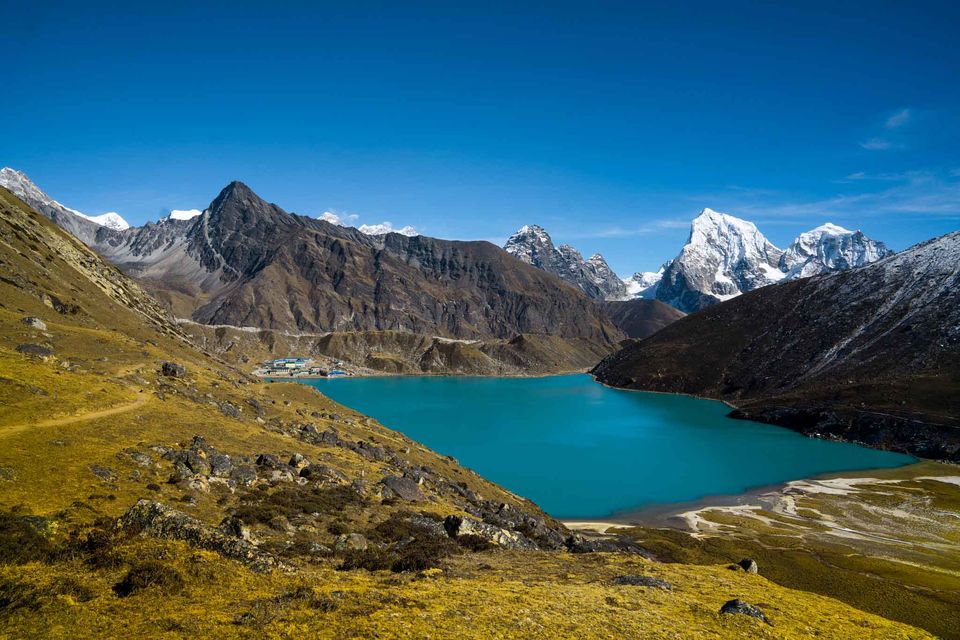 Peregrine Treks offers this Gokyo Lakes trek an opportunity to travel around the wonderful destination and its remarkable sight, which is away from your imagination. One of the most noteworthy marks of the trek is the view of wonderful ice edge between Gyachung (2922m) and Cho Oyu located in Khumbu region. The best season to go for Gokyo Lake trek is September to November and March to May and you will be accommodating at lodge during the trek.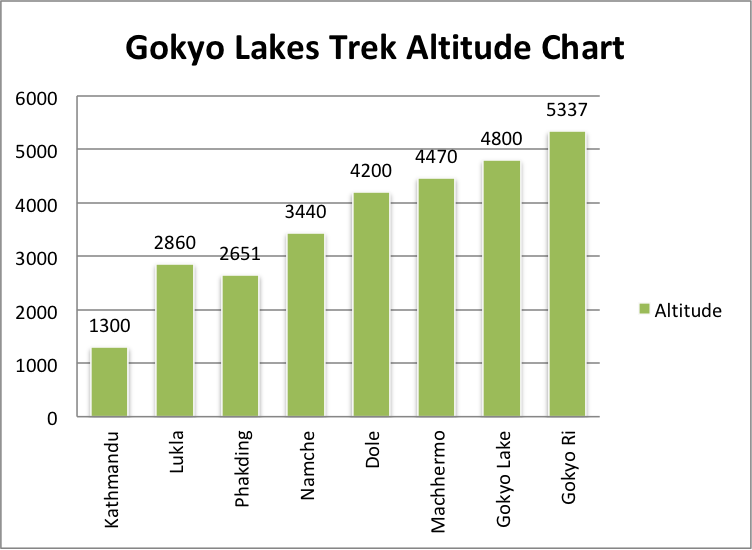 Gokyo Lakes Trek Itinerary
Day 01: Arrive in Kathmandu (1300 m/4264 ft)
A Peregrine Treks representative will pick us up after we land at the Tribhuwan International Airport. Afterwards, we will be dropped off at our hotel where we can take a rest. Later in the evening, we will have a welcome dinner hosted by Peregrine Treks, which will introduce us to Nepalese cuisine.
Included meals: Dinner
Day 02: Kathmandu: Sightseeing and trek preparation
We tour four UNESCO World Heritage Sites today. These include Durbar Square, the sacred Hindu temple of Pashupati Nath, the famous 'Monkey Temple' (Swayambhunath) and another Buddhist shrine (Bouddhanath). These heritage sites hold immense cultural, religious, architectural and historical value for the Nepalese people. Later we gather at Peregrine Treks to get better acquainted with our travel plans and fellow trekkers. Overnight at Kathmandu.
Included meals: Breakfast
Day 03: Fly to Lukla (2,800 m/9,184 ft), trek to Phakding (2,652 m/8,700 ft): 3 - 4 hours
We leave for Lukla on an early morning flight. It will be an adventurous ride as the Tenzing/Hillary airport is a steep airstrip that is actually hanging off the side of a mountain. After reaching Lukla, we meet the rest of our trekking staff and begin trekking to Phakding. Overnight in Phakding.
Included meals: Breakfast Lunch Dinner
Day 04: Phakding to Namche Bazaar (3,440 m/11,283 ft): 5 - 6 hours
Our trail moves forward alongside the Dudh Koshi River. During the trek we cross several suspension bridges and pass several villages, monasteries and chortens. We can enjoy a good view of Mt. Thamserku from Benkar village. Our trekking permits will be checked at Monjo as we enter the Sagarmatha National Park. A descent and a gradual walk bring us to Jorsale, the last village until Namche Bazaar. The walk is enjoyable through a riverbed and we reach the Hillary Suspension Bridge. As we climb up towards Namche Bazaar, the magnificent sights of Kwangde Peak, Kusum peak, Kangaru peak, Mt. Everest, Lhotse, Tawache, and many other fabulous mountains greet us. Overnight in Namche Bazaar.
Included meals: Breakfast Lunch Dinner
Day 05: Namche Bazaar: acclimatization
Acclimatization is important for us to adjust to the gradual change in environment. It will also help us to prevent catching Acute Mountain Sickness (AMS). Today we hike to Khumjung villages, enjoy the Himalayan vista from Syangboche or tour the quaint streets of Namche Bazaar. We can also visit the Tourist Visitor Center where we can see a variety of things related to the first Everest ascenders and Sherpa culture. This visit will also get us acquainted with various plant and animal life of the Everest region. In Khumjung we can even visit a monastery that houses a yeti scalp! We also climb up to the airstrip above Syangboche and enjoy incredible views of Kongde, Thamserku and Khumbila mountains. We walk back to Namche Bazaar to spend the night.
Included meals: Breakfast Lunch Dinner
Day 06: Namche Bazaar to Phorse (3810 m/ 12,496 ft): 5 - 6 hours
We leave Namche Bazaar on a trail with gradual ups and downs. On the way we are likely to spot Himalayan pheasants, musk deer and Himalayan Thars. We then begin descending to Kyanjuma. From Sansa, we follow the Gokyo trails and from Mong we get a glimpse of Ama Dablam, Thamserku, Tawoche and Khumbila mountains. Our trail descends to Dudhkoshi Khola after which it is an uphill climb through rhododendron forests before reaching Phorse. From here we get good views of Tawache and Cholaste mountains. Overnight in Phorse.
Included meals: Breakfast Lunch Dinner
Day 07: Phorse Village to Machhermo-(4,470 m/ 14,663 ft): 5 - 6 hours
After crossing a bridge over the Dudh Koshi River, we are likely to come face to face with local wildlife like pheasants, mountain goats, and musk deer. Our trail passes through forests, waterfalls and bridges before reaching Dole. We climb on a steady trail through a scenic ridge with views of Cho Oyu, Kantega, and Thamserku mountains. We ascend from Luza village and walk above the Dudh Koshi River. We continue walking through small villages and sandy trails before reaching Machhermo. We can visit the Himalayan Rescue Hospital for a lecture regarding altitude sickness, its precaution, and primary treatment. Overnight in Machhermo.
Included meals: Breakfast Lunch Dinner
Day 08: Machharmo to Gokyo (4800 m/15,744 ft): 5 - 6 hours
We ascend on a hill and enjoy views of the Dudh Koshi valley and Kangtega, Thamserku and Cho-Oyu mountains. Beyond the ridge the valley widens as the trail passes through a Chorten and reaches Phangga. We descend to the riverbank before climbing up to the terminal moraine of the Ngozamba Glacier on a steep trail. We pass through Longpongo, Raboche Tsho and Dudh Pokhari before reaching Gokyo. On the trail next to the first lake, we see what is believed to be the footprints of a Lama (Buddhist priest). We explore Dudh Pokhari before calling it a night. Overnight in Gokyo.
Included meals: Breakfast Lunch Dinner
Day 09: Gokyo Valley: Climb Gokyo Ri (5357 m/17,570 ft) and hike to fifth lakes: 5 - 6 hours
We spend another day in Gokyo to acclimatize to the high altitude. If the weather is good, we climb Gokyo Ri today. From the top of Gokyo Ri we admire the Himalayan vista and the tranquil Gokyo lakes. We also hike to the fourth and the fifth Gokyo lakes. The 4th lake is only about 3km north of Gokyo. High cliffs mark it and Himalayan peaks rising above it. We continue to walk a little further and reach the 5th lake. A climb up a nearby hill will guarantee us remarkable views of Cho-Oyu, Gyachung Kang, Everest, Lhotse, Nuptse, and Makulu. We can see a lot more from here - the spot is called Scoundrel's Viewpoint. From the northern part of the 5th lake we see the Cho Oyu base camp and Ngazumpa Glacier, which is the biggest glacier the world. We walk back to Gokyo to spend the night.
Included meals: Breakfast Lunch Dinner
Day 10: Gokyo to Dole: 3 - 4 hours
We descend on a trail along the Dudh Koshi River and pass the first Gokyo lakes. On the way we also enjoy views of the Cholatse and Taboche peaks. Our trail descends before climbing a hill. After reaching the chorten at the edge, we see great views of Thamserku, Cho Oyu, and Kangtega mountains. We walk past Machhermo, Luza and Lhafarma villages before reaching Dole. Overnight in Dole.
Included meals: Breakfast Lunch Dinner
Day 11: Dole to Namche Bazaar: 4 - 5 hours
We descend on a steep trail to Phortse Thanga admiring rhododendrons, wildflowers and waterfalls. We also come across mountain goats, musk deer, pheasants, etc. From Mong, we can admire a good view of Khumbila peak. On our way to Namche the view of Taboche, Ama Dablam, Thamserku and Kangtega mountains are ours to admire. After walking for a while, we reach an intersection where the trail from Sanasa meets our trail. We walk on a trail that clings to a forested slope beyond Kyangjuma, winding through several bends. After reaching Namche army camp hill, we look back to see Lhotse, the tip of Everest and Tengboche for one last time. About a kilometer from here is Namche Bazaar. Overnight in Namche Bazaar.
Included meals: Breakfast Lunch Dinner
Day 12: Namche Bazaar to Lukla: 6 - 8 hours
We descend on a rocky trail and cross several suspension bridges before walking on a leveled trail. The air is warmer as we walk on the same trail to reach Lukla. Our trek in the mountain ends after we reach Lukla. We spend our time reminiscing about our time spent in the mountain. Overnight in Lukla.
Included meals: Breakfast Lunch Dinner
Day 13: Fly to Kathmandu
We fly back to Kathmandu on the earliest possible flight. After reaching Kathmandu we have the rest of the day off to rest. In the evening, there will be a farewell dinner to enjoy with our trek leader and a few Peregrine Treks staff to mark the end of our trip in Nepal. Overnight in Kathmandu.
Included meals: Breakfast Dinner
Day 14: Final departure
A Peregrine Treks representative will pick us up from our hotel and drop us off at the Tribhuwan International Airport three hours before our scheduled flight.
Included meals: Breakfast
For more details, please click here