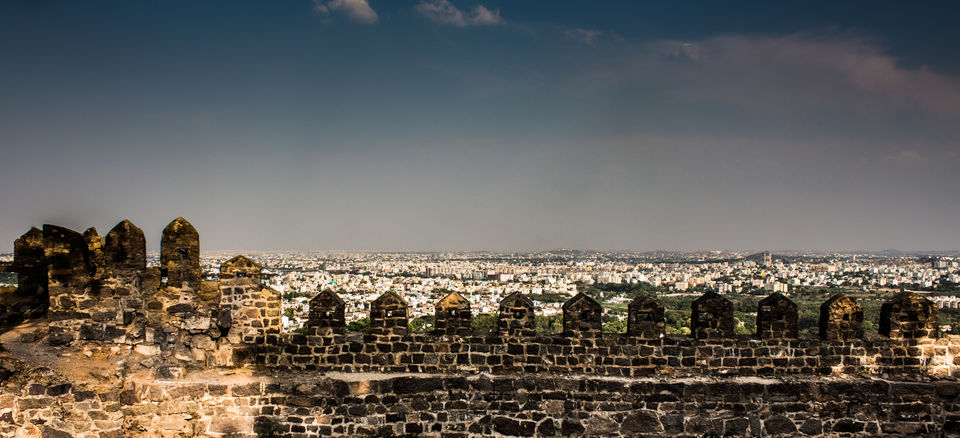 A week ago, I was in Hyderabad and boy I went bonkers, as it was one great trip to remember!
Good Places, Better people, Best food and yes a super awesome journey experience, it was indeed a package of all my travel emotions.
A wise man once said that every journey teaches us a new lesson. Well, for me, this journey was far more than a lesson as i fell in love with this place called Golconda Fort (and then eventually with the entire city).
Friends who follow me on Instagram know very well that I had my timeline flooded with a series of photos from the fort ruins and then did a live video was well!
For all those who missed the action or those curious enough to know more about the love story, here are the top five reasons i fell in love with this beautiful place:
1. Rich History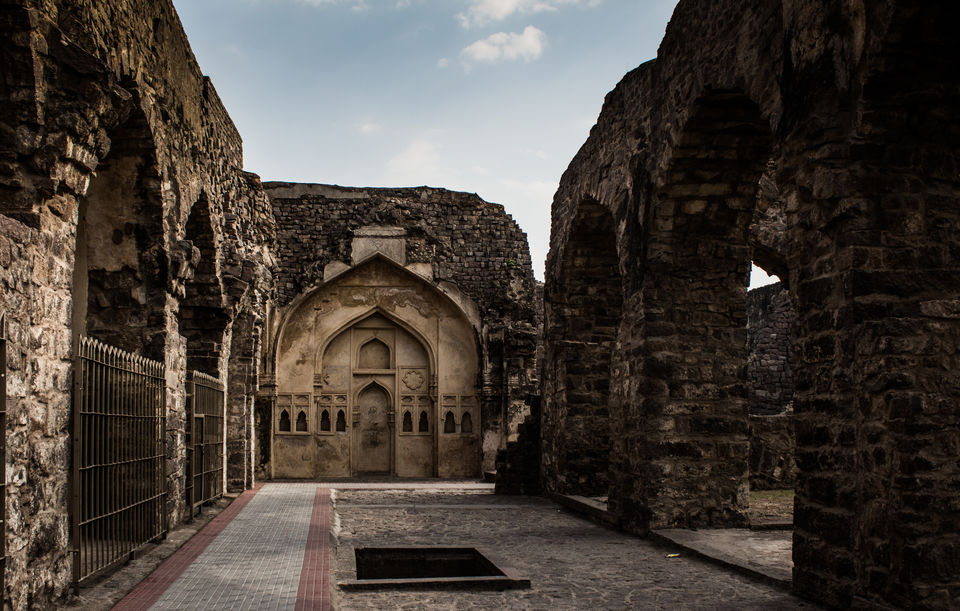 Just like the Red Fort in Delhi or Jhansi Fort, Golconda also has a very rich history. Many people do not know that it was the capital of the medieval sultanate of the Qutb Shahi dynasty (c.1518–1687). The region is known for mines that have produced some of the world's most famous gems, including the Koh-i-Noor, the Hope Diamond and the Nassak Diamond. The fort was originally built by the Kakatiya dynasty as part of their western defenses along the lines of the Kondapalli Fort. It rose to prominence during the Qutb dynasty under 3 sultans. The fort however finally turned into ruins in 1687, after a year long siege leading to its fall at the hands of the Mughal emperor Aurangzeb
Hmm, surprised right? Time to revisit those elementary school history classes, again!
2. Location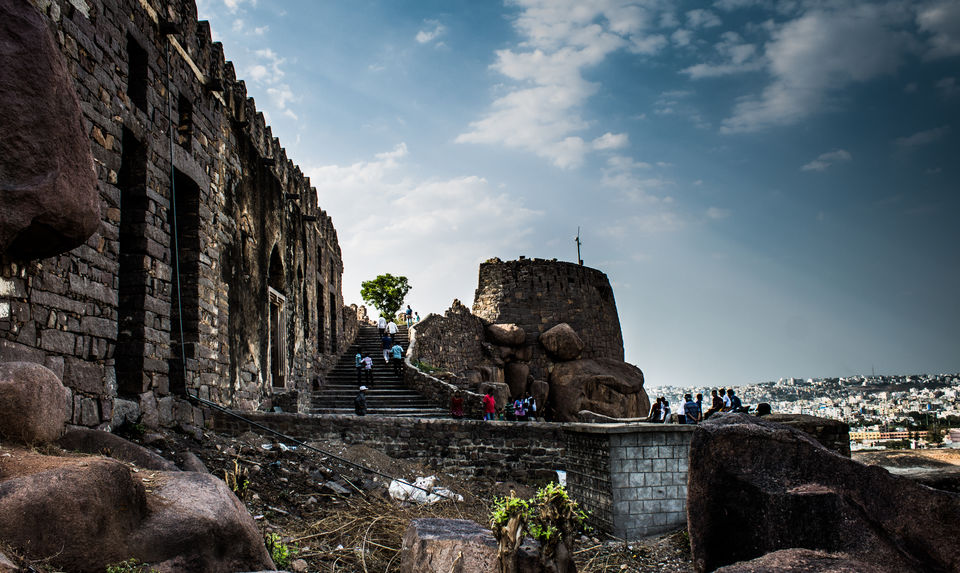 Unlike other forts in India which lie mostly in the heart of the city, this fort is situated just 12 kms West from the main city area. Once you enter the vicinity, you never feel you are in India's one of the leading metropolis but will certainly go back in the good old Nizam time. Moreover, it can be a preferable long drive away from the city limits, away from the crowd, to chill and find yourself in place.
3. Highly Photogenic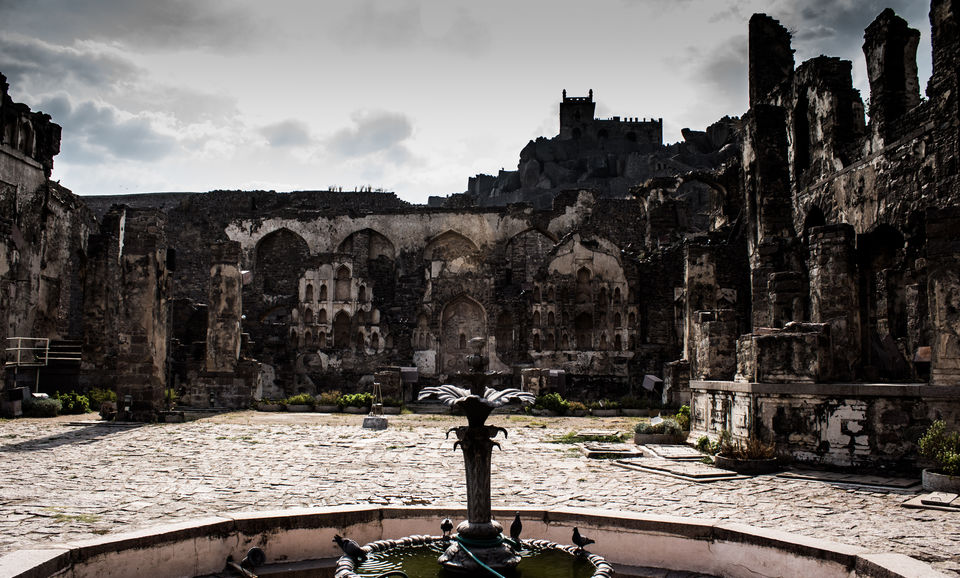 Yes, this fort is highly photogenic, all thanks to its geographic location. The fort stretches in the North South direction thereby enabling sunlight to be used with perfection from East West. When the sun is east, it acts as a natural flash thereby illuminating the ruins and each detail of the fort with magnificence. When setting down in the west, it facilitates silhouettes and images involving shadow play. Every hour of the day, the ambient light changes drastically and so keeping you on toes for the best shot.
4. Unsung and Infamous
I am not sure how many people know about the Golconda Fort but after taking a complete tour, I started to believe it does not have the recognition and fame it deserves. Additionally, I did not observe a tourist crowd but more of the locals flocking in that too because of the weekend. Now this aspect can be used to major advantage for outdoor shoots, specifically portraiture and HDR's. I also mentioned in my live video that it is a unique place to do pre-weddings, glamour photography and other categories of portraits. The distinctiveness of the location and the scanty population of tourists certainly favor portrait photography conditions and then cherry on a cupcake – even the fort is highly photogenic.
5. An all in one package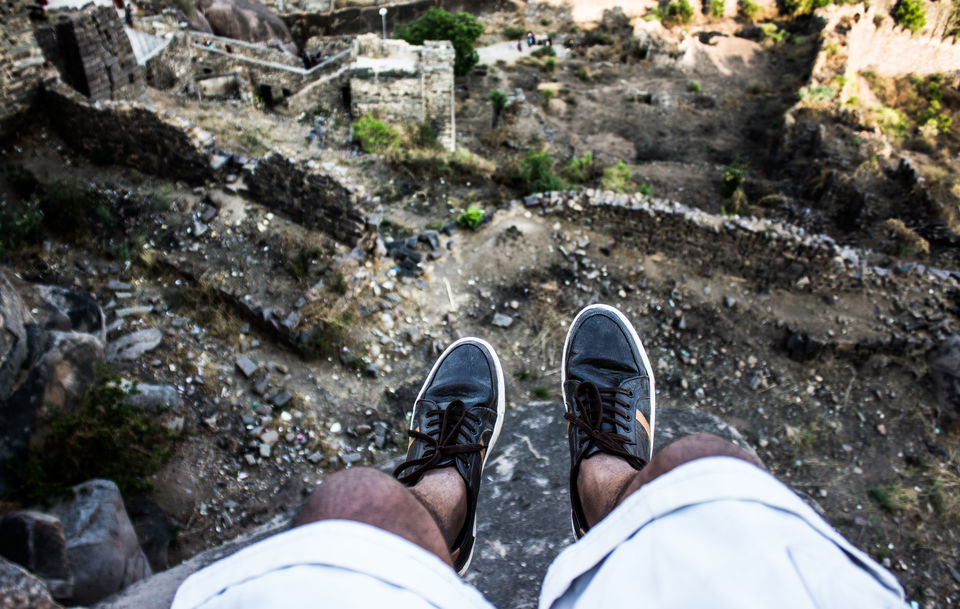 Last but not the least; it is a place with an all in one package feature. Be it a picnic with your family or a case study with your history class or maybe an outing trip with your friends, it is compatible to all forms of crowd. Additionally, if you love climbing, trekking or simply wandering, the fort has a mild climb up to its highest point from where you can get a breath taking view of the city. Although the climb is not pro level but it certainly, tests your cardio endurance as you wander point by point.
So next, time, when you visit or hear the name Hyderabad, you should not only remember the word 'Biriyani' but also the name 'Golconda'. Due to data restrictions here, I am unable to share my complete set of photos of the Golconda Fort in this blog. However, to view the rare and unseen images, check out my timelines on Instagram and Facebook respectively.
www.instagram.com/thelensanetraveller
www.facebook.com/thelensanetraveller
Until next time, adios ????