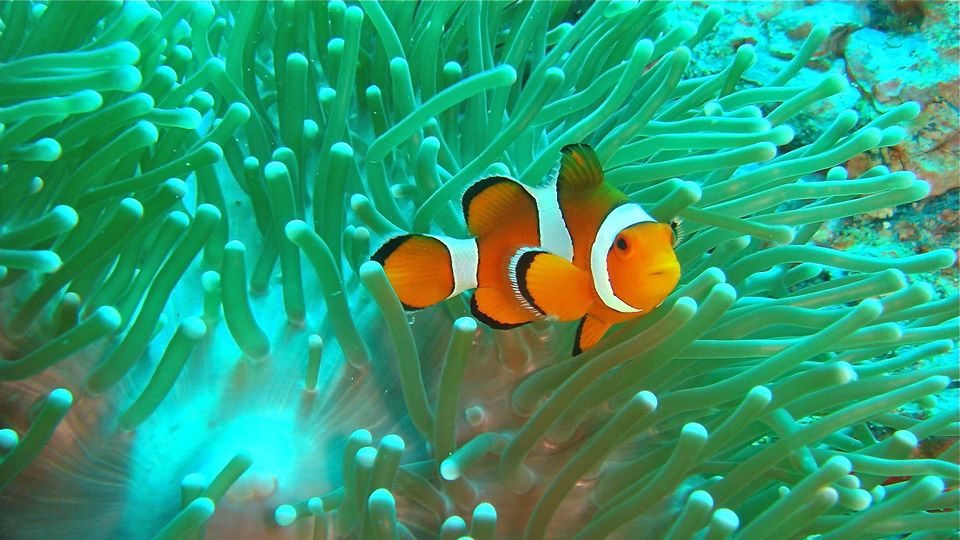 …But, when I descend a few meters from the surface, I felt as if I was cast in a spell. What I saw was unbelievable – there was so much peace and calm, no chaos, and everything was in perfect harmony. All I could hear was the sound of my breathing, from the regulator, and of the bubbles, that I released while exhaling. There was rhythm in each movement and music in every sound. It was as perfect as a fairytale ending!
It all started a year before when Shubham and I had just started talking. He was a certified diver and when he narrated his first underwater story, I was immediately completely enchanted. I still don't know if it was his narration or my natural Piscean instincts. Calling myself a Piscean, I didn't even know how to swim back then (such a shame!). But anyway.. So, I knew then that I had to experience the underwater paradise, but didn't know how and when.. I had targeted to learn swimming before we got married, but, winter was coming! (only literally) :P
It was only our New Zealand holiday that made me realise swimming isn't just an additional skill but a compulsory life saving one. Plus not being able to experience the water adventures aggravated my desire furthermore!
We booked our trip to Thailand as soon as we got back from NZ. Apparently a diving trip but I didn't know how to swim still, although I was certain I had to dive. So between this day and my first dive, I had one month to get comfortable in water, learn swimming and ace the swimming test which was a pre-requisite for the diving course – 200meters swim and 10 minutes treading in water, too much right?!
I got started the very next day, with the best swimming coach in the world – Shubham. I totally I mean it when I say this (:P). I was a very good student and it took me only 3 sessions to learn how to swim and float – can you believe that!? Before this, I would look at people swimming and wonder how they do it. It was a rocket science to me - I was even scared to stand in water for more than 5 minutes. Whereas, now, I was swimming. Without any help, without a floating pad – I WAS SWIMMING ON MY OWN! It wasn't so difficult after all! :-P
So level 1 was accomplished but till now I couldn't even do half a lap in a go and I had to do 15 laps for the test. I could float easy though. Also, the fear of water still hadn't gone – I never went swimming alone. I had a fear that if I be alone in the pool, some water monster will suck me in. Blame it on all the animated movies I watched as a child! *rolls eyes* I would have Shubham swim with always – by choice or no choice (:D) and tried to work on my stamina which never really happened. But I knew in my mind that I will be able to ace the test (overconfidence much? :P)
Finally it was time for our Thailand holiday. It was a 7 day trip, 2 days in Phi Phi and 5 in Phuket. I flew with a lot of questions still – will I be able do it, how will it be like, what if I drown, what if I get claustrophobic, what if a shark bites me and other stupid doubts! We went snorkelling in Phi Phi and that was my first ever hello to the ocean. I had a life vest on but for obvious reasons, I was scared to jump in the water. After some struggle and conviction I did manage to jump but I was terrible in there. I panicked like crazy – could neither tread nor stay afloat, forget about putting my face inside the water. After a lot of help and persuasion from the guide, I did manage to see some life under water while he held my hand and pulled me along. It was the worst water encounter ever – I was panting, my sinuses were full of water and blocked, and I couldn't wait to get back to the boat. We got done with this one and went ahead to do the second activity which was "diaper soaking" (more on that in the Thailand itinerary). By that time I had, one, become a little more comfortable with jumping in the water and two, found my balance (to tread). That one hour of diaper soaking went pretty well and I had started to establish some friendship with the ocean.
The idea of snorkeling was to get comfortable with water and get a hang of how diving works – which undoubtedly went wrong for me! After the ghastly snorkeling experience, my doubts multiplied and I was not sure if I wanted to dive. Shubham had my back throughout and he was certain I'll do well (Doesn't that make him a very good husband? No? Okay! :P)
We headed to Aussie Divers (after a lot of home-work) and I registered for the Open Water Diving Certification Course – 3 days and Shubham got himself registered for fun dives. The first day was supposed to be classroom lectures and a pool session where we would learn all the diving skills. (There's an option to do the e-learning and theory beforehand if you don't want to study on your holiday)
I did my lessons back at the hotel and got ready for my first day of the course – the pool session. I'm not a morning person. Waking up early, that too on a holiday is the worst sentence possible. I woke up like a druggie with baggy eyes, walking like a zombie, barely brushed my teeth and headed out. I was not excited at all. I wish it started post noon, but the next 3 days were gonna be the same horror, so cruel! :-(
To make it worse, it was raining heavily and I was cold. As we reached the pool, our instructor for 3 days, Darren started explaining the terminologies and alien terms like BCD, regulator, first stage, alternate, etc. finally started making sense. At that time, I really wasn't interested in another lecture and I just wanted to get in the water and start diving already. We started by putting on the wet suit. The first thing you do is learn to set your equipment. I was now super excited as we were finally entering water (if only I knew there were 3 hours of surface exercises before descending). I absolutely hated going through the exercises – they seemed so difficult and made no sense to me then. But a scuba diving course is taught in baby steps. And there are a lot of things that feel strange - breathing through a regulator, uneasiness of the gear, struggling for balance, understanding hand signals, etc. but eventually you get used to it and it doesn't bother much. The worst part of underwater exercise for me was taking the mask off and swimming without it; and the part where you run out of air and need to ascend and inflate your BCD manually (it was a complete nightmare when I was made to do it in the ocean with heavy currents!)
The second and third days were for ocean diving. The dive sites included RachaNoi and RachaYai on second day - twin islands on the south east coast of Phuket typically known for their crystal clear blue waters. KohBidaNok and KohBidaNai near the Phi Phi islands were the dive sites for the third day. In an Open Water course, the maximum depth one can descend to is 18 meters. The ocean currents were very high on both the days and the sea was roaring furiously with strong winds!
We put our equipments and arrived at the first dive site – my heart was pounding enough to burst out and my mind was overflowing with questions like usual – clearly, I wasn't confident even after the spending a full day in the pool learning dive lessons. I was standing at the edge of the boat, all geared up, ready to jump, Christina Perri singing to me –
Heart beats fast
Colors and promises
How to be brave
How can I love when I'm afraid to fall..
One step closer.. Darling don't be afraid.. lalaalaaa
And before realizing, one of the boat boys pushed me in water and my whole world drowned with me! But Hola! I bounced back faster than I gained senses - some of my questions suddenly received answers and a part of me came back to life still trying to find the rest of the answers.
We completed some surface exercises and it was finally time for the much awaited moment – see the world inside water! It exists – IT DOES EXIST FOR REAL – much more beautiful than what they show in movies! And again I had better parts of this song playing in my head…
All of my doubt, suddenly goes away somehow..
Time stands still
Beauty in all she is
I will be brave
I will not let anything, take away
What's standing in front of me
Every breath, every hour has come to this…
I felt like I have found home! It was the best kiss of all time. The fish (Piscean) in me came to life and I felt like just another one there, making my way through the corals, flexing between schools of the most colorful and happy beings – I completely forgot my earthly existence! I had no questions, no doubts; all I had was ultimate peace and tranquility.
In that moment, I could have used another dive or two, another dozen or even hundred dives. It was pure addiction!
And in this moment, as I write this, I feel like a fish out of water, searching for a way back home…