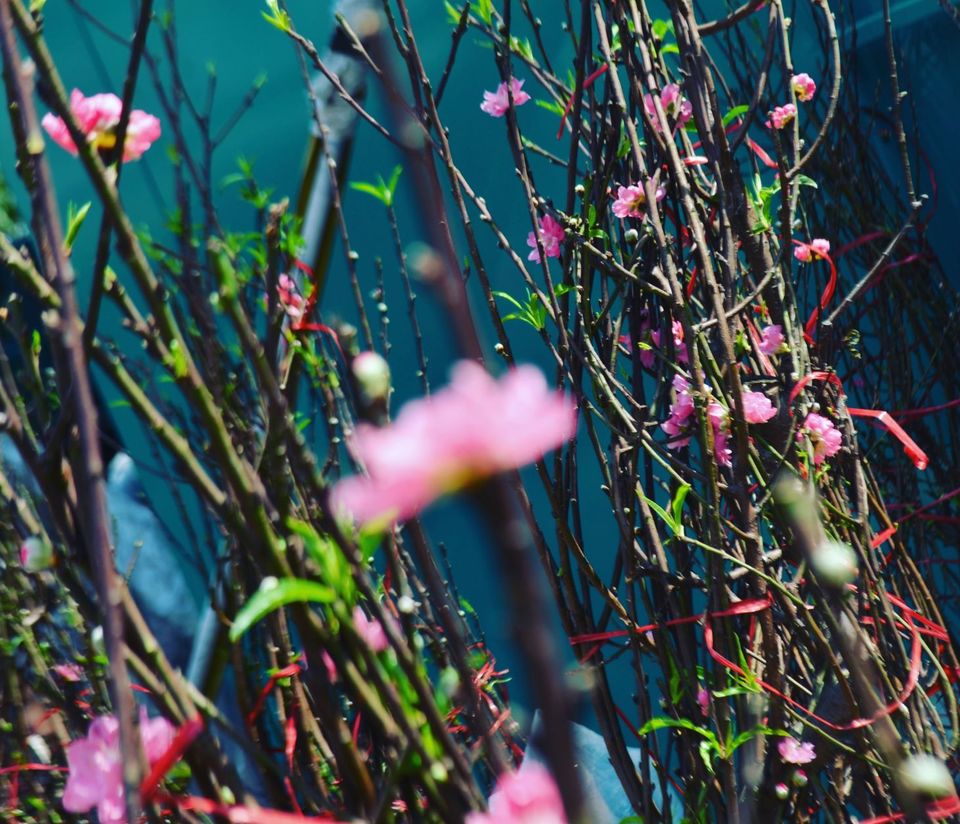 Like Frodo got Sam's company, I wish I too had a travelling partner to share my many adventures with. However I always wanted to travel alone at least once, so here I was at Saigon airport all set to go on my wonderful journey. I had booked one night's stay at Vietnam Inn Saigon hostel (Hostel world is all you need to find great cheap places to stay at, all those who have more time to spare before you reach Vietnam, do try Couch surfing) The website had clearly told me I just needed to get on the bus number 152 which leaves from the airport and that it would take me directly to District 1 which cost me just 25 INR. After a bit of walking around it was very easy to find the hostel. The streets are named uniquely and the buildings are numbered in an orderly fashion, there is no way you would get lost. If you have the direction sense of Zoro (One Piece fans would understand), I mean if you could easily get lost, just ask around and people will always try to help you.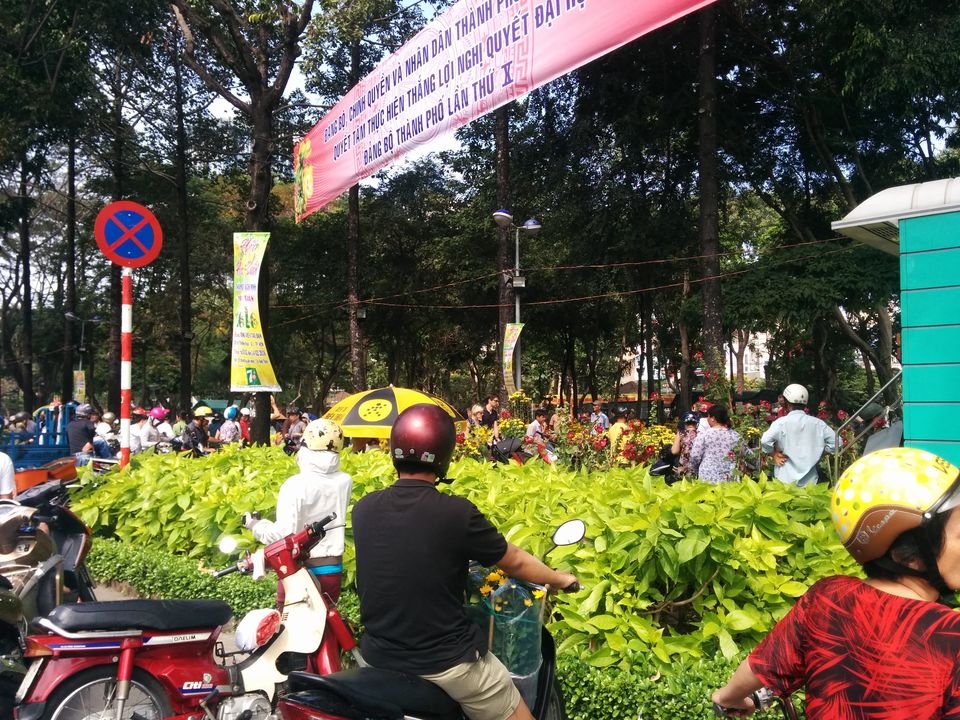 All around I could see a familiar hustle and bustle, it was familiar because that happy chaos was known to me already. Folks back at home also would prepare for a festival in a similar fashion, there was joy in the air, a festivity I would be a part of for the next two weeks. After I freshened up, I just wanted to get out and walk around and see as much as I could before all the shops closed down for the start of the New Year.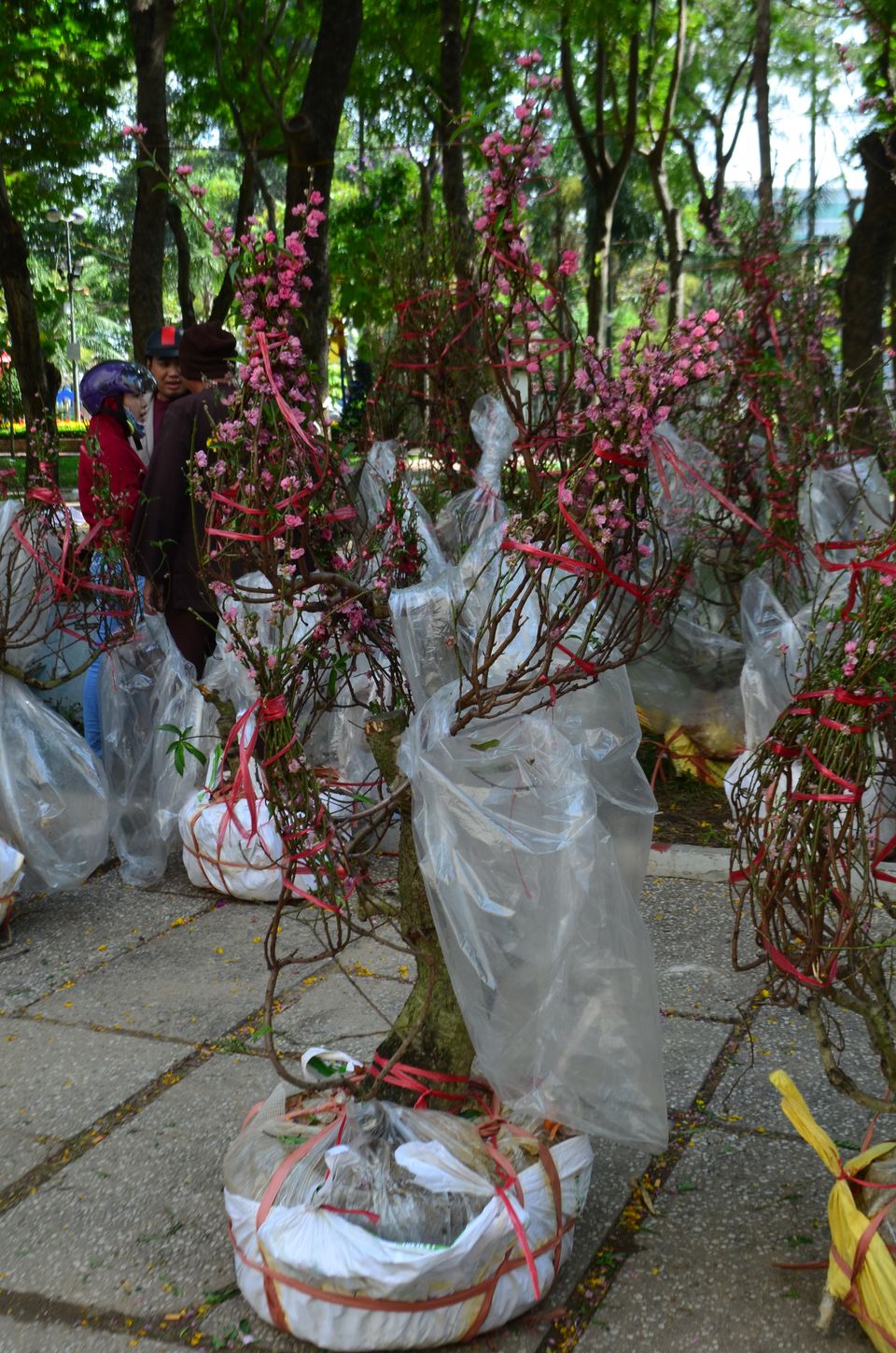 I walked around clicking random photos of people buying peach blossom plants to place it in their homes as a part of the Tet celebration (New Year).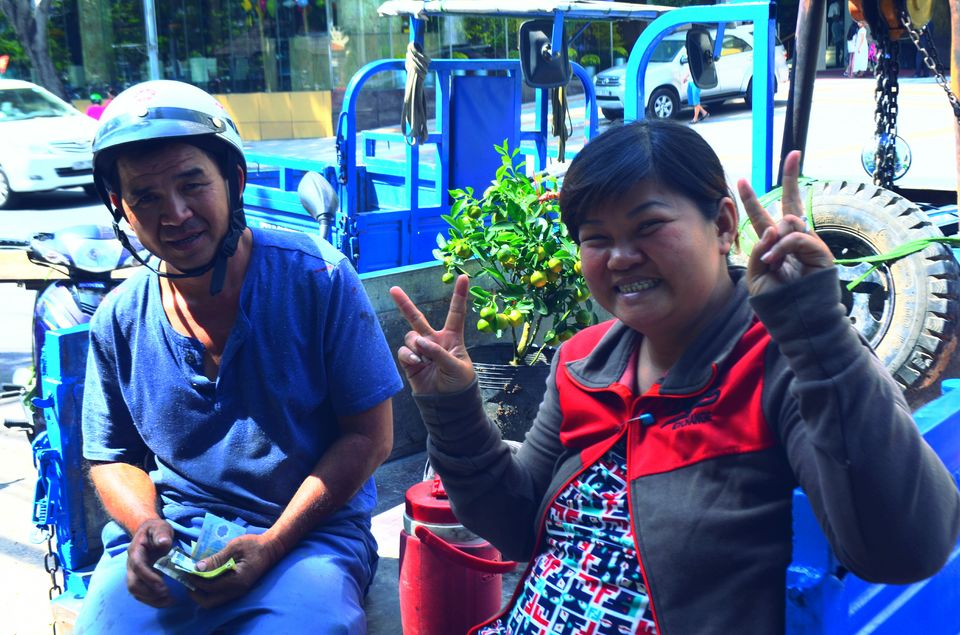 I realized walking around during the day with the hot bright sun hovering over me was not my idea of fun no matter how eager I was to explore the city, so I crawled back to the hostel to bid time until sunset. In the elevator I heard that there would be free wine and a grand party for all owing to the Tet celebration (wide grin). So I had something to look forward to in the night.
Sadly I hit a bump on my very first day. I was hoping to travel to 'Hoi an' the next day but due to the festivities, all bus tickets were booked and flight tickets to Danang were expensive. But I did not want to lose hope, so I got out and walked around trying to find that one bus ticket that would make sure I reach hoi an as soon as possible. As fate would have it, a generous woman understood my plight and arranged a ticket for a price although expensive due to the demand, it was relatively cheaper than everybody else's offers. At last I had a ticket for a bus ride which would leave on 9th and it would take almost 24 hours to reach hoi an . More on that later, let me get back to the hostel and join the celebrations.
It is not quite easy to be alone among groups of people. Being surrounded by strangers from different parts of the world can be a bit intimidating at first because you realize there is a clear social gap between them and you in many ways. But it is necessary you try to bridge that gap slowly and eventually you will know that even they have left the comforts of their homes to travel just like you and there is nobody better you can relate to than these kind strangers you are surrounded by.
At the party I found a lovely group of girls who had travelled around India before coming down to south East Asia, I spent the rest of the night talking and exchanging stories with them, drinking Saigon beer and having a lovely time. After the firework show at midnight, I was off to bed while many continued to party. I needed to wake up early as I had booked a tour through Mekong delta for the next day.
Follow me to know about my next blog, Thank you.