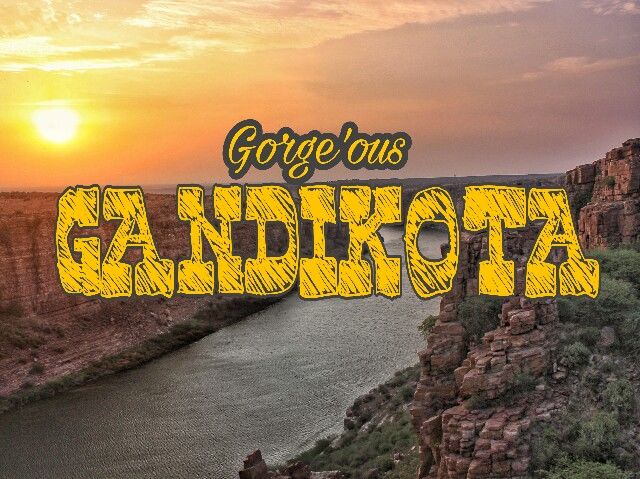 An off-beat destination located in the heart of Andhra Pradesh and fondly referred to as the 'Grand Canyon of India', here's why Gandikota truly lives up to that name.
It was already dark by the time we took the last deviation towards Gandikota and were disappointed on having missed the famed Gandikota sunset. To make matters worse, a rain shower that caught us by surprise had soon turned into something of a storm. And as we rode across no man's land through pitch darkness guided solely by our motorcycle headlights that fell short in the pouring rain, we were starting to have second thoughts about our choice of destination.
Earlier during the day, on route to Hyderabad from Bangalore, we were dead set on doing anything it took to avoid the bland and scorching National Highway 44 and instead opt for a more scenic and offbeat route cutting across inner parts of Karnataka and Andhra Pradesh. I and Anand were literally aliens on our Royal Enfields, draped head to toe in riding gear on these village roads that normally lay witness to traffic ranging from tractors and mopeds to an occasional car or two. Curious eyes followed us at every corner and questions of our whereabouts and reason for travel asked at every stop. But they would soon be followed by smiles, pleasantries and thumbs ups for our journey ahead or at least that's what I'd like to believe with my non-existent knowledge of both Kannada and Telugu.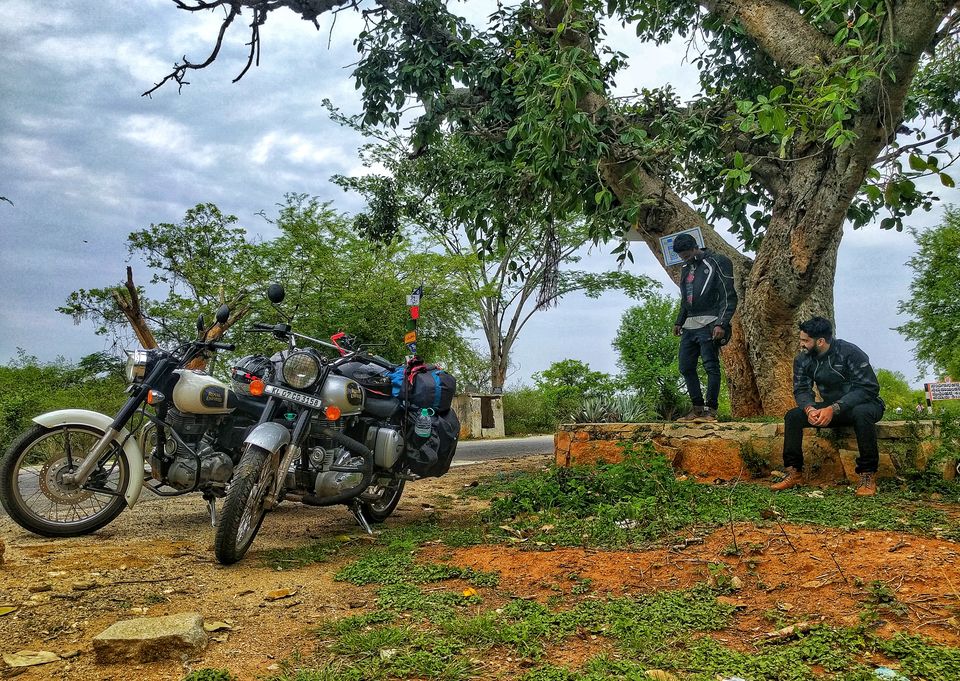 As we moved closer towards Gandikota, the transformation of terrains was almost dramatic as various forms of canyons and rock formations now formed part of the scenery in an otherwise barren landscape and an almost wall-like structure stretching for miles across, having close resemblance to 'The Wall' from Game of Thrones now appeared in the horizon. But our little off-route adventure took away more daylight than we could afford and resulted in the rest of the evening taking a downward spiral from bad to worse.
With our plan of camping on the banks of the Penna River foiled due to our bad timing and after a failed attempt to find accommodation at the only place to stay near Gandikota owing to a lack of prior booking, we were now sitting ducks on the arid plains of Andhra Pradesh with each lightning bolt apparently missing us by inches. We were forced to make a hasty retreat back to the nearest town of Jammalamagudu where we'd find a room for the night with hopes of redeeming ourselves by catching a glimpse of the sunrise, the next morning.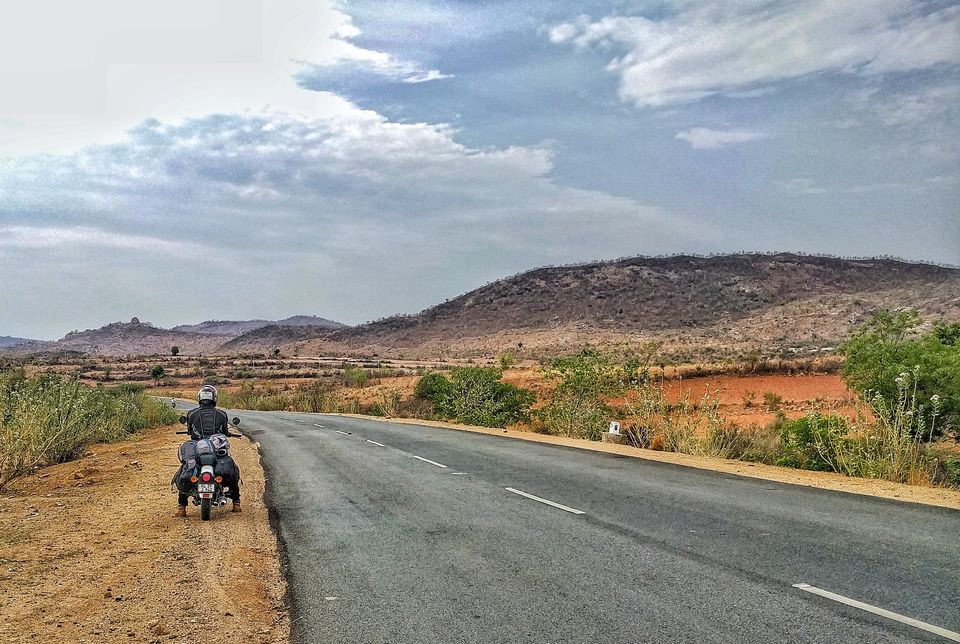 Now how a place that doesn't even feature in Google's 'list of places to see' for Andhra Pradesh found a way into my itinerary is still a mystery for me, but it was one stroke of luck that I am immensely grateful for. 'Gandi', meaning 'gorge' and 'Kota' meaning 'fort', Gandikota is known for its spectacular gorge formed by the River Penna as it cuts through the Erramala Hills and is often referred to as the 'Grand Canyon of India'. Adding to the splendour are the remains of a sprawling ancient fort which is believed to have been built here during the 12th century by a subordinate of the Chalukyan King. It includes in its backdrop a couple of exquisitely carved temples built during the same period and a mosque built years later right adjacent to them and sets a great example of unity in diversity.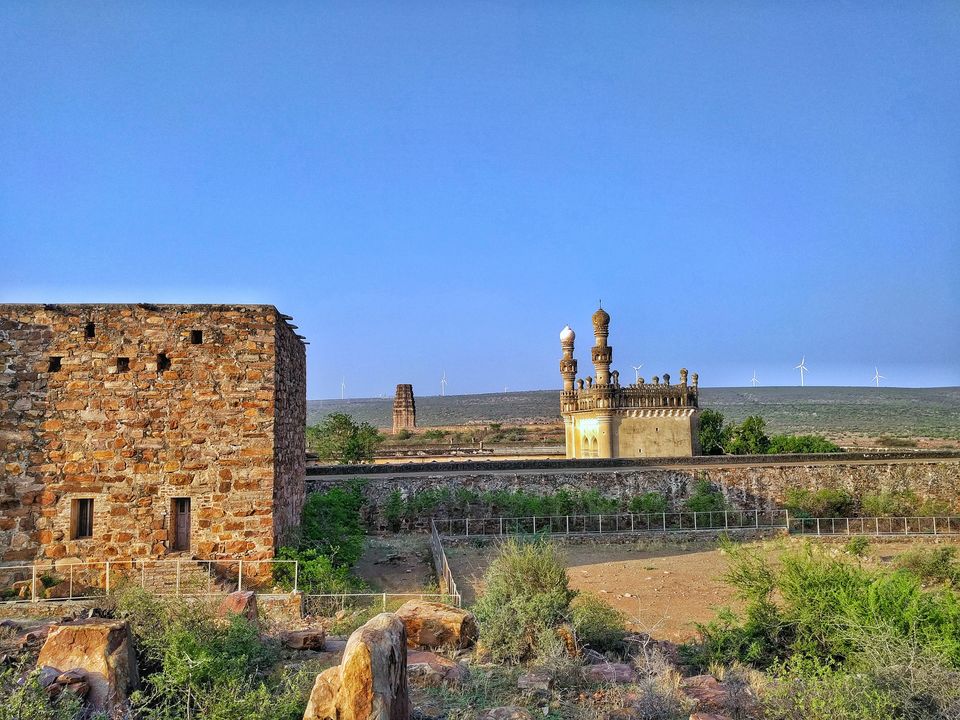 The gradual ascend up till Gandikota ensures that you barely realize how high you are until you reach the very edge which is also when the breathtaking gorge comes into view. It's one of those moments when your heart skips a beat on realizing that something of such proportion and such beauty could be so easily hidden in plain sight, amidst nothingness for miles around.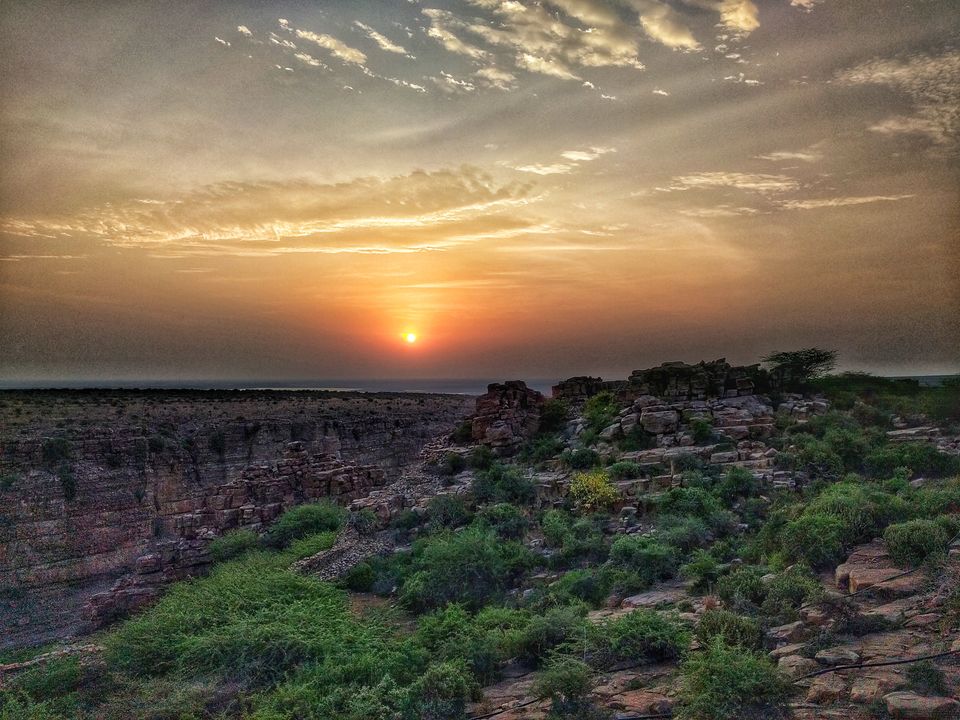 The massive gorge is an artwork in itself with a stunning assemblage of rocks in various shades of orange stacked one on top of the other in the most peculiar way, shaped by the hands of nature. The climb to the edge is treacherous but the view of the now gentle river that once ravaged through these canyons is almost surreal. Add to that a mesmerizing sunrise to accentuate the hues all around and you're left with a setting that is nothing short of heavenly.

With the entire canyon to ourselves, thanks to the off-season, the feeling of serenity that surrounded the chasm during the wee hours of the day was indescribable. And it soon gave all our efforts and misadventures of the previous night clarity and I was convinced that the best time of the day to visit these canyons was during sunrise when the sun would emerge directly on top of the canyon,s providing you with some drool-worthy shots as compared to it setting in the opposite direction during sunset.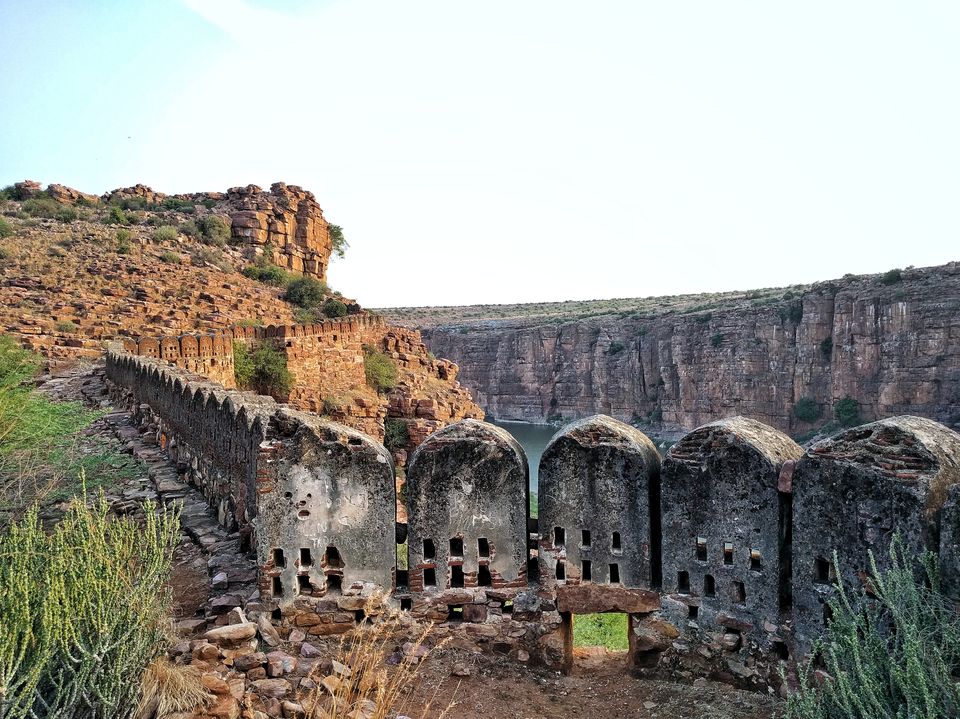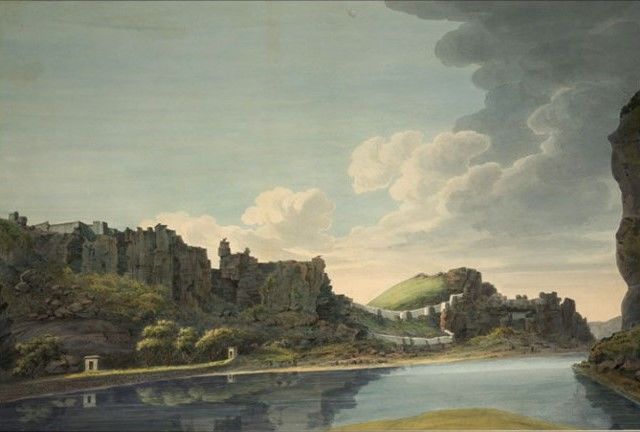 And once you're done soaking in the magnificent vistas offered by the gorge, you can explore the ruins of the fort area that houses the Jamia Masjid, the Madhavrayaswamy and Ranganathaswamy temples, the Charminar and other structures such as a Jail and a Granary, all located close by and accessible only by foot. Most of these structures here are in a dilapidated state and won't take you more than a few hours to explore them all.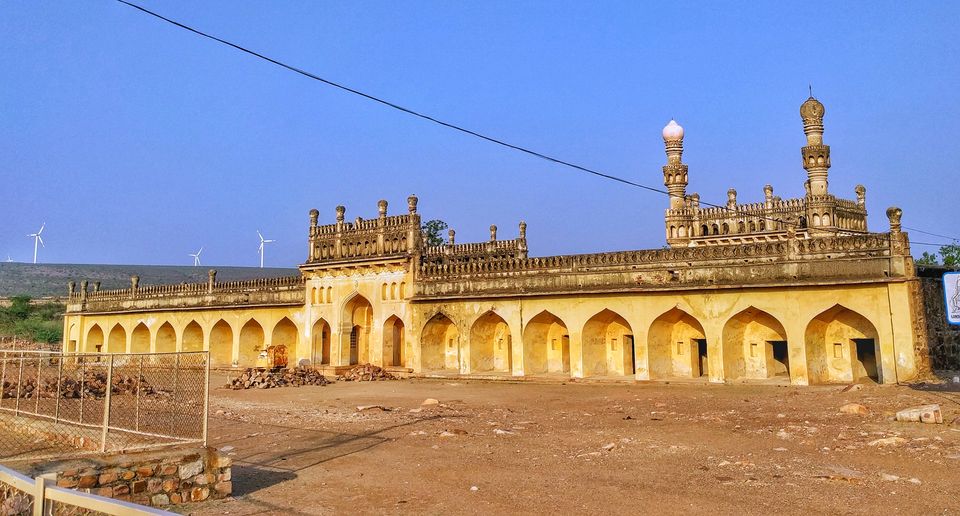 A trip to Gandikota also wouldn't be complete without a making a trip to the Belum caves. Located 60 kms away, it is the second largest cave system in the Indian sub-continent and holds great significance in terms of its geology, archaeology and architecture and was our next destination for the day. Read about my take on Belum Caves here.
GANDIKOTA - THINGS YOU NEED TO KNOW
TRANSPORTATION
For those coming to here via public transportation, the nearest railway station is at Muddanuru (railway code: MOO) in Kadapa District. From here you'll have to catch a bus to the town of Jammalamadugu from where you can either catch another bus or an auto rickshaw to Gandikota village. Private vehicles can go inside the fort till the Jamia Masjid from where you'll have to reach the Penna river view and the other temples and structures nearby on foot.
ACCOMMODATION
Being an off-beat destination that is still known to a very few, Gandikota is non-commercialized and is devoid of the usual tourist crowds and garbage heaps associated with it. The downside, however, is the lack of accommodation facilities it offers with the closest one being the APTDC Haritha Hotel. Located at a walking distance from the fort, it is a sprawling complex with several cottages, dormitories and plenty of parking space and is also built of stone in tune with the Gandikota fort. But go there without prior booking and you'll most likely be rudely asked to leave by the caretakers there as the tourists normally drop by only during weekends and that too not very often and as such, they are grossly ill-equipped to cater to your needs at short notice. Offline booking with full payment is your best bet at ensuring a room here.
The only other option is the nearby town of Jammalamagudu that has a few shady lodges that offer something close to a decent room but are in no way suitable if you happen to be with your family in which case, the former is your ONLY option.
A more adventurous solution is to trek your way down to the banks of the Penna River and spend a night under the starry skies inside a tent and is one that I was personally looking forward to but couldn't as it was already dark by the time we got there. This can, however, be done only when the water levels are low and the banks of the river open up. If you do happen to pitch your own tent, do so at a safe distance from the river as water levels may increase and avoid spots prone to landslides or shooting stones. Then there's the trek downhill and back which is a whole another level of crazy in itself and isn't for the light-hearted. As a general rule, stick to the pipeline that leads down to the river. It's also a good idea to have a bonfire lit, just to ward off any hungry crocodiles in the area.
But most often the experience can be worth the risks attached and you'll be rewarded with a tale for the ages. You may even consider the services offered by Freakouts Adventure who offer the same experience and then some more at a price minus the risks.
FOOD
There aren't any food stalls nearby the fort other than a refreshment stall run by the villagers offering soft drinks and snacks. Make sure to pack some beforehand if you plan to spend more than a few hours here and carry lots of water as you'll be doing a lot of rock climbing whether you like it or not.
CLOTHING
A comfortable pair of shoes with good grip, lots of sunscreen, a hat or even a large handkerchief can also make your life a lot easier while exploring these canyons.
An understated destination yet to make a major mark on the tourism map of the Country, Gandikota, for now, attracts visitors mostly confined to the nearby cities of Bangalore or Hyderabad. And although it's better suited to be one of the destinations of a larger journey, it offers an experience many times greater than for what it is given recognition for. And the pure bliss at the sight of this gorgeous gorge; when something so breathtaking appears amidst nothingness, is a feeling that cannot be described but only felt.
In case you have anything to add or have any specific queries, please feel free to a drop a comment in the comments section below and I shall try my best to answer them. If you found this post helpful, please consider following my blog for more such content.