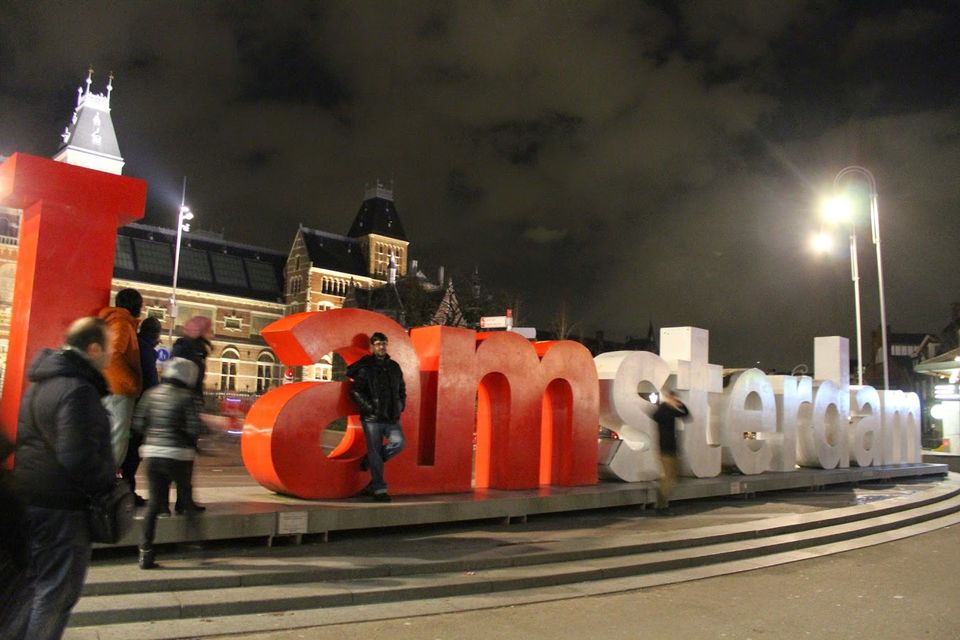 The only advantage of connecting flights is that you can at least step out to see whatever little you can. At least get the flavour of the city. Yes, not the ideal way to explore. But, well its worth getting a break.
[A tip: try to have your journey breaks in the same city.]
One our way to Iceland, we had a stopover at Amsterdam, well KLM flight. And here's what we did.
1. We took a train to the city centre.
2. We walked around to nearby cafes and found an awesome place to have breakfast.
3. We got ourselves enrolled for a river cruise - that would give us a quick tour of the city.
4. We returned in-time to the airport, after spending some time at the duty free.
Again, on our way back, our flight was via Amsterdam, and this time due to delay we got an entire evening in the city. Here's what we did this time:
1. Arrived and settled in at the hotel, had a quick bite and stepped out.
2. Took a tram to the city centre - which was decked up for Christmas
3. Visited the Van Gogh Museum. Oh My God! It was simply amazing, with interactive story-telling a various places. The 3 floors of art were too much to absorb, but a must-visit place for art lovers.
4. After clicking the picture at I <3 Amsterdam, we moved on to roam around the streets and headed to Bull Dog Cafe.
5. Had dinner, took a tram and returned to the hotel.
In short a quick visit where we got to see the city during day and night time, and we managed to cover food - with local cafes, river cruise to see the city, a key museum (you can take a pick between Rikes or Van Gogh), and the Christmas lights. I would ofcourse love to visit the city at length and spend a few days there, but until then...
All I want to say is that one should never miss an opportunity to step out of the airport. Never.