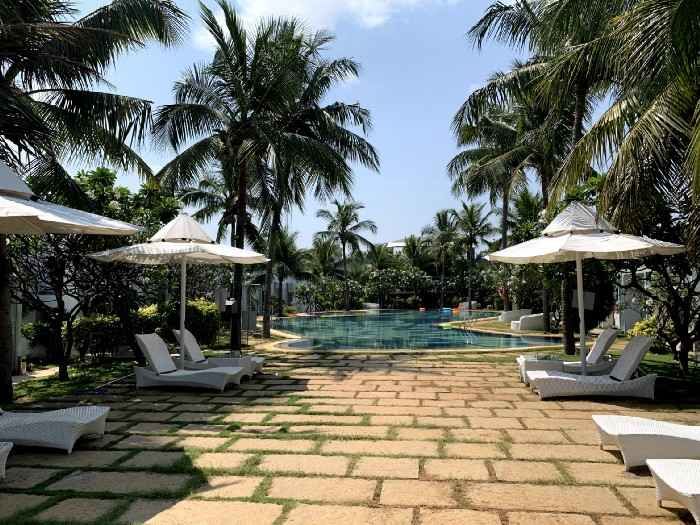 Are you a restless Chennaiite longing to get away from the daily hustle for a rejuvenating time on the East Coast Road? Or, maybe you're looking to travel to this town in Tamil Nadu, India, and you need a great place to stay?
After months of research and resort-hopping, I've finally found one beach resort that gives you a premium experience for a highly reasonable rate. Your search for the best beach resort in Mahabalipuram could end here because this one is totally worth it.
[Note: This is not a paid promotion. I will be giving a straightforward review with the pros and cons.]
My Itinerary — Long Story Short, "Just Chill"
I, along with my parents and grandparents, made it to Grande Bay Resort, Mahabalipuram on a Friday afternoon, after a long, breezy drive all the way from North Chennai. Upon reaching the resort, we were greeted warmly and served welcome drinks, while we checked in to our rooms.
At around 4:30 PM, we were informed there was a 'high tea' held on the resort lawn. It was a pleasant surprise, especially since the dishes served were all delicious. (I will mention all the details in the further sections, of course.)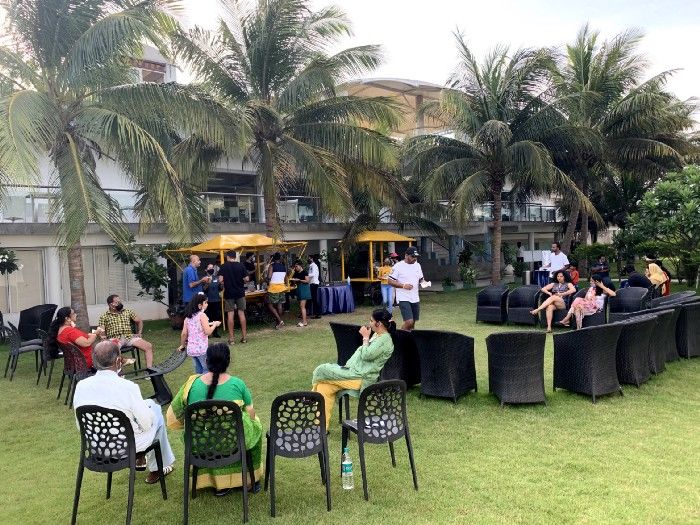 And once we were done, at around 5 P.M, we got on the resort buggy to go to the beach property, which is one of the most remarkable I've seen in Chennai. We sat there, taking in the view of the mighty Bay of Bengal, laughing and relaxing, playing games like frisbee, football, cricket, and badminton.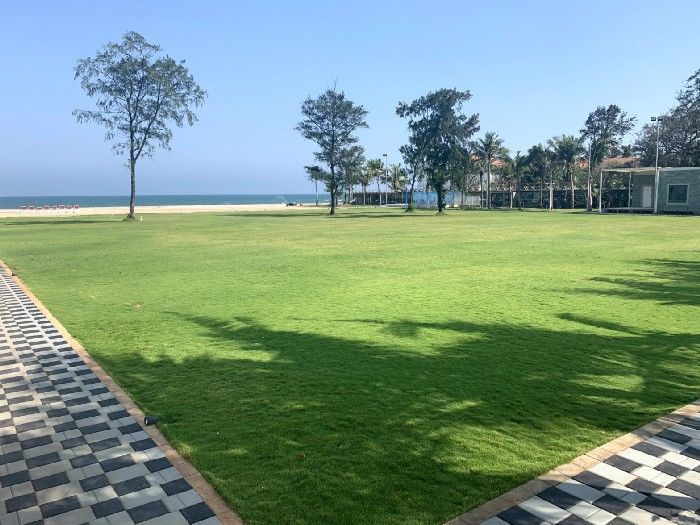 At 7 P.M, we returned in the buggy to the main Grande Bay Resort property and went to our rooms to freshen up for a marvelous dinner that we had in a nicely lit outdoor setting, with the wind gently rustling the trees near us.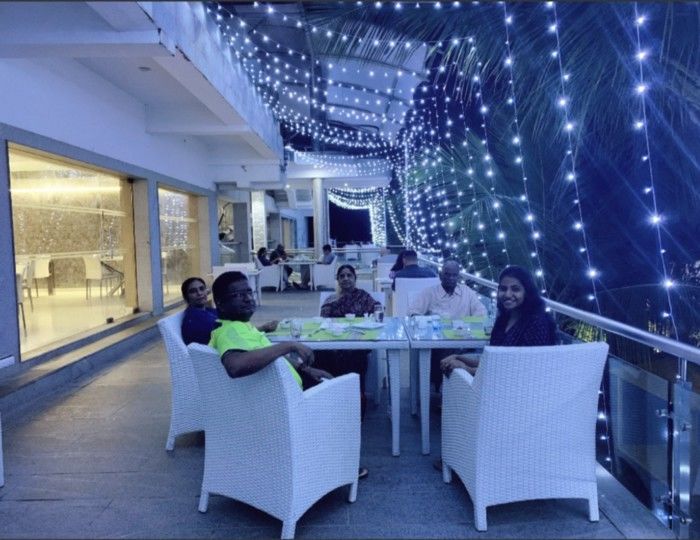 The next morning, we had a scrumptious buffet breakfast, walked around a little, after which, I had a dip in their gorgeous swimming pool. Okay, it was more like a 3-hour "dip" because I was enjoying myself too much to get out.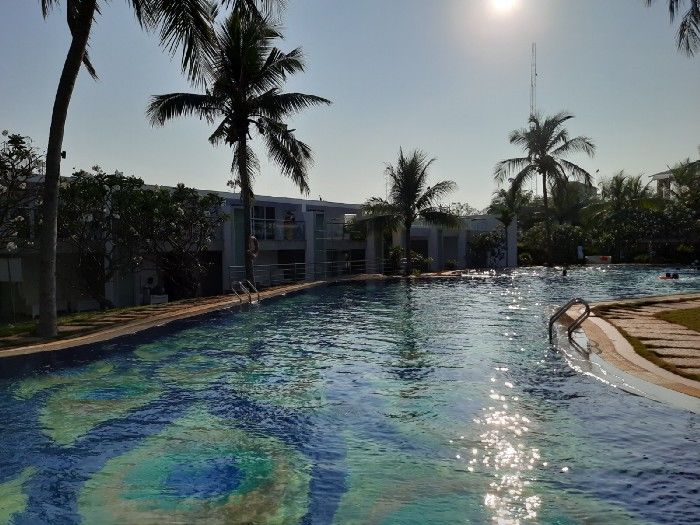 We got lunch from 'Anandha Bhavan' or A2B which was right opposite Grande Bay Resort.
And in the evening, we again had a complimentary high tea, went to the beach, lazed in the seaside hammocks, and strolled along the shore under the mesmerizing moonlight.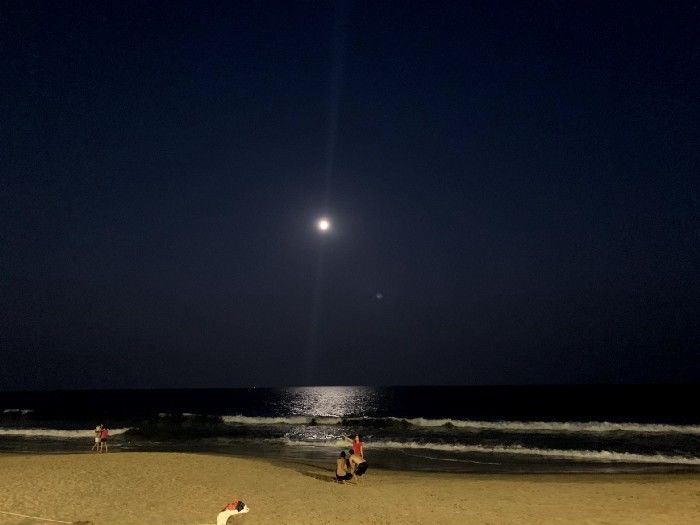 Upon returning, we had a delightful buffet dinner, a hearty chat in the lobby, and then we retired for the night.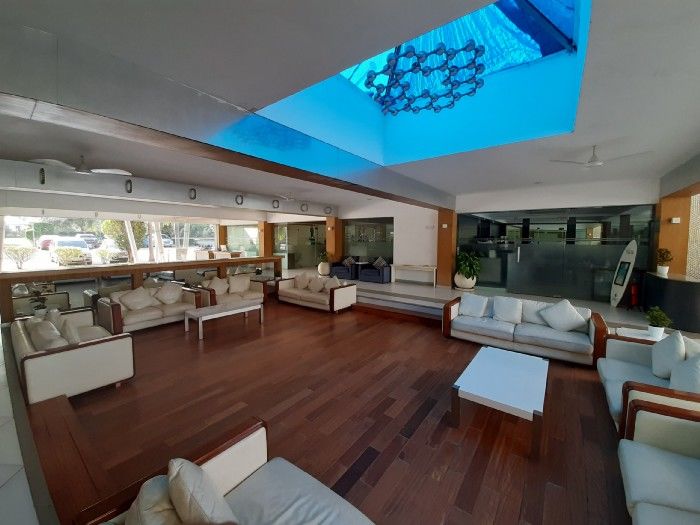 After a lovely breakfast on Sunday morning, we packed our bags and checked out to see Mahabalipuram attractions (for the 100th time probably), before heading back home, wishing we could do it all over again.
Now, let's get into each aspect one by one.
Rooms
The first time we went here (yes, we went twice because it was that good!), we stayed in Grande Studio rooms. The rooms are spacious, well-lit, and neat, with splendid decor and a comfortable bed. Upon request, we got an extra bed (for my father), which was also comfortable and convenient.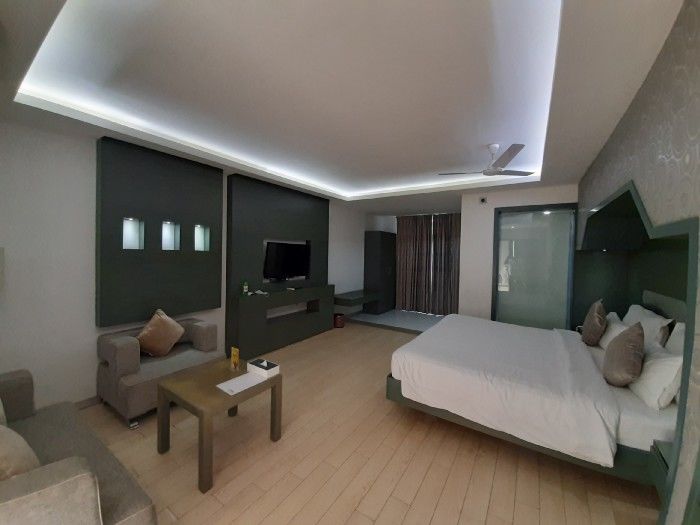 The second time, we got a Grande Chalet, which additionally had a small first floor, with a sofa-bed(on request), TV, AC, and a balcony.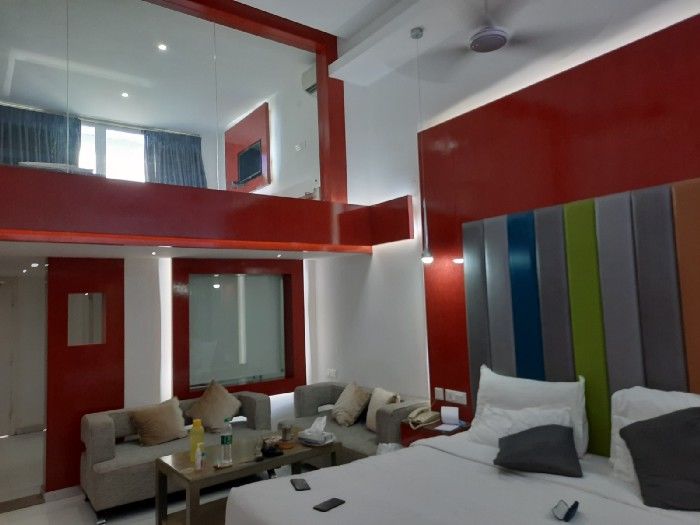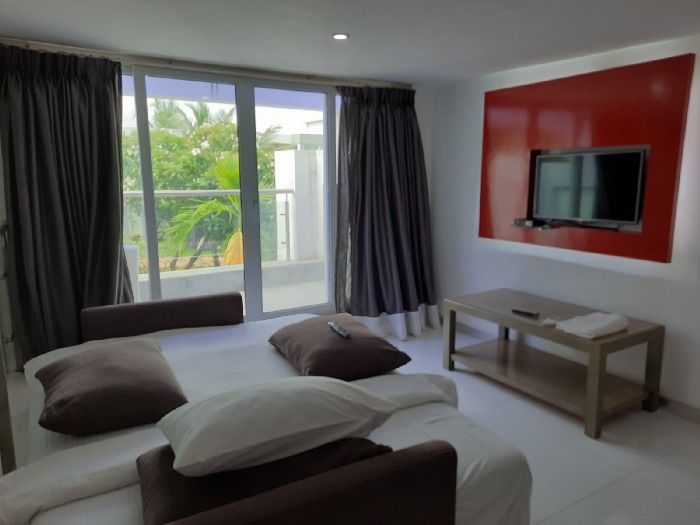 This would be a fantastic option if you're a party of 3 or 4, although the upper room could use a ceiling fan for more comfort.
Prices
The prices keep varying, but the average cost of a Grande Studio room would be INR 5,500 per night plus taxes, with breakfast included. For a higher rate, you could get a half-board package, or you could just dine a la carte at the restaurant.
Food
The food provided at Grande Bay Resort, Mahabalipuram is just amazing and I am not exaggerating. To start, the high tea consisted of fritters/fries/samosas with tangy sauces, cakes, sweet cake-dumplings(oh, what am I trying to explain? Panniyaarams. Mouthwatering sweet panniyaarams), and coffee/tea/milk.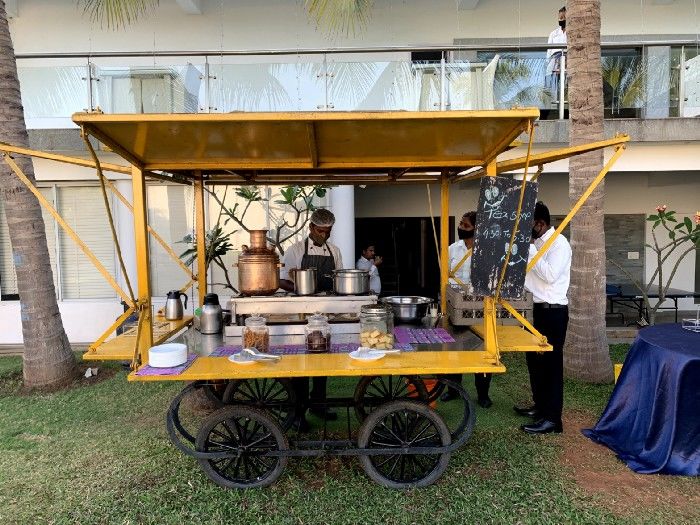 For dinner, it can be a buffet or a la carte at the restaurant L'Attitude 49. Please enquire before your trip and see if the 'Fixed menu' option interests you. They can give you packages for your night meals, so you can order all or any portions of a fixed menu for the night.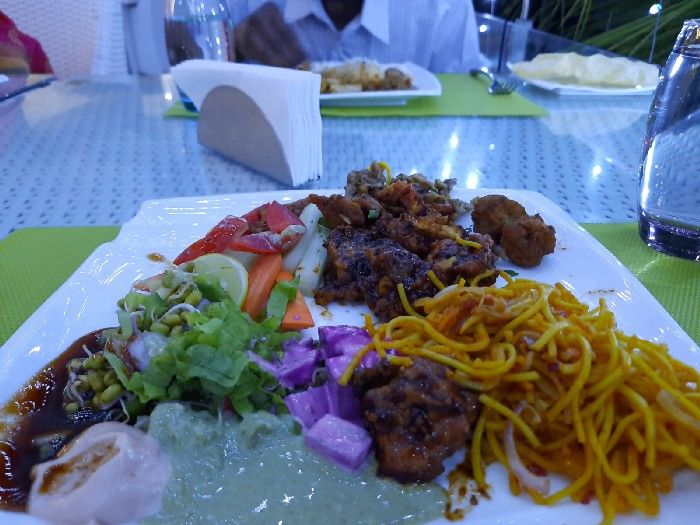 My top favorite dishes were the starters (all of them), paneer butter masala, and desserts (buffet ones- special rasamalais and halwa). If you're Tamil and not a big fan of other cuisines, they conveniently have rice, rasam, and gravies that will make you feel right at home. This was the ideal dining option for my family of 5, including my grandparents who prefer rice to naans and noodles.
The breakfast buffet includes a grand variety of milkshakes, juice, Continental (sausages, fruits, omelets, baked beans, cereal, bread, muffins, etc), and Indian (pooris, idlis, vadas, dosas, puttu, etc).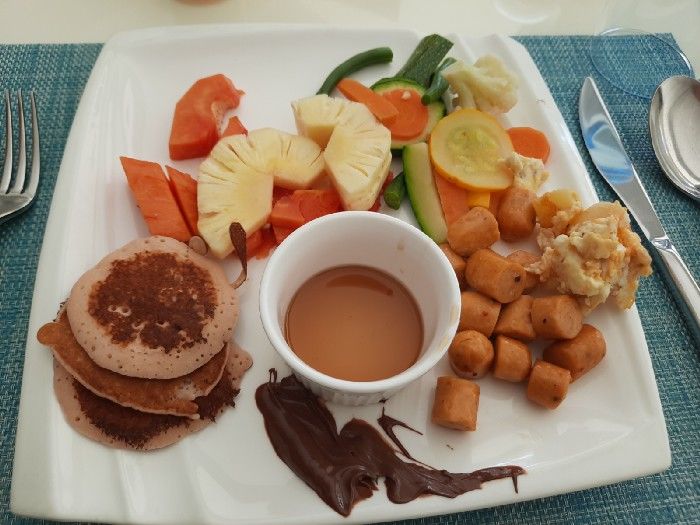 Resort Property
The main resort property is well-maintained and is lovely.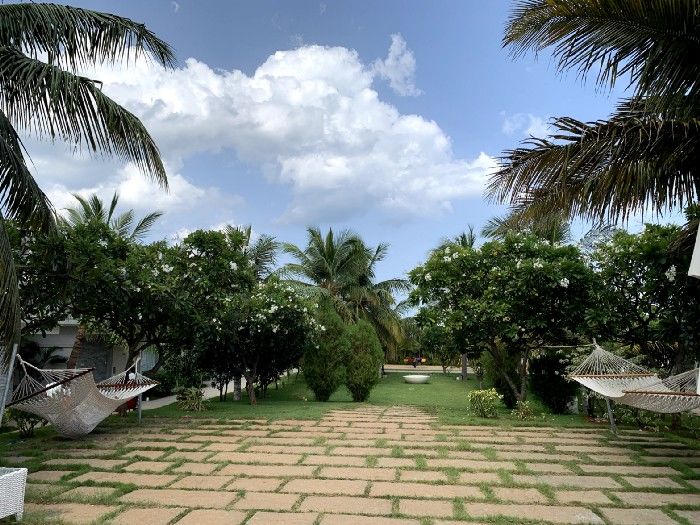 But the beachside property just takes the cake because, wow!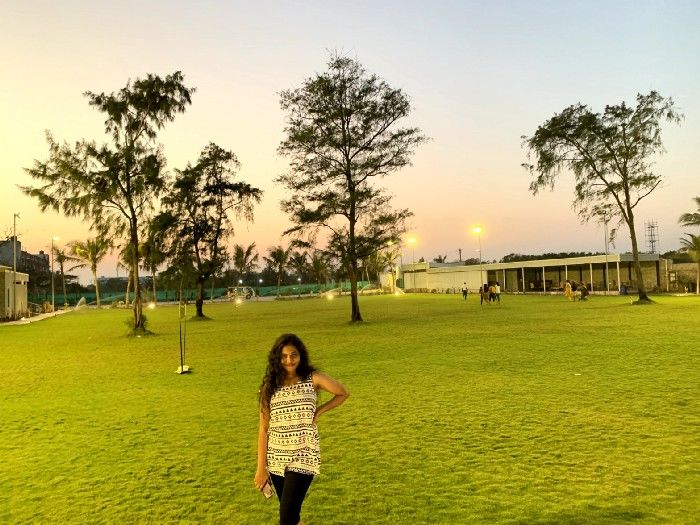 It has a huge lush lawn, hammocks, chairs, and one of the best ocean views you could get.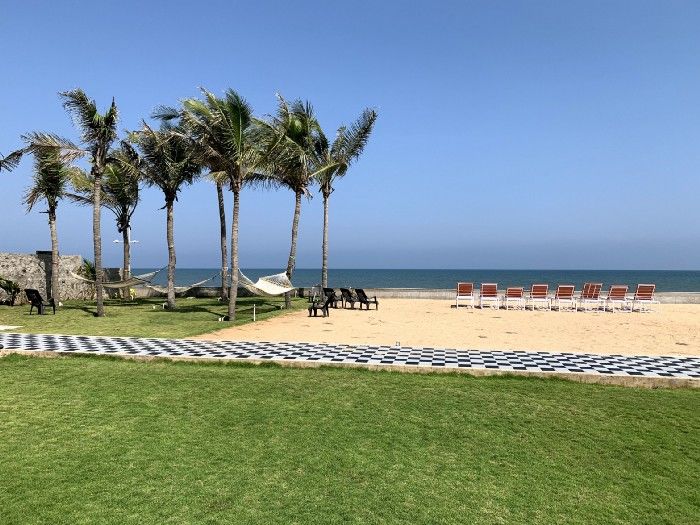 The downside is that it's pleasant mostly from 4 P.M to 7 P.M, but not before or after that.
Things to do
Make sure to visit the famous Shore Temple, Pancha Rathas, and Krishna's Butter Ball. And for a bigger list of exciting sights to see, feel free to refer this.
Overall Review: Grande Bay Resort, Mahabilipuram
My personal rating would be 9/10.
Good-
->Value for money was much higher than some resorts that have much higher charges.
->Excellent properties, lovely swimming pool, top-notch rooms, service, great dining facilities.
->Good location, with affordable joints and Mahabalipuram attractions like Shore Temple and Butter Rock being nearby.
->Covid protocols are strictly in place (Remember to enquire if the swimming pool is operational, as it was not in August 2021.)
Bad-
->I wouldn't call this bad exactly, but it's inconvenient to take the buggy out to the beach every time. I missed the typical beach resort experience of lounging by the sea at night, without any hassle or disturbance.
->Because there is not much else to do, the nighttime is pretty dull here. The pool is not amply lit, there is no music or liveliness to unwind to. You'll just have to plan your own entertainment since the resort becomes extremely quiet and calm after sunset.
Real talk from me to you
This resort beats the experience you would get for double/triple the rates at prominent resorts. How do I know for sure? A few family friends staying at the Radisson Blu actually preferred Grande Bay for dinner the weekend I was there because the prices are way more nominal. But it wasn't just that.
See, I had always had my heart set on Radisson Blu Temple Bay, especially their enticing infinity pool. My dad and I initially booked rooms there for a hefty charge, even excluding lunch and dinner. But with the swimming pool not operational in August, and the view being the exact same as Grande Bay's (we checked in person) but from a more crowded patio, we had second thoughts.
What sealed our decision was the dismissive attitude of the staff we spoke to during the booking process. We finally canceled and went with the resort we knew would definitely care about their guests.
Of course, the bigger resorts are undeniably magnificent. And as mentioned, there is no direct beach access here, something that disappointed the beach-lover in me. But, Grande Bay rolls out the red carpet with utmost hospitality and warmth that you simply won't find elsewhere.
If you're planning a getaway to Mahabalipuram any time soon, I strongly recommend that you check this resort out and get in touch with them. I hope you have a wonderful trip!