Grande Island tour is a half day Island tour organized by various operators in Goa. We booked our trip from one of the operator for Rs. 1800 which included following:
Pickup and Drop to Hotels in Calangute, Baga, Arpora, Candolim etc.
Boat Charges
Buffet Lunch (Veg and Non Veg)
Unlimited Beer/Soft Drinks during the trip
Snorkeling & Fishing equipment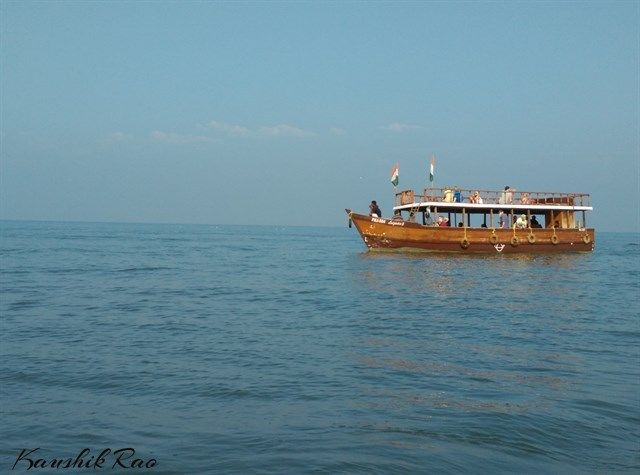 We wanted to explore something new in Goa which is why we decided to go for Grand Island Tour. Earlier i had been to Dolphin watching from Palolem Beach, which was an amazing experience. After spending all night at Night Market and beach it was a challenge for us to wake up in the morning. We then thought let us atleast try this and finally decided to go. We were asked to be ready by 7, but after a tiring previous day we woke only by 7:15. We were sure that we missed the bus, however we called the tour operator who told us that bus will reach our place by 7:30. When then quickly got ready and were picked up from Candolim in a mini bus at around 7:30 in the morning.
We then proceeded to pick few more travelers from other pick up spots and arrived at Sinquerium boat jetty at around 8:15 Am. We were briefed about the route and activities that we can undertake en-route to the Grande island. The journey from jetty towards Grande Island began sharp at 8:30 Am and within few minutes of the journey we were able to see amazing landscapes carved covered with blue water.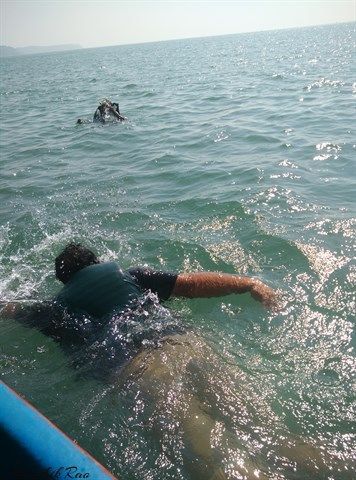 During my previous trip to Goa, i had visited Fort Aguada and i was stunned by the beauty of the Ocean and i was able to notice many boats ferrying visitors. I thought that if was just a leisure boat ride around fort. This time when we began our journey from jetty, within few minutes we were behind the very same Aguada Fort, and we were able to identify fort, prison and a huge bungalow of diamond merchant which looked like a palace.
We then proceeded further and we were able to spot some Dolphins who were enjoying their swim in the water. We could even spot many beautiful birds which were diving into the water to catch fish. There are plenty of smaller island that can be spotted throughout and some island gets submerged during high tides.
After some time we stopped for fishing and snorkeling activity. Snorkeling equipment, safety jacket and fishing equipment were provided the tour operator itself. We were able to catch few fishes but they were let go into water again. After spending half an hour here we proceeded to the Island. The Grande Island looked stunning and tents were arranged to sit and relax. However most of the travelers preferred playing in water, where as others enjoyed sun bath. There is a small bar counter to purchase hard liquor.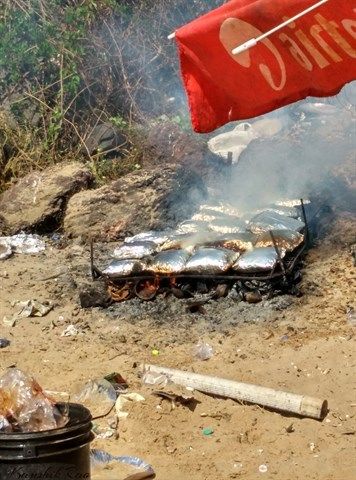 We were joined by many boats from various other tour operators. We could see some silver packets which were on the flames. We then realized that it was the delicious fish barbecue which was getting prepared for us. The taste was so amazing that i ended up craving for the same taste in entire Goa after we returned from the Island trip. A well planned and well organized lunch buffet was arranged in coordination with all the tour operators. After lunch at around 3:30 PM, the boats began ferrying visitors back to the jetty.
The pick up vehicles picked us from the jetty and dropped back to our place. This quick trip was fun filled and adventurous and we carried loads of memories along with us.

For bookings to you may call +91 97672 13311(Atlantis Water Sports) during your next visit to Goa