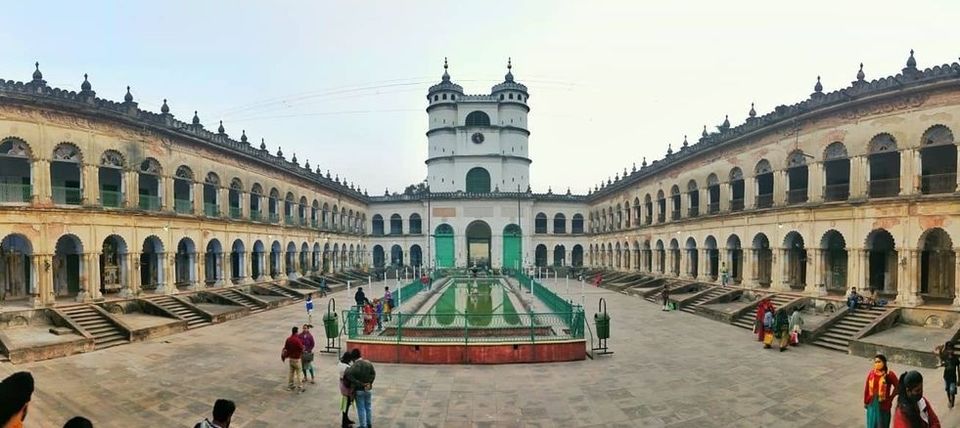 It was time to explore the Hooghly Imambara. I had heard about this building earlier but never Googled about it. I am glad that I did not. It is definitely more fascinating to explore the unknown. The grandeur, the splendor of the building is incomparable. I instantly developed a liking for the huge building. The interior of this two storied Imambara is magnificently done with marbles, candles and hanging lanterns. The clock tower just over head the entrance gate is one of the highlights of the place. I was so mesmerized by its beauty that I could not stop clicking pictures of the structure.
Entering through the grand gateway, I arrived in a vast courtyard. In the middle of the courtyard is a rectangular tank with a decorative fountain. At one point, there were fish in the tank, and the fountain was a sight to behold. Unfortunately, the tank's clear water is now green with algae, and the fountain no longer functions. The courtyard is surrounded by a two storey building which is now used partly as an educational institution, partly as offices etc.
At the North Eastern end of the compound is the magnificent Zaridalan. It is richly decorated. The floor has marble tiles in a chequered pattern. The walls are covered in beautiful calligraphy of lines from the "Hadees", texts sacred to Islam. Beautiful Belgian glass chandeliers and lampshades hang from the ceiling. 5 elegant and beautiful Tazias are stored inside the Zaridalan. Beyond the Zaridalan of the Hooghly Imambara is the river.
Climbing the steps inside the twin tower takes you to the top, which offers panoramic and scenic views of the Hooghly river and the Jubilee Bridge.
A visit to the Hooghly Imambara can be combined with a visit to the historic Bandel Church, nearby. There is no restriction on photography inside the monument, except within the Zaridalan which the guards do not allow you to photograph.
📍 Hooghly Imambara, West Bengal / January 2021
Photos shot on OnePlus 5