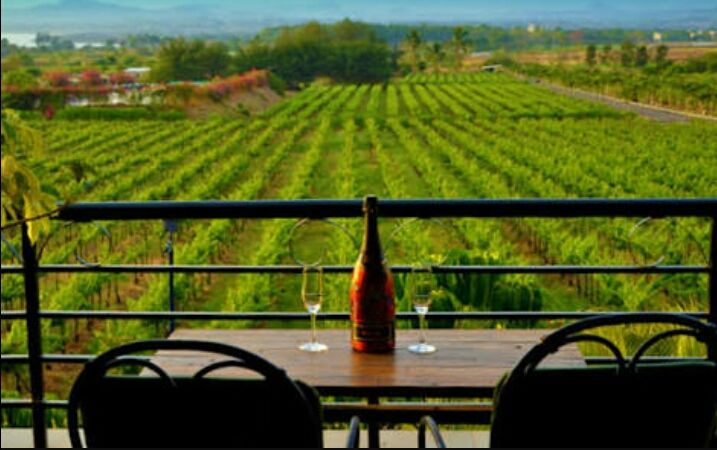 Once upon a time I saw the Bollywood movie "Lamhe" where Sridevi and Anil Kapoor were grape-stomping. And since then it had been on my bucket list. Thanks to Sula Vineyard for helping me tick off that. We drove from Mumbai to Sula Vineyards which is located in Nashik (Maharashtra) in our own car which took us approx. 3 hours (171 kms.). One can take bus and get down at Ambad (Garware Factory) on the highway and take Rickshaw or taxis to Sula vineyards (approx. 4 km).
They are the first commercial vineyards and is spread over 160 acres of area. It has ample parking space (free of cost). Upon arrival we straight went to their information desk and bought tickets (Rs. 250 per person for Touring & Tasting 6 wines and Rs.100 per person only for touring) for their wine touring and tasting. The session starts from 11:30 AM - 6:30 PM (1-hour session). The 45-minute wait for our tour to start was passed by getting clicked at various spots. There are ample places where you can get yourself clicked. Sula's uplifting sun symbol complete with Indian moustache and the beautiful oversized bottle makes for a great click in the background. The place is really appeasing.
In our session we had about 15-17 folks of all ages. Our guide (Melbourne) started with Sula vineyards history and showed the different machines used in the brewing process, the barrel room where the wine is kept and gave us a glimpse of the bottling area. Basically, they will give you a glimpse of every step of wine making. The session ended with a personalized wine tasting at The Tasting Cellar. (Wine Tasting is a must even if you are teetotaller). Believe me, wine tasting was the second best part of the visit. (I will get back to the best part of the visit later). I was delighted with the taste of six different wines (it was my first time). Special mention for their Dindori Reserve Shiraz, which is aged for a year in oak. He even provided information on which wines suit which dish. Then it was time for most awaited activity of our visit- "Stomping" That 15 minutes of fun; crushing grapes barefoot in the container was one of the best part of the visit.
They have two restaurants Soma and Little Italy which are quite expensive. You can definitely avoid having lunch there and eat later outside the vineyard. We then headed to their balcony restaurants affording expansive views over the vineyard to enjoy some wines and starters. Food is okay but little bit on higher side. Sit there to admire the view. The place was live with people and wine. We then visited their wine shop and we ended up purchasing two bottles. An excellent way to spend a relaxed day.
Tips:
1. Reach early and have a heavy breakfast before entering sula vineyard (at small dhabas near the highway). Food is expensive inside
2. Try to be in the first or second Touring & Tasting session so that you can get your desired place in their balcony restaurant to enjoy the view
3. You can buy lot of their wine bottles as they offer great discounts and some of the wines are not available outside