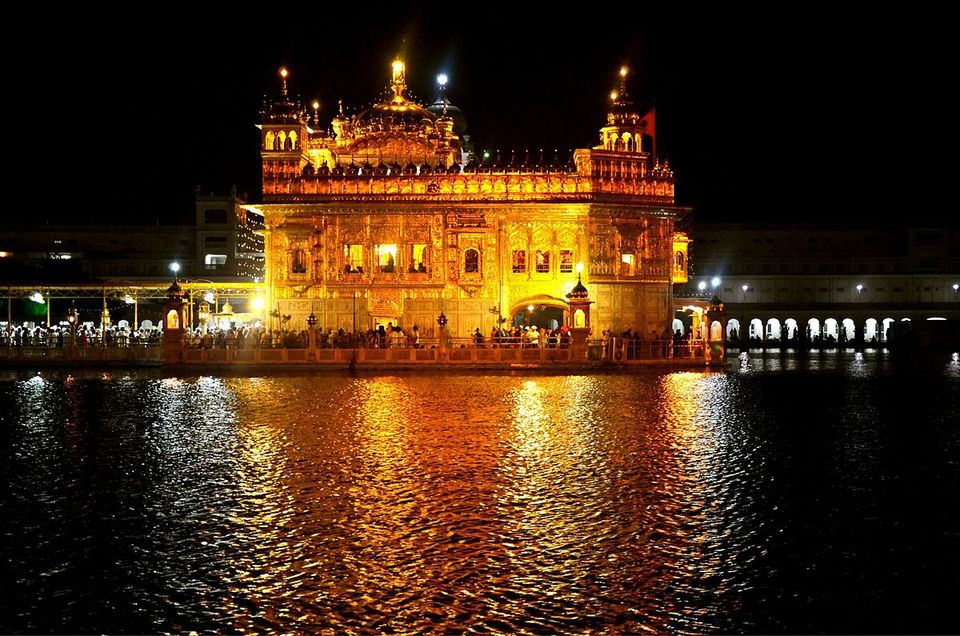 The Golden Temple is a prominent Sikh Gurdwara and this Sikh holy place is truly an impressive sight. Up to 40 000 pilgrims come to the temple to worship every day, many staying in the temple with up to 80 000 meals being served per day.
There is a free bus that shuttles both pilgrims and tourist between the train station and the golden temple. Many pilgrims sleep outside in the court yard between swimming, praying and worship sessions.
Anyone can stay for free in the temple complex, a monk saw us walking with backpacks and took us to the dormitory accommodation called "Guru Arjan Nev Diwas", simple accommodation with a shared bathroom reserved for tourists, you are allowed to stay here for free for 3 days. We stayed here for three days with other backpackers and just left a donation after our stay.
Find attached a photo of the entrance to this dormitory. Thousands of meals are served per day in Guru-Kar-Langar, the massive dining area. Meals mostly consist of chapatti, rice, dhal and rice pudding and to see how the kitchen and meal serving operate is an amazing experience, you can volunteer to help with food preparation and washing dishes.
Shoes must be removed and your head covered when walking around in the temple. Something not to miss when in Amritshar is the daily border closing 'lowering of the flags' ceremony at the Wagah border between these two countries,Seeing the beautiful temple, the dedication of the pilgrims to their religion and the kindness and generosity of the Sikh people was a great experience.