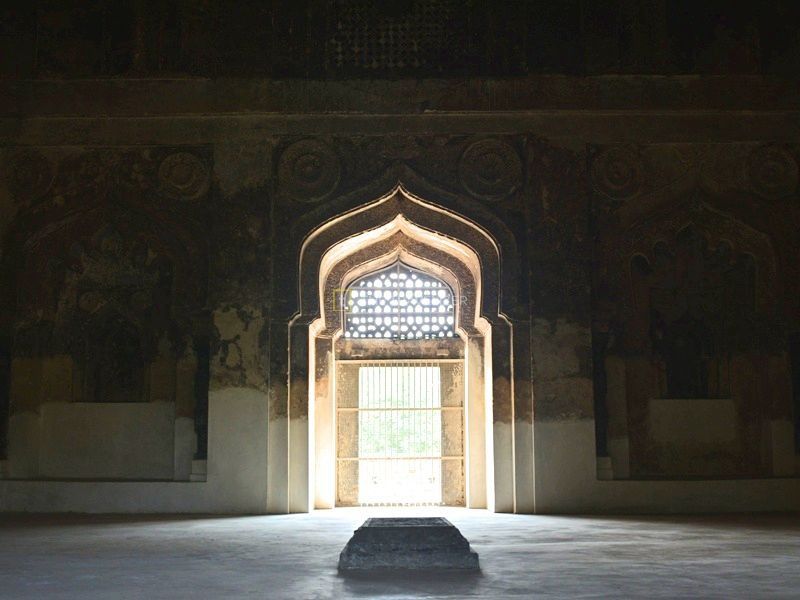 Gulbarga was nowhere in my Karnataka plan. It was maybe because I didn't know anything about the city, except the fort. Still I managed to accommodate it in my 10 day trip to Karnataka in mid-December 2017.
REACHING GULBARGA
I, along with my 3 friends arrived in the city late evening, by a KSRTC bus from Bidar (bus ticket Rs. 113 per person). We stayed at Hotel Heritage Inn, which was at a walking distance from the Fort. We were supposed to leave for Bijapur next day evening. So we had to start our day early next morning so as to cover all above places. Please note that we commuted to all places by a single rickshaw for all four of us. Therefore, all rickshaw expenses are for four people.
PLACES TO VISIT IN GULBARGA
Hazrat Khwaja Banda Nawaz Dargah
GULBARGA FORT
Gulbarga Fort was built by Raja Gulchand of Warangal. It was strengthened by Ala-ud-din Bahmani afterwards. There is a 30 feet deep moat around the fort.
The fort has 15 bastions and 26 guns. The major highlight of the fort is the Bara Gazi Toph. Measuring 29 feet, it is the longest cannon in the world. Apart from this, Jamia / Jumma Masjid and Ranmandal are the noteworthy structures present. In fact, the Ranmandal is a strong and well-maintained structure that has 3 cannons atop. The palace and the other structures inside the fort are in ruins.
After leaving Gulbarga Fort, a rickshaw driver agreed to take us to Haft Gumbad, Shor Gumbad and back to our hotel for Rs. 300. On an average, it takes 15 minutes to reach Haft Gumbaz from the fort and 30 minutes to reach Chor Gumbad from Haft Gumbaz.
HAFT GUMBAZ / SATH GUMBAZ
The Haft Gumbaz, meaning "seven domes", is a mausoleum of the Bahmani royal family, located on the outskirts of Gulbarga. Five of the tombs are identifiable as those of Mujahid Shah Bahmani, Daud Shah Bahmani, Shams-al-din and Ghiyas-al-din Bahmani and Firuz Shah Bahmani.
The earlier tombs show predominant Tughluqi influences. The latest and most elaborate tomb that of Firuz Shah shows traces typical of what became the Bahmani style of architecture.
CHOR GUMBAD / SHOR GUMBAD
The most intriguing part of our trip to Gulbarga was this lone tomb called Chor Gumbad. The structure doesn't contain any tomb. It could have been built as a victory monument. If you connect the locations of Chor Gumbad, Gulbarga Fort and Haft Gumbaj on a map, all three points would come in a straight line.  
The tomb is easily visible from the Gulbarga fort. It has an entrance to the East, facing the fort. The structure has one of the finest stucco works on its ceilings. There are steps that lead to the upper floors from where you could get a better view of the beautiful ceiling.
You may even go to the terrace which has four minarets on corners. Although a protected site under Karnataka State Archaeology, this beautiful structure is completely neglected and in ruins.
Since we were running out of time, we had to skip Hazrat Khwaja Banda Nawaz Dargah and spent time at Sharana Basaveshwara Temple for hardly 5 minutes.
BEST TIME TO VISIT GULBARGA
October to January
HOW TO REACH GULBARGA
Air: The nearest airport to Gulbarga is Rajiv Gandhi International Airport, Hyderabad (236 kms away).
Train: Gulbarga has a local railway station which has good connectivity with important railway stations like Bengaluru, Hyderabad, Mumbai, Aurangabad, Nanded, etc.
Road: Buses by KSRTC as well as Private operators ply between Gulbarga and important cities nearby.
ACCOMMODATION IN GULBARGA
Hotel City Park
Atharva Hotel
Lumbini's Grand Hotel
Hotel Central Park
RESTAURANTS IN GULBARGA
Al Makki Arabean Food
Zam Zam Family Restaurant
Kamakshi Restaurant
Radha's Kitchen
Atharva Restaurant