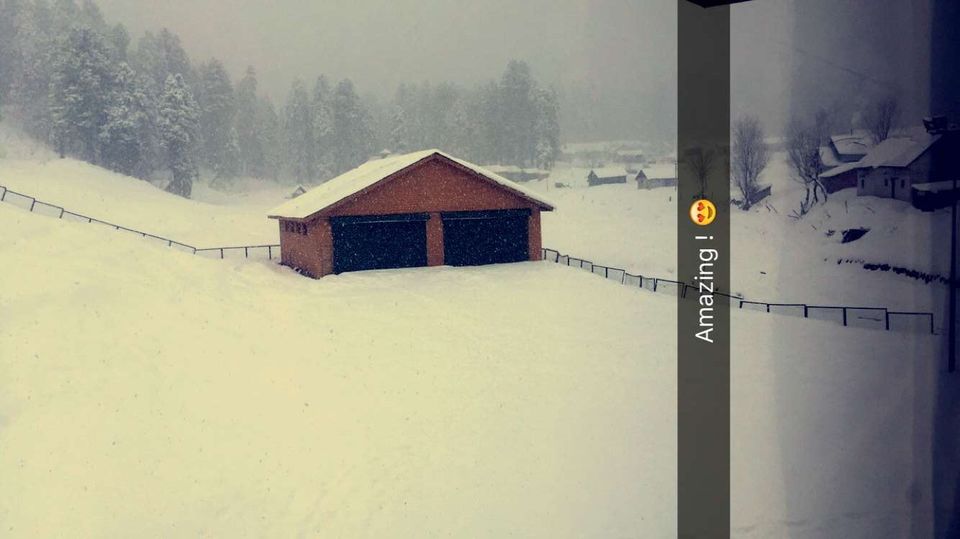 Keats rightly claimed in one of his poems, "A thing of beauty is a joy forever". Most of us came across this verse during our schooldays. For me, I didn't quite understand the meaning it held until a little later.A little later was when I got the chance to visit "Paradise on earth" aka Kashmir. Living up to its reputation Kashmir is an absolute pleasure for your eyes.
My first stop in Kashmir was the Srinagar airport, from there we took a two hour long drive to the town responsible for this article, "meadow of flowers" aka Gulmarg. This beauty is situated in the Pir Panjal range of Western Himalayas at a height of 2650m. From Mughals, to British, to our very own Maharajas, Gulmarg has been a popular getaway for all, not to mention Bollywood becoming a huge fan of this place lately. In the winter season, the snow clad mountains, uncongested slopes and awe-inspiring sceneries make it a favorite for skiers and snowboarders from all over the world.
Personally, I couldn't find slopes such as those in Gulmarg anywhere else in the world. Another reason worth adding to this list is that Gulmarg is also home to one of the highest gondola in the world. It has two phases, the first takes passengers from Gulmarg at 2650m to Kangdoori at an altitude of 3080m while the second one takes adventure lovers to Mt. Apharwat at an altitude of4200m. The good news for trekking fanatics is that a beautiful and mesmerizing trek to Kangdoori and the famous Apharwat lake is an alternate you can choose from. Friendly guides, fellow tourists and sometimes Gujjar shepherds residing in the Gujjar huts (only during summers) would guide you throughout this endeavor.
Gulmarg has a different character to it in every season. You'll witness a lush green Gulmarg
Meadow Of Flowers
decorated with around 21 varieties of wild flowers in the months of June-July, while a blanket of serenity and pure white engulfs the place in December and January. Hence, you can expect completely different adventures in different seasons. Whatever the season though, Gulmarg provides you with some of the most congenial views all round the year at any time. The only thing constant through any season is you falling in love with the magic this place holds. Apart from the unparalleled scenic beauty, Gulmarg also holds a few architectural wonders. The St.Mary's church built in 1902 by the British is one such sight. You can find a glimpse of the praise worthy Austrian architecture in the building of one of the top ski schools in India, The Indian Institute of Skiing and Mountaineering. This school has been doing wonders when it comes to promoting winter adventure sports with their famous short courses ( for which you have to book wayyy in advance). Coming back to architecture, we all have heard the famous old bollywood song "Jai Jai Shiv Shankar" at least once in our life; Any guesses on where it was shot? Yup! Gulmarg is the answer. The temple in the song is commonly known as 'Shiv Temple' and attracts huge amount of tourists each year.
With its peaceful and serene ambiance, appetizing and exquisite Kashmiri food, relatively good connectivity and of course breath taking views! Gulmarg can easily pass for our very own mini-Switzerland. Away from the hustle and bustle of busy cities, heavy traffic and your daily problems,Gulmarg gives you the perfect opportunity to live in the present moment. The starry night smiles on you with its plethora of twinkling wonders, giving you a sense of harmony.Visiting Gulmarg made me realise the power in tranquility. Surprisingly enough, the beauty it heldmade me love and appreciate my existence a little more than before. Falling in love with its captivating magic also made me fall for myself giving me a feeling of sheer happiness and joy which I'll hold in my heart for the following years of my existence (and hopefully spread with this article).
Keats was right after all! A thing of beauty is indeed a joy forever.
Explore Gulmarg with Lets Explore to explore best of Gulmarg. No matter where you stay in this world we arrange all for you under one platform , from transportation to hotel stays & best guide for sight seeing experience. You can reach Lets Explore Team 24*7 on +91 7973586439 or you can email us at letsexploreteam@gmail.com for more details. Also do not forget to like us on facebook & follow us on Instagram @ _letsexplore .