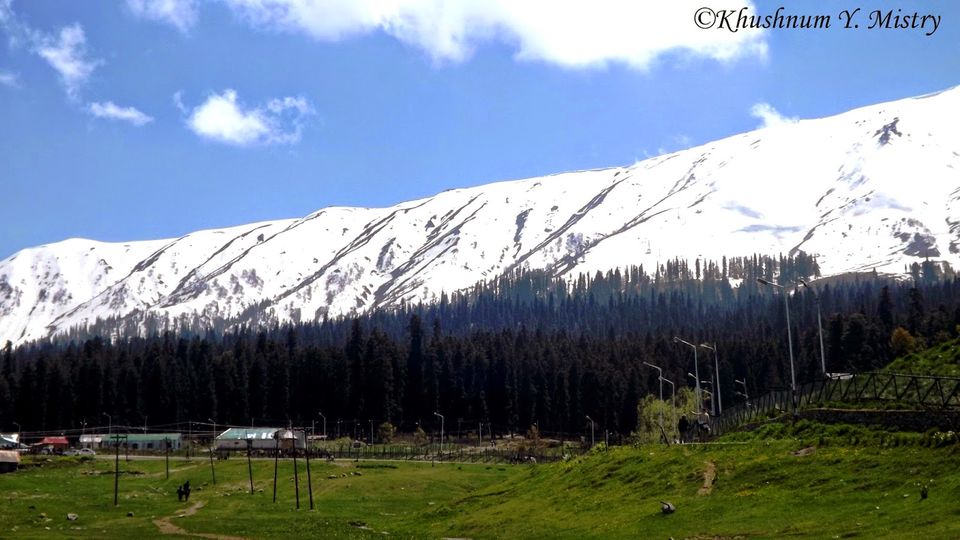 "Stand and look, and hold your breath,
A flower valley upon its breast,
The Himalayas against the light sky blue,
Wondrous with Christmas trees,
An avalanche of snow, pinnacles of frozen rain,
Shades of green, and twisted rivers,
O, you take my breath away, beautiful Gulmarg!"

- Khushnum Y. Mistry

What I find most difficult is to find the right adjectives for the hill stations of Kashmir. Gulmarg, popularly known as mini-Switzerland (mostly, because many winter sports are played there), is one of the most visited destination in Kashmir. The bright green meadows, tall Christmassy trees and snowcapped mountains paint a picture of happiness in your mind and soul. If you love and appreciate nature, your eyes will twinkle by the mere sight and your mind will be lost in the beauty and serenity of this hillstation.
Reaching Gulmarg
It takes around 2-3 hours to reach Gulmarg from Srinagar city. I would recommend leaving early to avoid traffic and tourists. On the way you will pass Lal Chowk, which is the hustling bustling market of Srinagar city. Before approaching, you will pass another hillstation, Tanmarg which is rarely visited by tourists or travellers. If you are visiting when there is snow, it is advisable to rent clothes to avoid your clothes getting dirty.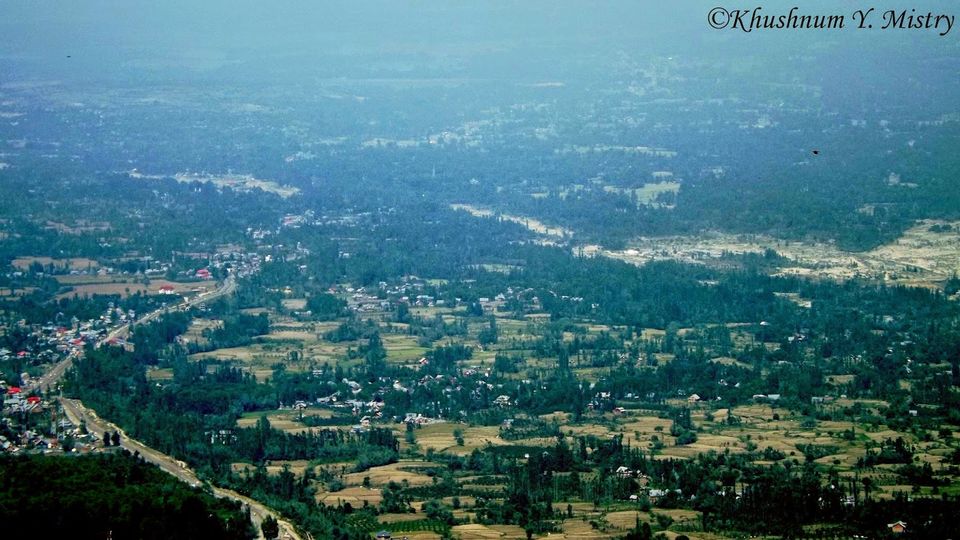 Panorama from Gulmarg View Point (Just before entering Gulmarg)
The main peak in Gulmarg is Affarwat which is 4143m. Once you reach there you need to park your vehicle. Note that if you have planned an overnight stay in Gulmarg, you can take your vehicle to the hotel directly.

Sightseeing in Gulmarg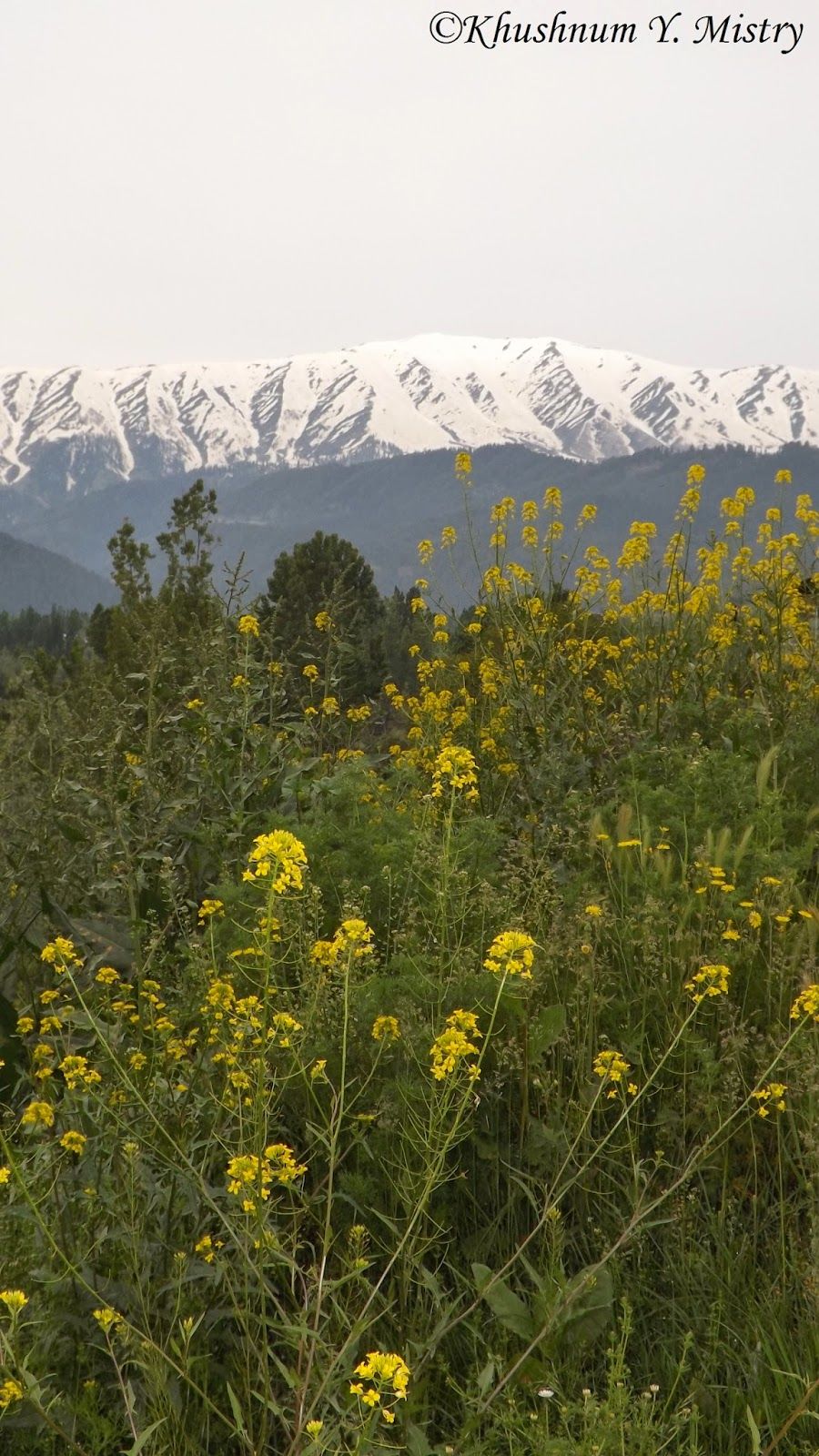 Gulmarg is a beautiful hill station that can be explored on foot. The changing weather, the people, the snowy landscape and then a dash of green meadows, Gulmarg seems like paradise. I have travelled half of India, been to many places abroad but the beauty of Gulmarg; the tall Himalayan snow mountains are a sight to sore eyes.
Tip: If you have planned Gulmarg as a day-return trip, I would suggest hiring a pony to explore the hill station.

Golf Course/Ice Hockey Rink:

World's Highest Golf Course
In winter Gulmarg's natural slopes and inclines, makes it India's premier skiing resort; also offering winter sports like golf, ice hockey and heliskiing. I was intrigued and proud that Gulmarg has the world's highest golf course. It is 18 holed & has a par of 72.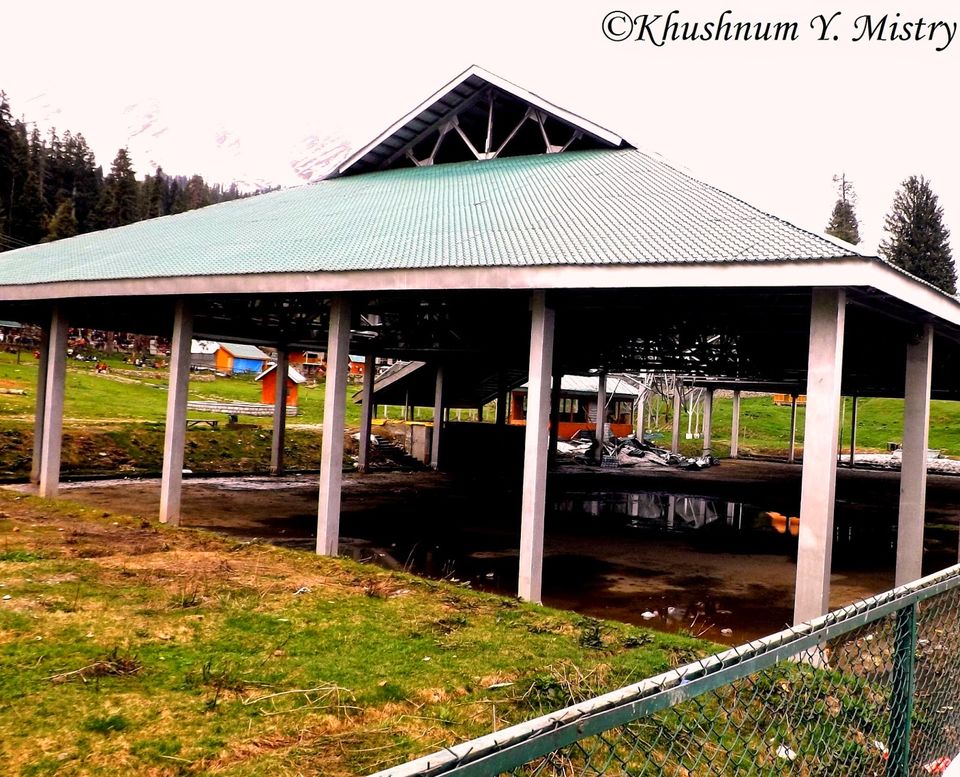 Ice Hockey Rink
On your way to Khilanmarg, you will pass the High Altitude Warfare School and the Indian Institute of Skiing and Mountaineering.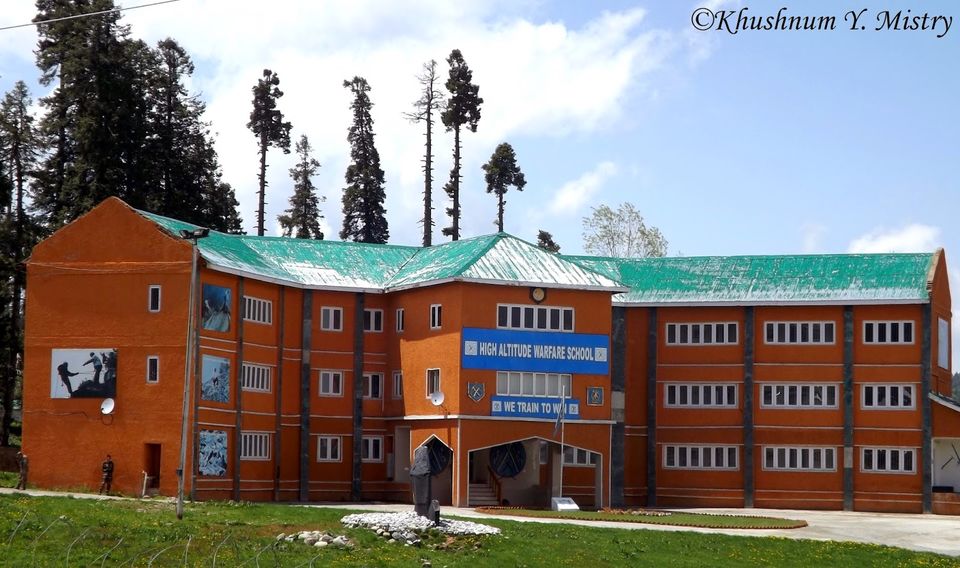 High Altitude Warfare School
To know more, click http://www.indianmemoryproject.com/tag/high-altitude-warfare-school/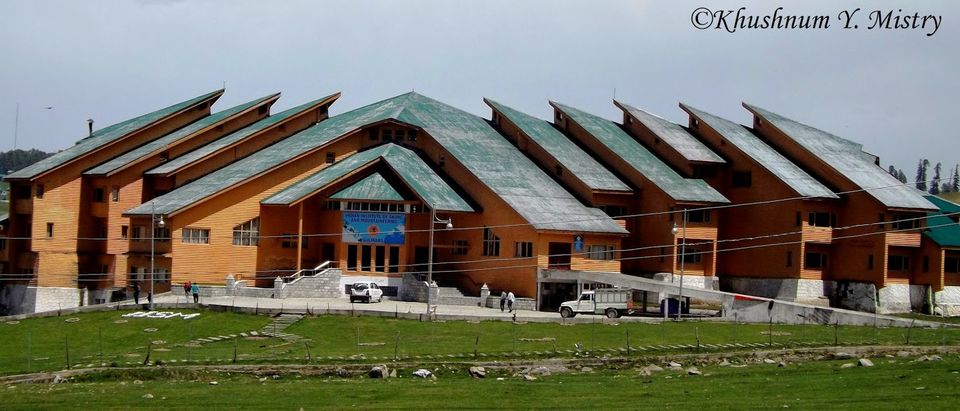 Indian Institute of Skiing and Mountaineering
To know more, click http://iismgulmarg.com/

Gondola


Image copied from http://gulmarggondola.com/about_gondola.php

The Gondola ride is 2 km to 3 km from the parking area (walking distance). Sadly, the Gondola was not operational when I visited Gulmarg, albeit I found out all the information for my blog readers. Collect your tickets from Gondola station; there are two levels: Gulmarg to Kungdoor and Kungdoor to Aparwath.
To know more or pre-book, visit http://gulmarggondola.com/gondola_tickets.php
Khilanmarg: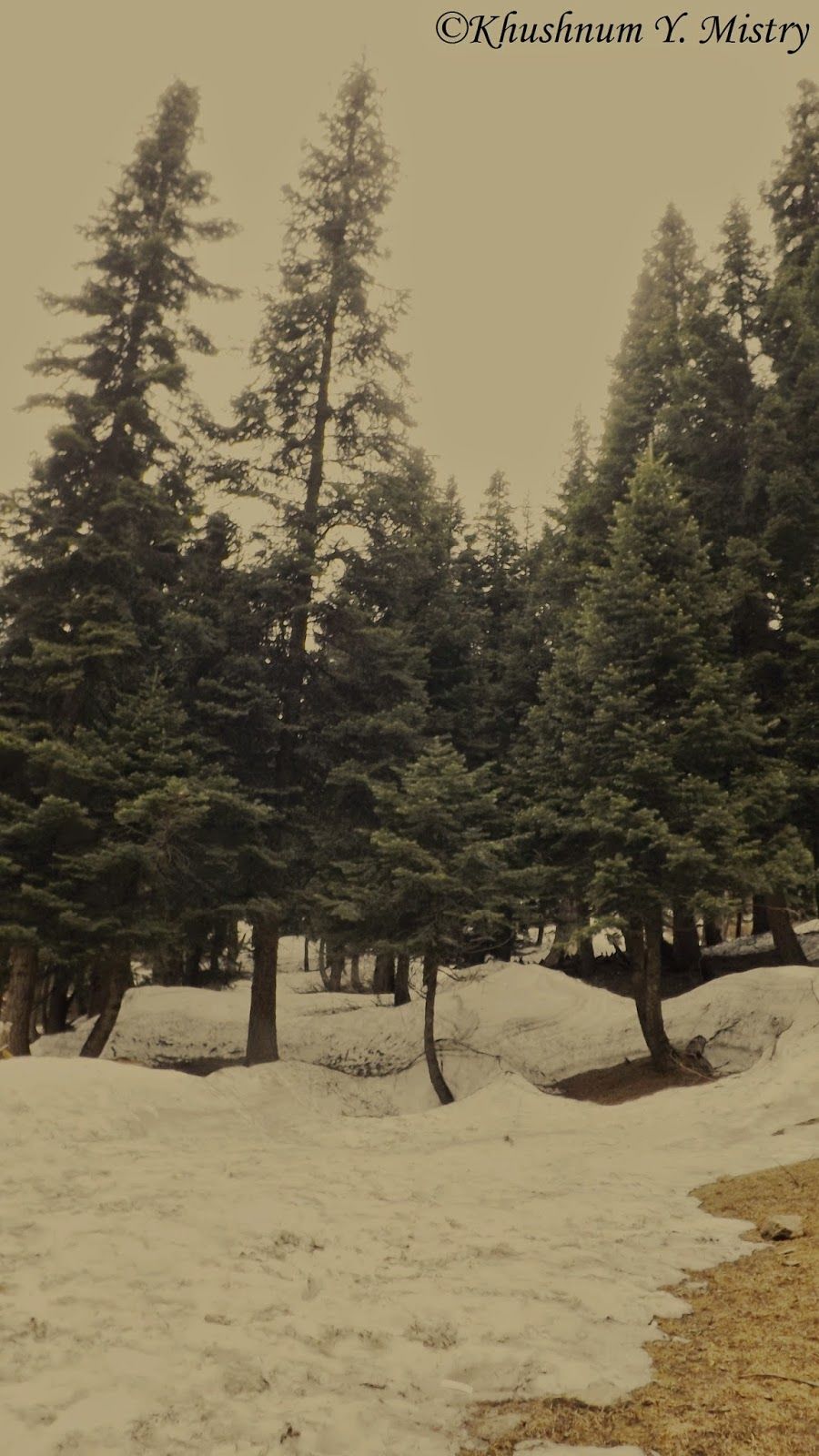 The path to Khilanmarg from the Gondola gate is charismatic. I felt like I was swallowed up by a jungle of Christmas trees, carpeted with snow.
Small twigs, branches and colourful flowers spruced between the snow carpet, to drive away the boredom of white.
Along its length, the icy waterfall ran vigorously down the slopes, like a herd of white horses running towards a certain point.

You could just sit there and watch the broken log getting drenched at the bottom but holding its place, so that the humans could cross the currents of the cold icy waterfall.
When you reach the main Khilanmarg point, you will be approached by Ski instructors claiming to teach you skiing in 10 minutes (it's impossible, unless you have done it before and polishing your skills), and after much convincing will ask you to pay some amount to click pictures wearing the equipment to deceive your friends (yes, and you will be surprised that it works; society and the show-sha *argh*) on Facebook or Watsapp.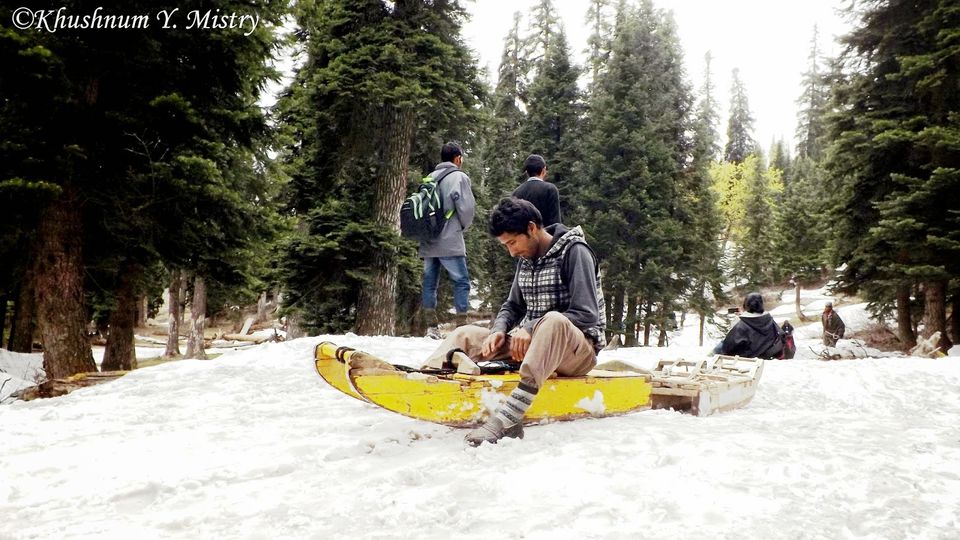 Prepping the Sledge before Zorbing
You will also be approached by sledge rides (no, not by a Santa Clause). Be sure to bargain to get a good deal. Also, only opt for a sledge ride if there is snow (I sloped on snow and muck which was not much fun). After the much exhilarating sledge ride, the ponies wait for you at the bottom of the Khilanmarg slope.
Strawberry Farm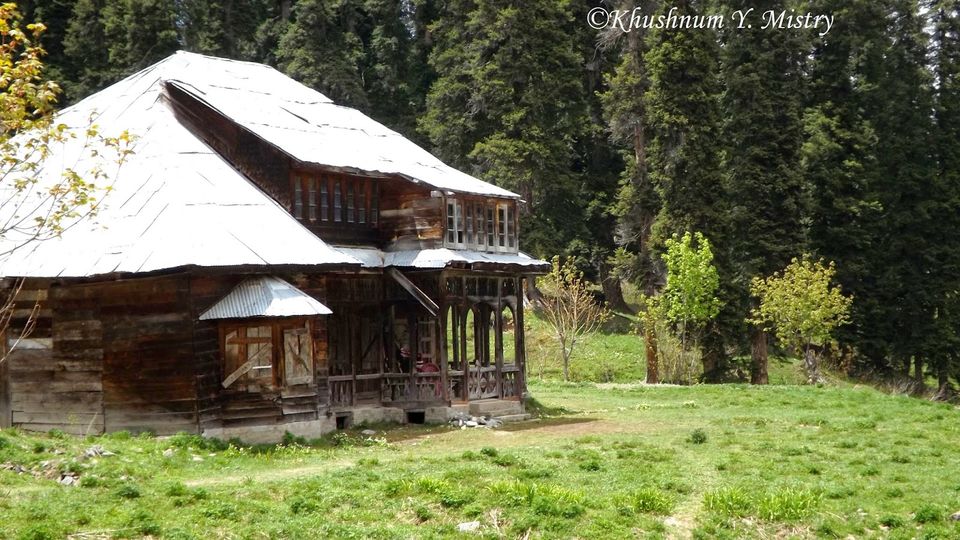 Strawberry Farm
Now, it's time to complete the circuit, so you start to retreat from a different point. While, coming back you can see the strawberry farm (the locals, call it strawberry garden). During season time, that is, around November-December, you can pay a sum of Rs. 20/- and taste the local produce as much as you like (but you cannot carry them in a bag or stock for later).

Children's Park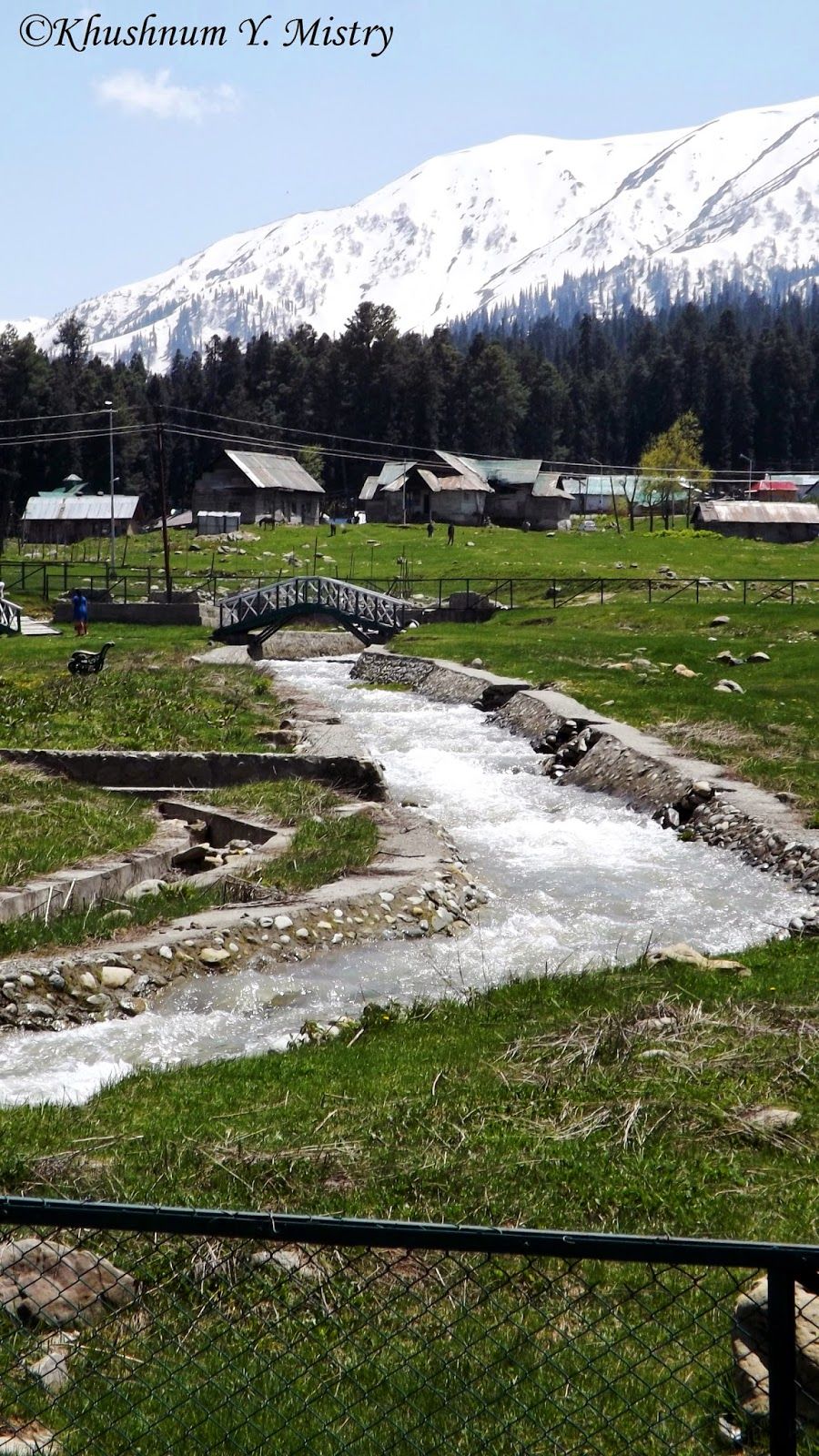 The children's park is like a huge meadow with a few small streams and foot bridges. It's just overall captivating to an eye of a metro city breed. A park that looks like a meadow, with such scenic beauty is beyond imagination for any Mumbaikar.
Shiv Mandir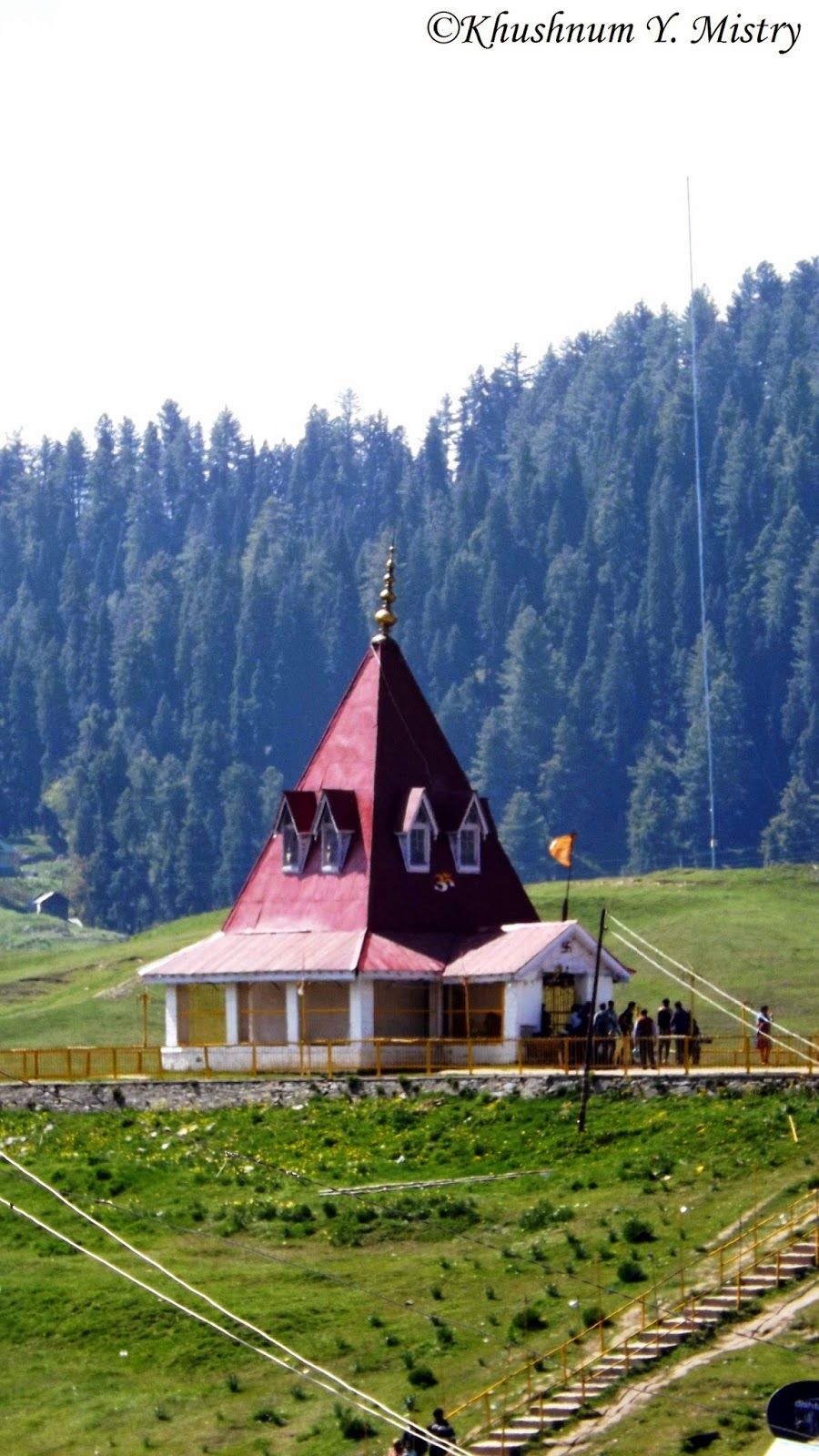 Shiv Mandir

For Hindu devotees, a Shiv Mandir built in 1915 by Maharaja Hari Singh's wife, stands tall on a hillock, in the main Bazaar (or parking area). For all the Bollywood fans, this is the same temple where the song "Jai, jai shiv Shankar, kaanta lage na kankar" starring Rajesh Khanna and Mumtaz was picturised.
Tourism in Gulmarg
O' Let This Beauty Stay
Gulmarg is a natural beauty that doesn't need to adopt the ways of the tourist or to attract them. But there should be a number of cars that should be allowed to enter Gulmarg. Over the years, because of tourists and the increasing number of cars (with no PUC done or no strict law enforced on tourists cars to make sure they have their PUC) there has been a rapid change in the weather conditions; the snow is melting rather quickly, which has a great impact on the ecosystem in Kashmir.
It's quite depressing to see tourists littering such a beautiful heavenly place. Read more: http://www.greaterkashmir.com/news/2014/May/20/garbage-is-added-attraction-at-gulmarg--11.asp

Lastly, the quoting of increased prices during season time for Pony rides, Gondola tickets, snow wear, sledge rides and skiing equipment does pinch the pocket of a traveller. It feels like they judge you on appearance and quote an amount that they think you will cough up.
The tourism in Gulmarg should be supervised and strict penalties should be applied by the government to ensure that the place stays clean and beautiful for the generations to come.
Places to Stay

There are quite a few cottages and hotels available to stay. If you wish to stay there I would advise you to reach Gulmarg by 8 am to choose a hotel/cottage that fits your budget. An on the spot booking allows you to bargain and get a good deal.Approximate Price: Rs. 1500 to Rs. 8000 per person (depending on the choice of stay), for one night.
Day Trip Pricing
Big Car: Rs. 2500/- ; Small Car: Rs. 2000/-
Toll to enter Gulmarg: Rs. 30/-
Snow Wear (includes a coat and gumboots: Approx. Rs. 300-500 (depending on the time you reach and season) Tip: Gumboots are extremely necessary if there is snow (it just saves your shoes from the muck and it's much easier to walk on snow)
Pony Ride to Khilanmarg and Back: Rs. 1200-1800 (depending on the time you reach and season) Tip: If you do not wish to visit Khilanmarg and only go for the Gondola Ride, do not hire a pony.
Gondola Tickets: Rs. 600-800 (depending on season time and the number of tourists)
Guide: Rs. 500-1000 (depending on the time you reach and season
Zorbing: Rs. 500-1000 (depending upon the season)
Grazing

Food to Eat

Before you reach Khilanmarg, there are a number of temporary tents that serve food. You get hot spicy Maggi and amazing Kahwa (it makes you feel so warm).

There are a number of restaurants in the Bazaar, that serve vegetarian and non-vegetarian food. I would suggest to go for vegetarian food because it tastes much better (and is freshly made).
This trip was first published on Trace my Wandering Footsteps.