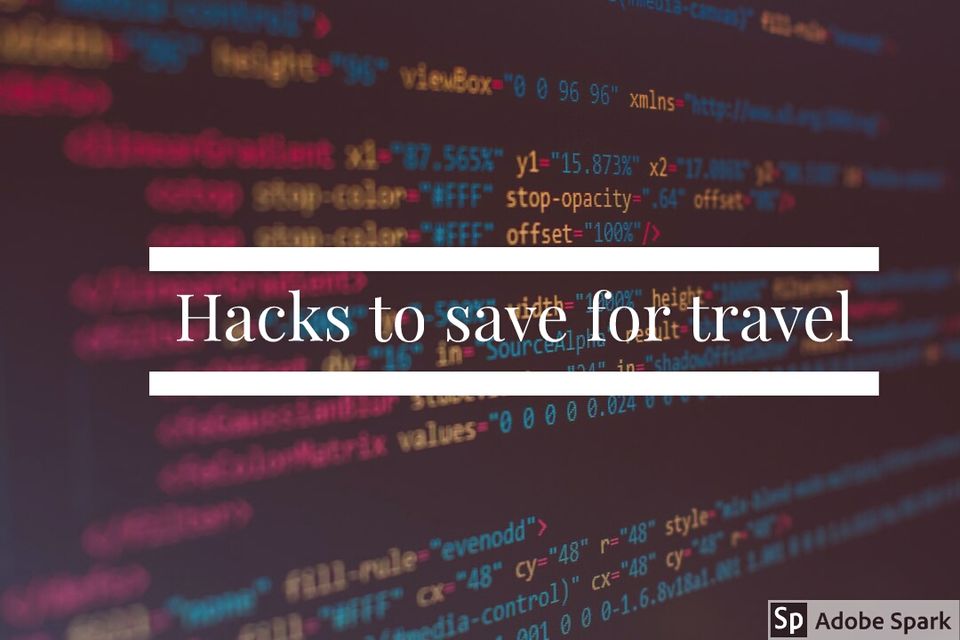 Many people consider travel to be an expensive activity. But will you change your mind if I tell you that you can travel to your favorite destinations in a pocket friendly budget?
Yes, it is absolutely true. You can catch a flight, take a trip by train and even explore your favorite city in a very minimal budget. All you have to do is follow these 5 simple hacks.
P.S.: Number 5 is the hack of all hacks.
1. Schedule your sleep
YES, You read it right. Apart from money, one of the most important things to save is your energy. In this era of technology, you can travel even with 0 money, but it will be entirely impossible to travel if you have no energy. To gain maximum energy, you have to take balanced diet, exercise regularly and most important, have proper sleeping hours. 6-8 hours of sleep is important for proper working of our body. And someone said it right that "A healthy mind lives in a healthy body."
2. Cut out your extra expenditures
To save money for our travel, you have to minimise your extra expenditures. Be it a netflix subscription, dining out every week or seeing a movie with a bucket full of popcorns, you have to cut them off if you want to save money for your trips. Calculate the budget you spend on your extra things for a year. You will know that by cutting off those extra expenditures, maybe you could have booked a backpacking trip to Vietnam, or maybe a bike trip to Ladakh. Who knows.
3. Pack only what you need
We all know that we got charged for every kg of weight we pack with ourselves, on flights. You can remove your extra pair of jeans, socks or even shirts. Maybe you don't want your 4 underwears on a 2 day trip. And you could save yourself few extra bucks which you can spend later during your trip, by reducing 1_2 luggage.
4. Use bicycles
It is one of the best ways to save both money and energy for your trip. By using bicycle, you can make yourself fit for your next trip. You can save an ample amount of extra bucks of petrol by using bicycle.
Always follow one rule for travel..
Be in a fit mode, then hit the road.
Now is the time of all time hack and here it is...
5. Use incognito mode for your bookings
Yes, you read it absolutely right. Always use incognito mode to book your flights, even hotels in advance. Websites add up your cookies and they show you hiked up prices whenever you visit them. Surfing and booking in incognito mode can help you to save up to thousands of bucks which you can spend during your trip.