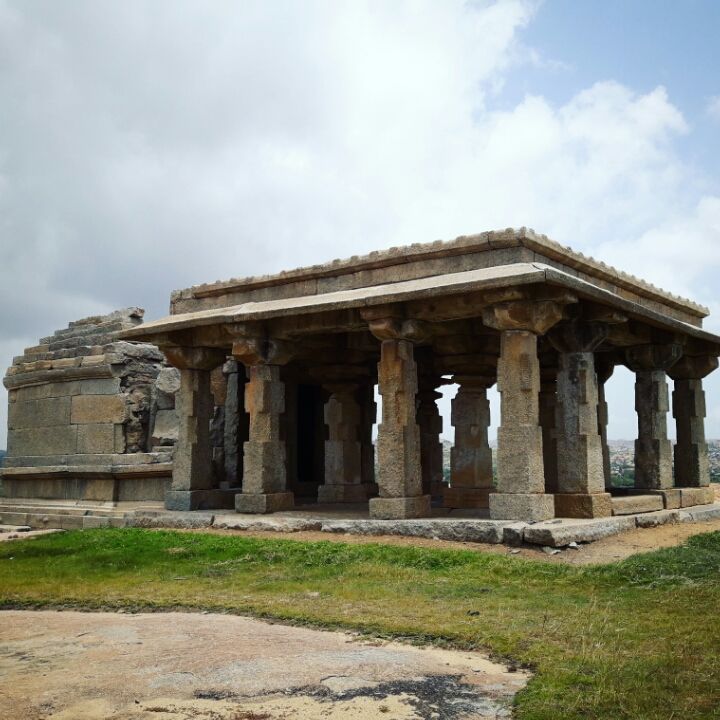 We started our journey from Bangalore by Hampi Express on 11th Aug 2016. Its an over night journey by train. Next day (12th Aug) morning around 6 am we reached Hospet. It is the station where you have to get down to go to Hampi. We took an auto to go Hampi, the former capital of Vijayanagar Empire. It is a very small village and divided in two parts by Tungabhadra river. The auto driver drop us at ferry point. Ferry service is available to cross the river from 6 am to 5:30 pm, in morning its Rs. 50 for each person, after 9:30 am its Rs.20 with luggage. We booked Mowgli Guest House which was on the other side of the river. After few minutes of walk we reached Mowgli, its a very nice place to stay and chill.
After having breakfast and enjoying the view we decided to roam around, the guest house boy told us about Anjaneya Hill and Kamalapur Lake. Scooty, Moped and Cycles are available on this side. Scooty/Moped will cost you Rs 200/150 and Cycles Rs 60 per day, you have to buy petrol for Scooty/Moped from the shop i.e Rs 90 per liter. We took one Scooty as it'll be tiring to ride cycle in scorching sun light.
First we went to Anjaneya Hill, this hill believed to be the birthplace of Hanuman. There is a temple at the top of the hill dedicated for Hanuman. It took around 45 minutes to climb up for us. The stayers are stiff, but when we reached to the top, the view was marvelous. Patches of paddy fields looks like a solved jigsaw puzzle, coconut tree plantations and the whole of the ruins sites is visible stretching into the horizon. Looking at the ruins from here you would know the reason why they chose this place as their capital. All around in the horizons are the rugged rocky mountains and at one side in the mighty Tungabhadra river. It was a naturally secluded strategically important location for a capital city. After spending some time at hill top we headed towards Kamalapur Lake. Its a well planned lake and nice, you can enjoy coracle ride there(What we did wrong was we went to Anjaneya Hill first and Kamalapur Lake last but if you go Kamalapur Lake first and Anjaneya Hill last then you can see the sunset from there). Then we went back to the guest house. We liked Mowgli very much, the ambiance is exactly what we wanted for chilling and food was delicious.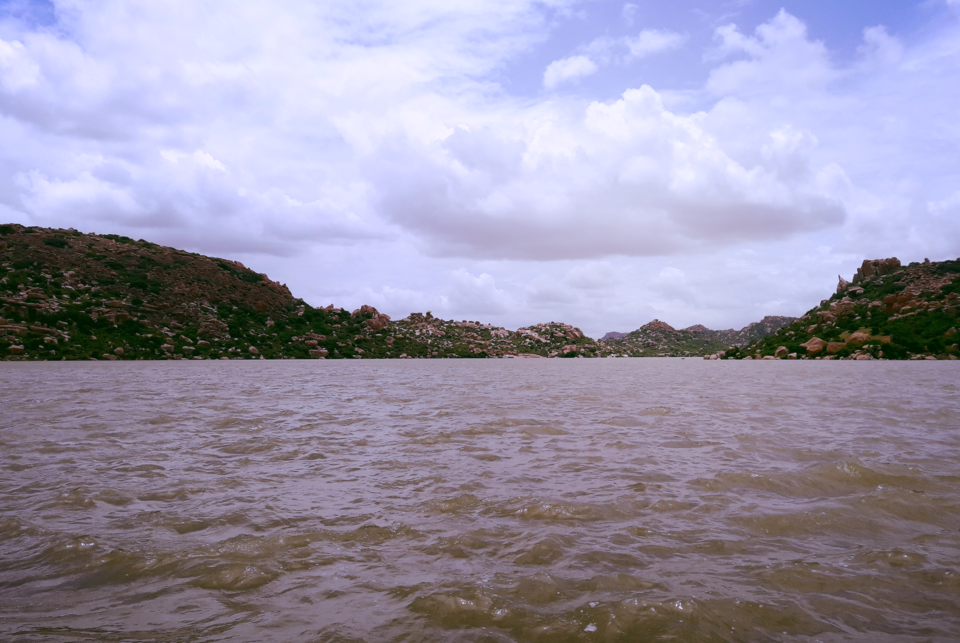 Next day morning after having breakfast we went to see the ruins of Hampi. We arranged one auto for sight-seen. The auto driver took Rs 800 to show all the sights. We visited -
Kadalekalu Ganesha , this 15 feet tall statue is one among the largest sculptures in Hampi. The pillared hall in front of this sanctum is as charming as this giant statue itself.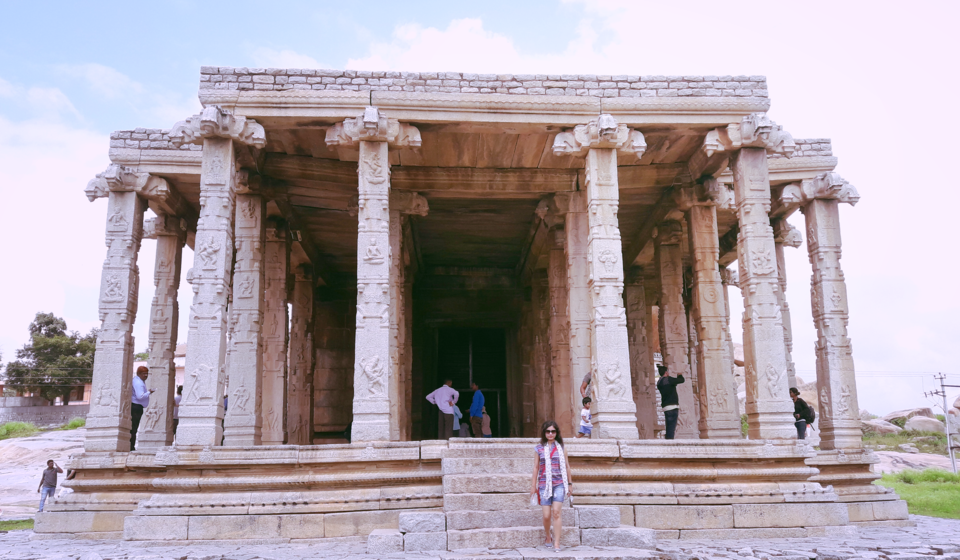 Hemakuta Hill, is famous for its cluster of temples, archways and pavilions scattered all over the top. Most of these are dedicated to Lord Shiva and are built in 10th century AD. It takes only 5 minutes to climb to the top from the famous Viroopaksha Temple at the end of Hampi bazaar. On top of the Hemakuta Hill a series of temple complexes can be seen.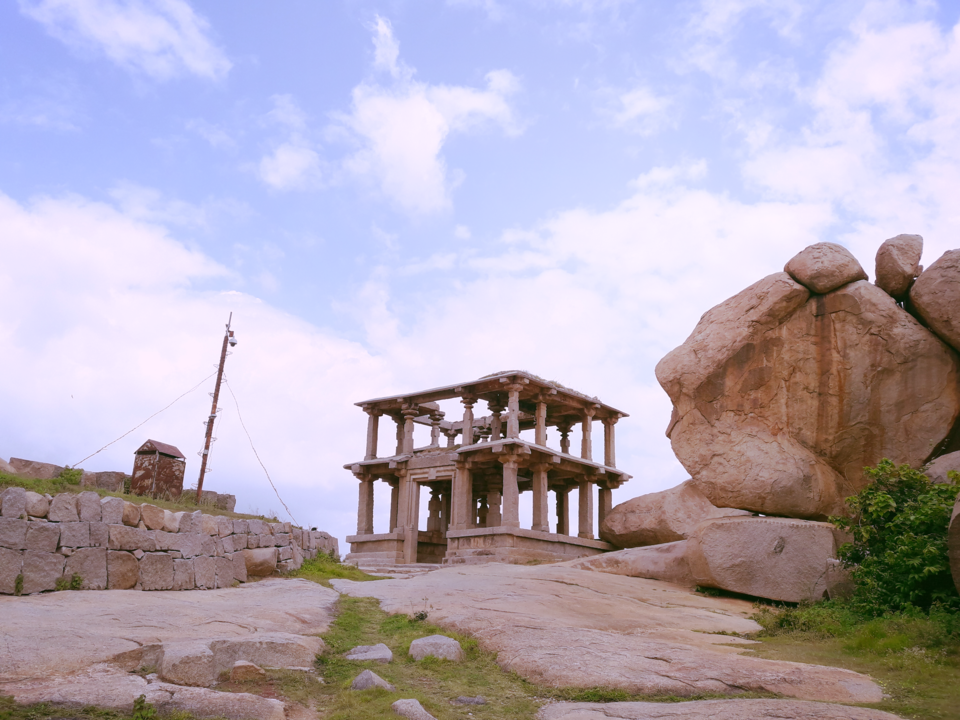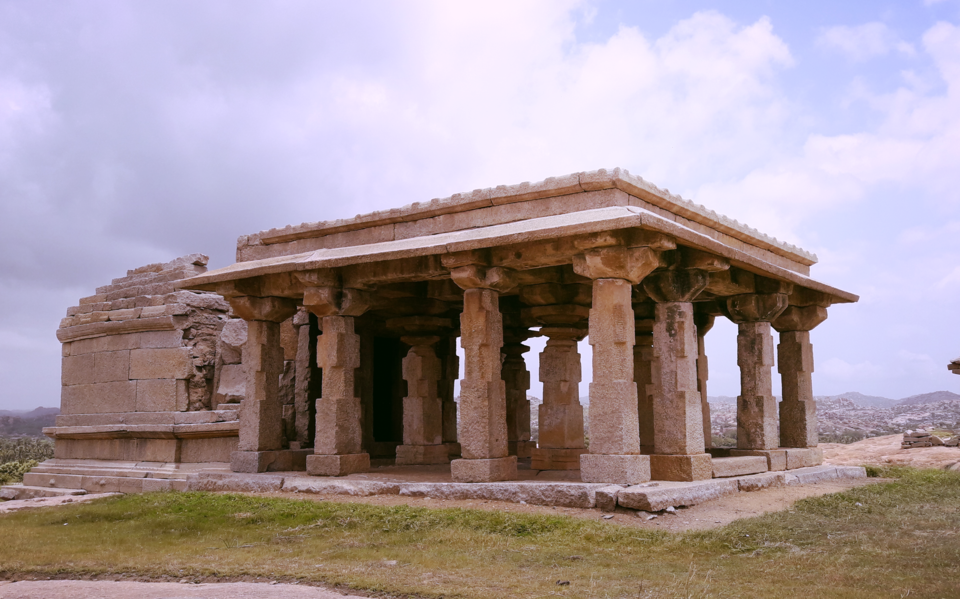 Sasivekalu Ganesha Temple, a giant monolithic statue of Lord Ganesha. It is situated on the other side of Hemakuta Hill.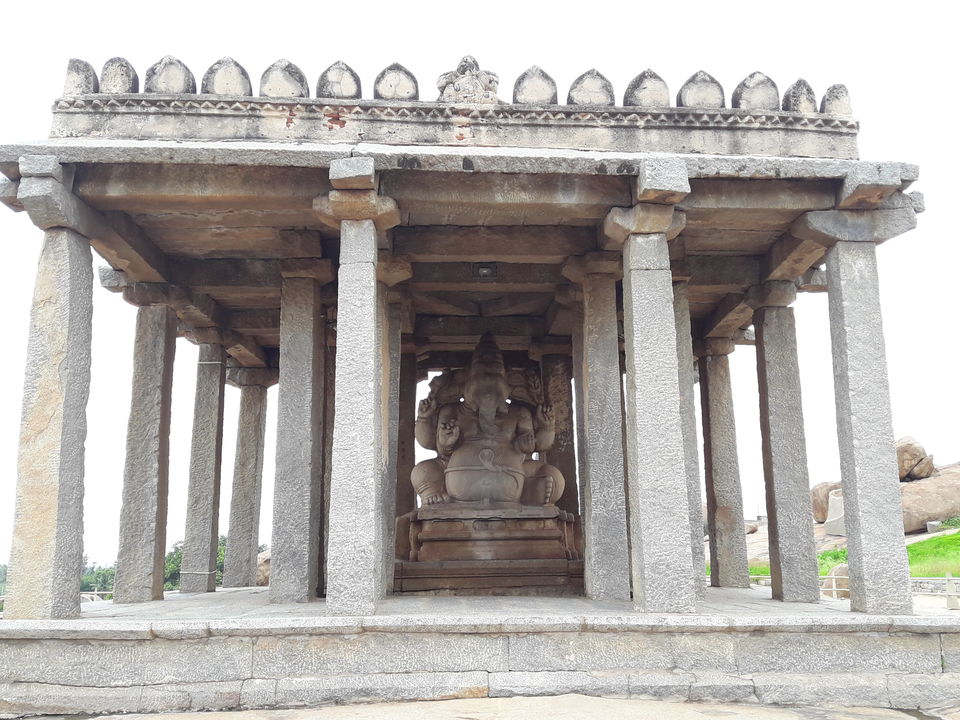 Krishna Temple, this temple was built by the king (Krishnadevaraya) in to celebrate the conquest of the eastern kingdom of Udayagiri or Utkala (in the present day Orissa state). Opposite of this temple there is Krishna Bazar,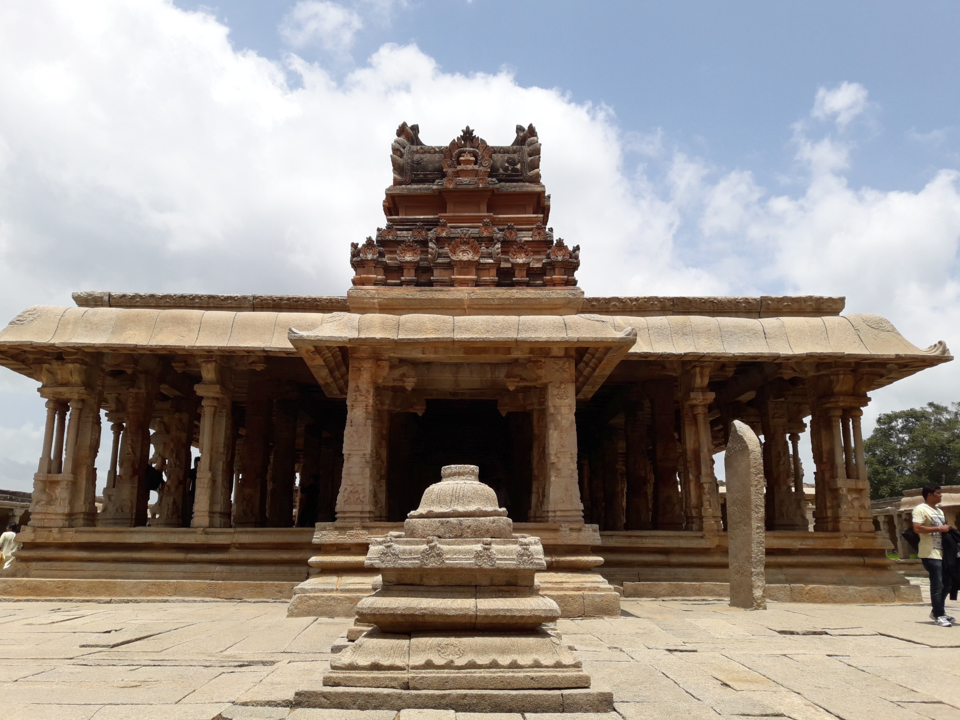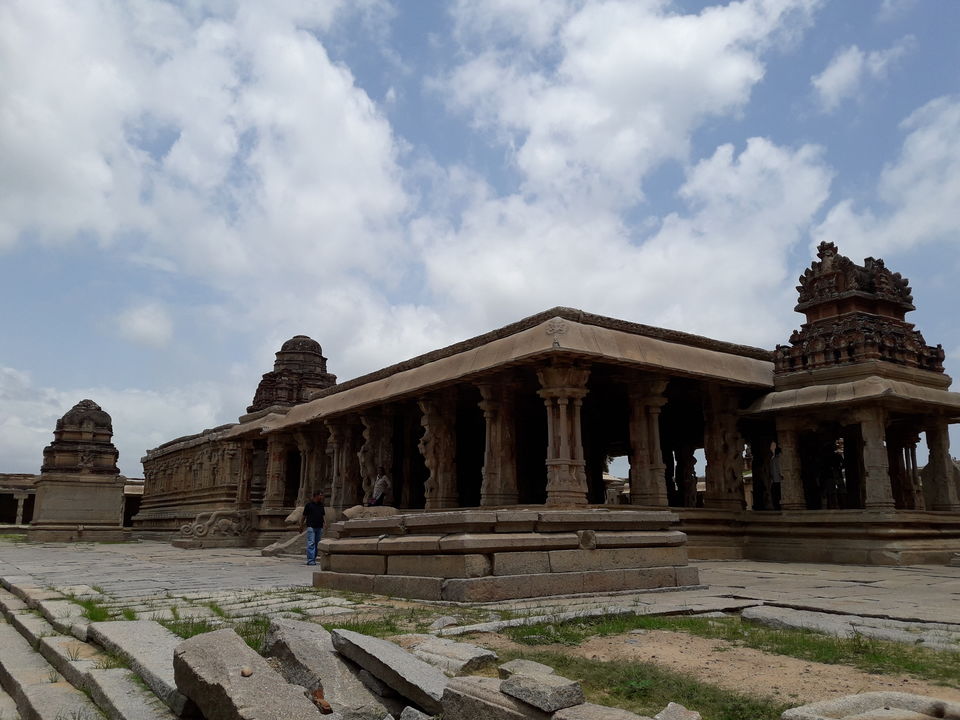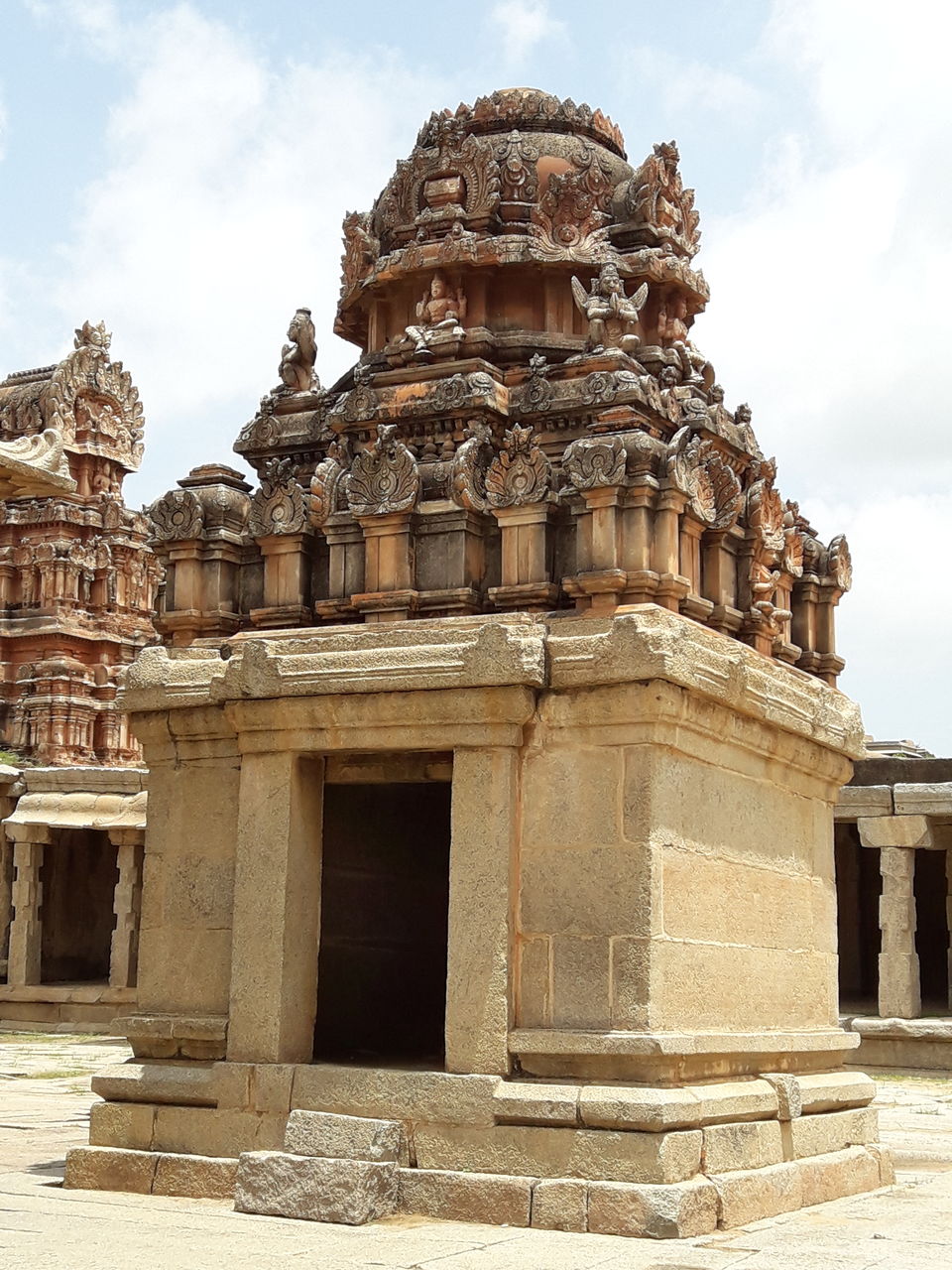 The Royal Enclosure, it is believed to have housed over 45 buildings belonging to noble families of Vijayanagar Kingdom. It includes Queen's Bath, used by Queen and women of noble families, occasionally by King himself. Elephants Stable, eleven large chambers with beautiful arched entrances for the Royal Elephants. Lotus Mahal, blend of Indian and Islamic architectural two - storied structure. Dasara Dibba. Stepped Tank. (here you need to buy ticket to enter and this ticket is required to enter Vitthala Temple, so keep the ticket with you)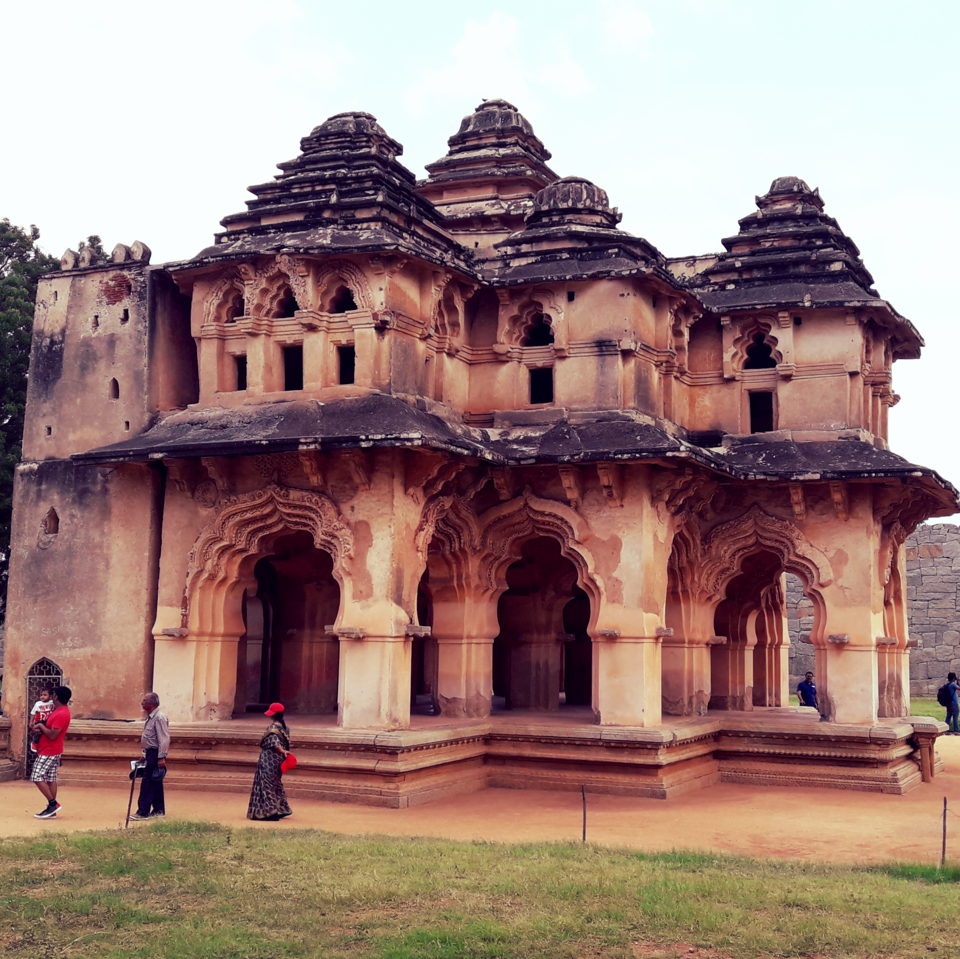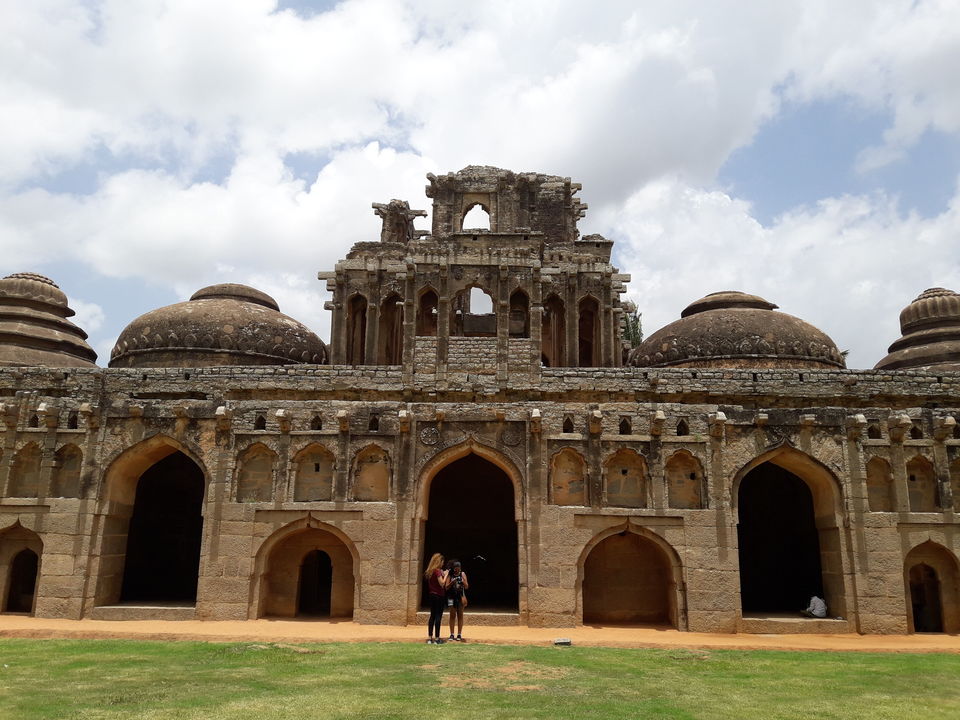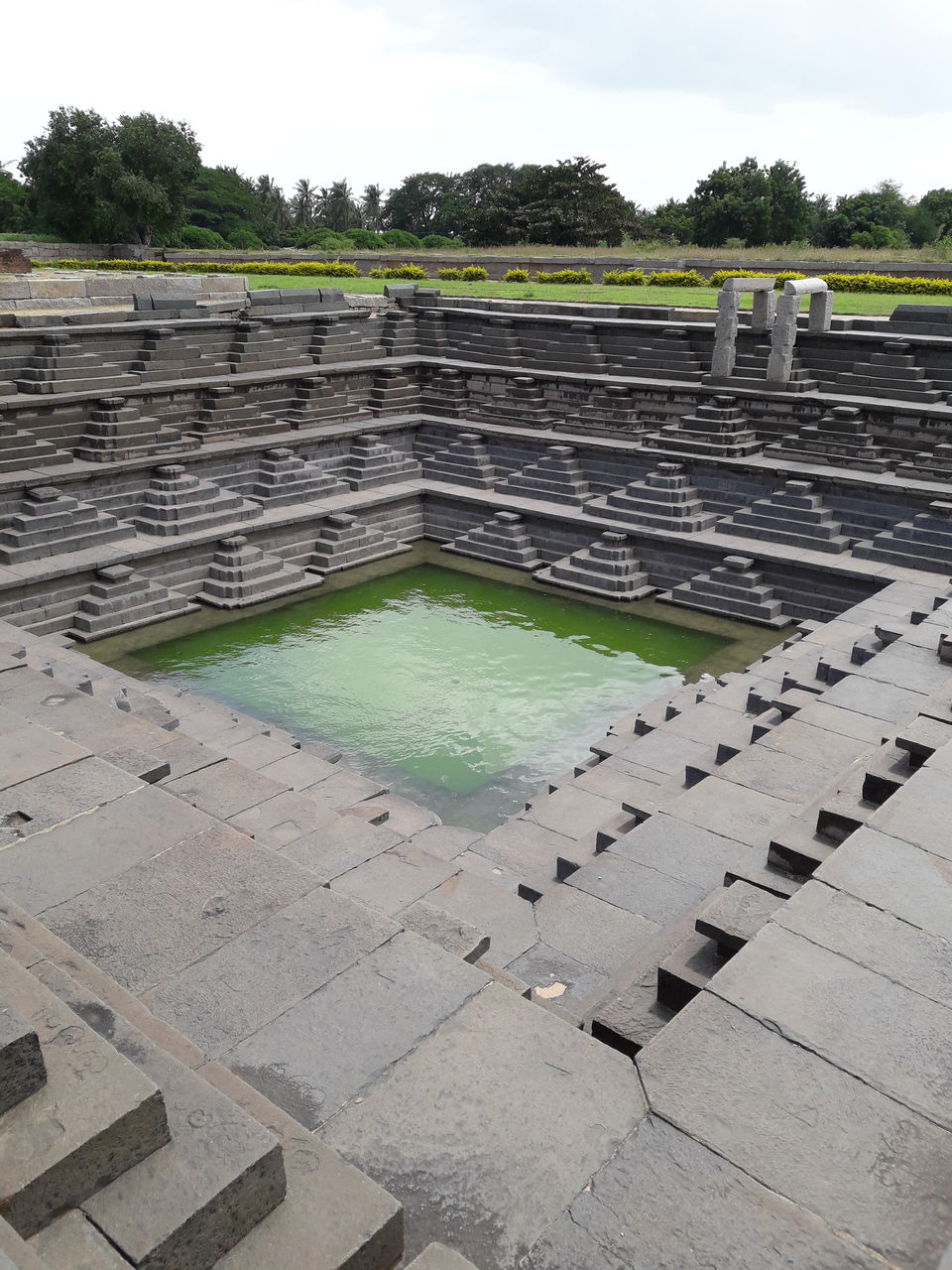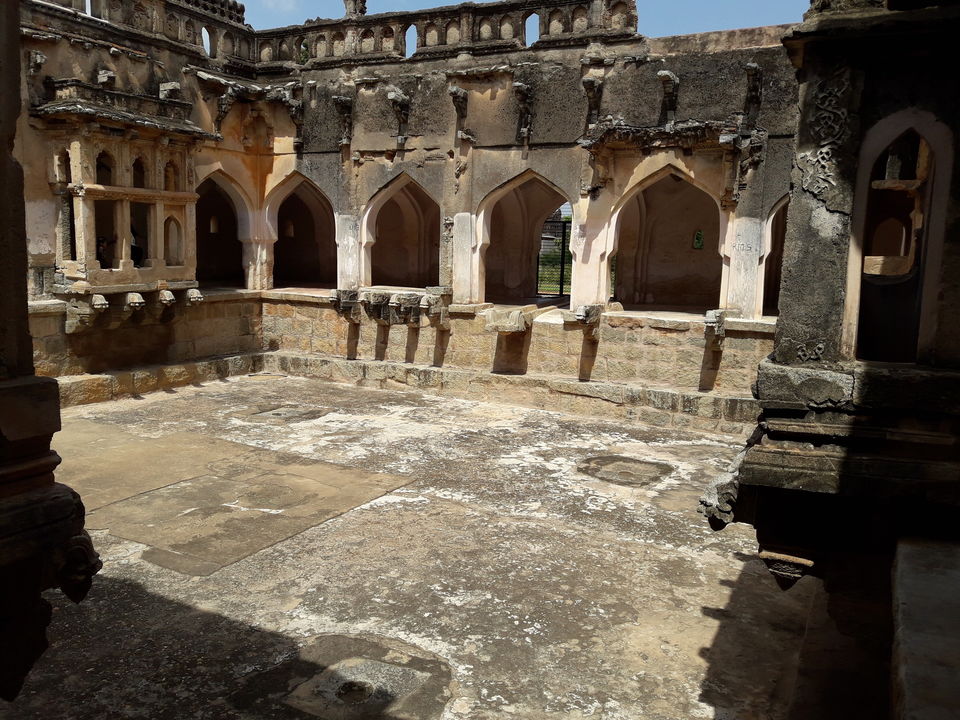 Lakshmi Narshimha Statue and Siva Temple.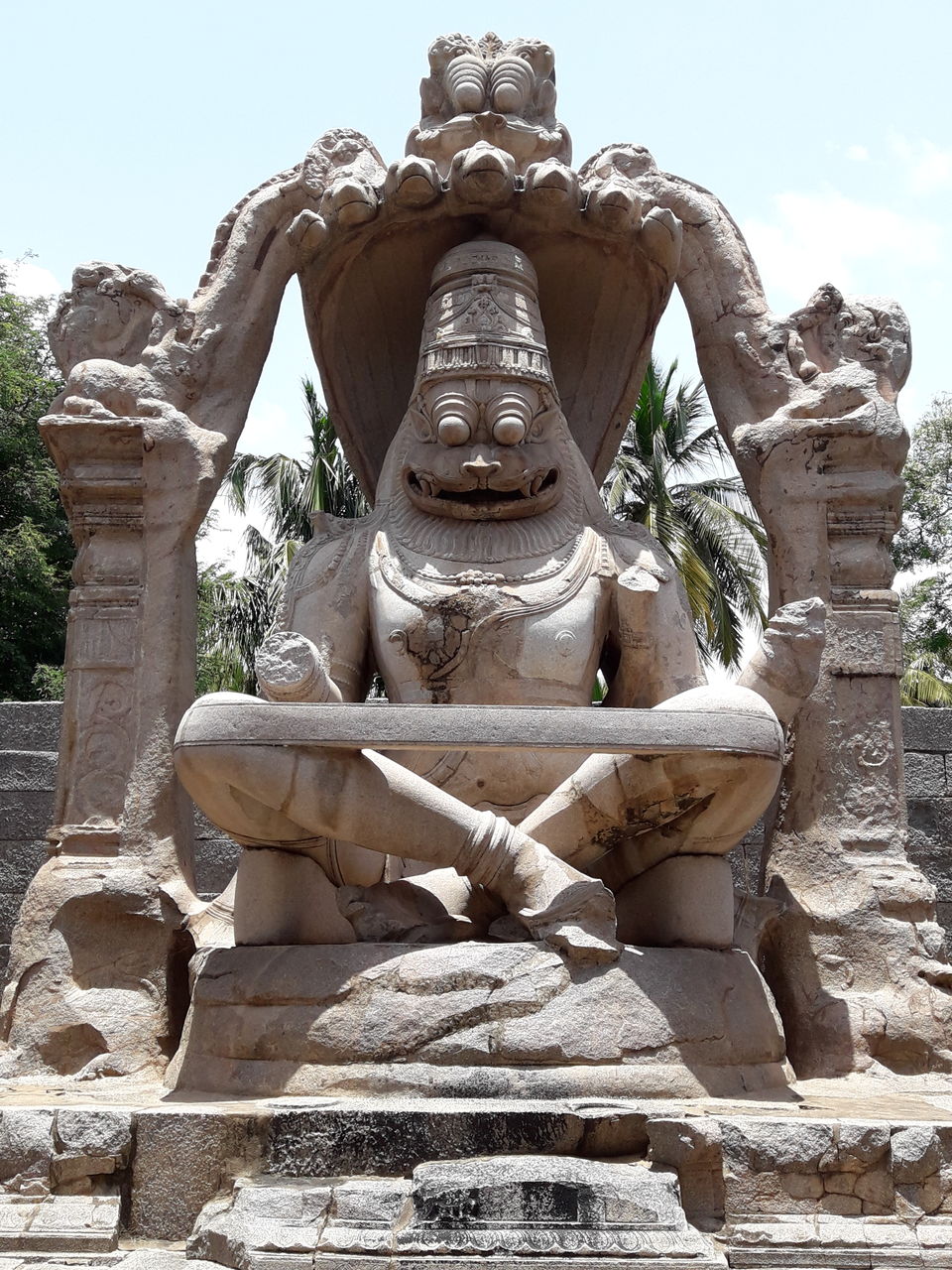 The Underground Siva Temple.
Vitthala Temple, the temple is famous for Musical Pillars and the eminent Stone Chariot located at the center of the temple.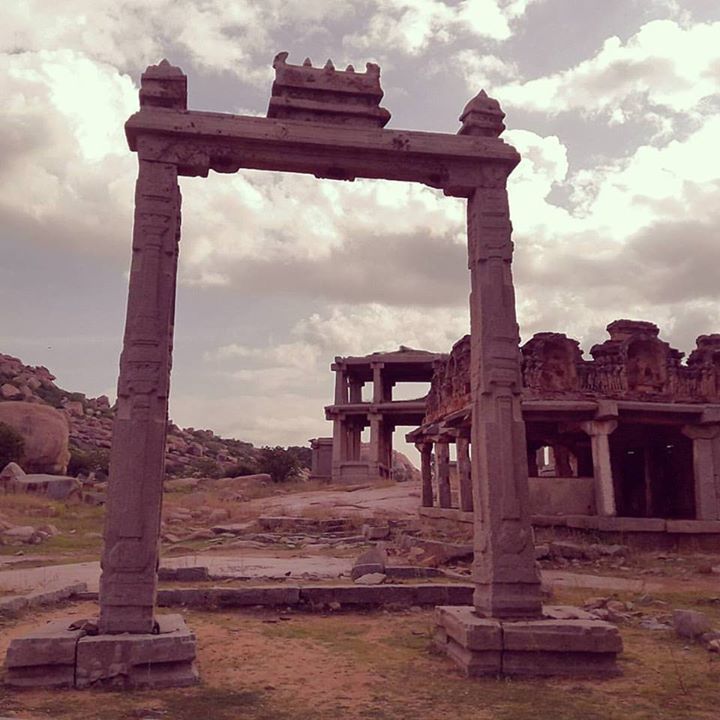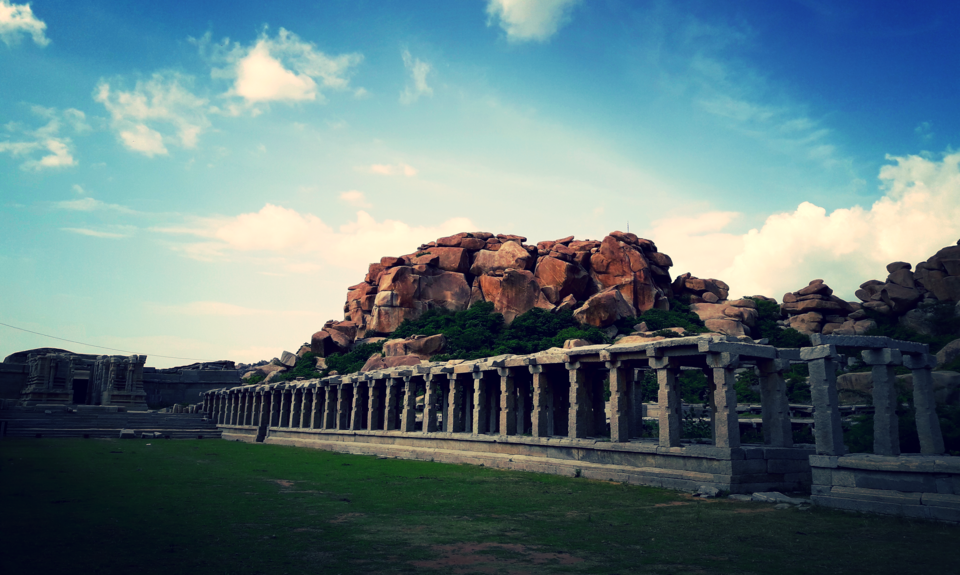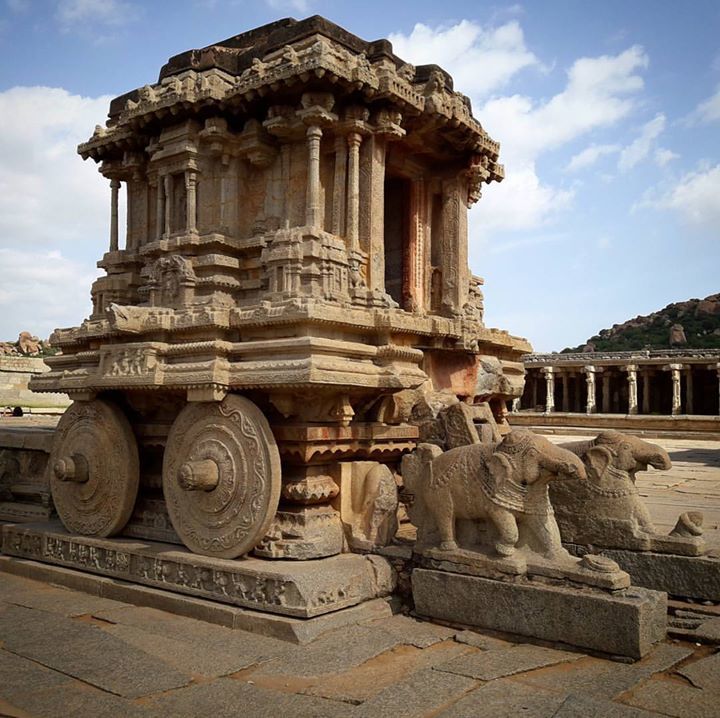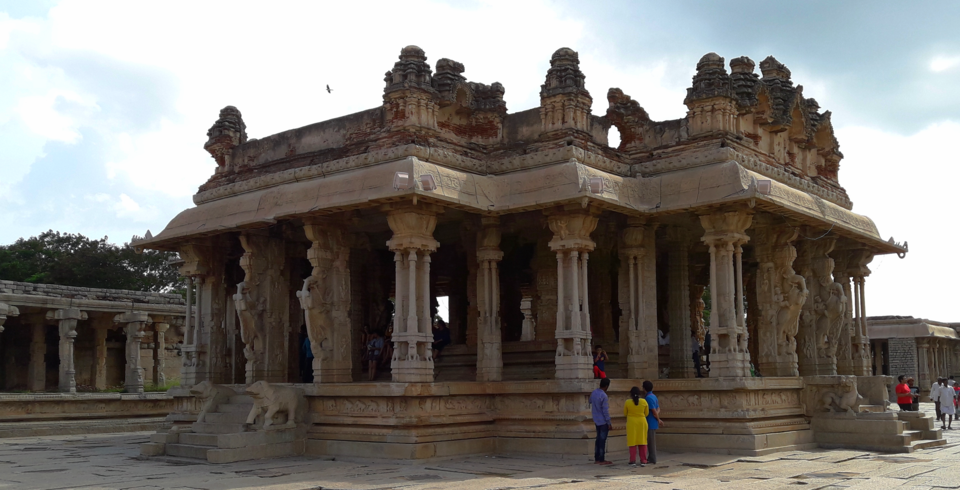 Hampi Museum, is located at Kamalapura. The same ticket which was required in The Royal Enclosure and Vitthala Temple is required to enter the museum. The museum has rich collection of sculptures collected from various locations of the Vijayanagar ruins. Apart from the sculptures, the museum is a treasure trove of architectural pieces, artifacts, relics, coins, tools, miniature paintings, ivory items, copper plates and several other things from the glorious era of the Vijayanagar Empire.
Virupaksha Temple, this temple has been considered as the most sacred among all temples at Hampi.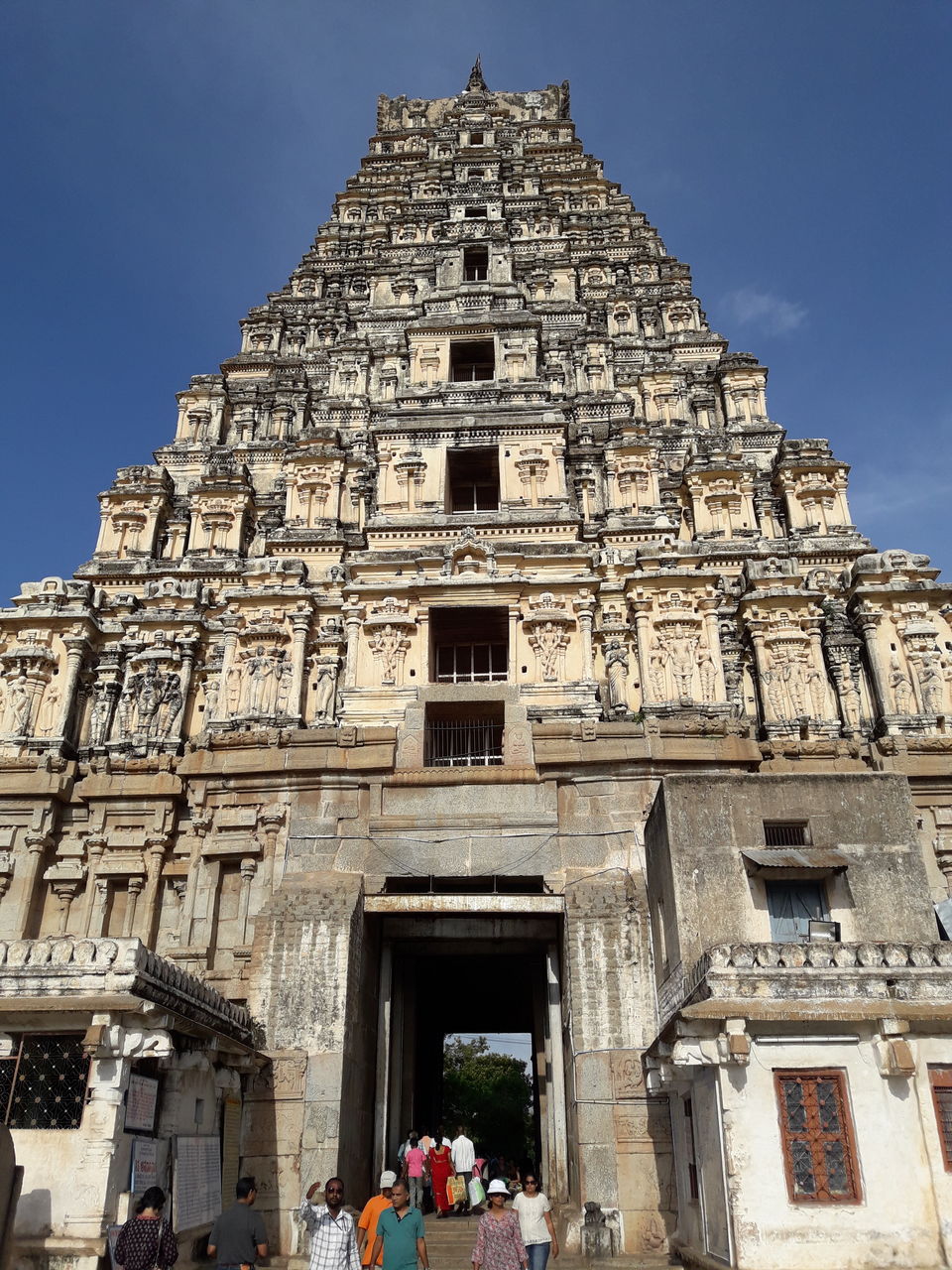 We stayed that day at Hampi Bazar side in Gopi Guest House. All the guest house in Hampi Bazar area are congested and very small. Our guest house had a roof top restaurant where we sat in the evening and enjoyed the night view of Virupaksha temple.
Next day morning we checked-out from the hotel around 10 am and went to Tungabhadra Dam by auto. We booked the same auto which we booked for Hampi sight-seen. The auto driver took Rs. 600 for taking to the dam and dropping at Hospet station. Its around 17 km far from Hampi. You can easily spend 2 to 3 hours there. Bus service is available in just Rs. 20 per head to visit watch tower from the dam entrance. There's a garden in the lower side with some lights for the fountains. After spending some time at dam we headed towards Hospet station and our journey ends there.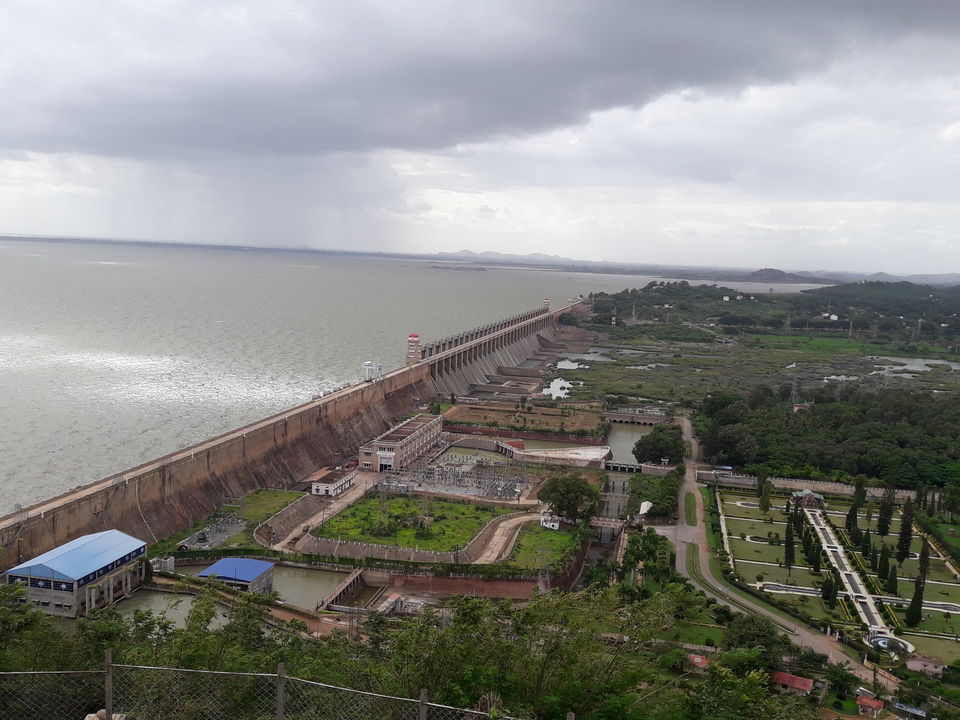 Note: Always carry water bottle and umbrella, its too much heat if you are travelling in Aug. The ideal time to go Hampi is Nov - Jan. Book your hotels before going there if you are planing to go in long weekend holidays. Ideal place for staying is the opposite side of Hampi (i.e Hippie's Island), if you are a non-vegetarian then only there you will get non-veg foods and you can enjoy the river view from hotels. The other side (i.e Hampi Bazar area) is congested and hotels are not that good, you will get only veg food on this side. If you are planing to stay at other side of the river (i.e Hippie's Island) complete you sight seen by 5:30 pm as the last ferry is on 5:30 pm and it is easily manageable to complete the whole sight-seen by 5:30 pm.
Total Trip Cost (including Hotels+F00d+Traveling) - Rs. 9000 for two people.