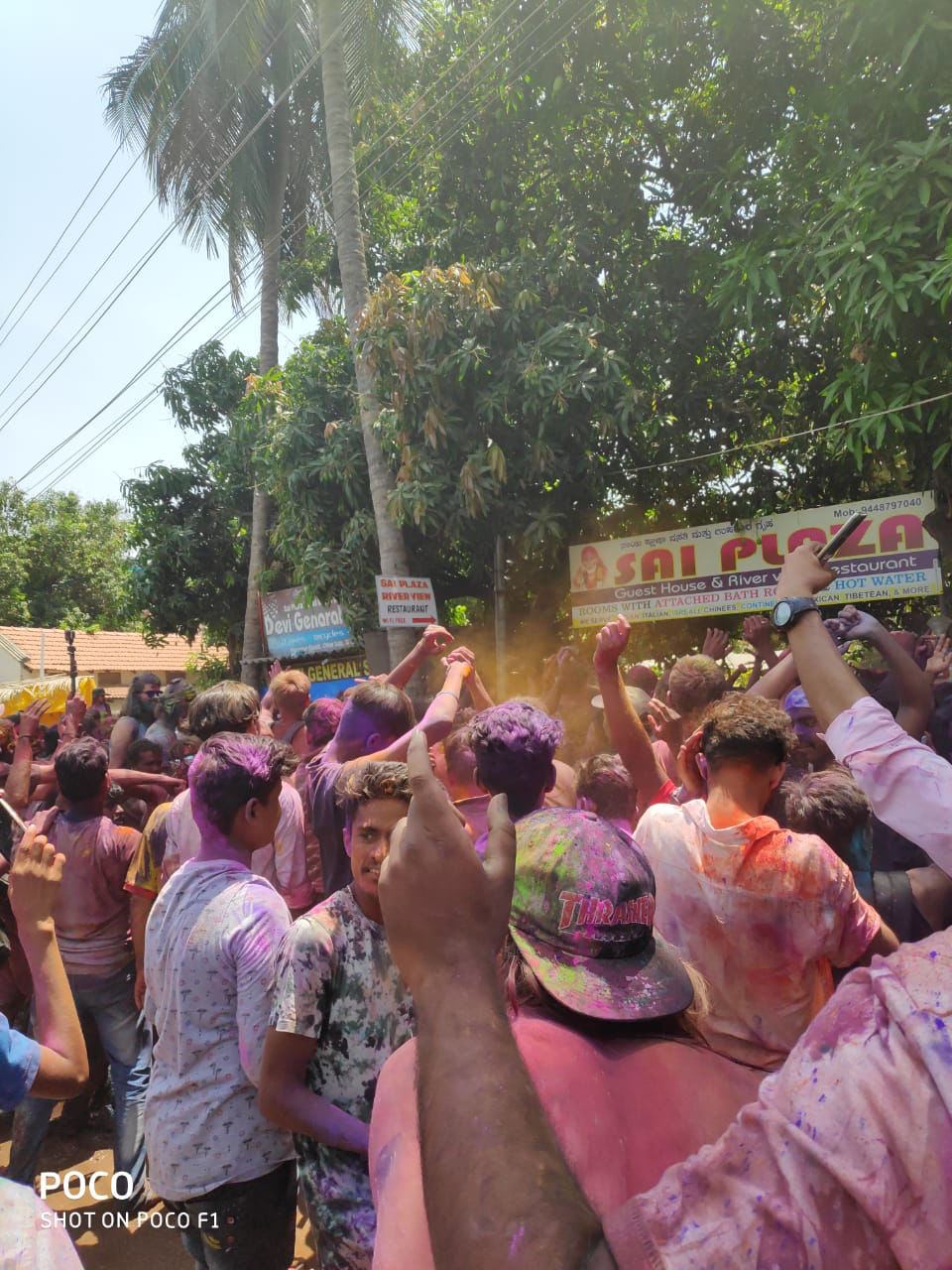 I am someone who never cares about what wish list everyone around has, if I have not seen that place already, I M Ready to be a part of the trip.
Thought conceptualised with the Holi Off in March on Thursday, Mid-week but still giving enough room for a short vacation outside Mumbai.
After much thinking, counting all the pennies in my bank account and a thought of "next time" for the Kashmir idea,we settled on Hampi.
Let me tell you Hampi is Burning HOT in summers with dry heat, which makes sightseeing impossible post 11.00 am till 5.00 PM and then at 6.00 PM most of the places on ur check list will close.
Holi is not the right time to see this place or as locals quote "Not The Season" for tourism.
No matter how much GOOGLE tries to list this place in Top 10 picks for Holi in India, it's NOT, AND NO WHERE CLOSE to the Holi of North.
Anyways this was realised after spending one entire day there.
Day 1 ended with little confusion, as a group of Foreign travellers and few Indian tourists were playing their SO-Holi in front of Virupaksha Temple and rest of the city was quite.
Holi is celebrated a day after in HIPPIE ISLAND,one of the Top Attraction in Hampi,the only explanation I could tell myself from this was that it was done to attract more tourists and make them stay for a little longer in Hampi. But
It was actually same as Hampi mainland and again the feeling was of watching a group of enthusiastic people, mostly Foreigners who were High and playing with colours in those small streets.
It's exhausting because Sun is Shining bright on your Head and it's actually not that great, but ya if ur there why not be a part of the crowd and enjoy the Madness.
With last day in Hand, and a chit pad full Of things to do along with Must Watch archeological sites, I arranged them in order And started with Virupaksha Temple and went on to
Hampi Bazar Street
Vijaya Vittala temple
Lakshmi Narasimha Temple
Kadalelalu Ganesh,
Saasivekaalu Ganesh,
Elephant Stable
Lotus Mahal
Pushkarani
The Great Platform
Stone chariot
Coracle Ride
Queens Bath
Royal Enclosure
day ended with the Sunset and Coracle Ride which was actually Expensive, one will end up paying 500rs per person for 20-30min ride.
All these places are Mapped one after the other and can be seen in 5-6 hrs unless u want to sit and observe every detail on the stone and landscape.
Things I missed becz I failed to plan first two days properly and are Must Visit
Hemakuta Hill
Hanuman Temple
Matanga Hill(Sunset/Sunrise Point)
Anjanadri Hill
I am someone who gets impatient if something is left in my check list and it's important if ur at such a place in burning heat to plan well.
Cafe's around will have ceiling fans which will be of No Help, so Check Temperature Pattern of the place before planning a trip.
U love sophisticated eateries, Hampi is not the place to search for them...lots of cafe's in Hippie Island serve average food with Menus giving preference to Foreign Travellers pallet, but u will end up going there every single night becz the other parts of Hampi closes by 10.00 PM.
Vegetarian cuisine is the focus in Hampi and Mango Tree is Topping the Game with it's affordable, filling and good portion.
Alcohol is expensive, with limited availability at only one legal store serving in entire area,so either stock up or try in Hippie Island.
Stuff is available in Hippie Island, you will get to buy it only in Day Time and the same people will refuse to even talk about it in Night & it's expensive.
Overall I am amused by the archeological structures and thankful that I had this opportunity to see this Part of India...Entire Historical Era in the Lap of this Small City and so much to be grateful to life......