Every city has its own story. Story of its origin. Stories of its kings and their heroics on the battleground. Of its markets and their gossip-laden streets. Of its myths, prayers, foods, and prostitutes. Stories, that are passed through generations and are told, retold, reweaved, and reimagined. Some lose their essence after prolonged metamorphosis, while some live and continue to entice listeners for centuries. 
These stories remain hidden in the walls of the city's houses, in the contours of its temples, in the bends of its river, and in the cobwebs of its caves. They bear testimony to all that the place has witnessed in the course of its natural history. For travellers who do not merely belong to the In-love-with-my-DSLR brigade, these stories serve as an essential bridge to connect the dots that construe and deconstruct the city. 
Like every city, Hampi also has stories. And each one of them is beyond fascinating. 
Hampi was always on top few of my "travel bucket list". After several failed attempts in the past owing to futile planning, last minute cancellations and massive hangovers, I finally had the opportunity to visit the city during the four-day long weekend. As I bought the flight tickets, I had to auction my house, wait tables at a dance bar, and sell the dragon eggs I had, a gift from Khaleesi. But then, in return I was finally able to book Air India tickets to Hampi, so I guess that is how Karma works as a bitch. 
The first thing that catches your attention in Hampi is the Rocks. The city has them in abundance. In all shapes and sizes. Cut at crazy angles and parched against each other defying gravity. The entire landscape is littered with massive boulders and small pebbles, casually strewn by forces of nature, in the midst of jade-green palm groves, banana plantations, and paddy fields. Legend has it that while choosing its topography, Hampi and its creator had a private word, which goes like this. 
Random Nature God: How would you like it, my buoy? Shaken or stirred? 
Hampi: On the rocks. 
Random Nature God: Amen!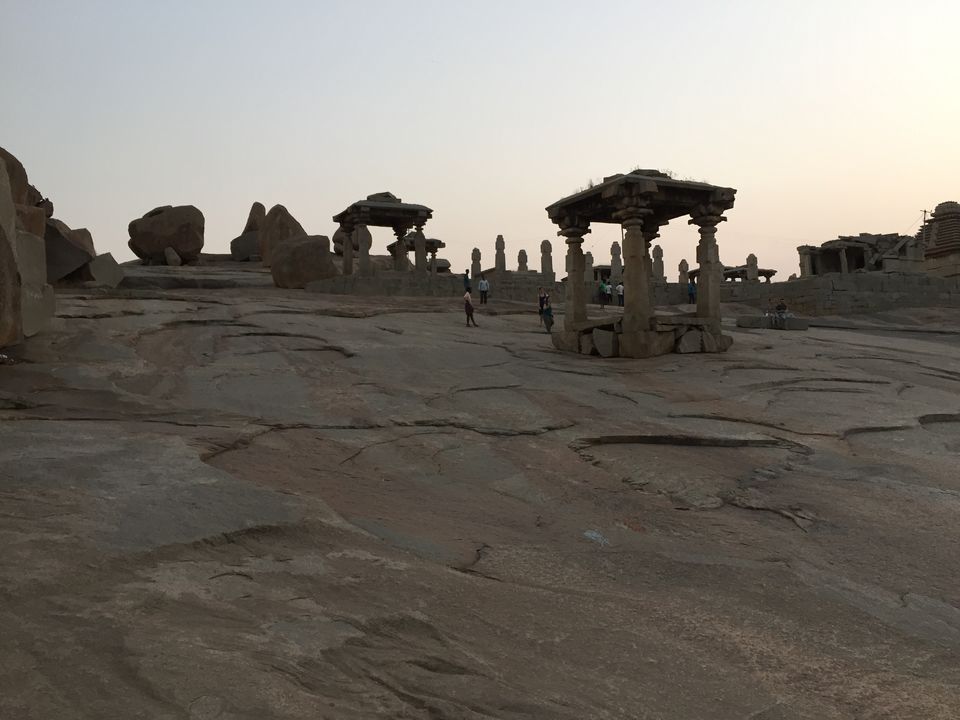 Once I was done ogling at the jaw dropping yet brute, rocky vista, I found a hippy-looking hotel on the other side of the river, over which towers the majestic Virupaksha temple, and decided to smoke-mah-paht there for next couple of days. This part of the city is accessible by small ferries and coracles (huge floating basket), which regularly transport men, animals and bikes across the Tungbhadra.
After some haggling with a bike shop owner, who sheepishly smiled when I offered him a portion of my stash, I managed to rent an Activa and zip on those dusty roads of Hampi, trying to listen to stories of the whispering rocks. 
In Hampi, it is hard to miss the religious overtures in the way of life. People are deeply religious and temples of Hampi offer them perfect excuse to be so. As is always the case, far end of its religious history morphs into mythology. And Hampi has loads of it; myths about Hanuman, Shiva, Pampa and the Tungbhadra. They are embedded in the pillars of the temples, carved in stone, narrating tales from Ramayana, Vishnupuran, Quran and even contemporary life. A variety of sects co-exist here: Saivaites, Vaishnavites, Kali worshippers, Hanuman bhakts, Krishna lovers, Jains, Muslims, and white-yoga-practicing-people. 
My first day in Hampi was spent lazing in one of those open-aangan resembling eatery, gorging on steaming appam and nutella pancakes, and strolling through some of the ruins. In the evening, I panted 580-steps-way to the top of the Anjaneya Hill, believed to be the birthplace of Hanuman, and is also very popular place to watch the sun set. The view from the top is stunning and surreal: The ruin sites stretch until the horizon, and paddy fields and coconut plantations jostle for space in between, like a unsolved jigsaw puzzle. And then, gradually, the sun sets on Hampi.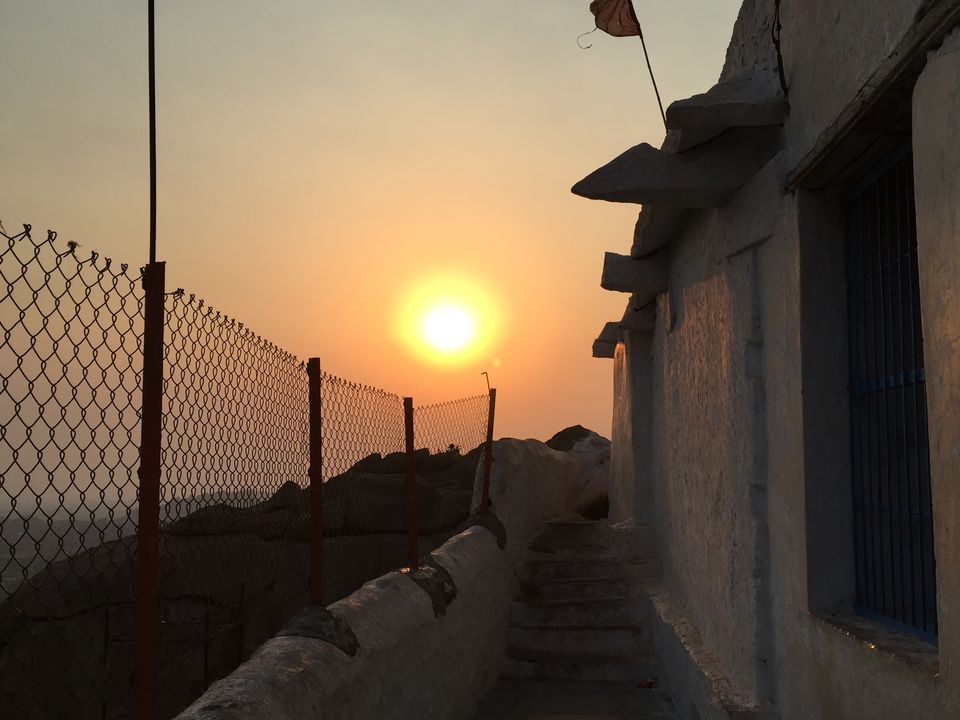 Later that night, while having dinner, I met an Italian guy who was in Hampi to learn stone carving from the masters. When I quizzed him on what fascinated him to come to here, he said, "Here, I find peace. And good pot.". Indeed. I had couple of days to find my own peace. And it was only the First Day!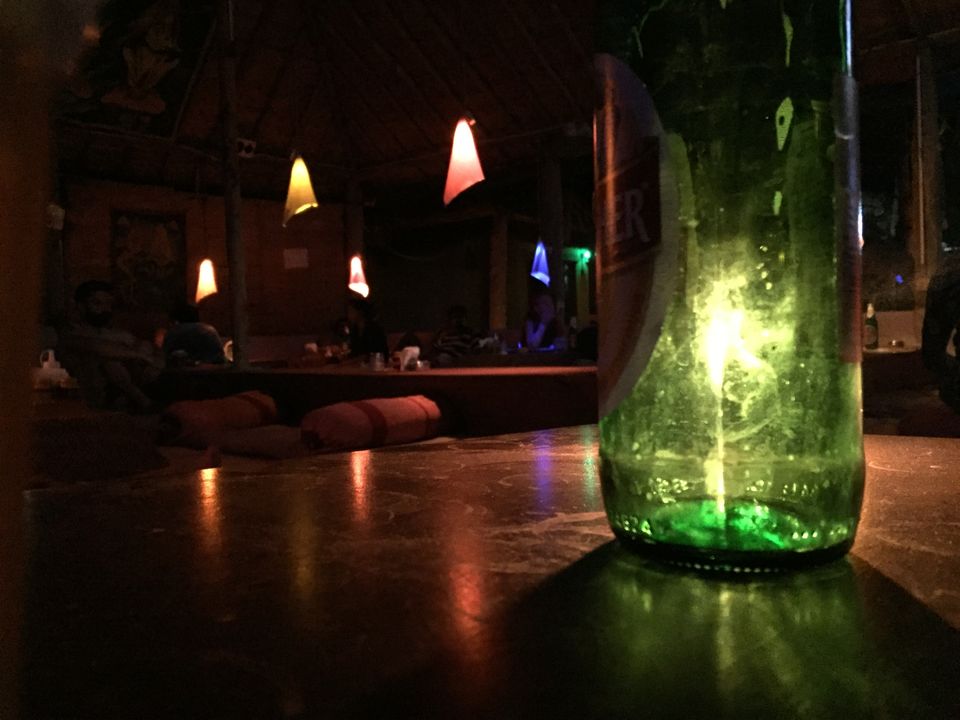 A major chunk of the next day was devoted to visiting the different temples of Hampi, which have a mystical, underlying pattern to their location. On the eastern side of Matanga Hill, which once served as hideout of Sugreeva and Hanuman while they were fighting off warriors from King Vali, lie temples of Vishnu faith, while Shiva temples adorn the western side. Giant monoliths of Laxmi Narasimha and Ganesha are carved out in stone. The mystery of the perennial waters in the Badavilingam temple still runs in the village folklore. 
The crowning glory of the Vijaynagar architecture lies in two of its temples - Virupaksha and Vittala. The latter houses the famous stone chariots and musical pillars, while the former towers over the city, keeping a divine eye on the earthly proceedings. Located some distance away from Vittala temple is the deserted Sule Bazaar, Hampi's very own red-light district. Once a thriving street for lust, seduction and commerce, the dusty remains are now frequented only by curious travellers, history students, and archeological officers, and evoke nostalgia of a place lost in time.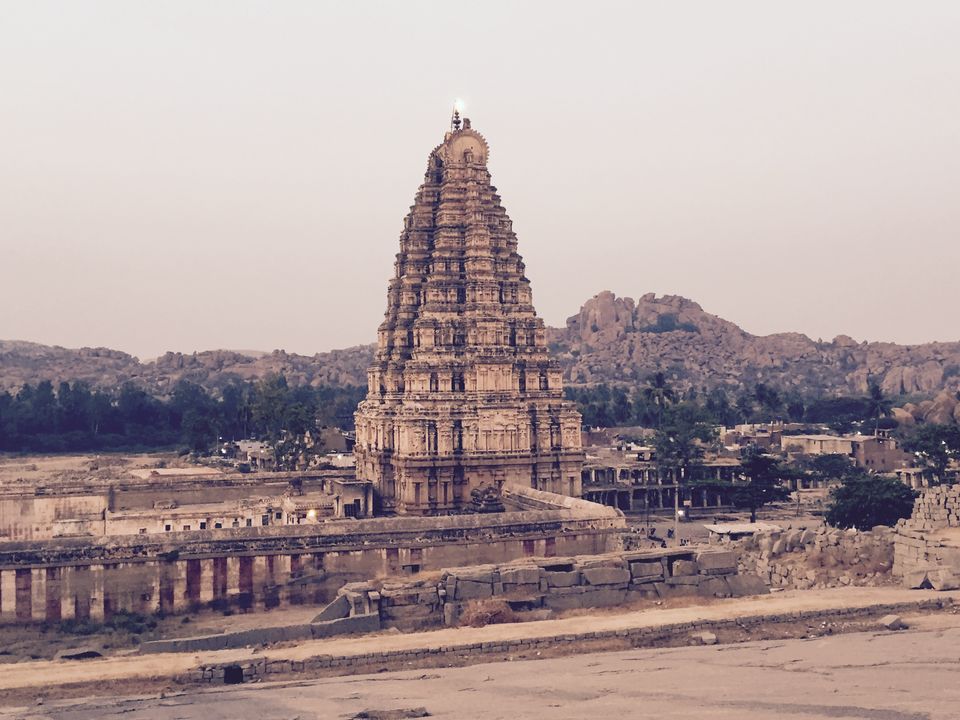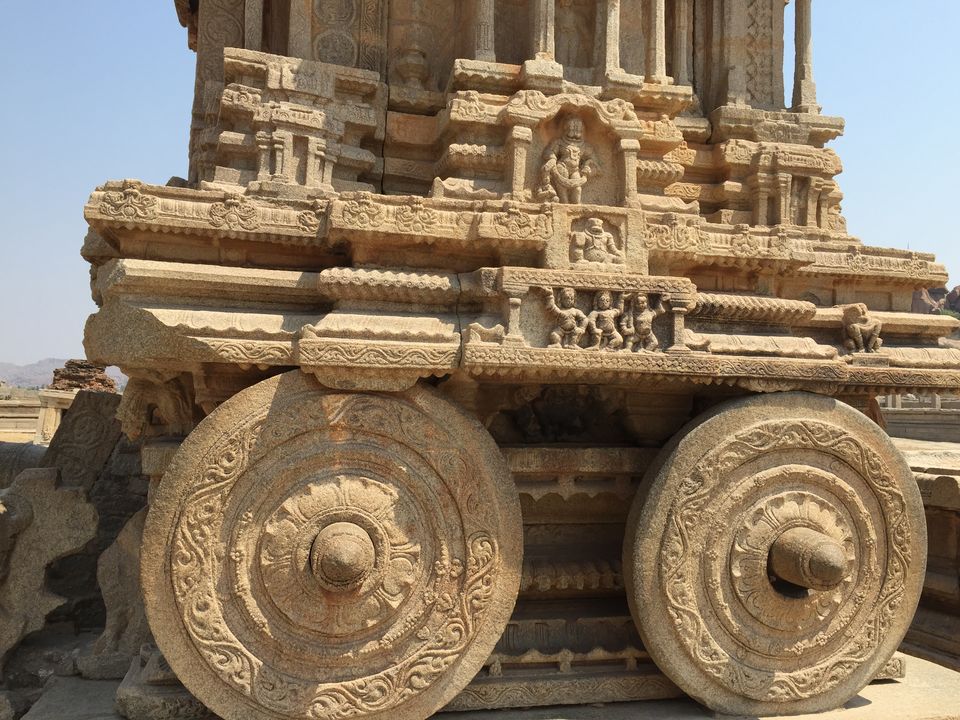 As I strolled along the narrow, unkempt pathway, I tried to imagine how the place would have looked like in the 15th century. Would it be like a Sonagachi or like the more famed ones of Amsterdam, I wondered. My imagination only took me thus far, and I watched the sun go down at the Hemakuta hill. As night engulfed the kingdom of Kishkindha, I returned to my lodging for some live percussion, mutton dumplings, and stories around the bonfire. 
Mindful of the scorching heat during noon, I began my last day in Hampi very early. Thanks to that, I was just in time to see the sun rising behind the Virupaksha temple, and it is nothing short of majestic. Men and women begin their daily chores, with a dip in the Tungbhadra and offering prayers to their favourite deity. Kids, who seemingly enjoy their morning swim, flashed me their toothy grins, as I asked one of them who their favorite swimmer is. "Michael Phelps" pat came the reply. 
Overwhelmed, I proceeded to the ruins of Hampi, which is like taking a walk through the sets of Flintstones. The lavish royal enclosure which was the seat of power during the reign of Krishnadevraya, the delicate Lotus Mahal meant for the queens and consorts, the massive elephant stables which housed the royal tusked giants, and the rusty coin mint factory are vestiges of Hampi's glorious past. Exhausted by all the biking and walking, I decided in favor of a pit stop at Mango Tree, one of Hampi's most recommended restaurants. As I munched on their special thali and rasam rice, I wondered how on earth was such a landscape created? I was spoilt by a choice between geology and mythology. I chose the latter, for my love for stories.