Hello 2019! I wanted my first trip of this year to be a little different. I wanted to go to some place which was touristy yet had a charm of its own. I narrowed down to Hampi and began searching for agencies organizing weekend trips. My first and last choice was PTU :) I didn't even look further and booked with them for the 12th January weekend. But after few days, I got a call from them saying that the trip is not happening due to insufficient registrations. The next batch was on 26th which would not have been possible for me to join due to my friend's wedding. So I waited patiently for the next dates to be released. After coming back from the wedding, I quickly checked for the next batch and it was for 9th Feb. I booked my seat immediately and kept my fingers crossed, hoping that this time it won't get cancelled! I even called them up 2 days before leaving and was relieved to hear that the trip is on :) Finally, Hampi was beckoning!
Since this was a trip, I didn't have to carry my big trekking boots and trekking pole. I just packed a spare pair of clothes and some eatables for the journey. The excitement was slowly building up. I was wondering what kind of people will I meet this time considering I was going solo :) I reached the pickup point in Domlur well before time and was strolling around the area looking for some good filter coffee. Everything was shutting down. I quickly grabbed a cup from one of the restaurants and started waiting for the bus to arrive. The bus arrived around 9.30 PM and once everyone was onboard, we started. Two leads, Abhishek and Pujitha, were onboard. The third, Akanksha, was going to join us from Mekhri Circle. Once she was also onboard, we had a small intro session where we had to introduce any 1 of the fellow travellers but with a twist. We had to state 3 facts about him/her out of which 1 would be a lie. Others in the bus had to guess which were the true ones :) Trust me, this was really fun!
We stopped for a chai break once we hit the highway. It was apt for Sanchayan, who liked to have tea, right in the middle of nowhere with vehicles buzzing past you! Once everyone was recharged, we resumed our journey. Soon we realized that we had left somebody behind and guess who it was? Sanchayan :) Pujitha and Abhishek quickly rushed in the opposite direction while Akanksha was trying to convince the driver to reverse but in vain. Since it was not very far, they arrived soon with Sanchayan in tow :) I am sure he would never forget this experience! Once everyone was onboard, a headcount was performed to ensure no one was left behind :) We were total 16 including the 3 leads. They shared the itinerary for the next 2 days and soon everyone dozed off since it was going to be a tiring day ahead. And when I woke up, this was the sight!
With boulders of all possible shapes and sizes, it felt like we were in a totally different landscape all together! Hampi is basically divided into two parts by the Tungabhadra river - the hippie or backpacker's side ( Virupapur Gadde) and the temple side. We were headed to the hippie side since we had activities planned there for Day 1. This area is very laid back and has lot of cafes and restaurants where you can just relax and lie down and have your food. You can even find foreigners smoking joints openly here. Once we reached our campsite, we quickly freshened up and stuffed our tummies with some onion pakodas, upma and poha.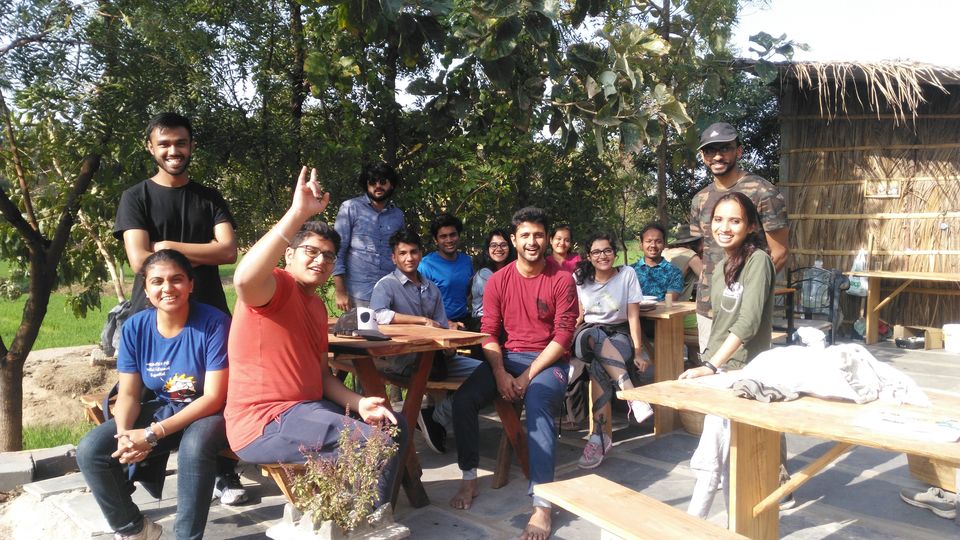 The first activity for the day was bouldering. Bouldering is basically rock climbing but without the use of any ropes or harnesses. It involves not only muscle strength but sound technique as well. The rocks of Hampi have formed naturally over the course of millions of years and are perfect for climbing. Foreigners come here from far away to practice on these rocks and gain immense experience. This was the geological explanation. There is a mythological explanation as well :) I won't get into the details but you can read it here.
We started off with stretching exercises under the guidance of Sunny. He runs a bouldering school and has all the equipments like climbing shoes, crash pads etc. Once the warm up was complete, we started with climbing the smaller rocks. You need two main things to climb a boulder - chalk powder and climbing shoes. Chalk prevents your hands from sweating and the shoes help in getting proper grip on the rock. But the shoes are really uncomfortable! They make your toes curl in the front but that's how it helps in getting a good grip! We started with this rock.
Then progressed to this one.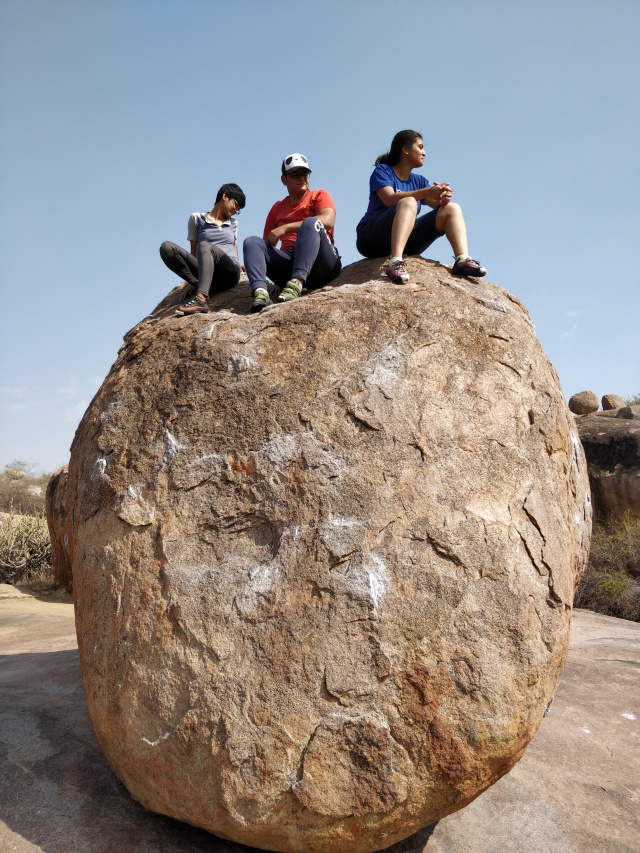 And wrapped up with this one!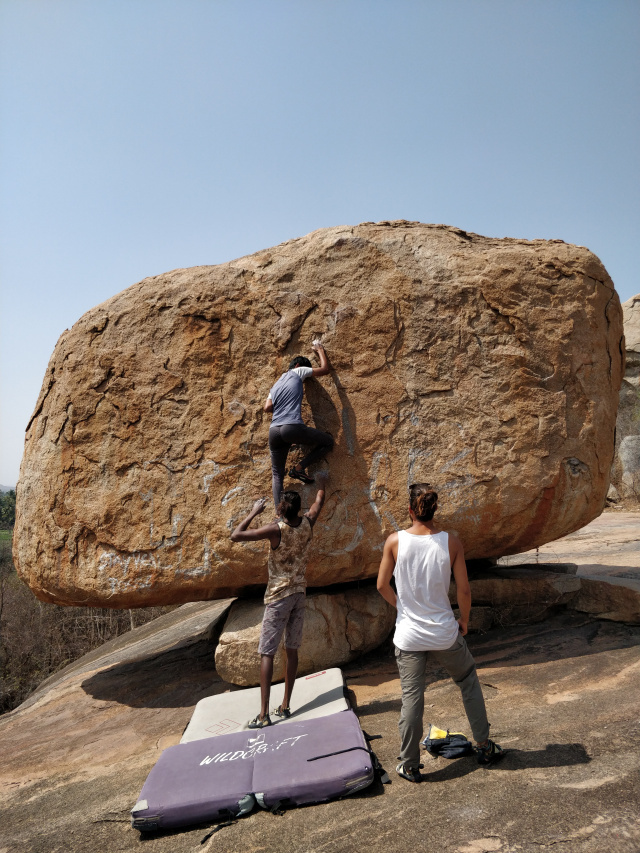 The experience was amazing. Sometimes you can't help but wonder what all the human body is capable of doing! It looks difficult from the outside. But once you get the basics and follow the instructor, you can do it with ease.
After this intense session, we rented mopeds and scooties to explore this side of Hampi. Since everyone was hungry, we crashed at German Bakery for lunch. The ambience here was very relaxing. They even had mattresses lined up besides the tables! You could just order food and doze off while it comes (they do take a lot of time to bring your order!). The food was good but a little cold for my taste buds.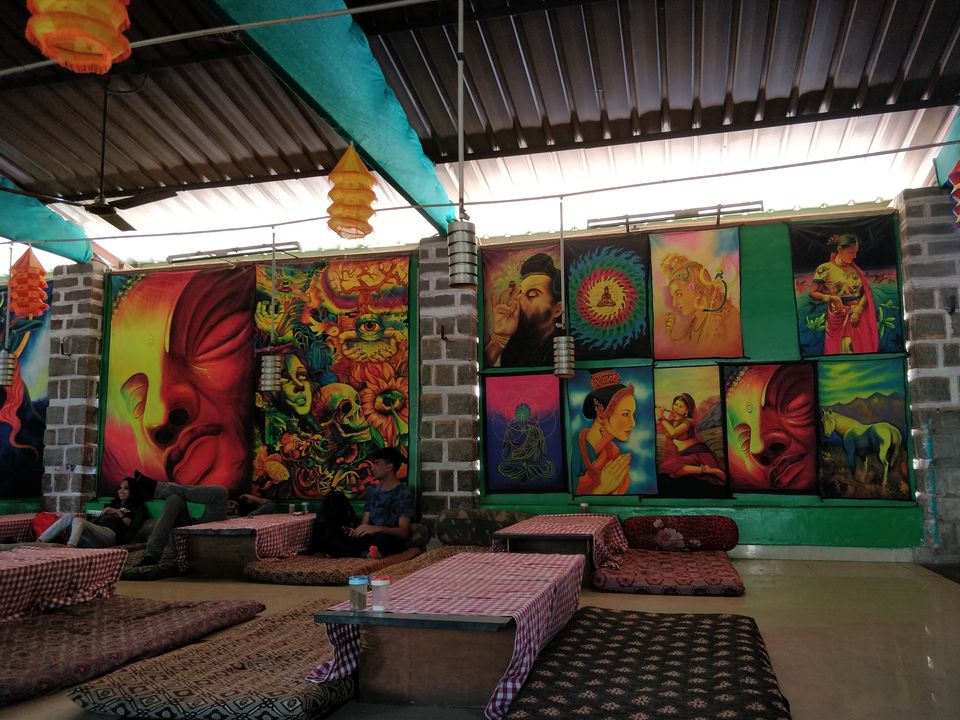 Meanwhile, we came to know that Jinita was lagging behind. She had fallen from her moped on the way to the restaurant. Although it wasn't serious, but it was very painful. She decided to bear the pain and continue with us further. Our next stop was going to be Sanapur Lake. One of the hidden places in Hampi since it is bit far, it is famous for coracle rides across it. The road leading upto it is flanked by banana plantations and paddy fields and is full of ups and downs. I was riding pillion with Soubhonik and the moped ride was super bumpy and unforgettable. Surrounded by big boulders, the deep blue waters of the lake were shining brightly under the sunshine. You can also do cliff jumping here if the water levels are adequate. We moved to the other side of the approach road and spent some time there down by the lake soaking in the serene beauty and calmness.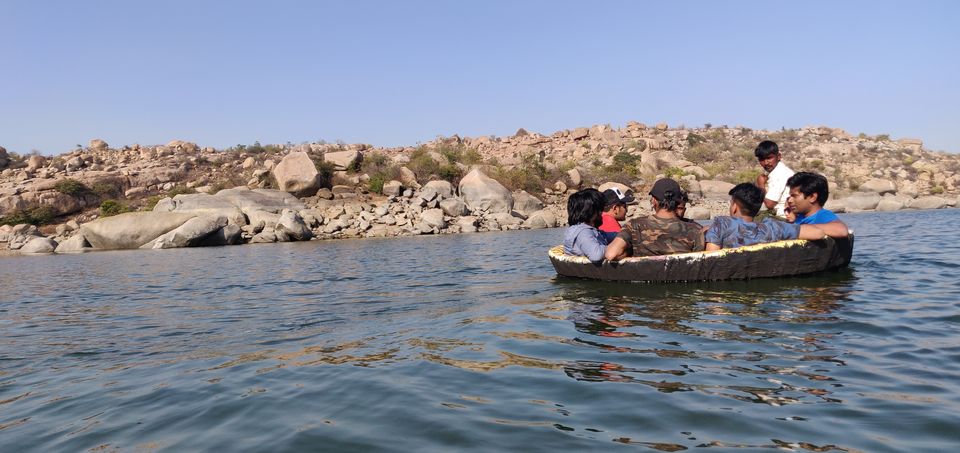 Once everyone was recharged, we proceeded for our last stop for the day, Anjaneya Hill. Legend says that Lord Hanuman was born here. There is a small temple dedicated to him at the top. But to reach the top, you need to climb 575 steps! The steps are narrow in some places but otherwise not very difficult. The views that you get on the way up will surely drain away your tiredness.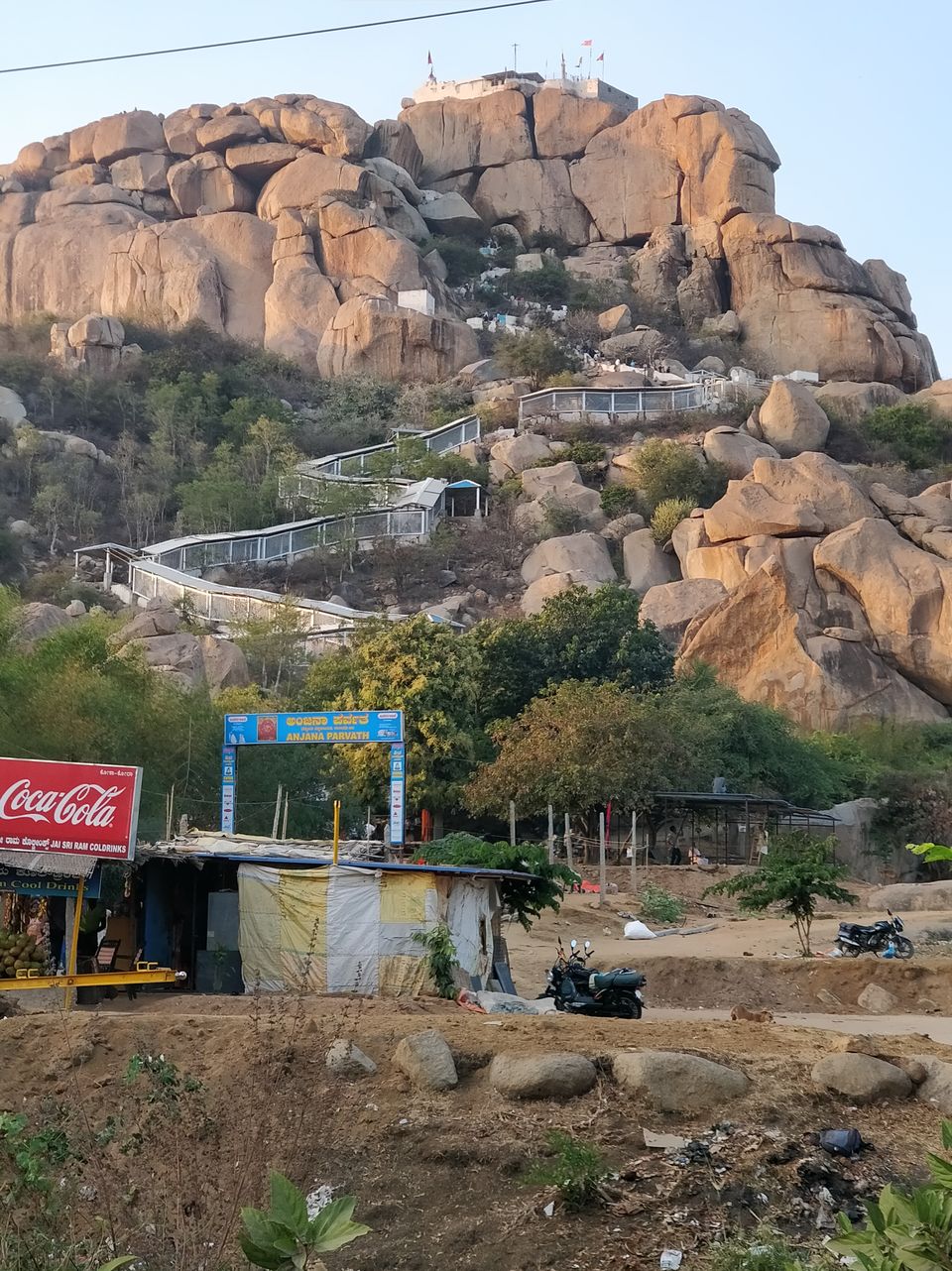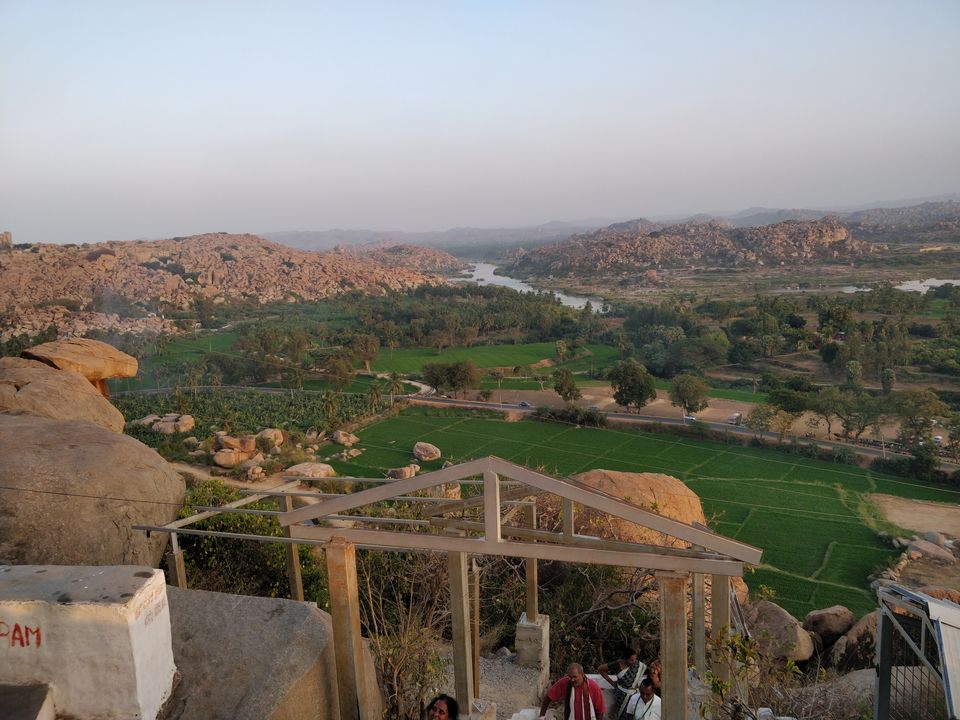 And when we reached to the top, we were greeted by this stunning sunset!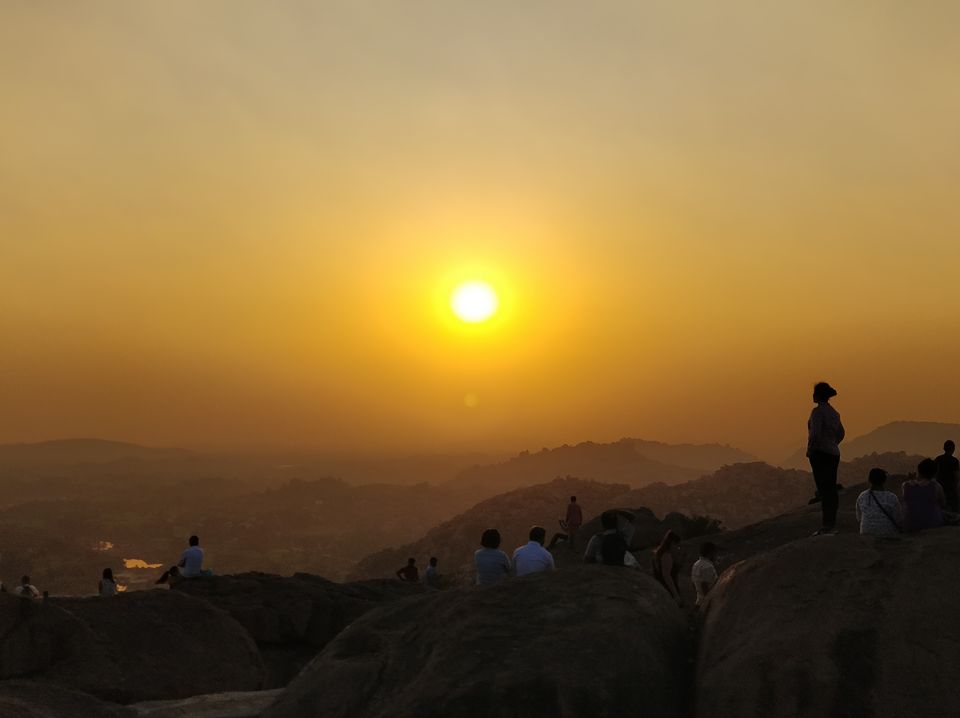 We spent sometime here just relaxing by the rocks and watching the sun go down. Sometimes I wonder why do I take so much pain and effort in climbing or trekking. It is for moments for like these. Memories which will remain forever etched in my mind.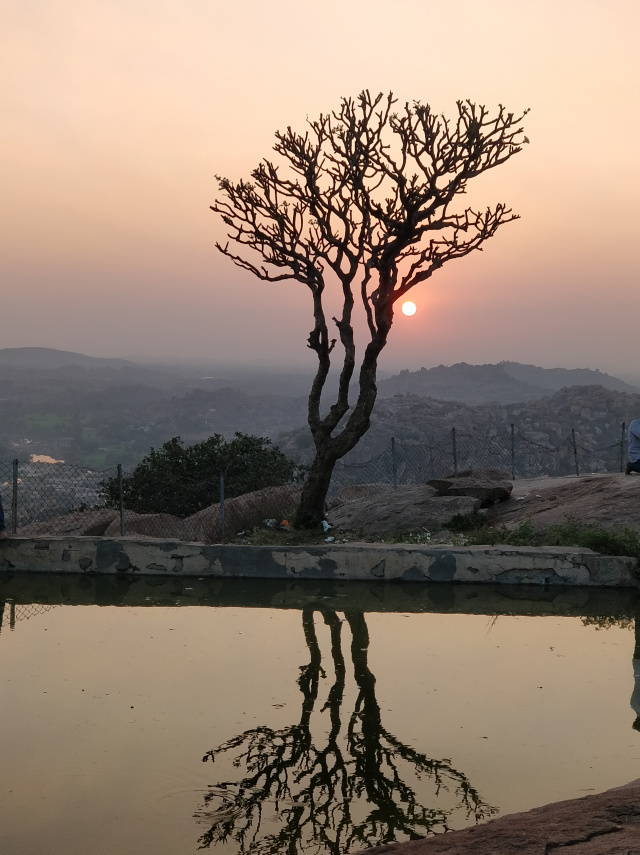 Soon it was time to leave. It was getting dark and we had to get back at our campsite. We reached before it got too dark. I was just roaming around when Abhishek asked me if I wanted to go to the boulders. Why not! After reaching there, when I saw up, I was stunned. So many stars! It was like Spiti and Chitkul all over again :) I knew what I had to do. Since I had brought my mini tripod, I tried to take as many long exposures shots as possible using my OnePlus 5. Some of them turned out good even though there was a lot of light coming from the campsite and neighbouring villages. One of the main things to keep in mind while taking shots of the night sky is to minimize the light around you so that only the light from the stars will be captured. Once I was satisfied, we went back and had dinner.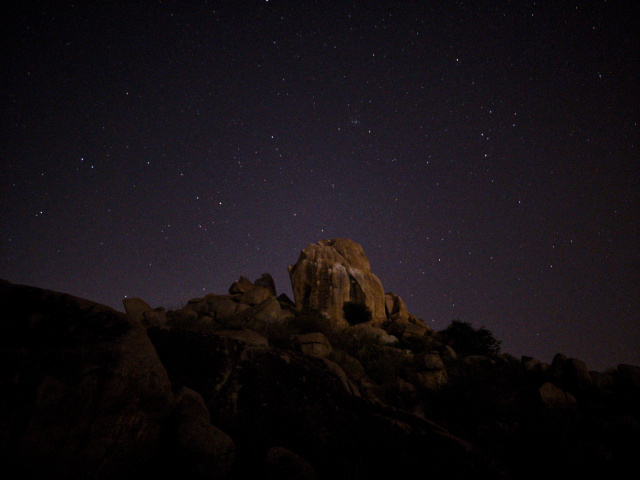 We went back to the boulders and soon Akshit, Jinita, Tanvi and Sanchayan also joined us for round 2 of amateur astrophotography :) The pics were coming out really good. And all of them were from a smartphone! I am sure a DSLR would have taken even better pictures. We went back and played couple of rounds of Mafia (A game where things can turn so bad that even the closest of friends will grab each other's throats :D) Meanwhile, Jinita was in terrible pain from her earlier fall. Pujitha decided to go out and look for some medicine. There was not a single pharmacy that was open nearby. She didn't give up and found a shop which was 12 kms away. She came back with the medicine and gave it to Jinita who got much needed relief. Hats off to her for going out of her way and making sure that her fellow traveller had a peaceful and painless night.
Pujitha floated the idea of sleeping on the boulders and chucking the tents. I was up for it instantly! Abhishek and Sanchayan also joined and all of us took our sleeping bags to the boulders. We didn't go very far from the campsite incase we needed something during the night. Since Jinita was facing difficulty in walking, she and Asima also joined us. Bidding goodnight to our day1, we dozed off under this starry night, secretly hoping that the day never ends :)