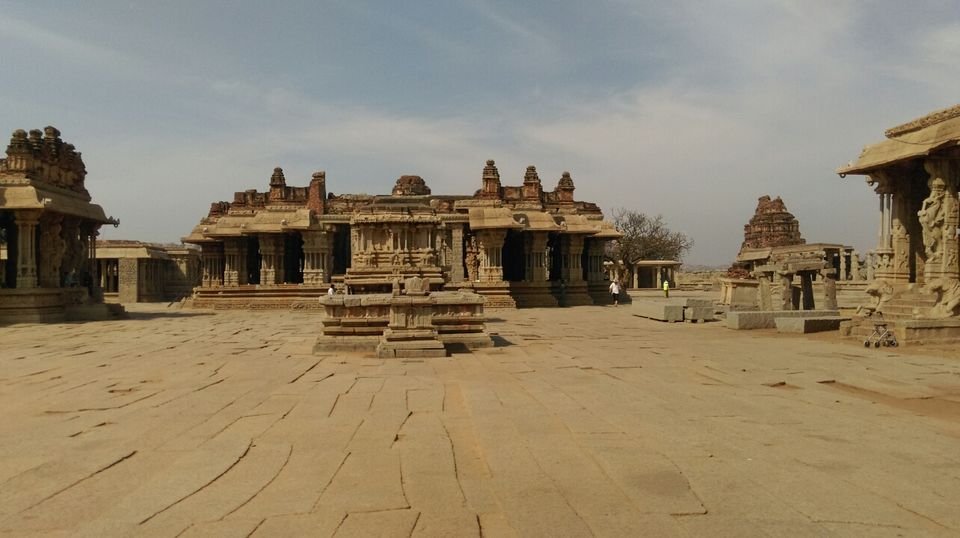 It was early morning when my roommates were in deep dreams I woke up at 4 am . Took cold water shower. Made saddle bags ready with last minute packing and I believe bachelors are perfect in such packing. Packed on Enfield secured using bungee cords. Kickstarted Enfield to begin journey.
Early morning ride refresh you and allow you to sing Hindi songs loudly from kabhi kabhi ...to anything on lonely streets.
After riding for 2 hours passed yellapur ghat through thick forest . Hairpin bends makes the riding best and memorable.
Leaving behind green lush forest of Uttar Kannada district headed towards hot region of Karnataka .
Initially plan was to reach hampi but on roads seeing Karnataka tourism signboards I changed plan and thought a give chance to less heard places ...following one such signboard in gadag I landed in densely populated mohalla and I thought I lost the road but one local kid came to help to took me to that heritage temple which was lost in human population surrounded by all sides.
After that headed towards lukkandi- here beautiful temples are spread built in kalyani chalukya era. Driving from goa I will suggest to give 2 hours to explore lukkandi and lunch here.Veg thalis are awesome with jawar rotis.The people here are so loving and helps you in every possible way,requisite is you have to wear smile and hello to everyone.
Exploring lukkandi headed towards hampi . At around 5:30 I reached there . Got a geaust-house at just 200 bucks a night near virupaksha temple.[ recent update as Dec 2017: All commercial activities have been stopped in view of supreme court order so staying and food options mentioned here are shut down]
Took bath changed clothes and ran to hill near virupaksha temple for sunset.
Setting Sun flourish golden colour and everyone sits silently to store this beauty in eyes and some with big cameras.
Watchman came and cleared place after sunset ,I came down went to virupaksha temple It offers complete peace and you sit there silently admiring sculpture built by our ancestors.
Day2
I woke up early to reached at foot of matunga hill it's just 500 mts from virupaksha temple . Climbing hill is somewhat difficult and to find way keep close eye on signboard or ask people.
After that I took breakfast at kamalpura on local stall.filling fuel in my body and Enfield's tank on return road to hampi visited queens bath, lotus mahal,kudelkalu ganesh temple and many more. Tip is stick to road visit monuments on right and left side of road.
Virupaksha temple area is center of all activities.
Start from here towards signboard of vittala temple.From here you require to go by walking only. It is 5-6 km walk covering 10-15 monuments upto vittala temple along the river.
On the way to vittala temple met Korean traveler,we started exploring together. She was strong girl with cute face.
Slept early due to this hectic day
Day 3
We Woke up early started Enfield and headed towards Malyavanta hill for sunrise. Beautiful Lord Ram temple is there.To see rising Sun from here is complete bliss.
On the drive back along the road towards kamalpura there are 8-10 monuments including Jain temple,Bheemas gate.
Took breakfast at kamalpura and headed towards museam.
Museam is well maintained and one can know history of hampi with visual models.
After we took lunch at kamalpura and teaching her eating jawar roti was real fun.
Accommodation:
There are two options one in hampi near virupaksha temple[now shutted down]and other side of river. They start from 200 bucks to 800 per night.
Choose your stay there to catch sunrise and sunset.
Tip: on arrival hotel agents will flock you,tricks is stay firm on your budget.They will show you rooms.
More luxurious hotels available in hospet city at distance of 15 km.
Food:
There are plenty of restaurants in hampi but if want to save some bucks drive to kamalpura 2-3 km from hampi. There local hotels provides thalis in just 40-60 bucks.
Best places for sunrise-sunset
Matunga Hill - needs some energy to climb but view is best.
Kishkinda hill- go for sunrise there is sriram temple and one of best place to see rising Sun.here beware of monkeys.
Virupaksha temple side hill- easy to climb ,go early and find best place as lot of people flock there.
Tips to get best from hampi trip.
-Better to go solo to explore hampi.
-rent a motorcycle/cycle for freedom of movement.
-carry cap,suncream, water ,glucose. Hampi is very hot and you need to walk 8-10 km a day.
-take round boat ride. It is one of best experience.
-Be early bird .
-visit museam at kamalpura to know history of hampi and vijaynagar empire in details.
-plan for atleast 3 days to explore hampi with peace.
Places not to miss
-virupaksha temple
-achutraya temple
-lotus mahal
-ganesha temple
-Monkey temple on other side of river
-vittala temple
-sunrise at malyavanta hill .
Best time to visit is October to February. In summer it becomes very hot so better to avoid.
Find map in images attached here for planning your stay better in hampi.