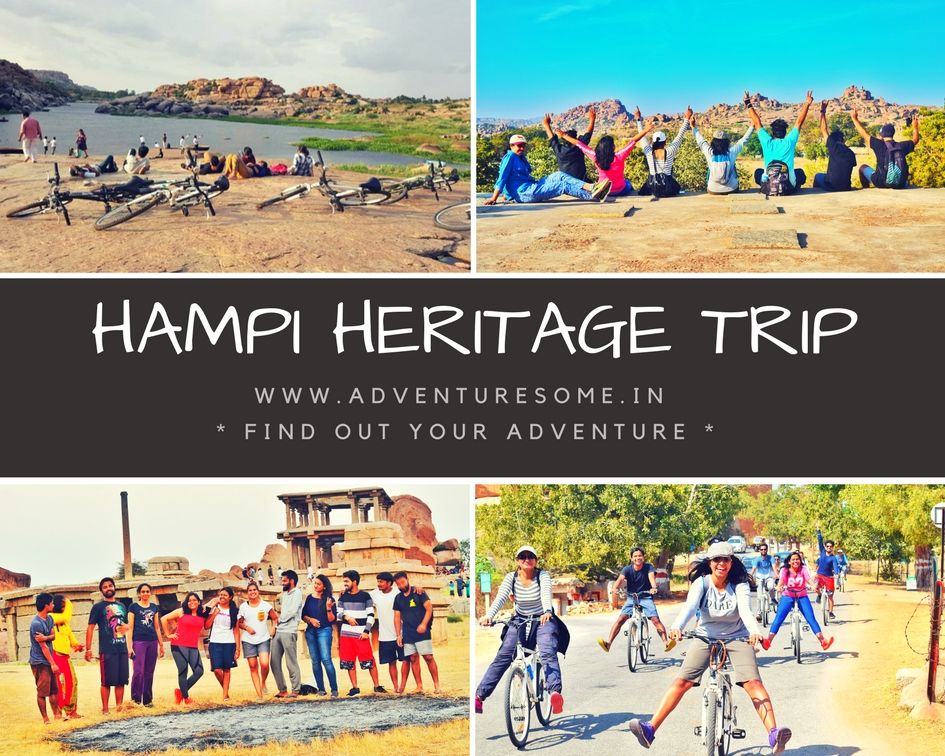 DETAILS:
Take a weekend off to one of the most ancient and serene place of India. A place that boosts of ancient Indian architectural skills. Full of monuments and historical temples, Hampi is recognised as the world heritage site by UNESCO.
Situated at the banks of Tungabhadra river, this place is known for its many relations to various legends and myths surrounding Hindu gods and goddesses. Apart from its intriguing history, this place is also known for its magnificent scenic beauty which is a site for sore eyes tired by exhausting Metropolitan city life.
This magical place is nothing less than a paradise on earth built by the finest artists and spending a few days here will surely make anyone agree with it.
DIFFICULTY LEVEL: Easy to Moderate
The difficulty level is depends upon the fitness level of the participant. On the first day we have to cycle for around 15 to 20 KM's and On second day we have 2 small treks for sunrise and cliff dive/ river hike that makes a total of Approx 10 KM's
ACTIVITY TYPE:
Cycling
Trekking/Hiking
Sightseeing
Cliff Diving
Bouldering
Camping activities (If condition permits)
BRIEF ITINERARY:
DAY 0:
The pickup from Bangalore will start at around 10:30 PM, Departure from Bangalore.
DAY 1:
As soon as we reach Hampi; we will check in to our Home Stays/Lodges, freshen up and have our breakfast at some nearby restaurant.
Our Hampi adventure begins on bicycles *Tring tring*, so on the first day of our adventure travel we will be exploring Hampi's architectural heritage on our bicycles covering all the important temples and structures till evening. Krishna temple, Hampi market, Narasimha and linga, Vitthala temple, Mahanavami platform, public square complex, Water infrastructure, Elephant stables are some of the main attractions which we will cover to add them in our cycling diaries.
Then to witness the beautiful sunset of Hampi, we will go near Virupaksha Temple. After the sunset we will go and visit Virupaksha temple.
After reaching our Home Stays/Lodges we will freshen up and go out for Dinner. Then before hitting our beds we will play some games and share our bedtime travel stories with all the travel mates with some formal introduction.
DAY 2:
Wake up!! Its sunrise time. You will still be laying on your bed like a half dead body but this small early morning trek to Mathanga hill from where you can eagleview the whole of Hampi with the sun rising in full grace.
Then we will go for our breakfast and after that we have some more adventures on the way i.e. Bouldering and Cliff Diving. For cliff diving we have to do a 6 KM trek (To and Fro), the trek is unique in its own way as we have to walk on rocky terrain which used to be the Tungabhadra river bed thousands of years ago, at some places you can actually hear the river flowing underneath you.
After returning from the trek we will have our Lunch, then Pack Up and say Goodbye to Hampi.
Board the bus and departure for Bangalore.
INCLUSIONS:
Outdoor leader charges
Refreshment and Breakfast
Local transport in Hampi / Cycle charges
Accommodation - Homestay/ Lodge (2 to 8 sharing a room)
First Aid
Monuments entry charge
Bouldering / Coracle rides / Cliff Dive
EXCLUSIONS:
Lunch and Dinner (We want you to taste the local cuisine as Hampi has a lot of varieties)
Personal expenses (Snacks, mineral water, etc)
Any extra expenditure not mentioned in Inclusions.
All expenses incurred due to unforeseen and unavoidable circumstances.
INSTRUCTIONS AND GUIDELINES:
All participants have to fill the form before boarding for the trip and must bring a valid ID proof along with them.
For safety, All participants must follow the Outdoor leader's instructions and must not stay away from the group. Itineraries are subjected to change during the event depending upon the situations.
Do not wear tight jeans or shorts during the trek. Tight clothes can be uncomfortable for the trek, also bare body exposure to wild grass can cause allergic reactions.
During the trek and stay, only locally available food will be provided.
Its an adventurous and outdoor travel event trip, so please do not expect any luxury for stay, sanitation or any other unexpected situation that may occur during the whole trip. We will try our best to provide you the needed facilities during the event.
Consumption of alcohol or any other intoxicating products is strictly prohibited during this trip.
Do not litter, do not make loud noises.
Do not carry valuable ornaments with you during the event, the safety and security of your personal belongings and the tents/sleeping bags provided to you are your responsibility.
Full T&C: http://www.adventuresome.in/en/Adventuresome-terms-and-conditions/
FAQ's: http://www.adventuresome.in/en/Frequently-asked-questions/
THINGS TO BRING/CARRY:
Shoes with good rubber grip
Rucksack/Backpack
Water Bottle (2 Liters)
WindCheater (In case if it rains) or Jacket (It may be cold at night)
Extra pair of clothes
Flashlight/Torch
Personal medical kit (If needed)
Cap or HeadWrap
Snacks/Protein bars for Instant energy
Vaseline or Sunscreen
Spare batteries or Power Bank
Plastic covers (to keep your stuff dry)
HEALTH AND FITNESS: Though trekking is a fun-filled activity, it demands good amount of physical fitness. If you are under medication, please carry your medicines. During the trek, leaders will have over the counter medication for temporary treatment, so do give a heads up to them if you need any medical assistance.
REFUND POLICIES:
If you cancel trek/plan before 10 days:
100% refund will be provided. (Payment gateway charges will be deducted)
If you cancel trek/plan before 7 days:
75% of the actual amount of the trek will be refunded. (Payment gateway charges will be deducted)
If you cancel trek/plan before 2 days:
50% of the actual amount of the trek will be refunded. (Payment gateway charges will be deducted)
If you cancel in last 48 hours:
No refund would be provided.
CONTACT DETAILS:
1. Please call or whatsapp 8892203272 / 8553936570
2. Or shoot a mail: adventuresome@gmail.com
3. Website: http://www.adventuresome.in/en/CONTACTS/