Sick of watching landscape full of skyscrapers everyday? Sick of never ending traffic problems, pollution, crowd and noise?
Wish to run away from all this only to see vast landscape which stretches of boulder-strewn hills, banana plantations,paddy fields?
Wish to see mesmerizing, enthralling ruins of golden empire which has ancient market streets, royal pavilions, huge elephant stables while talking some lessons into Indian history and heritage?
Well if answer to all these questions is YES, then help yourself,pack your bags and head for HAMPI!!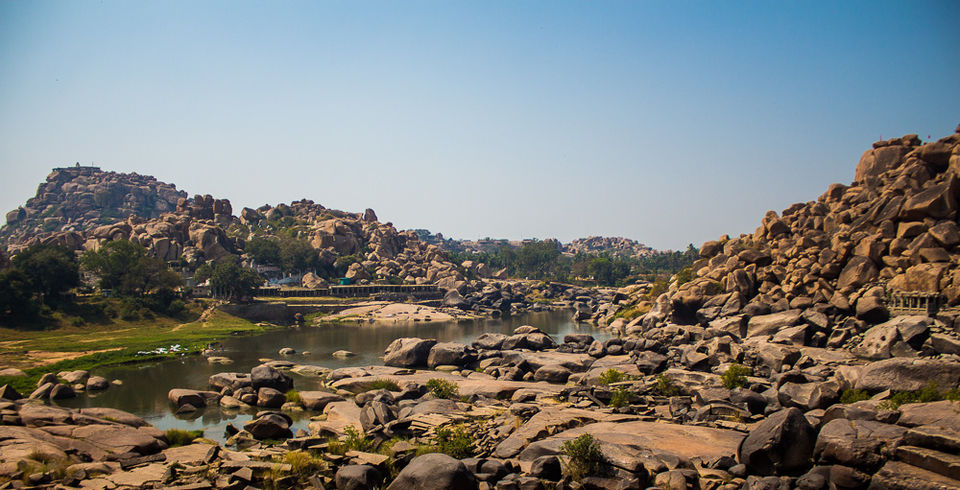 As I have already given you enough reasons to visit this place lets talk about
How to reach
This UNESCO world heritage site is located near Hospet town in the Karnataka state.Closest metropolitan cities are Banglore and Goa. Both 6-7 hours on road.From mumbai there many overnight buses. Journey time 13 hours. Check 'redbus' for more infoFrom hospet bus stand hampi is 30-40 minutes journey. Tuktuk (Rickshaw) are also available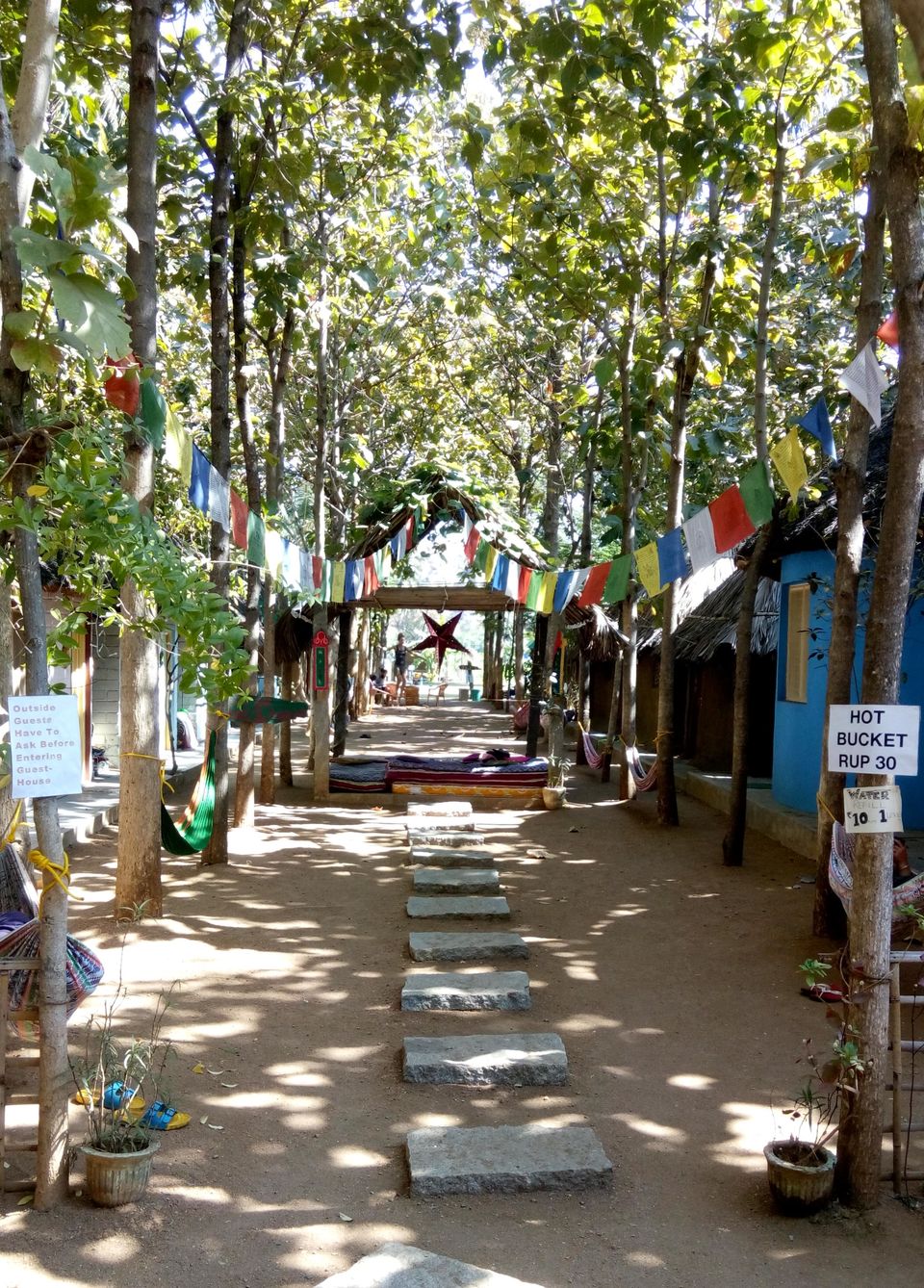 Where to stay
Well Tungabhadra river devides Hampi in two parts.Virupakswa temple side which consists of most hotels n homestays. And the other...hmmmmm lets call it 'Happening' side ;-)Both offer unique experiences so I would recommend you to spend a few nights at each.As I was travelling solo I stayed at 'Manjus questhouse' for 200/- per night (Dormitory).Nice place :-)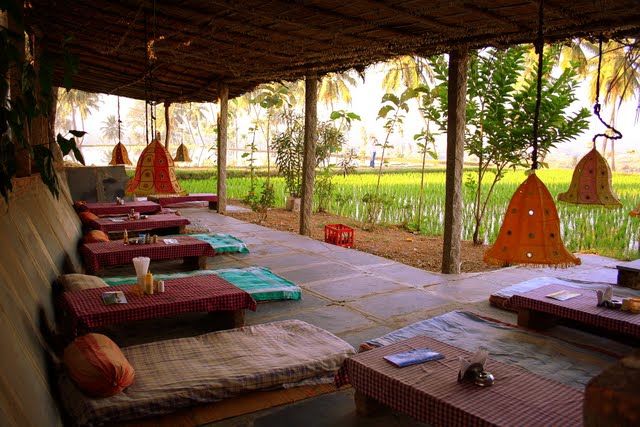 but there are many other hostels like 'Booby one love' and 'Goan corner' etc..which you should tryCheck 'hostelworld' and 'triadvisor' for more info.
Where to eat
If you are vegetarian head to 'Mango tree' and if you have craving for Israeli or Italian food 'Laughing Buddha' is place to be.Though these two are most renowned there are plethora of options on either side of river.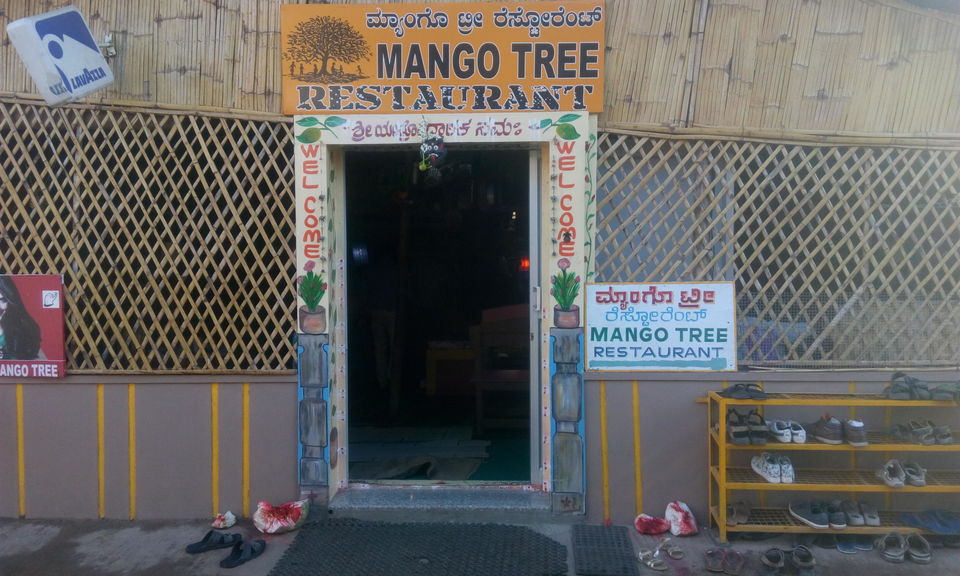 Or else if you are on Low Carb/Cash diet :-p then these juicy, tender Pineapples n Watermelons are more than good enough to keep you alive ;-)Ummmm Delicious's....


How to get around
You can hire moped(200/-), Scooty (250/-), Motorbike (300/-) and Cycles(50/-) per day for sightseeingUse Coracle for river crossing, these coracles are big enough to carry your two wheelerKeep in mind entry of motor vehicles is restricted at many sites in Hampi so chose your ride carefullyAuto-rickshaw & car options are also available.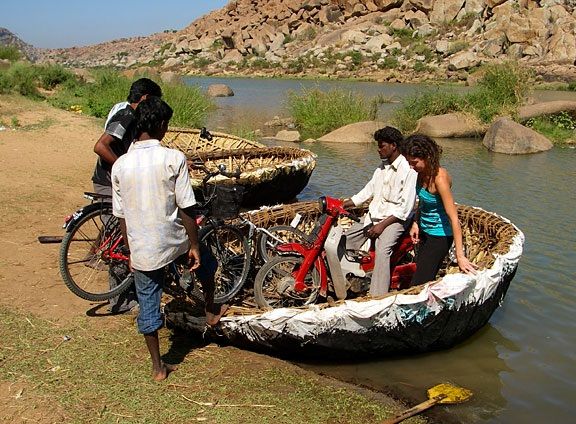 Places to Visit / Itinerary
While its possible to cover this world heritage Site in a day, this goes against Hampi's relaxed grain.Do plan on camping for a while (2 days at least) Especially if you want to explore the 'other' side of river.
Day 1 )
Well for first day I followed itinerary given on 'hampi.in' and I think it is very helpful.I dont think there is any point rewriting same itinerary in my own words.So keeping it simple and giving all credits to them..here's link !! :-)
Here they have provided 4 routes.You can either chose any one of them or merge them together to create your ownWhat I'll do is to write Day 2 itinerary, provide some tips and list places which you must not miss on Day1All these places are nearby each other and can be easily covered on Day1
Start with Virupaksha temple and Hemakuta Hill. From here you can click panaromic view of virupaksha temple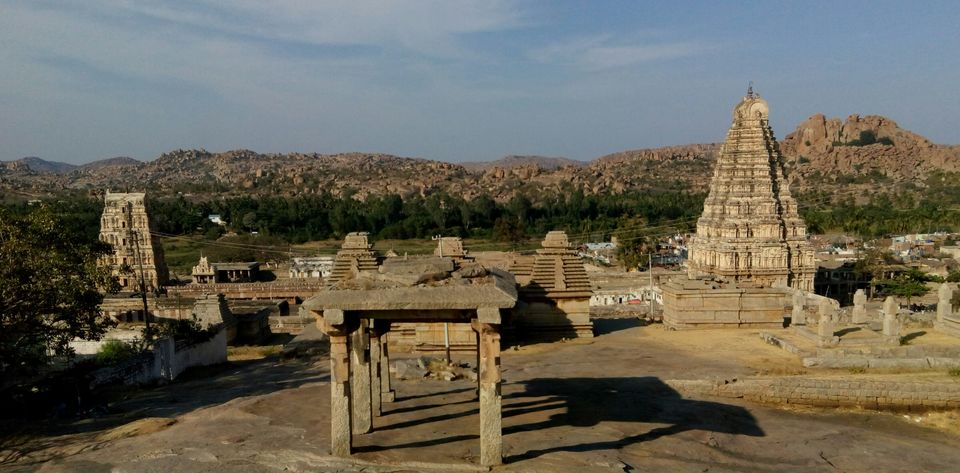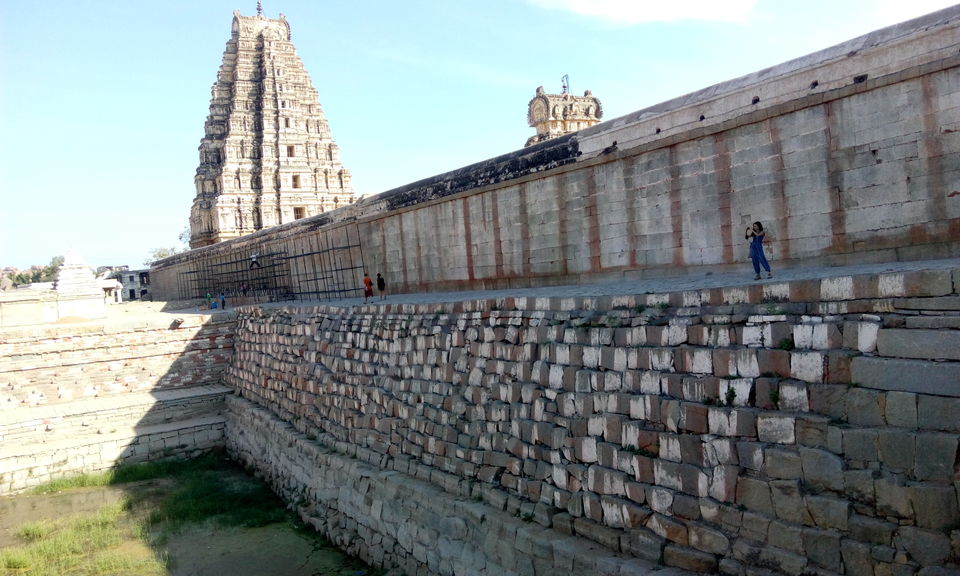 Meet Laxmi :-)If U are not lazy and can wake up early morning then U stand a chance to see her taking bath, splashing and dunking in Tungabhadra river.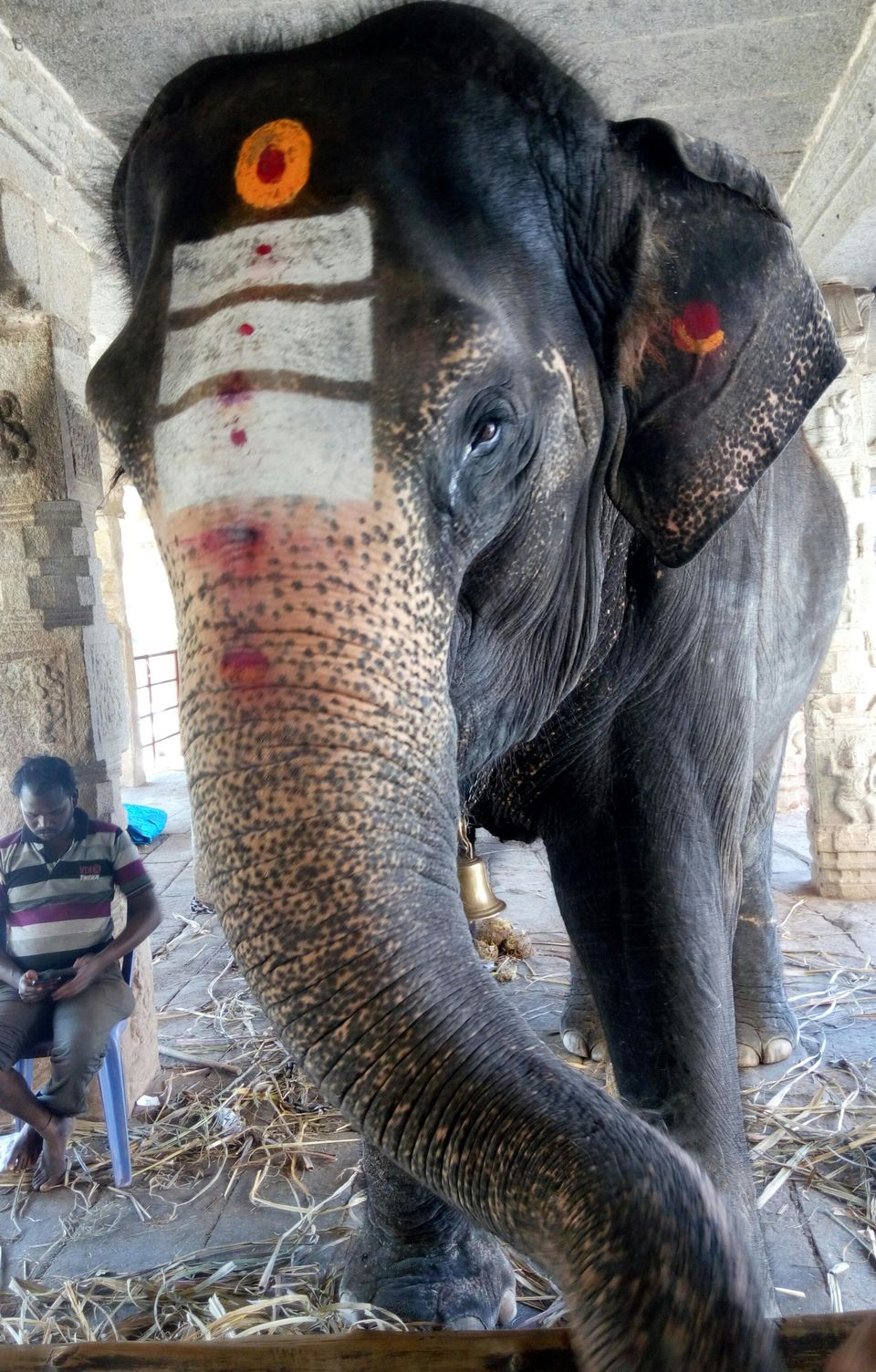 Time for some Grooming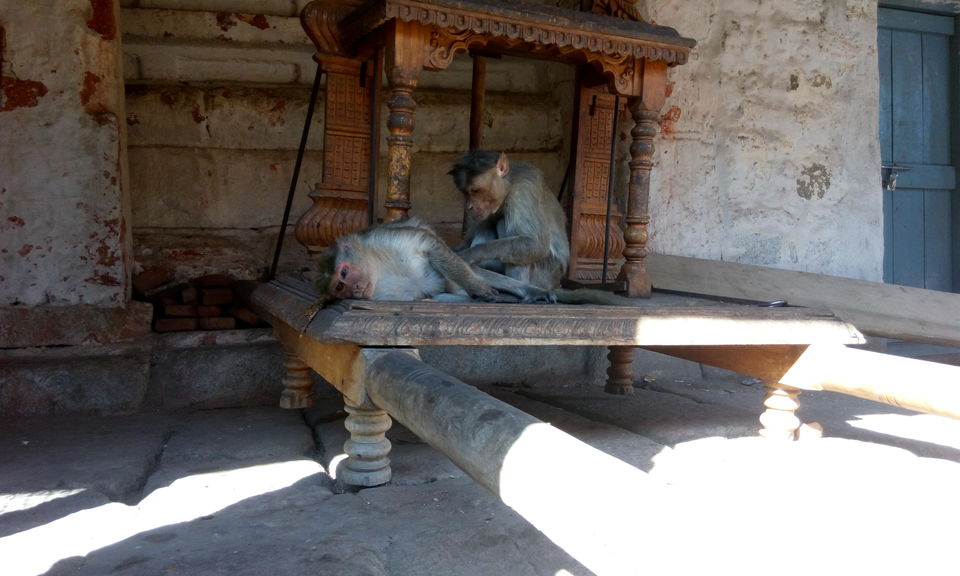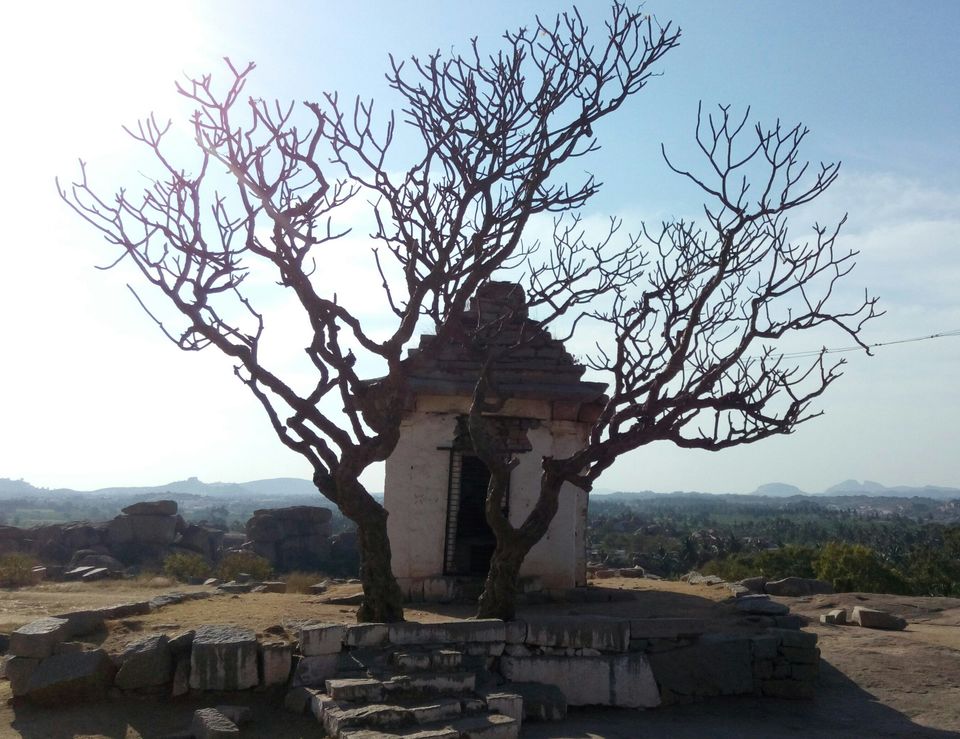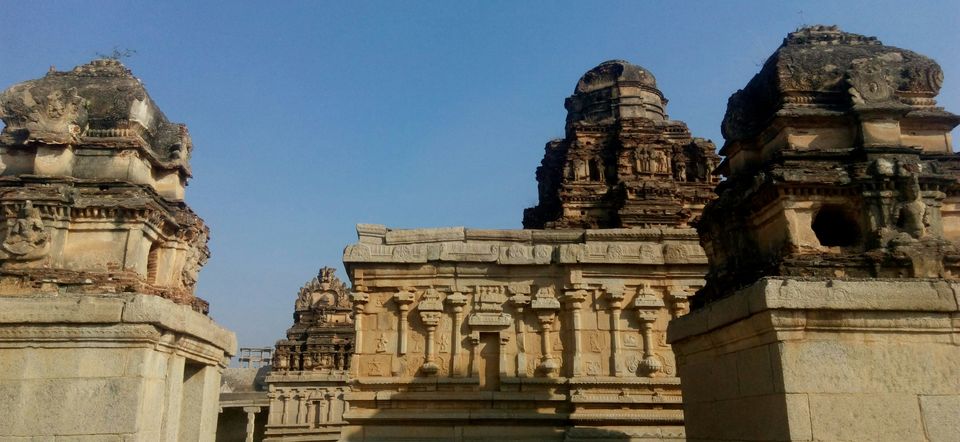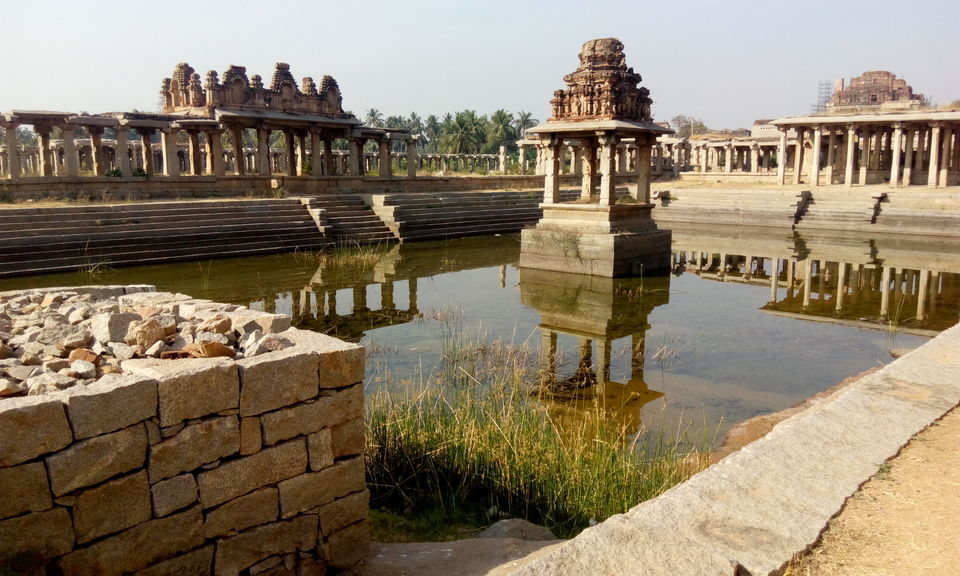 Krishna temple & Krishna Bazaar
Lakshmi Narasimha/ Ugra Narasinha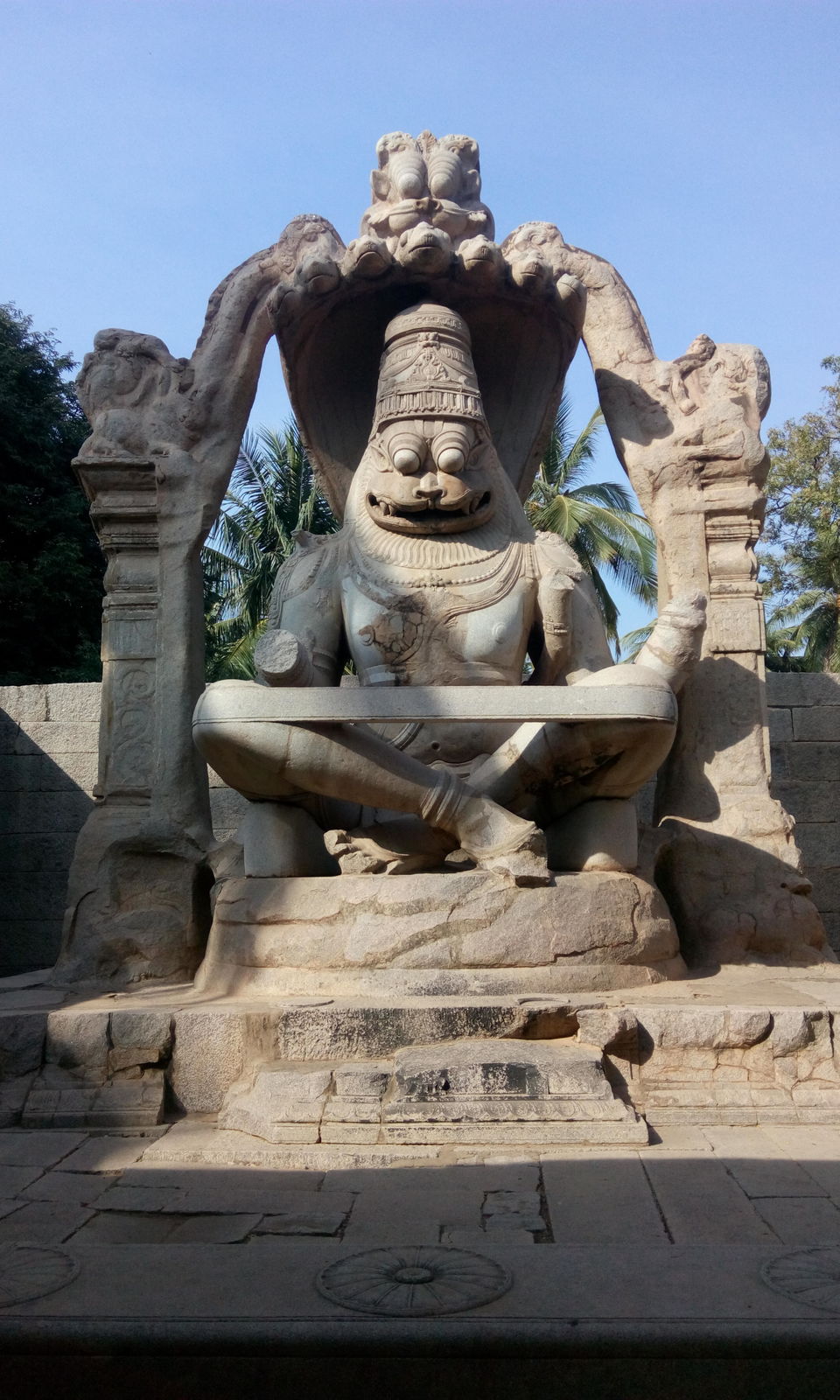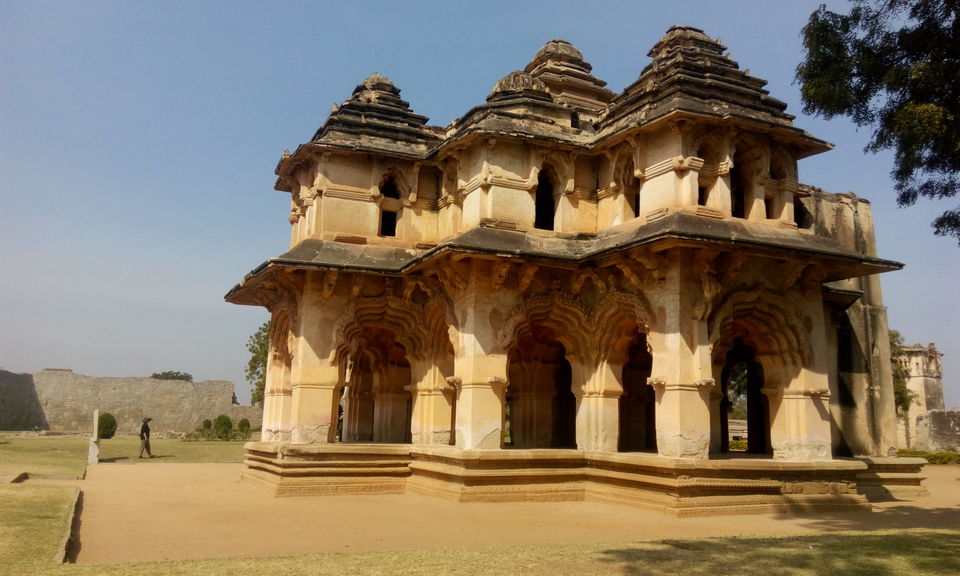 Elephant Stable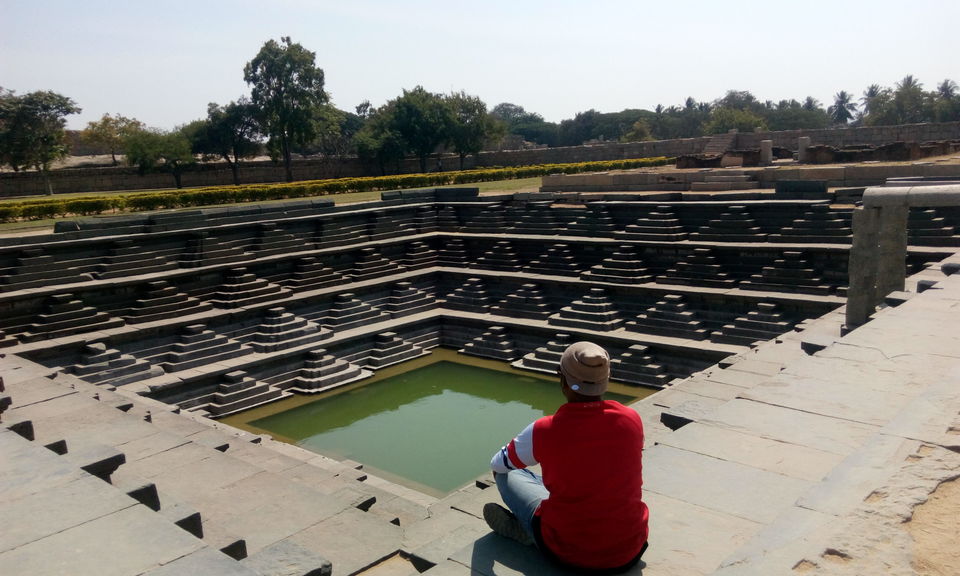 Pushkarani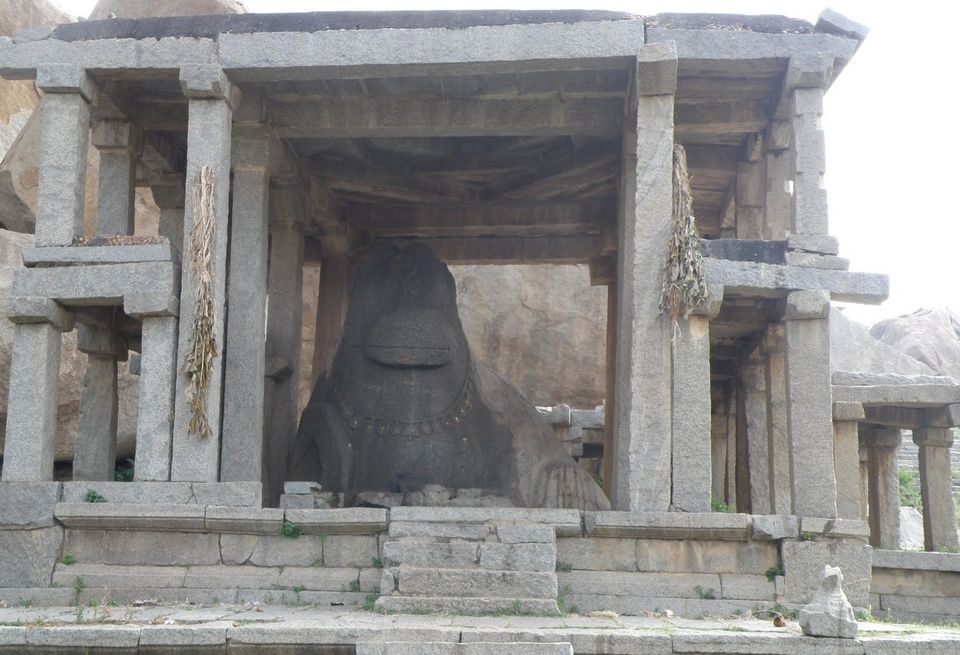 Vittala Temple and Golden chariotMonolothic BullDay3)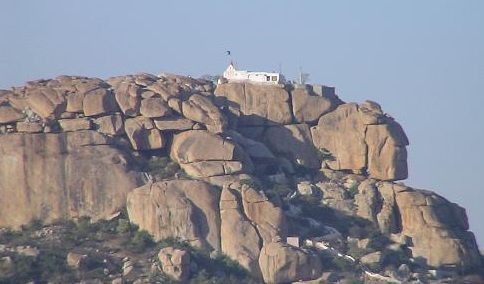 Wake up early morning and head for Hanuman Temple/anjaneya-hillThis hill is believed to be the birthplace of HanumanYou can easily spot this hill from a distance as the temple at the hilltop is whitewashed and a white trail of steps zigzagging all the way to the topThe way to the hilltop is stepped. It's quite a climb(at least 45 minutes). There are no shops at the top. So bring water, snacks etc from the base.The view from the hilltop is mesmerizing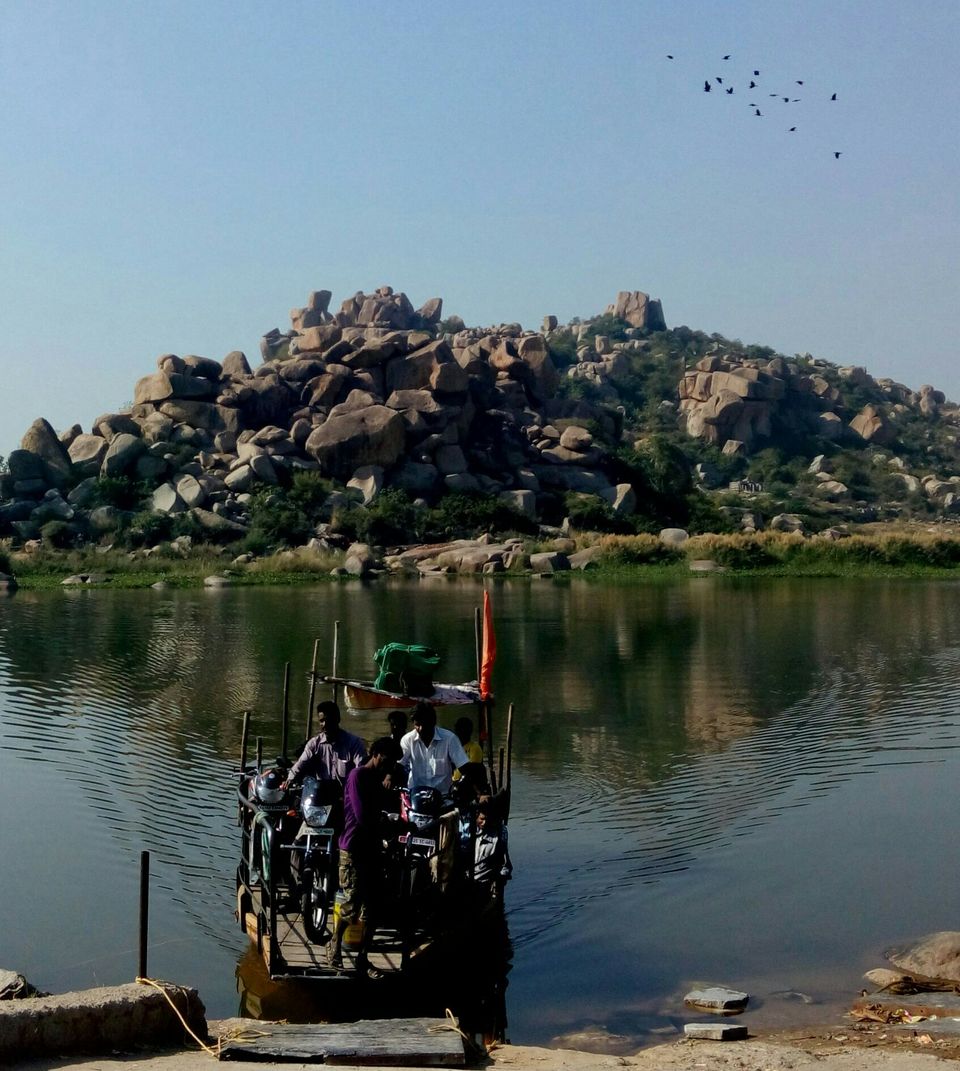 After this, you can explore the other attractions in this side of the river. Like 'Pampa Sarovar' and 'Anegondi'.Anegondi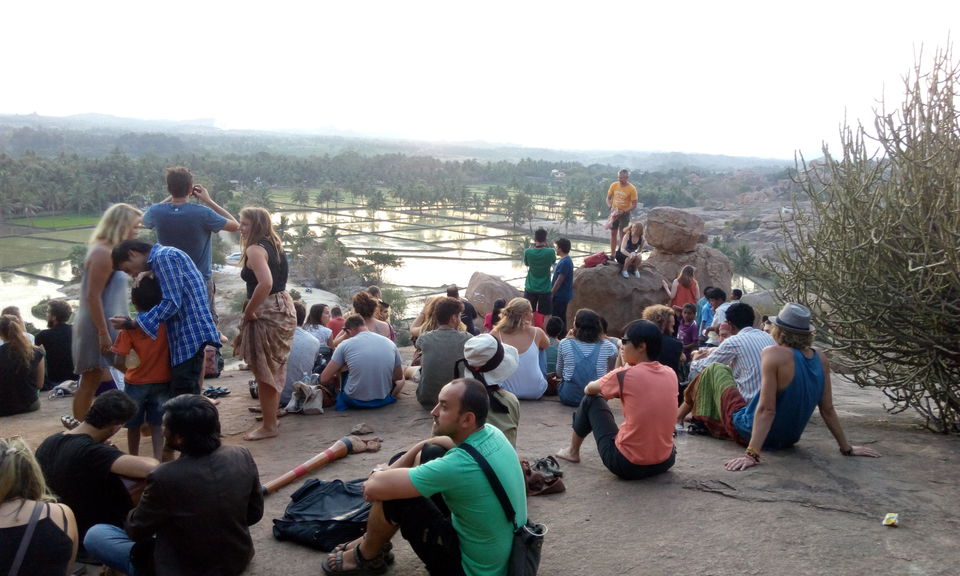 In evening come to 'Virupapur Gadde' to enjoy sunset.This area is a popular 'hippy hideout' and known for its laid back ambianceDont Worry..Be Hampi!!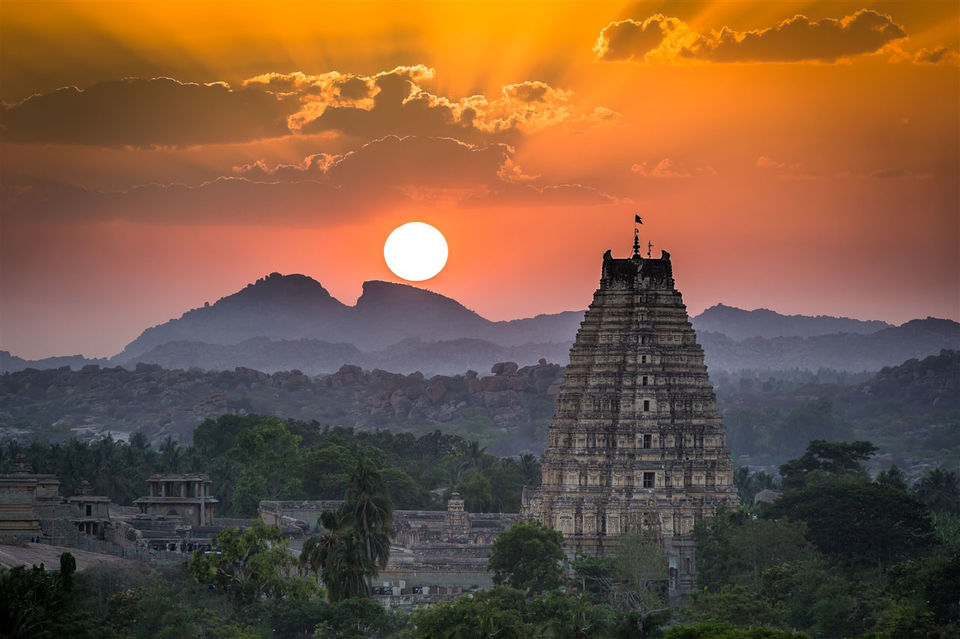 Another sunset pic courtesy of 'kevinstandagephotography.wordpress.com'

That's it folks..Thanks for your time.I hope you liked it and find it useful.If you like it please do share it Suggestions/Critics are welcome..Cheers!!