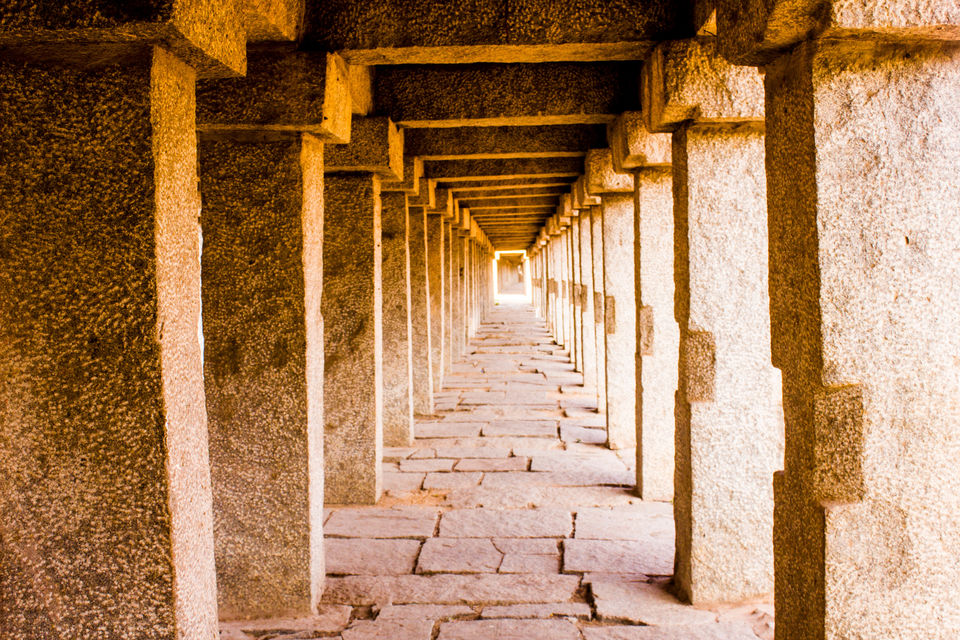 "To travel is to take a journey into yourself".-Danny Kaye
Hampi was on my bucket list since two years, not because everyone was visiting it making it obvious thing but because of its rich culture and magnificent architecture. I arrived in the late evening from Mumbai, the only thing visible were the silhouettes of the carved rocks against the dimming sky at the regular intervals.I have seen many images of Hampi but still I was amused to see it in this way.But one can't enter the sites at night. One can only enter the mighty Virupakshi temple(which is in the Hampi bazaar) till 9p.m. Entry is closed for rest of the sites. Virupaksha temple is the only temple where aarti takes place two times a day-morning and evening.
Some information about Hampi.
Hampi is a UNESCO World Cultural Heritage Site. The name Hampi is the anglicised version of the Kannada name 'Hampe' which is mutilated form of the word Pampa. Pampa is another name of the Tungabhadra river and Pampa Devi was the goddess of the river and the daughter of Lord Brahma. Tungabhadra river snaking through the land divides it into Bazaar area and Hippie island(the other side). Both are different from each other, but first you need to paas through the bazaar area,take a coracle ride and go to hippie island(if you are staying at hippie island). If you are into history, you should stay at bazaar area(because of the proximity of sites). If you want peace,green landscape and non vegetarian food, then choose other side of the river-hippie island. With the help of coracle ride one can cross the river but during summers you can do crossing by your foot. You can also visit Badami caves and Aihole (3 hours one way from Hampi) if you are for a long vacation because it takes a whole day to complete that places,which are worth a visit.
Now again back to my journey.
I had a dinner and went for a sleep early so that I can catch a sunrise at Matanga hill.
Day 1: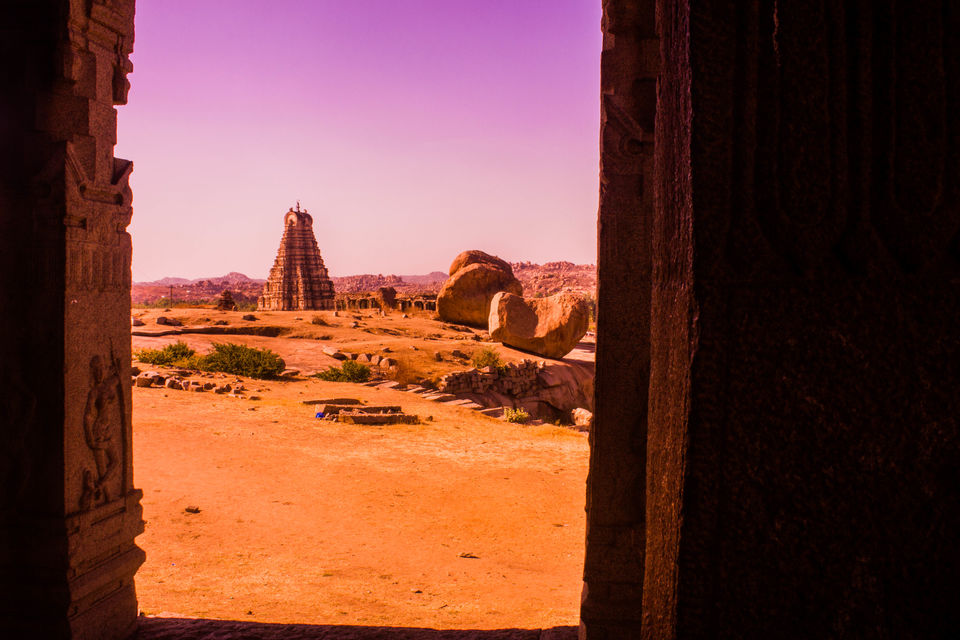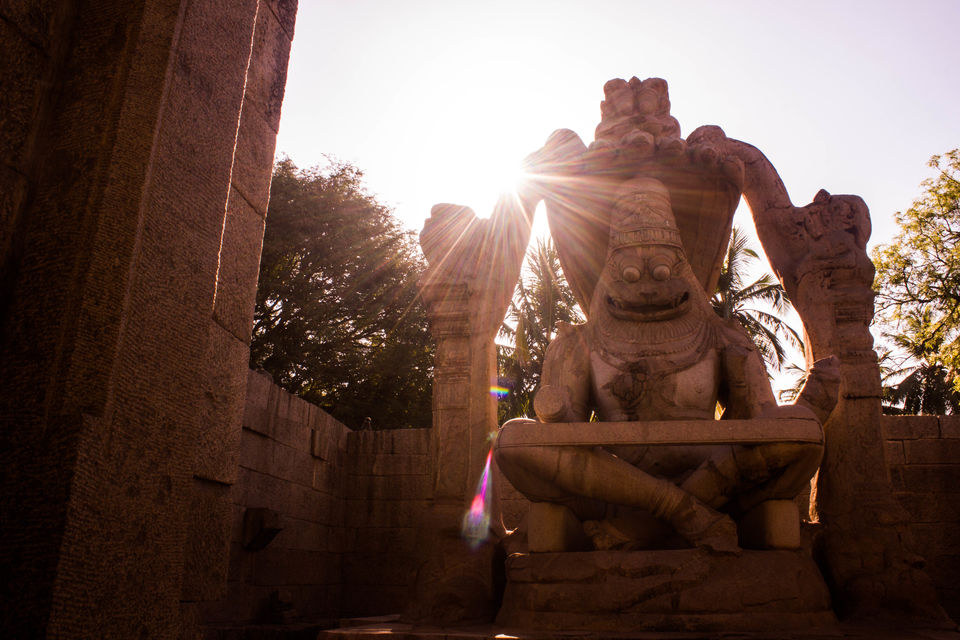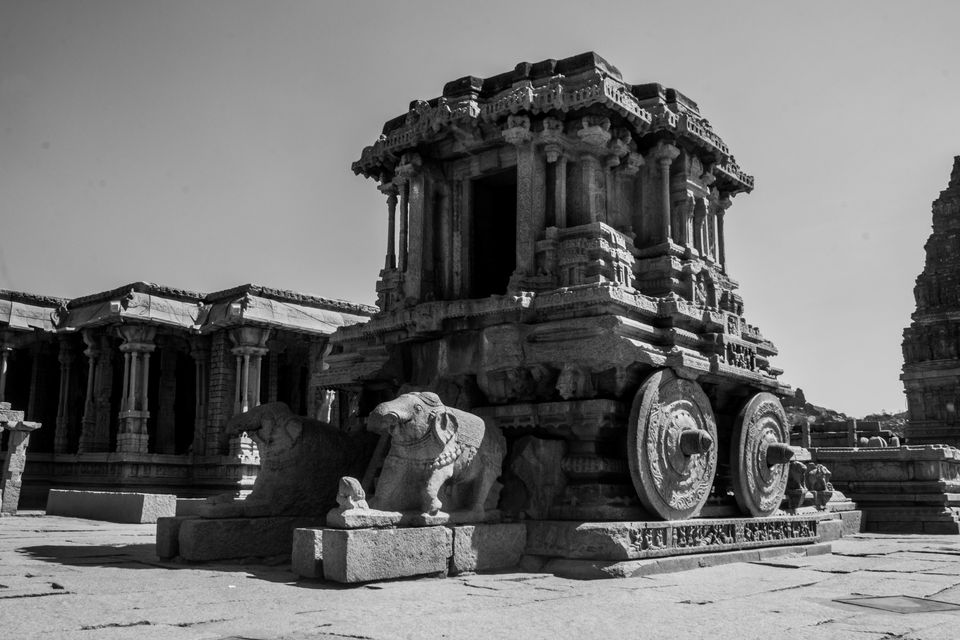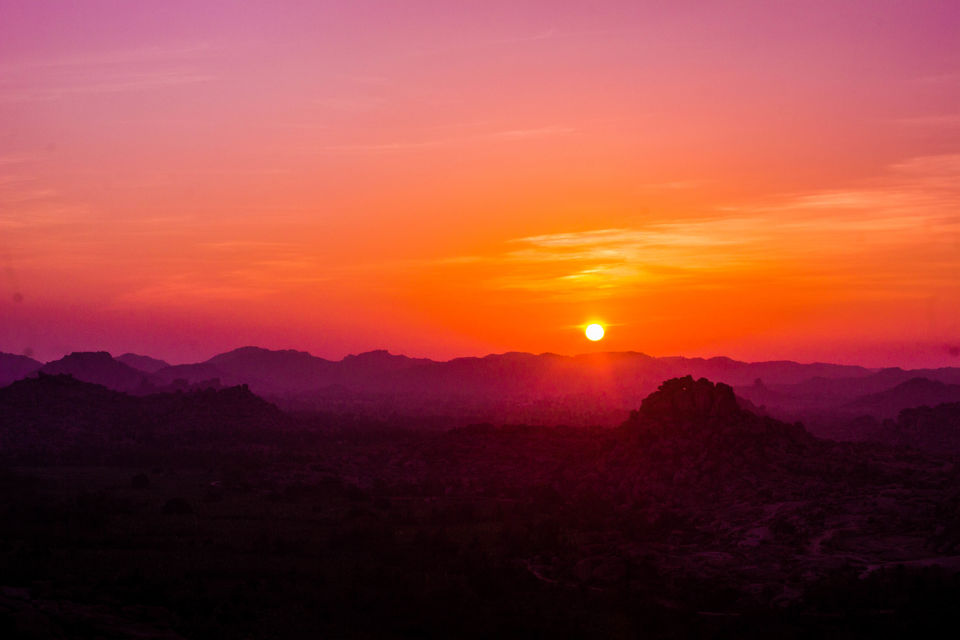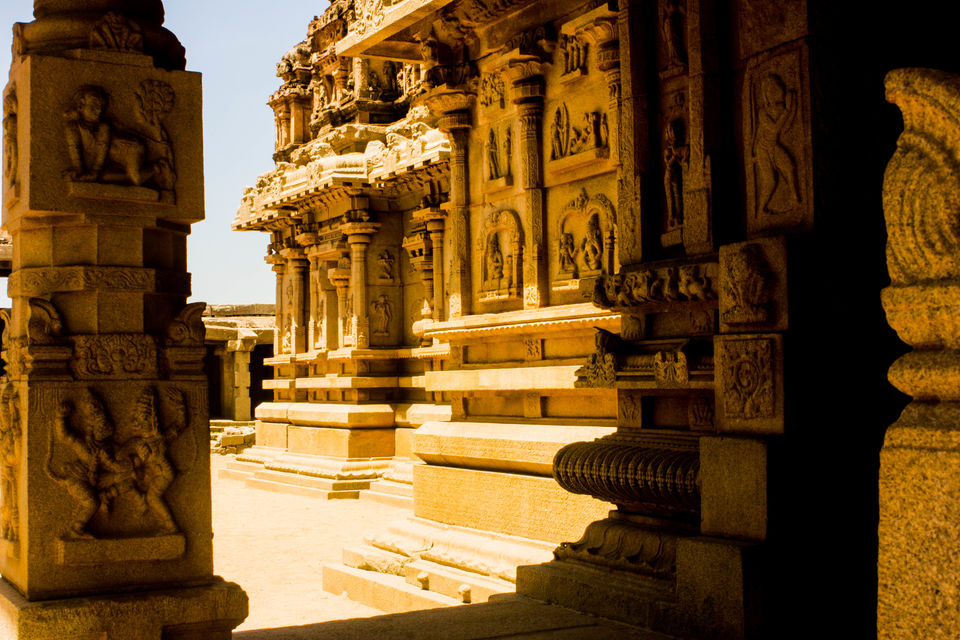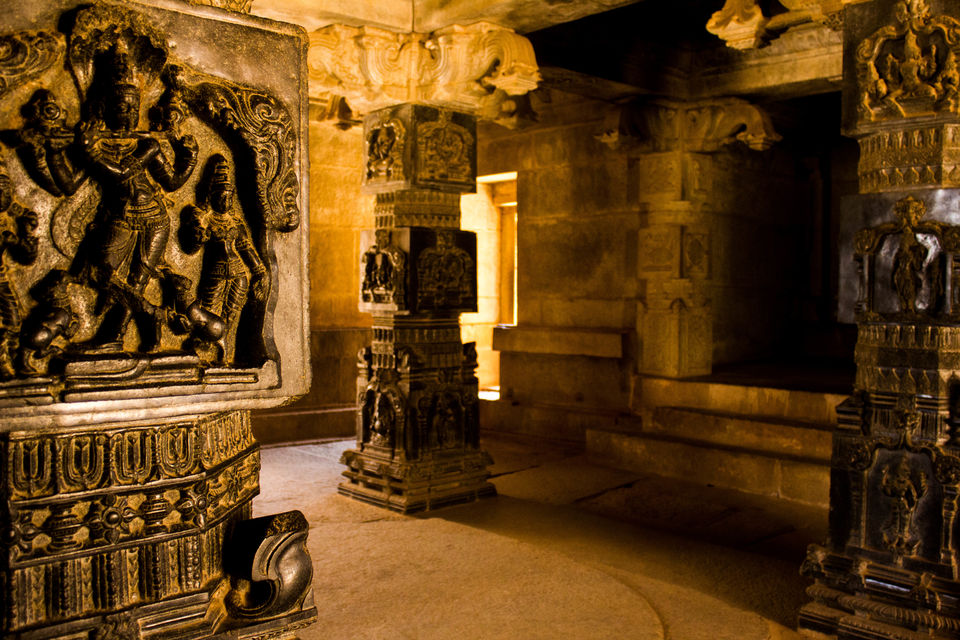 Sunrise at Matanga hill- a must for its beautiful horizon,
Explored the history of Hampi- By visiting Virupaksha temple, Queen's bath,King's palace,Hazara rama temple,Hemakutam, Monolithic bull,Vitthala temple complex,Narasimha,Lotus mahal,Ganesha temple,Museum. To visit these places you can hire an auto,bicycle,car or scooter depend upon your choice. Hire a guide. A well knowledgeable guide is must when you visit the ruins because staring at the rocks will not make any sense though there are some information written in front of every ruin, still you need a guide if you are really into it. Don't visit places between 1.30 pm to 3.30 pm as it gets really hot.
Sunset at Malayavanta Raghunatha Temple-again its better view of sunset than Monkey hill.
Day2: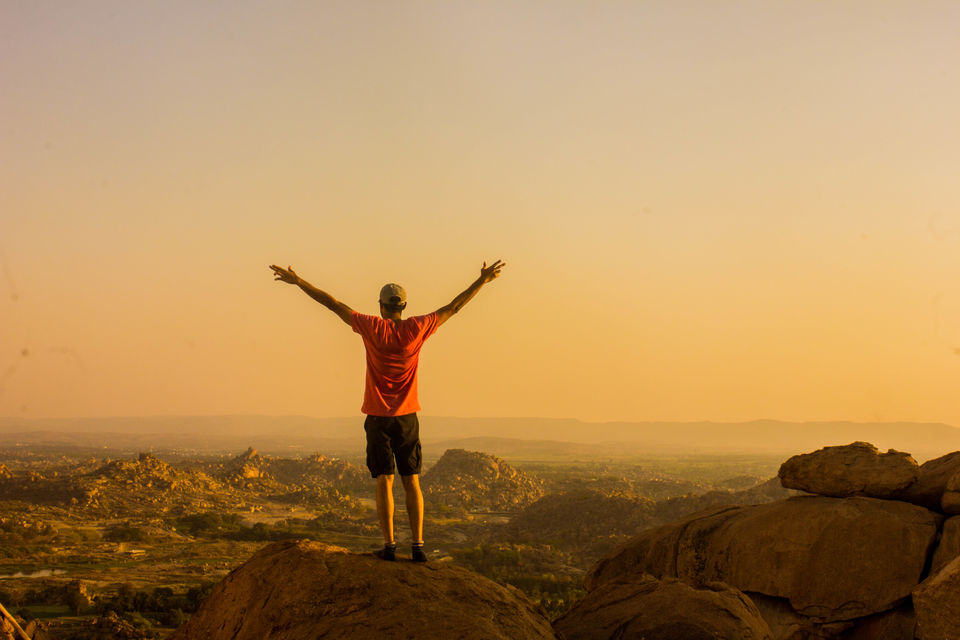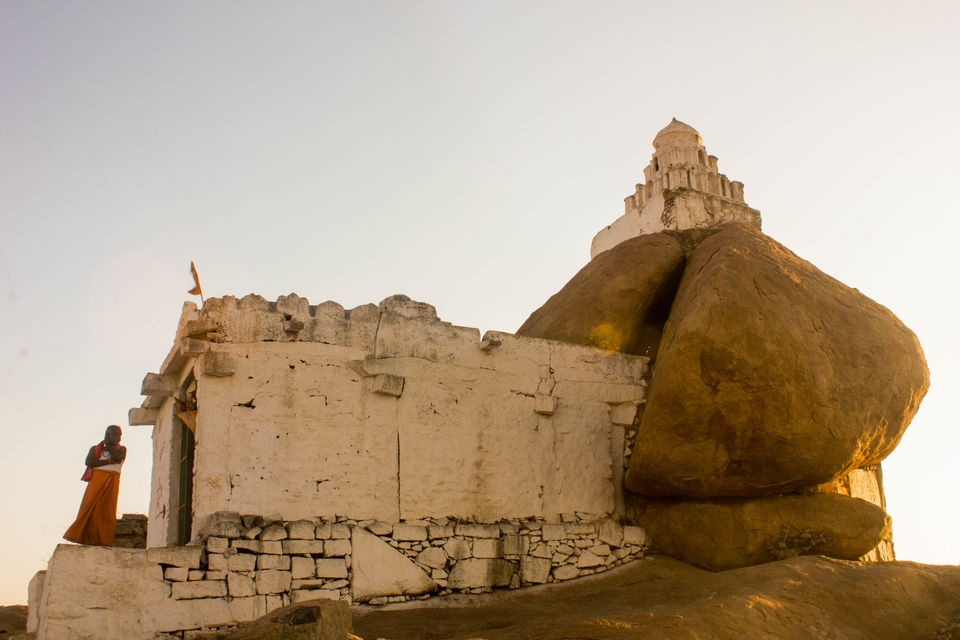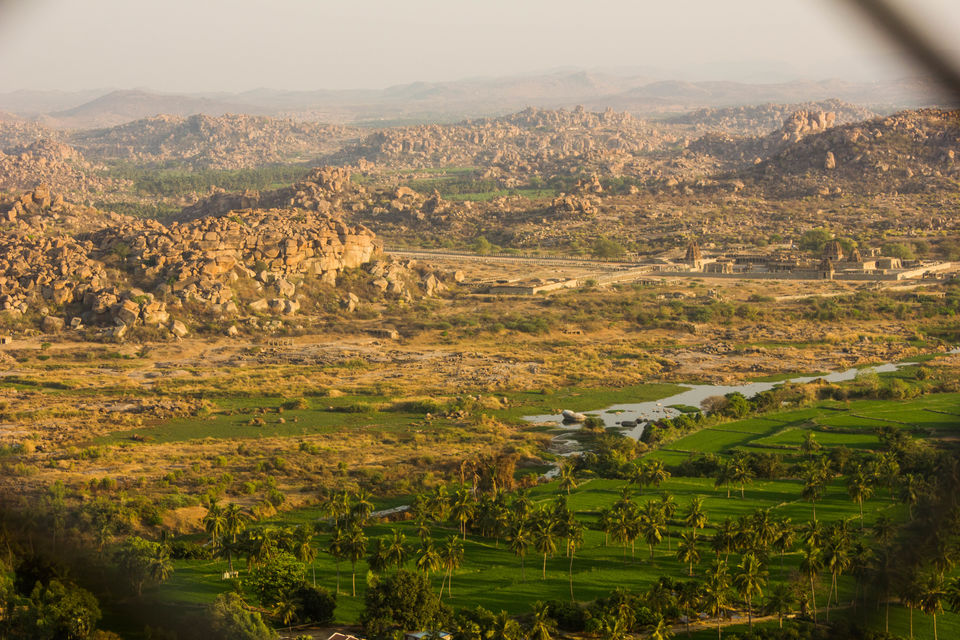 Visited other side of the river, cycled there to visit monkey hill(Hanuman temple_known for the birthplace of Hanuman). Walked through farms and enjoyed the moment at my pace at leisure.
Some additional information:
1. I have visited during holi and never knew holiday would be so much fun there. I had a blast (not literally :P). But dancing on the tunes of the local dhol was something.
2. I found gopi restaurant better than the famous mango restaurant. Try butter milk and papad there.
3. I stayed at lakshmi heritage guest house (A.C room, must during summers)
4. Bargain as much as you can. Even before reaching Hampi (:D) from Hospete station. Auto charges 200 inr from Hospete.
5. Wear light,carry light,carry a water bottle.
6. Minimum stay should be for 2 nights.
7. Respect the locals. They help you in every sense. I became a fan of their hospitality.
8. Photographs don't do justice to the place. It is much better if you visit it in person.
9. Don't worry be Hampi :D
Please do comment and follow,if you like my trip and also I will be visiting more places this year.