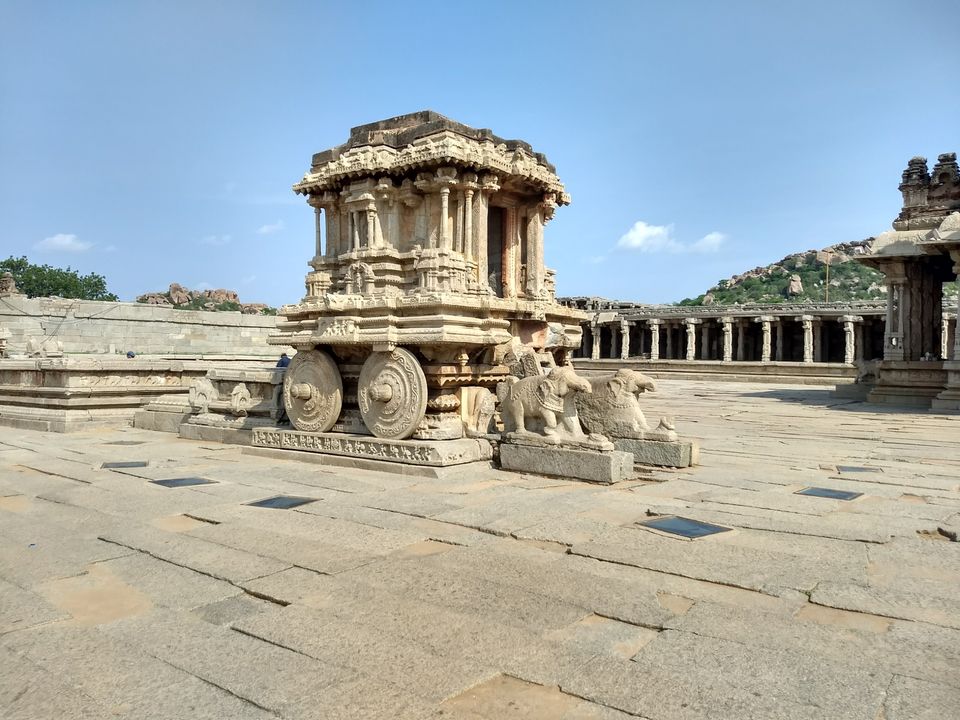 Hampi is a must visit if you love heritage and a slow paced life. The place was on our mind for a long time now. However the plan to actually visit the place was all planned out in a couple of days. As the trip was planned urgently, I could not manage to get my regular group of friends for this trip. As it was only 2 of us, we wasted no time to book our bus tickets to hampi from Mumbai.
Now reaching Hampi is a 12 15 hours bus journey from Mumbai. The bus will drop you at Hospet.
Upon arrival we were surrounded by auto drivers, offering to get you to Hampi and also help with accommodations. As we were a couple of hours late we decided to go with one guy even though he was charging 250rs.
The bus stop is at a 2 mins walking distance and buses are frequently available to take you to Hampi. The bus just charge 14rs.
It's nearly half an hour ride to reach Hampi from Hospet. We settled for a decent room for 500rs near the Virupaksha temple.
The temple is one of the most beautiful attraction in hampi, but as we were staying near it we decided to visit it in the evening.
1> Kadalekalu Ganesha Temple
We hired the same auto guy for the day tour of all tourist attractions in hampi. Because the bicycle tour was out of question as it was very hot and getting all tanned was the last thing on my mind. Also the directions to each location was not very well marked out on the road. So the auto guy offered to playa guide too....all this for 700rs!!!!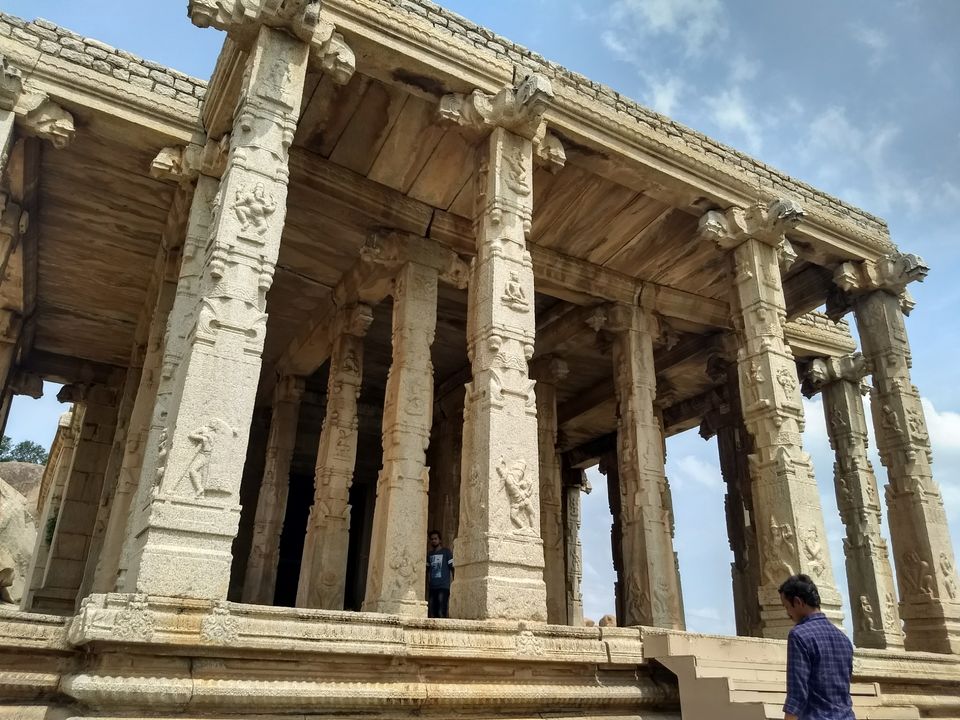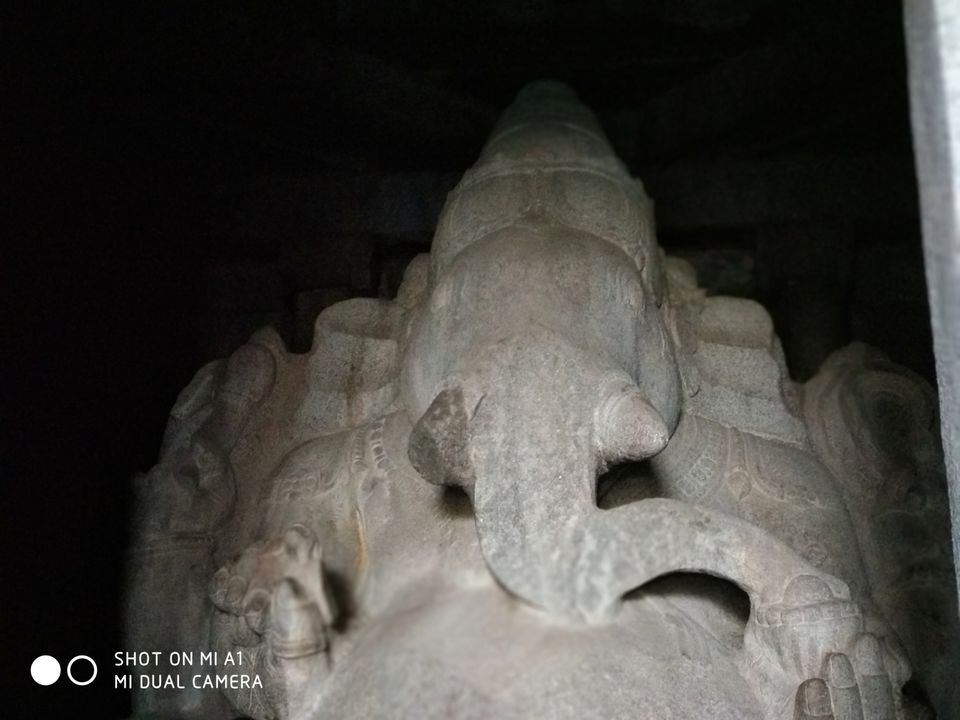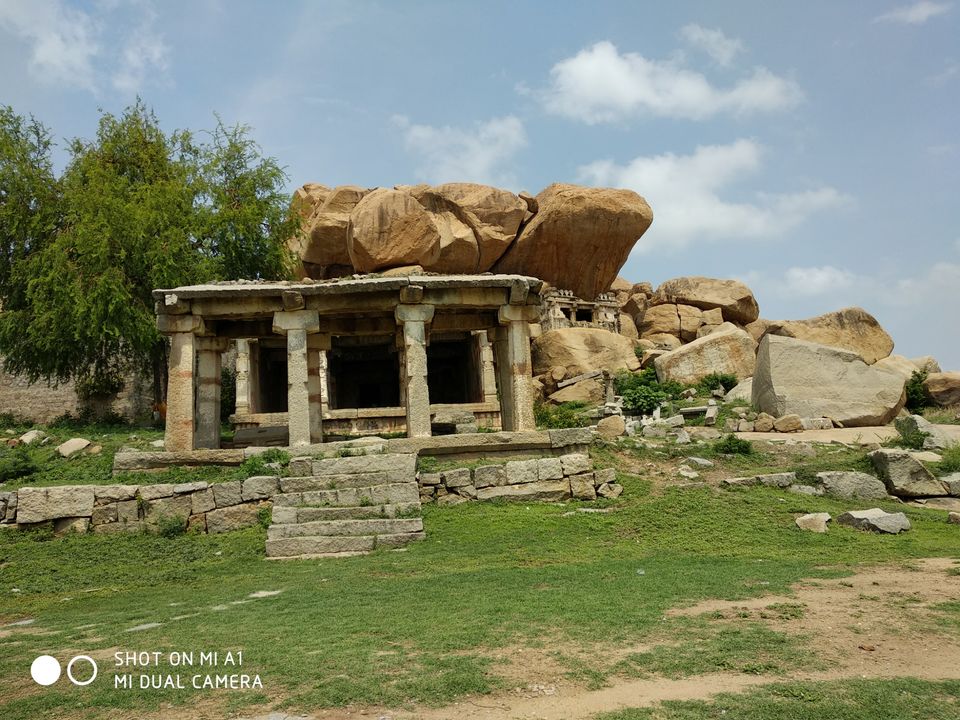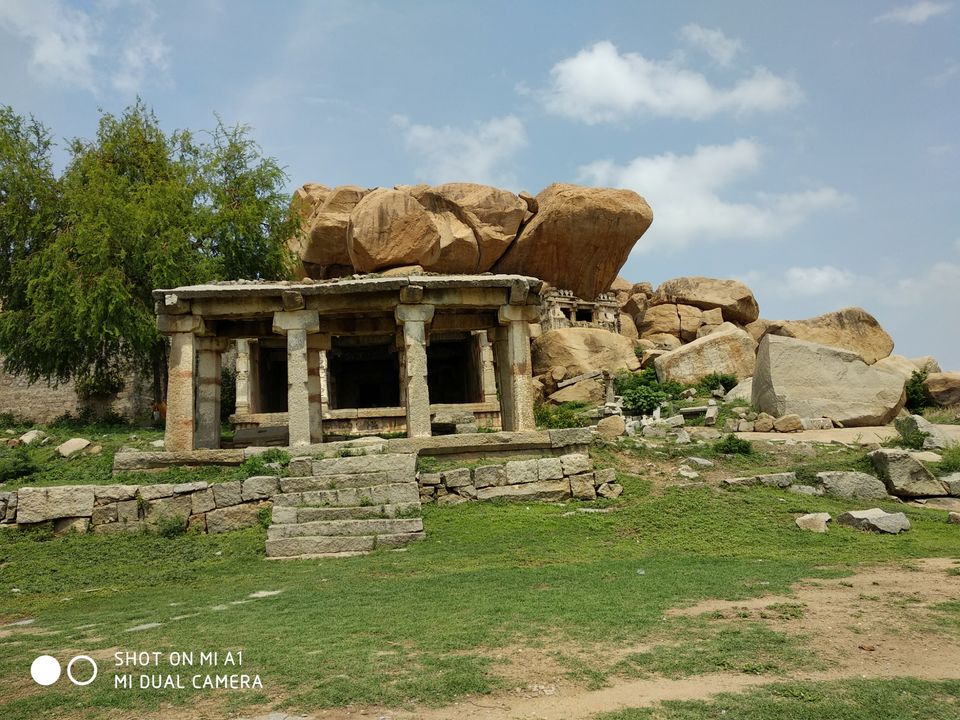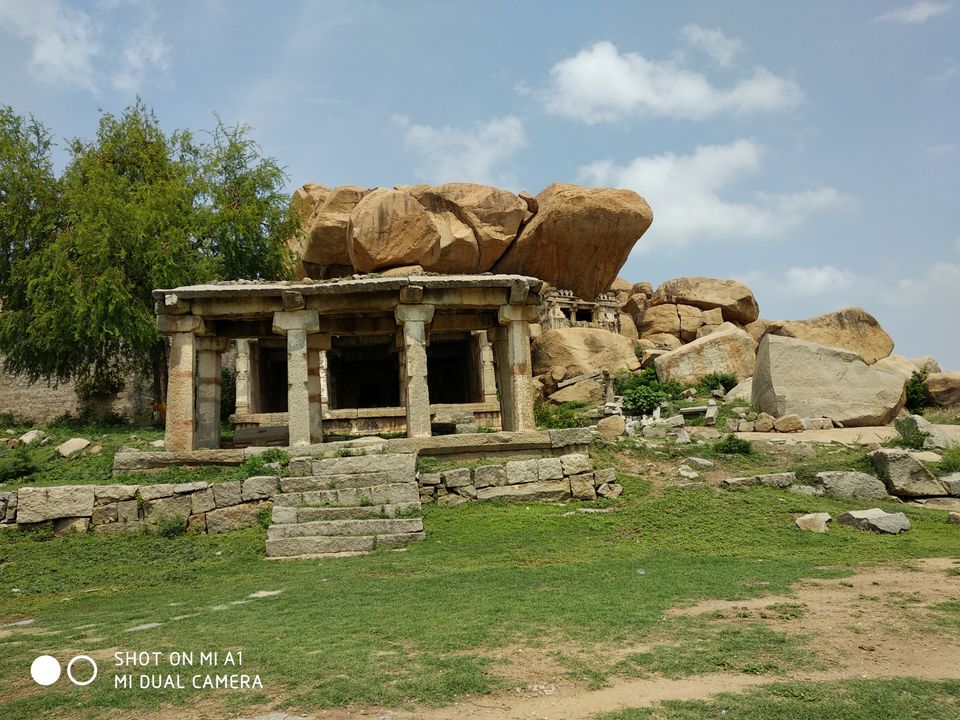 2> Ugra Narasimha / Lakshmi Narasimha Statue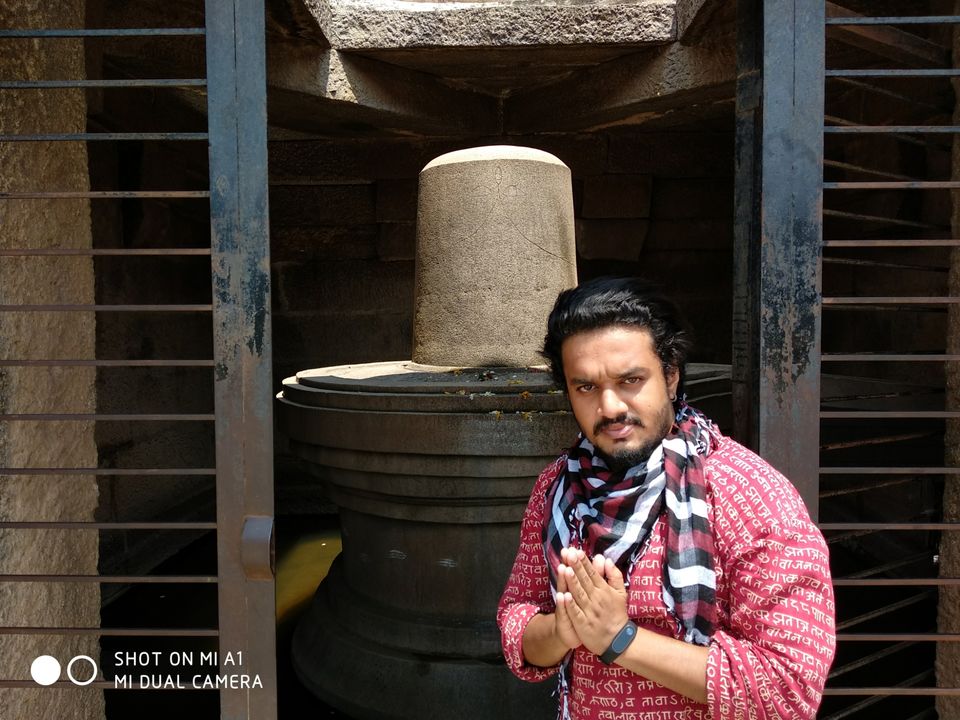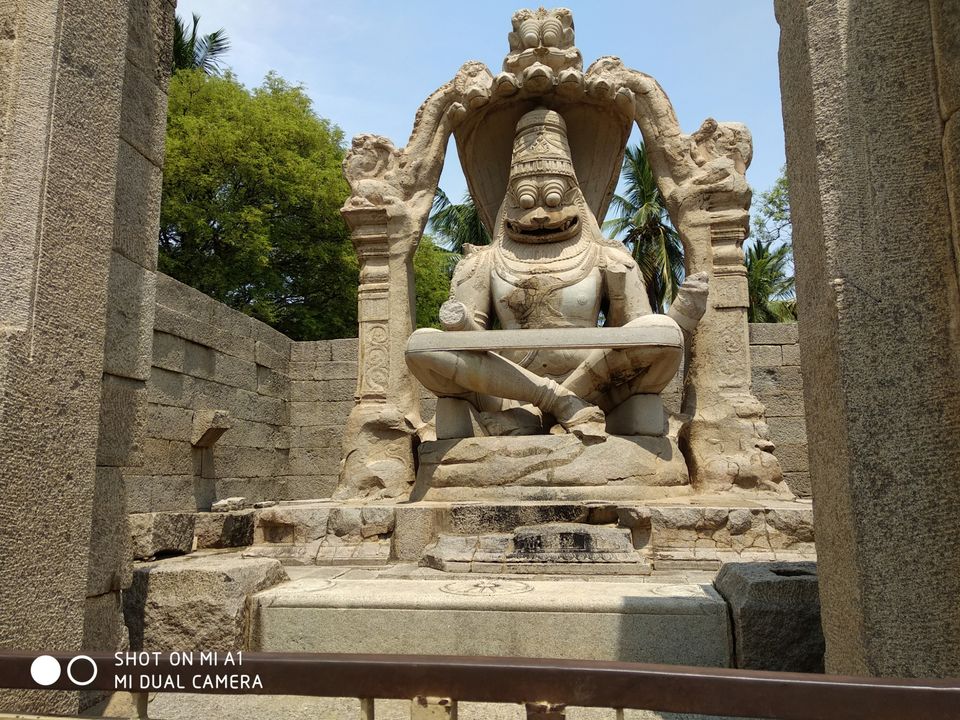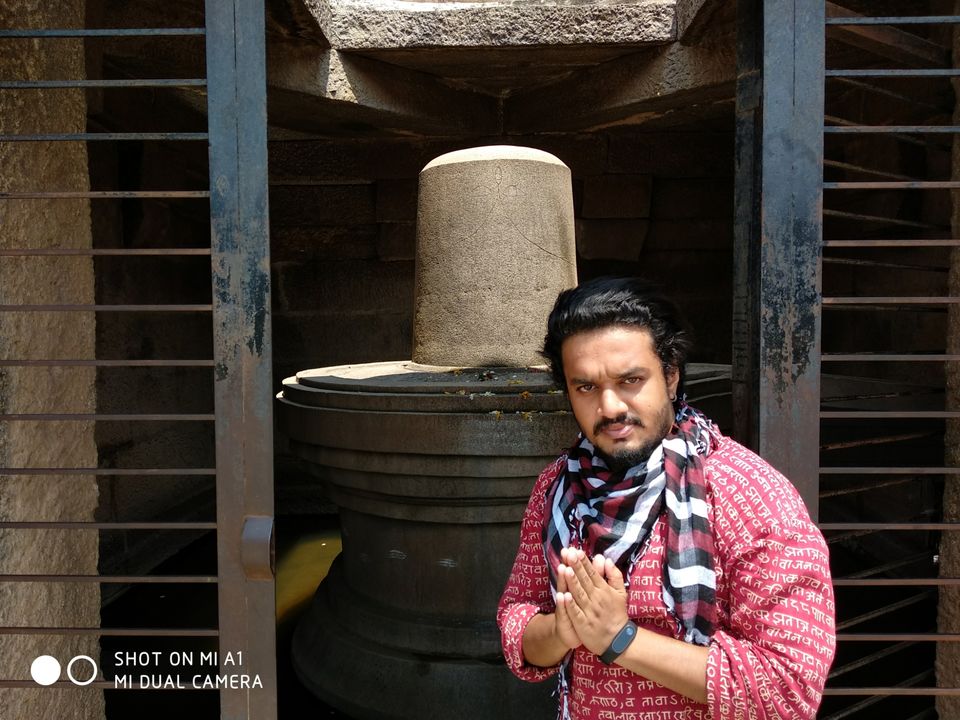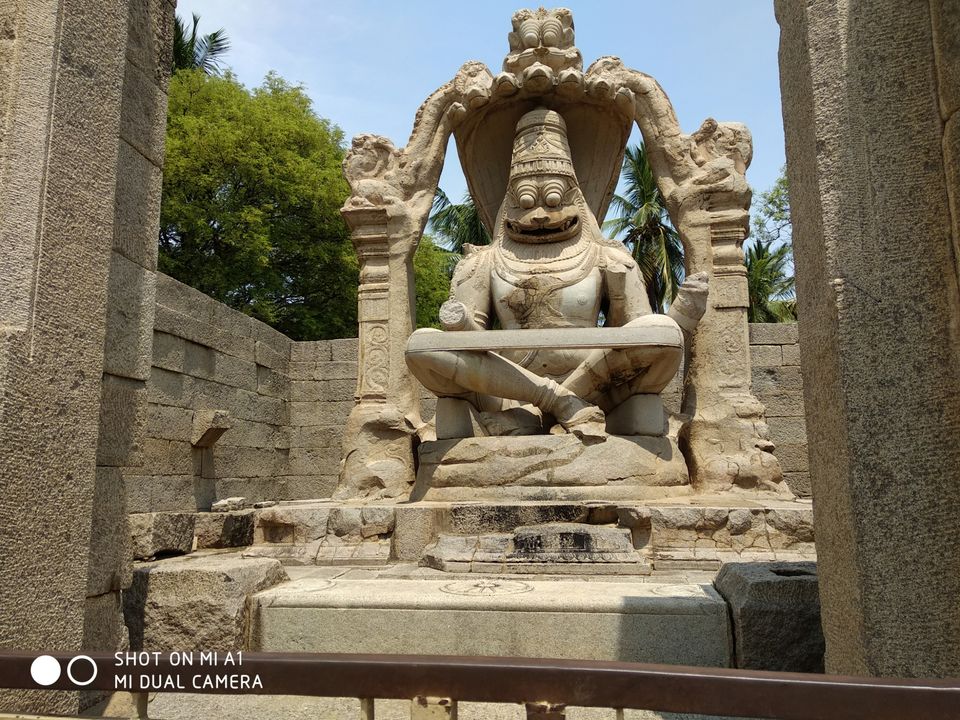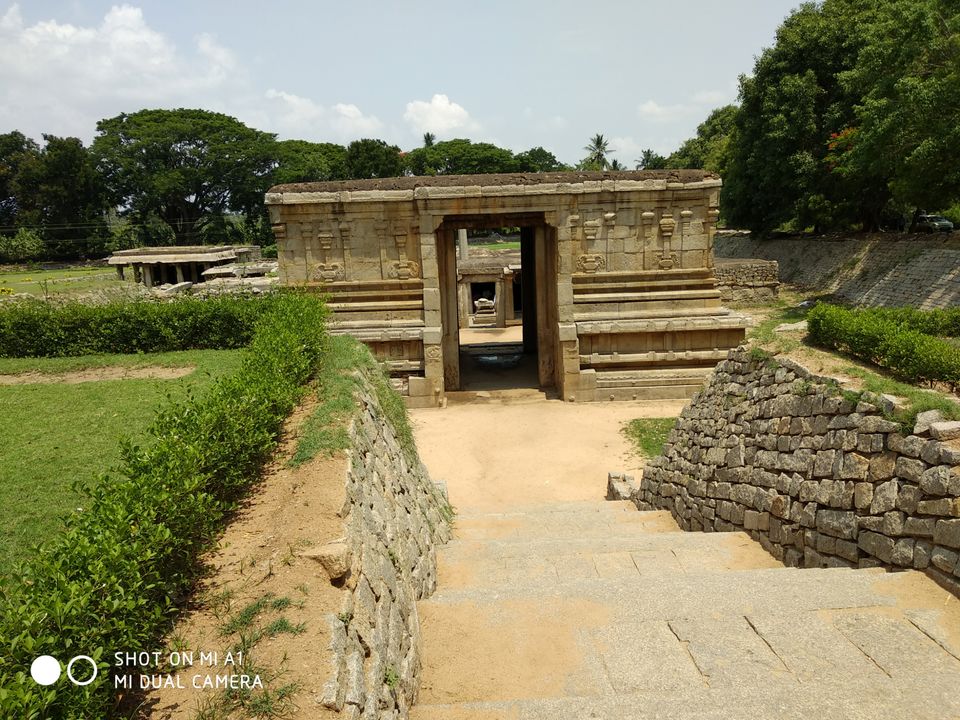 4>Lotus Mahal
The compound of Lotus Mahal has many attraction. You can easily spend an hour here taking a stroll checking out the modest Mahal, elephants stable and ruins of some temples.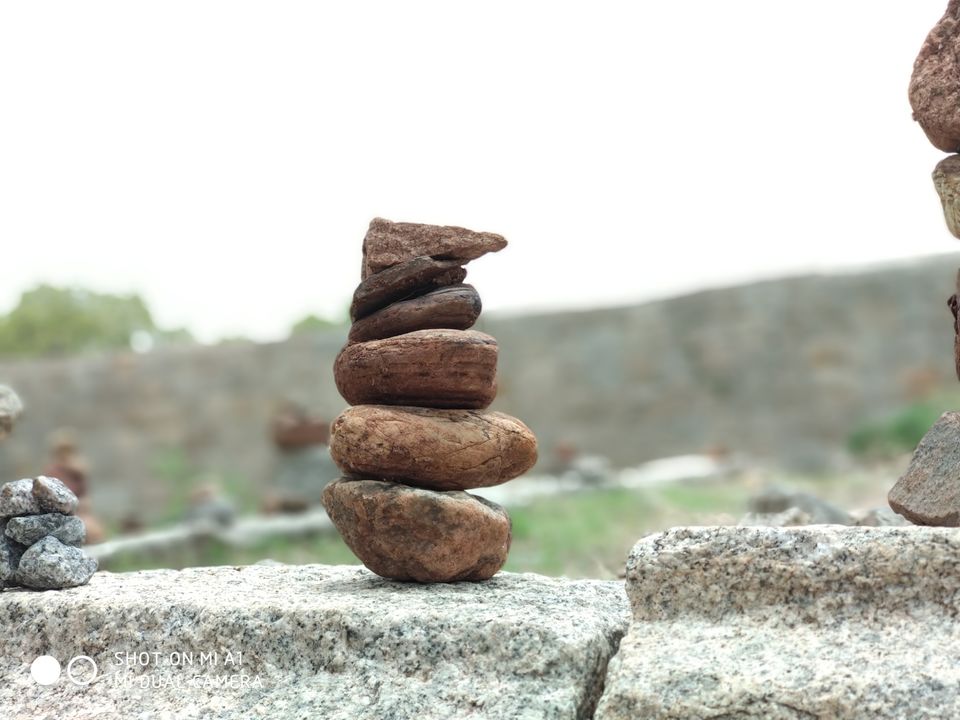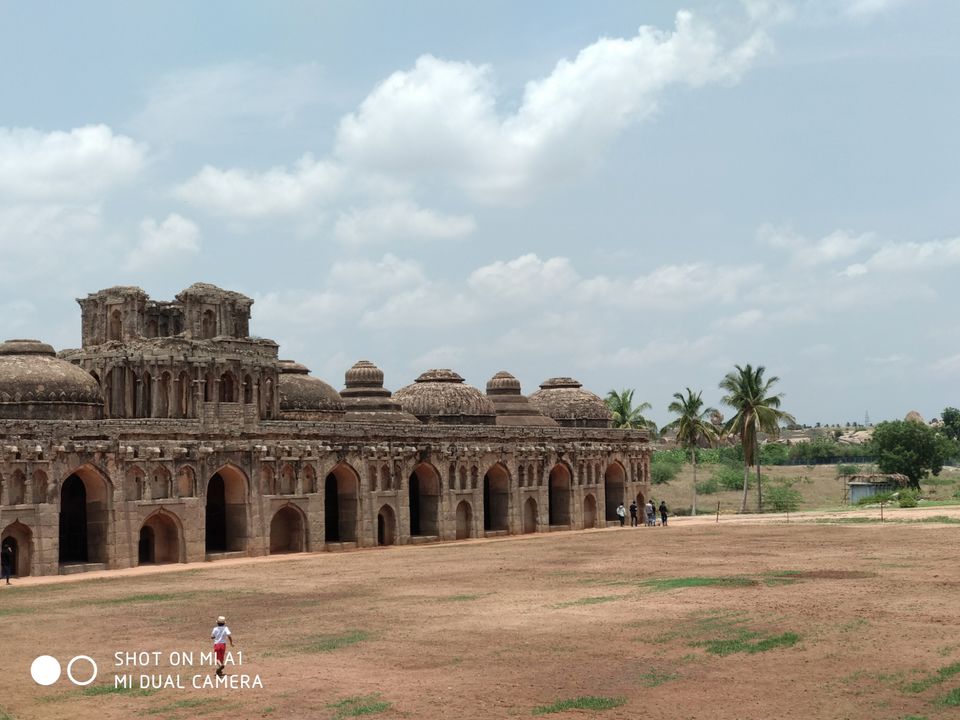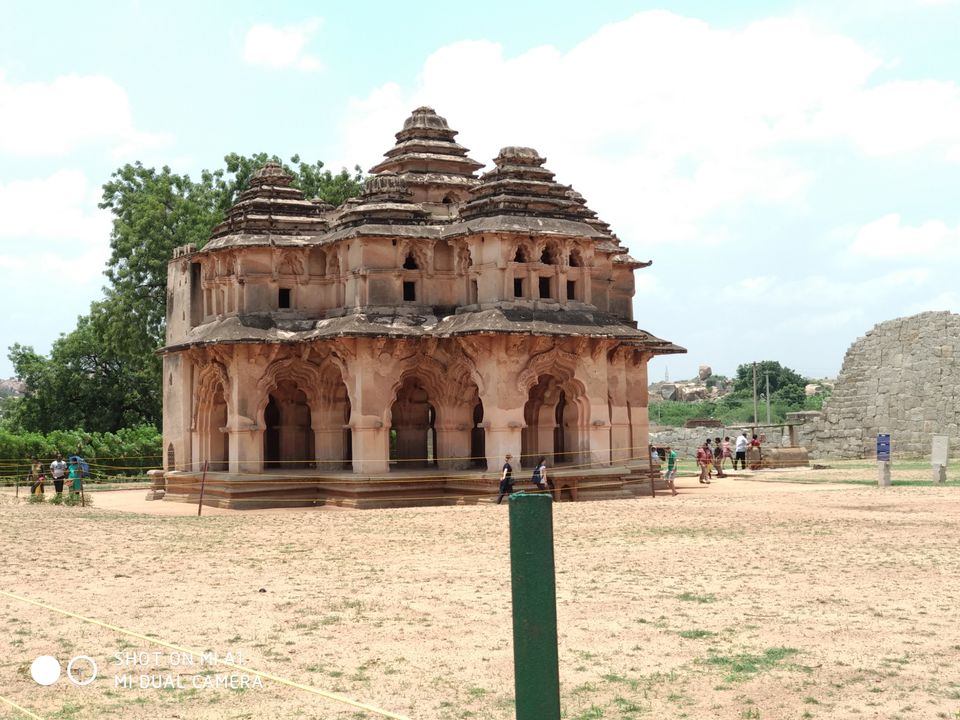 5> Royal Enclosure
Before heading for lunch we had to see the Royal Enclosure. It houses a spectacular view of the surrounding from top of Mahanavami Sunna. The symmetrical view of the stepped bath also will hold your attention for a moment.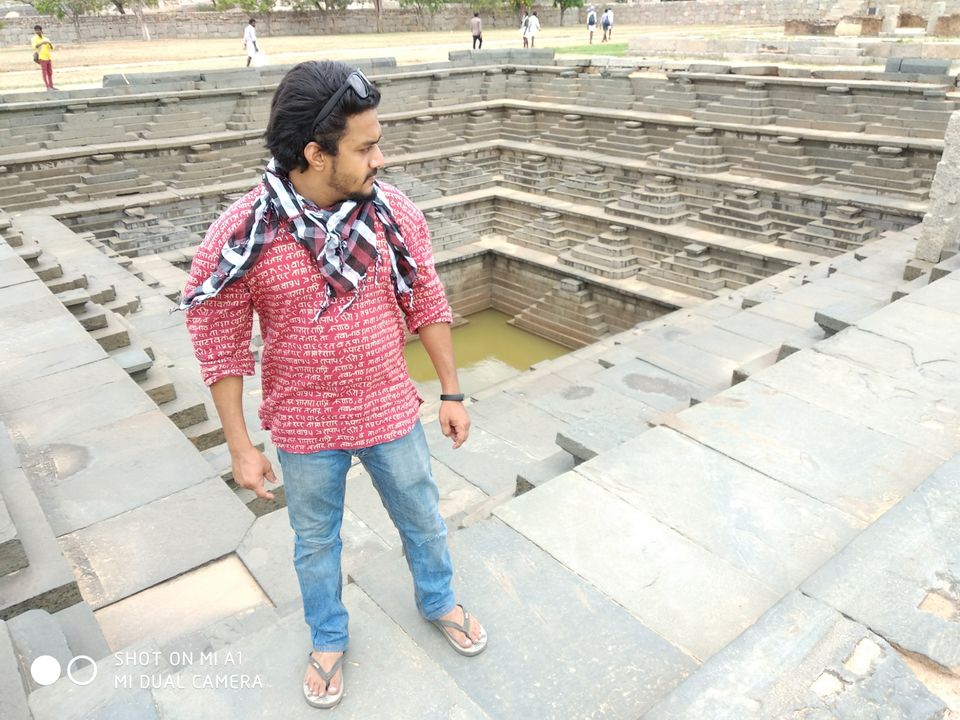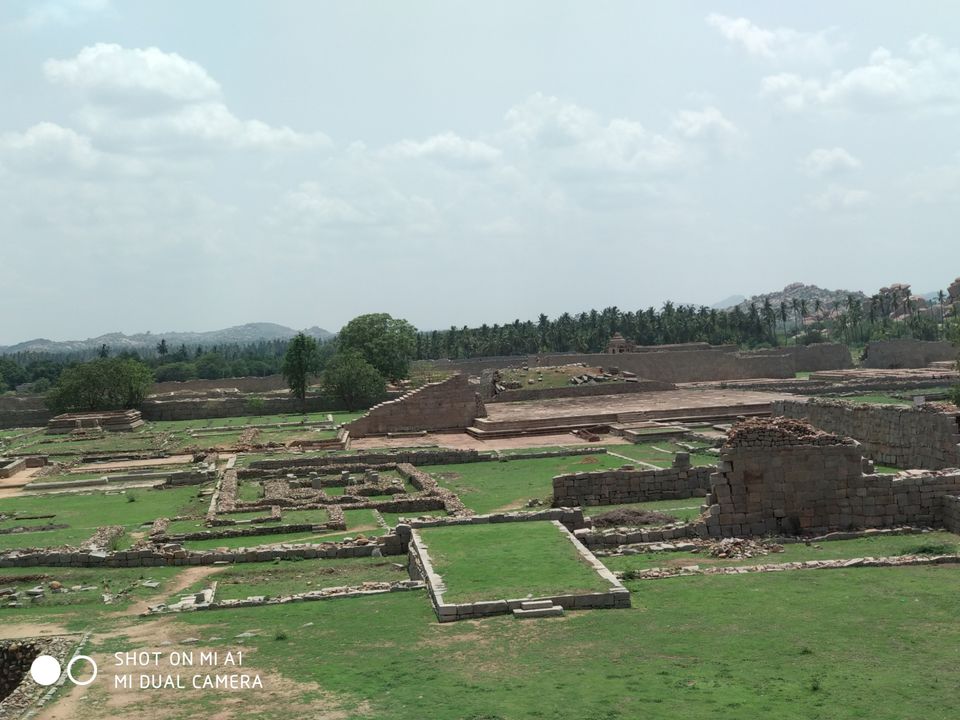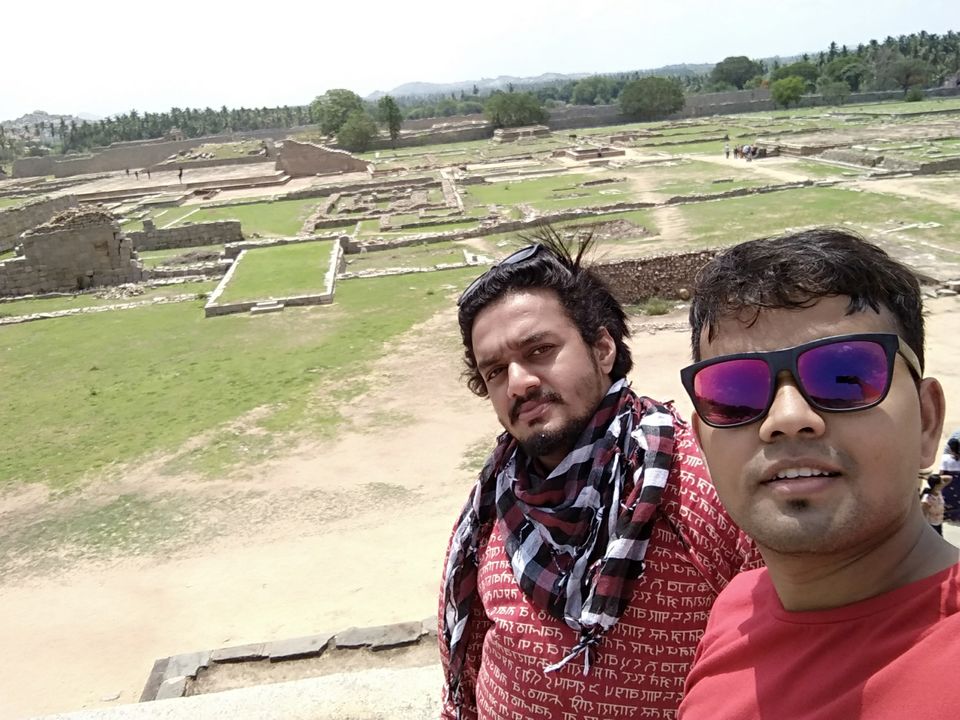 6> A lunch to remember - Green Restaurant and catering
Check with any local guide or driver to take you to lunch at this place. The ambience is simply good. The food is authentic and tasty. You can order from a wide variety of food available. The trance music played just give a perfect relaxation to the body and mind after a grilling sightseeing in the hot weather!!!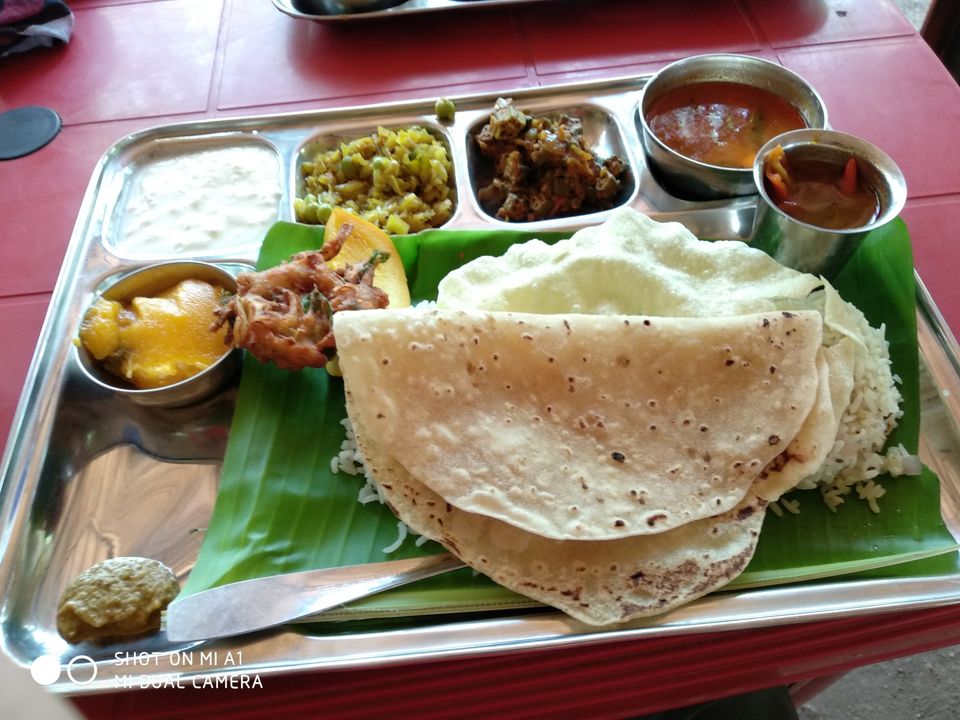 7> Vijaya Vittala Temple.
The first image you find when you google for hampi is the stone chariot. It's seated in the Vittala Temple compound. The main temple is quite far from the main road and you can opt to walk or use the electric vehicle to take you to the temple.
We decided to walk as we can sit and enjoy some of the ruins on the way. The amazing view helped us forget that we were walking in the scorching sun. We enjoyed the view inside the temple and around it before walking back to our auto.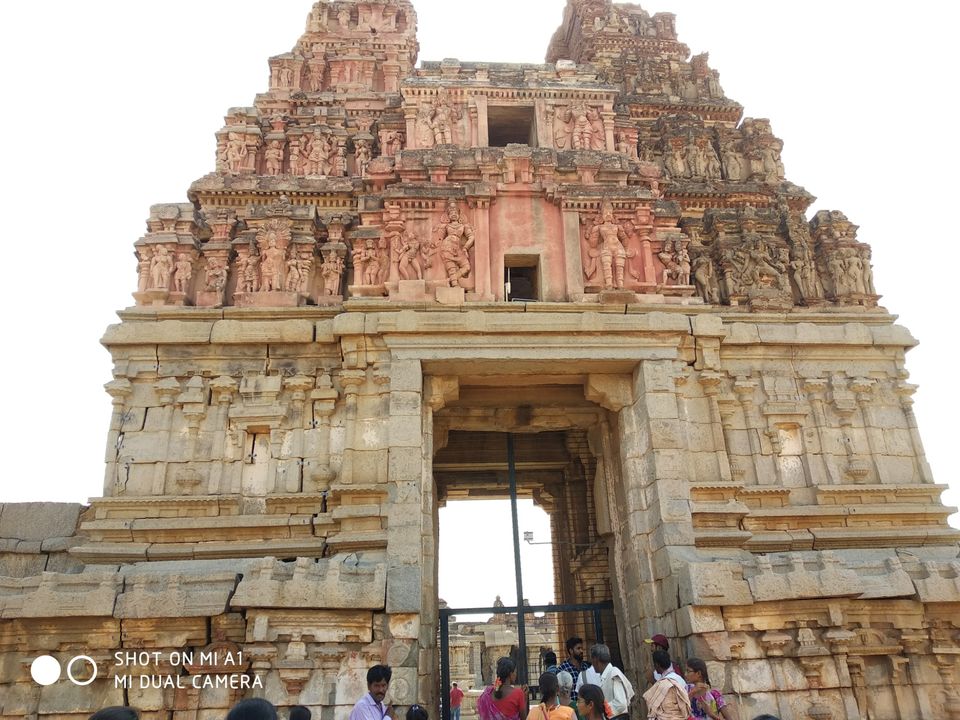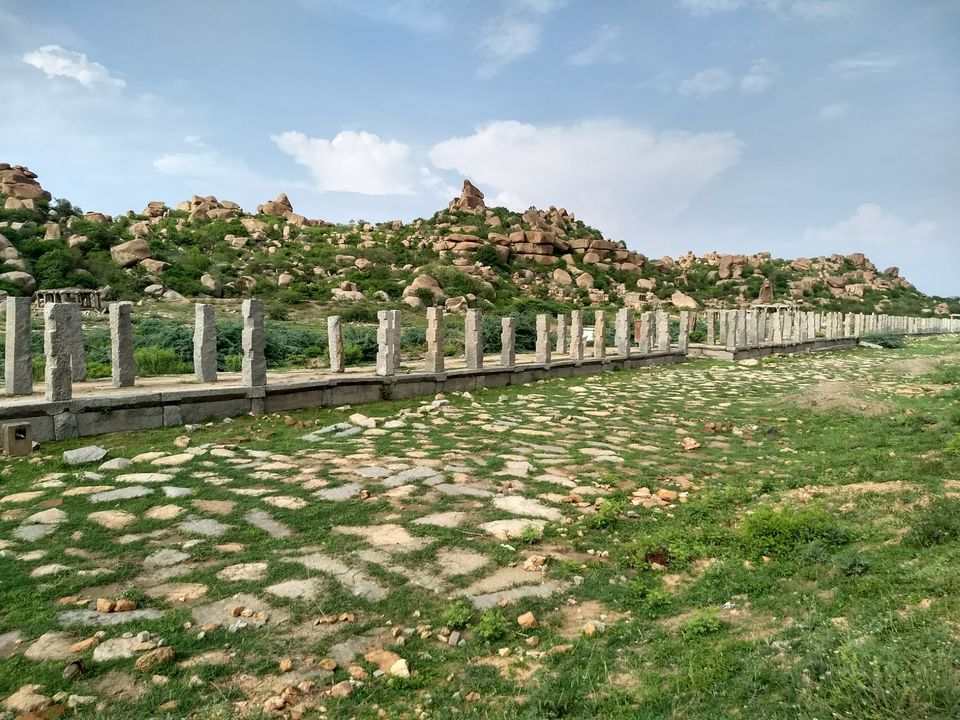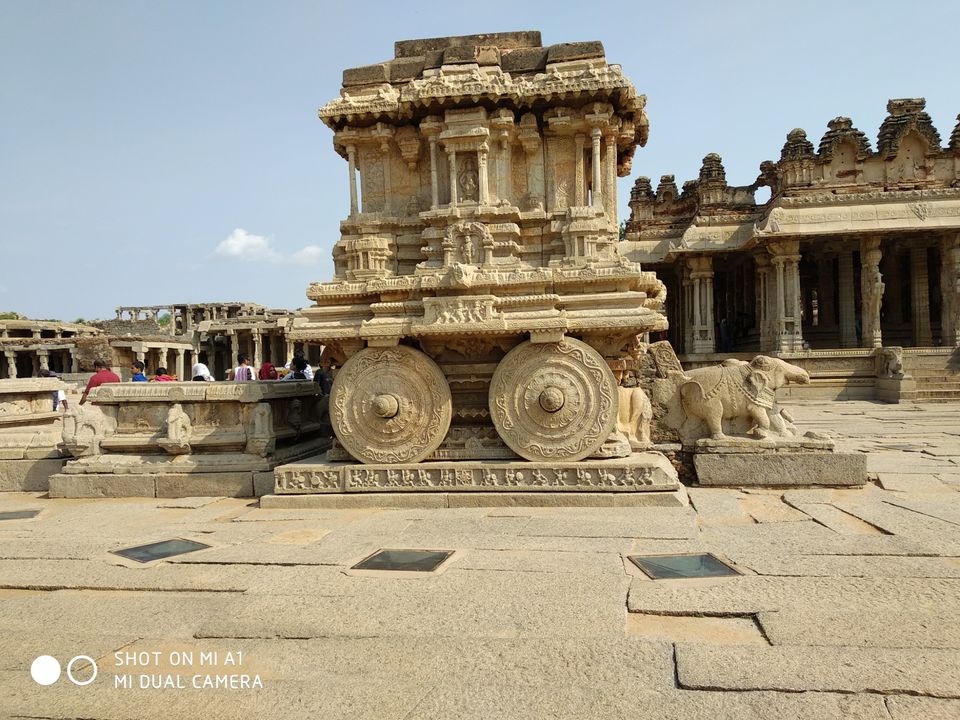 8> Matanga Hill
Now when in hampi, you can't miss this, a sunset from the Matanga hill. It's a pretty decent climb uphill. The wind here was very strong. Had an amazing view of the Virupaksha temple. It was all cloudy and we realized in no time that we won't be able to witness the much anticipated sunset :( . So after soaking in the amazing view of Hampi from here, we decided to descend and head straight to Virupaksha temple before it's too dark. It was 6 pm when were reached down the hill.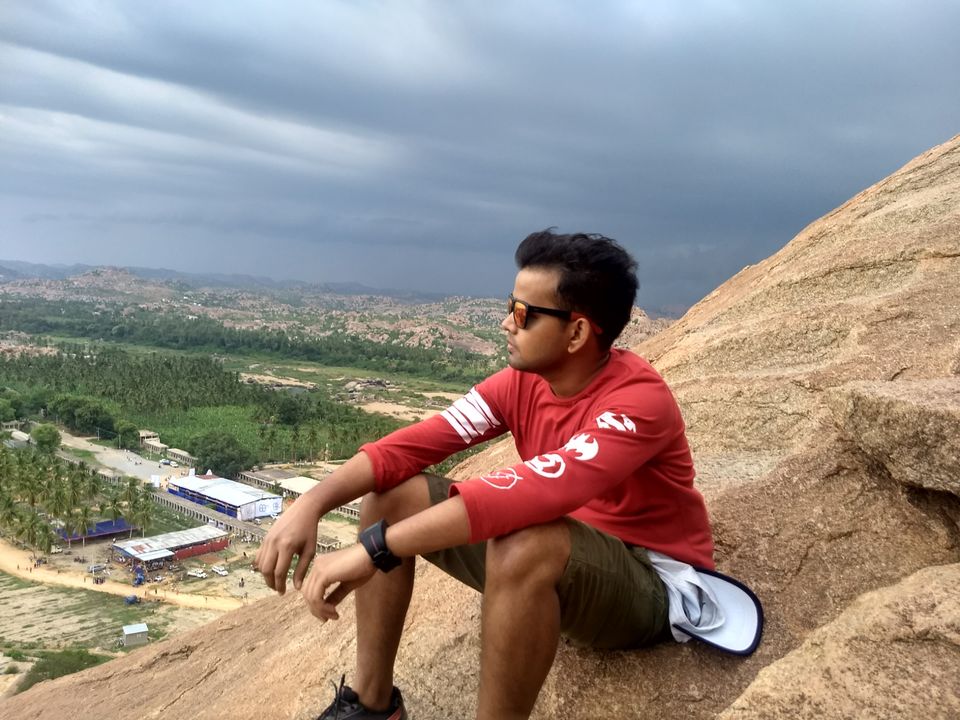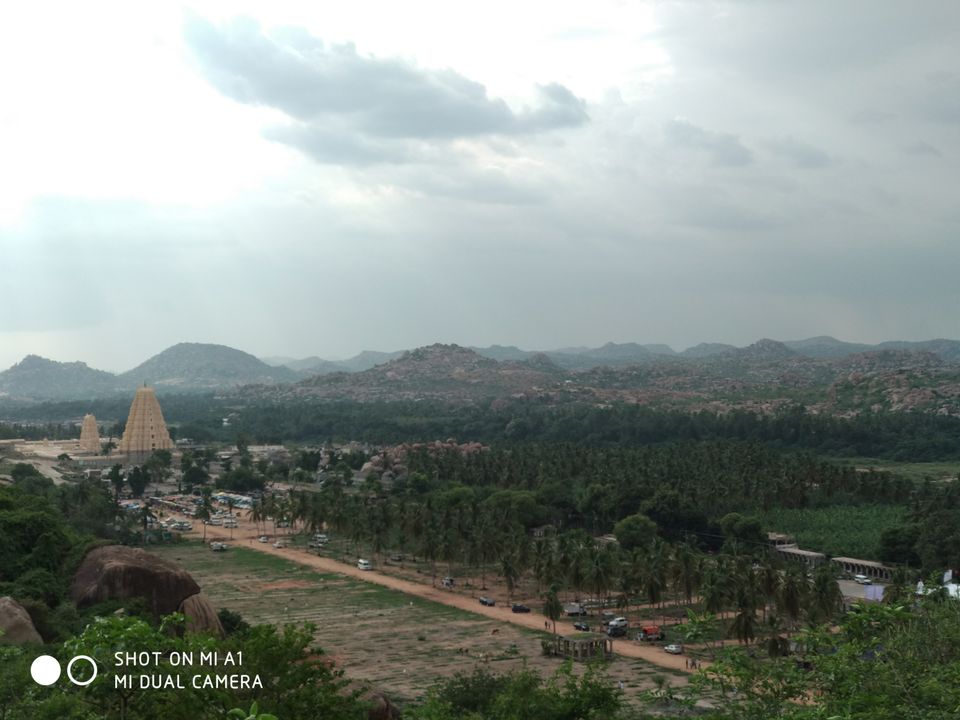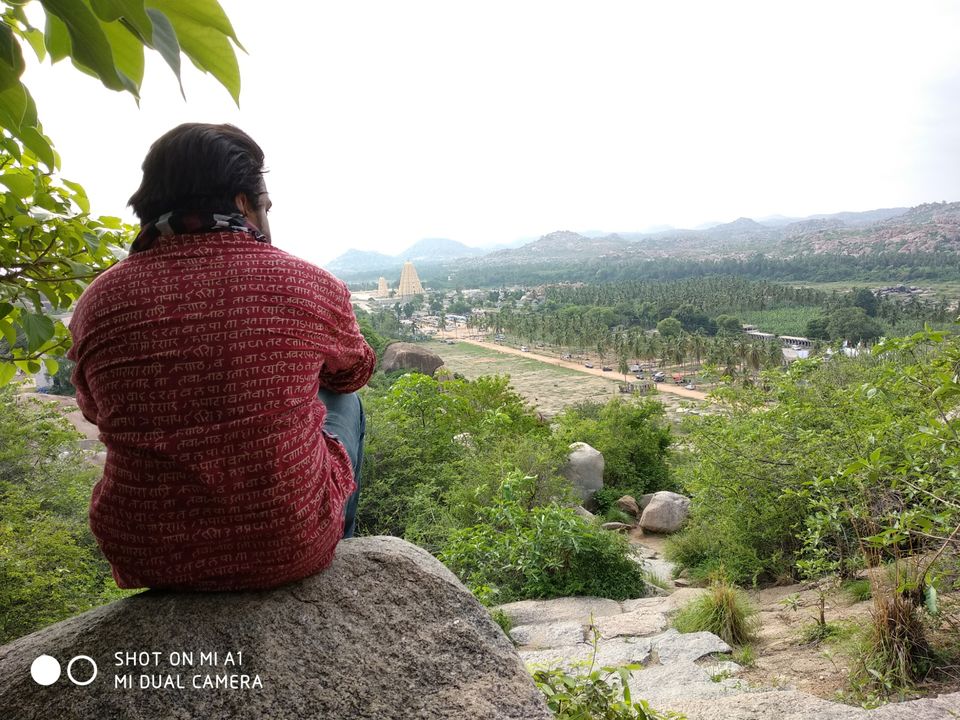 9> Virupaksha temple
A good place to end the day I would say. The place will hold you with the visuals. With no hurry to go anywhere we were at ease and simply enjoyed the moment. However it was short-lived!!! As it started drizzling. The first rain in hampi....we walk and found a shelter to protect from rain, before heading back to our room.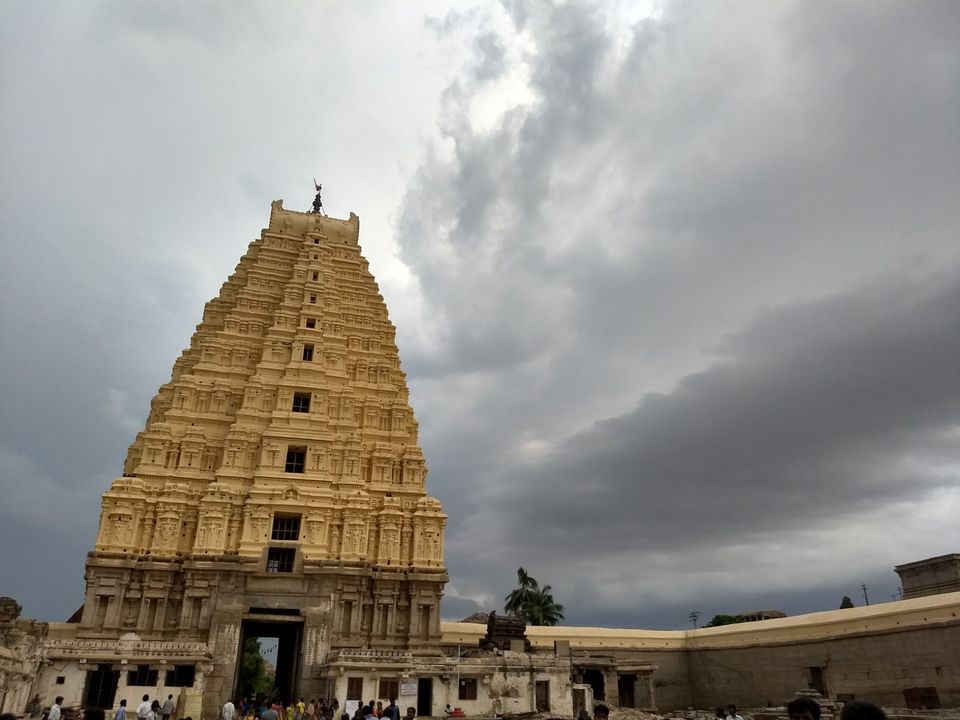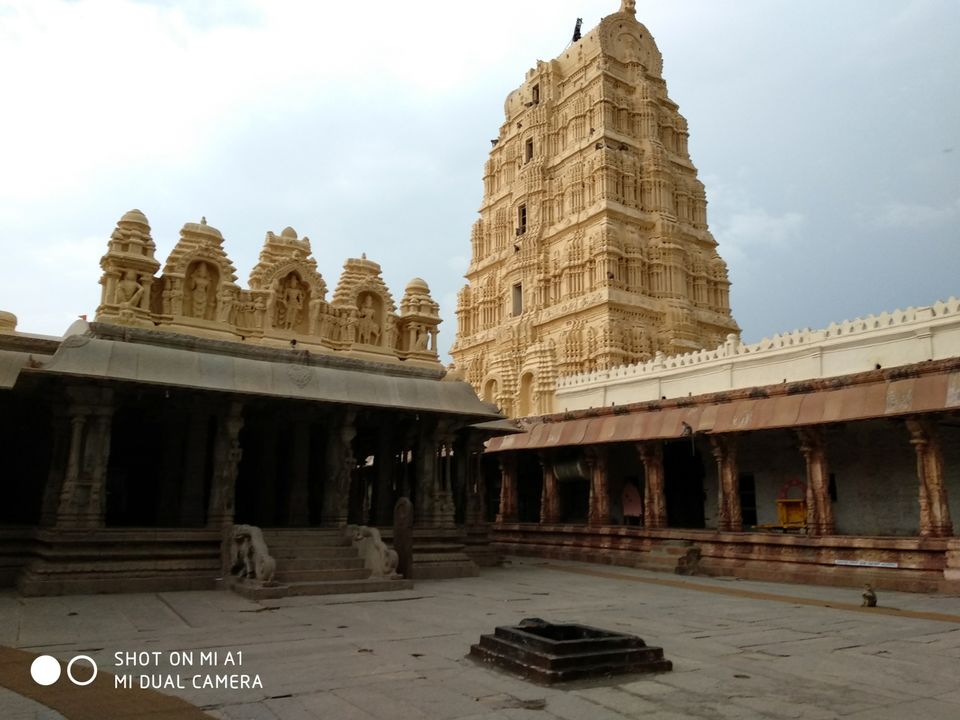 10> Mango tree
We freshen up in our room and decided to head out for a walk to find a place for dinner. Mango tree cafe seemed interesting. It is a crowd puller with the ambience and awesome food to offer. The crowd was a mix of foreigners and Indians alike.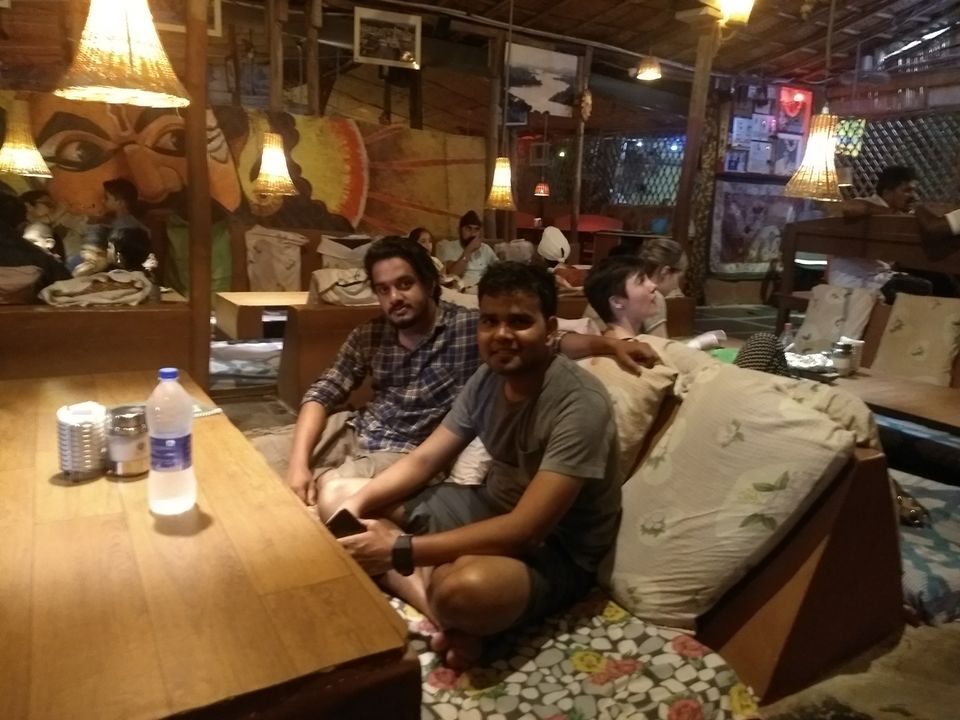 We decided to checkout from our room and head to the other side of Hampi. The so famously know Hippie island. We had our breakfast from a nearby stall and went to the river to get a boat to help us cross to the other side.
We found a guy when waiting here, who gave was an activa for 200 rs for a day. We filled petrol for 100rs. He took our original pan card as security for the two wheeler.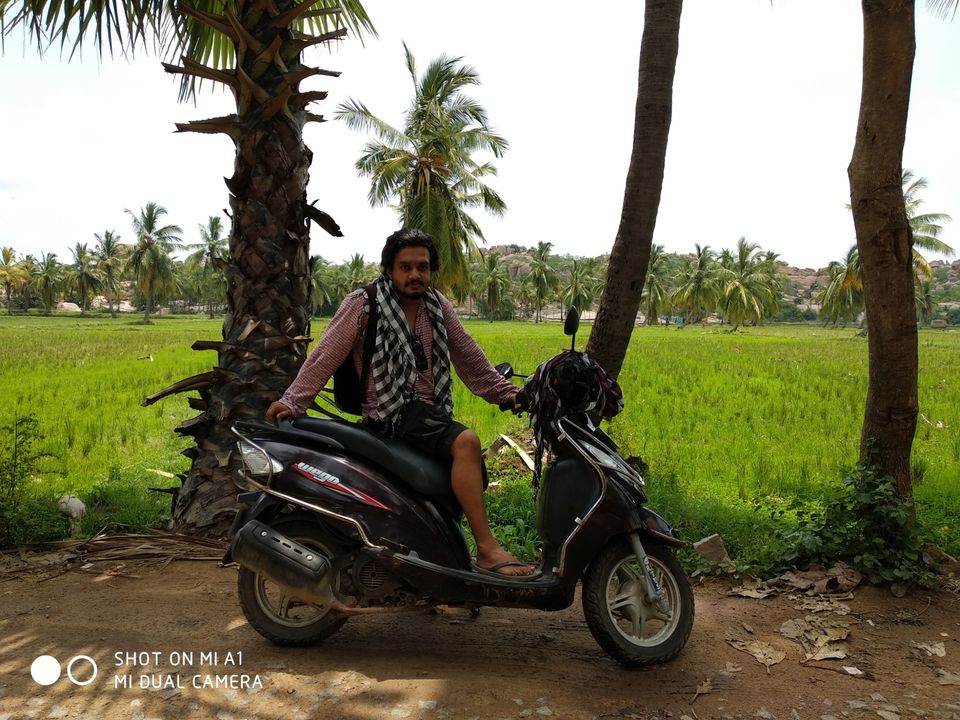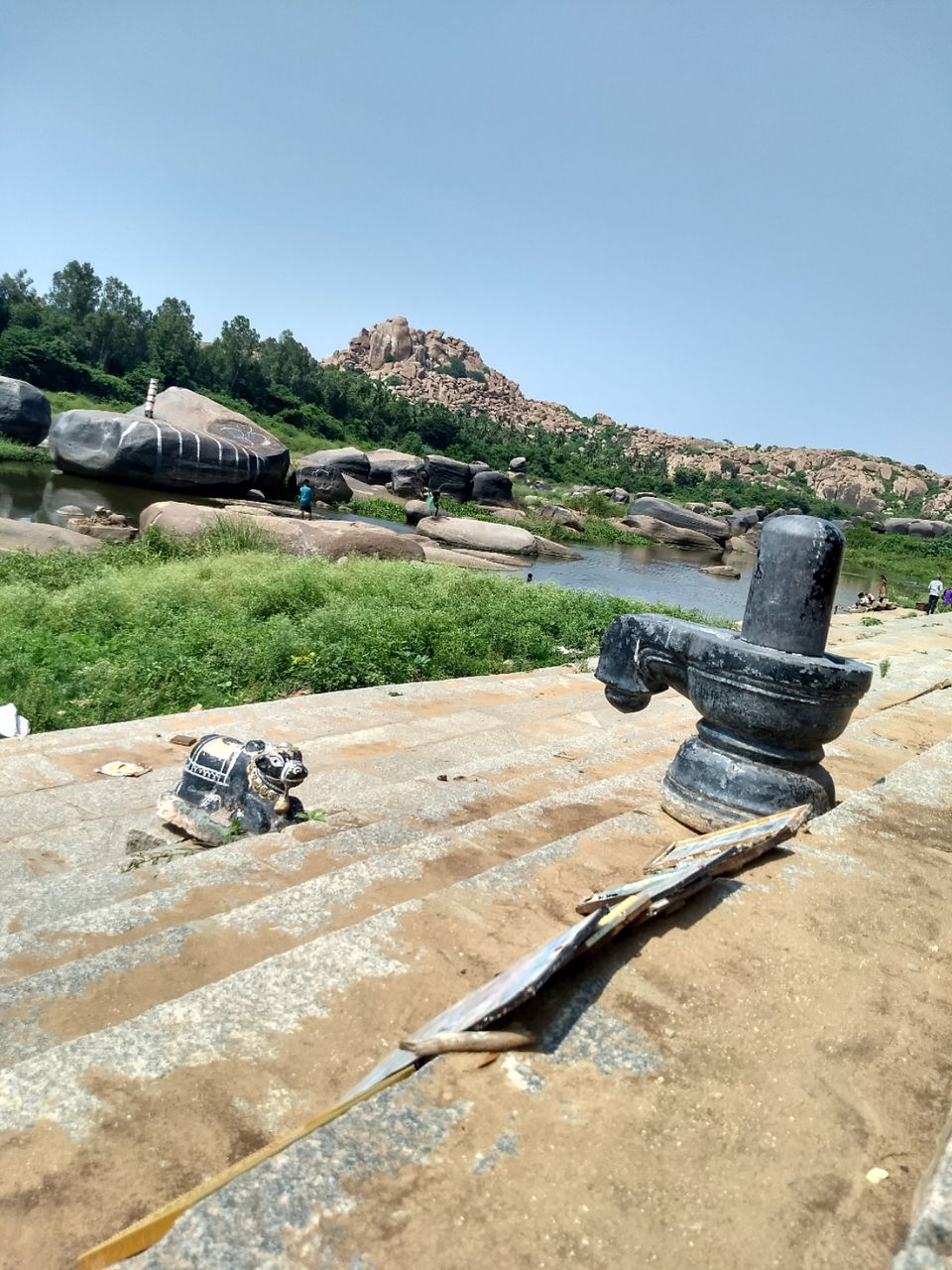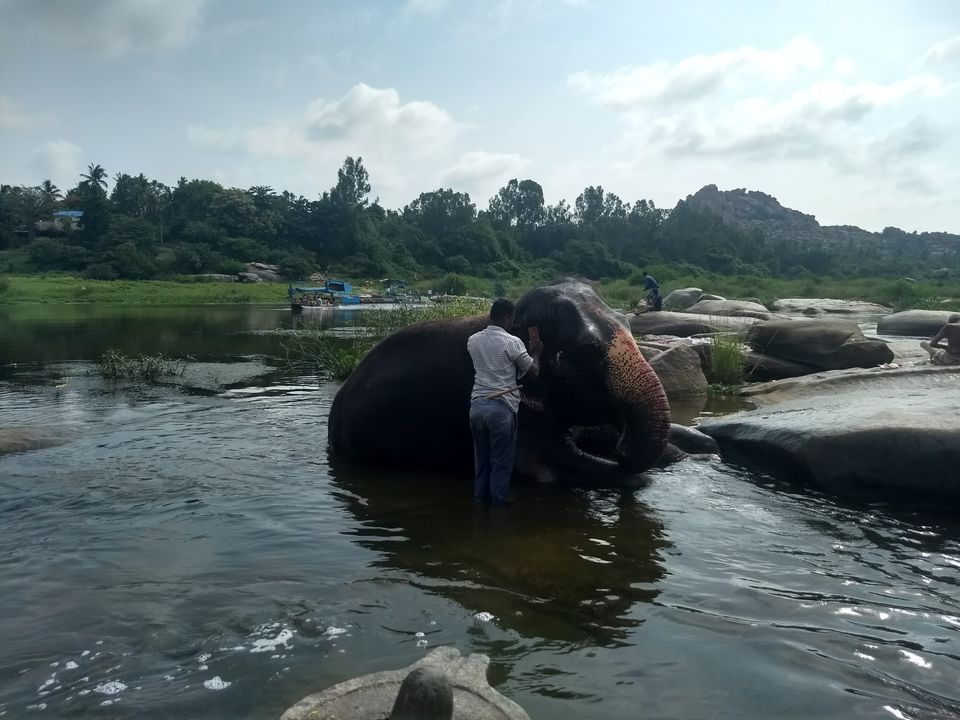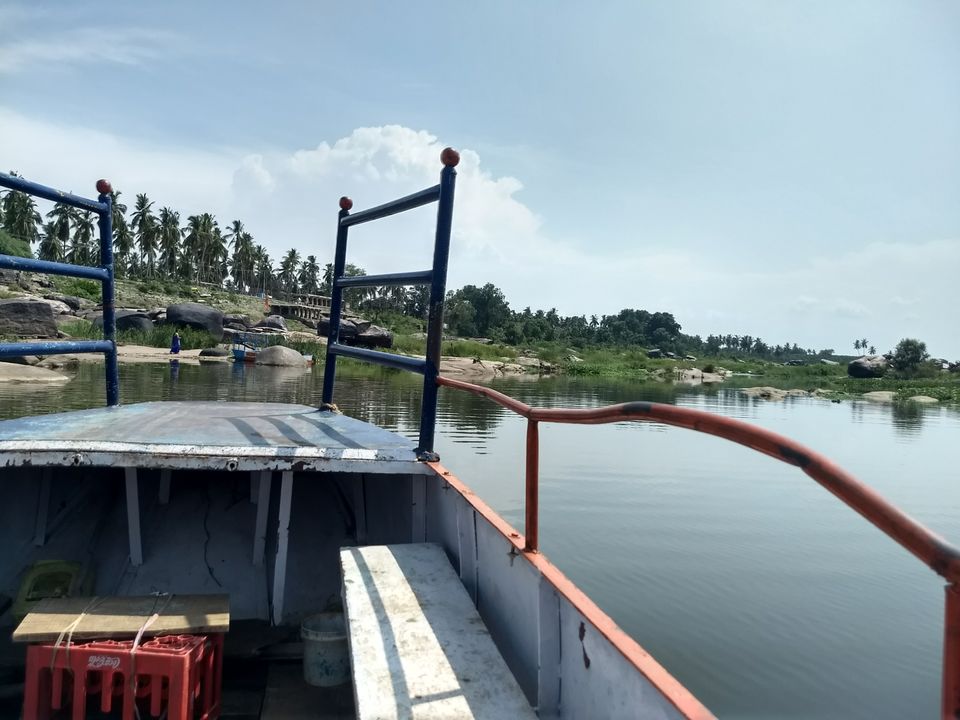 11> Monkey temple.
The temple is located on a small hill and we need to climb 575 steps before reaching the temple. The temple is know as the birth place of Lord Hanuman.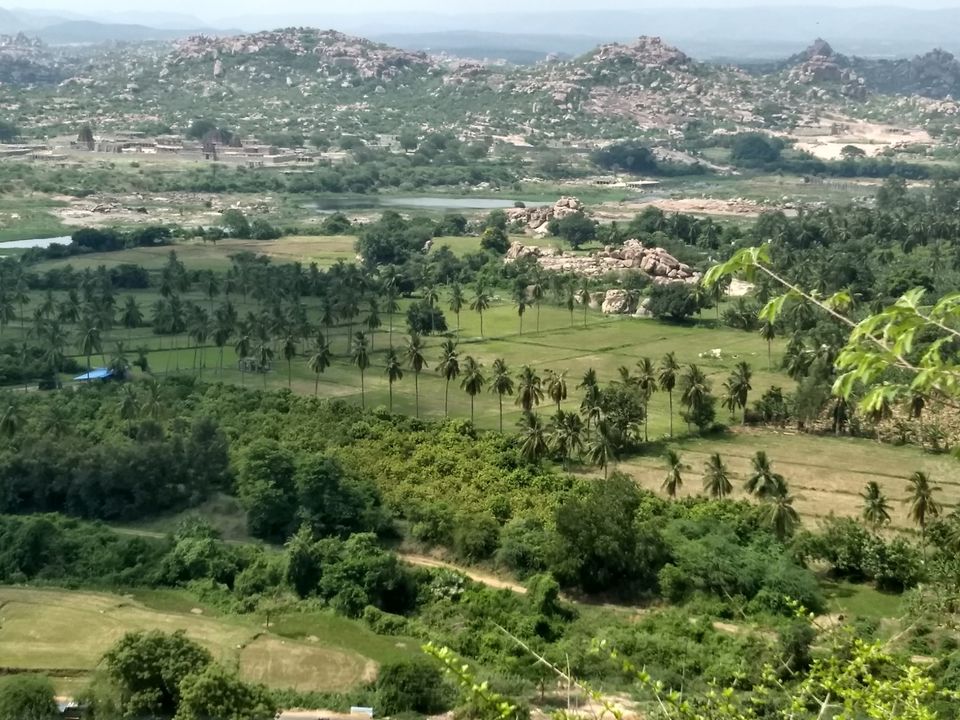 12> Sanapur Dam
There were a couple of more temples on this side. However we decided to not go further. Instead we rode to the other side to see the dam. You can see the reservoir here.
13> Evergreen cafe.
Now as this was off season, the lack of the incoming foreigners have forced most of the famous cafes here to remain shut. We could find one 1 decent cafe for lunch.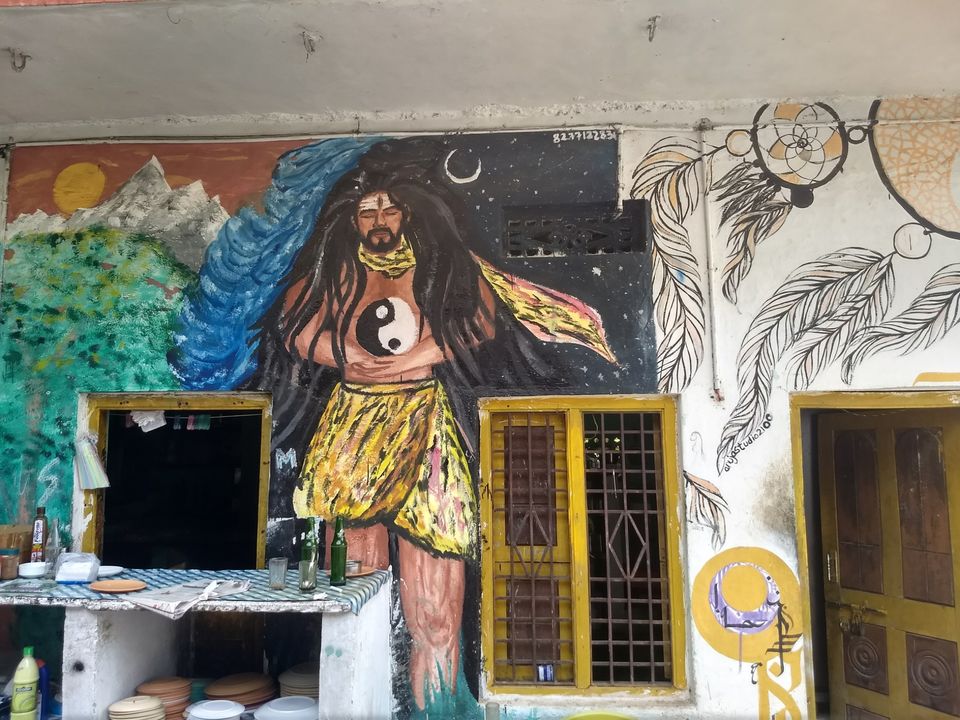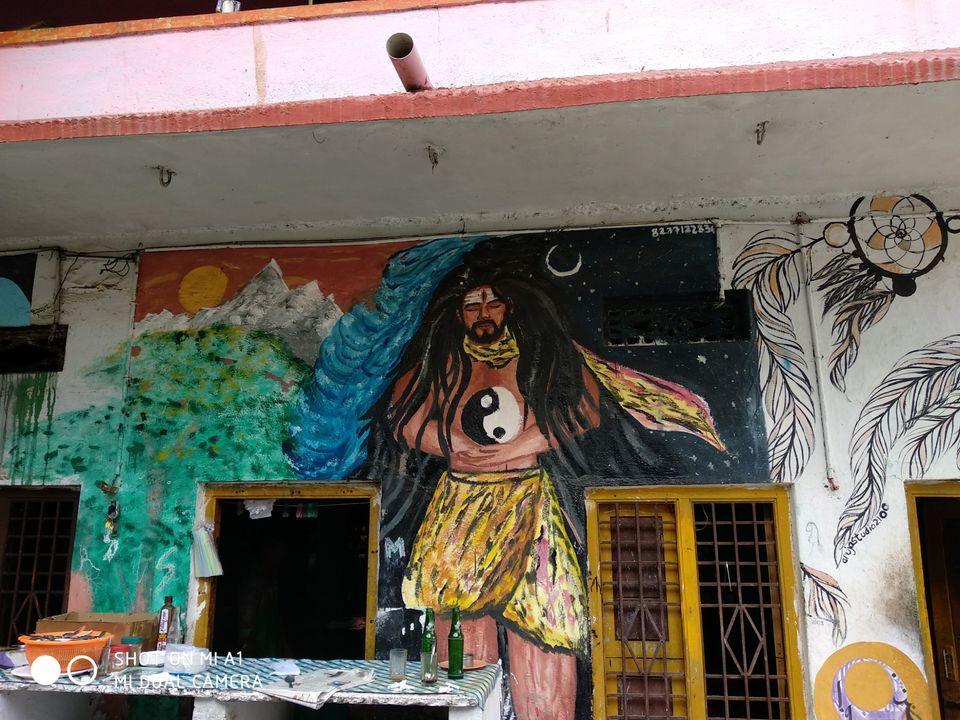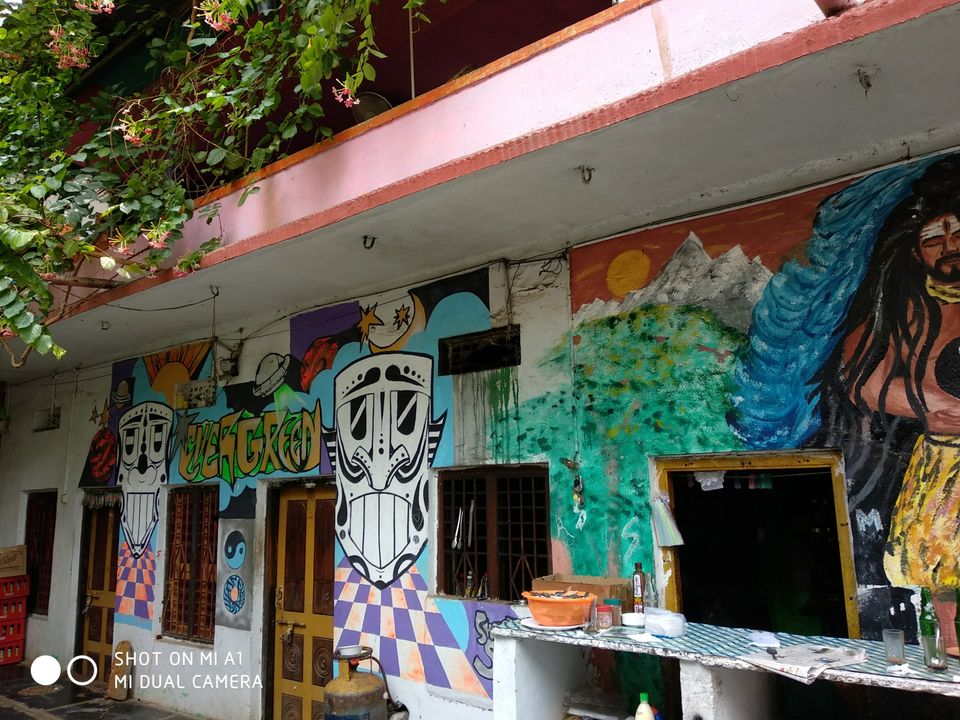 With this decided to finish our trip and head back to Hospet for our bus.
The trip gave me the much needed break from the routine. The stillness of this place is a bliss for any troubled soul. Just be relaxed and don't be in a rush to visit the sites. It's all the same..in a way!!!! The weak mobile network also helps in a way!!
So if you have a taste for heritage, monuments, caves, the careless hippie culture and also the quite opposite disciplined vegan Hindu culture......you'll find it all here. You will be amaze how a place can offer two extremely opposite culture. But that's how it is here.....visit and feel the Hampiness :)