Having completed few short hikes in Himachal Pradesh, it was time to take the leap and traverse longer trails. Several brainstorming sessions, videos and blogs later my fellow travellers and I set out for Hampta Pass
About the trek: Hampta Pass sits at an altitude of 14,010 ft, between the beautiful valleys of Spiti and Kullu. This is one of the few treks that offer dramatic changes in scenery at the given altitude. You leave behind the lushness of Kullu to enter the rugged terrains of Spiti. The trail remains accessible from June to October. The trek isn't too challenging but since there are some permits involved it's advisable to register with an organised trekking group, we chose Indiahikes.
Day 1: Jobra to Jwara( 7Kms)
Our journey started from Manali, we were summoned at 7 am and after the first round of briefing an enthusiastic team of 26 trekkers and 2 trek leads were driven to Jobra. The drive to Jobra is beautiful and there are 40 hairpin bends to look out for. From there the trail goes through pine and birch forests, occasionally crossing a stream or two. However after an hour the terrain quickly changed to undulating grasslands, trees were replaced by shrubs. After walking for 4 hours, we reached our first campsite Jwara, which sits at an altitude of 11,000 ft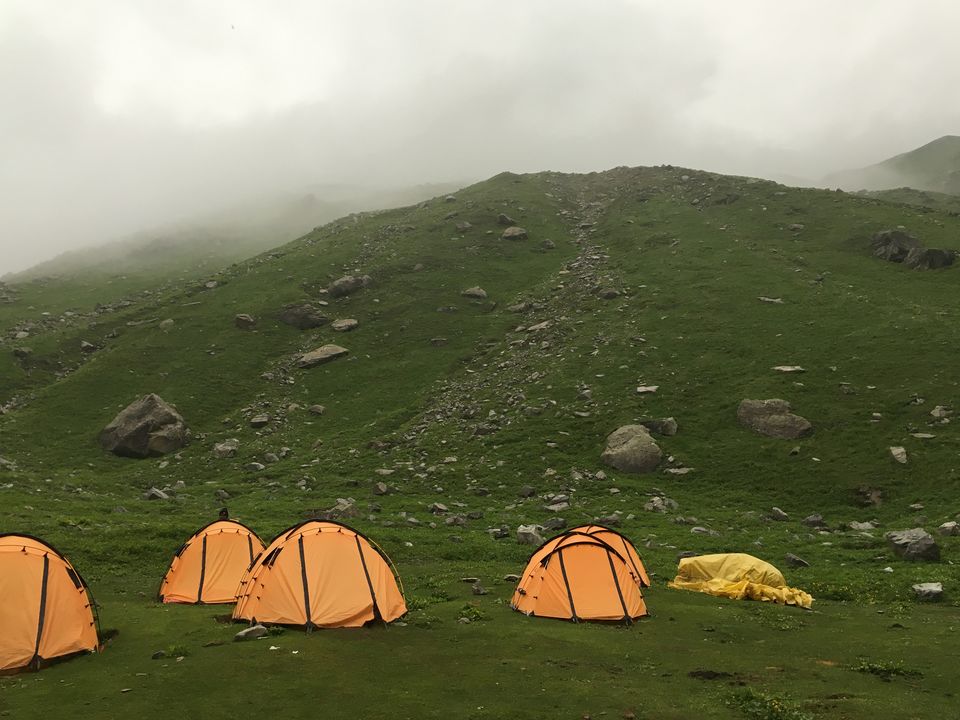 Day 2: Jwara to Balu ka Ghera( 5 Kms)
It was more of an acclimatising walk to prepare us for the final climb on the next day. We made our way through meadows dotted with wildflowers often encountering short rocky climbs . After a 5 hour long hike we reached Balu Ka Ghera(12,464 ft), our second campsite and last stop in Kullu. From Balu ka Ghera the terrain makes a sharp ascent to Hampta Pass
Day 3: Balu Ka Ghera to Shea Goru via Hampta Pass(10 Kms)
It was finally zero hour for us, we were to crossover to Shea Goru covering a distance of 10 kms in 9 hours. After an early breakfast and briefing, we set out in a pre decided formation motivating each other to make the climb. The greenery from the previous day had disappeared and our so-called trail consisted of moraines and other glacial deposits. About noon, we reached a narrow platform which marked the gateway to Spiti. The view around us made up for all the challenges of the climb. After taking a moment to catch our breath, it was time to descent. the walk downhill can be a little tricky depending on snow conditions and in about 4 hours we walked(at times slid on the snow) to Shea Goru. Shea Goru, which means 'Cold Valley' was easily the prettiest campsite in the entire trek. As we pitched our tents beside the Shea Nala, we couldn't get enough of the snow clad mountains around us.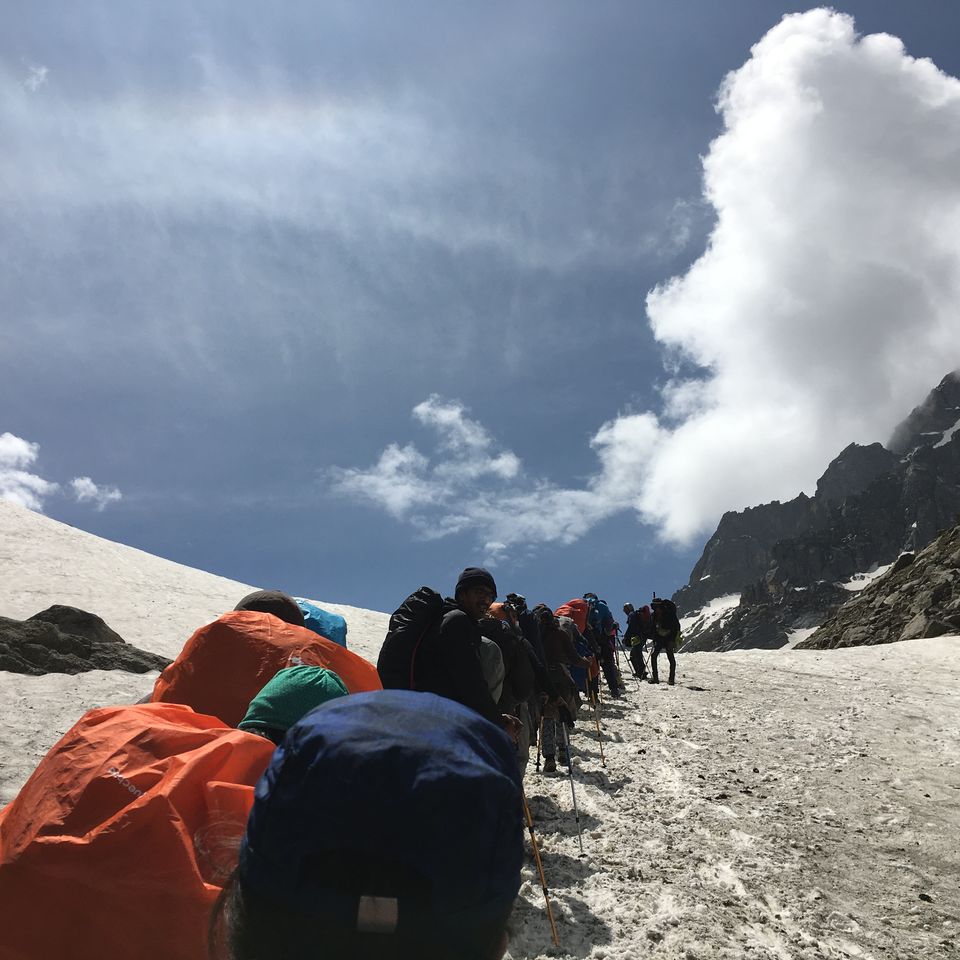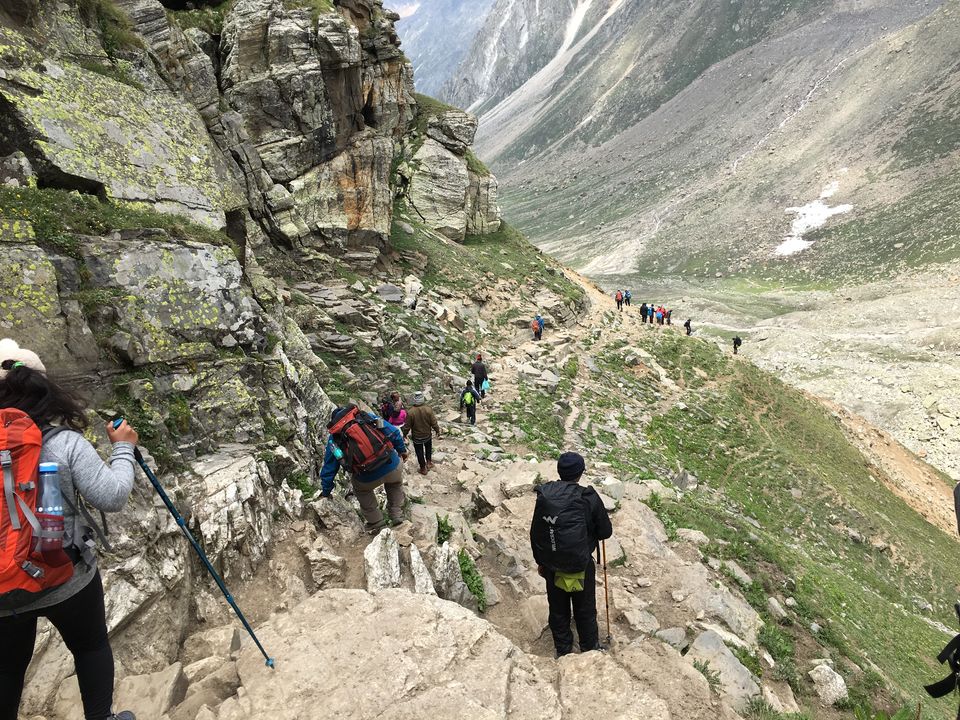 Day 4: Shea Goru to Chatru(7 Kms)

This was the last day of the trek, It was supposed to be an easy descent to Chatru which sits at an altitude of 11,000 ft. After crossing the icy waters of Shea Nala, we set off on our trail and found ourselves walking beside the Chandra river. It took us 4 hours to reach Chatru, but the day had more in store for us. After a quick lunch, we drove to Chandra Taal. Located on the Samudra Tapu plateau at an altitude of 14,100 ft, Chandra Taal is accessible via road from Batal and on foot from Kunzum pass. It gets its name from the crescent shape. Legend has it that this is where the king of first heaven, Indra picked up Yudhishtir on his way to heaven.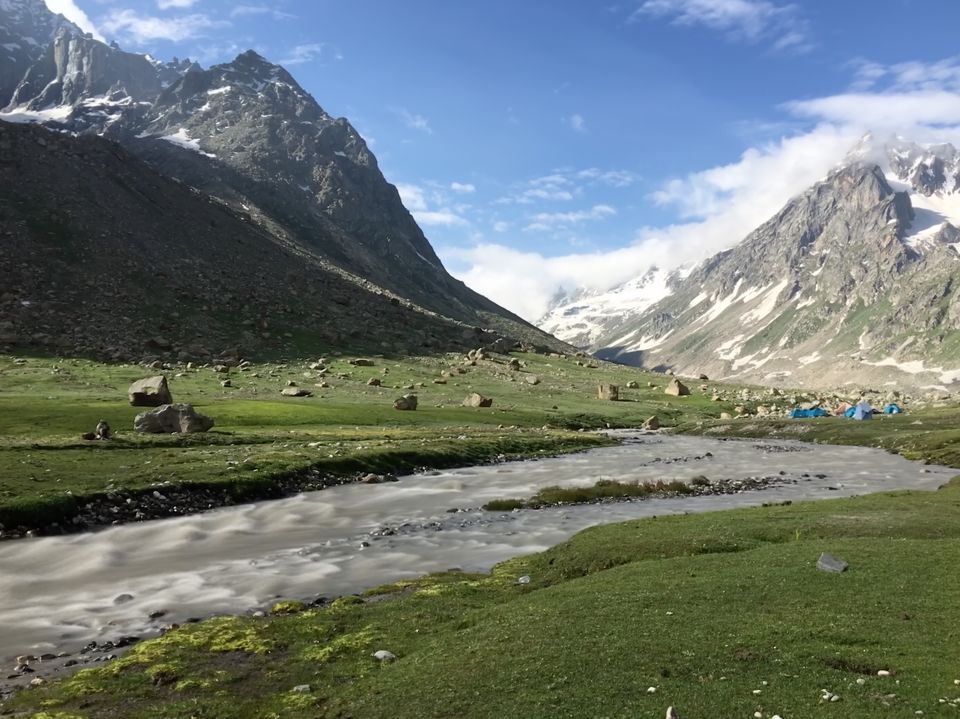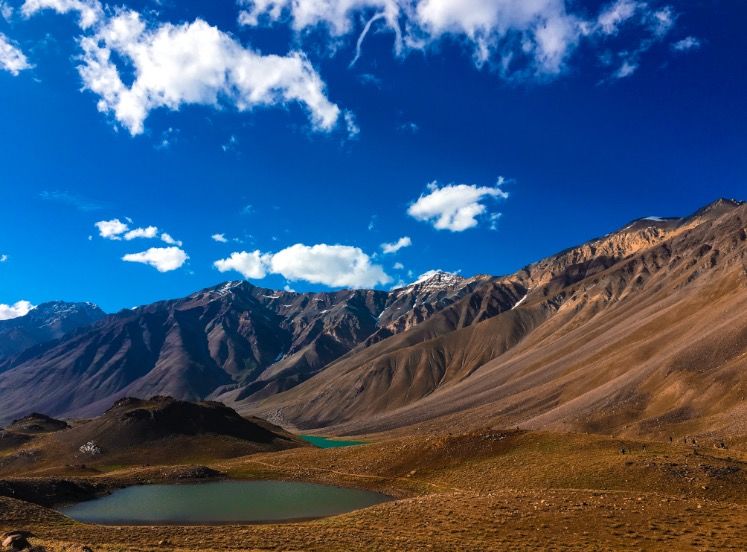 Day 5: Chatru to Manali

It was time to get back to civilisation, with a heavy heart we boarded our cabs to Manali which marked the end of a wonderful 4 day long journey.
Few things to remember:
1) A certain level of fitness is recommended since you would be gaining altitude at a fast pace.Also be prepared for long hours and rapidly changing terrain. It's important to stay hydrated at that altitude
2) Pack very light, only bare essentials will do. Most organised trekking groups provide a list of things to pack
3) Trusting your trek leads could be life saving
4) Please respect the mountains, leave nothing behind on the trails or at campsites.Most organisations provide eco bags to collect the plastic waste left by other trekkers, please use them and help keep the mountains clean