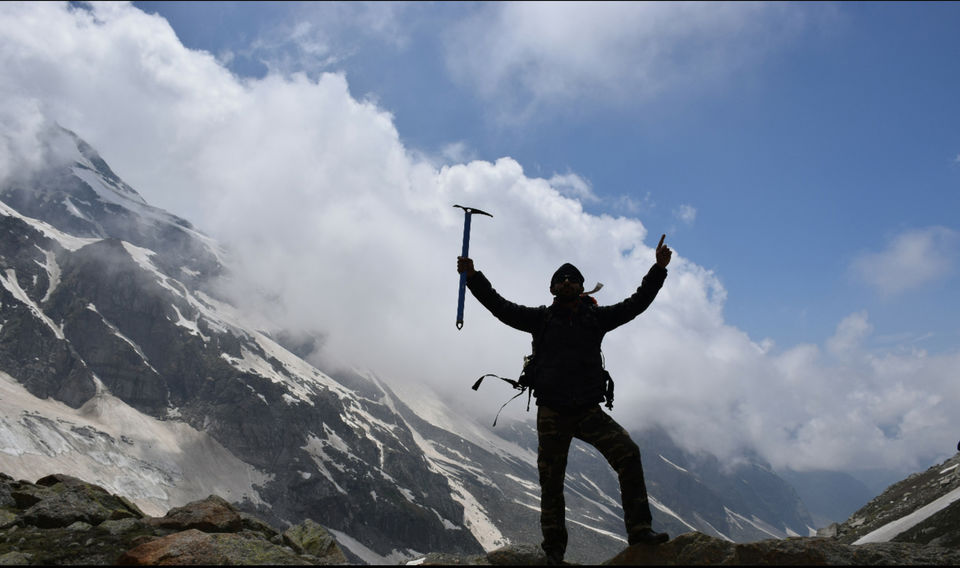 Hampta Pass - A Stunning Crossover Trek! <3
Do you really want to find yourself as an individual?
Do you really want to prioritize what really matters?
Do you really want that kick to help you discover the meaning of all the un-clarified thoughts?
Honestly, being a frequent traveler, Himalayas is the Way! Travelling to Himalayas has always been a life-changing experience. I am really grateful to God that I got to learn and understand the mysterious magic of Himalayas at the right age.
One of my recent Himalayan Trek successfully completed by me is Hampta Pass in June 2017, organized by Backpack Expeditions. I am very glad and excited to write about my recent trek to Hampta Pass. Hampta Pass is a stunning crossover trek at a height of 14000 feet which starts from the lush greens of Kullu through the fresh white snow of Hampta Pass to the barren deserts of Spiti Valley.
I and my travel companion Dhanish Shah with 7 others started from Aamchi Mumbai to Dilwalo Ki Dilli (Delhi) and had an overnight bus travel to Manali. Though it was not my first time in Delhi so routes were pretty clear. And I really love Delhi Metro! Delhi to Manali is the perfect road trip! On the way, we got to witness the mesmerizing view of mountains along with various river streams flowing around. Once we reached Manali, we decided that it would be even better to stay in Old Manali. And yes, we were absolutely right as Old Manali has a delightful charm with very hospitable people around. There are amazing cafes in Old Manali which serves tasty continental food, flavorful sheeshas and Sufi Nights which turned out to be one of our favourite time pass.
And the next day, our Hampta Pass Trek begins. Everyone was full set and excited to start with the Trek.
Day 1 -
Hahah!! We were late but phewww! We made it! Pick up point was Manali mall road from where we headed in Sumo towards base point i.e. Jobra. It was a roller coaster ride. It took us around one and half hour to reach Jobra. The weather was beautiful. That feeling had already started synchronizing. We had our lunch there followed by a round of introduction and instructions given by one of our trek leader Shubham Aggarwal and our guide Lal Singh (to remember his name he wore a red cap :p). Post-lunch we were all set to start and it was time that our legs do the job. It was an easy trek on the first day to start with. We started at around 2.45 p.m. The trek was of around 3 hours with captivating views. Everyone did pretty well though majority were first timers. We reached our first camp Chika at around 5.30 p.m., offloaded our backpacks, did some stretching and enjoyed the stunning campsite. After, we had our dinner and called off for the day to wake up at 5 a.m. in the morning the next day.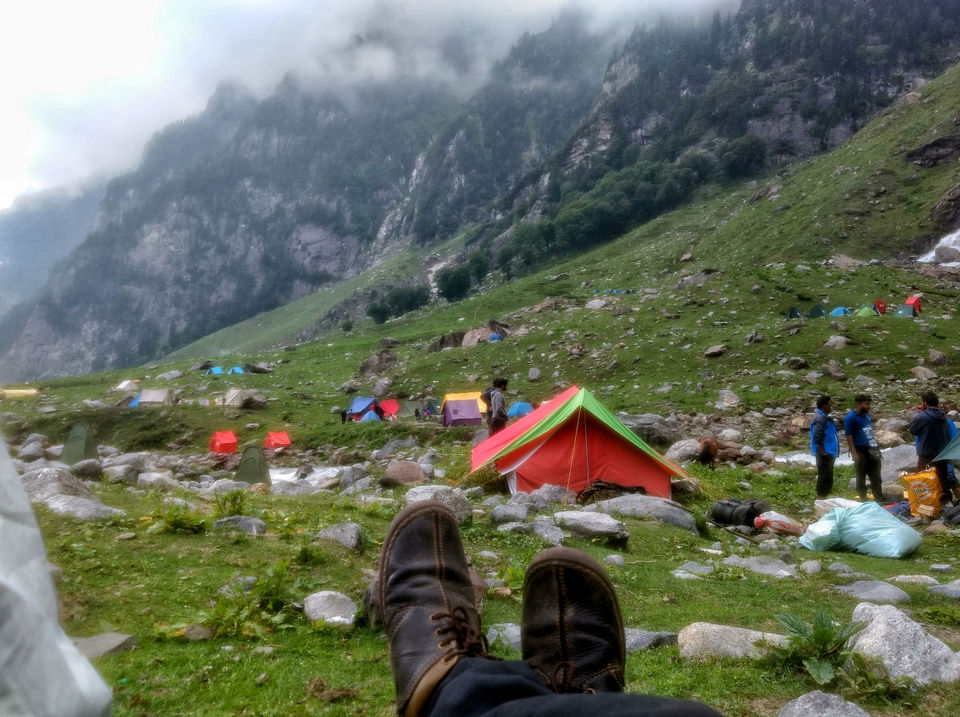 Day 2:
So waking up at 5 a.m. was routine for the next 4 days. The 2nd day was supposed to be a bit long with freezing cold river crossing. We had our breakfast at 6 a.m. and then started for the next campsite Balu-Ka-Gera at 7 a.m. Everyone was instructed to walk technically i.e. slow walkers in front and fast walkers behind to keep a good pace and momentum of the group. There was a pretty good ascend. Some people found it hard. But as a group we were determined that everyone will do the job no matter what. Soon we reached the river crossing spot. The river was so crystal clear, freezing and fast that it can take you along. And yes, one should never miss drinking this pristine mineral water. Soon after the river crossing, we proceeded further to the campsite. Moreover, the view was so scenic and quaint that I wasn't a bit tired in spite of being a long day. We reached the campsite at around 2 p.m. and started with our acclimatization activities followed by some fun games.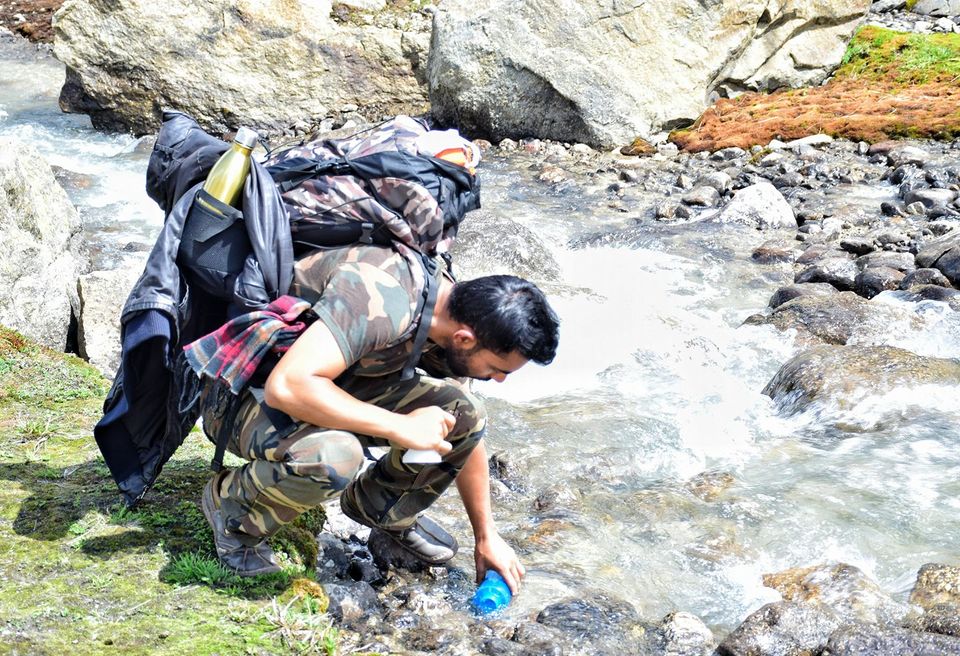 Day 3:
The Hampta Pass - This is what we came for! I was super excited for this day. It was supposed to be the longest day of around 8-9 hours of trekking. It included some hours of ascend, reach the peak and descend. We had to walk on snow as well. We started the day at sharp 7 a.m. It was getting difficult for few people due to high altitude. But as you know, trek leaders never lets you quit! Everyone kept encouraging each other. It is rightly said that unexpected friendship are the best ones. The best part is we had our lunch in some place at around 12500 feet with Himalayan dogs and admiring the snowy beauty around and other towering peaks. Finally, we reached the peak. What a Breath-taking view of the snow-clad mountains at 14000 feet! I sat there for quite a long time, looking at Mount Indrasan in front of me clear up and again hide behind the clouds, the holy Mountains accepting me on their shoulders and a few people getting emotional! All the pain is totally worth it. After sometime we started descending to Shea-Goru campsite. We also had to go through a fun snow slide. Unfortunately, there happened a tragedy while descending. Our partayygirl a.k.a. Janhvi Vora was hit with a stone that came rolling from up. She lost her senses for a couple of minutes and urgently she was given C.P.R. by our trek leader Shubham through which she revived back instantly and gave a big winning smile. What a brave girl she is! Soon after she was given proper medications by medical experts along. This incident taught me you never know what will happen next in life. Just live each moment as if it is the last! ((:
Finally, we reached the Shea Goru campsite and were served with hot soup and garma garam breakfast. Shea Goru camp site was full of huge barren mountains on one side, green mountains on other side and snow-capped mountains in the front with freezing river along! Jannat hai boss Jannat! :D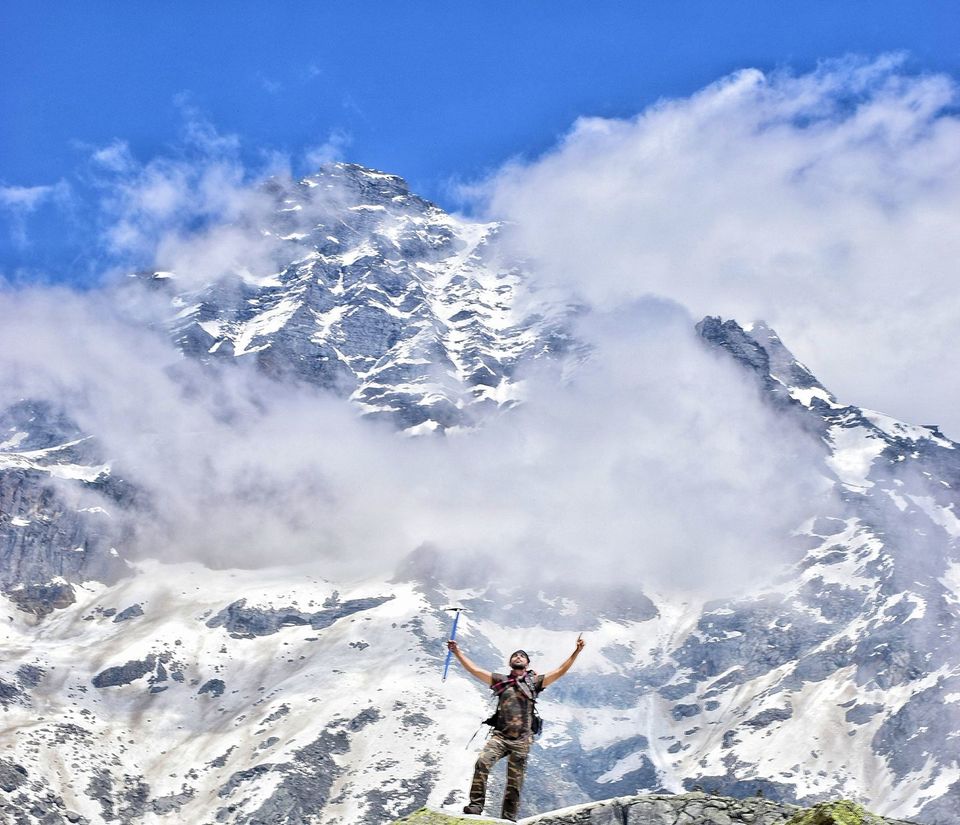 Day 4:
We started at 8 a.m. by crossing the the most chilly river of the trek. Since we started in the morning, one could imagine how freezing the river would be! And it was so rejuvenating! There was some more descend ahead but it was an easy trek of around 2 hours with lot of admiring panoramic views. We reached Chattru at around 10.30 a.m. where the civilization starts and yes there we completed our amazing trek! Our next plan was to go to Chandrataal which being the best highlight of the trek. But unfortunately the roads were blocked due to which we missed The Chandrataal. Anyway there is always a next time. Then we relaxed the whole day just letting the feeling of completion sync in.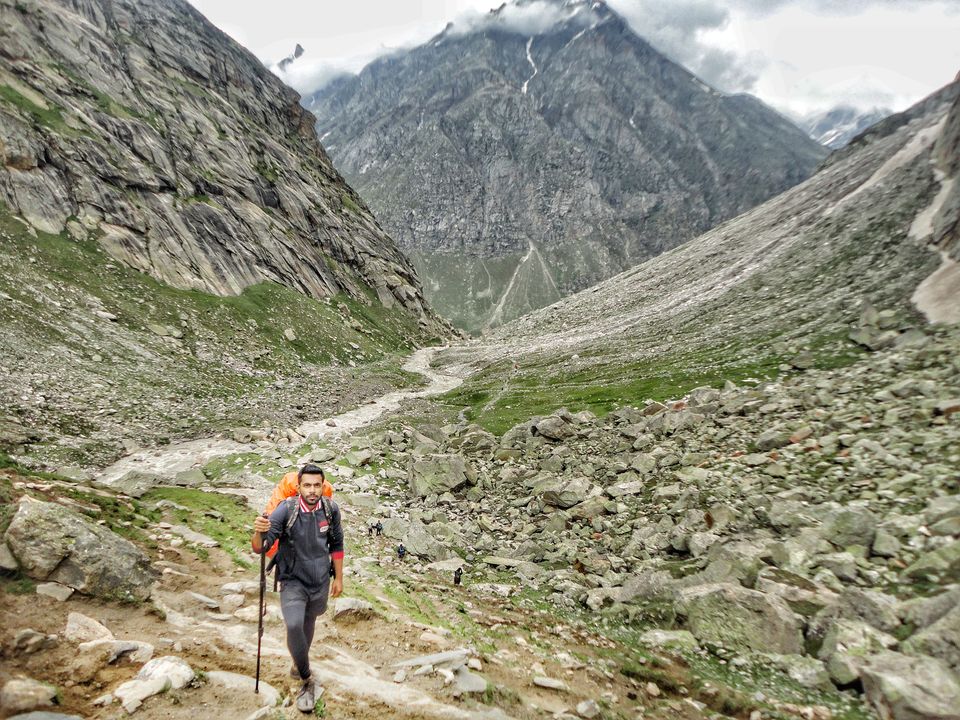 Day 5
We bid adieu to all the amazing friends hoping to stay in contact. Finally we headed towards Manali in the sumo and again there was a lot of view to enjoy. We also passed through Rohtang Pass. I wanted to go back there. Infact we all had the same feelings. Finally, we reached Manali and then to Dilli and to Mumbai.
My whole-hearted gratitude to the kitchen staff who served us such delicious food everyday which helped us to successfully complete the trek. My regards to Shubham, Lalji, Dhanish Shah (teddy) and my fellow trek mates. Special thanks to the Himalayan Dogs who are the fearless protectors, best guides, disciplined and mood boosters.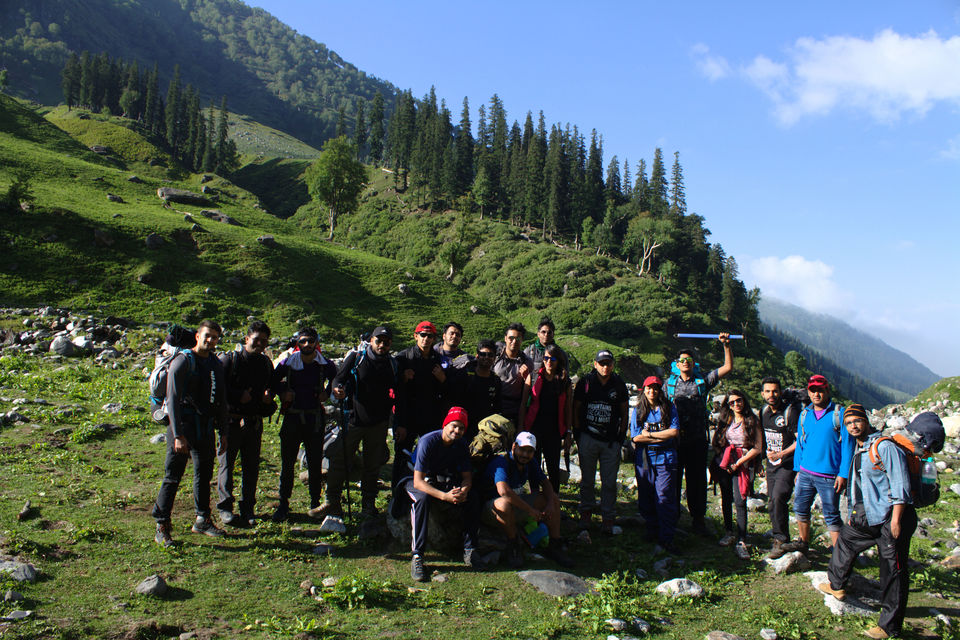 There is no other place than Himalayas that I'd rather love to be. I had already started missing it when I was there and I do it way more right now. Truly, some secrets aren't told, they are witnessed.
Travel Before You Run Out Of Time! :)
Follow for more Travel Pictures & Stories:
https://www.instagram.com/utsav09091993/