Hampta Pass has a view from a Different World ,a trek with most dramatic twist of view in Himachal Pradesh, one of the most toured states in India.It is one of the rare passes where you get to see the transformation from lush green forest of Manali to the deserted mountains of Spiti .The variation in the trail is enormous .
You can see the Lahaul valley in one wide panoramic sweep. The best route to enter Spiti is through Hampta pass, you can feel the gradual Ascend of height. People say you definitely need a Guide for this trek, but Trust me You don't . It feels like we are doing two trekkings in one.
Best Time: June , July , August , September , Mid october .
Total Distance (Hampta Trek) : 26Km
Average Time: Usually it takes 4 days to complete the trek , you can add 1 day to the trek for Chandrataal Lake .
Mountain Ranges : Pir Prangal and spiti
Stuff To Carry:
Sim: Only BSNL sim works in spiti, There is a satelite phone at an army camp in batal
Tents ( if you want the real feeling of trekking in himalayas carry your own tents, if you dont have then you can eaily rent it ..trust me its very cheap )
Clothing -(it is extremely cold and windy throughout ) jackets , warmers , socks , lowers, proper trekking shoes ( be prepared for shoe bites )
Bags - carry the neccesary stuff Only ...remember you have to carry it around while trekking
Food - there are dhabas at all places except Shia goru (Pack some food items from balu ka gera for the next day ) , carry dry fruits (best source of energy for travel)
Medication : carry band aids , ginger water(helps in mountain sockness ) , headache/mountainsickness - diamox (very effective) , stay Hydrated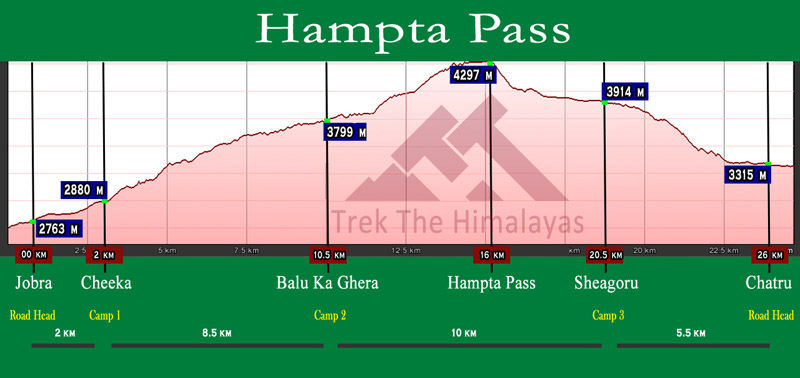 If You see You are going from 2700m(jobra) to 4200m(Hampta Pass) and coming back to 3300m(Chatru).
Detailed Itenary / My Story :
1st Day : Delhi(216m) - Manali (2050m)- Base camp Jobra(2707m) - Chika(3000m)
We started our journey from Delhi , on Friday Night . We took a bus to manali which charged us about Rs 600 ( Today the prices of the same bus is around Rs700 ) . It was a over night jouney in the bus to Manali . Takes almost 13-14 hrs in bus to reach manali . The bus dropped us at Mall road, Manali . Usually It is very difficult for people to travel in Govt busses but I find it cheap and best way . It is not very comfortable but you get used to it . When we reached Manali we had Breakfast at a Dhaba on mall road in Manali . We planned to begin the trek the same day and so we took a shared taxi to JOBRA which is around 1.5 hours drive from manali . It is better if you find people going to the same place so that you can share the price for taxi . Personal taxis are comparatively expensive.
Reaching Jobra we stated our trek to first base camp Chika which was around 2-3 hours of trek (an easy one) . The trek begain in lush green forest, mostly Pine trees . There was Hamta reservoir just at the beginning of the trek. It was a dense Forest just like you see in the movie Lord of the Rings, Extremely beautiful . We were walking slowly, Taking pictures at different spots ( as we knew we had time ) .
When we reached Chika , it was a beautiful camping spot with one Dhaba(just a small tent with a guy who'll serve you some food and guide you if you are alone) to serve food and an mesmerizing view . We were very tired and had dal chawal that night and slept early so we could get up early next morning .
The Dhaba usually has maggi , egg, bread , tea , biscuits ,juices , one sabzi (usually dal) and rice .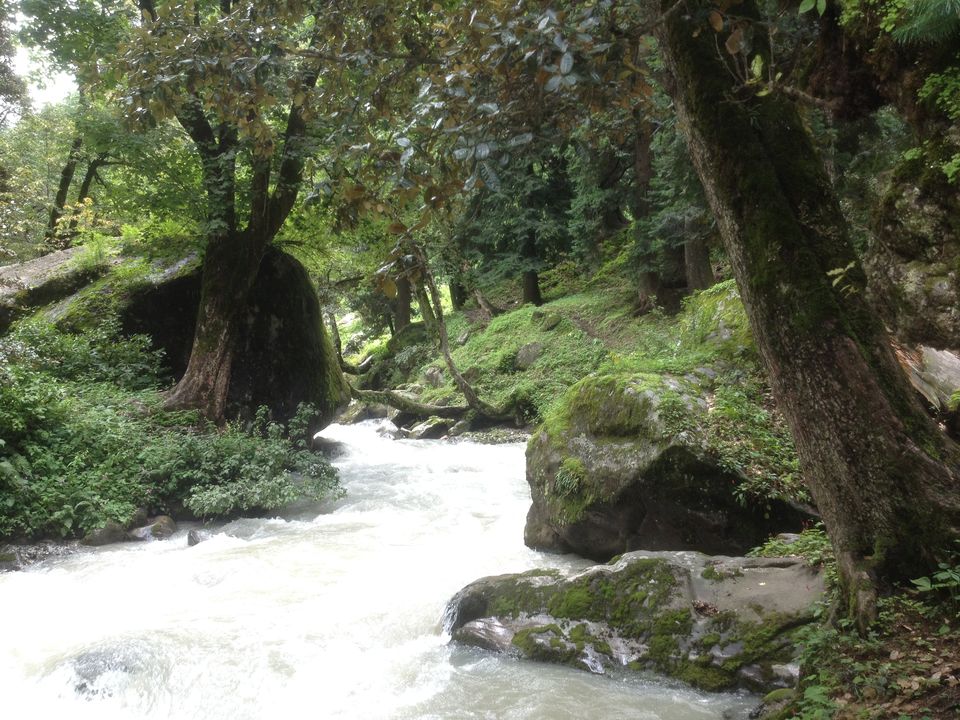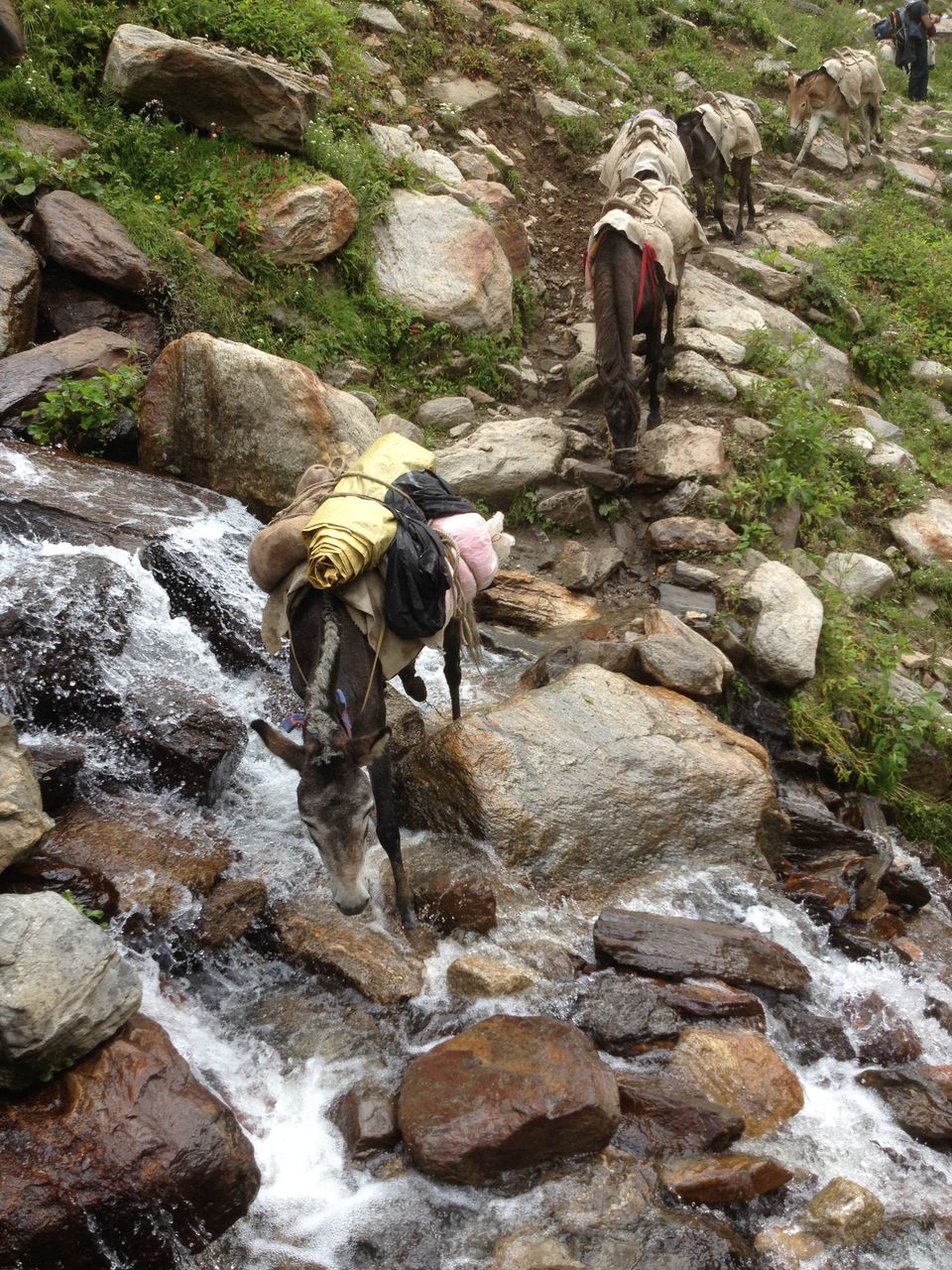 2nd Day: Chika(3000m)- Balu ka ghera(3600m)
The morning in Chika, we got up early and had a tea to enjoy with the beautiful view . We asked the person at the dhaba to make us some breakfast and Till then we went to click some Morning pictures (Sunrise is the best time for pictures) . There was also a waterfall nearby, so we planned to go there.
From this place, You can see the Dhauladhar ranges and their snow peaks . After clicking pictures we had our breakfast and just started our trek because we were told that todays trek will include most difficult parts of trek including The water crossing . It was like a 5-6 hrs trek for the day .
The trek... it was steep and rocky but we walk slowly up, balancing from rock to rock. You will see an entire stretch of the river bank lined up with the Rhododendron trees. Once you have reached the end of silver birch trees, wait a moment and look back to the entire range of Dhauladhar snow clad peaks in front of you. This view is very picturesque. I was very excited for the river crossing so i was walking a little fast. When i reached river crossing.... i was shocked , the water was really fast and the height of water kind of reached our waist . There were people around who told us to cross it slowly or else we can slip and If you slip .... you are gone. Somehow i managed to cross it slowly. And after i reached the other end, it was like very easy... so i went back and came again to help my friends who were very scared . Soon after crossing we realised that its getting very late , and we should hurry and that's when it started to rain. But trust me this became the most beautiful part of the trek. Dark green grass with different kinds of flowers, it was soo beautiful words just can't define it. There were no trees (because trees don't grow at this height), so there was only grass and some flowers. It was like a valley of flowers and this part included trekking on the river Bank(best part). After reaching the campsite (the best campsite of the trek) we fixed our tents and had our dinner. The Relaxing sound of water stream and the stars .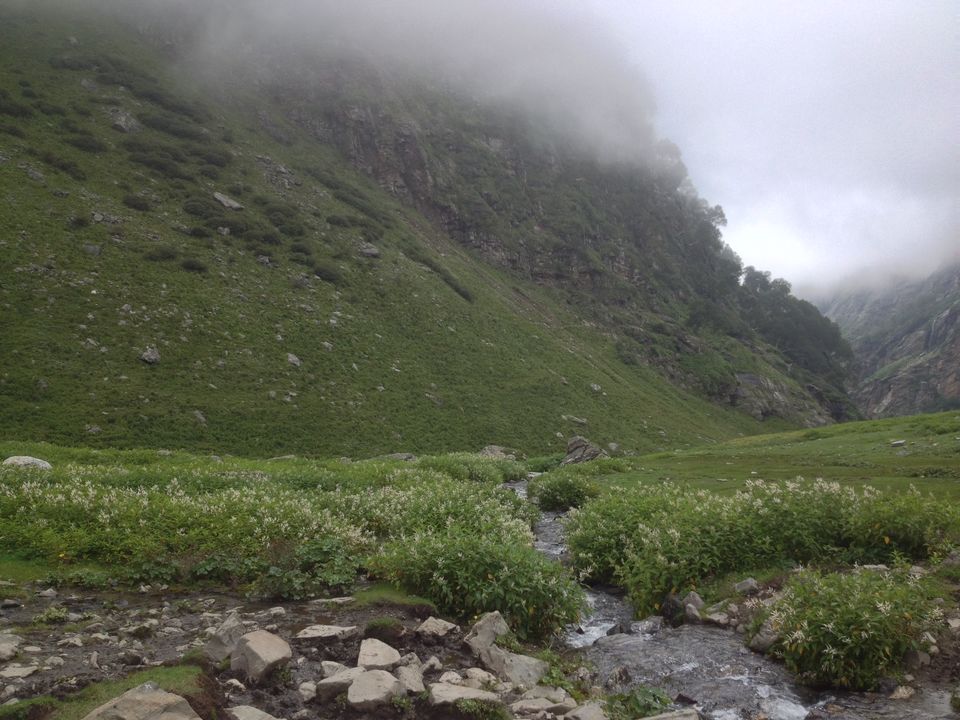 3rd day - Balu ka ghera(3600m) - hampta pass(4270m) - shea goru(3700m)
Our Routine was the same, got up early, clicked some pictures, had breakfast, packed our stuff and just stared to trek . But this day we got a little late. We had already packed 5-6 parathas for the next day as we were told we won't get any dhaba at shea goru. The longest day of the trek with almost 7-8 hrs of trekking. It was a steep trek with big rocks to cross over. It was the most tiring day of all. There were many people who were trekking so it was not that bad. We took water breaks in middle. Soon we reached the top, and whoooaaaaaa THE VIEW.It was the TOP ...THE TOPPPP..4200m..14000ft.
At ths point An incredible twist in scenery unfolds before my eyes ...from the green and snowed valleys to an expense of desert mountains of Spiti. We stayed at this place for an hour or soo to just enjoy the moment. Mostly people stay there for few minutes and move on. But i suggest you stay at this place and absorb what you are looking at...The highest point for which you have been trekking for past 2 days.
After we stared to descend, we realised it was even more difficult. But somehow we managed it and reached Shea goru. There is no dhaba here, and unfortunately the food we brought with us turned into an inedible state(maybe due to excessive cold weather), so we slept without eating anything. We did some photography at night as the sky was very clear. Then we slept as we had to get up early next morning.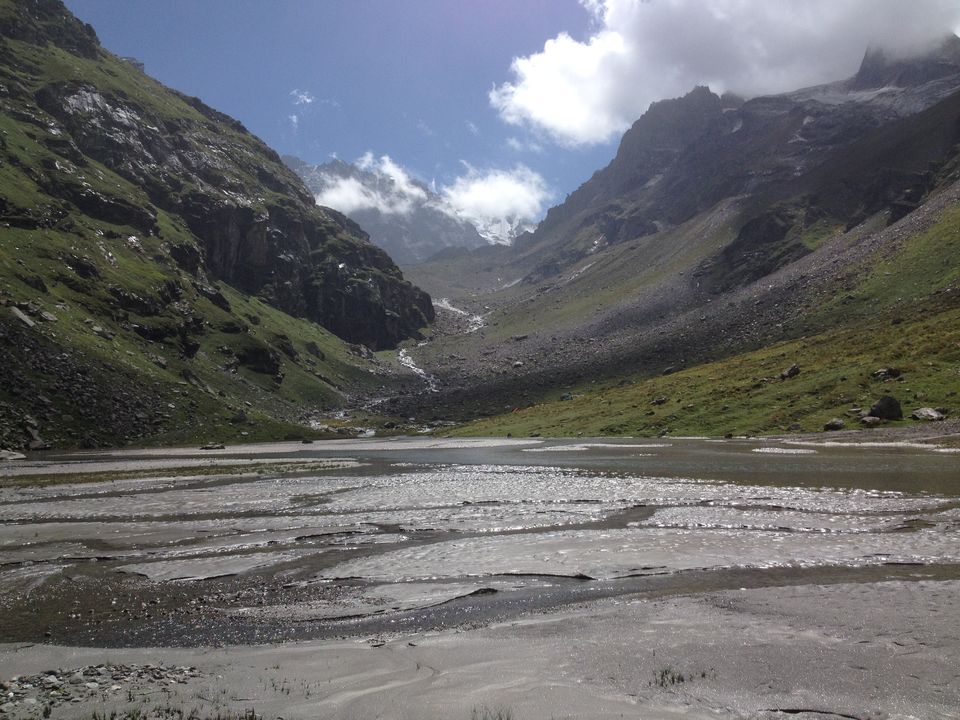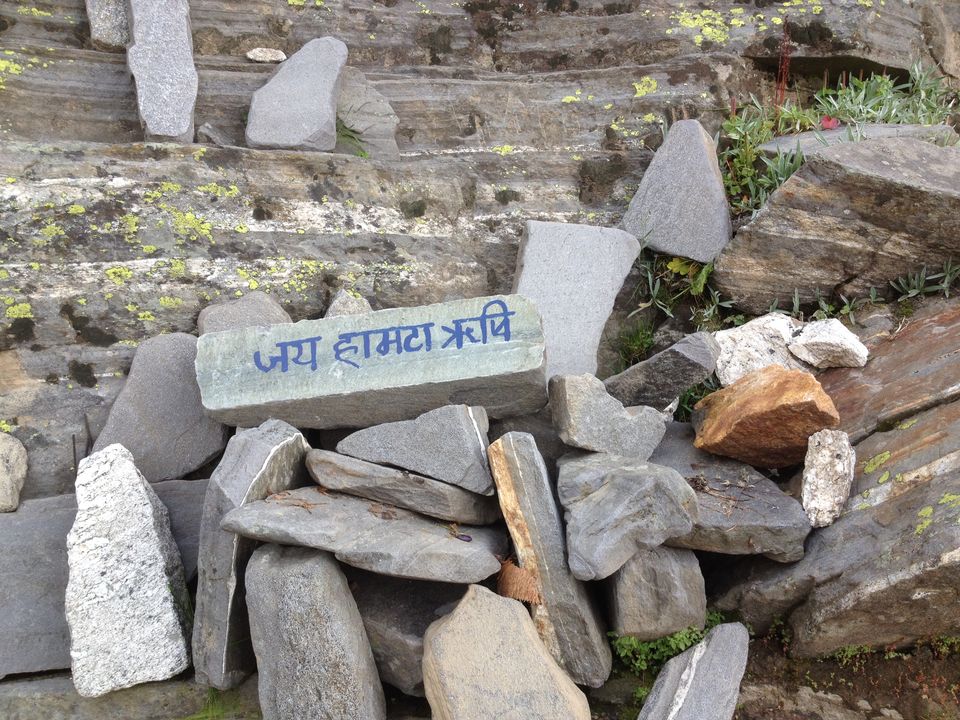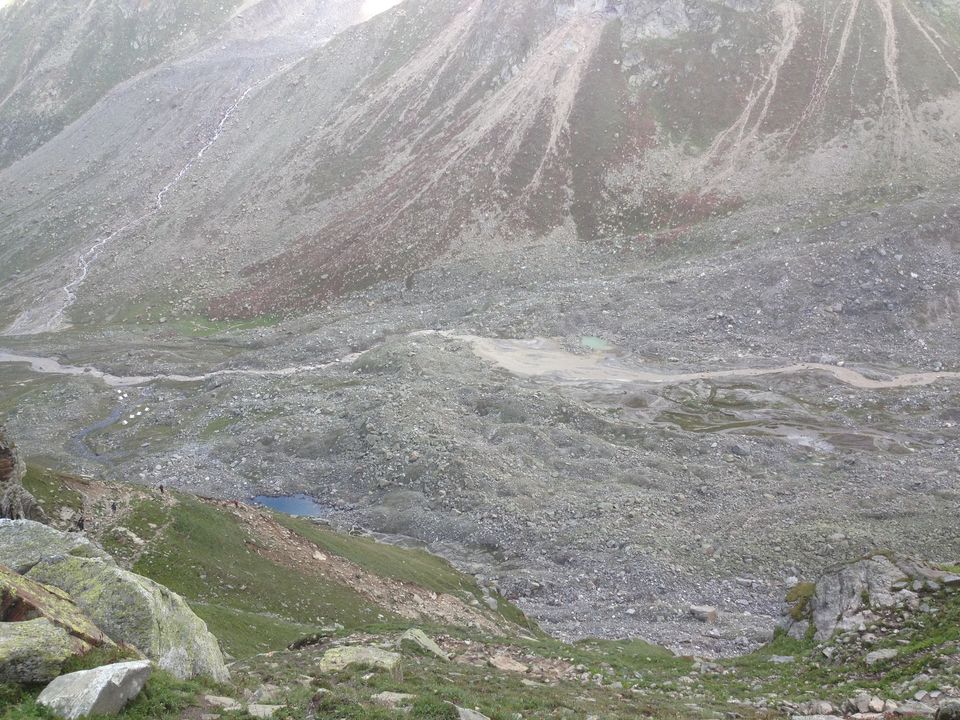 4th day - Shea goru(3700m) - chatru(3300m) -chandrataal(4250m)
Todays day was very important day for us as we were going to complete hampta pass and our timing had to be very accurate today . We had to reach chatru, by 10-11 am anyhow(to take the bus from chatru to batal). It was the only bus which goes from manali to kaza (and there is only one bus from kaza to manali ) in one day , and that bus leaves manali around 4-5am and crosses chhatru around 11 am , and we HAD TO , catch that bus . Because there is no other private or public transport available at chhatru (else you have to pre book a cab from manali before leaving) .
We started trekking down early morning around 6-7 am . We started going down, it was easy in the start . We found this part a little easy as compared to before . Because we were the first ones to trek down that day and the only ones on the route, we took the wrong way down. TRUST ME WORST DECISION , we took in entire trip . We realised it when we reached a point where there was no moving forward . It was literally half a foot space on a steep rock, and down there we could see the river. Couldn't go back ...very confused.
We were scared but we had no other way , so somehow we tried crossing it..We did cross it but one of our bag fell in the fiver and we almost lost one of our friend too. Not the worst, after that came a very very steep trek down .There was no proper way down but somehow we managed, feeling down and luckily we reached chhatru before the bus. The bus took a halt at chhatru for few minutes till then we gathered an had some lunch as we were very hungry, and took the bus. The bus was jam packed, literally i was sitting in the leg space of the conductor seat along with one friend, and others were standing the whole time . It was a long journey so we preferred sitting , and the road was very bad the whole time. It was a one way road which vehicles from both sides. Somehow we reached Batal, had lunch at the famous ,CHACHA CHACHI ka dhaba .
And from there we Hitch Hiked till chandrataal lake. We knew a guy in chandrataal who provided us accomodation . Plus the food was also very very good there.
In the evening we went to chandrataal lake which was around 0.5-1 hour way from camping site. You are not allowed to camp ata chandrataal as it is a heritage site . A fresh water lake , so the camping site is a little far from the lake. We almost lost ourselves on the way. There is no proper route till candrataal. You can take your vehicle half the way, beyond that you have to walk. And the moment we saw the lake ...Shocked...it was HUGEEE. Tust me never seen something like this before. It was a FRESH WATER LAKE ....sooo big( almost a Km long ) .There is a guard at this place all the time. We were just chilling at the place, taking some pictues. Soon my friends went back as we all were tired and hungry, but i planned to stay and see the MOON (CHANDRA - MOON , TAAL - LAKE ) which is the actual reason for the name of this lake ...so i had to see what we came for. There are many stories you hear about the place, source of the water is unknown , there is a story of a shepherd and a beautiful mermaid etc etc. It is said you should not go deep in that water. You can see complete reflection of moon on the water at night ...So i was waiting for the moon to rise, which was suppose to happen around 7 -730 pm. I had to wait a lot and plus the weather was getting worse. With all the courage i had , somehow i found a little cave kind of place , so i sat inside the cave covering myself with the mat i had. Which was at the other end of lake , and trust me it was a perfect place for that time . When the weather got a little better i came out of cave and sat beside the lake . I was waiting and waiting but suddenly i realised that clouds covered the place and were slowly coming down, i knew something is getting very bad so i started moving back to my tent. There was no light on the way just some moon light shining bright enough, helping me find my way back . Trust me it was one of the best part of the trip.Sometimes things turn out to to be not as planned, but later you realise it was for the best. Soon after reaching the camping, we did bon fire and had our dinner . It was soo cold that after having 4 layers of thick clothing , we had to rent some big blankets for the night. In no time we were asleep (were very tired)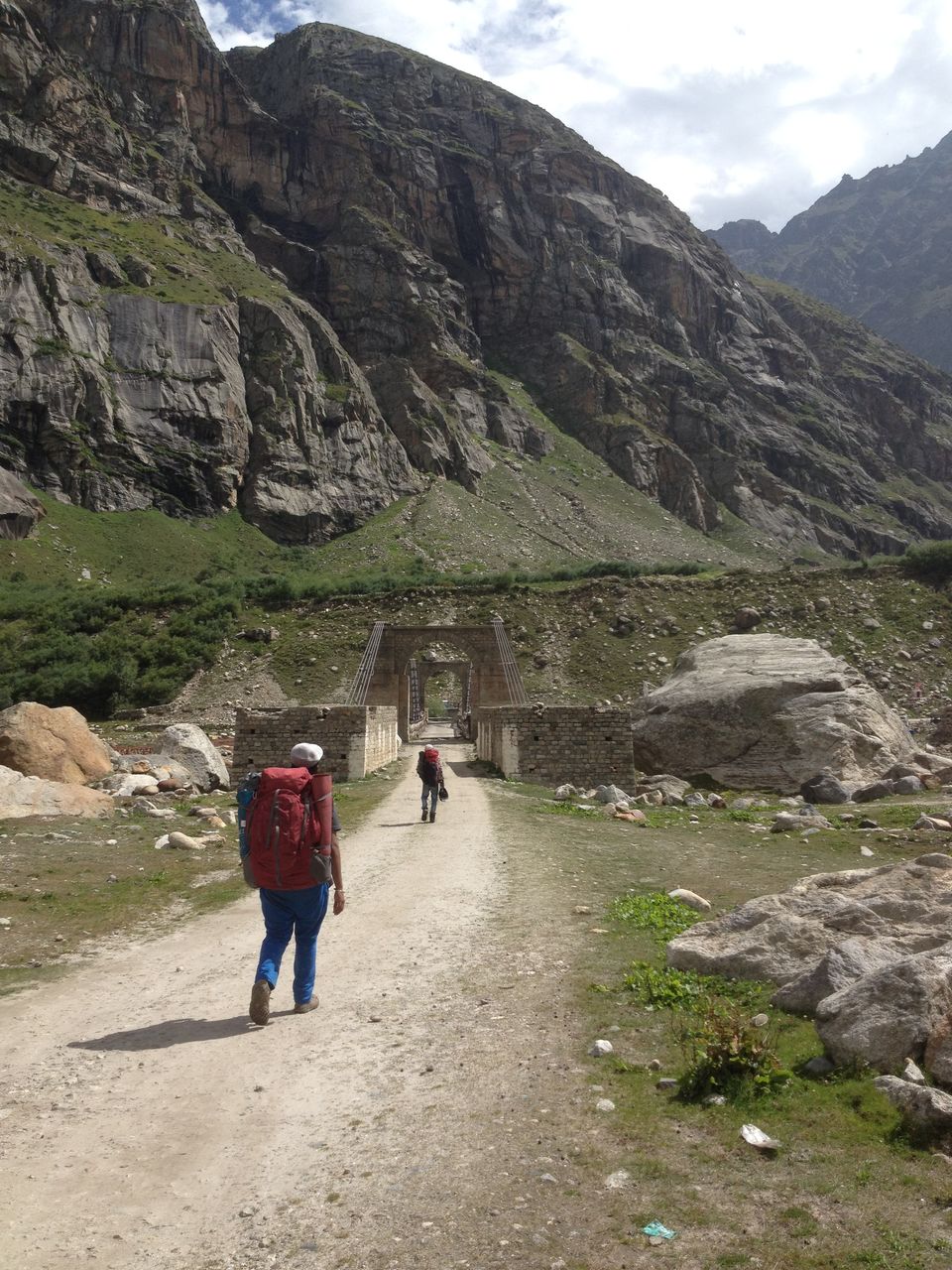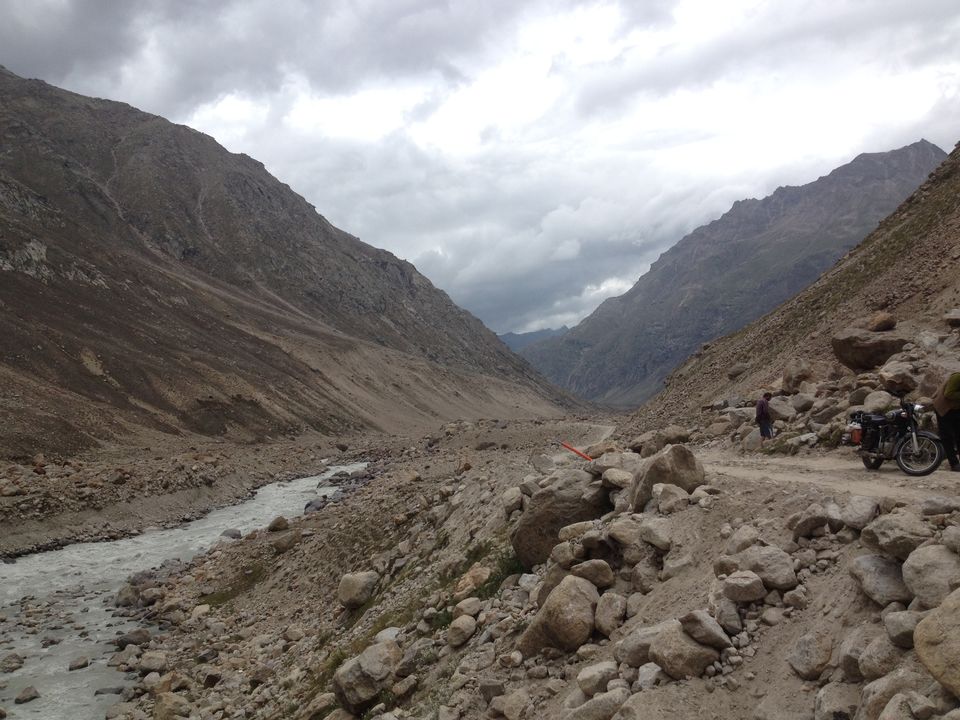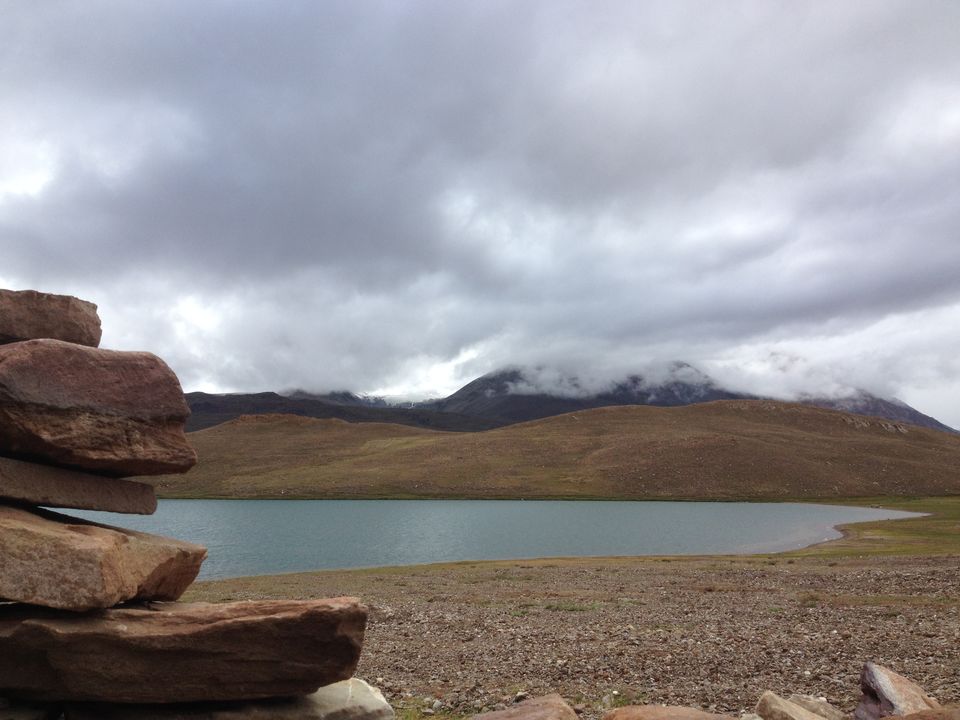 5th day - chandrataal - rohtang - manali - delhi
The next day we got up a litte late, had breakfast and packed our bags to leave . We got a little late , so couldnt hitch hike back to manali as most of the vehicles left early . Finally we found a tempo who was suppose to go back ,so we paid him little extra to drop us at batal and from there we planned to take bus . We had lunch at batal , and took the bus back to manali . It was around 7 hrs drive from there , and bus was again jam packed . But anyhow we managed and for some part we even sat on the top of the bus ...trust me it was scary but worth . We litteraly crossed rohtang pass sitting on top of the bus. We also encountered landslide on rohtang pass after which we had to wait for almost an hour but the view didnt let us complain about it .
Reaching manali it was almost night ... so we had our dinner and took bus directly BACK TO DELHI .
Definitely my best trek till date!!!