DAY 1: HA NOI - ARRIVAL (--/--/ D)
On your arrival at the Noi Bai International Airport, you will be welcomed by our guide and driver who will bring you to Hanoi City. Hanoi is over 1000 years old and is currently the capital of Vietnam as well the commercial, political, and cultural heart of the country. Hotel check in (early check-in is subject to hotel's availability or supplement). Free at leisure. The welcome dinner is served at local restaurant and spend the night at hotel in Hanoi.
DAY 2: HA NOI CITY TOUR (B/ L/--)
Depart the hotel at 8.30 for the visit to the Ho Chi Minh Complex containing the Mausoleum (the mausoleum is closed on Mondays and Fridays and all afternoons and closed for reservation in Oct – Nov yearly – So if the visit on the time mentioned, you will only visit outside the mausoleum), the former presidents house on stilts where he lived from 1958 to 1969. Visit his former home, which illustrates the modesty of this Vietnamese revolutionary. You will see then the One Pillar Pagoda, founded by King Ly Thai To in 1049 will be visited next. This structure is one of Vietnam's most iconic temples. Continue to visit the Temple of Literature. In 1076 Quoc Tu Giam - Vietnam's first university, also referred to as Van Mieu, was established within a temple to educate Vietnam's royalty, mandarins and members of the elite. The university functioned for an incredible 700 years and its gardens and well-preserved architecture offer a fascinating glimpse into Vietnam's past. Lunch is served at local restaurant.
In the afternoon, drive to the picturesque West Lake to visit Quan Thanh Temple and Tran Quoc Pagoda. You will then visit the fascinating Ethnology Museum (closed on Mondays), which is both a research centre and a public museum exhibiting the ethnic groups of Vietnam. An alternative visit in case the Ethnology Museum on Mondays is the visit to the highly acclaimed Vietnam Women's Museum. The museum is located near Hoan Kiem Lake and offers wonderful insight into the lives of Vietnamese women. Displays highlight Vietnam's vast cultural diversity and educate on the significant role Vietnamese women play in Vietnamese society. Learn historic and modern-day traditions centered around births, weddings, motherhood, spirituality and more).
At the end of the afternoon, you will take a ricksshaw tour (cyclo for 1 hour) to visit Hanoi's Old Quarter also known as the '36 streets'. At the end of the day, you can take a walk through the charming Hang Be Street and around Hoan Kiem Lake. This bustling area of narrow streets and alleys is home to literally thousands of small businesses and shopkeepers. It's a great place to explore with plenty of photo opportunities all around.
Dinner is at your own account and free at leisure. Spend the night at hotel in Hanoi.
Optional Tour at night: Food on Foot Tour Hanoi
18:00 – Starting the tour with your local guide with the walking around the old quarter (again) to visit some famous food stalls, local restaurants, shops where they run their business everyday. You will see and taste 6 – 8 particular dishes. Special thing that tour guide would like to introduce some popular authentic food in lovely mini restaurants (not luxury restaurants) where you feel comfortable to sit down and enjoy some favorite dishes and nice drinks too.
DAY 3: HA NOI – PU LUONG (~ 230KM – 3 HOUR TREK) (B/ L/ D)
AM: You enter Pu Luong Nature Reserve by road via a breathtaking mountain pass giving you a panoramic view of the whole valley. You arrive at your accommodation in time for a delicious lunch, followed by free time to explore the beautiful retreat, with its captivating panoramic views and tranquil setting.
PM: You will be transffed to a suspension bridge over the Cham River, where you begin your walk in search of stunning water wheels. Get up close to each wheel and discover how water is moved from river to handmade bamboo aqueducts via simple constructions of all sizes.
Arriving at a local fisherman's house, you have a short rest to gear up for the rafting adventure with Dinh and his team. Float along the calm river and enjoy the views, in between learning how to paddle and steer your handcrafted rafts.
Arriving at scenic Tan Lap bridge, you disembark to be transferred back to Pu Luong Retreat for dinner.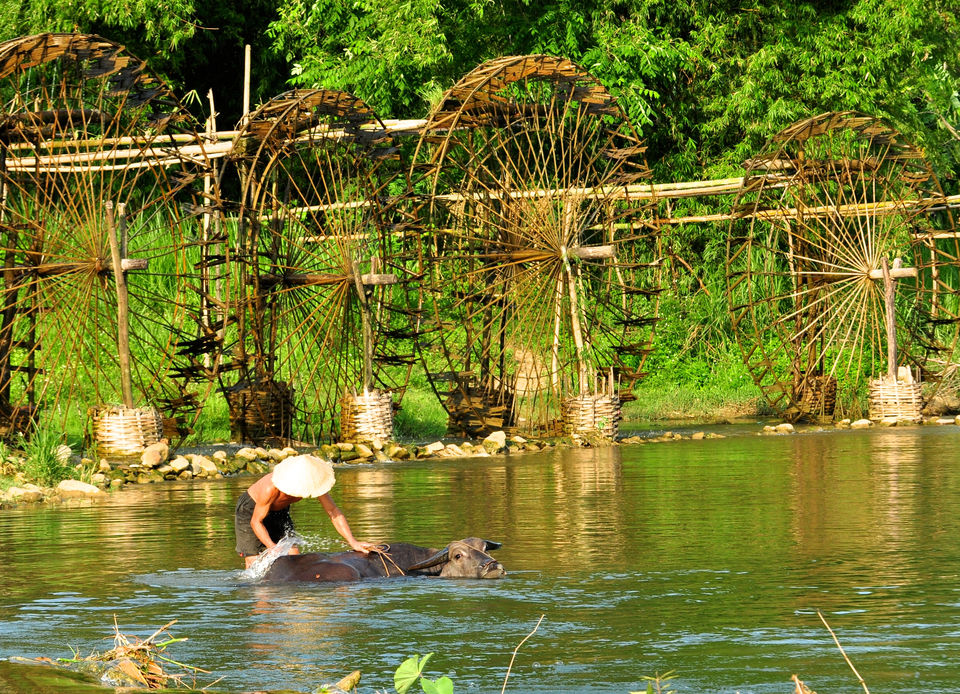 DAY 4: PU LUONG – THANH HOA – HANOI (~ 235KM) (B/ L/--)
AM: Start early to descend into the beautiful valley facing the Retreat where you walk around tumbling rice terraces. Trek through small paths shrouded in vegetation to slowly reveal a picturesque village sitting at the base of a towering mountain.Your camera will not be able to sit still!
Continuing to the base of the valley, you weave between roads and farmland, villages and wild fields, ponds and rivers, mountains and open land. Savour the ever-changing scenery as you trek to a beautiful spot. Then you will be transferred back to Puluong Retreat for lunch.
PM: Check out the Lodge. We will then have a scenic drive back to Hanoi at about 17:00.
Free at leisure and you will have dinner on your own account. Spend the night in Hanoi.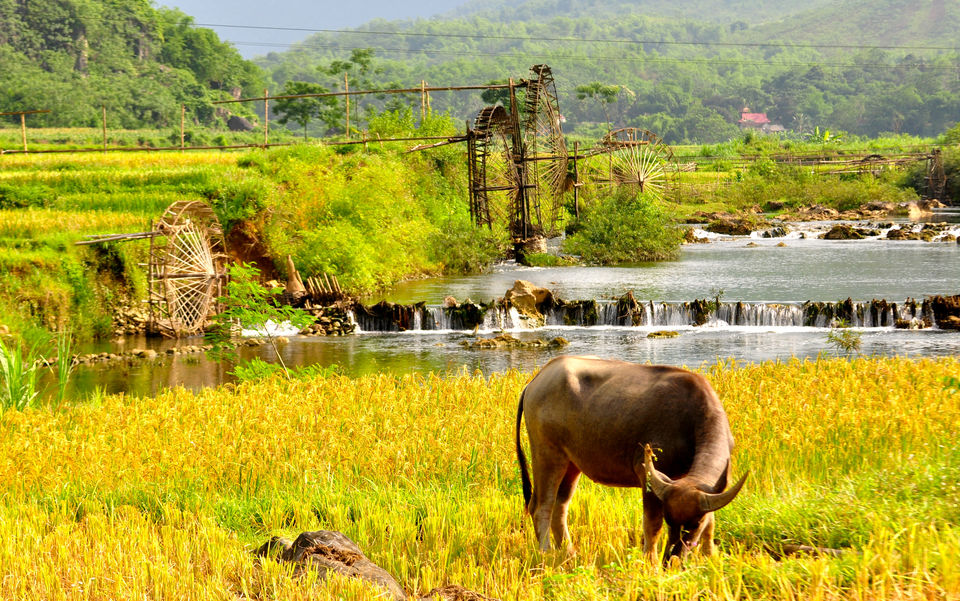 DAY 5: HA NOI – HALONG BAY (B/ L/ D)
This morning, start the drive cross the Red River towards Ha Long City (about 3:30hrs for driving). On arrival Ha Long city, we will drive to Hon Gai Habour. We board a junk for a fantastic cruise through Ha Long Bay. Recognized as a Word Heritage site by UNESCO, Ha Long Bay is one of the most spectacular natural attractions in Viet Nam.
12:30: From Hon Gai Habour, transfer to Cruise by tender (5 -10 minutes).
12:45: Enjoy welcome drink.
13:30: Cruising through Bai Tu Long & having lunch with Set Menu.
15:30: Exploring Vung Vieng Village: Guest choose to discover the daily life of the fisher communities with bamboo boat (one hour) or kayaking around Vung Vieng area (one hour).
16h30: Swimming, Sunbathing and Relaxing at Ban Chan Beach.
17:30: Relax and enjoy the sunset cocktail while the boat is cruising to Cong Dong - Cong Do area. Docking for overnight.
18:00: Taking part into cooking class on boat: Learning how to cook traditional Vietnamese cuisines
19:30: Having BBQ dinner.
21:00: Free evening or taking part in some activities of board games or squid fishing, karaoke (on request) or taste the variety of drink at our luxury sundeck bar (chargable) with wines, cocktails, brandy, juices… Night on board.
Note: the program for each cruise can be changed depending on the cruise's own routing.
DAY 6: HALONG BAY – HANOI - DEPARTURE (BRUNCH/--)
06: 30: Doing exercises with Tai Chi on the sundeck.
07:30: Having breakfast.
08:00: Exploring the Thien Canh Son Cave.
09:30: Checking-out and relaxing on sundeck or watching fruits carving demonstration
10:30: Enjoy the last of the Ha Long Bay scenery over lunch as the boat cruises back to shore.
11:00: Transfer back to Noi Bai Airport (Hanoi) for flight back home (suppose the flight is in the evening – In case the flight is in the morning, the clients need to stay one more night in Hanoi). End of service