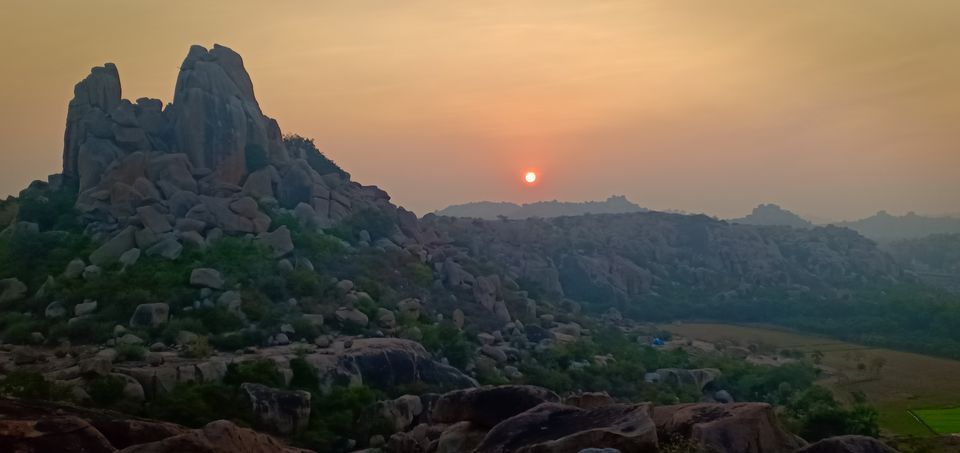 Dear Travellers, Hampi is the ocean of rocks and ruins from Vijayanagara Dynasty on the banks of Tungabhadra river in South Indian state of Karnataka. Hampi is certified as UNESCO site. There is soo much to explore in Hampi that even a good week might be less for a satisfactory travel. For those travellers who have less time and want to squeeze all the fun in less time a good 3 days will be perfect.
Hampi is well connected by road, railway, and by air from Hospet. You will get frequent bus from all places,from Hospet you can hire a bus or tuktuk. Its about 350 Kms from Bangalore, since my way of travel mostly on a motorcycle, it just takes me about 6 hrs journey to reach.
I like to stay on the Hampi Islands across the river as that place is travellers friendly and work out for all kind of budget. One can enter this place by own transport by road, you need to look for place called anegundi or cross the river by a ferry paying 10rs for a ride from Hampi.
Note: In Hampi it's only veg food available and no alcohol, but if you cross the river by ferry every thing is possible. I mean everything. My favourite place to stay is Goan Corner the last cafe in that place, over viewing that rocky hills surrounding by the fields it has become the new hot spot for all travellers.
I started my journey from Bangalore with my close friends at 7 AM after a quick stop for breakfast in VRL after Tumkur, I was ready to hit the road after the filling meal. I reached Hampi Island by late noon and found a place in Manju's Palace which is next to Goan Corner. I rest a bit and ready to climb the rocks to find my best spot to see the sunset. After a spectacular soul filling experience, I ready for some beer and socialize. You will find lots of travellers around the year, however the best season to visit is during winter.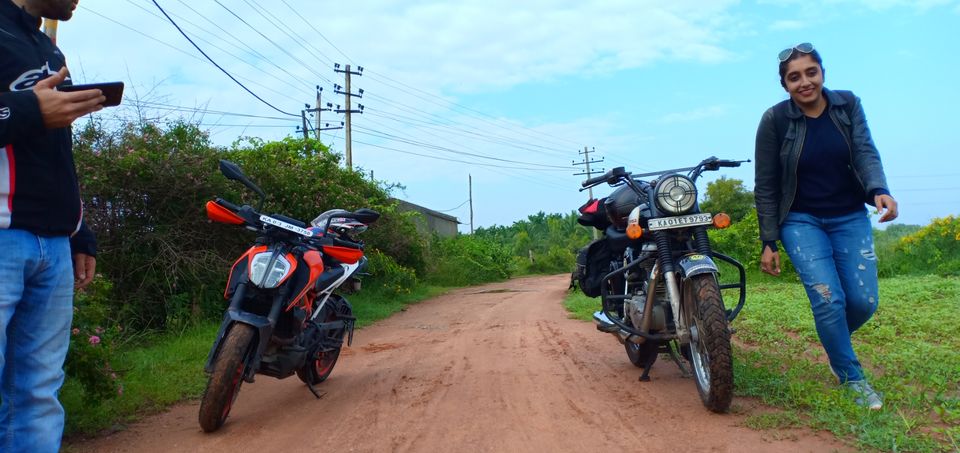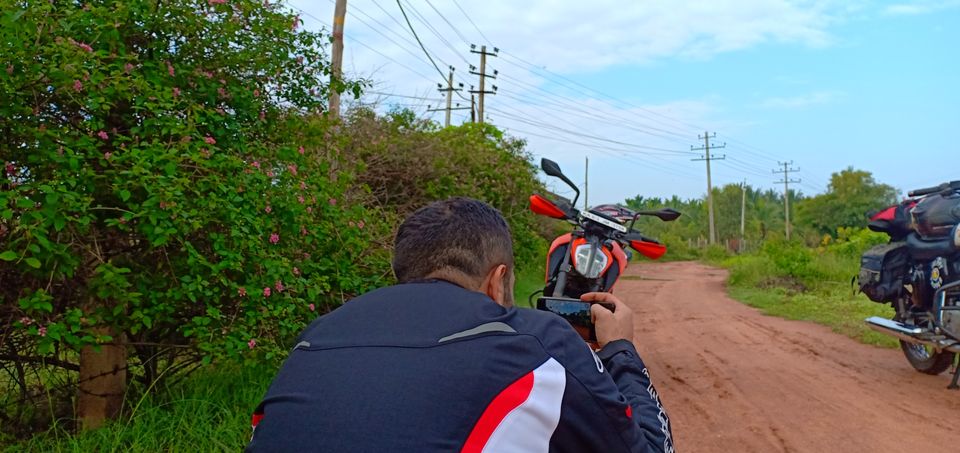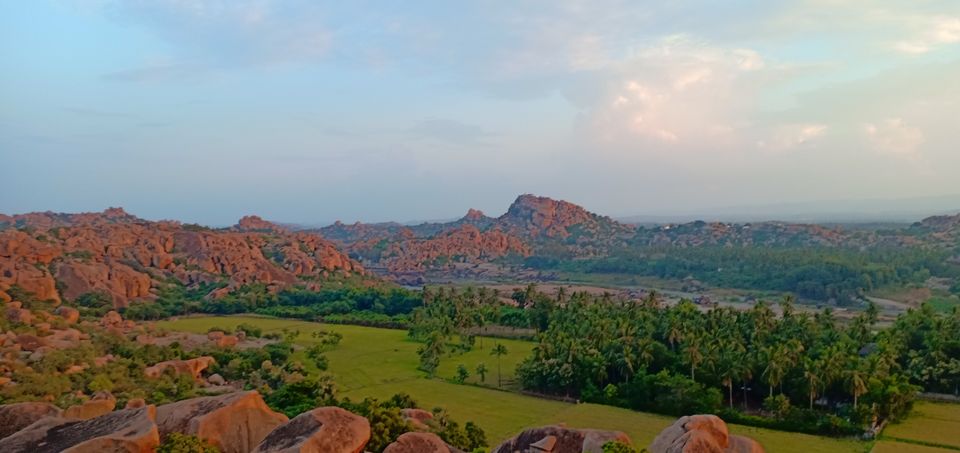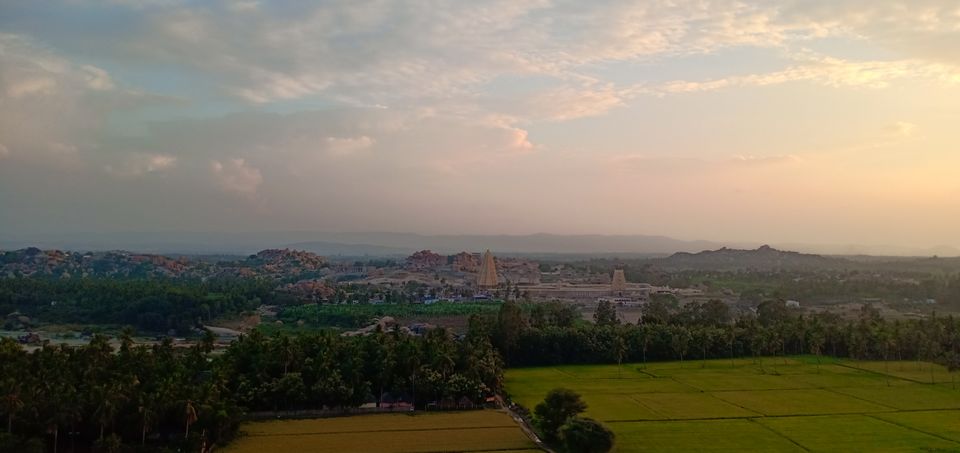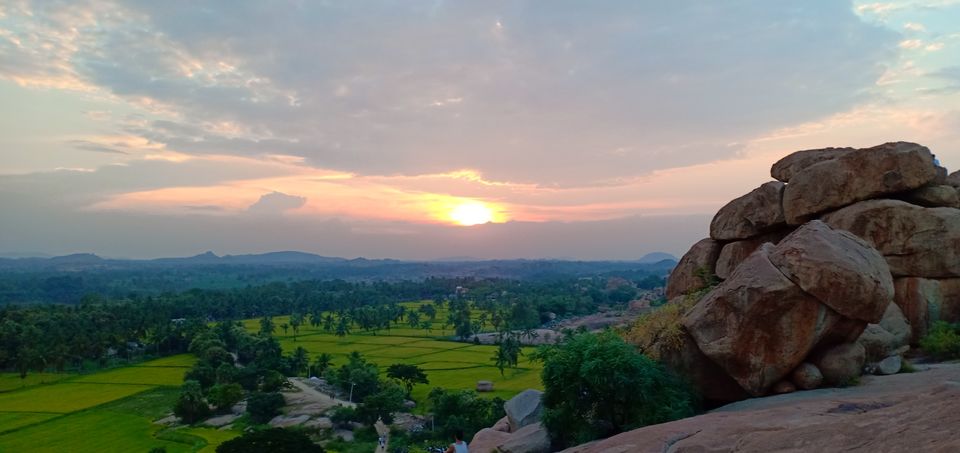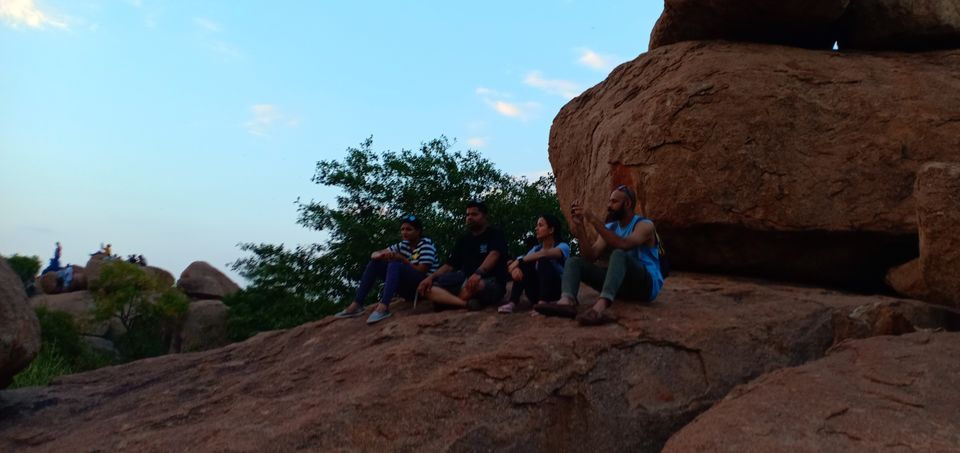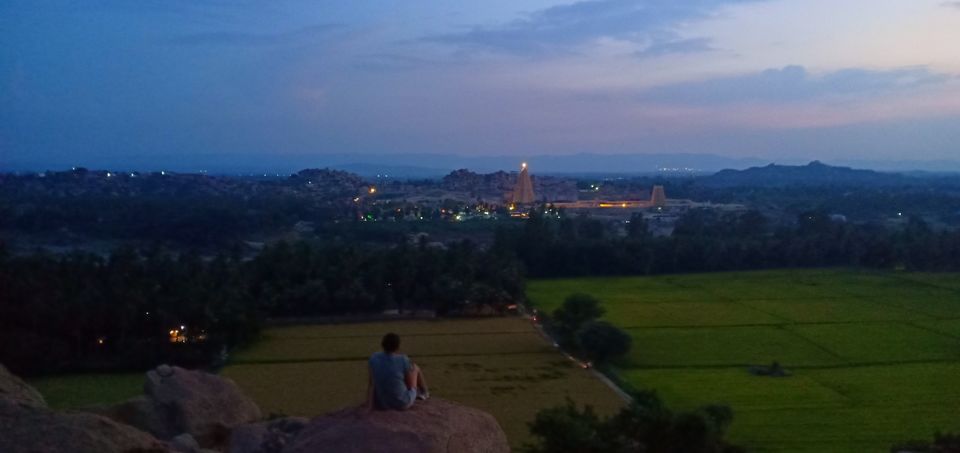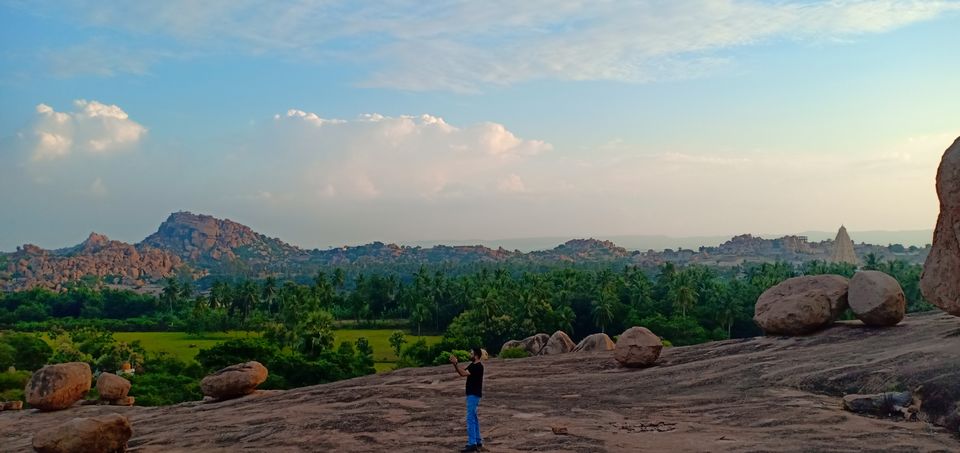 After a late night meet and greet we were awake till morning sharing our travel experience and laughing our heart out. I am very persistent to wake up for sunrise and witness the beauty. I keep riding of to different places in search of a private spot and capture. I prefer Goan Corner for food as they have the best food joint. After breakfast we decided we would cross the river by ferry and explore the market and virupaksha Temple and later eat lunch at Mango Tree restaurant, must try in Hampi Market Area.
When you are in Hampi you don't stress, time slow down it feels you have all the time in world. One must try out bouldering when you in this place. It might look like a struggle in the start but the statisfaction of completing the climb it beyond happiness. You find every cafe offering you different ambiance and almost every one rents out bikes and scooters.  Take one out for a spin explore Gangavati. It's about 5 Kms from the main road with having a dam, canals and fields it is one of the best places to bike. Follow the off-road and find the hidden Shiva temple on the rocks.
If you looking to treak or climbing you should go to the Hanuman Temple also called as monkey Temple. It has about 650 steps uphill and give you a bird's eye view of Hampi. It is a spectacular feeling to see sunrise and set. You can also find river side to take a dip in the water which is refreshing in noon. By the sun down all the cafes in this place comes up with unusual offers like 1+1 on beer live music and 50% off on food etc.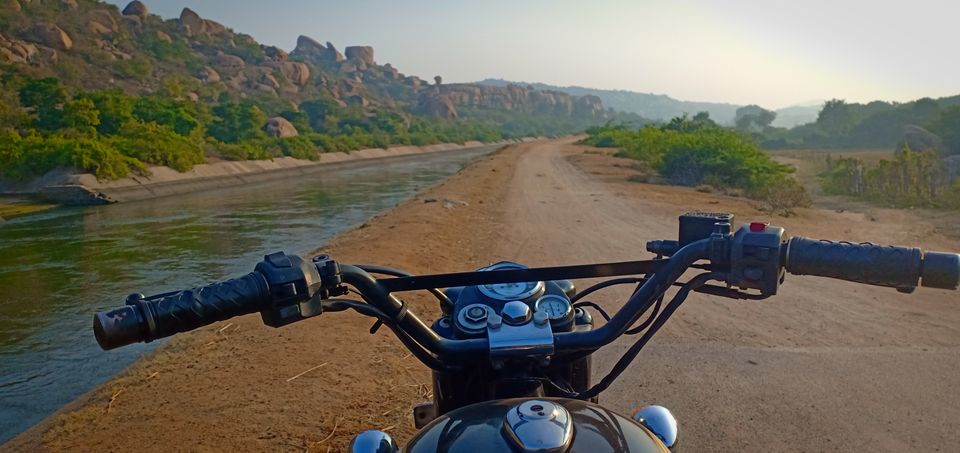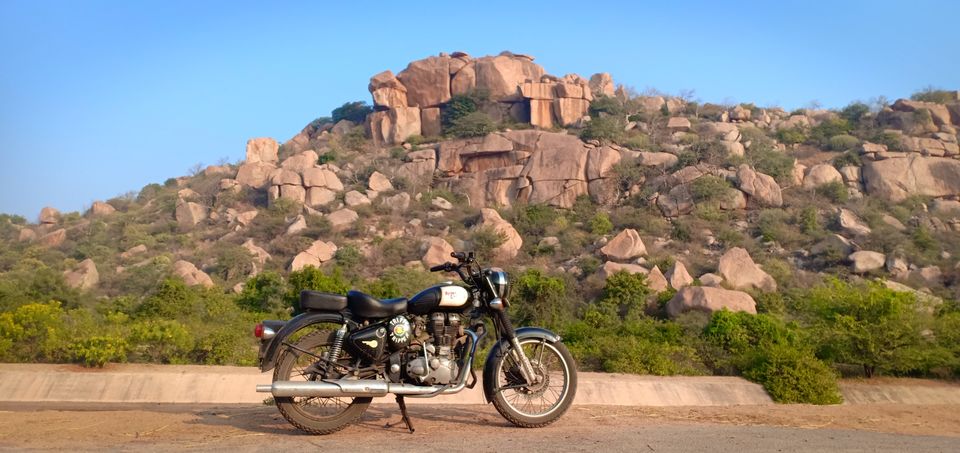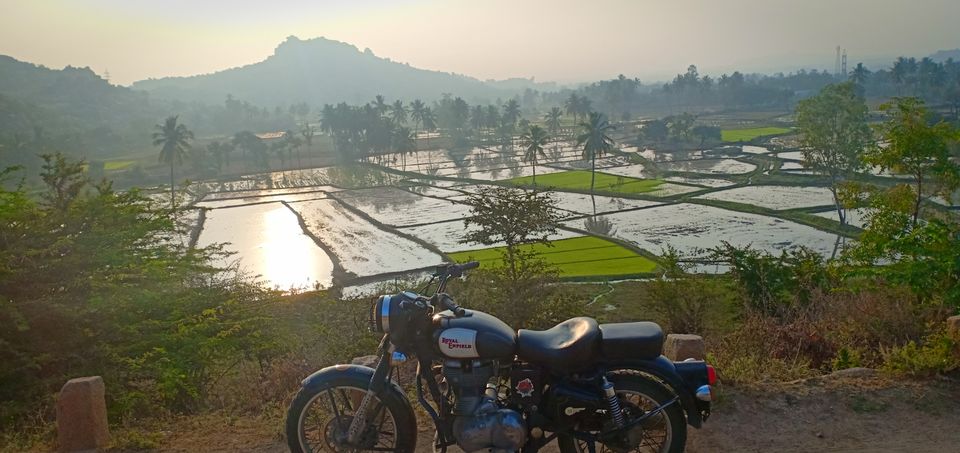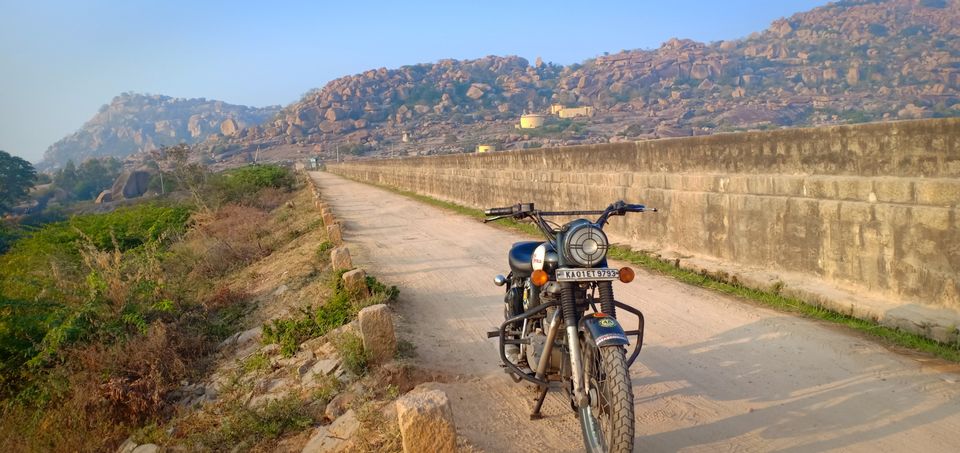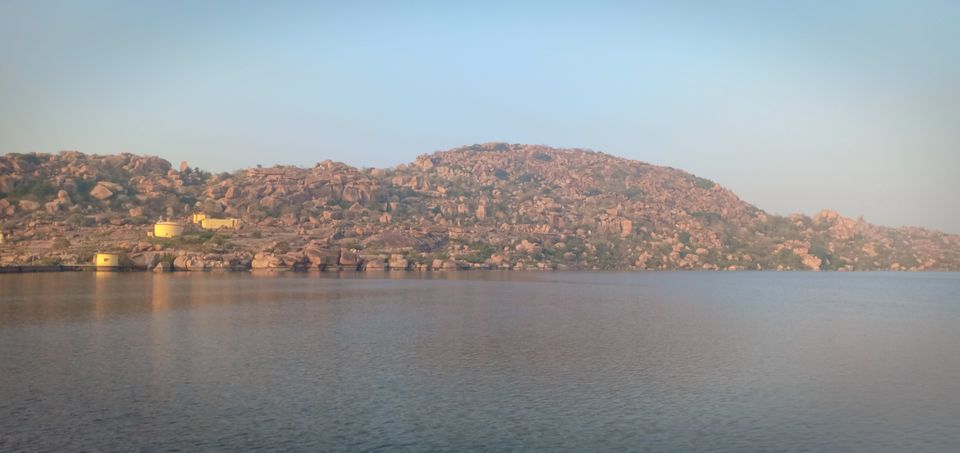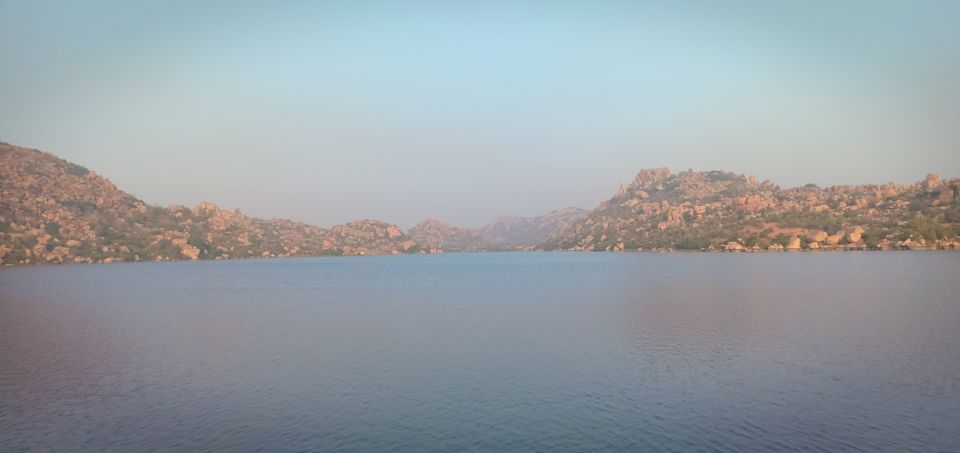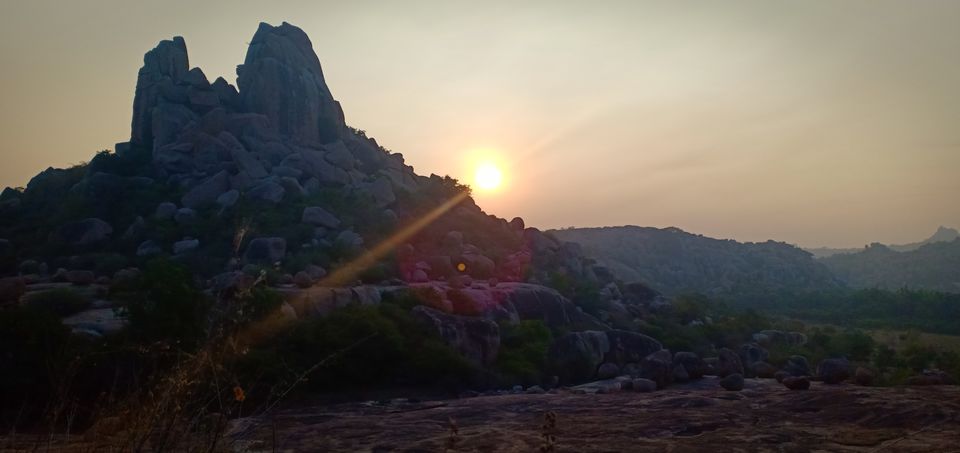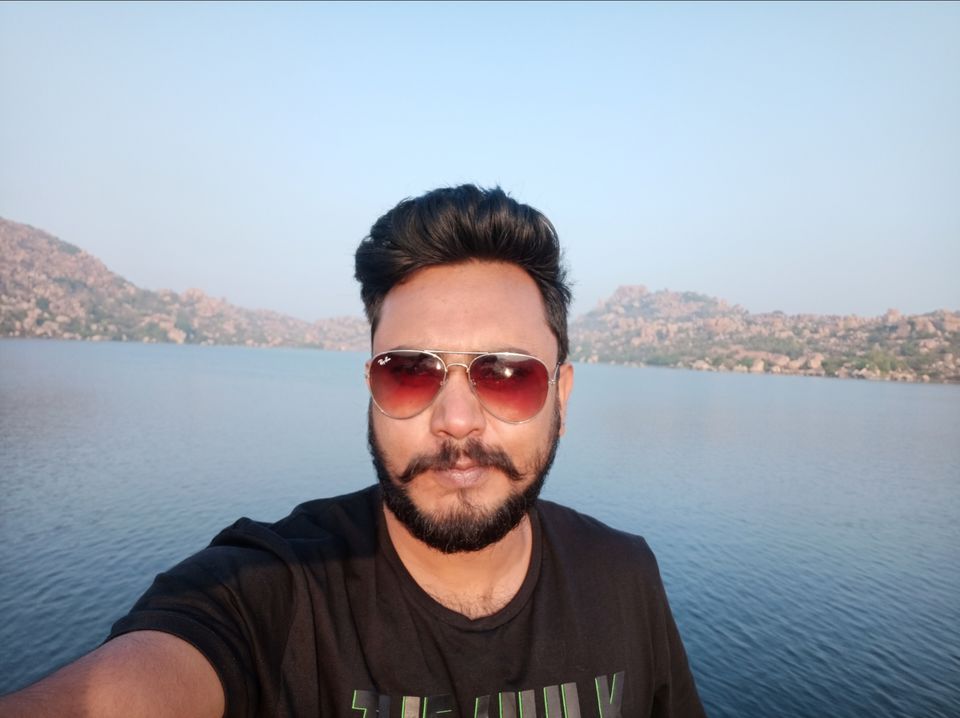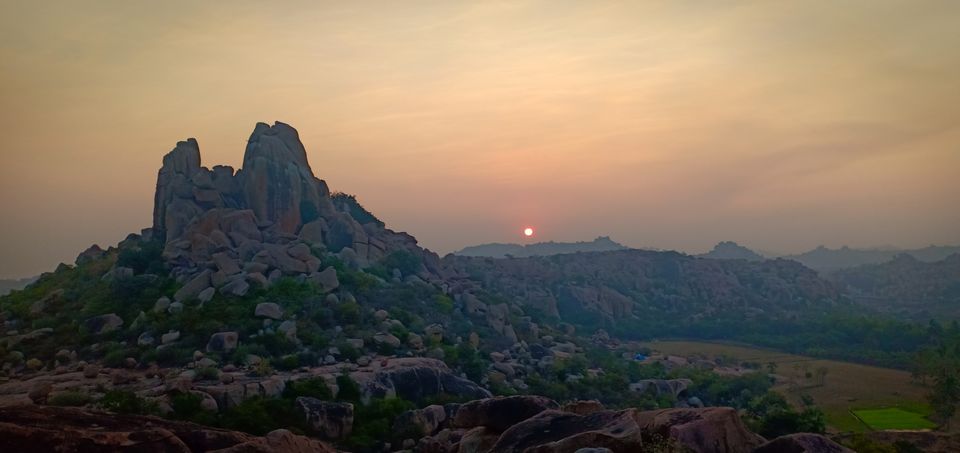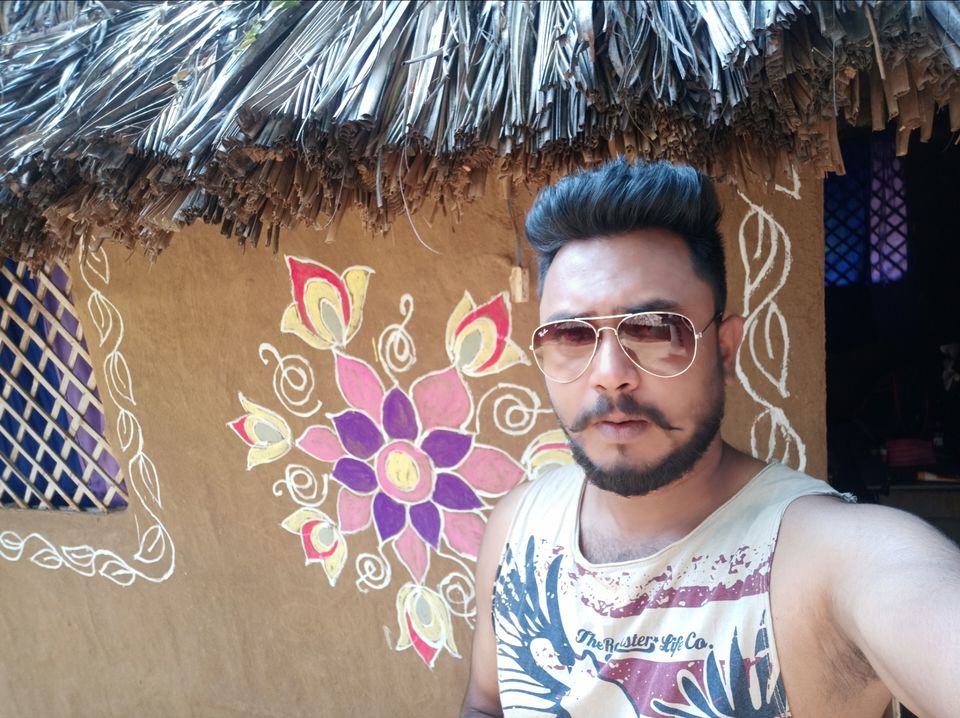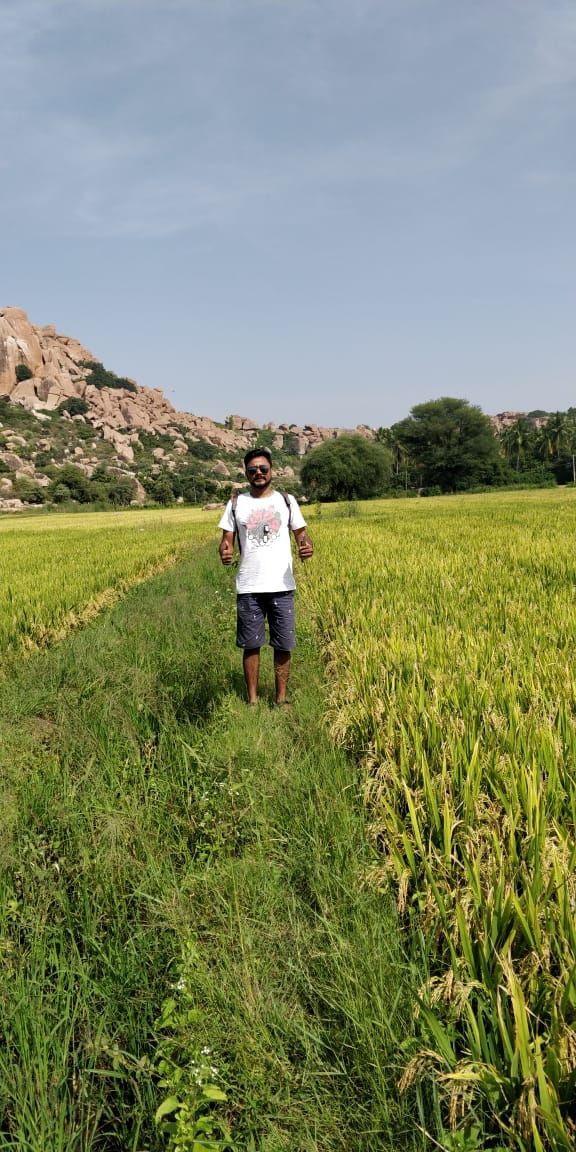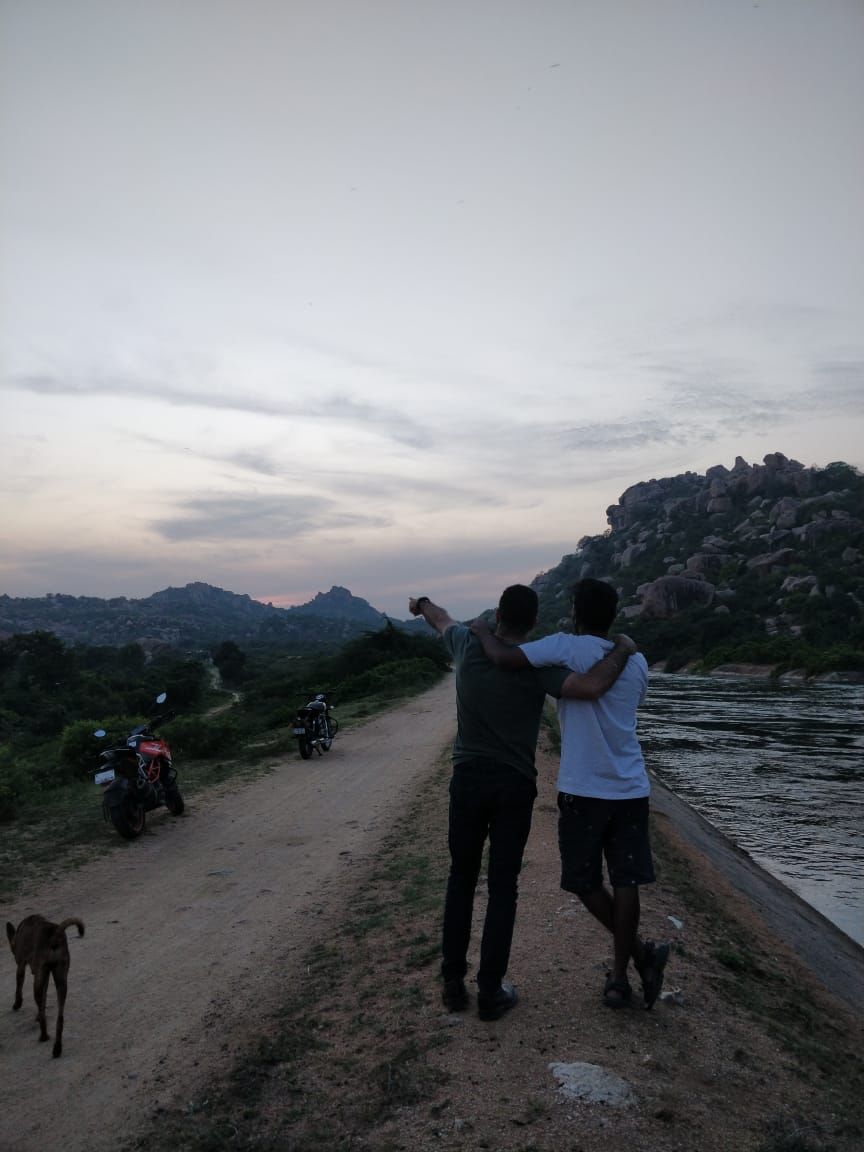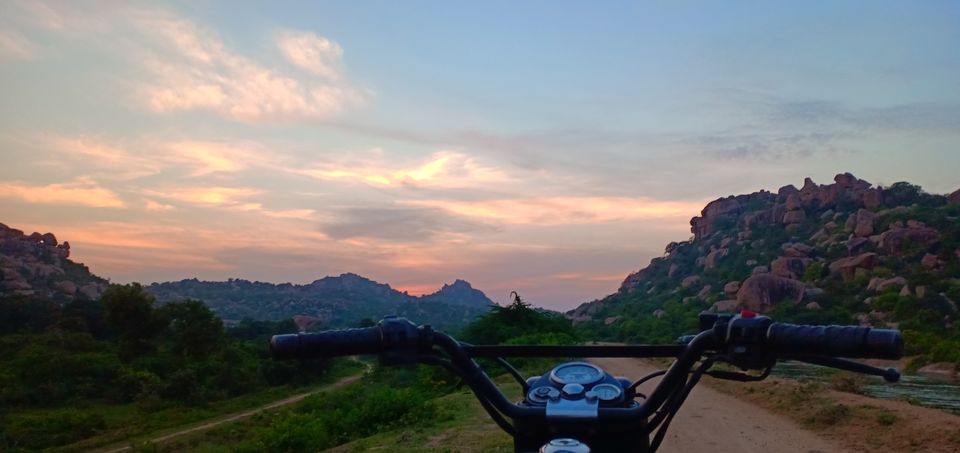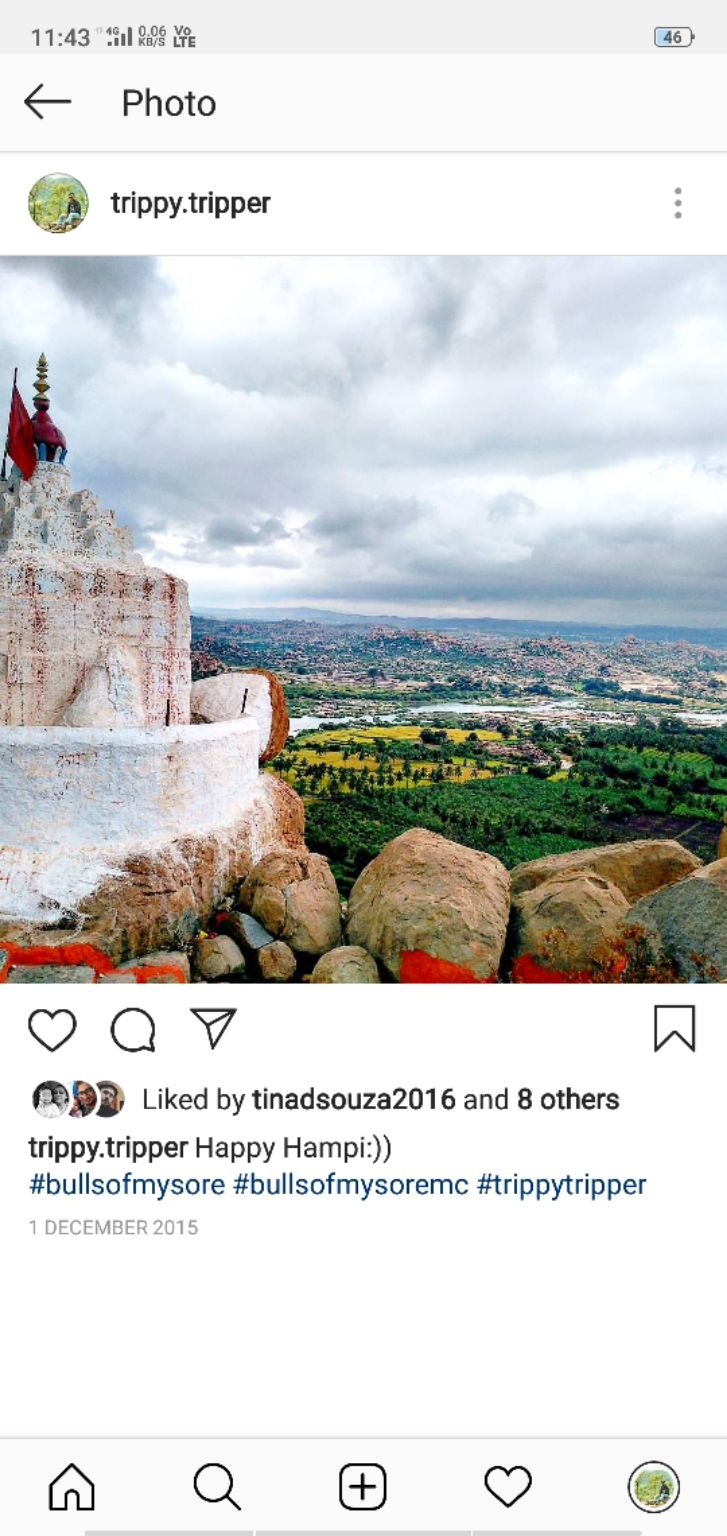 If you travelling on your motorcycle you should try crossing the river on a boat with your motorcycle on it. One of the local ways to cross the river from Anegundi. There is endless options to see on the other side.  Crossing can be little tricky but very trilling experience. Soon on the other side you will get many other tourists spots like famous Hampi chariot, ruins of the palace, queen's bath, a rich history and it's amazing stories. You can hire a local guide on these places to understand how rich the place was for just Rs 100. Remember the boat service starts at 7 am and close the service at 5PM. If you are delayed you should find a place in Hampi and stay or travel 40kms around hospet to get back to the island.
After a trilling experience we crossed the river. Head towards queen bath. A tourist palace in which only women were allowed not even the king. It beautiful to hear the stories of how they lived. Later explored a bit of Palace and hidden chambers, pond which collected rain water and drainage system was quite interesting. We also went to couple of temples and head back to the island after couple of hours of exploring. It can be very hot in day so be well prepared to soak in sun.
So I have squeeze all the important places and monument that can be explored by travels in less time. However it's best if you could spend a week or ten days to feel Hampi alive. I like to explore most by walk feel that's the best way explore any place. You will find random people on streets selling you weed and since the culture is hippie, you might see people rolling there joints peacefully every where and smoking. But do be careful after Karnataka govt has branded it a national reserve you will find cops in civil dress who always keep a look out.
Only if they catch you they might harass you for money. So I hope this travel blog was useful to plan a trip. One of the must visit places in South India. It has become worlds 2 must travel destination as per the new York times for 2019. So take a trip sure the air will make your worry fly away and give you peace.
Do share your adventure and connect me at any time if you need any more information.
Safe Travels Travellers.