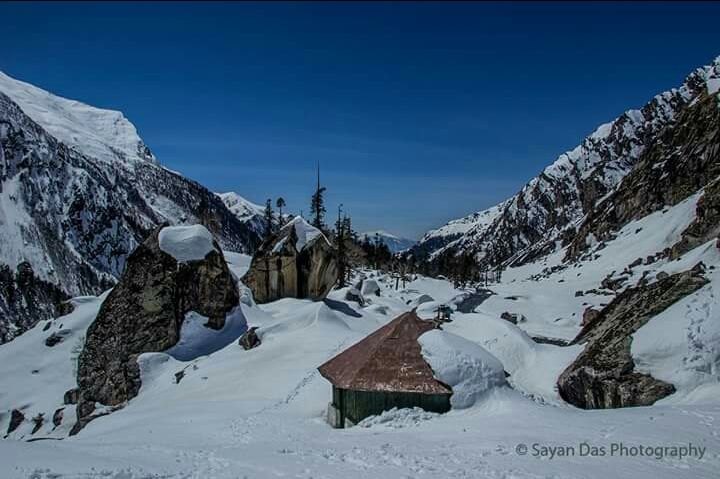 #TripotoTakeMeToSandakphu
The Har-ki-doon trek is also appropriately titled – "Valley of Gods". It's a treat for first time trekkers and nature lovers. This trek gives you the magnificent views of famous peaks of Swargarohini-I,II,III, Bandar Poonch, Kala Nag or Black peak and Har Ki Dun peak itself. Me and my friend-cum-office colleague Somojit had been planning for a trek in the Himalayas for quite a long time and finalized this trek and went with Indiahikes team. It was a trek of a lifetime.
The base camp for the trek is Sankri. The major part of the route revolved around the Supin river. I blissed out throughout the journey. Below there was a layer of wide spread soft green grass; up above there was clean and clear blue sky. On our way, we came across a village-Osla. The people were so simple. There wasn't electricity in the village, though on a few roof top one could see small solar panels. 
We were the first batch of the winter season. On our summit day, it was full of ups and downs and long portions of steep ascent. The trail was hidden beneath two feet of snow. The snow made it somewhat difficult for us. We needed to open the route for this season, and our trek guide did an excellent job with that. Our job was to follow his footprints and avoid spots where snow was too soft. Every alternate step we would sink in as deep as two feet. After reaching Har-Ki-Doon, the peak was right in front of us. It's a virgin peak, no one has been able to reach the summit. Opposite to it were the Swargarohini group of peaks. It's a group of four peaks and it is said that Pandavas went to Heaven from here. 
Himalayas are endlessly fascinating. They offer something for everyone. Whether you are an adventure junkie, a hiking enthusiast, interested in camping or looking for leisure, love photography, you will find it here, along with mesmerizing views that you won't get anywhere else. If you come here once, they keep calling you back, and I'll be back, soon!
Detailed Itinerary-
Day 01: Arriving at Dehradun railway station and drive to Sankri
Day 02: Drive from Sankri to Taluka. Trek from taluka to Puani Garaat
Day 03: Puani Garaat to Kalkatiyadhaar
Day 04: Kalkatiyadhar to Har Ki Dun
Day 05: Rest day at Hari Ki Dun or explore towards Jaundhar Glacier and back
Day 06: Har Ki dun to Puani Garaat
Day 07: Puani Garaat to Taluka, Walk/Drive to Sankri Day 08: Depart from Sankri.
Author – Sayan Das
Pictures – Sayan Das.