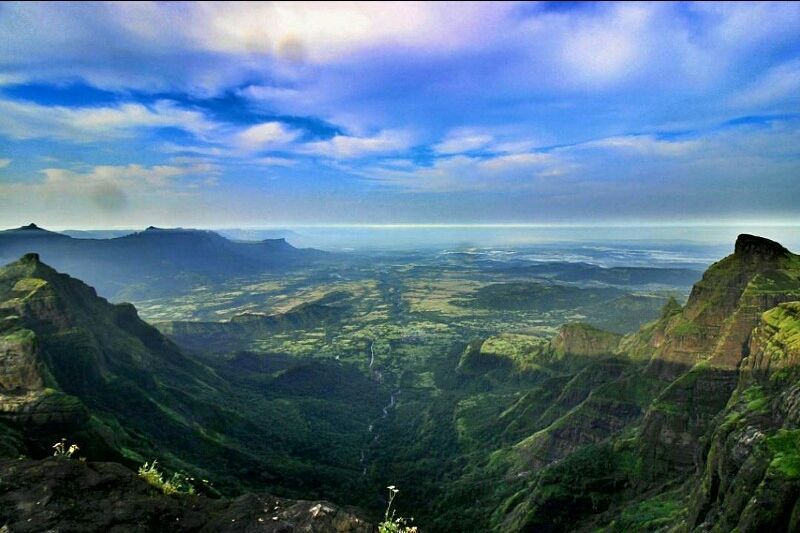 Check out My youtube video
https://youtu.be/RO0Sm5cojHU
Every trekker who loves trekking..aims for this trek..!
Beautiful Early Morning Fog Sweeps Across Majestic Landscapes
DREAM TREK-Harishchandragad..!! Harishchandragad -famous for the loved nature by every trekker who visits here n wish to come everytime..!!A trek to Harishchandragad in Maharashtra will surely make you fall in love with trekking.
Ending of marathi month Vaishakh and approching to Jyestha. Hide n seek of rains n sunny weather… and we bhatkanti friends waiting for the right monsoon days.This time in monsoon we aimed for HARISHCHANDRAGAD. we choosed the non-weekend days since there is much crowd during weekend on kokankada…everyone trying to click for there whatsapp n FB profile pictures.Some people were ready while some were there whom v have to sugar coat for the trek…still nooo…leave it…!!as per decided for this trek n started early morning with our car towards khireshwar – base village…while in  between picked up 2 of them from kalyan n journey started.
It was raining lightly…Cloudy weather and those high volume songs in r car enriched it.Now in such weather how can someone miss a beautiful morning tea with some hot pakoras. Soo after murbad we stopped our car on tea stall and enjoyed tea…next day's preparation so we took maggi from one of d shop.Before starting with malshej there was naneghat viewing us from there in those fogg showing its structure as like thumps up.
Malshej ghat started. Place with those wild lushy greenery was filled wid fogg completely. Then after khubiphata we reached khireshwar at almost 9.30am.Parked our car and started with our trekk.fort was hidden by fogg…we started with our bhatkanti from jungle. After 1-1.30hr  we reached tolarkhind and had some light break food there. There are many directory arrows in between so no chance of getting lost in those jungle. In those cold shades of green trees had sip of water and started again.Mostly after 1 hour we reached the rock patches.The sun was overhead and we carrying water 3 litres per head ..food and things we would require for next day and night to be spent there..but though for Harishchandragad it was nothing..!! After crossing 5-6 skyline cliffs we reached the Harishchandreshwar temple. The day was full of exercises of ups and downs and which lead to starvation.kept are sacks aside and had our lunch in one of the small hut there. There was a dog (Bhagyashree named him as pluto) who was with us from base village.Even dog sometimes without knowing can stand beside u for help but humans having more power still refuse.
After some rest we went to temple. This  temple is marvelous example of the fine art of carving sculptures out of stones that prevailed in ancient India. We filled our water bottles from there.St.changdevnamed the river Mangal Ganga is said to originate from one of the tanks located in this temple.Thenwe turned towards kedareshwar cave.Swapnilpawar and his raanvata teams had cleaned everything this year. The harishchandreshwar temple,the kedareshwar cave , the pushkarni beside viewing it all live refreshed us all n gave a spiritual power.
Pushkarni
Now we aimed next the KokanKada (Konkan cliff).!! The most attractive part of this trek is the kokankada, providing a breathtaking view of the surrounding mountain ranges..!!3000 feet n more high was the height of the edge. Overexcited we ..reached kokankada in may be 20-25 minutes.
Kokankada, Harischandragad
Before sun sets we have to reach kokankada since we do not wanted to miss the beautiful scene there.Visiting kokankada was top on our priority list. As our steps were moving forward towards that heaven kokankada we were getting more excited to experience it and we reached there. A different scene from everyday life.a picture which we never believed ..Nature in its different phases.Differentcolors. Different incredible structures ..a free air blowing through us ..leaving the world there down of tension responsibilities and struggles.Welost in our selves.May be this is what heaven is called is what we thought.As the day started to end the sun started to descend behind those mountains. The colors of sky made this edge a more attractive place in all. We can locate Ratangad, Bhimashankar, Ghanchakkar,Ajoba and Gorakhgad from this edge .fulfilling our hearts and eyes with this scenes.
As the day light ended and we were on backing off to place where we were going to stay. We 5-6 people started descending towards the place and 2-3 saying they will catch up in few minutes. There was no light only the moon light sufficient for us to reach the place. But then the 2-3 of them lost there n were not getting the way to out. By god's faith everybody was having torch. We were waiting for them. After some while I and  Abhishek decided to search them n went back. It was raining slightly n in those lushy jungle we started searching them. A bright light from torch was seen beside. I and Abhishek scolded them and other group members were all  frightened and scolded them too..!! In marathi they say "फाटून हातात आली"!!.
We returned back to the temple. After the hard Bhatkanti day we returned to place where v decided to reside for the night.Bharmal uncle's place was best to stay.Throwed our sacks away and had our dinner. In order to time-pass we started playing UNO. Everyone was busy in there game. In the dim light of the torch we played n outside the cold was increasing.People of AC and PC ages where now njoying this game.After2-3 hours we den fixed our places n started to sleep.After some chitchat n stories finally we slept.The night on the sahyadri..those stories of whole day n then experiences..!!
It was foggy outside and hence we were feeling cold inside. The best part was Shubham did not get place to sleep n was going from one place to another disturbing others. Next day he was the target early morning n then people scolded him.Thesleep was satisfactory and next plan was to watch the early morning rising sun on kokankada.So got ready fast including some important work started again towards kokankada.Sun was not visible.. The amount of fogg was more.Therewas fogg n coldness everywhere.
The beautiful morning fog in the mountains
Reached kokankada aprox after 20-30 mins. The kokankada was totally hidden behind the clouds.A  different celebration …an adorable scene there..!!Much of clicks and photos and den again backed off to Bharmal uncle's house. Uncle had made special kanda pohe for our break fast n then Divya and Bhavika prepared maggi for our group. Amazing tea kandapohe and MAGGI we enjoyed and filled our stomachs. Now it was time of returning back . We thanked him for everything and saying that surely will meet next time…we left..!! The sun was now visible it was 11 we started to descend.Whiledescending we were bit faster but den in between in shades of trees we stopped n take a sip n recharge our batteries again.Now in 1 hr we were going to reach base village.  Aditya, Shubham, I and Bhagyashree  took a different route (shortcut) then others. At one single point we lost and forgot our way. Moving further we reached a point where there was no road and big valley where the road ended. There was no other way seen. We kept silent and decided by going the same way back in  search of footsteps or way.By god's grace we got the correct way .It was difficult to come back by that way but was a different experience.Here we are searching ways n other people were busy eating karvandh(fruits) on there way.Many trees of karvandh were seen there.What then karvandh and one person on motorcycle was passing by having icecream…had them both ..Energizing ourselves…Started our way to MUMBAI..!!
Pankajzarekar had truly mentioned in his blogg..
There are 2 types of sahyadri trekkers:
1.Having an aim to visit Harishchandragad
Visiting Harishchandragad again and again
And I proudly consider myself in the second category.Will definitely meet Harishchandragad again.!!
Returning back as always did not forget to eat MisalPav on the stalls on highway.