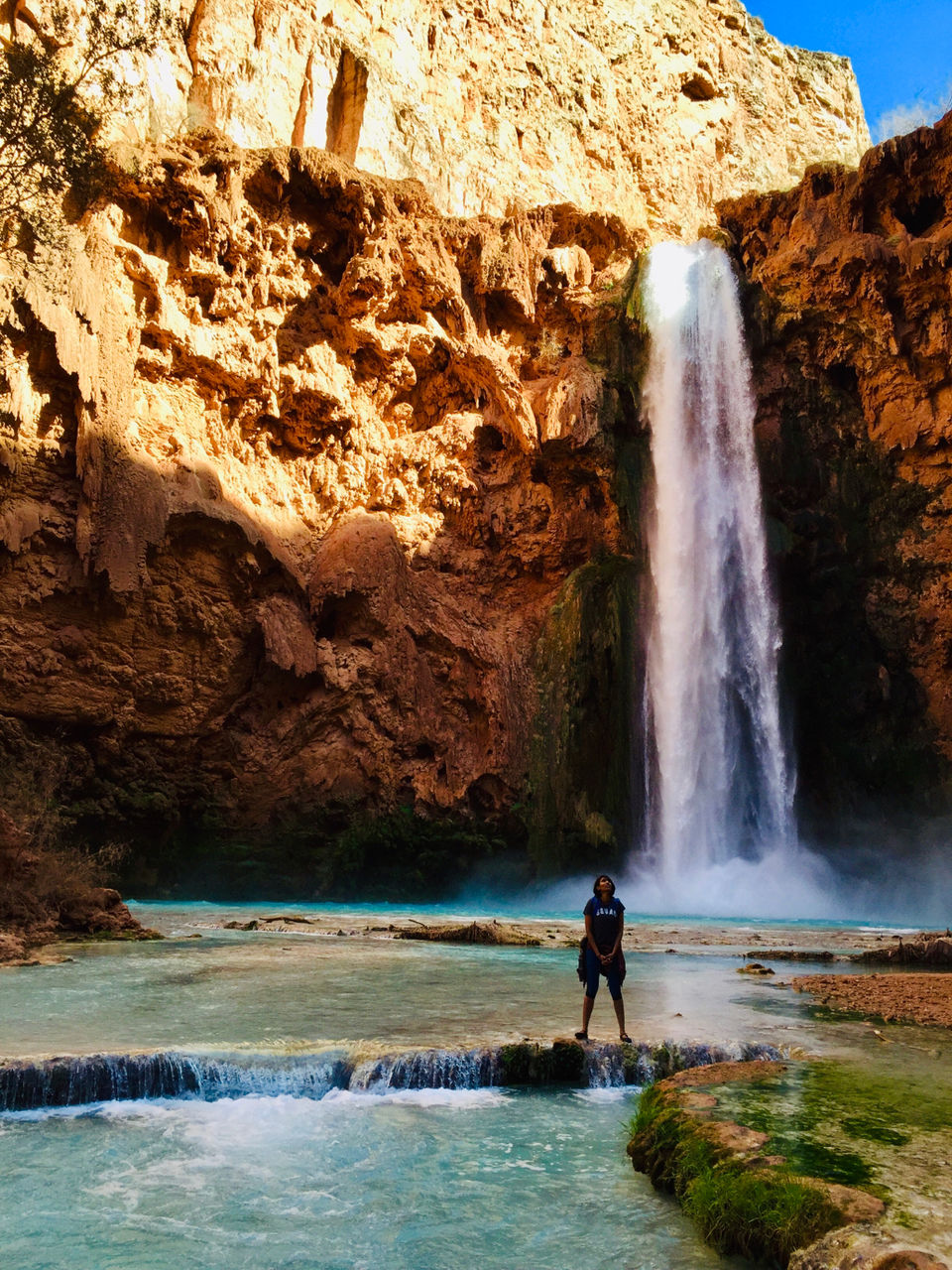 Location: In Grand Canyon Arizona, on Havasupai Reservation. Havasu means blue green water , Pai means People. it is called "People of Blue Green water". The color of water are due to high calcium carbonate concentration in water.Most spectacular scenery with absolute remoteness to get lost. Also can't miss the amazing stargazing at night .Flew in to Phoenix airport,stayed in Flagstaff for the night. It is two hour drive from Flag staff to Hualapai hilltop.
Permit : we have two options ,campgrounds or Lodge. Permit for Campground starts on February 1st 2020 for 2020 year and starts from 100$ per night from Monday through Thursday and 125$ on Friday through Sunday. For Lodge reservations starts on June 1 2019 for 2020 year and starts from 145$ for lodge, 40$ deposit,and 50$ entrance fee. Permit is granted for 3 nights and 3 nights only, no more or no less. But few guys who have hiked with us left the next day, but paid in full for 3 nights.you can visit Havasupaireservations.com for more details as they may change.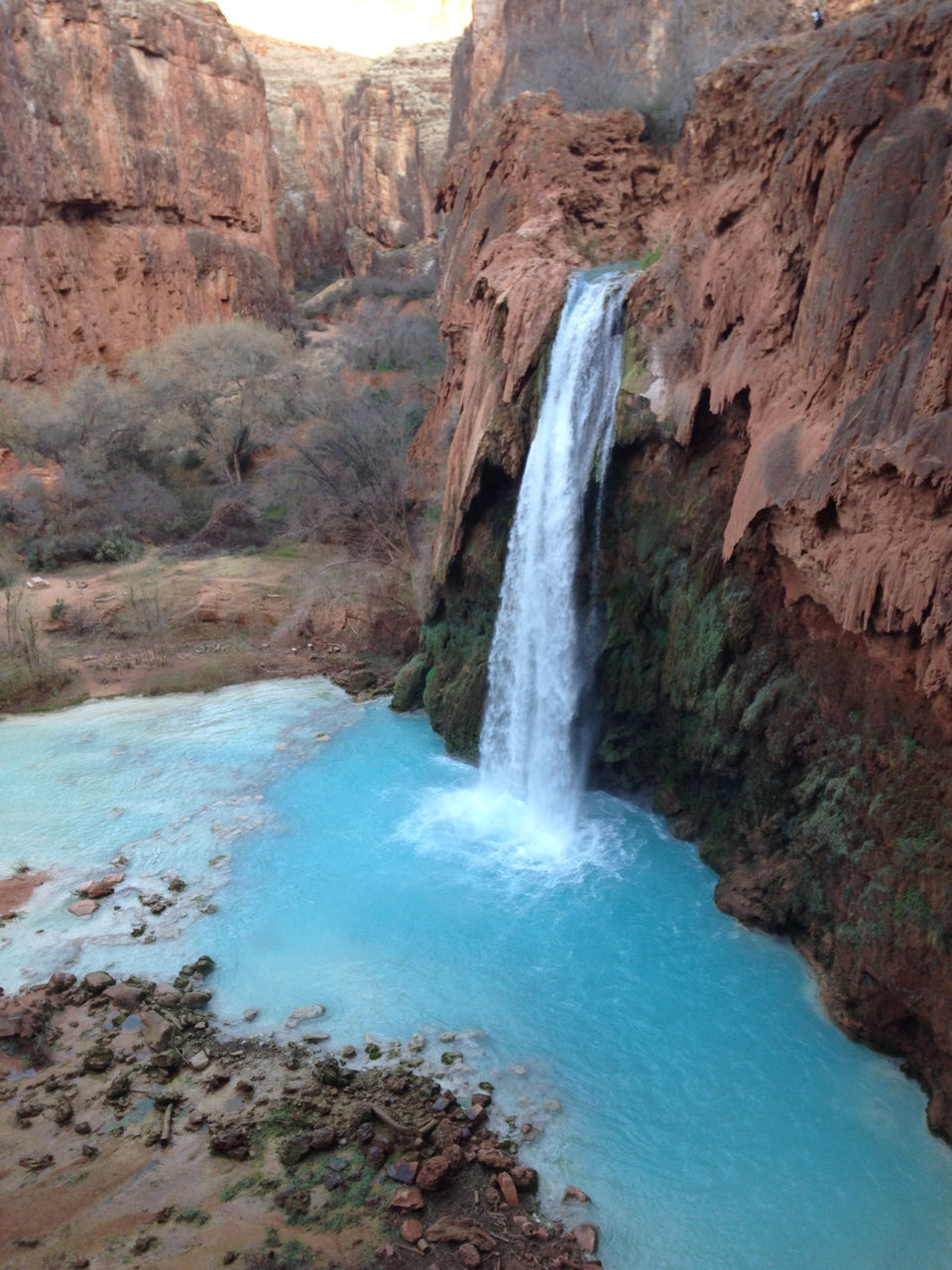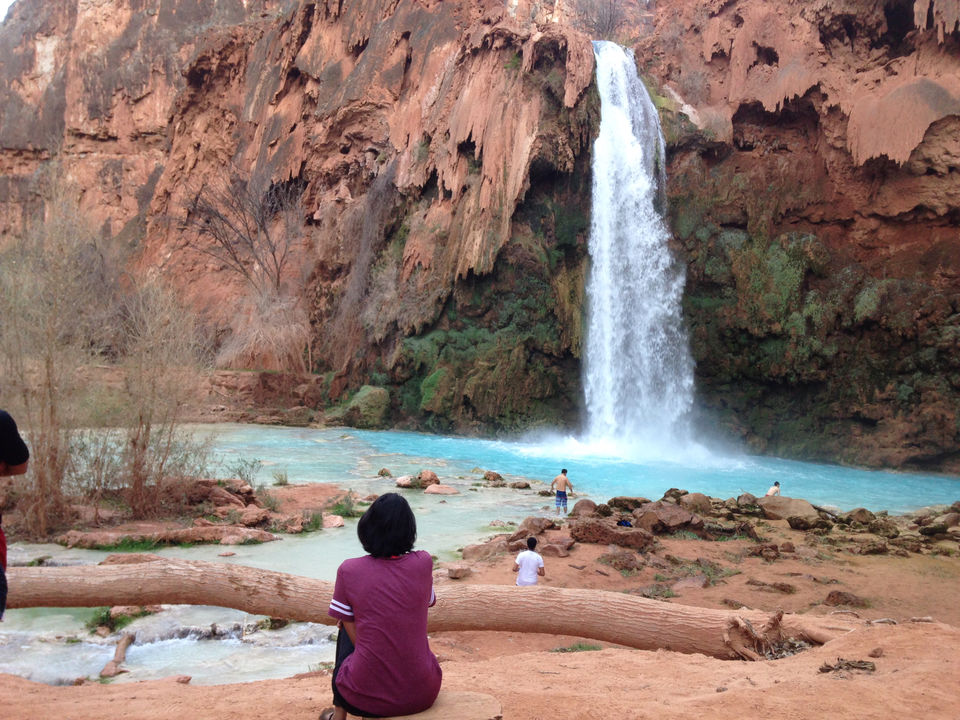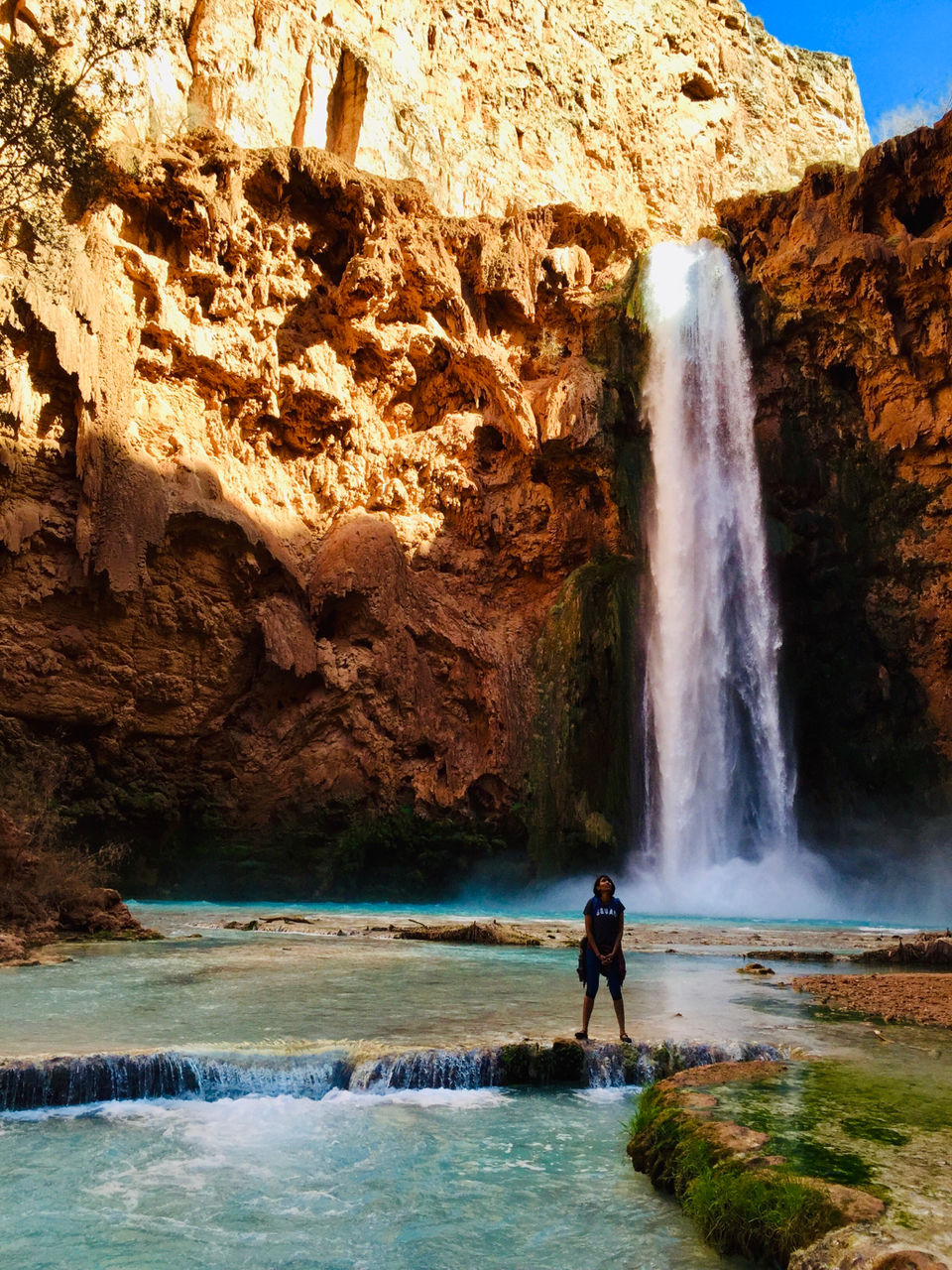 When to Hike: you can only visit falls from February through November.May to September is peak season with heavy crowd, beware of flash floods that might occur during July to August months and also bugs during this season.we visited the park in Mid February.I felt the weather was perfect for hiking though it is was little cold to go for a swim.Also temperature drops 5 degrees on average for every 1,000 feet in elevation you climb. Therefore the temperatures at the trailhead (Hualapai Hilltop), are over 10 degrees cooler than the campground.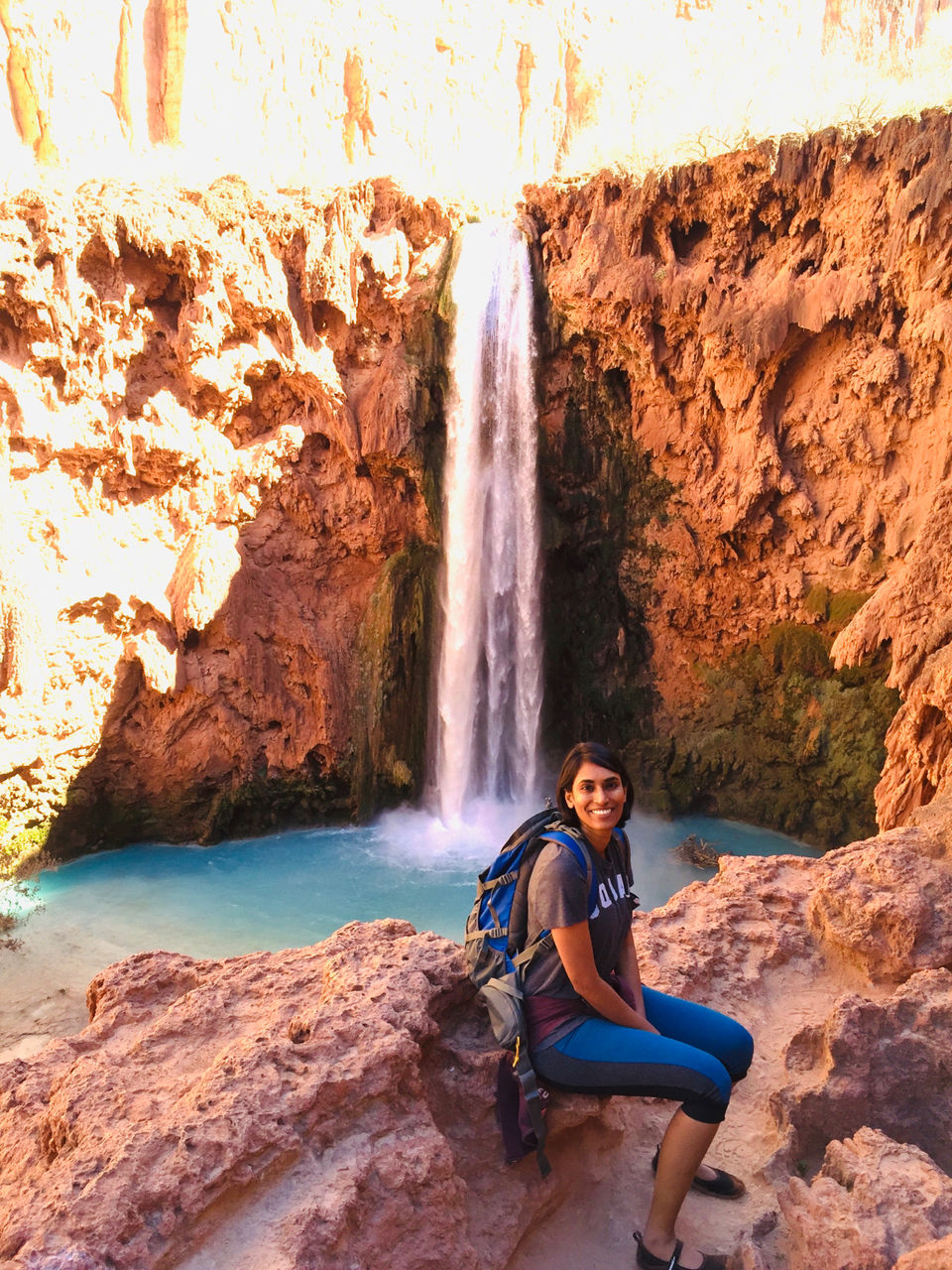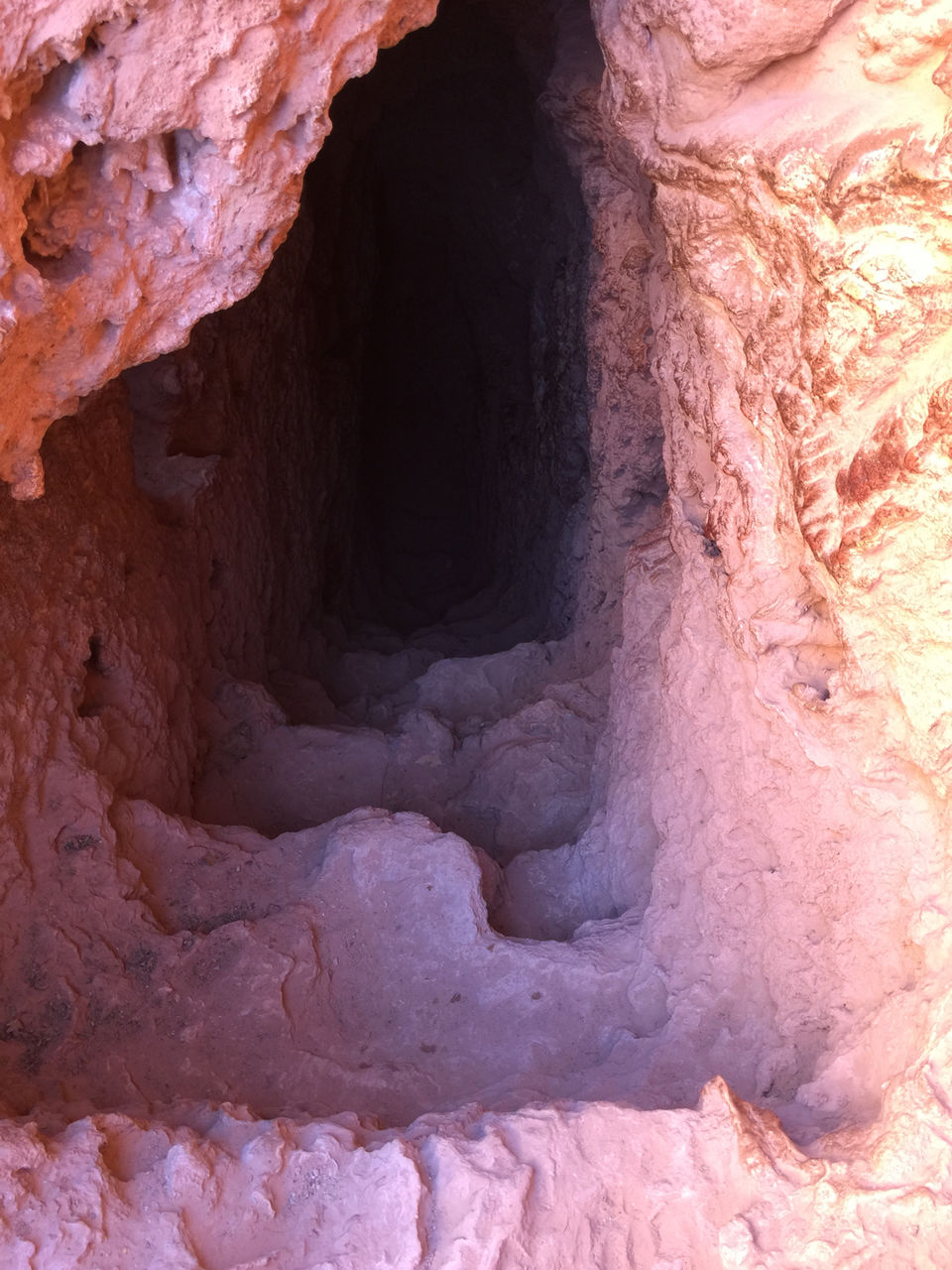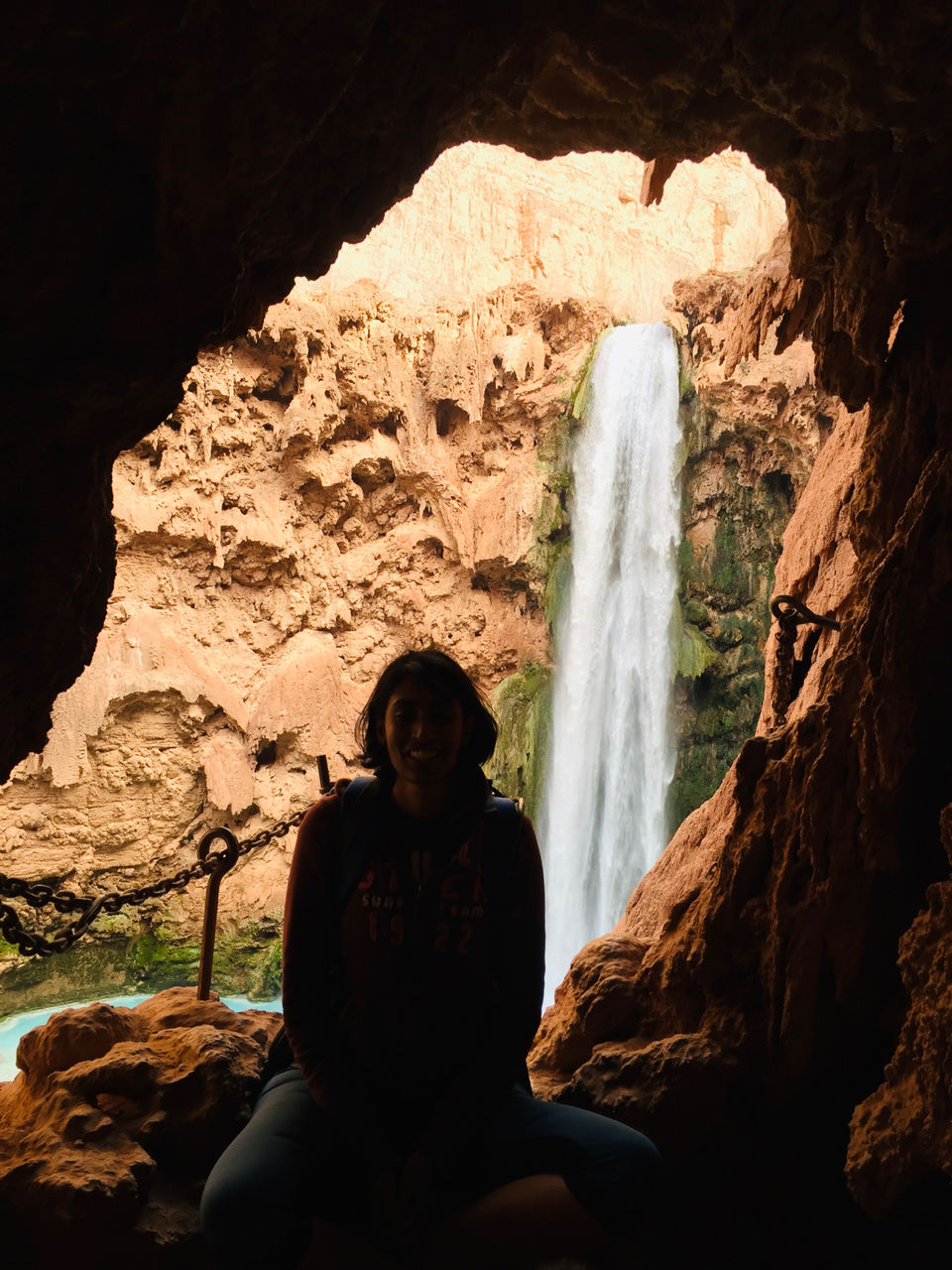 The Hike itself : it is 10 mile hike one way, 8 mile to town of Supai to check in and 2 more mile to camp grounds. At first the hike down goes on switchback but later is smooth decline . it took me 4 hour going down and 6 hour coming back up.
1) while Hiking down be prepared to not slip on switchback with smooth sand and stones, i didn't use poles but it is suggested.
2) The Incline is little harder than the decline,so be prepared and rest well for hiking back
you can find services to take your luggage of 32 lbs to camp grounds for $400 round trip. we carried our own luggage and it is totally doable. you could also use mule service or Helicopter ride to take you down and back up.But hiking is a visual treat and test to oneself.
3) Carry food and water for your hike. once you reach Supai food is available at a cafe on certain time only and it is expensive as everything needs to be delivered by mule service from hilltop. also suggest to take water bladders instead of bottles to avoid extra weight. i had a 2 liters water bladder with me.
4) There is little to no shade while hiking so start the hike early. we started at the first light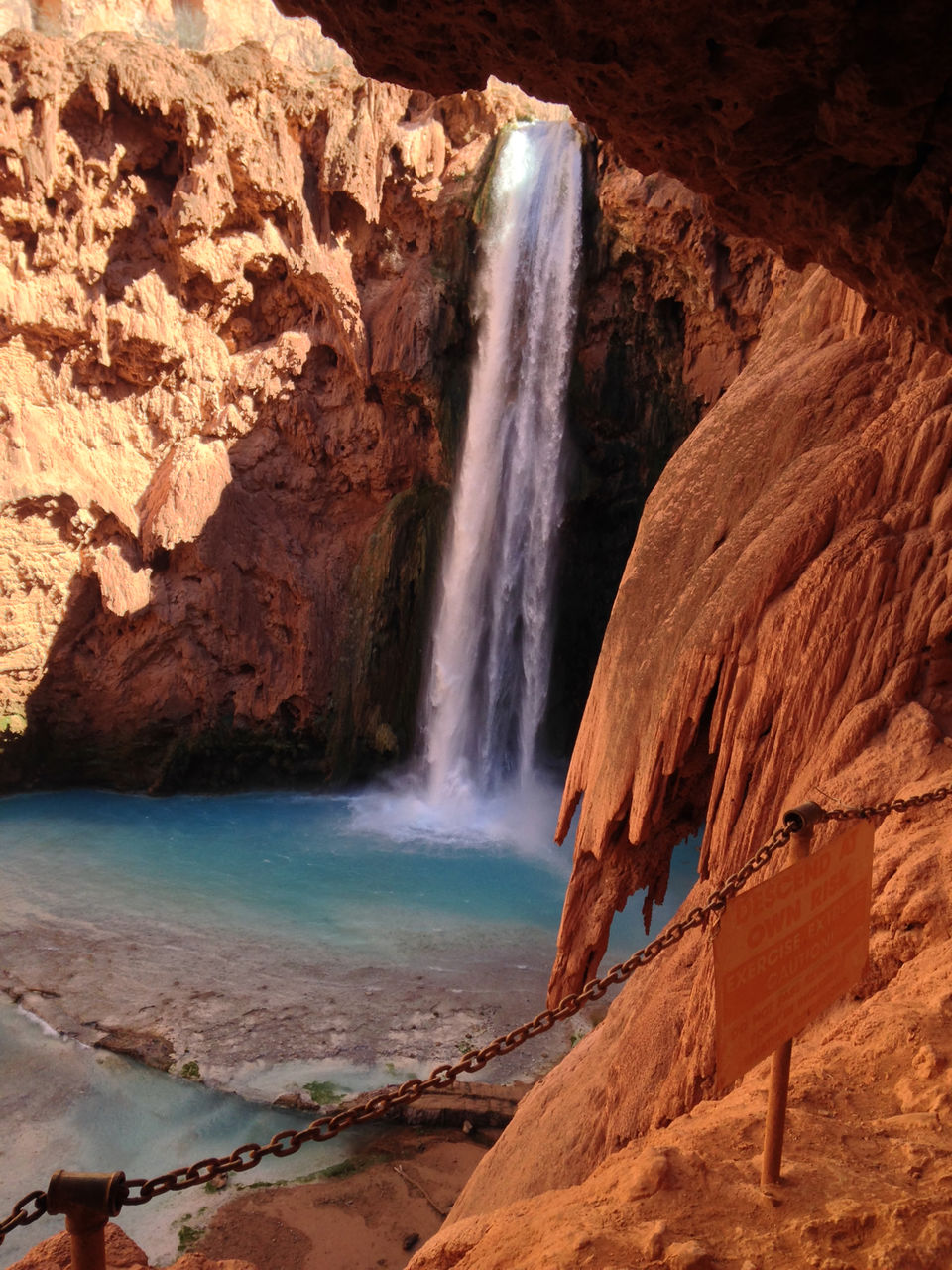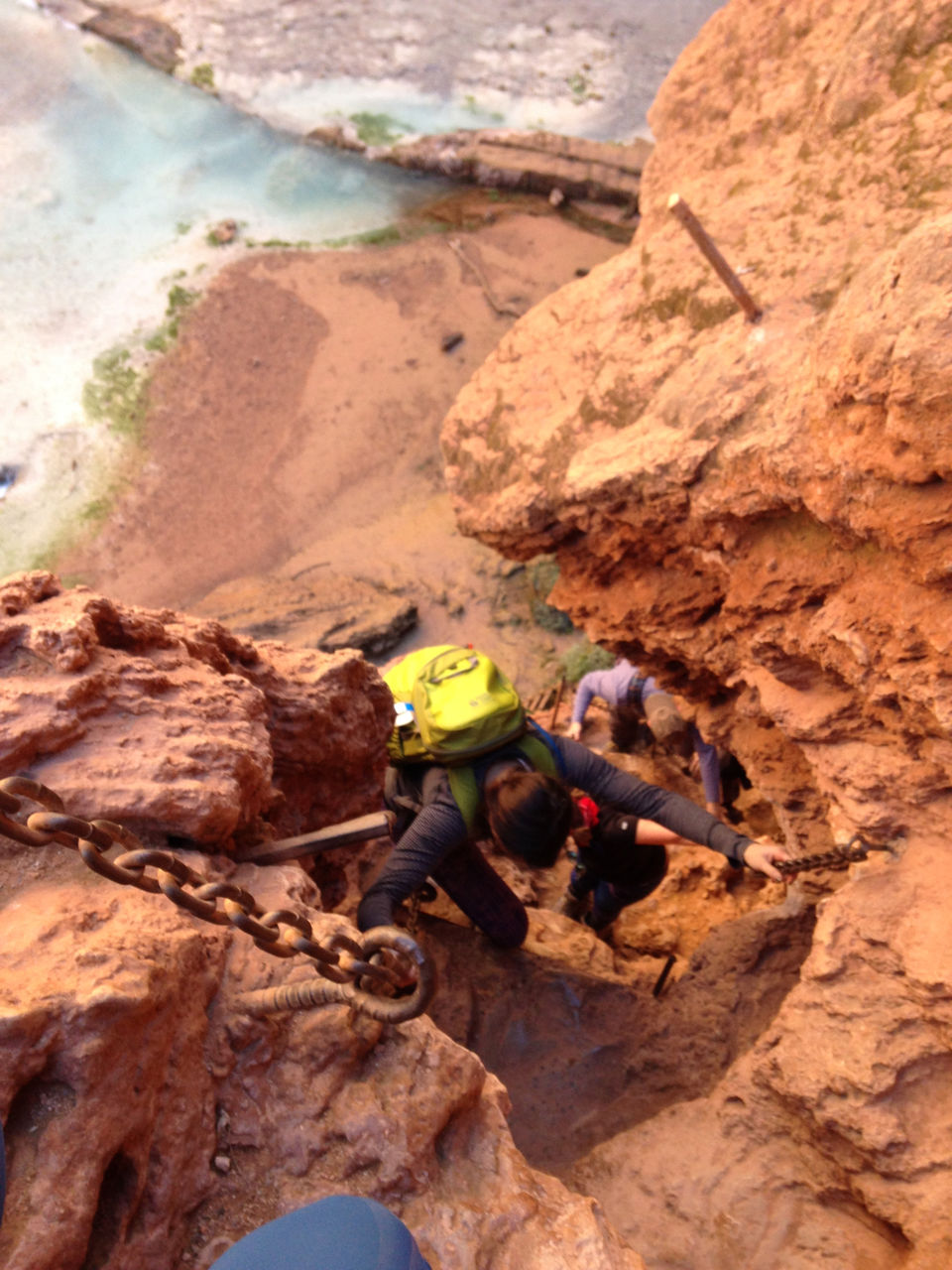 Camping :
1) it is leave no trace camp ground, so you need to carry your trash back, can't leave any at camp grounds.so pack some extra bags to store and carry trash.
2) it is first come, first serve, no reserved spots. camp according to your preferential either close to 3 bathrooms locations or closer to Mooney falls , which is at the end of camp ground.
no showers, only toilets. so pack your flushable wipes.
3) also temperature controlled sleeping bag is highly suggestive as it gets cold at nights.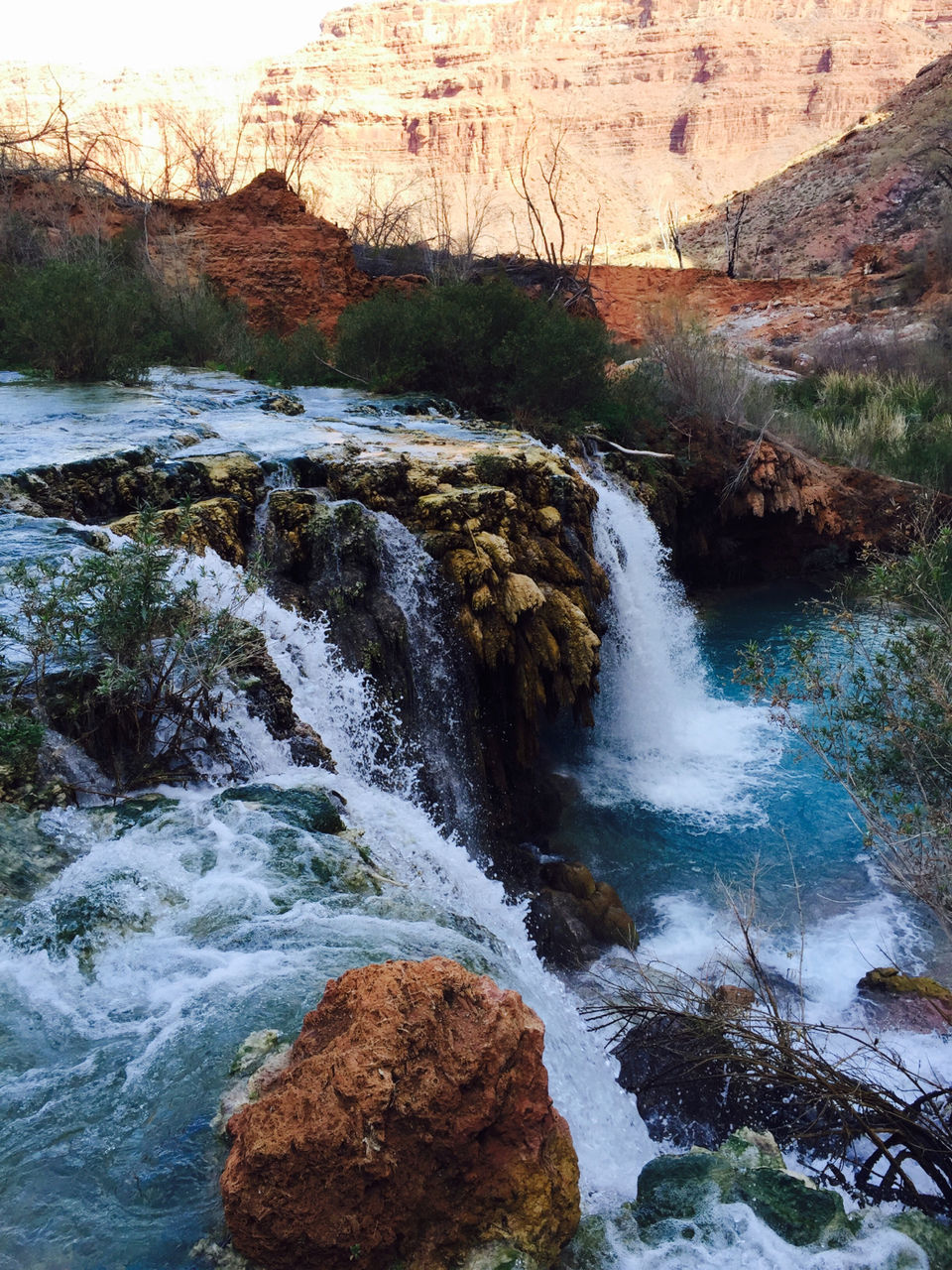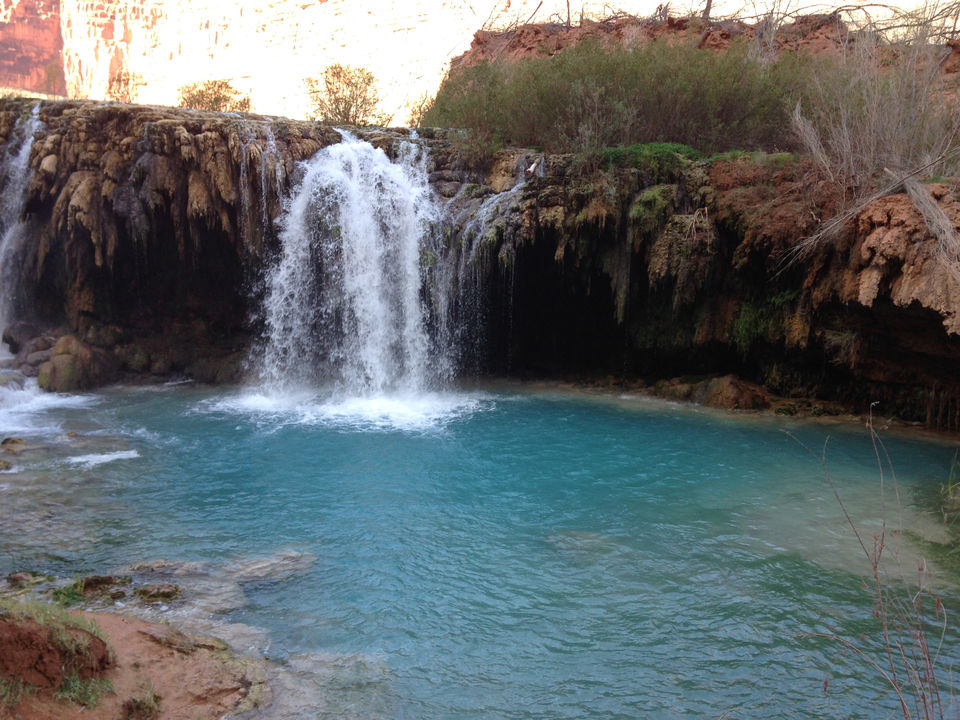 Mooney Falls : Reaching Mooney falls top is quite easy. but to reach to its bottom you need to pass through a cave and use chains to get down. it is not a scary as it sounds. but look out for slippery chains and rocks. it is totally worth it. Don't miss it.
Beaver Falls : it is a 4 mile trail from Mooney falls to Beaver falls , it is not well marked, but it is paved by footprints.you need to cross trough river to get to it. so having your water shoes is advisable .
tip: the whole trail is not marked. but there is only one way to go . so don't get scared even if you are planning to hike alone. i did most of my hike by myself while going back.Also met amazing new people while hiking down.