The following are the common documents that must be apostilled or authenticated.
- Marriage Licenses/Certificates
- Divorce Decrees/Agreements
- Birth Certificates - Death Certificates
- Power of Attorney
- Educational Transcripts
- Diplomas
- Permission to Travel Documents
- Articles of Incorporation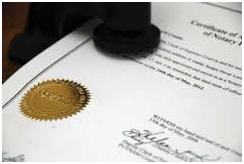 Any documents mentioned above and issued in the United States require apostilles when it is going to be used to another country. Apostilles is a certification issued by the California Secretary of State. The process of obtaining this paper would cost money and time. And if you do not have any information on the steps to have it, there might be possible confusion along the way.
The first thing that you should bear in mind is where the document will be used. The United States of America is a member of The Hague Convention so once the document is certified as legitimate and authentic, it will be accepted for official purposes in Vietnam for example and to all nations that are members of The Hague Convention.
Obtaining authentication of the documents would take your time and money as mentioned earlier. So, it is encouraged that one must know the right steps before entering to another country by preparing the papers required to be legalized.
Always ask help from professionals if you have a company that requires authentication for business purposes, ordering a marriage certificate, birth or death certificate to avoid hassles in the future. At some point in time, it takes patient to obtain the complete process of certification of your documents because it is time-consuming and you may wonder if your papers are approved or not. Also, sometimes the preparation of moving to a foreign country or sending documents for a study abroad is stressful.
Moreover, the documents that must be certified when traveling or relocating to a foreign land are as follows:
- Background Check
- Transcripts
- Birth and Marriage Certificates
- Diplomas
If authentication is not done properly or not in correct order, the documents certified could take a longer time and may lead to rejections. This means that it will take more time to do the process again for legalizing the documents needed abroad. So, hiring a company that guides and helps to do all the paper works for outside country use would be the best choice to make sure that the legal documents are authenticated properly. This will save money, time, less hassle and worries. Moreover, if you are traveling outside the country with minor with you, of course, it would be easy if somebody would assist the documents needed.
These are only little information regarding the documents required for traveling or sending legal papers to another country. For legal assistance, browse this website for information. Friendly staffs will gladly assist your needs.
Now, if you need authentication Los Angeles, look for a company that will help you lessen the stress such as MintzApostilles.
MintzApostilles Notary Public is your best partner on this undertaking. They are experts in this field, and the company is open 24/7 to cater your needs.