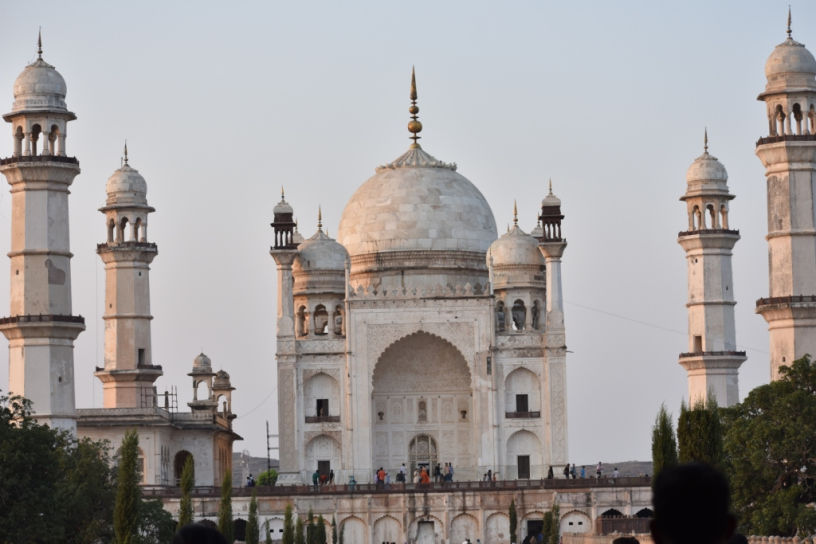 I was lucky to get a chance to travel to Aurangabad for work. The capital of Mughal Emperor Aurangzeb, Aurangabad is known for its historic monuments like the Bibi ka Maqbara, Ajanta caves, Ellora caves and Grishneshwar Jyotirling.
When in Aurangabad, I highly recommend you to spend your evenings at the iconic Bibi ka Maqbara. This Taj Mahal Doppelganger is one of the best places in Aurangabad to watch the sunset. Even though it is a replica of Taj Mahal, do not compare it with Taj. If you do, then you won't be able to appreciate the beauty of this place.
To start with, the entry fee is dirt cheap - Only Rs. 15. It is located at the center of the city, making it easy to get cabs and autos from anywhere.
Bibi-Ka-Maqbara Tour: We hired a guide to get cultural and historical information about the place. Mr. Khan (our tour guide) has been giving Bibi-Ka-Maqbara tours to the travelers since the last 25 years and he knows every detail about this place. Some of the important things, he mentioned that I vividly remember - 'Bibi-Ka-Maqbara is a mausoleum constructed by Prince Azam Shah in memory of his mother Rabia-ul-Daurani. Rabia-ul-Daurani was the wife of the Mughal Emperor Aurangzeb. The monument was designed by an architect named Ata-ullah and an engineer - Hanspat Rai. The construction was completed in 1661 AD. Unlike Taj Mahal which is made entirely of marbles, Bibi-Ka-Maqbara is made 80% of Plaster-of-Paris and 20% of Marbles. Hence it was made only at 10% of the cost of the famous Taj Mahal.'
Walk along the path towards the monument with the elongated pond on one side and the gardens on the other. When you reach the monument, a flight of steps descends from the terrace and leads you to the unadorned grave of Rabia-ul-Daurani at the lower level. To the west of the tomb is a small mosque with corner minarets and cusped arches. Well maintained gardens and fountains bear testimony of the grandeur during the bygone past.
Best Time to Visit: The best time to visit Bibi ka Maqbara is during the months of October to February. It is extremely hot during summer (close to 45 °C).
How to reach? - Aurangabad is easily accessible through a flight, train as well as road transport. Bibi-Ka-Maqbara is at the city center so you can use public transport, taxi or auto to reach the place
Ticket: Entry ticket - Rs. 15 (0.22 USD) and Parking - Rs. 30 (0.44 USD)
Timings: 8:00 AM to 8:00 PM
Check my Travel Stories @ Happilytanned.com