This is the second and final part of my weekend trip to Meghalaya. Click here to see my adventures at Phe Phe falls.
Everyone was tired and were napping in their own corner of the Traveller, dreaming of the fantastic time we had at the Phe Phe falls. The roads were bumpy on most parts, and to be honest it was too dark outside to even notice where we were. Shnongpdeng is around 30-35 kms from Shkentalang and phone signal was barely there throughout the road. I could hear rustling of leaves and tree branches, indicating we may have diverged from the highway now. And while I was at it we arrived at a barely lit village, the driver confirmed we've reached our final destination for the day. He switches on the lights back and surprise, there's more leeches on our legs! I had 3 more that were feeding from some time I guess, removing them made it messier. And I wasn't the only one.
We ducked out of the Traveller lazily to the gentle flowing sounds of the Umngot river, though we couldn't see anything. Our host Mickey led us to our campsite which was on the other side of the river. With torchlights in hand we followed his steps and soon enough ended up on the bridge. This bridge was literally swinging and its base was made out of tin sheets. Also, at many parts the 'holes' on the bridge were 'bandaged' with wooden plank. To say I was scared to my bone would be a massive understatement, and I made sure both my hands had a firm hold of the metal cables. The funny part is that the walk over the bridge felt like never ending, and once we reached the middle it started swaying even more giving me palpitations!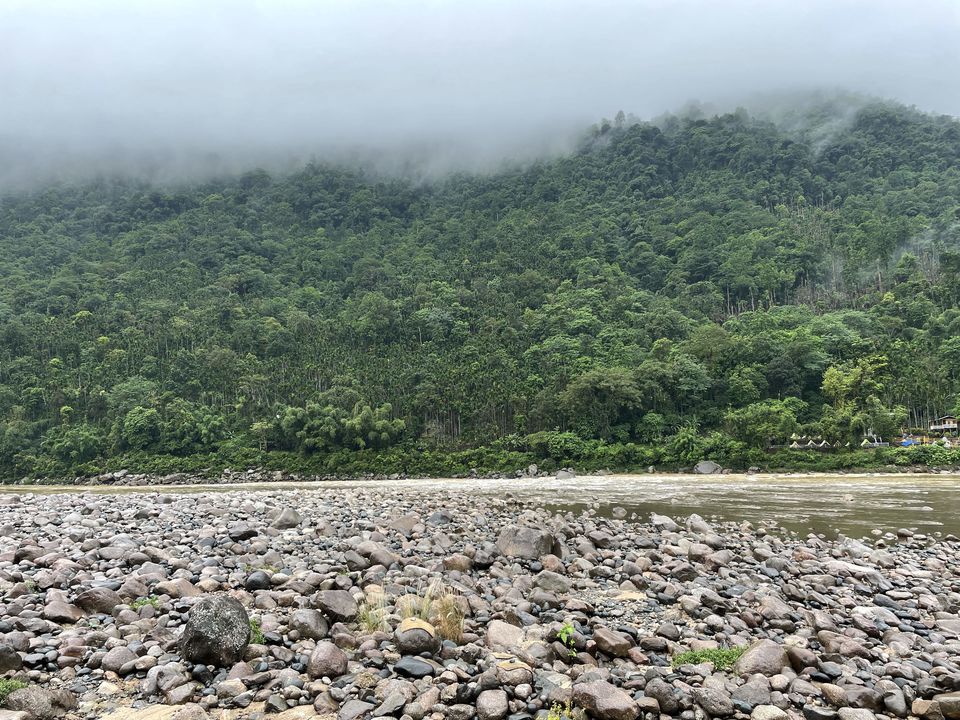 After about 15 mins clinging on to our lives we reached the other end of the river which was much more quieter than the more popular and populous side. A bit of negotiating via the trees and we had finally reached our campsite. Tents were already pitched and network was abysmal. We are now very close to the Bangladesh border, in fact. Once tents were allocated we quickly washed up our faces and tired, leech-y legs. Surprisingly the weather was quite warm and humid. On the other side of the river we could hear many groups cajoling under a cloudy night. Few were even sitting with a bonfire, weird! On our side though, things were more peaceful. There was this group who had a guitar and were singing out some melodious yesteryear tracks while we sitting under a thatch made of bamboo groove to it. Under a dimly lit halogen bulb we were discussing the day that was. Manash had made some excellent arrangements for this entire trip, and all by himself as well. Dinner followed in soon, we even had chicken and pork prepared for us. This meal under a soothing evening, sitting beside a river indeed was a fulfilling one.
The Beauty of Shnongpdeng Under a Pouring Sky
The night inside the tent was a difficult one. I could barely sleep through due to no air circulation and was sweating profusely. Needless to say I got up by 4:30 am itself. Peeped out of the tent to see what's happening and was warmly greeted by Sanjib who also had gotten up. This morning was a gorgeous one; evidence of last night's rain dripping slowly from leaves, clouds hovering above the hills, and a beautiful Umngot river showing up for the first time since we had landed here. And while we were admiring the beauty that surrounds us the rain gods decided it's time for some early morning showers. It started to rain lavishly and both me and Sanjib were confined under the thatch for the next 1 hour. Shnongpdeng was absolutely shining though with a moody hues all around. By 6:30 the rains had stopped for the good and we quickly pounced on the opportunity to get some pictures on the foot-bridge over the river.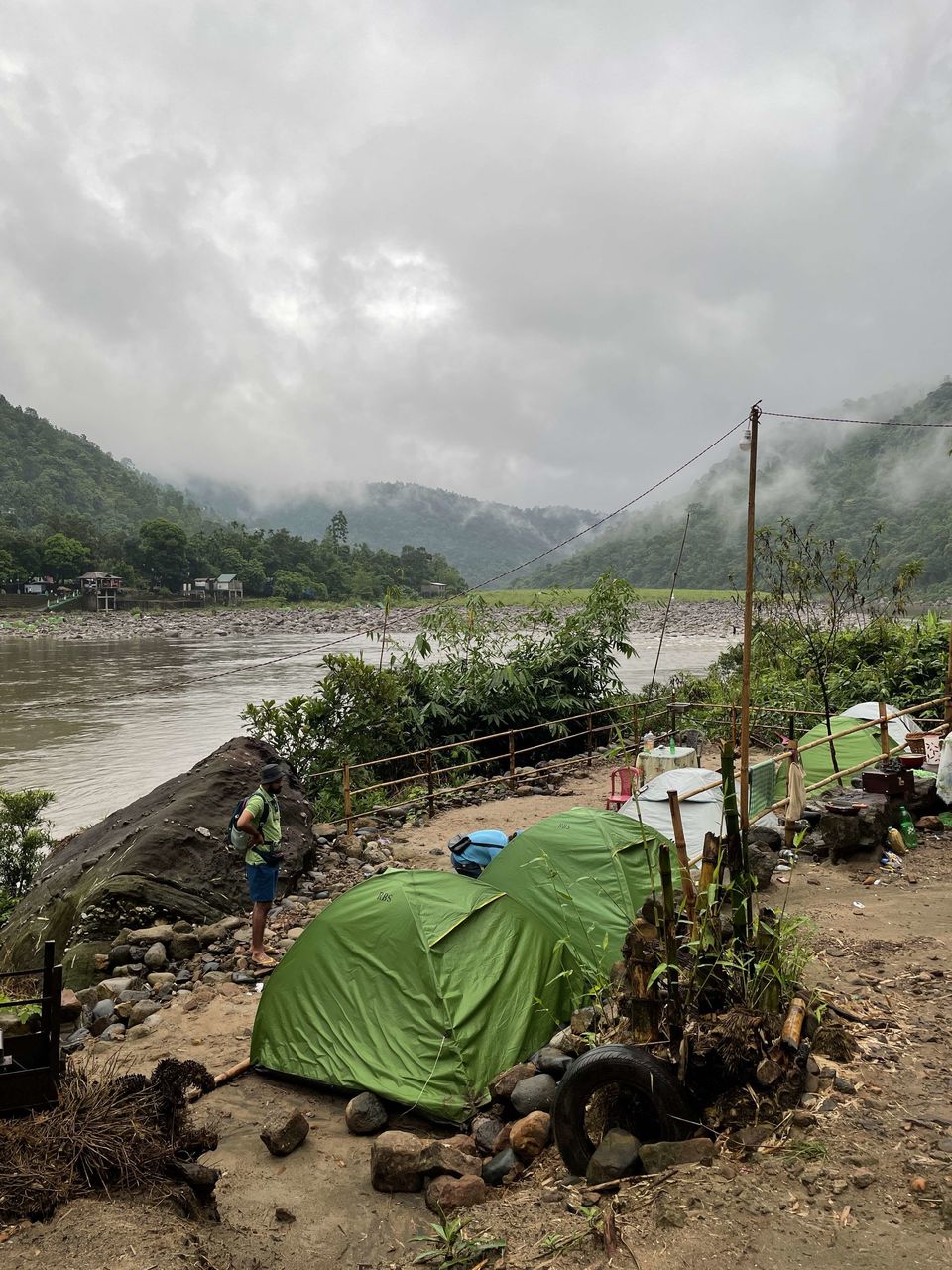 Views from the top of the bridge is even more spectacular, with a 360 degree panoramic view of the entire valley. There's water streams flowing into Umngot from all directions, feeding in the rain water rolling down from the hills. Post the photoshoot session we decided to vacate our tents and cross over to the main village where all the action was happening. Being a Sunday there was a massive influx of tourists today. Shnongpdeng is like the younger, lesser known brother of Dawki. Most of the tourists end their visit at Dawki, and is more popular on social media circles as well. We ordered for breakfast of bread-omelette, aloo parantha. And goodness me, that took more than 1 hour to be served! The kitchen staff was clearly overwhelmed with the sheer number of people today.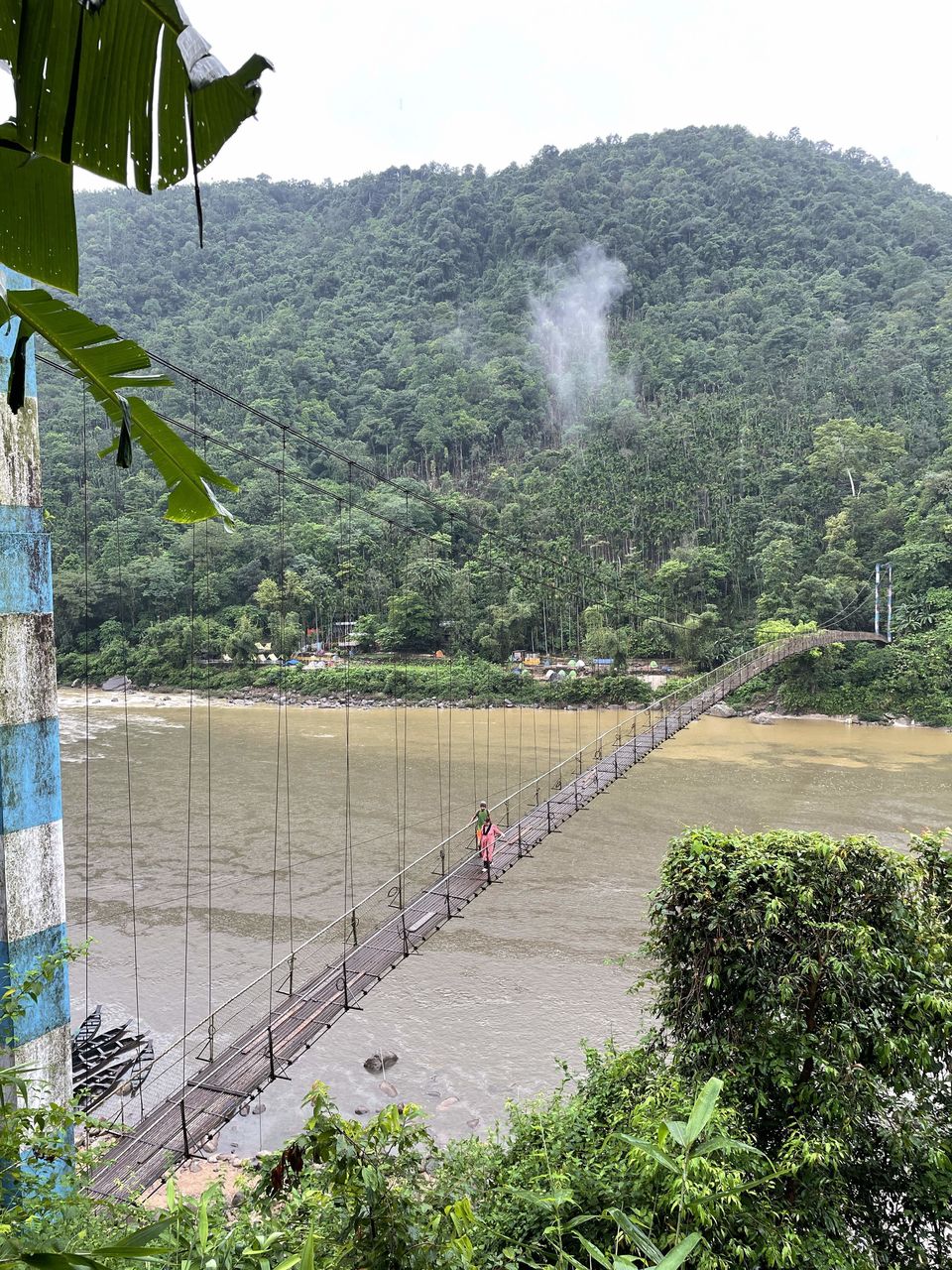 The suspension bridge over Umngot.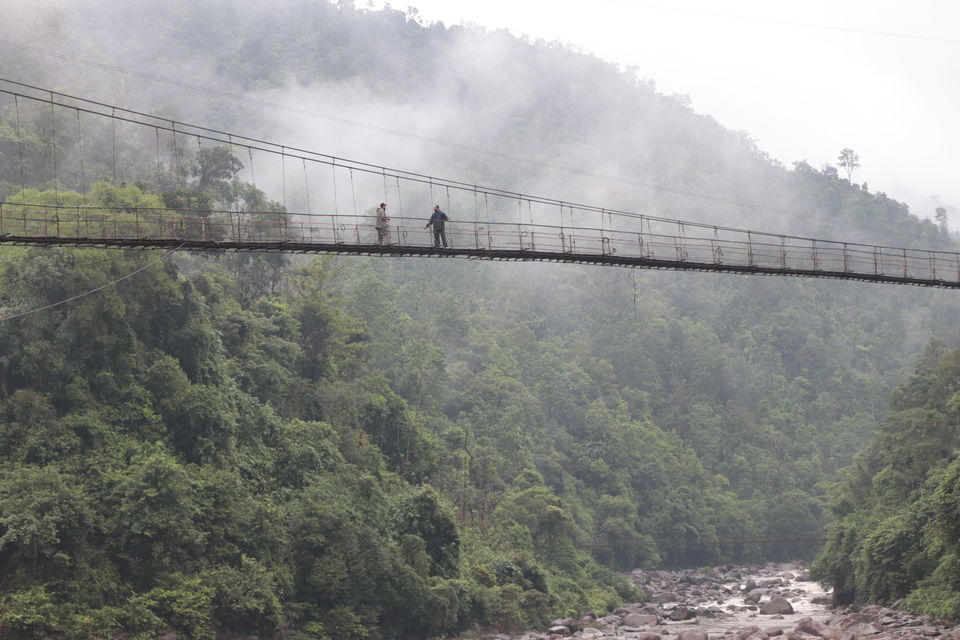 Hanging in there!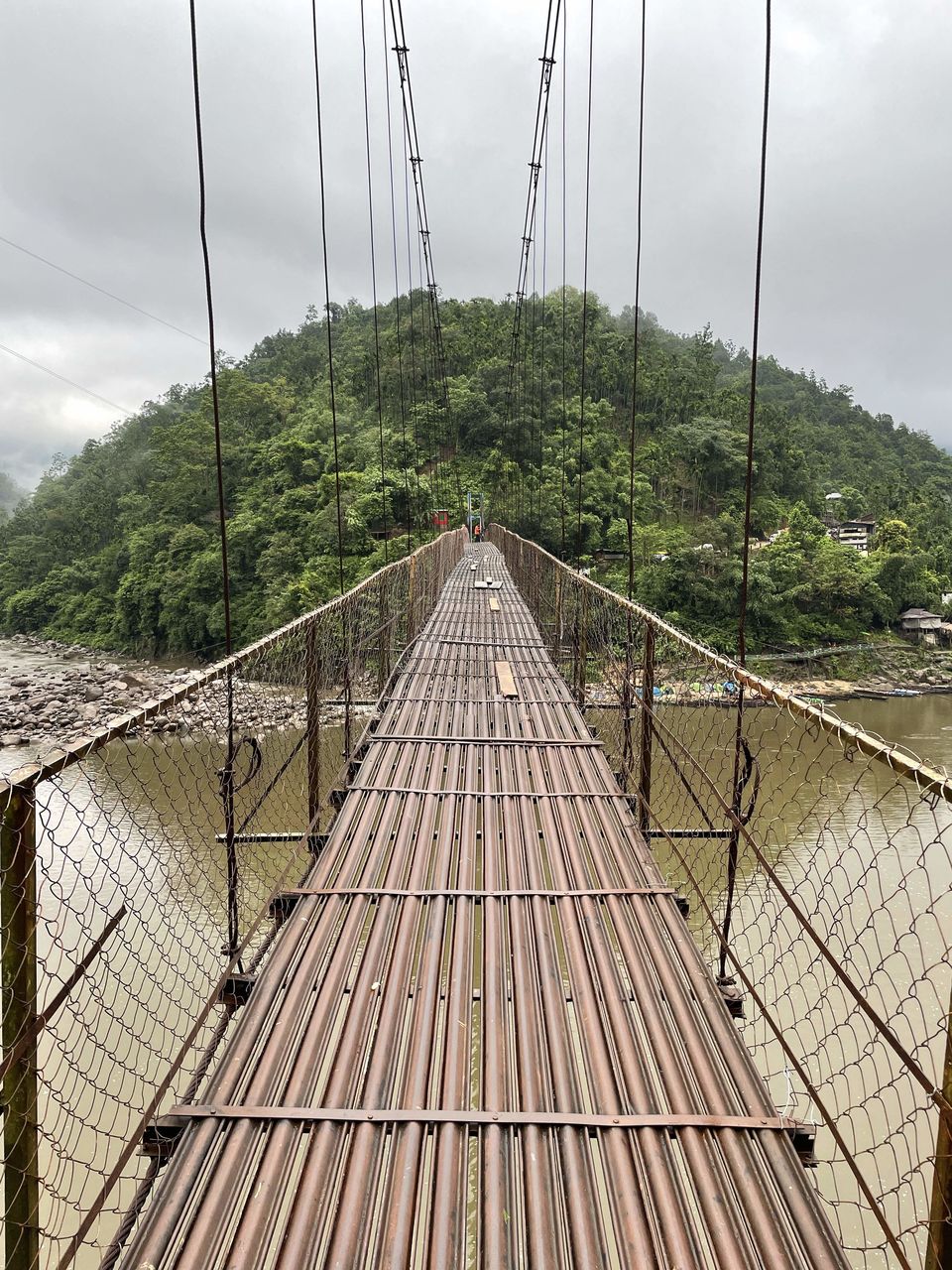 And while our breakfast was getting 'ready' we went near the river bed that was full of slippery boulders. With a drizzling sky the view from here was absolutely smashing. Few fishermen were trying their luck with fishing, on a clear day when the bed of the river can be clearly seen the fishes can be seen moving around. There was this different, palpable vibe sitting here all alone and just staring into the river and the valleys that flank it. Also, I was having a real urge to take a dip into the inviting waters knowing I haven't taken a shower since starting off from Guwahati.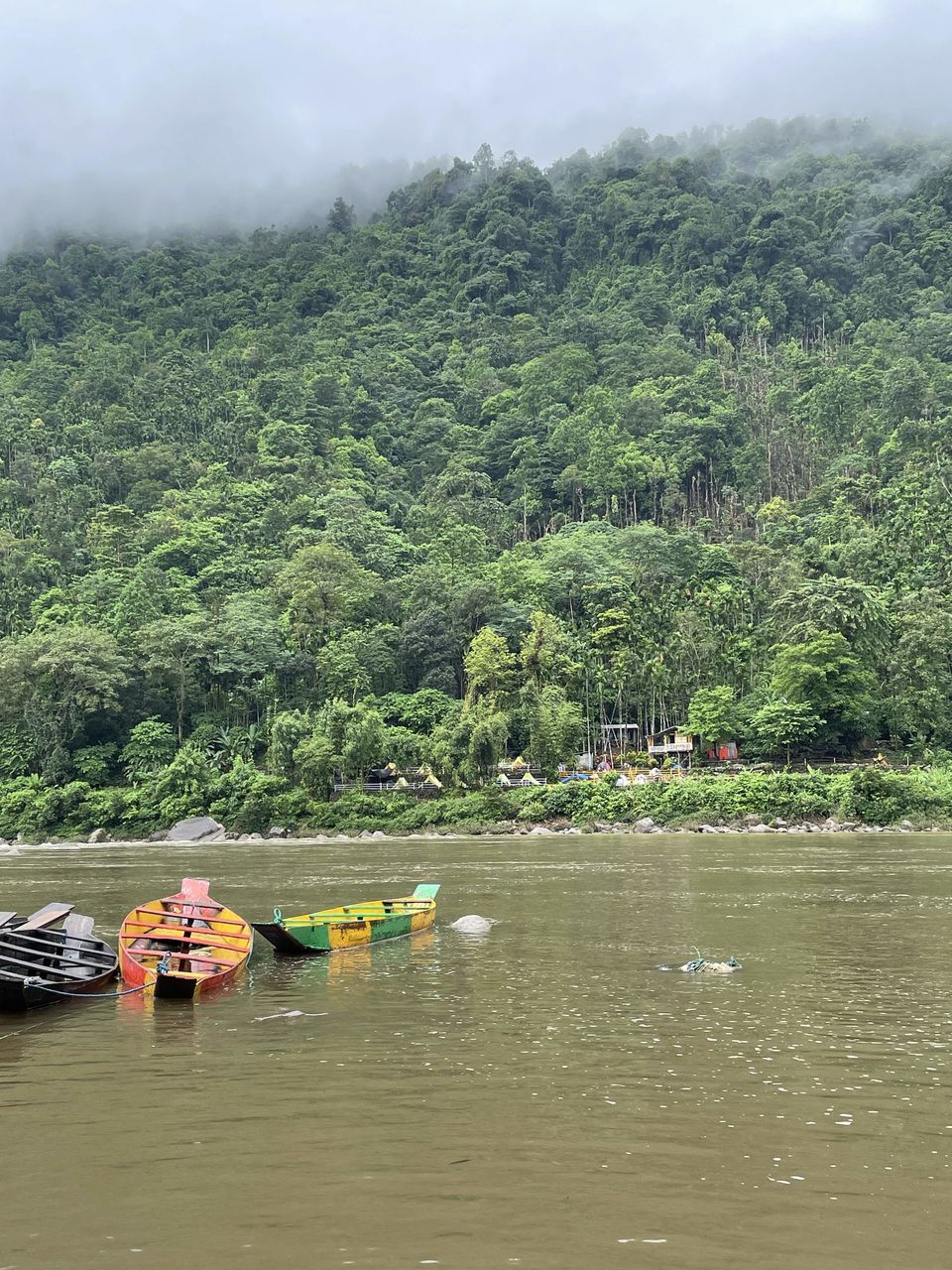 Today the water was not clear enough to see the base of the river.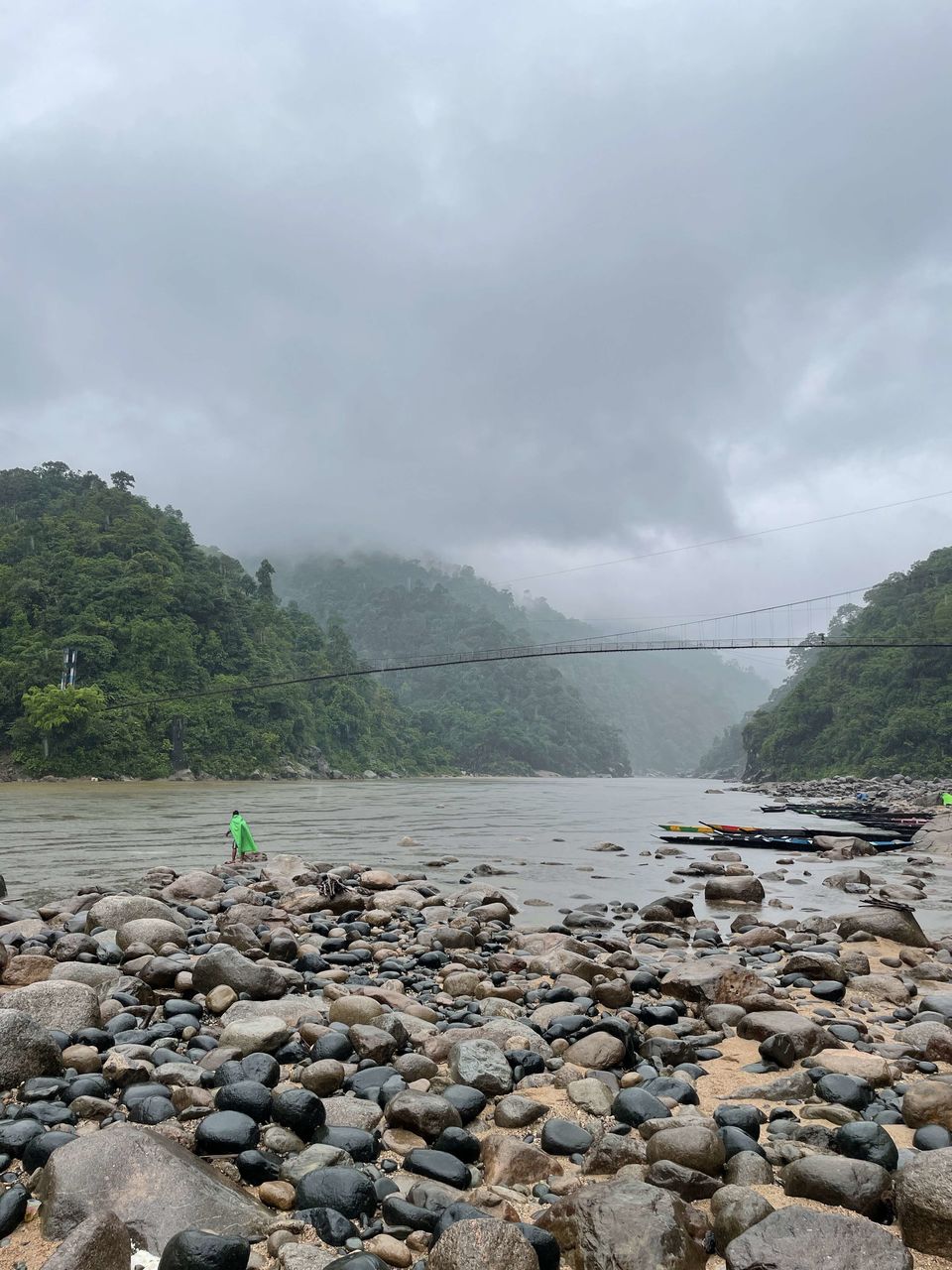 A fisherman trying out his luck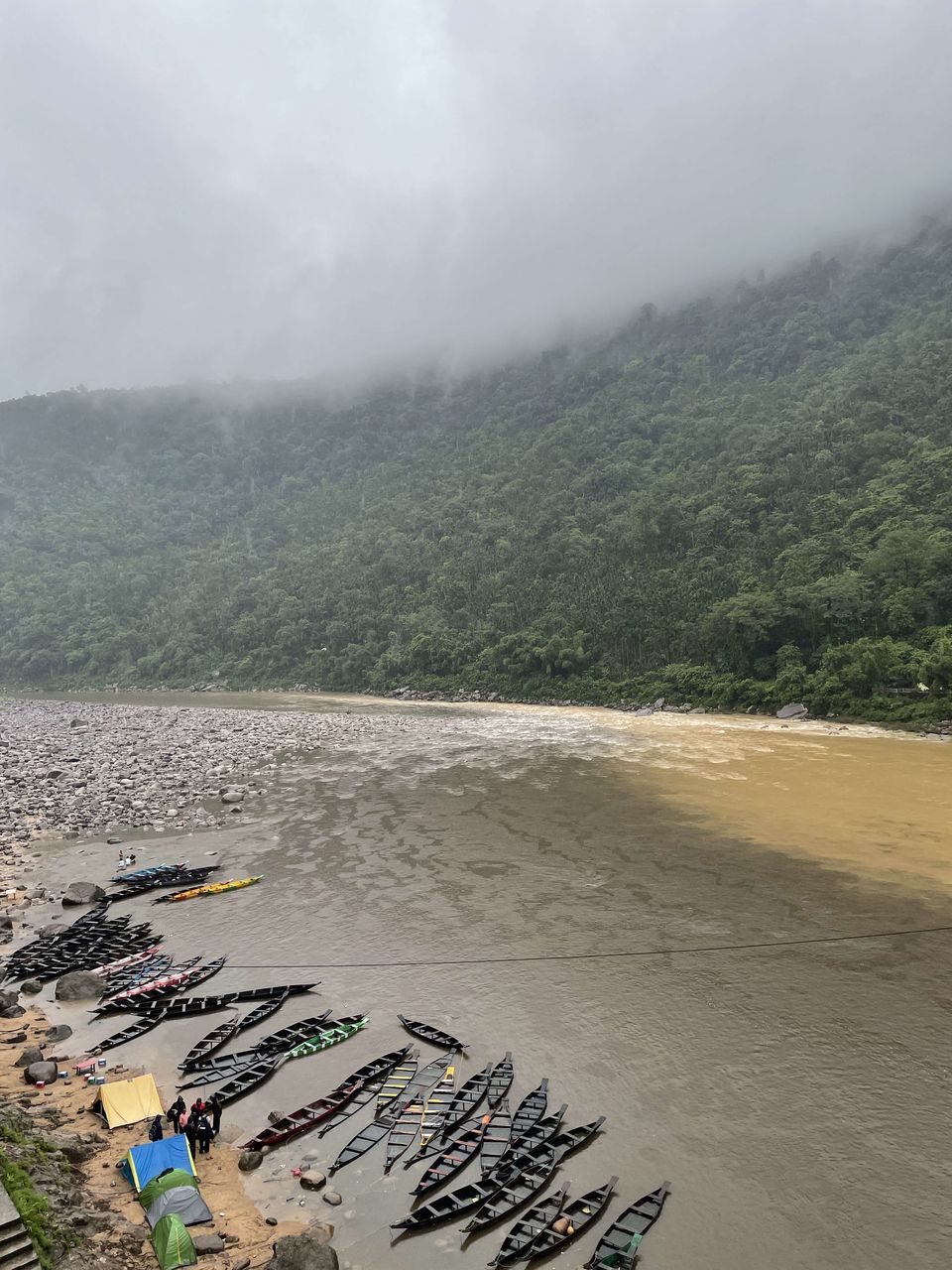 Post a dull breakfast we are set to take a boat ride on the Umngot river. I was looking forward to this for sometime now, and without any delays quickly changed to dry-fit wear. Decided to leave my camera gear back not knowing if it starts raining. Quickly on with the life jackets our 2 boats were ready to ferry us around. Abhijit & Manash decided to stay put, rest 7 of us were really pumped up. The boat goes upstream, towards the source. Gently rowing up on this reticent river the tranquility all around was deafening. As you move up one can see the striking beauty of this region, the joy that was emanating was overpowering. We quietly sat there letting nature unravel this side of its kingdom. The point where the boat turns around is unexplainably stunning, and no amount of pics can do justice to it. Our boatman was saying that on a clear sunny day one can easily see the bottom of the river. During monsoons the water gets murkier due to soil and other debris flowing into it.
Our boat ride came to an end after about 30-45 mins, needless to say we were content. I also took a quick bath in the flowing water, the feeling of a bath in cool waters after so much of sweating and running around is altogether a different kind of a feeling. We had a lot of time to ourselves today. Other activities that can be done are cliff-jumping, snorkeling (recommended only during sunny days), or zip lining. Sanjib, Abhijeet, and Abhilash tried their hands on zip-lining which gets you from one side to the other side of the river.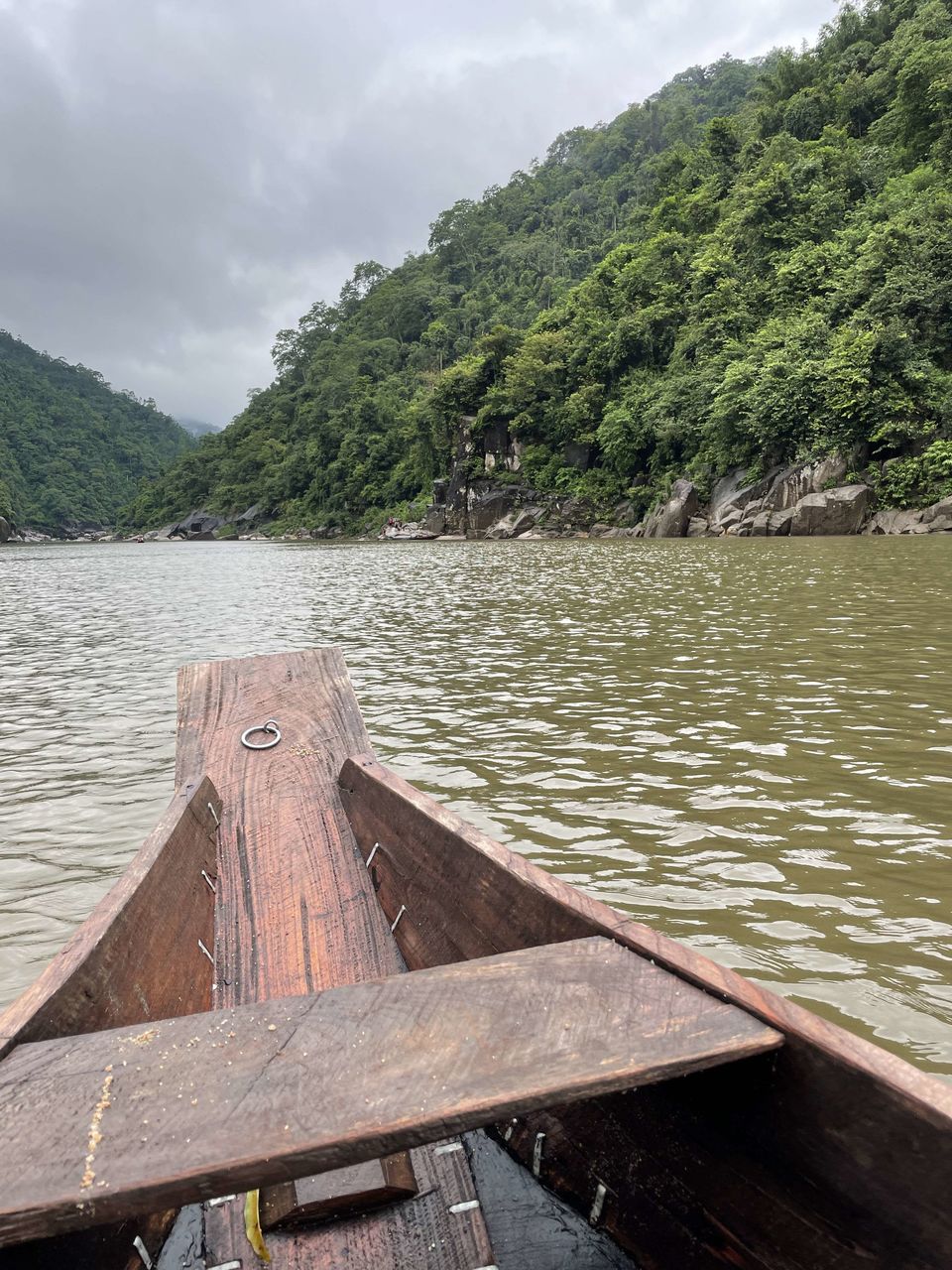 Our boat ride.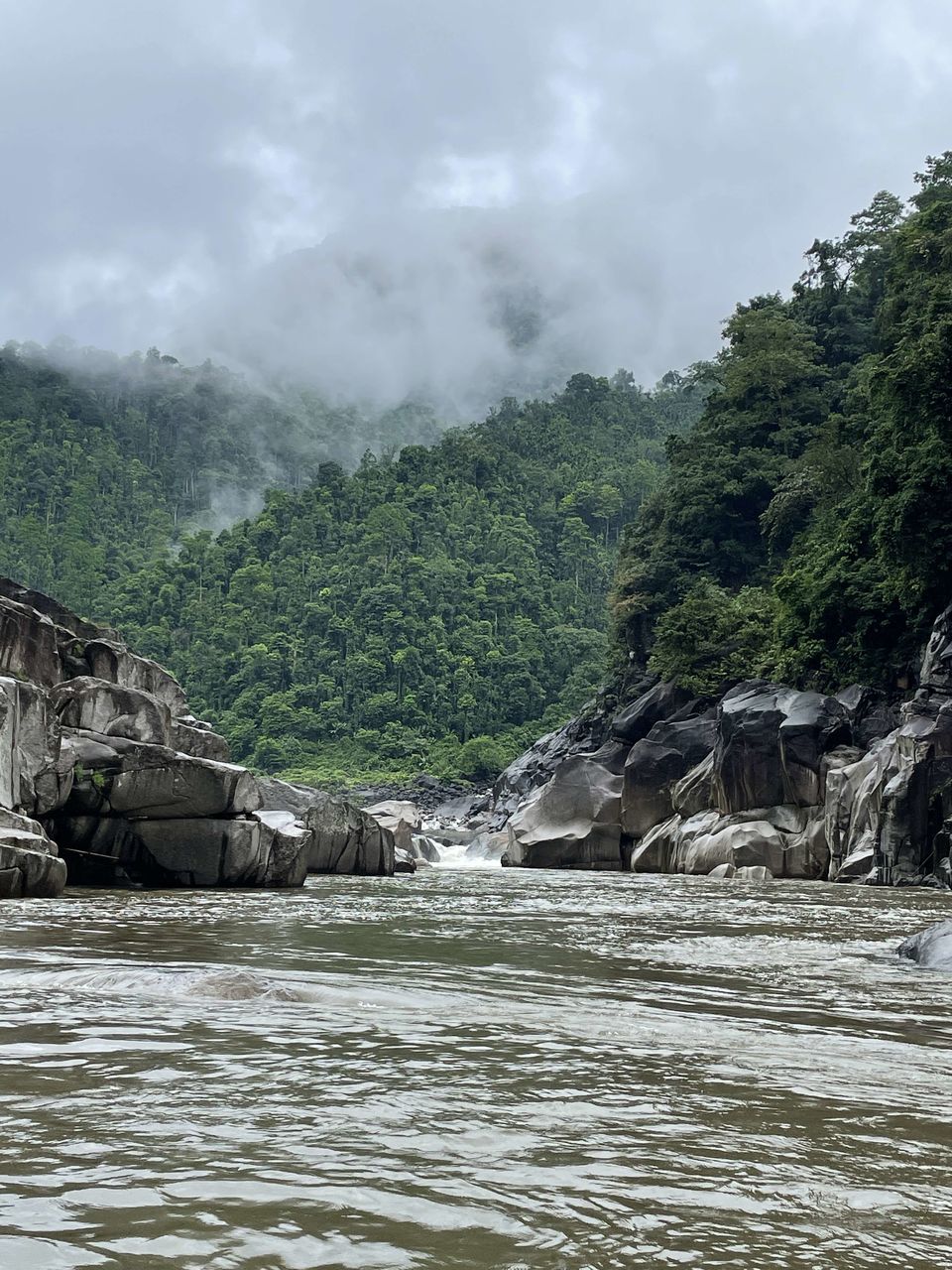 As far as could come.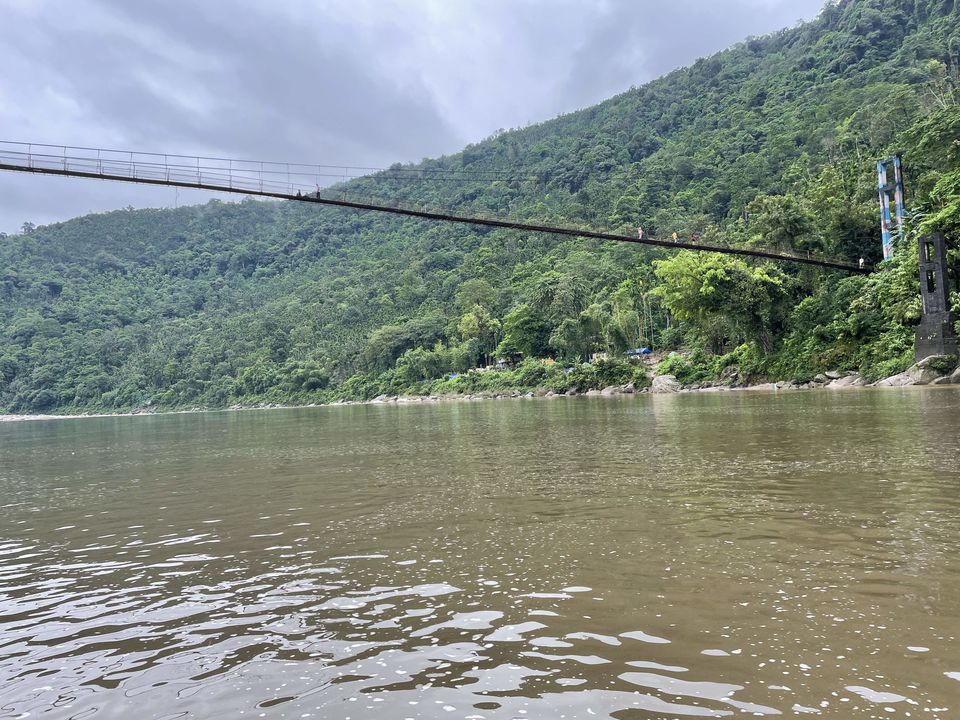 By 12:30 it was time to head back. Mind & heart were both in agreement that it didn't want to leave this dreamy place. We thanked our host Mickey for his hospitality before starting off. There's one more spot that we need to check out before heading back home. The Bangladesh border is at a stone's throw away and we decide to visit the border outpost. While enroute Bangladesh can also be clearly seen as well. We reached the border outpost at Tamabil, where border forces from both sides were keeping a vigil. This is more of a trade post and tourists can just step on the other side of the border and hand themselves a quick foreign trip! Nothing much else to do here, perhaps wave & say Hi to the Bangladeshis on the other side.
By the time we checked out it was 1 pm and lunch was eagerly sought after. There wasn't any restaurant that we could locate for sometime on this desolated road. After around 1.5 hours of jostling we found Pari's Food Centre at Wahkdait that was located with a gorgeous forest and hills in the backdrop. Although I was looking for Jadoh we had to make peace with daal, rice, sabji and chicken fry. The food was simple yet sumptuous, and we had aplenty. This place is like the oasis in the middle of a desert, as there are no eateries otherwise nearby, and is named so after this cute lil girl of the owner who's a phenomenal dancer (yeah, she was dancing her heart out on the corridor while we were enjoying our meal).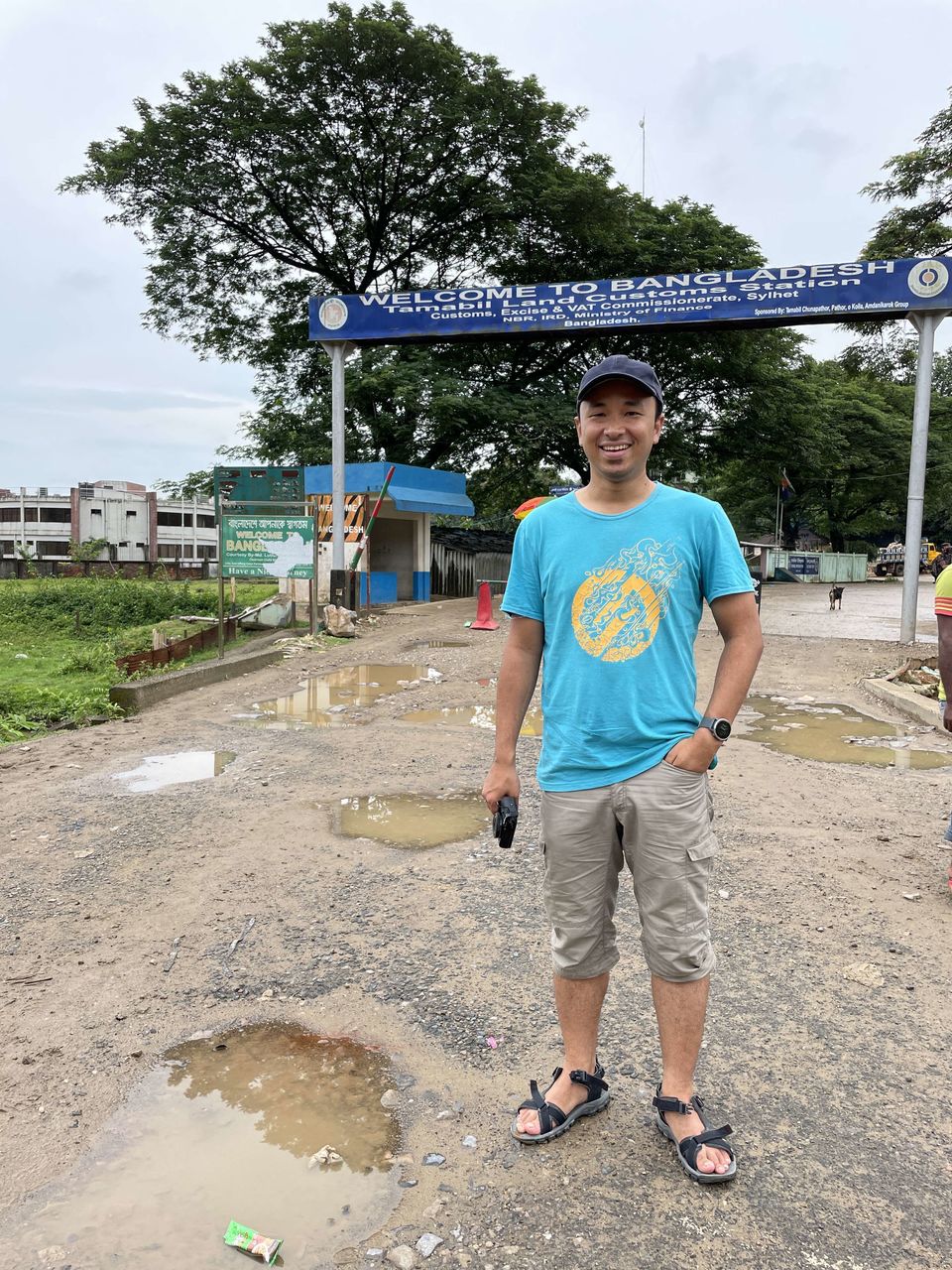 Back on the road with a bellyful of gratification. The weather was impeccably on our side today; no rains or sun, the hills till our eyes can see looked sensational. We opened up our windows to a scintillating play of clouds and undulating highlands of Jaintia Hills. At around 4 pm we reached Pynursla and the evening hues on the green valleys were astounding. We just had to stop here and glare at this priceless moment.
With much reluctance we got back in the Traveller as it was getting late and we have a long way to cover to Guwahati. Rest of the journey was spent negotiating through some pretty dangerous turns and a line of traffic. As daylight started to reduce the number of vehicles on the road increased dramatically, all vying to reach back home. It had become dark as we entered Shillong. We bade adieu to Abhijit here as he was staying back to explore further. Our driver on the hand I guess had some unsorted business back at home, that could be the only reasonable explanation for the way he was zipping past all vehicles on the Shillong-Guwahati highway. By around 9 pm we had reached Guwahati. Me & Sanjib got down here as Sanjib would be a taking a night bus back to Golaghat. Surjit sir would take an early morn train tomorrow to NJP, Abhilash a train to Namrup as well.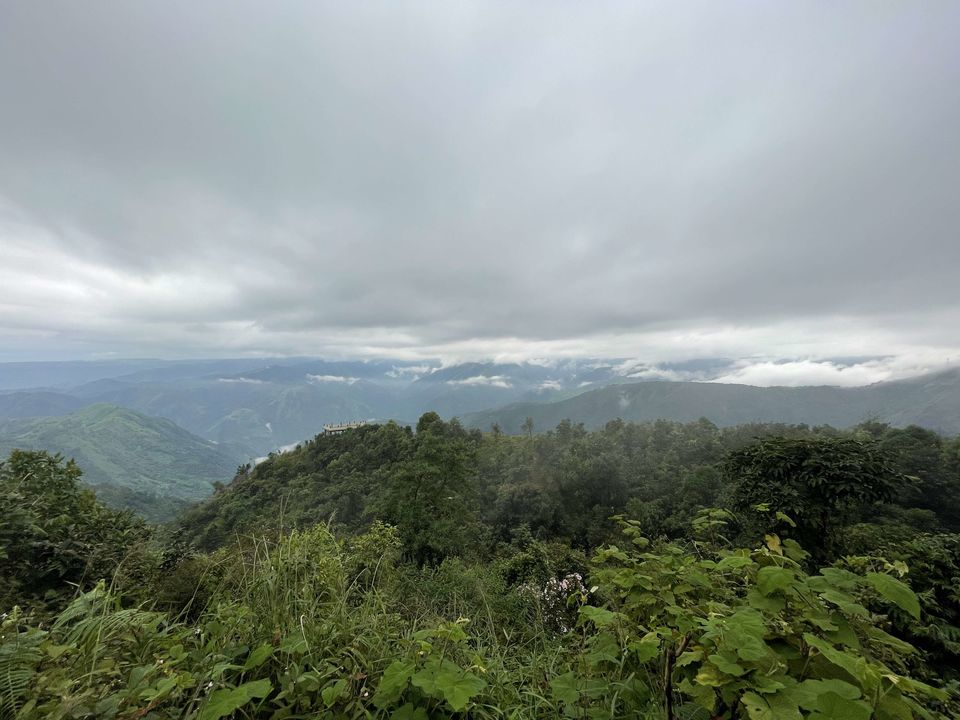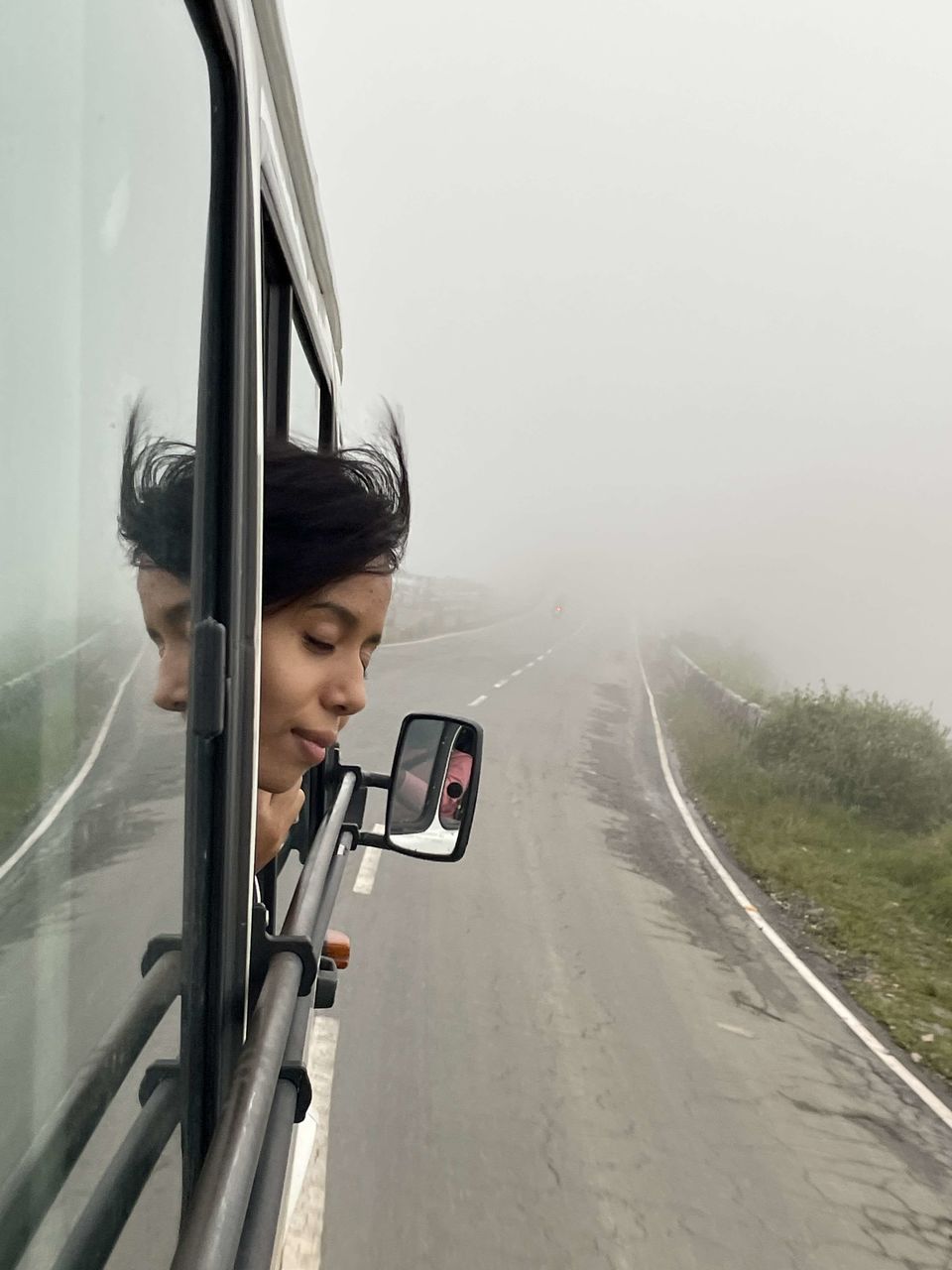 The North-East and Meghalaya in particular has so much to offer, yet it is still relatively unknown. Thanks to social media though visibility of these places are increasing. Again, I would NEVER want it to see the fate of places like Manali, Shimla where unruly tourists wreak havoc on the biodiversity. I saw a side that no words or pictures can truly do justice to. These 2 days were not only rejuvenating but kind of opened up my horizon as well to places which are lesser known. Ditch the regular spots and be on the lookout for the trail less traipsed. Special accolades to Manash from the Backpackwire for a kick-ass arrangement, this trip was total paisa vasool. Next up it's Dzukou...
FAQ
1. Please DO NOT litter. It's sad to see disregarding the fact that Meghalaya people are quite sensitive to littering.
2. The best time to visit depends on what your expectations are. If you want to see Meghalaya come to its life then monsoons, or preferably pre or post monsoons are advisable. You won't see the bottom of the river but the stunning landscape will sweep you off your feet. If idea is to see a crystal clear Umngot river then Nov-March is the ideal time.
3. Carry your own water bottles. Please avoid buying packaged bottle water. Water streams in Meghalaya are clean enough to drink from directly.
4. It is advisable to book your stay before showing up here, especially during weekends or any event.
5. Things are bare basic here, be it tents, toilets, or food. Consider yourself lucky if you even get all of these.
6. Zip-lining charges are 500 per person. Boating is I think around 700/800.
7. In case if you're camping here try to get your tents on the other side of the river.
8. Taking a dip in the cold waters of Umngot is heavenly. But beware not to venture further, stay at the shore at all times.
9. While returning you can have your food at Pari's Food Centre. The quality of food and hygiene is good.
10. If you're in for some gastronomical adventures then try Jadoh and local pork items.
11. Contact Backpackwire in case if you'd like some assistance in arranging this trip.