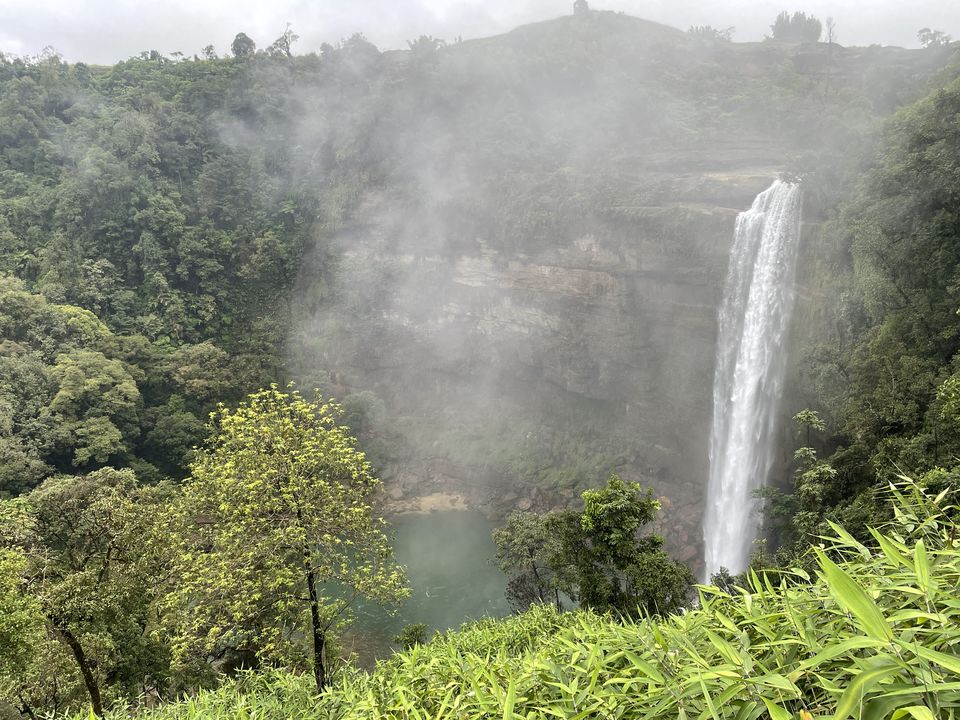 This is part 1 of my weekend trip to Meghalaya. To read my adventures in Shnongpdeng pls click here.
Guwahati's humidity & soaring temperature was absolutely sapping away the energy of each, with temperatures determined not to come down & tormenting heat lashing all around. With no sight of rain and relief anytime soon the yearning for an escapade in this rat-race of life was knocking ever since. A breakaway was an absolute need of the hour, but where to go?
Ever since I saw the break-away hit song Jipaal and its enthralling shoot location I was fascinated to know the whereabouts of this secluded waterfall. Phe Phe waterfall is tucked away in the dense forests of Jaintia Hills, Jowai district. Very less has been talked about this prized possession of nature & only a few have been fortunate to witness its pompous beauty. This is where I came across the good folks at Backpackwire who had just opened up registration for their weekend trip to Phe Phe & Shnongpdeng. I decided to take a step back from the errands of life and sign up with them, not knowing much what all are in store. The countdown had started and with that levels to my excitement.
Go Easy On My Curves!
With butterflies all around in my tummy I couldn't sleep much through the night! Woke up by 4:30 am and trip-ready by 5:30 am I started marching towards the Veterinary college gate, a walk of almost 2 kms. Early morning chores on the streets; joggers, cyclists, GMC clearing the dustbins… and then there's me who's on foot with an early morn start, & already starting to sweat profusely. I finally rendezvoused with Manash who's the founder of Backpackwire as well as this trip's lead. The Tempo Traveller was already on the move from Paltan Bazar and should be here any minute. And as me and Manash were exchanging pleasantries our ride was here. We're 9 adventurers in total.
It will be a little over 11 years that I'll be travelling on this road again. And there's day and night changes out here; after 9 mile, Jorabat, Byrnihat. Jorabat in-fact used to be a dusty, dirty pitstop for trucks and bus-boarders, and now its transformed to this happening area with plush restaurants and alike. The highway to Shillong has been turned to a 4-lane as well. And needless to say we were zipping past on this open road with us and our bags getting tossed around at each hairpin. And with the humid weather making way for a frosty breeze running on our faces with verdant greenness all around I was really enjoying my time in the 'fast lane' out here. We were still more or less 9 strangers though inside the TT, with minimal interactions till now. We also had to stop at a Covid checkpoint at Umling, where fully vaccinated or RT-PCR results are required to be furnished to enter Meghalaya. I'm sure with the way the crowd had gathered & was managed someone can end up getting Covid here only!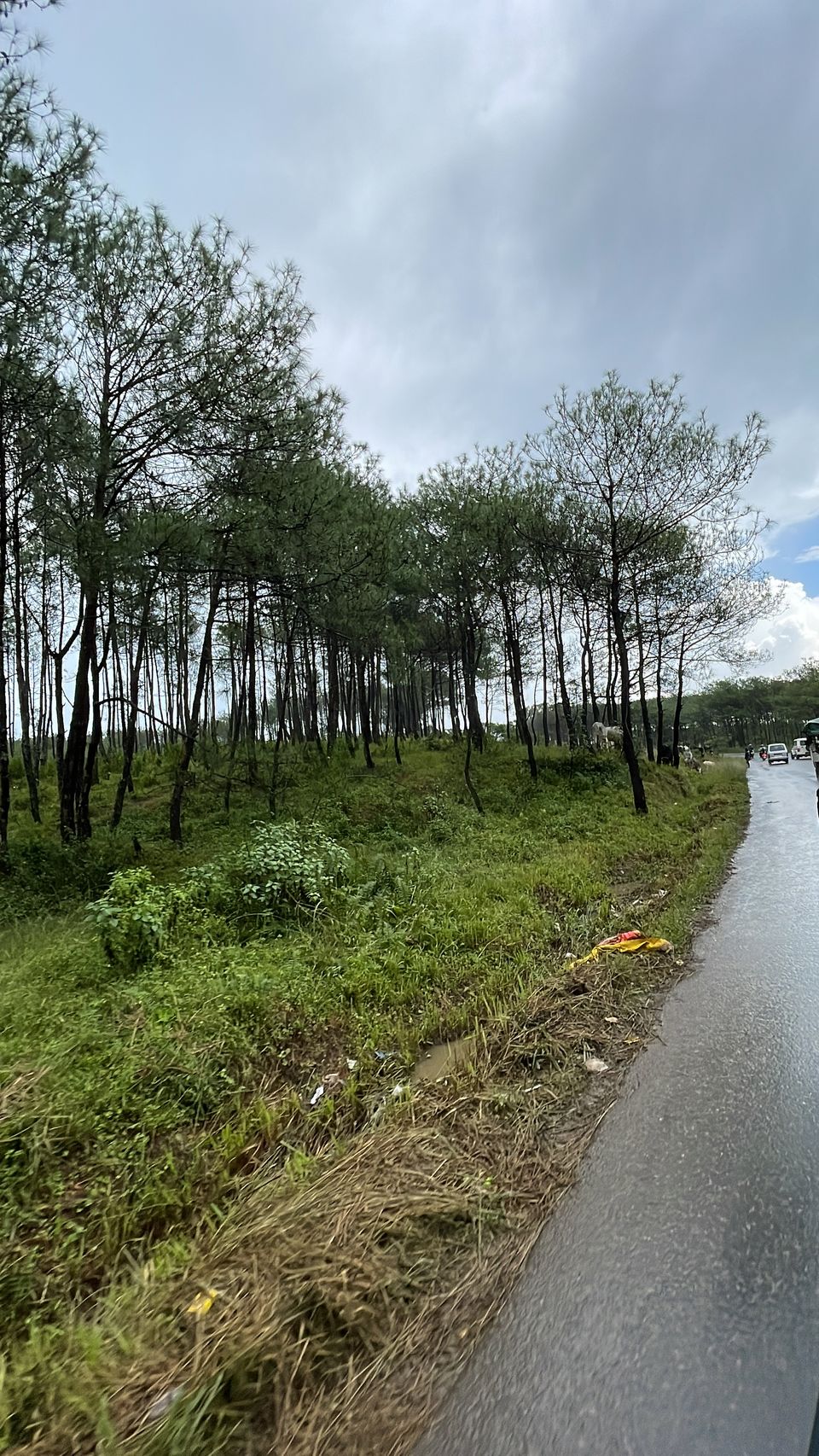 Cruising on and the hills have only got prettier and greener. We stopped at a roadside dhaba for some much needed breakfast. And plates of Chole-Bhature and Aloo parantha surely didn't disappoint. Our itinerary for today required us to reach Shkentalang in Jowai district via the Silchar highway and then trek to Phe Phe falls, followed by either camping at Shkentalang or drive onwards to Shnongpdeng. Which is why we avoid entering Shillong and instead hit the Silchar highway towards Jowai. Scenes outside have turned even more dramatic with rolling hills and a loveable climate our companion for today. However, near to Mawryngkneng there was this huge traffic jam. Turned out a truck had drifted and fell over the cliff. Around 4 recovery vans were desperately trying to pull the truck out under a drizzling weather, while we all wait it out patiently. Roads here can really get nasty during monsoon. Around 30 mins of delay and the roads were made open thanks to the efforts of few good samaritans.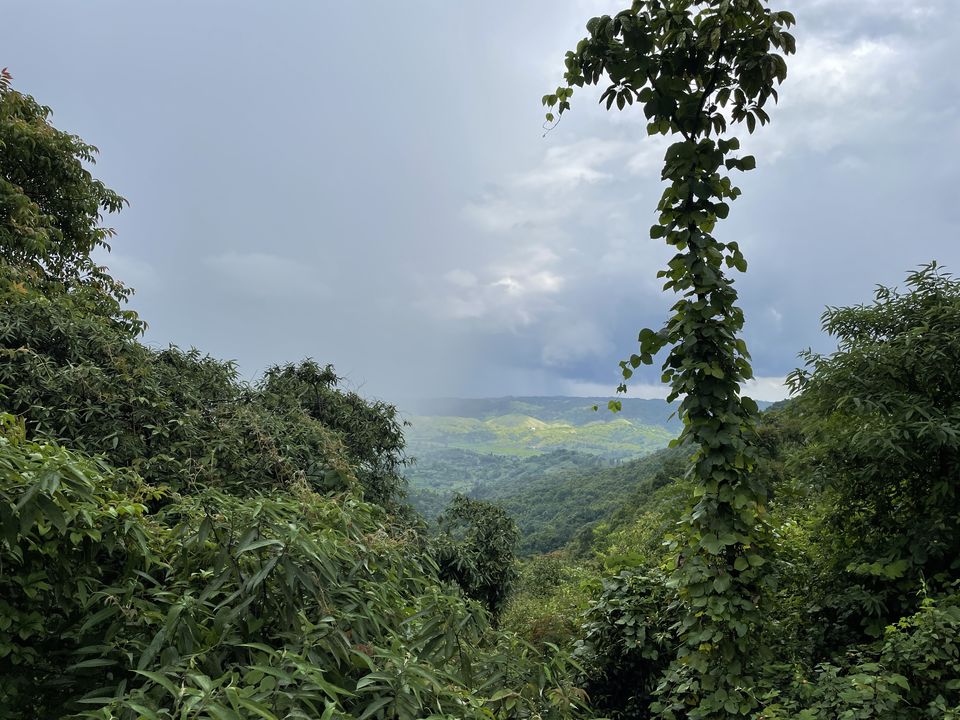 It had started to rain heavily now. Visibility was badly marred with vehicles moving at bumper-to-bumper speed. Trucks breaking down in the middle of nowhere is a common sight in this part of the world. But the forests and the hills bore an absolutely worldly appearance with each leaf emanating freshness. A lovely sight all around! What really kept me hooked (apart from the unending natural beauty) is of course the dedication of locals towards cleanliness. Meghalaya is particularly famous for ensuring tidiness, and that's evident with very less plastics strewn around, dustbins made out of bamboo, and a general civic sense to not litter. Anyways, we take a deviation on left via a busy town and it felt like we've entered altogether a different dimension. Seeing hills similar to those in Western Ghats with rolling carpet like appearance really filled me with euphoria.
And just when the joyride was getting started the actual 'ride' kicked in. There was digging all around. I mean Meghalaya is famous for its rich sources of mine as well as boulder supply. Here the mud due to ever pouring sky couple with bad roads really meant we drive with all hands on deck. While the view outside the window was pretty it was equally eerie with lose rocks hanging from hills couple with drop of thousands of feet on the other side. We just need to hang in there for the next 5 kms, or so!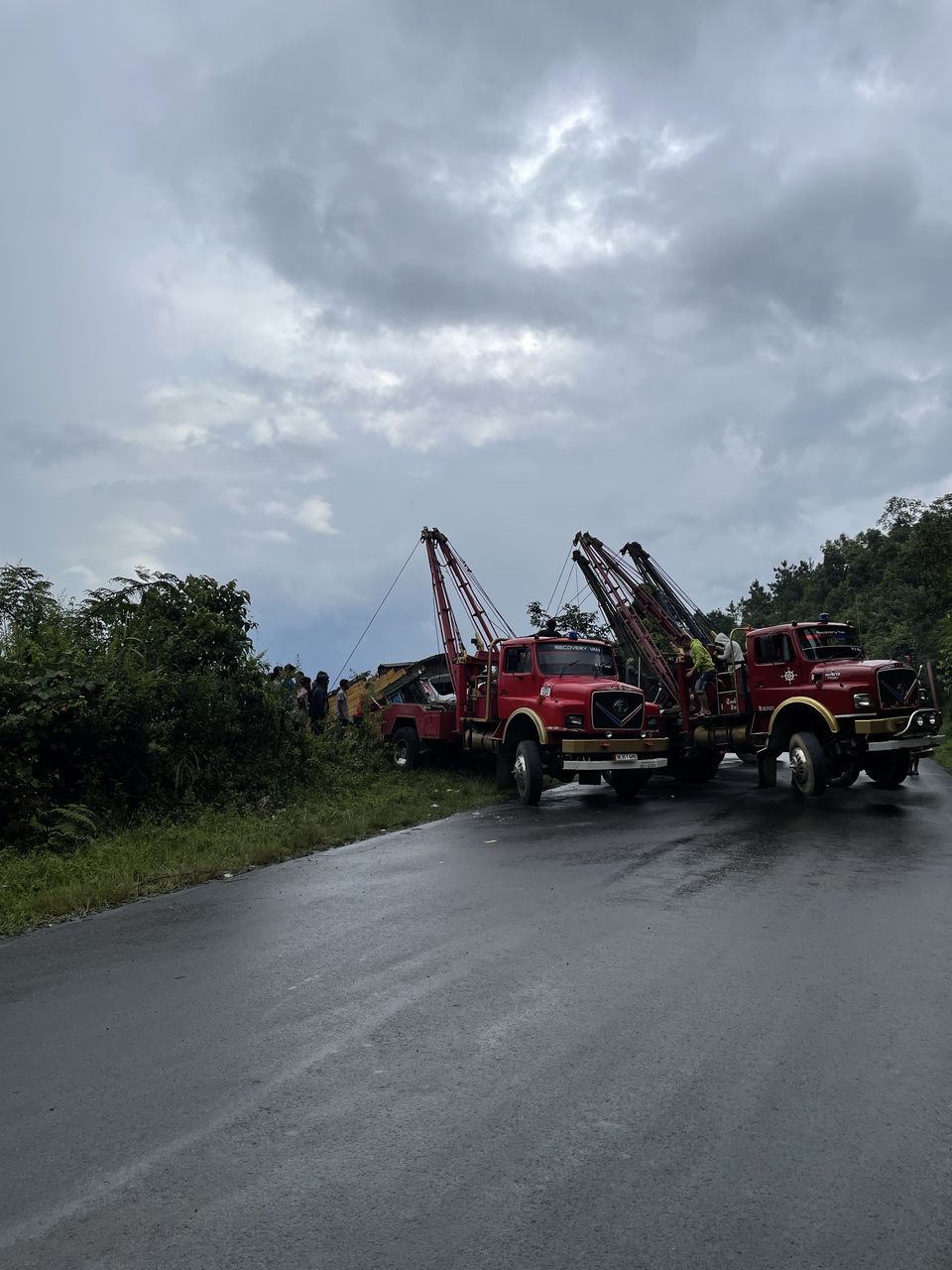 Once the dilapidated section was behind us the roads and the valleys opened up, allowing us to daze far into the this uninterrupted green madness. Exactly the kind of road where you play soothing country songs, down your windows, and let the charm and beauty of the cool breeze caress your face. Every turn on this twisty road has to offer something enticing to your eager eyes. At this point the Jaintia Hills were just flexing their treasure trove of beauties on us.
What You Seek is Seeking You – Rumi
All of a sudden our TT comes to a screeching halt at a campsite right next to the highway. We've arrived at our first pitstop, Paradise Adventure Camp Shkentalang. The rains have subsided and the river right next to the campsite coupled with some limitless paddy fields made for a divine mural of a spot. Neither my words nor the pics would justify the ethereal allure of this place it holds. Sunsets are early in the north-eastern part of country, and keeping that in mind we quickly get ready along with couple of bananas for that extra dollop of energy. I was excited to my nail now to see the Phe Phe falls in all its raw grandeur.
Now the trick is to cross the river. For that there's a 2 seater kayak that ferries folks across, one trekker at a time. I was personally not very keen knowing the depth and no life jackets. Fortunately Manash pointed towards a much easier crossing via the paddy fields a little ahead, much to my reprieve. With much fanfare we started for our small trek, and with the very first steps we were floored by the panoramic beauty of the landscape that was thrown at us. With paddy fields basking under a cool, dark cloud-filled day and a riveting river on the right, flanked by hills far in the backdrop… we were just left speechless with thousands of emotions running within. Gently snaking our path through the manicured crops the river also loses its volume swiftly and is now not more than ankle deep at most corners. Surjit sir was in fool vocal mood, churning out one hit after another of Kishore Kumar, such was the revel all around here.
No sooner did we realise that we weren't alone on this exploit. There were leeches all sticking around on our legs and shoes, desperate for a bite. This did raise a bit of panic call amongst us, scampering to get rid of them. Special mentions to Barnali & Roma for turning into frogs the moment they realised they had leeches on their shoes! The rocks here are moss-laden, so every step had to be doubly sured & firm. The spot did arrive wherein we'll have to finally cross the river. And all the fatigue, worries were washed away the moment we dipped our foot in that crystal clear flowing waters. Wouldn't have mind spending some time with our feet dipped. But we're here on a bigger mission, and continued on our onward journey to the other side of the grassland.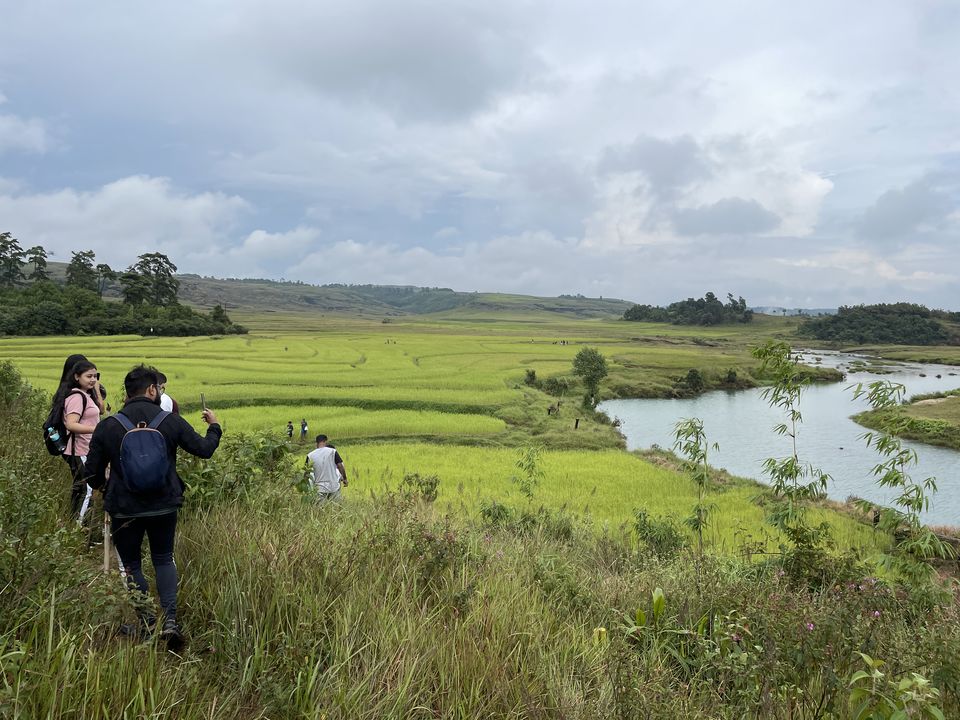 The other side of the river bed had more expansive meadows. Walking through this maze of tall grasses we hopped through paddy fields again before reconvening at the river bed, more mellowed out than we had seen at the start. Some of this water was flowing to this 'devil's hole' ( a big, gaping hole on the river bed) while the rest becomes the source of Phe Phe falls. We are not very far from our destination now. Meandering again through open fields we arrived at a point where the trail passes down now through dense bamboo and trees. Before entering into the unknown there's this gasping wide valley that provides for a spectacular backdrop to a V-shaped valley, the river stream forming out of the Phe Phe falls. Me, Ashim, Barnali, & Abhijit took in lot of pics before buckling up for the hike down. The walk till here was nothing compared to what was in store for us ahead…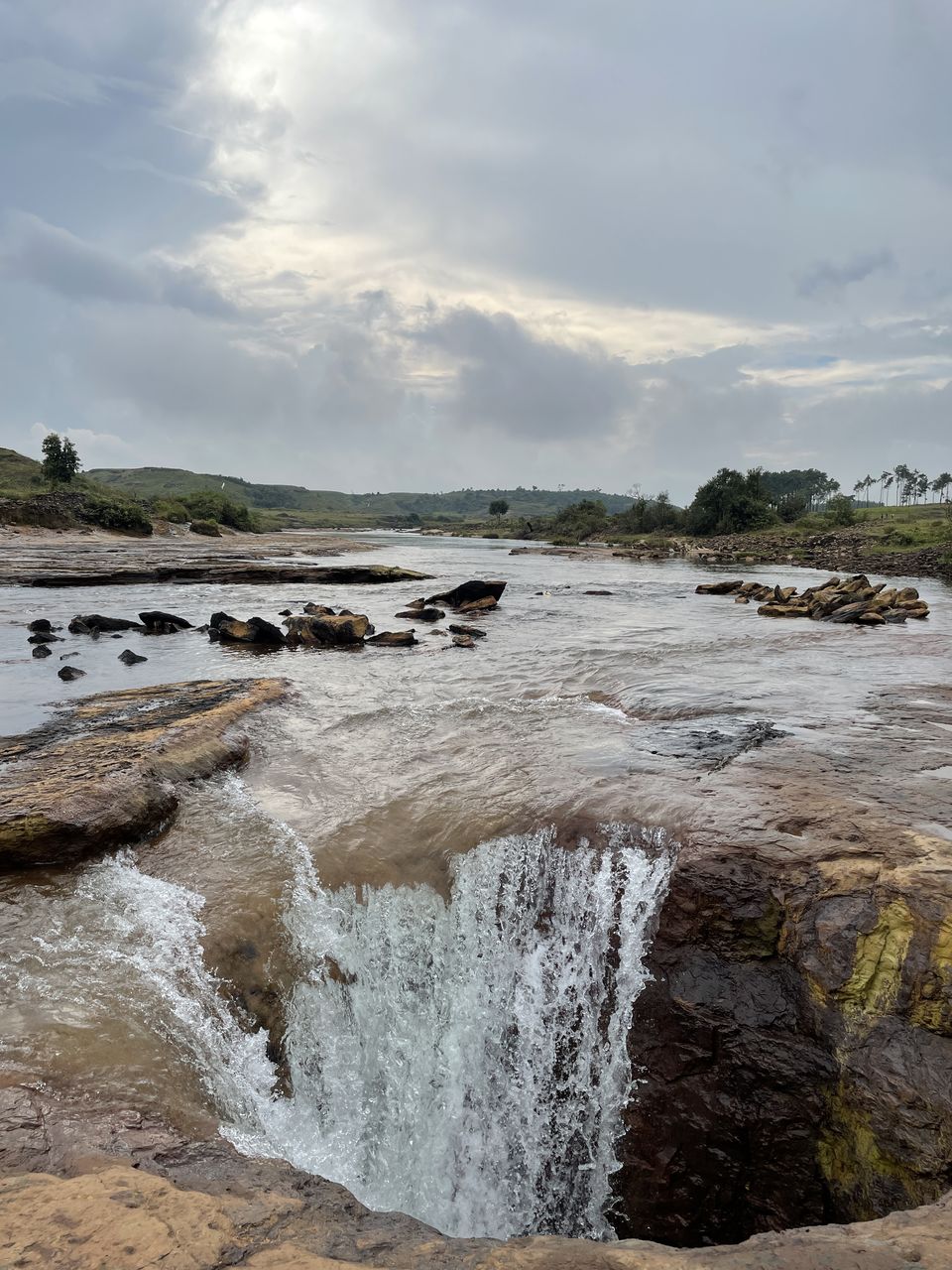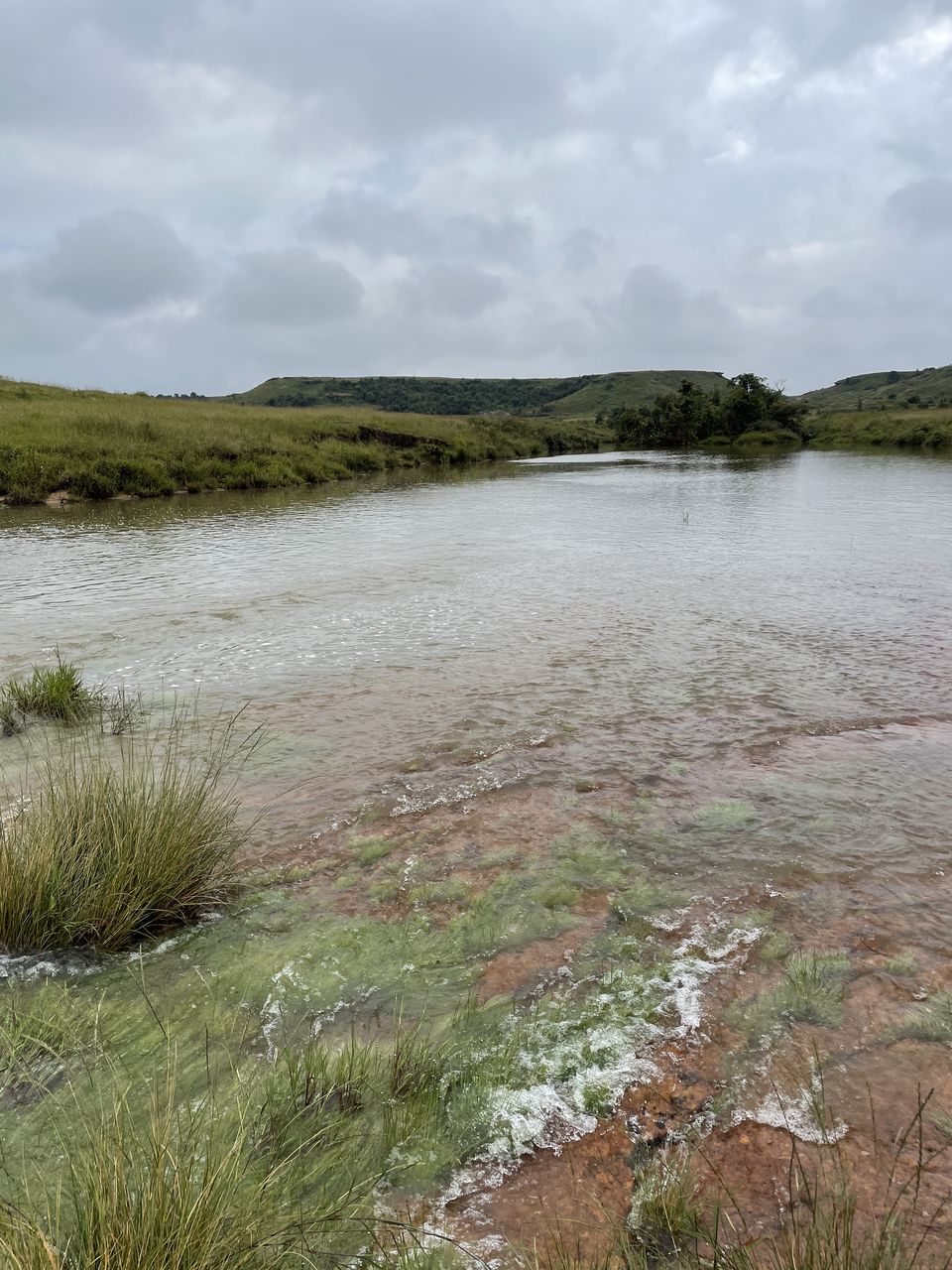 Right in front of us is a trail that on one hand is our passage to the foot of the Phe Phe falls, but is also made slippery thanks to the incessant rains earlier and folks who've walked on it before making the natural grip go away. No amount of trekking pole or shoe was working out while descending. And then there are those who were making their way down on slippers, my salute to these lot! While we were innocuously curious to know from where the sound of falling waters was coming from all this time we finally realised and had our first glimpse of the Phe Phe falls on our right. Spellbound may not even suffice as a word to reflect my jubilation upon witnessing it. And we've just got a wee-bit of this nature's wonder within these starting few steps. Naturally, me and Abhijit couldn't contain our excitement and started clicking in-numerous pics.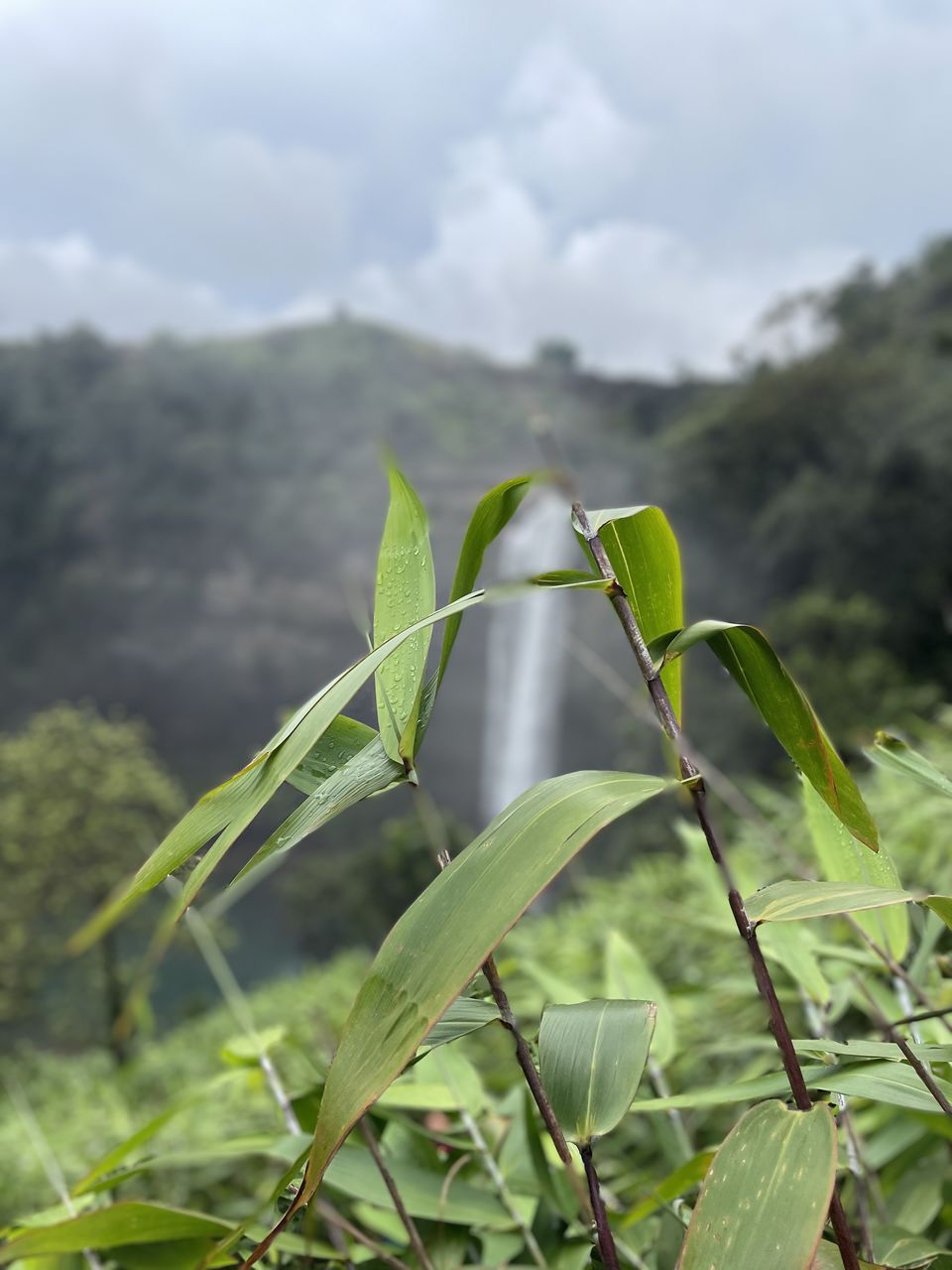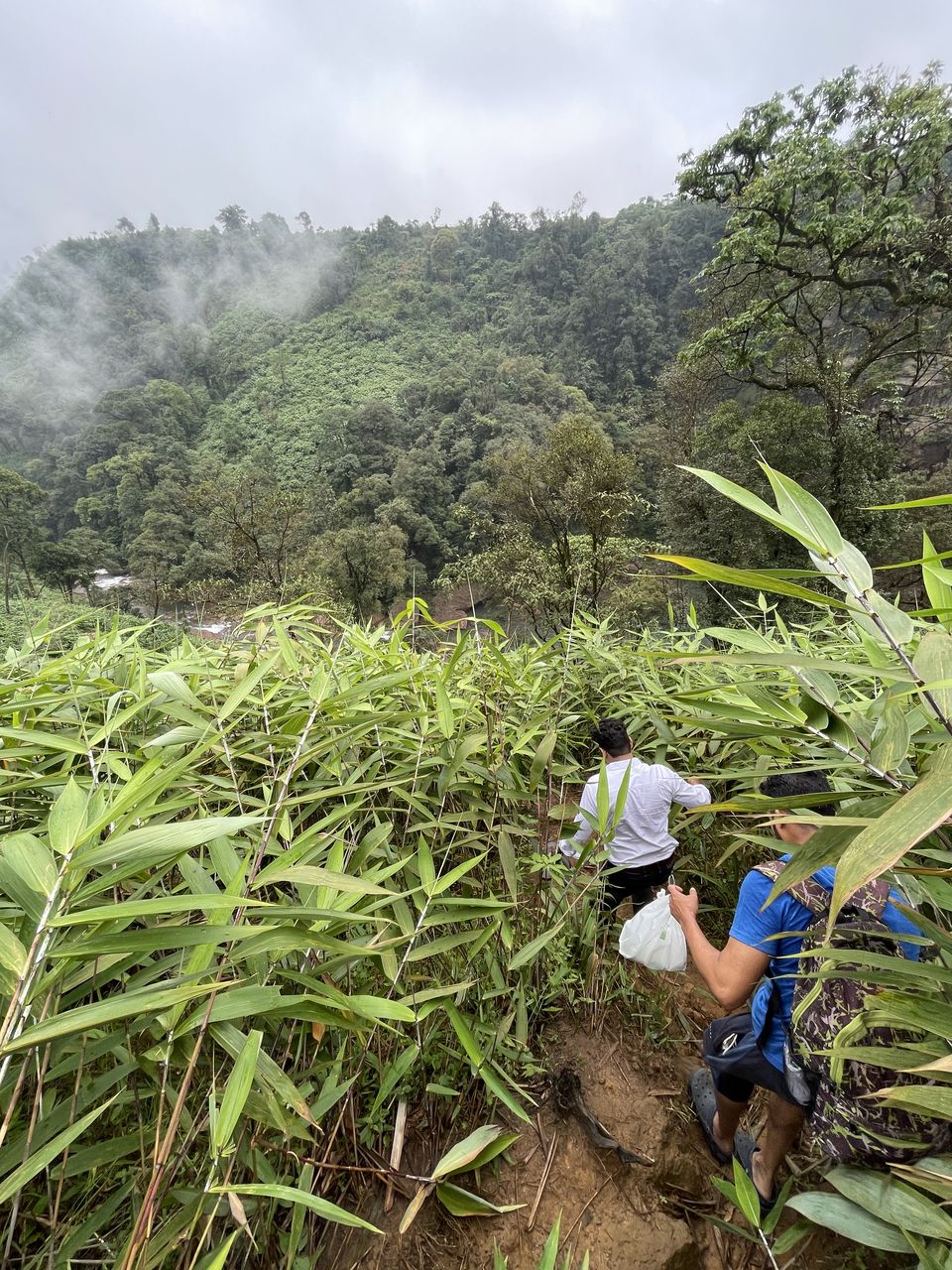 Coming back to our descend and the struggle here was real. The grip wasn't there at all and the only way to get down without a slip or getting your bums muddy was to get a firm grip on the adjacent tender bamboo stems while you place your foot forward. The distance from the top till the base wasn't much, but given the greasy nature of the trail we had to take every step with plenty of caution. Last thing I'd want is to tumble down to the base! But the views of the waterfall just gets better and with every step you get to see more of it unveiling itself. The last few steps were the most notorious; there was no way you wouldn't slip here no matter how much of skills you show. But hey, how would you savour the real beauty of such an alluring place if it's easily known and accessible.
Few more rocky hurdles and here I am standing right in the middle of this nature's amphitheatre, gawking at this surreal prized work of nature. I allowed myself to soak in the initial spell this waterfall had casted on me, such exquisite it was. Standing right there in the middle, staring into each other that feeling and moment was celestial. There weren't many folks there luckily however, I saw few drinking alcohol and few cans and bottles here & there which is unfortunate and a shame to an otherwise dreamy spot. The drizzle from the fall was getting into our cameras, even though we were standing at a considerable distance. Cameras were snugged back inside bags and phones would be the only source of capture now. Wouldn't be wrong to say the shape of the waterfall resembled to that of Rupin waterfall in Uttarakhand, although Phe Phe was considerably smaller in height.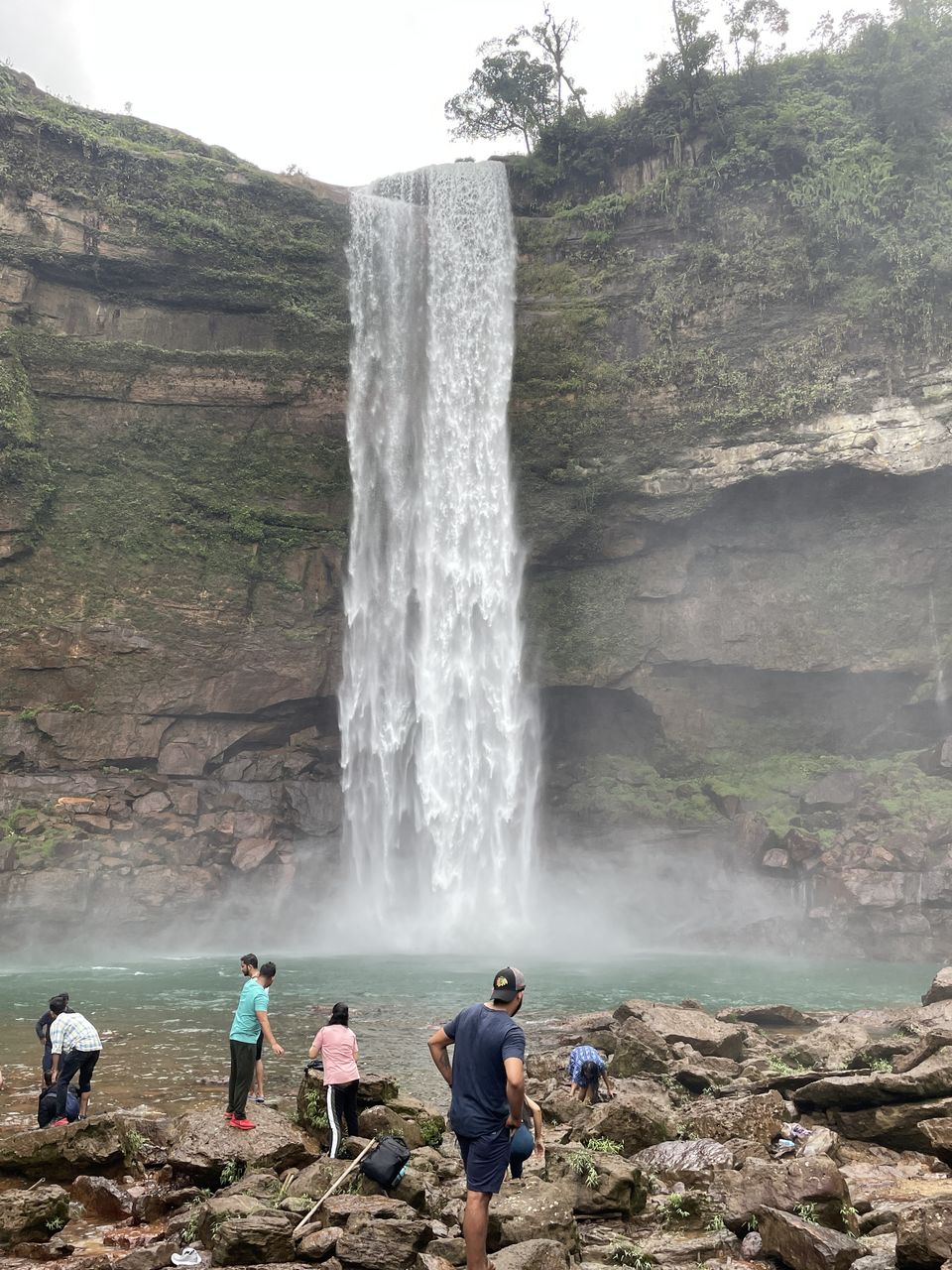 Few of ours decided to let go of any inhibition and jumped right into the water. Of course, we didn't draw the courage to venture further as we didn't have any life jackets, plus the depth could have been anything for all we know. The water plummeting from the above made for a deafening sound, especially if you go in and around monsoons then the volume of water leaping down is huge. We spent anywhere around 1-1.5 hours just being mesmerised with this flawless work of wonder. Behind the falls there were numerous cave like structures along with numerous smaller falls gently flowing down from the sides. Imagine setting up a camp here.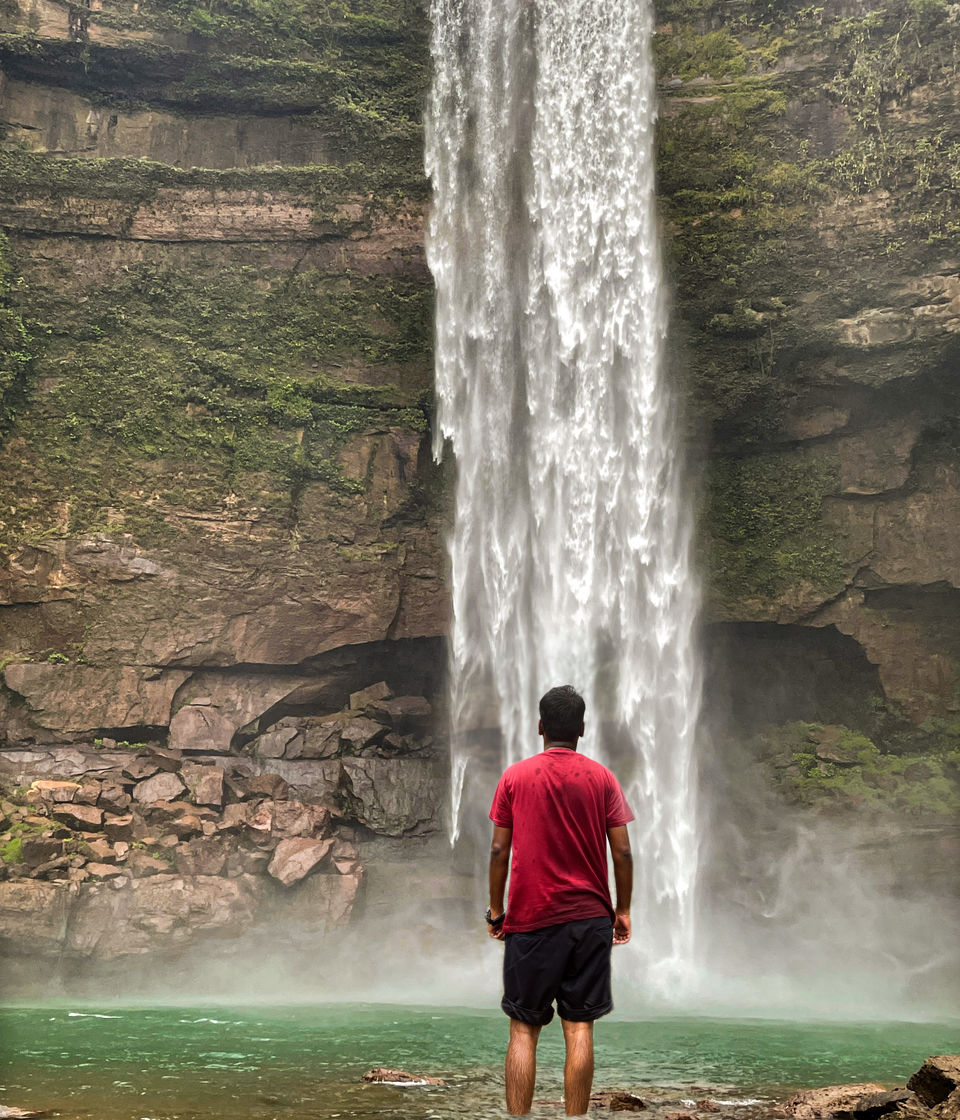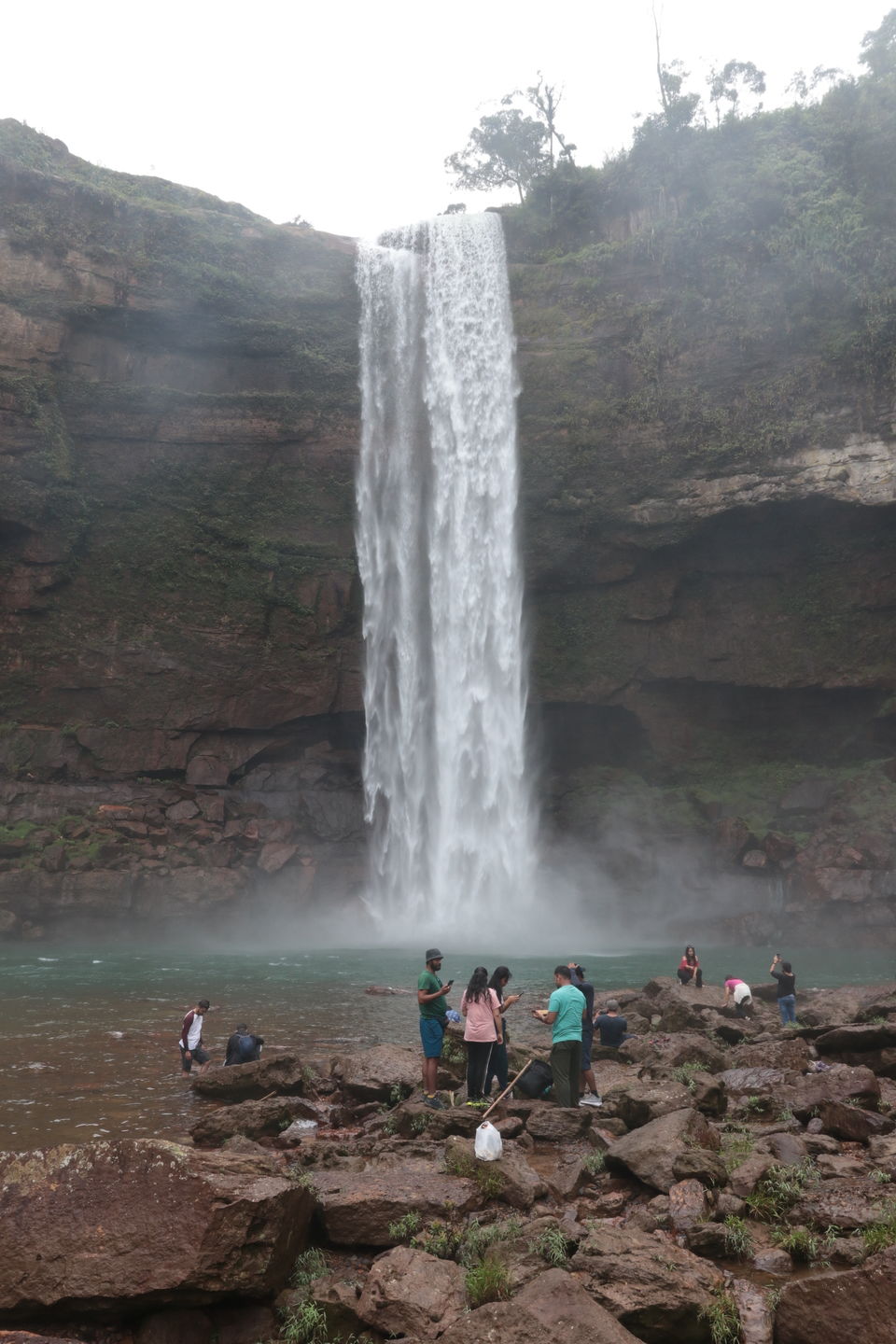 Time was finally to return. But the heart was longing to stay back just a bit more. I mean who'd want to leave such an invigorating spot. But then reality dawned in and post a few clicks by me and Abhilash we started tracing our way back. My initial apprehension was that the hike up would be even more daunting given the slippery nature. But we were able to climb up quite quickly and with not much of difficulties. We met few folks who were heading down, I was just hoping they'd make it back to the campsite on time as sunsets are early here. And every time we glance back the waterfall just gleams back at us with an effervescent flow. I shall be back here again some day.
The rest of the part was more or less non-eventful, with me and Abhilash giving company to each other while the rest of the troupe are far ahead. It had already gotten dark by the time we reached the river crossing, and there were couple of anxious moments when we thought we had lost our way out. But as soon as we saw the lights of the campsite all fears were allayed. And by now my feet also had become a bloody mess with countless leeches preying on my open feet (I think I had at-least 15-20 leech bites). Reached the campsite and after some cleaning around of my feet I was restless to get some much needed 'lunch'. A simple meal of daal, rice, and sabji can do wonders when you're on an empty belly. Ironically though, none of us felt that hungry when we were prancing under the waterfall. Our initial plan was to set up camp here but looking at the weather situation and leeches squirming all around we decided to move to Shnongpdeng, our next destination. We'd all get back in the TT after a satisfying meal and drive onwards to Shnongpdeng , driving in absolute pitch black darkness with roads further deteriorating at many places.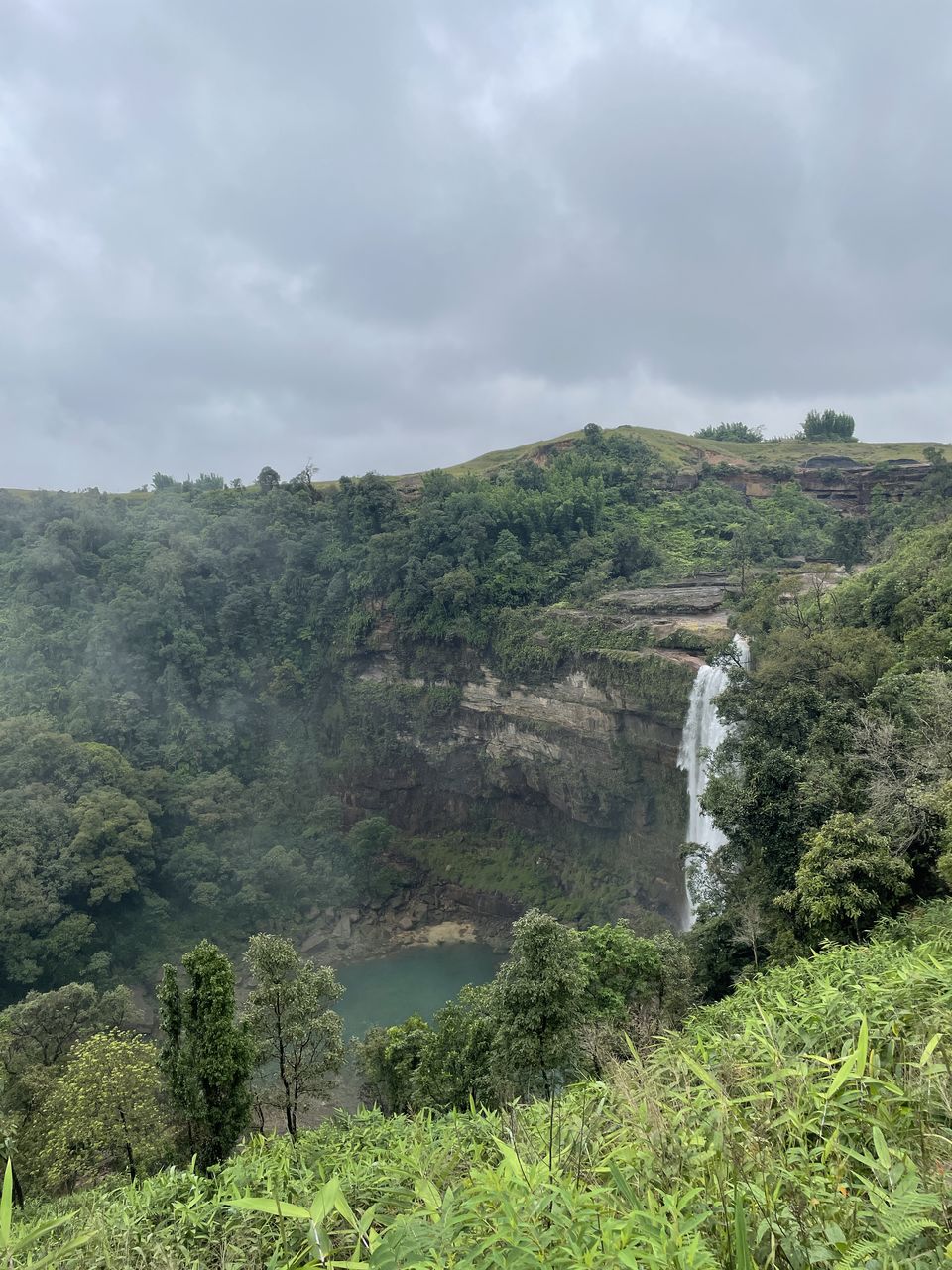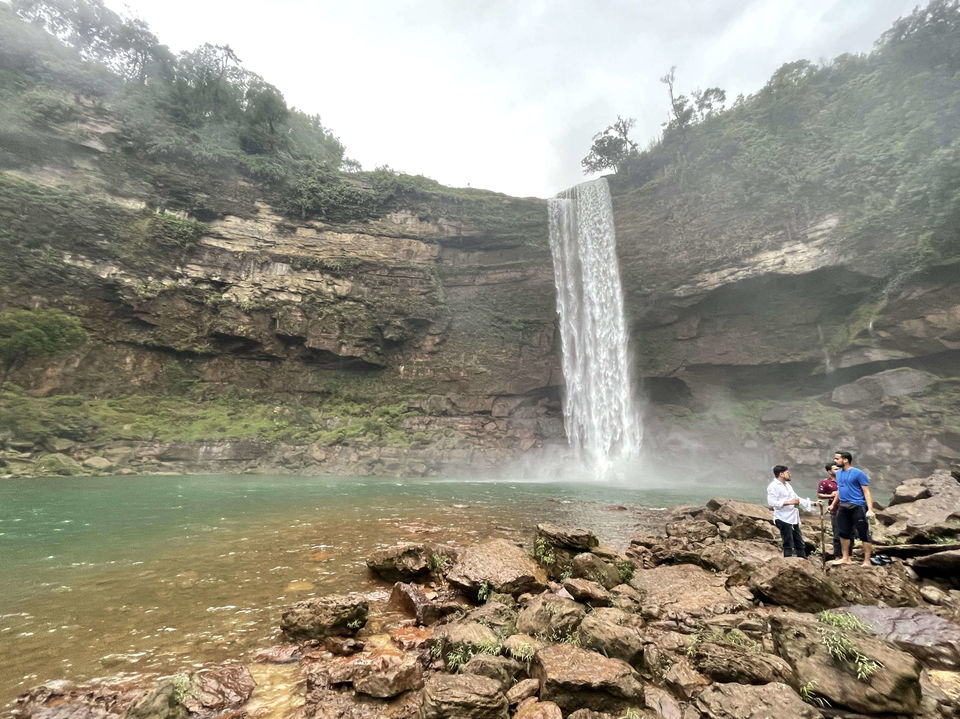 Our first day was really a kicker. I'd have never imagined a place so fascinating right in the hindsight. Sure, most folks coming to Meghalaya flock to places like Sohra, Shillong, Mawlynnong which gets inundated during peak days. I was content that I was able to experience something which most have not even heard of. Those moments that we were there at the base of the falls were livid, the reverberance of Phe Phe was ringing in deep within all of us while we take a somber nap on our way to Dawki. Guess I'm ready for Day 2 now…
FAQs
1. Please DO NOT litter. It's sad to see many people getting drunk and throwing around the bottles and cans around without a second thought.
2. Best time to visit is at the start or end of monsoons. Meghalaya afterall, is at its most pristine during monsoons
3. Leeches galore here! Carry some salt, tobacco mixed in oil, or shoes and cover your feet with socks and trousers.
4. Reaching here is not that difficult, considering the campsite is right on the roadside. You need to reach Jowai, and then Paradise Adventure Camp at Shkentalang.
5. Carry an umbrella, poncho, or a rain jacket. Weather is unpredictable here
6. You can camp here by renting one of the few huts or the campsite guy can set up tent for you. Food is very basic but exorbitantly priced. I'd recommend spending a night there, the sunrise will be absolutely out of this world experience.
7. The trek is not at all difficult, and at continuous pace you'll reach the base within 45 mins. But since we were awestruck with the landscape, took us more than 2 hours to reach.
8. You can (should) cover Krang Shuri falls, Dawki, Shnongpdeng, and visit the Bangladesh outpost border as part of other spots to cover.
9. Locals mostly are comfortable with English. Hindi is seldom spoken (most of the campsite owners however, are versed with Hindi).
10. And lastly if you need assistance with arranging this trip then contact Manash @ Backpackwire.