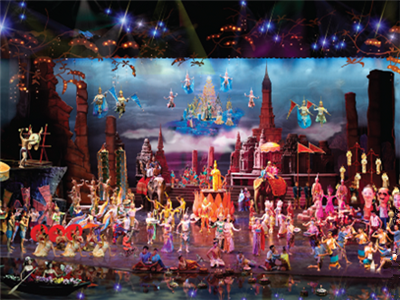 This is a good Thailand tourist routes, services provided by UME travel 
Relax in the afternoon before heading to the Siam Niramit Show in the early evening by a private car. Siam Niramit, a world-class celebration of Thailand's artistic and cultural heritage, is a must-see spectacle through which you can get a overall idea of the four dynasties of Thailand and its culture. This show is highly recommended as a start to this historical tour and a great introduction to the following visit. It is performed on a gigantic stage featuring over 150 performers with as many as 500 costumes. Spectacular introduction to Thailand's art and cultural heritage. Enhanced special effects using the latest technology add to the inspiring experience. You will feel like your are really in the rural village without stepping out of Bangkok. Meanwhile, the performance also presents a soul - stirring historical panorama of Thailand. Enjoy the three-act performance: Act I takes you back into the rich history of the Kingdom, Act II introduces you to the three realms central to traditional Thai beliefs and Act III takes you on a journey through Thailand's festivals. Return to your hotel.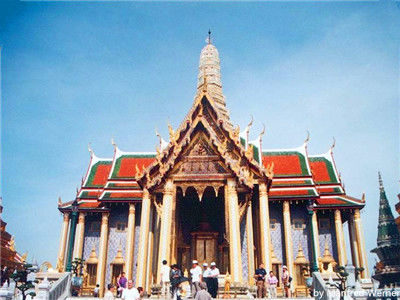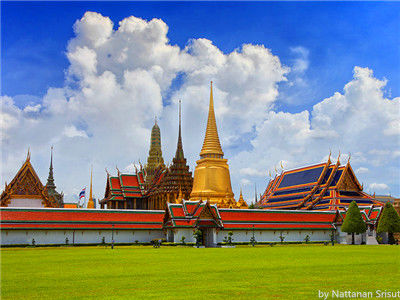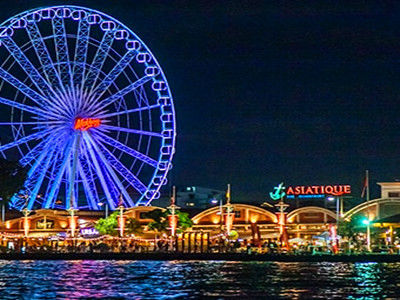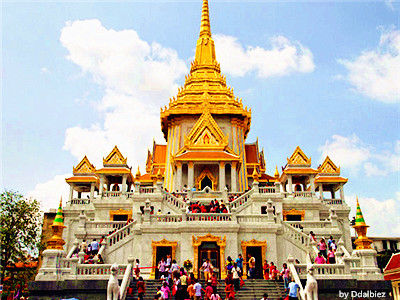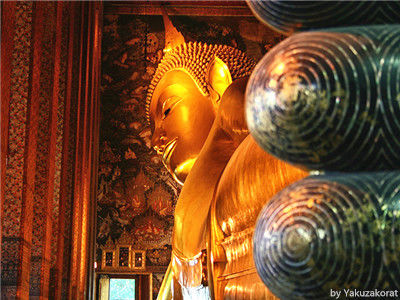 Trip will start from visiting Wat Trimit,this temple is known for its famous Golden Buddha constructing during the Sukhothai period. The image of solid gold is 3 meters high and weighs five and a half tons. Your second stop will be Wat Pho, it is one of Bangkok's oldest and largest temples. Wat Pho was built by King Rama I about 200 years ago and houses the gigantic gold plated Reclining Buddha image. This unique image is 49 meters long and 12 meters high with beautifully inlaid mother-of-pearl soles, then your last stop is The Royal Grand Palace, the nations's landmark and the most revered royal monuments. You will see the Palace that were used for different occasions as The Coronation Hall, Funeral Hall and Royal Guest House and the mysterious famous Emerald Buddha (Wat Phra Kaew), the most revered Buddha image in Thailand. Lunch at local restaurant, and then return to hotel. Afternoon is free at leisure.
Free Time Idea: Asiatique is a nice place to chill out by yourself. It combined two of the most popular shopping experiences in the city: a night bazaar and a mall. Open from 17:00, spending an evening here is no problem: you'll have good fun browsing the boutiques, picking up gifts or something for yourself; you are guaranteed to find something you would like to eat and if this isn't enough entertainment, shows are performed nightly: Calypso ladyboy cabaret and soon, a classic Thai puppets performance.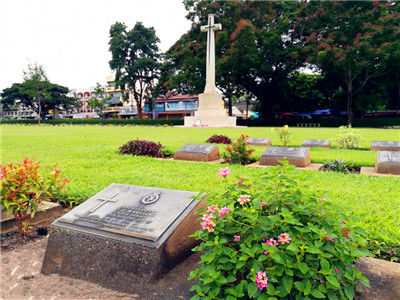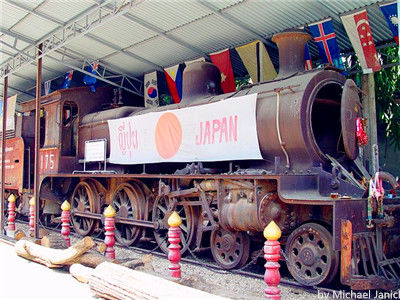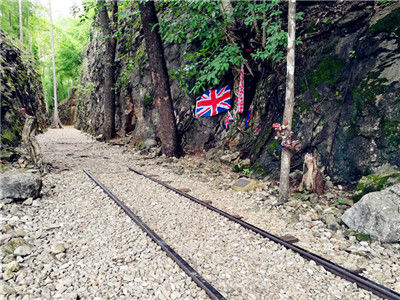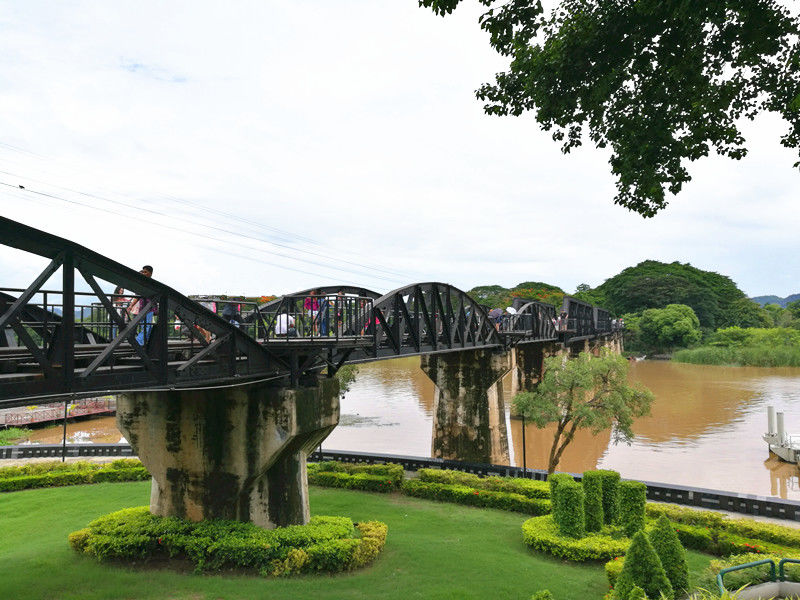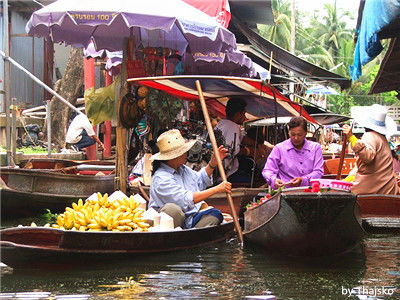 This morning you will check out from hotel and head out to Damnoen Saduak Floating Market, one of the Thailand's most famous attractions. Drive through Thailand's picturesque countryside before an unforgettable boat tour on one of the many canals. Experience provincial Thai lifestyle and view the daily hustle and bustle at a popular Damnoen Saduak floating market.You will have a chance to take a ride on a long tail boat to get the real sense of floating market. After the long tail boat cruise aroud the market, you will stop at a transit point where you can choose to further explore by a 6-seat boat or stroll around by its banks.
Your second stop is Kanchanaburi. On arrival, you will visit the world-famous bridge over the River Kwai. The bridge was part of the Death Railway and was destroyed in Allied bombing raids towards the end of World War II but later rebuilt by the Japanese as war reparations. After experience a one hour train ride on the historic railway that memorialises the hard work of the POWs during the WWII. At the same time, taking in the views of the lush jungle scenery, you will enjoy your lunch at a riverside restaurant.
Then continue to the Hell Fire Pass and JEATH War Museum. It is dedicated to the Allied prisoners of war(POWs) and Asian labourers who suffered and died at Hillfire Pass and elsewhere in the Asia Pacific region during the Second World War. And then to Don Rak War Cemetery to learn more about the history of the 6,982 Allied POWs who perished during the construction. After the completion of the railway the POWs were either kept in Thailand or sent back to Singapore. The POWs who died along the railway were reinterred at the Commonwealth War Graves Commission Cemeteries at Thanbyuzayat, Kanchanaburi and Chung Kai. American dead were returned to the United State of America. Finally, check in at your hotel in Kanchanaburi this late afternoon.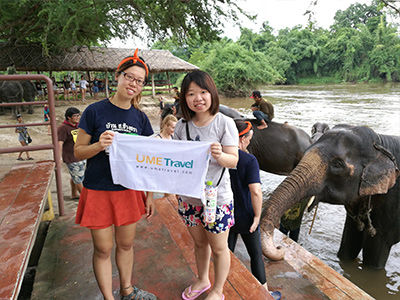 Today you will visit Elephants world. Founded in 2008, ElephantsWorld is a non-profit-organization which functions as a "retirement home" for elephants that have been working for humans before-either in the logging industry or entertaining tourists at camps and circuses or begging in the street of the big cities. At ElephantsWorld they don't have to work anymore- now WE work for them. The centre's aim is to give the elephants a place where they can enjoy themselves in their own natural environment. The conservation camp is located in peaceful natural surroundings. Prepare food for elephants, feed them, wash them- have really close contact to Thai Elelphant and you can be a part of it!
We pick you up at your hote at 9.00 a.m. Your daily program here includes meeting and feeding the elephants, observing the elephants bathing, cleaning fruit/vegetables, preparing and cooking sticky rice for old elephants. Then have a rest and a buffet lunch. In the afternoon, gather and plant food for the elephants. e.g banana trees, sugarcane, banana grass or prepare fruit baskets etc, feed sticky rice balls to the old elephants and then take the elephants to the river for abath and swim with them.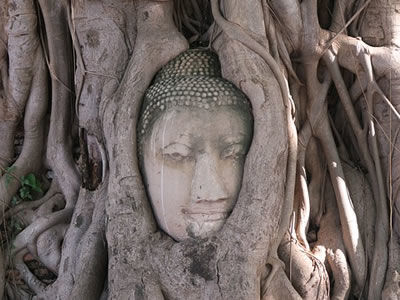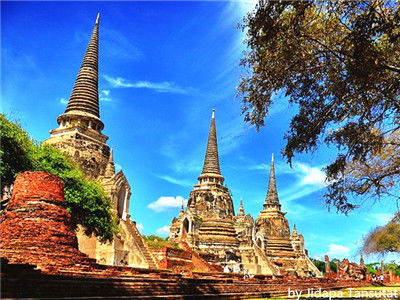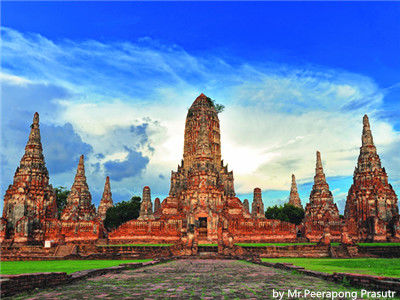 Today you will visit Ayutthaya History Park. Ayutthaya was the capital of the Thai Kingdom for 417 years. The city was founded in 1350 by King U-Thong and in 1767 it was destroyed by the Burmese army. Nowadays the ruins of the former city are on the UNESCO World Heritage list. Stroll around the ruins of several ancient temples including Wat Phra Si Sanphet, a former royal temple during Ayutthaya's days of glory; Wat Mahathat, where the roots of a tree surround the head of Buddha; and if time allows, Wat Chai Wattanaram, a perfect example of Khmer architectural influence.
Free at leisure after breakfast, then depart for your international flight home or to your next destination.
This must be a memorable trip to Thailand